Cauliflower moilee curry is a vegetable filled version of a classic South Indian coconut curry. This mouth watering curry is perfect paired with rice for a delicious and nutritious meal that happens to be vegan and gluten free!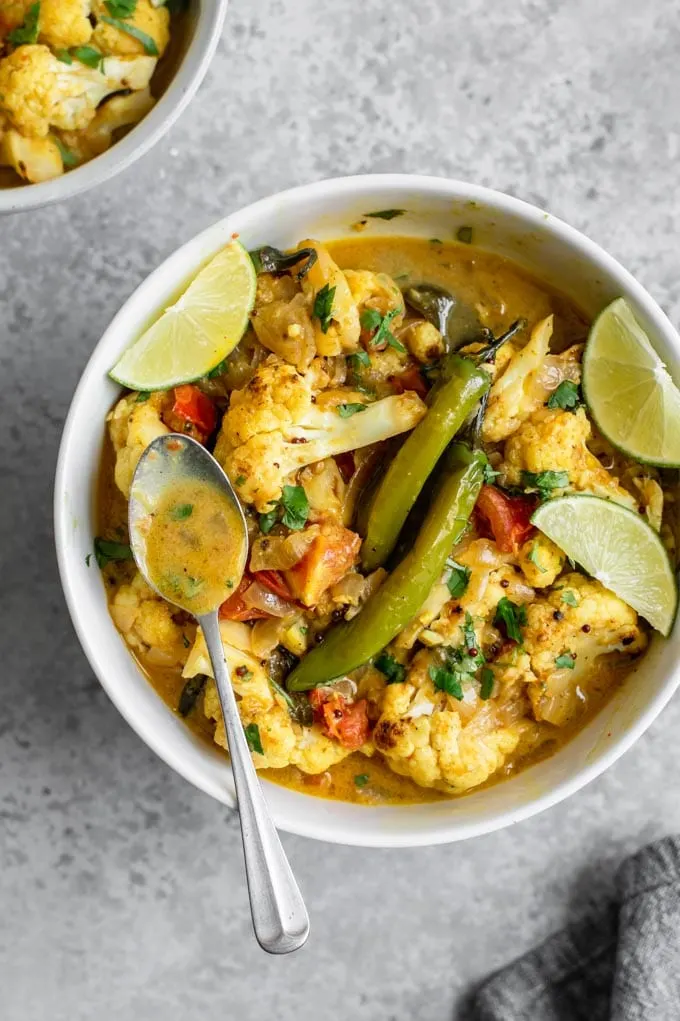 Moilee curry is a delicious coconut based curry from Kerala. It's typically made with fish, but the delicious creamy spiced curry sauce pairs beautifully with vegetables as well. To be honest, the sauce is so delicious on it's own I would happily slurp it as a soup!
Coconut curries are common in Southern India, which is great for vegetarians and vegans. The sauces are typically already vegan! Leave out the meat, and throw in some veggies, tofu, or dumplings and you have yourself an extra tasty, extra flavorful, extra satisfying meal.
This moilee curry is laced with curry leaf, turmeric, cardamom, mustard seed, fresh ginger, and coriander. It's got a mouth watering kick to it from a double dose of chiles, which is tempered by the coconut milk (and can be adjusted to suit your tastes).
Freshly squeezed citrus sweetens the curry and brightens the spices in the dish, making it addictively good. This curry is packed with flavor!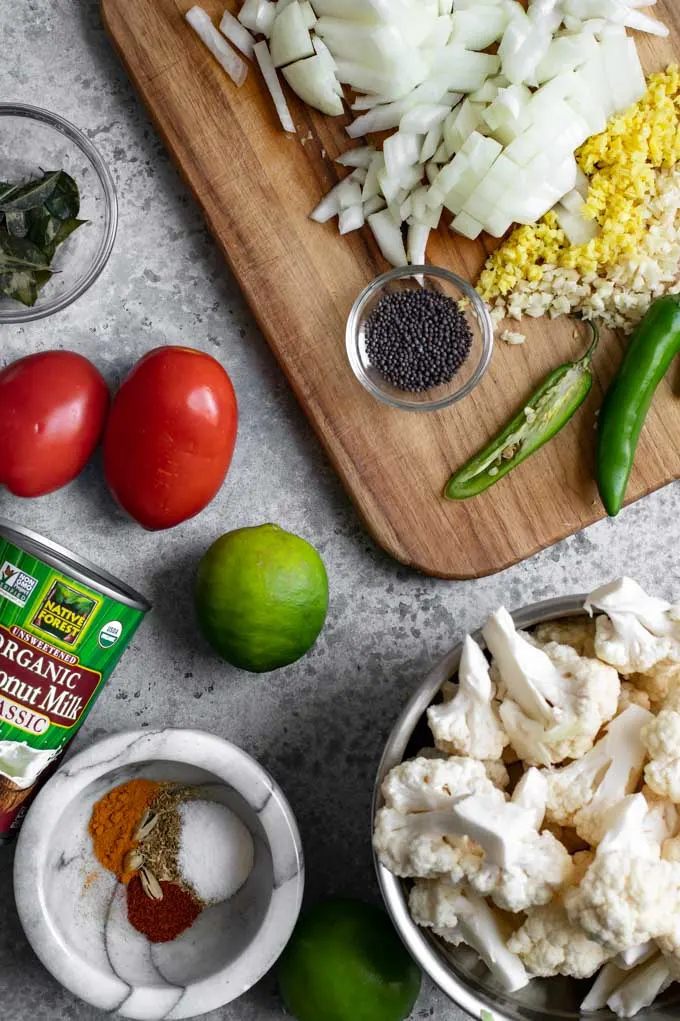 Moilee curry is quite quick as well as simple to make. The sauce itself takes about 10 minutes to come together, and add another 10 minutes of cooking for the cauliflower and your curry is ready!
This makes it a perfect easy weeknight meal, it's nutritious and filling, but won't leave you feeling weighed down!
Before starting your curry, measure out all of your ingredients, chop all the vegetables and have everything ready to go. With so many spices involved, having it measured out and prepped keeps things running smoothly and which helps keep you from burning your dish!
First, we par-cook the cauliflower.
Now my curry might be similar to the countless versions of moilee curry out there, but I take a few liberties in how I prepare the cauliflower.
Typically vegetables are cooked to death in Indian cuisine, and while I love how this works out in dishes like [my vegan] palak paneer, I prefer my cauliflower to keep some texture in the final dish. So I cook the cauliflower in a way that isn't the most traditional method.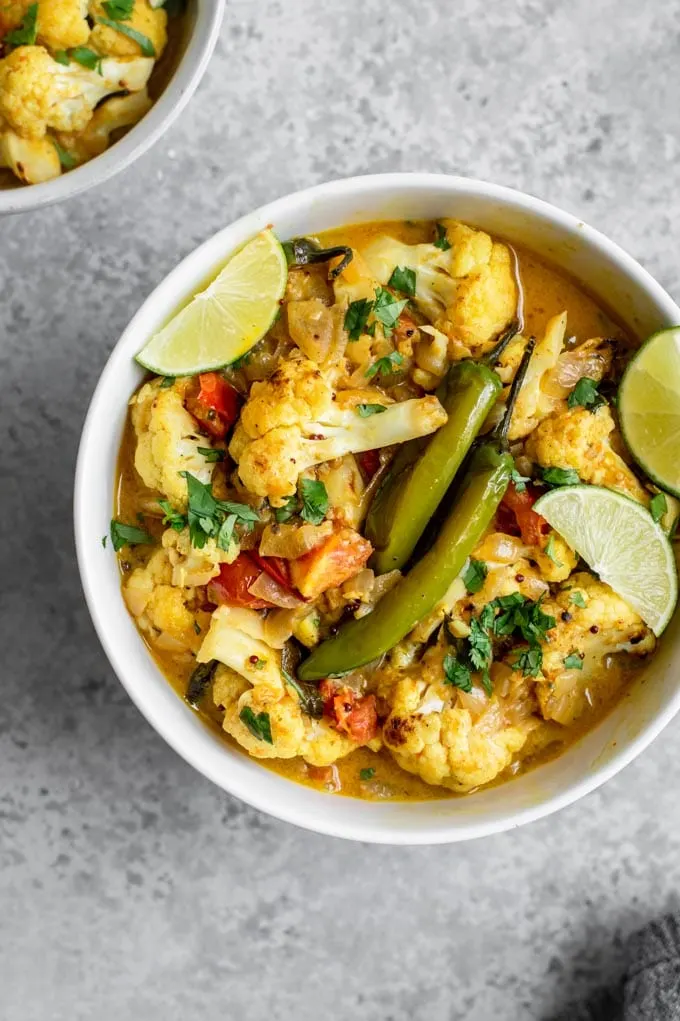 I cook this curry in a large cast iron skillet, but a large heavy bottomed pot works equally well. You just want something that you can do a little sautéing in before simmering.
Cut the cauliflower into florets (honestly large or small is really up to you–there's no right or wrong way to make a curry!), and heat a splash of oil in your pan. Pan fry the cauliflower for several minutes, stirring occasionally so the cauliflower gets a bit of char on it.
At this point the cauliflower is about halfway cooked and can be removed from the pan.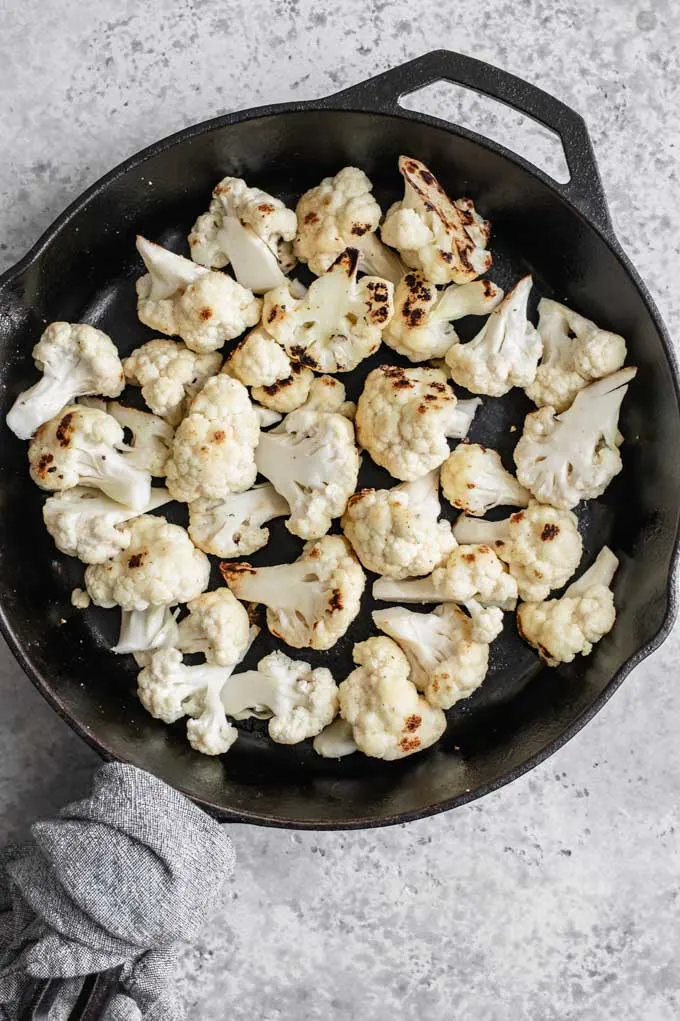 Now, we make the curry base:
In the same pan you just sautéd the cauliflower in, we're going to first fry the aromatics, then quickly toast the spices before adding the liquid. See? Super easy!
The aromatics are: onion, garlic, ginger, chili, and mustard seed. Dice and mince everything up (but for the mustard seed), and a bit of oil to the pan, and sauté until the onions and soft and a pale golden.
Now we add the spices. For our moilee curry this is: turmeric, cardamom, coriander, cayenne pepper, curry leaves, and salt. Once we've added the spices to our aromatics, we let them fry for under a minute.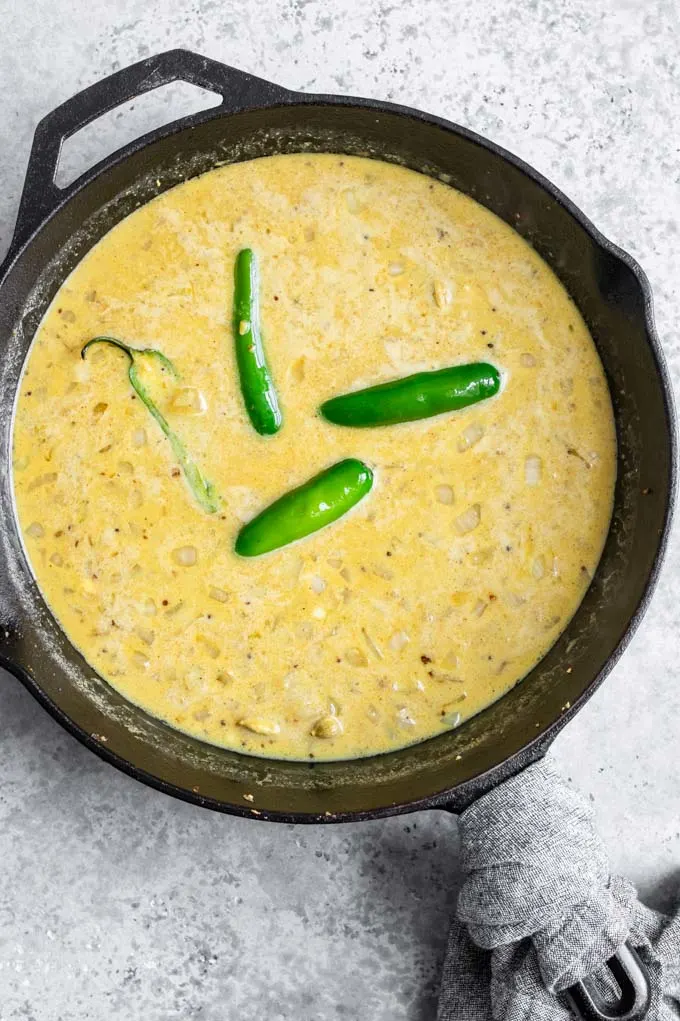 A quick fry brings out the flavor in the spices. But, because we are adding some powdered spices, they are susceptible to burning so give them a few stirs to coat the onion mixture in spice but don't walk away from the stove at this point.
Add the coconut milk and bring the curry to a simmer. Let it simmer for a few minutes and you have your curry base! Delicious, slurpable curry that's only going to get better as we add the last few ingredients!
Quick note about curry leaves:
If you've never encountered curry leaves before, they are pretty much exactly what they sound like–leaves that taste like curry. There's not really a better way to describe them!
You can find them at Indian grocery stores, occasionally at farmers markets, and very rarely at well stocked natural foods grocery stores. Your best bet is an Indian grocery store. The good new is that you can buy them, wash them and dry them, then place them in a freezer bag and freeze them. They retain their flavor this way and can be pulled straight from freezer to pan.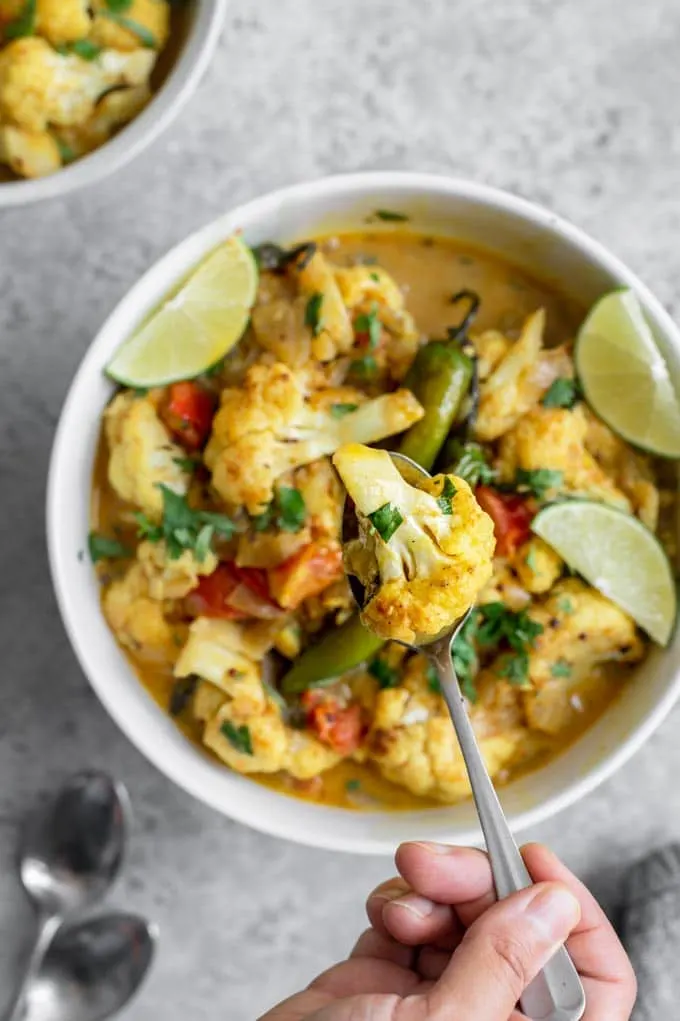 These days, you don't even need to live in driving distance to an Indian grocery store to get fresh curry leaves delivered to your door thanks to sellers on Amazon (affiliate link).
Dried curry leaves really aren't the same as fresh, but if that's all you can get your hands on do try them out!
And while curry leaves are essential for an authentic tasting South Indian curry, this curry will still be delicious if you can't source them at all. There are still plenty of other spices in there to make for a mouth watering dish.
Now add in the cauliflower:
Once the curry broth has been simmering for a couple of minutes, we add in our par cooked cauliflower along with some diced tomatoes. Let the curry come back to a simmer, and then cook it until the tomatoes have gotten soft and broken down and the cauliflower is your desired softness.
As I mentioned before, I prefer my cauliflower to have some texture to it, so all of this happens in about 5 minutes of simmering. The par-cooking it previously helps keep the cauliflower from getting too soft and mushy and adds extra flavor to the dish from the slight char the cauliflower gets.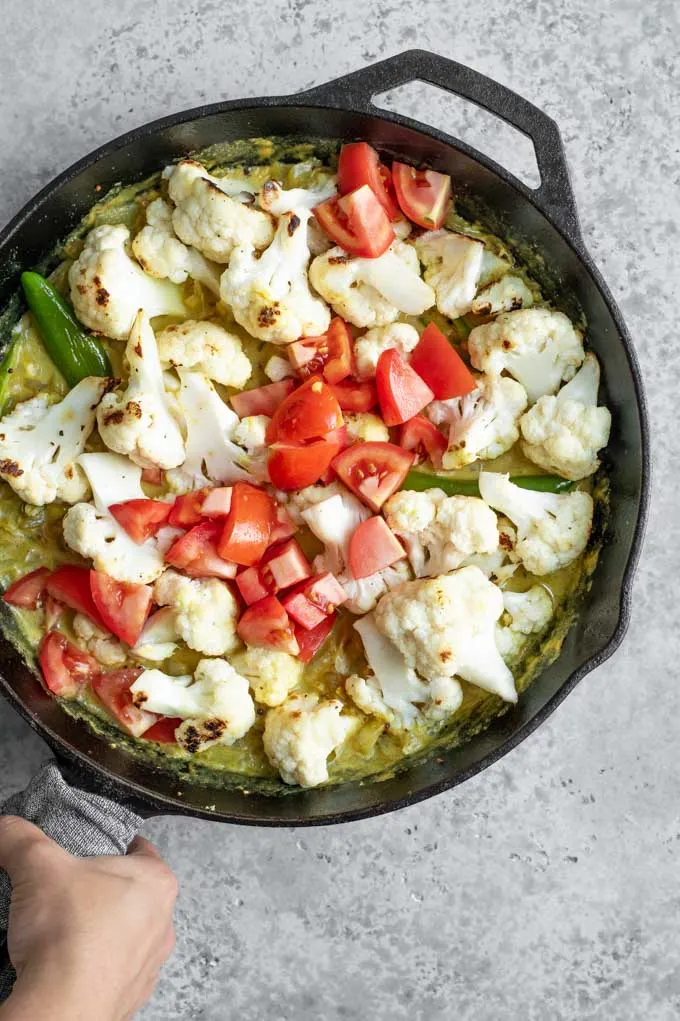 If you'd prefer to cook your cauliflower to death that is certainly your prerogative (and there's nothing wrong with that!). Just keep simmering the cauliflower until it reaches the softness you like. You may need to add a bit of water to the curry to keep it from getting too thick if you simmer for a long time.
Once the cauliflower has softened as you like, turn off the heat and add the lime juice. Taste the curry and add salt or more lime to your own tastes. Do not add more salt to the dish until you've added lime, as the citrus helps bring out flavors and the balance won't be quite right until it's been added.
If for any reason the flavors of the curry fall flat, it needs more salt. Salt is such an essential and important part of Indian cooking, all the spices in the world won't taste bright and flavorful without the right amount of salt.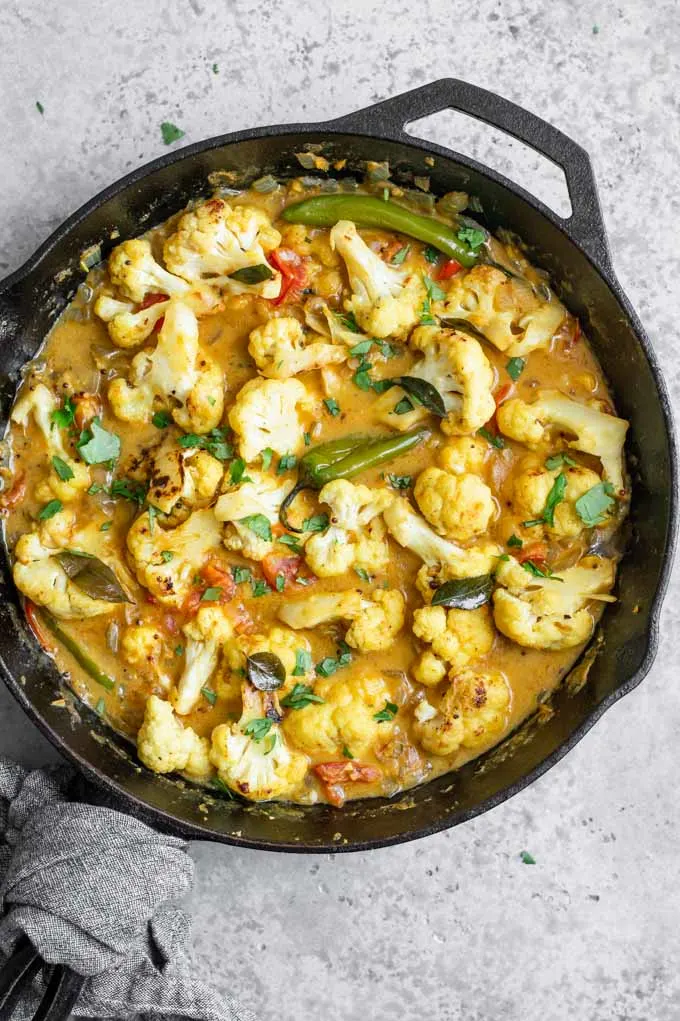 Once you have the base of this curry down you can make it your own.
You can switch out some of the cauliflower for tofu. Feel free to add green beans or another vegetable, curries are a perfect way to use up old produce hanging out in the fridge!
Serve this cauliflower moilee curry with basmati rice, or enjoy it like a stew. Indian food is always great with homemade naan, and if you want some extra protein in your meal serve a tadka dal or chana masala alongside the moilee. You may be mixing South Indian with Northern Indian cuisine, but I won't tell if you don't ?.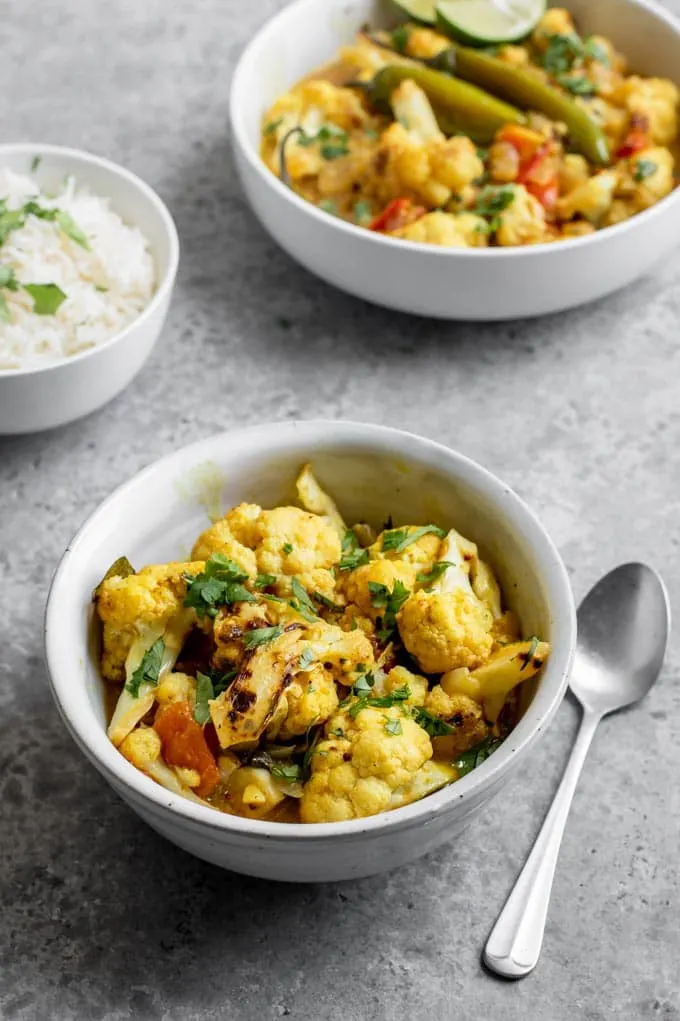 ---
If you make this cauliflower moilee curry, leave a comment below and rate the recipe on the recipe card. And please share your photos with me on Instagram, tag @thecuriouschickpea and #thecuriouschickpea. I love seeing your recreations!
---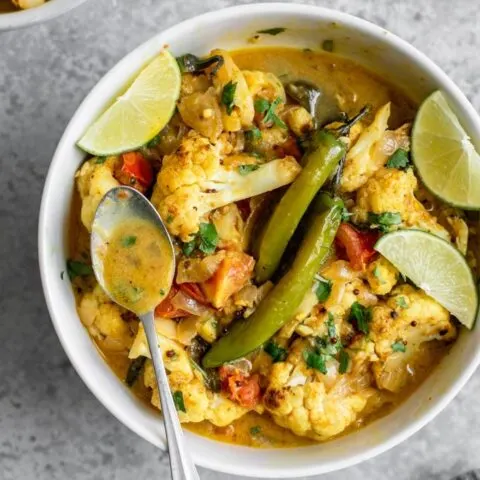 Cauliflower Moilee Curry
Moilee curry is classic South Indian curry, typically made with fish. This spicy version is filled with cauliflower for a delicious vegan take. Serve it with some basmati rice or enjoy it as a stew!
Ingredients
1 head cauliflower, cut into florets
2 tsp coconut oil, or substitute vegetable oil
1 medium yellow onion, finely chopped
4-6 cloves garlic, minced
1 tbsp minced ginger
1-4 fresh green chilis, to taste, leave whole for less heat or slice in half for more heat
1 tsp whole mustard seed
2 sprigs curry leaves (10-15 leaves)
3 cardamom pods, smashed to split open
1 teaspoon ground coriander
1/2 tsp turmeric
1/2 tsp cayenne pepper, more or less to taste
1 tsp salt, more to taste
1 15oz can coconut milk (full fat)
2 tomatoes, diced
2 tbsp fresh lime juice (1 lime)
cilantro for garnish (optional)
Instructions
Heat a large skillet or pan over medium heat. Add 1 teaspoon of oil and the cauliflower florets. Fry the cauliflower, stirring occasionally for 5-6 minutes or until they are lightly charred. Remove from pan.
Add the second teaspoon of oil along with the onion, garlic, ginger, green chili, and mustard seed. Sauté until lightly caramelized and golden, about 5 minutes.
Add the curry leaves, cardamom pods, coriander, turmeric, cayenne pepper, and the teaspoon of salt. Stir in, and let fry for about 30-60 seconds.
Stir in the coconut milk, and bring to a low boil. Lower the heat and let simmer for about 3 minutes.
Add the par-cooked cauliflower in the pot along with the tomatoes and cook until the tomatoes are softened and breaking down and the cauliflower is your desired level of tenderness. At least 5 minutes, longer depending on how you like your cauliflower.
Turn off the heat and add the lime juice. Taste and add more citrus or salt as you like. Garnish with cilantro and enjoy as a stew or serve with basmati rice.
Recommended Products
As an Amazon Associate and member of other affiliate programs, I earn from qualifying purchases.
Nutrition Information:
Yield:

6
Serving Size:

1
Amount Per Serving:
Calories:

231
Total Fat:

20g
Saturated Fat:

15g
Unsaturated Fat:

3g
Sodium:

417mg
Carbohydrates:

14g
Fiber:

4g
Sugar:

5g
Protein:

5g
Nutrition is calculated automatically so should be used as an estimate.