This restaurant style chana masala is loaded with flavor. It's easy to make this classic Indian dish, and it comes out better than take out! It's a naturally vegan and gluten free recipe, making it perfect for anyone.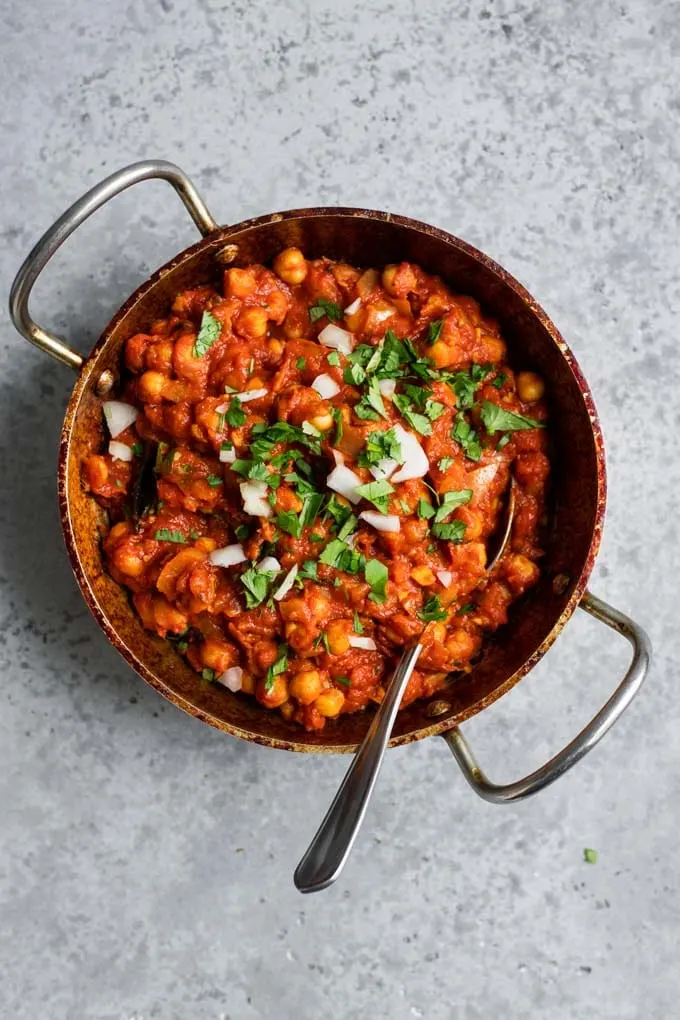 This recipe is everything I want from chana masala. The spiced tomato sauce is divine, full of flavor and with just enough heat to warm my belly.
The chickpeas are simmered until tender and infused with flavor, melting into your mouth with every bite.
Chana masala translates to spiced chickpeas, and let me tell you, this recipe really delivers!
Now, if you're a chana masala connoisseur like me, you've ordered it a lot and at many, many restaurants. You're likely to have noticed that every restaurant, or every cook, has their own spin on the dish!
Now I'm not here to tell you that anyone else is wrong, but mine is so very, very right.
The tomato gravy is thick and saucy, and each bite is bursting with flavor. And when cooked at home everything is so fresh tasting it just pops.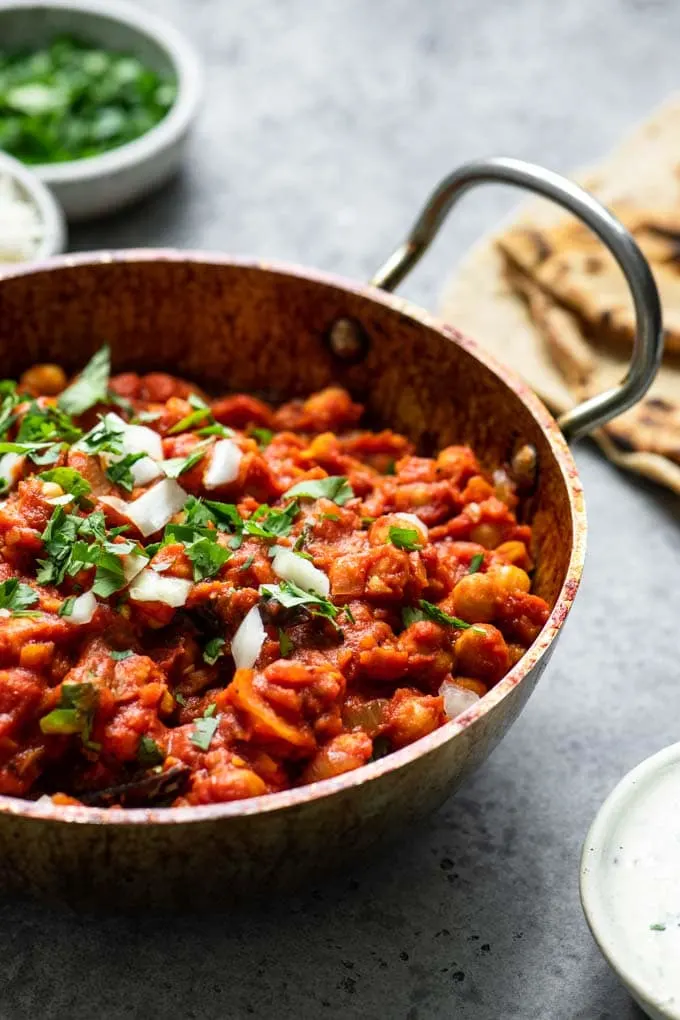 It's hard to not go back for seconds and even thirds, but then those leftovers get even better after a day in the fridge.
The spiced tomato sauce:
This sauce is what it comes down to in setting this chana masala apart.
You've got all the aromatics: onion, garlic, ginger.
All the spices: dried chiles, cardamom, clove, cinnamon, bay leaf, amchoor, coriander, cayenne, garam masala, turmeric, kasoori methi.
And tomatoes, salt, and pepper of course.
The basic outline of the sauce is you fry up your aromatics, add the whole spices, then the ground spices. Immediately following you add in the tomatoes. Then simmer to bring it all together.
The chickpeas go in at the same time as the tomatoes so that they can simmer alongside. Soaking in all that flavor and tenderizing simultaneously.
Amchoor and Kasoori Methi:
If you're new to Indian cooking some of these spices may be unfamiliar. They are worth getting if you love the cuisine, but you don't need all of them to make this recipe today!
So what even is amchoor powder? Well it's dried green mango powder. It's tart and delicious and a necessary ingredient for 'authentic' chana masala.
If you don't have it, that's a-okay! You can substitute tamarind concentrate (it's sour as well) or add lemon juice to taste at the end. But even one time I didn't realize I was out of amchoor and just made it without and it was still amazing.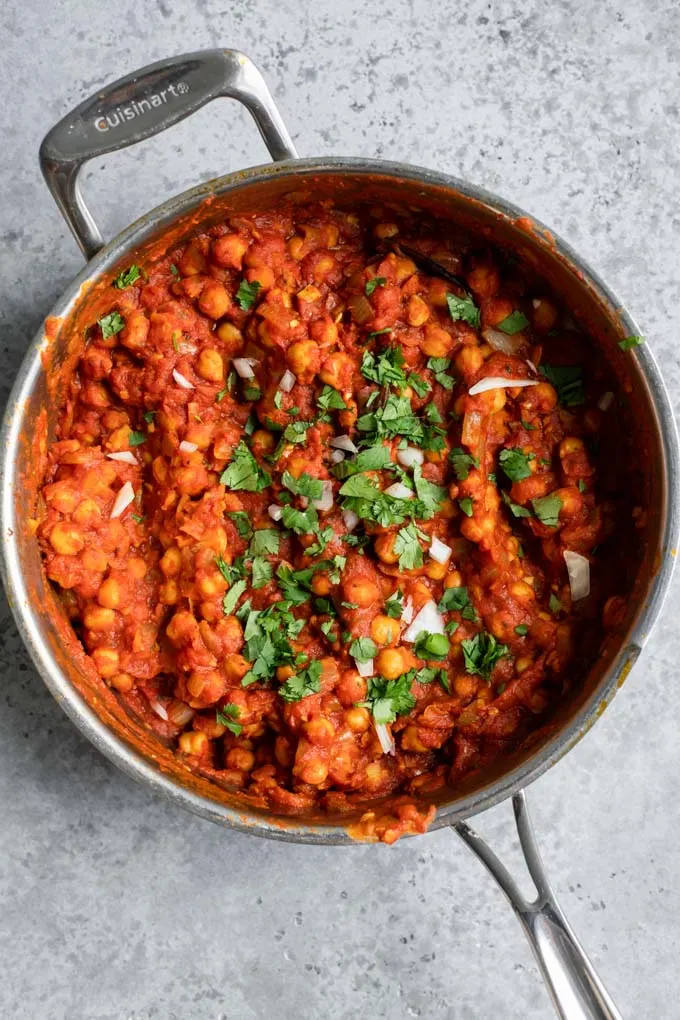 The other ingredient that may have you scratching your head extra is kasoori methi, or fenugreek leaves. Fenugreek is one of those ingredients that you didn't realize your Indian recipes were missing.
It's one of my favorite spices, both as seeds or leaves. Now you can leave it out if you don't have it, but I recommend getting it! I've got kasoori methi in a few recipes, so there's plenty to make with it.
If you don't have the leaves but do have the seeds, then you can add those in. Grind them to a powder and add 1/2 to 1 tsp of the fenugreek powder along with the other powdered spices.
The rest of the spices:
I imagine the other spices are more familiar. Garam masala is the most popular Indian spice blend, and adds a lot of flavor with that one addition.
We enhance the flavors with some whole spices, which are removed after the chana masala has simmered. Cardamom, cinnamon, and clove are all warming spices, and are part of what make the dish so lovable!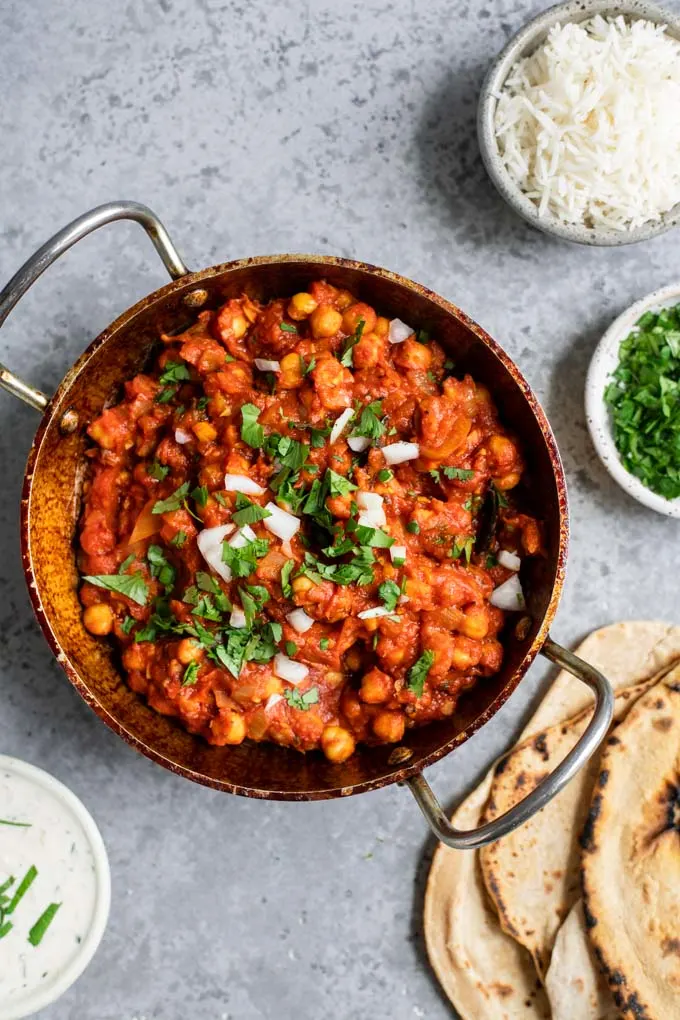 Adding a bay leaf brings some savory depth of flavor to the dish, and turmeric brings earthiness while coriander adds some floraly brightness.
For heat I add dried whole chiles and ground cayenne. You can use just one or the other, and add more or less to meet your own spice preferences.
The whole chiles are great if you're a bit spice adverse, because as long as they remain whole the spiciest part of the pepper (the seeds) are closed off and you get nice rich chile flavor without all the heat.
Of course if you love heat, then you can eat these chiles with your chana masala!
Alternatively you can also use fresh green hot peppers. Dice them up and add them with the garlic and ginger.
What kind of tomato to use?
For this recipe I like to use tomatoes that are already saucy. So this means crushed tomatoes, strained tomatoes, or puréed tomatoes. But you can certainly use canned diced tomatoes, or blitz whole canned tomatoes in the blender or crush them by hand and use that instead.
I use canned tomatoes because it's easy, and unless it's end of summer tomato season, canned tomatoes are likely going to taste a lot better!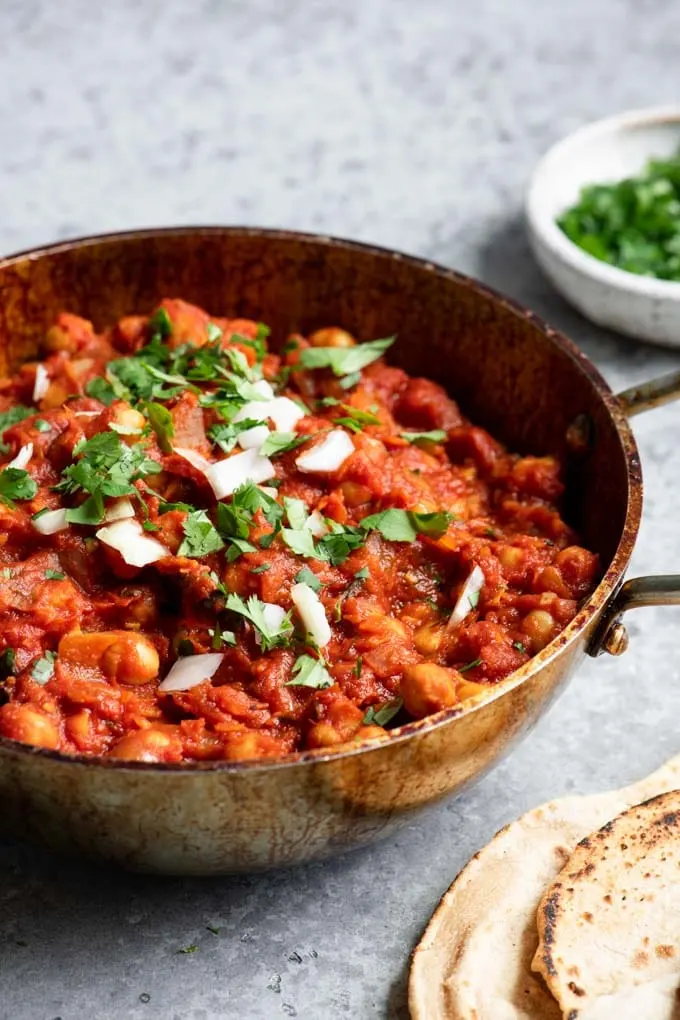 The Chickpeas:
Now you can cook chickpeas from dried or use canned chickpeas in this recipe. It's up to you!
I typically use canned because it's easy, but of course nothing tastes better than freshly cooked beans!
If cooking your own from dry, measure them out for this recipe after they've cooked.
How to serve:
Chana masala is a great part of any Indian meal!
I like to serve it with basmati rice, and if I'm feeling fancy a side of garlic naan or homemade chapati.
It's best when garnished with lots of fresh chopped cilantro, and you can sprinkle on some minced white onion and/or fresh green chiles for a nice crunch.
I also highly recommend serving it with a side of vegan yogurt to cool down any warming tongues, but even better make some vegan raita!
This recipe makes the most flavorful and mouth watering authentic, restaurant-style chana masala and I really hope you guys try it out! I love that this recipe is accidentally vegan and gluten free. It makes it perfect for just about everyone!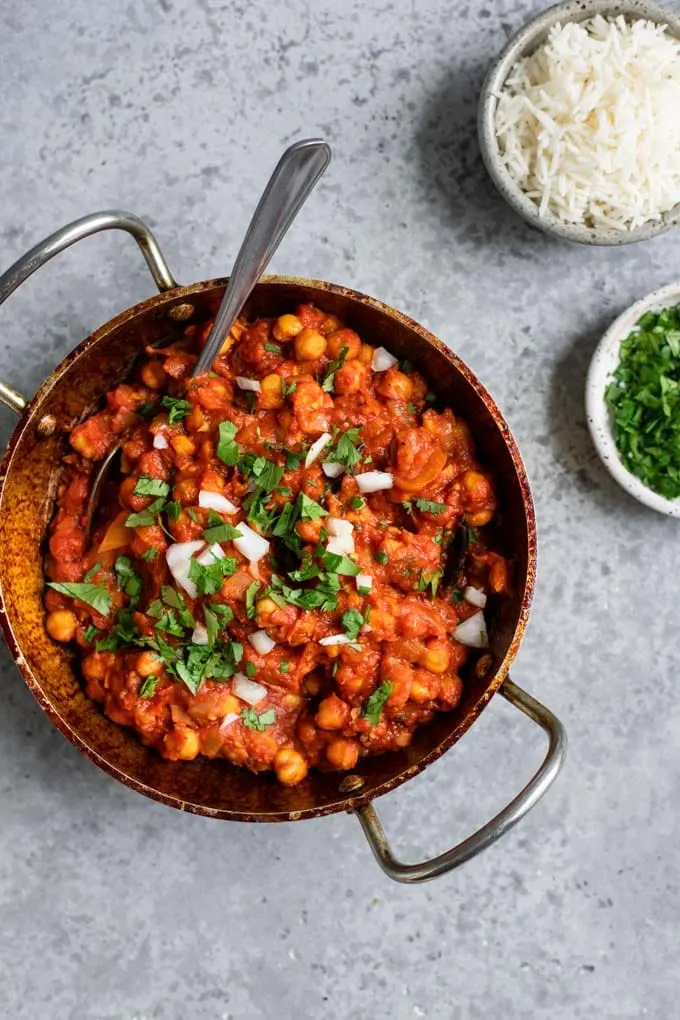 If you make this restaurant style chana masala, leave a comment below and rate the recipe on the recipe card. And please share your photos with me on Instagram, tag @thecuriouschickpea and #thecuriouschickpea. I love seeing your recreations!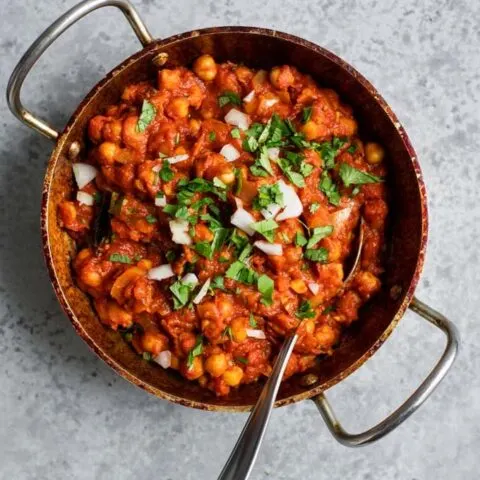 Restaurant Style Chana Masala
This restaurant style chana masala recipe is incredibly easy to make and so flavorful and delicious. Serve it with basmati rice and vegan garlic naan, and vegan unsweetened yogurt if desired.
Ingredients
2 tbsp coconut oil or vegetable oil
1 1/2 yellow onions, finely diced (2 cups)
4 cloves garlic, minced
1 tsp minced ginger (~1/2" piece)
4 whole dried red chiles, more or less to taste
2 green cardamon pods
2 whole cloves
1 cinnamon stick
1 bay leaf
1 tsp amchoor* (dried mango powder)
1 tsp ground coriander
1/2 tsp ground cayenne or hot chili powder
1/2 tsp garam masala
1/4 tsp turmeric
freshly ground black pepper
1 to 1 1/2 tsp salt to taste
3 cups (28oz can) cooked chickpeas, drained and rinsed
26oz can strained, crushed, or puréed tomatoes
1 1/2 tsp kasoori methi, optional
minced cilantro, for garnish
minced yellow onion, for garnish
Instructions
Heat a large, heavy bottomed pot over medium-low heat and add the oil. Add the onion and a pinch of salt and cook for about 10 minutes until translucent and softened.
Add the garlic, ginger, and the whole spices: dried red chiles, cardamom pods, cloves, cinnamon stick, and bay leaf. Cook for 1-2 minutes stirring constantly so the garlic doesn't burn.
Add the ground spices: amchoor (if using), ground coriander, cayenne, garam masala, turmeric, black pepper, and 1 tsp of salt. Stir in and let cook for 30 seconds.
Add the chickpeas and tomatoes. Partially cover, bring to a simmer, and let simmer for 25-30 minutes stirring occasionally.
Turn off the heat, sprinkle in the kasoori methi, crumbling between your fingers. Taste and adjust the salt and pepper. Remove the whole cinnamon stick, bay leaf, and cardamom pods & cloves if you can see them.
Serve with a dab of vegan butter to melt on top if desired. Garnish with cilantro and minced yellow onion. Enjoy with basmati rice and/or some garlic naan, and vegan unsweetened yogurt.
Notes
*Amchoor is necessary for an authentic chana masala, but if you can't find it, substitute 1-3 tsp of tamarind paste (add at the same time as the ground spices) or freshly squeezed lemon juice (add with the kasoori methi, if using) to taste.
Recommended Products
As an Amazon Associate and member of other affiliate programs, I earn from qualifying purchases.
Nutrition Information:
Yield:

8
Serving Size:

1
Amount Per Serving:
Calories:

287
Total Fat:

10g
Carbohydrates:

42g
Fiber:

7g
Protein:

9g
This recipe was originally posted on August 28, 2018 and was sponsored by Pomi.