This vegan tandoori sheet pan dinner is so flavorful, with cauliflower, tofu, and potatoes dressed in a spiced yogurt sauce and baked until steamy and tender. It's good for you and just so happens to be gluten free as well!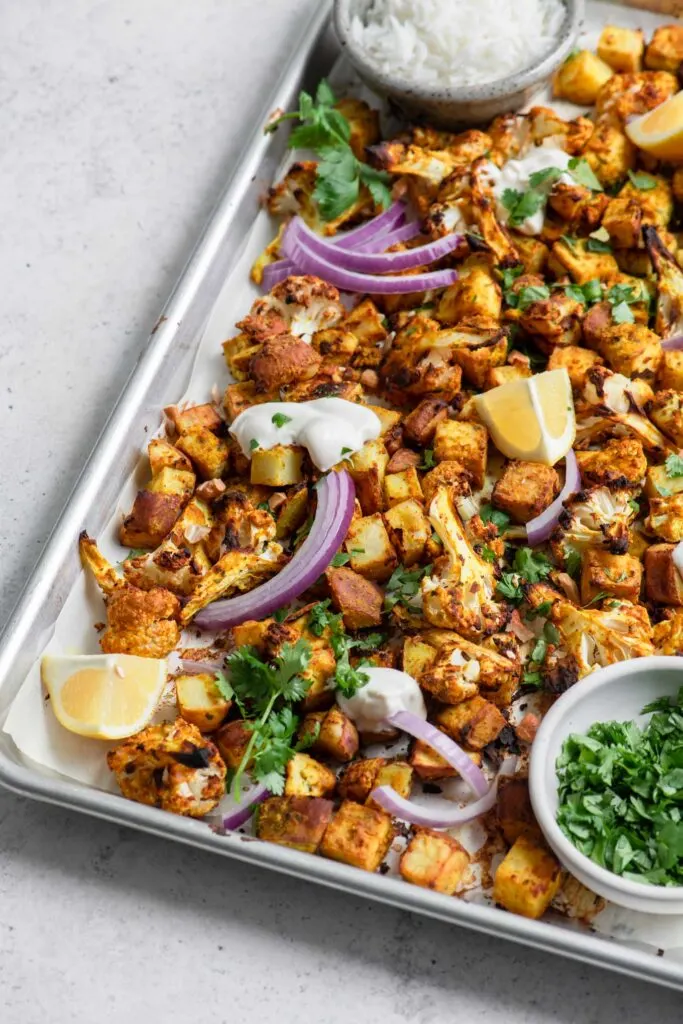 Sheet pan dinners! They're fun and hands off, and like everything else that gets baked in an oven–absolutely delicious!
You get your veggies, your protein, and even your carbs in one glorious dish. Though when it comes to Indian food, I'm going to recommend you pair your sheet pan dinner with a side of Basmati rice. You don't mind getting one pot dirty, do ya?
This meal is tandoori tofu meets tandoori cauliflower, meets potatoes, meets the oven. Indian food meets the humble sheet pan.
And now that everyone has met, I'm going to let the real secret drop–it's that easy to make too!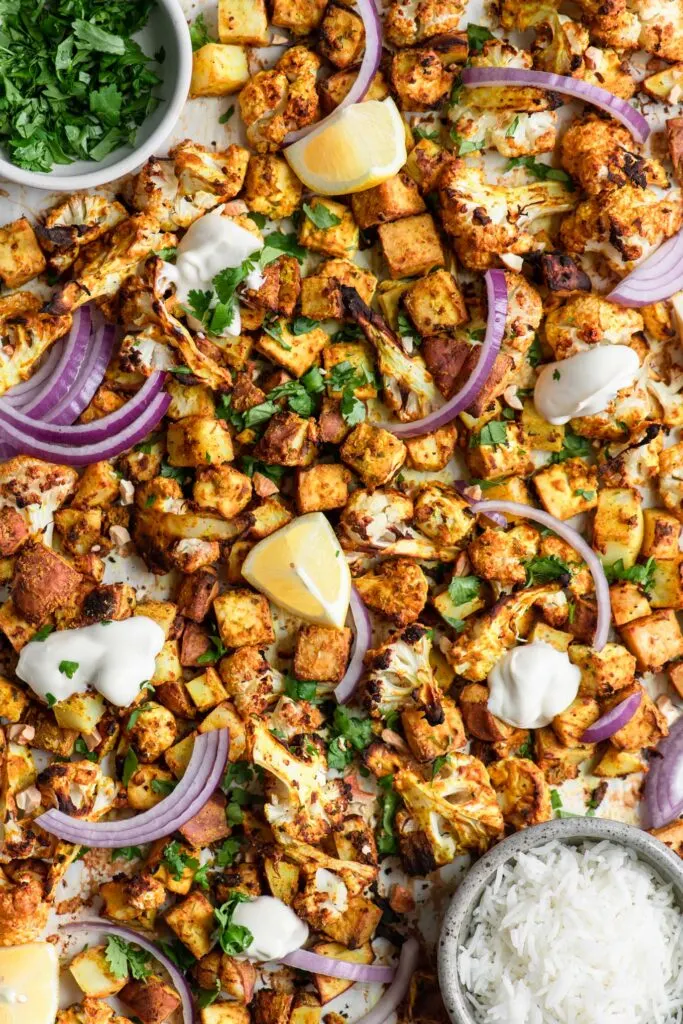 What is tandoori?
Tandoori refers both to the method of cooking and a popular style of yogurt marinade. It's a dish traditionally made with meat, but lends itself well to vegetables and vegan proteins like tofu.
A tandoor is a cylindrical oven with an opening at the top that burns very hot. We're talking up to 480 ºC/900 ºF hot! You cook breads like naan* by slapping dough on the sides of a tandoor oven and waiting for them to release when cooked through
*My homemade vegan naan recipe can be cooked in an oven or stovetop on a hot griddle or skillet. Psst, it would go great paired with this recipe!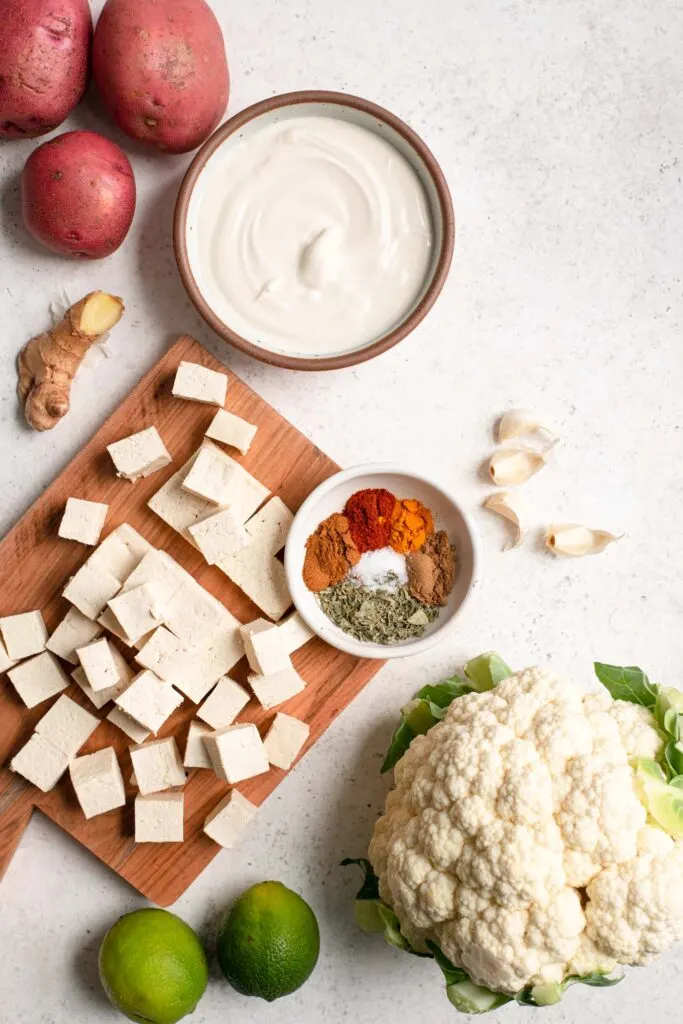 Meats are placed on skewers and set in the center of the oven to get cooked more slowly.
When applying these cooking techniques and recipes to a home kitchen, where most of us do not have tandoors, the dishes can be baked or grilled (stovetop or outdoor).
When most people think of tandoori, they're probably thinking of tandoori chicken, and more about the flavors than the style of oven it's cooked in!
Good news, that flavor is just a spiced yogurt marinade that is easy to make at home and can be made vegan by just swapping out dairy yogurt for a non-dairy one!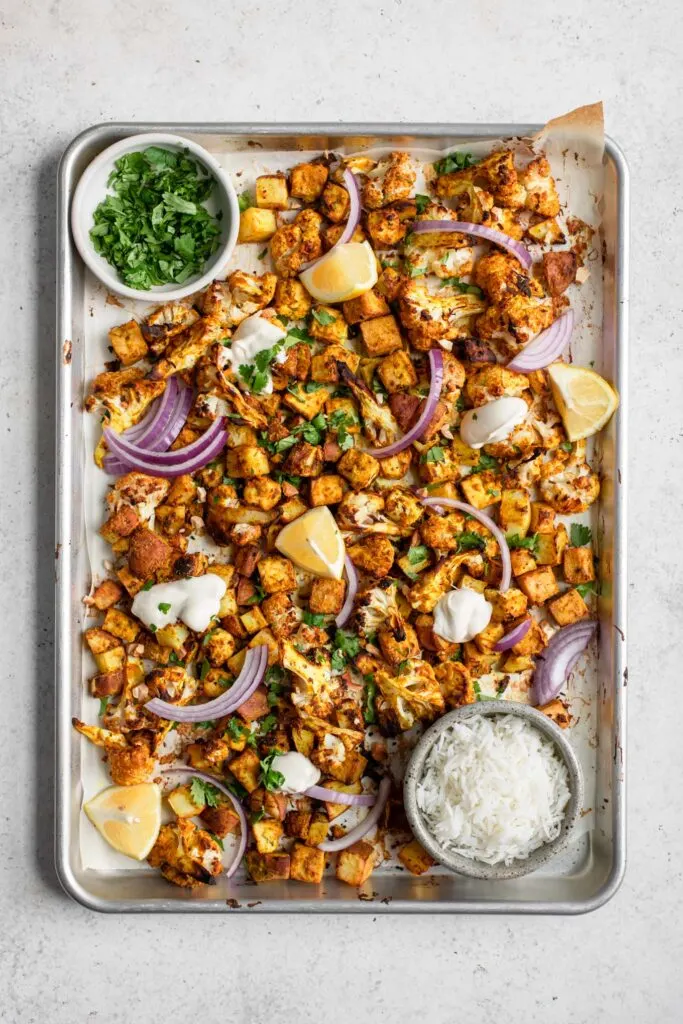 The tandoori marinade:
I'm calling it a marinade, since that's what it usually functions as when cooking meat. However, in my recipe I just toss the ingredients in the sauce and stick them in the oven to bake and soak in the flavor.
It makes the dish quicker, you just prep everything while the oven preheats then bake, and then none of the sauce gets wasted!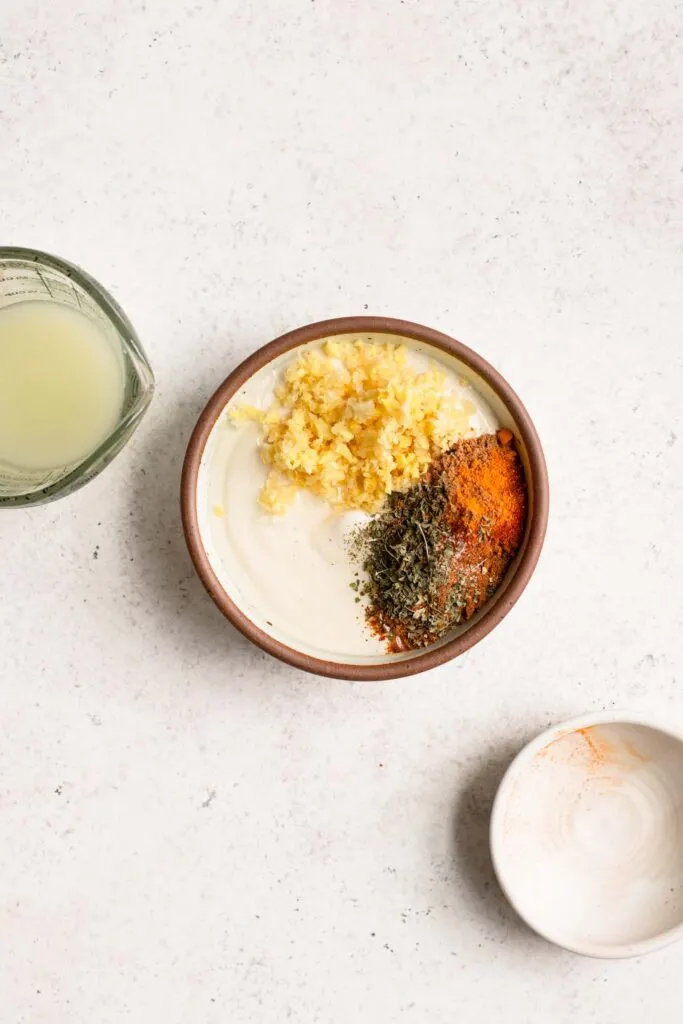 So what goes into a tandoori sauce?
As I mentioned before, the base is yogurt. Choose a sour and ideally thick (but sour is more important than thick in my book) plant-based yogurt that is unsweetened. None of this plain but with added sugar stuff! You want savory yogurt only.
Next up you need to make the yogurt garlicky and gingery. This means a generous amount of garlic and ginger get stirred into the sauce.
Ideally you want juicy garlic and ginger, so pressing the garlic and microplaning ginger (& garlic if you want) is a great idea to make the most of it! You can also use a garlic ginger paste, but I don't keep it in my kitchen personally.
Now add the spices. In my tandoori sauce I use: garam masala, coriander, turmeric, chili powder*, and kasoori methi.
*Use Kashmiri chili powder for medium spicy, cayenne for spicier, or use a chili powder blend for mild.
Kasoori methi is fenugreek leaves. It's a fragrant and delicious spice that adds so much depth of flavor to Indian dishes. If you don't have it you can leave it out, but I really recommend seeking it out! And once you have it, make sure to try out some of my other recipes with using methi!
Lastly I add salt (because, duh, and also salt brings out the flavor of all those spices we just added!), lime juice, and some oil. I add lime juice to up the sour factor, as often I want more tanginess than my vegan yogurts give. Oil makes for a more delicious and better textured bake, but you don't need me to tell you that, do you? Skip it if you must.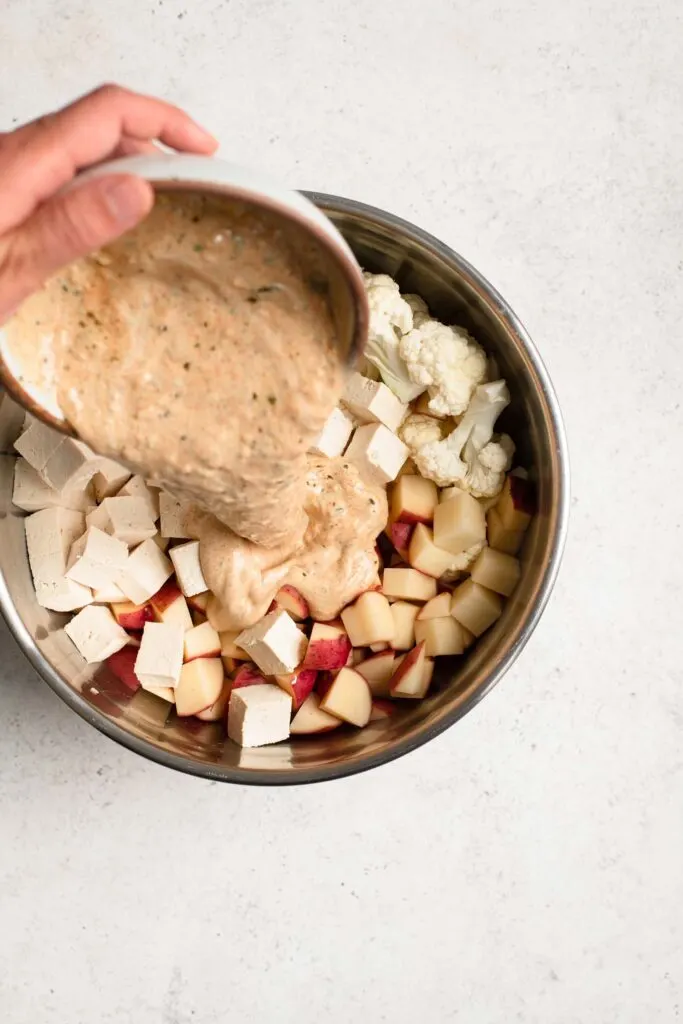 Making the vegan tandoori sheet pan dinner:
Once we have the vegan tandoori sauce, just toss it in a large bowl with the tofu, cauliflower, and potato. Be gentle so the tofu doesn't break apart.
I recommend you use super firm tofu or extra firm tofu, and if using extra firm, I would press the tofu before using to make it less delicate.
To press tofu: slice it into 6 slabs and wrap them in a single layer in a lint free towel. Place something heavy on top and let it sit at least 15 minutes, and up to an hour. I usually go 20-30 minutes. (You can check out this instagram video I posted if you want visuals). After pressing cut it up into cubes!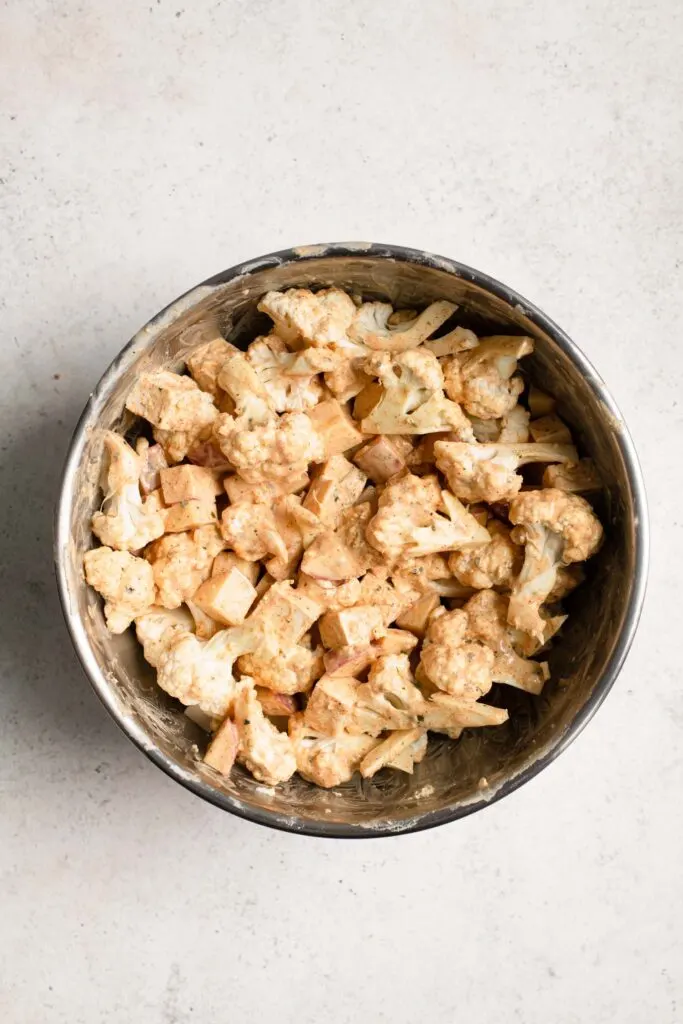 If you're not feeling tofu you can substitute out chickpeas, seitan, or your favorite vegan chicken (for homemade try my vegan chicken seitan cutlets).
You can swap out the other veggies too. Instead of cauliflower you could use cabbage cut into 1″ slices or broccoli. Instead of potato, swap a different root vegetable. You get the idea. That being said cauliflower is amazing with tandoori sauce!
All that's left is baking everything until the vegetables are soft and serving it up!
How to serve tandoori sheet pan?
Add some garnishes and the rest is up to you! Dollop the meal with extra yogurt (or some vegan raita if you're feeling fancy). I find some vegan yogurts to be "drier" than others, especially after baking. So depending on your yogurt you may want more or less yogurt to top.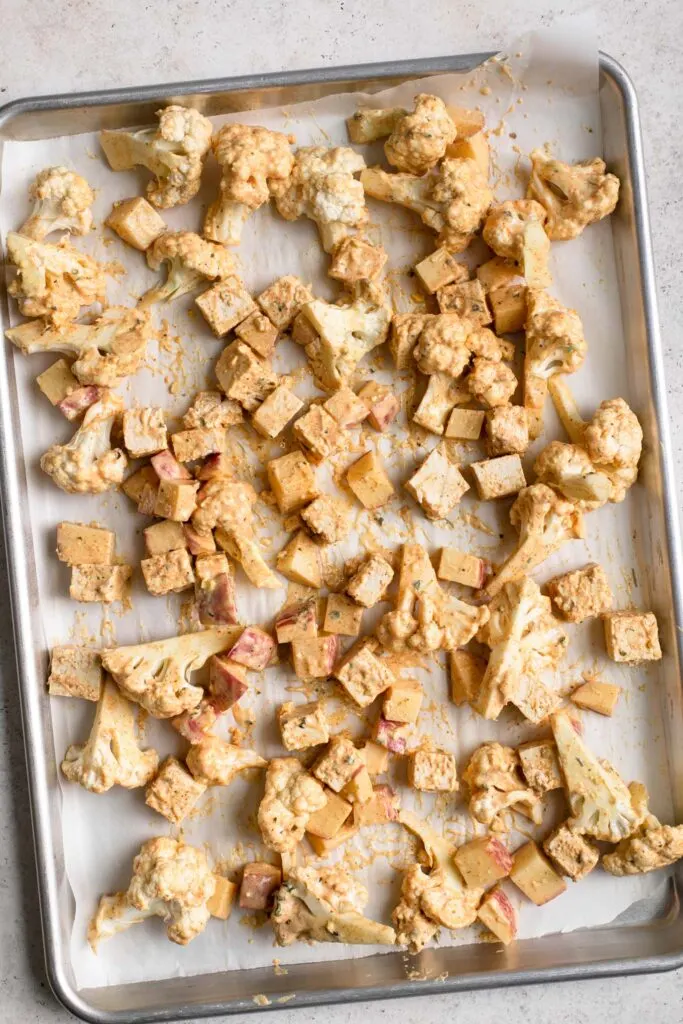 Then top with cilantro and sliced red onion. You can soak the onion in ice water for 20+ minutes (just do it while the sheet pan dinner bakes) to take some of the edge off it.
We served the meal with basmati rice and it was excellent, but you could also have it with flatbread. Some options there are: naan, roti, paratha, or my homemade flatbread. Store bought flatbreads work well too!
You could also just eat it as is, without any grain or bread. There is potato in it I suppose. But, let's be real here! You need to double up on those carbs.
Make sure to put out wedges of lime or lemon to squeeze fresh citrus on before eating! Fresh spicy chiles, hot sauce, or aachar (Indian pickle) are great too, but fully optional.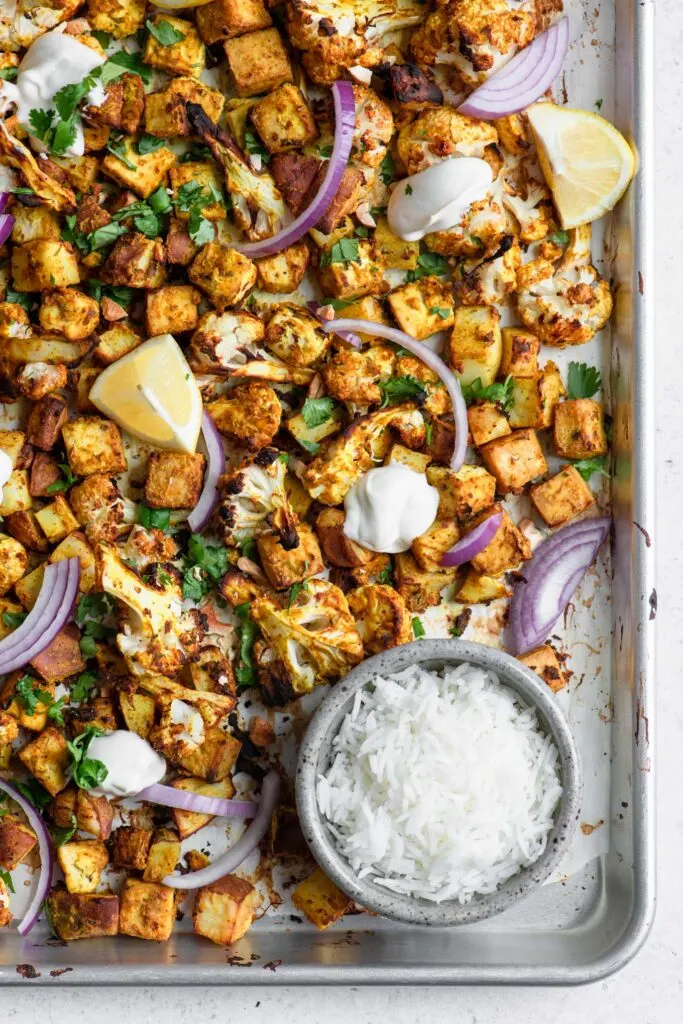 Why isn't it red?
You might be used to seeing vibrantly red tandoori dishes. Well, I hate to break it to you, but when it's that red food dye was probably used! Red food coloring is a very common ingredient in tandoori marinade.
The red color also comes from chili powder, and you can increase the red chili powder for more color and if you like spicy. In our family we love adding more, but I try to write my recipes on the medium spicy level (by my standards) because it's always easy to add more heat.
If you make this vegan tandoori sheet pan dinner, leave a comment below and rate the recipe on the recipe card. And please share your photos with me on Instagram, tag @thecuriouschickpea and #thecuriouschickpea. I love seeing your recreations!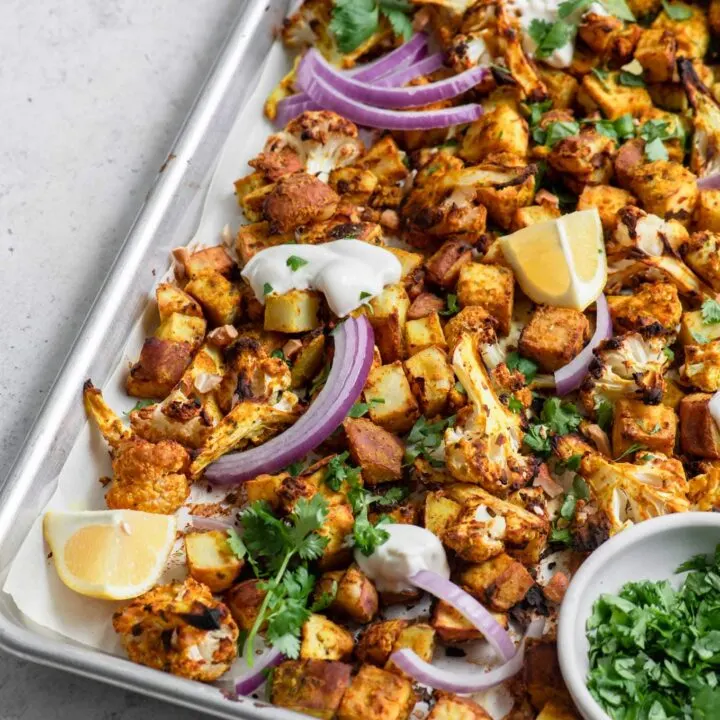 Vegan Tandoori Sheet Pan Dinner
Serve this tandoori baked tofu, cauliflower, and potato with a side of basmati rice or Indian bread, cilantro, red onion, and extra vegan yogurt and citrus. The yogurt tempers the heat for a flavorful but not too spicy dish, so feel free to use more (or less) chili powder to taste!
Ingredients
1 block super firm or extra firm tofu
1 head cauliflower, cut into florets
1 pound potatoes, cut into 1/2-3/4" cubes
1 cup vegan plain unsweetened yogurt
1/4 cup fresh lime or lemon juice
1 tbsp oil
3-4 cloves garlic, pressed
1 tbsp ginger, minced or grated
1 tbsp kasoori methi (dried fenugreek leaves), crumbled
1 1/2 tsp garam masala
1 tsp ground coriander
1 tsp chili powder (Kashmiri, cayenne, or chili powder blend), adjust for spice preference
1/2 tsp turmeric
1 tsp salt, or to taste
To serve:
More yogurt or raita
Thinly sliced red onion (soaked in ice water)
Minced cilantro
Wedges of lime or lemon
Basmati rice and/or Indian flatbread
Instructions
Preheat the oven to 450 ºF.
If using extra firm tofu, cut into 6 slices width wise and arrange in a single layer on a lint free towel. Wrap the towel around the tofu and place something heavy on top and let drain for 20-30 minutes. Then cut into cubes. If using super firm, just cut into cubes, no need to press.
In a mixing bowl whisk together the yogurt, lime or lemon juice, oil, garlic, ginger, methi, garam masala, coriander, chili powder, turmeric, and salt to make the tandoori sauce.
In a large mixing bowl gently toss the tofu, cauliflower, and potato in the tandoori yogurt sauce. Spread over 1-2 large baking trays (don't overcrowd) and bake until the potatoes are fully tender, about 30-40 minutes, stirring halfway through.
Serve immediately, with yogurt, red onion, cilantro, and wedges of lime/lemon, and a side of rice or bread. Enjoy!
Notes
I really like coconut yogurt in this recipe! But any plain unsweetened will do, it's best to choose one you enjoy! Some yogurt is thicker and/or drier than others, so add more if needed.
When choosing your chili powder: Kashmiri chili powder is a medium spicy chili, cayenne is more spicy, and use a blended chili powder for a milder dish. Or substitute paprika for no heat!
Recommended Products
As an Amazon Associate and member of other affiliate programs, I earn from qualifying purchases.
Nutrition Information:
Yield:

6
Serving Size:

1
Amount Per Serving:
Calories:

211
Total Fat:

8g
Saturated Fat:

1g
Trans Fat:

0g
Unsaturated Fat:

6g
Cholesterol:

2mg
Sodium:

453mg
Carbohydrates:

26g
Fiber:

5g
Sugar:

6g
Protein:

14g
Nutrition is calculated automatically so should be used as an estimate.