With this easy homemade hot sauce you may never have to buy hot sauce again! Well, that's probably not true but you will get to enjoy the most delicious hot sauce, and one that tastes even better for having made it yourself!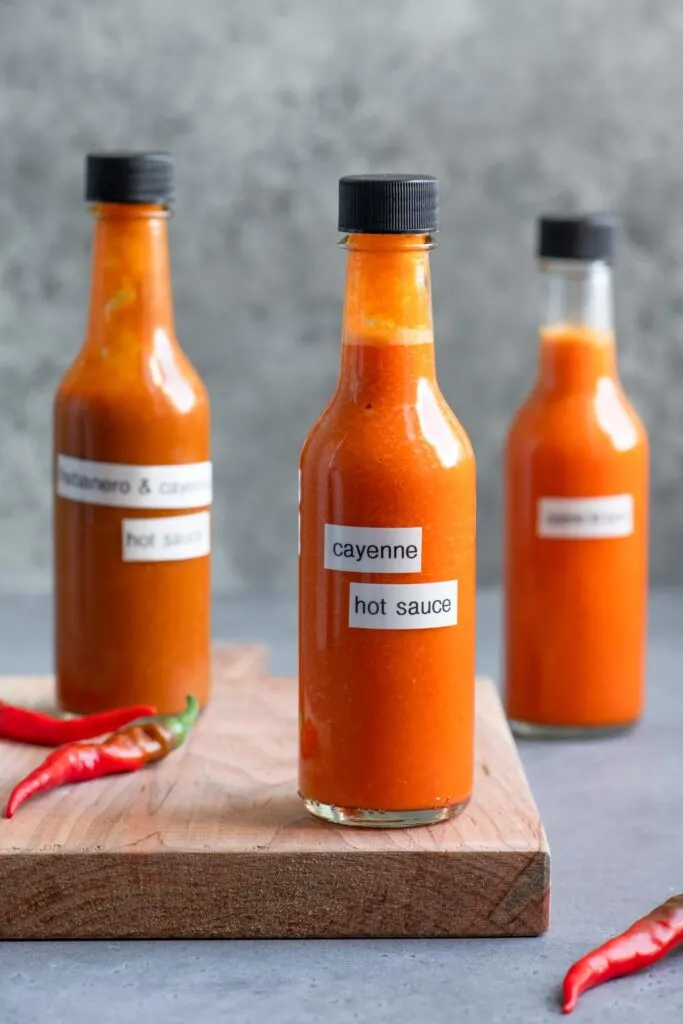 Homemade hot sauce is a fun and delicious project to tackle when you have a bounty of hot peppers. You can use a variety of hot chilies to make your own hot sauce, and the combinations of peppers and seasonings you can use are endless!
The basic premise is to lightly ferment hot peppers before blending them into a sauce, similarly to making sauerkraut and the like, then mix them up with vinegar.
Most hot sauces have other seasonings like garlic, onion, and sometimes contain spices like cumin, coriander, or even mustard seeds.
But whether you want a clean heat where the fruity flavor of the peppers come through or a well seasoned hot sauce, this recipe is a great place to start and make your own!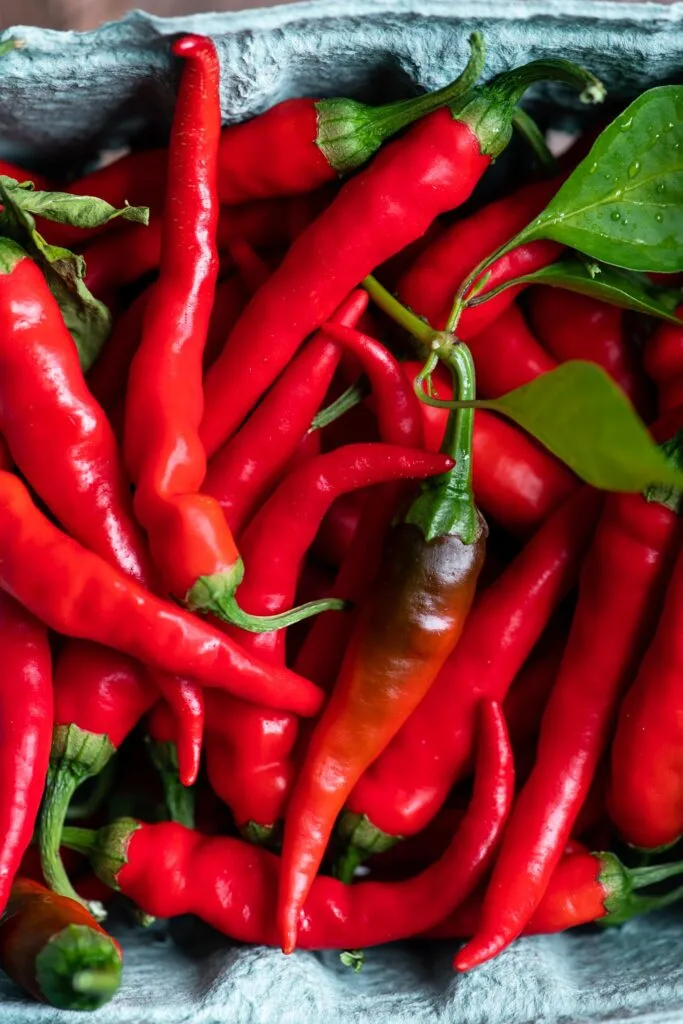 The Hot Chili Peppers:
You can make hot sauce from green chilies or red/orange ripe chilies. The main differences will be the color of the sauce, the heat level, sweetness, and flavor of the peppers themselves.
I love making hot sauce from my home grown chilies and varieties I buy at my local farmer's market. But I've also made them with hot peppers from the grocery store and it turns out great that way as well!
Different chiles have different water content. Some are fleshier and contain more water, while some have thinner skins. Some peppers contain more seeds and others are more hollow.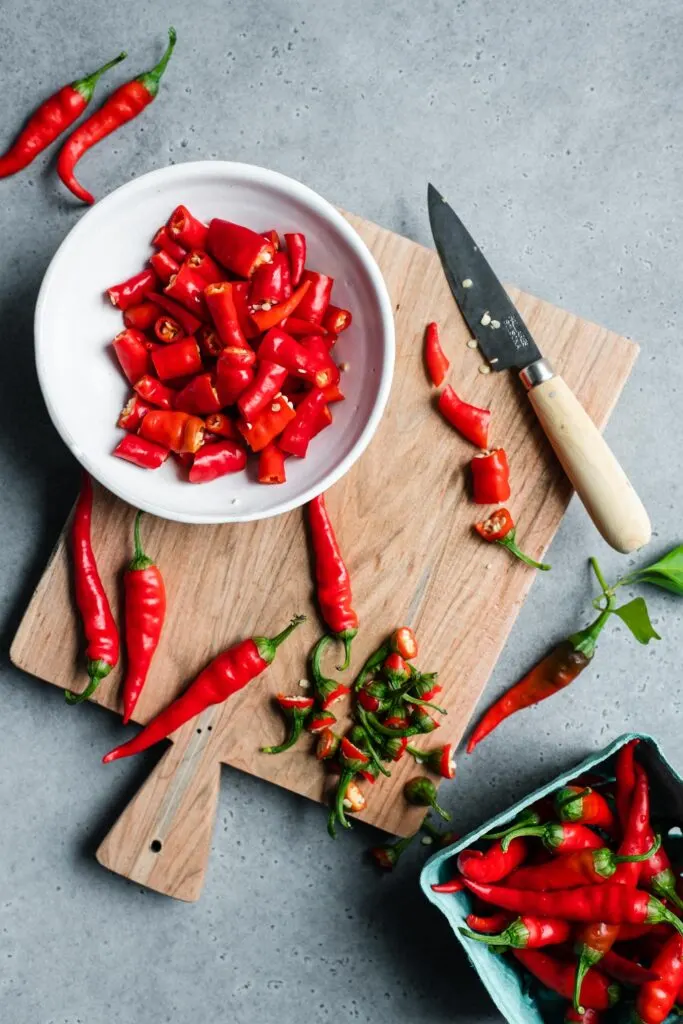 Because of this your hot sauce may end up being thicker or thinner, and if it's too thick you can add water or vinegar to thin.
Sometimes I like to strain out the pulp for a thinner more watery hot sauce, and other times I leave the pulp in for a thicker hot sauce (which can be thinned to a pourable consistency)!
Basically, you can use this method to make hot sauce with any hot chili peppers, but feel free to adjust it to meet your own preferences!
Other than having different textures, as you know different peppers have varying spice levels–you've heard of the scoville scale? Spicier peppers will make hotter hot sauce, and milder peppers will make milder hot sauce.
If I have a lot of really hot chiles, such as habaneros, I like to mix them with some milder chiles.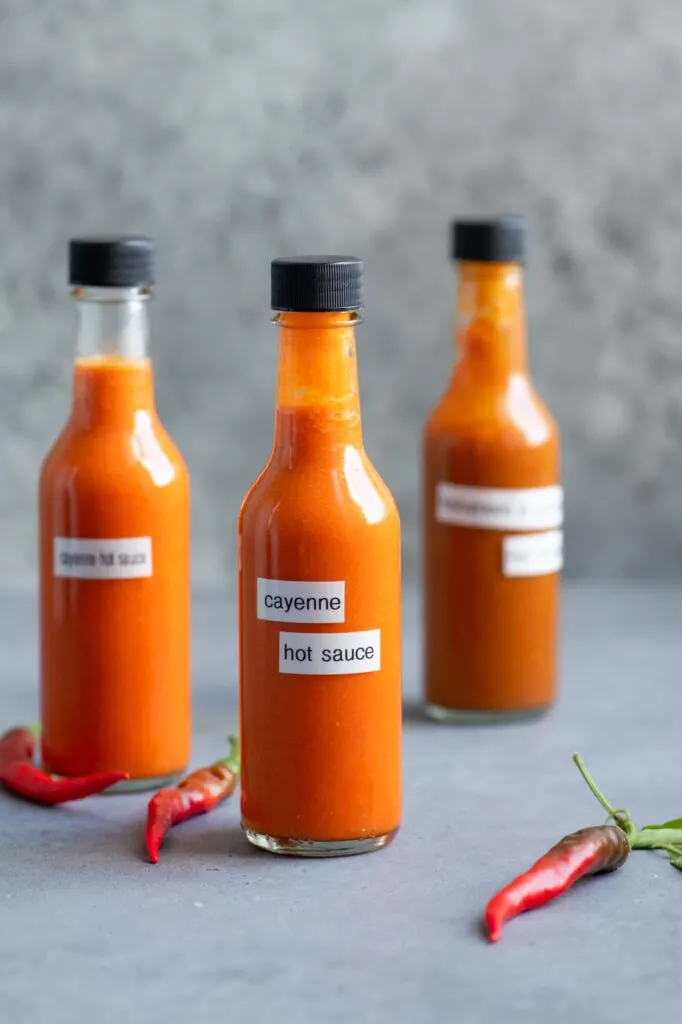 I've made this hot sauce with cherry bomb peppers, cayenne peppers, habaneros, and tabasco peppers. And combinations of them.
The fermentation of homemade hot sauce:
Don't get scared away from the idea of fermenting peppers to make hot sauce! Fermentation is a big word, but luckily chilies are some of the easiest foods to ferment.
Both the heat of the chilies, the salt, and garlic that are added to the mix help prevent unwanted bacteria from growing, while the naturally occurring good bacteria on the produce itself is able to culture.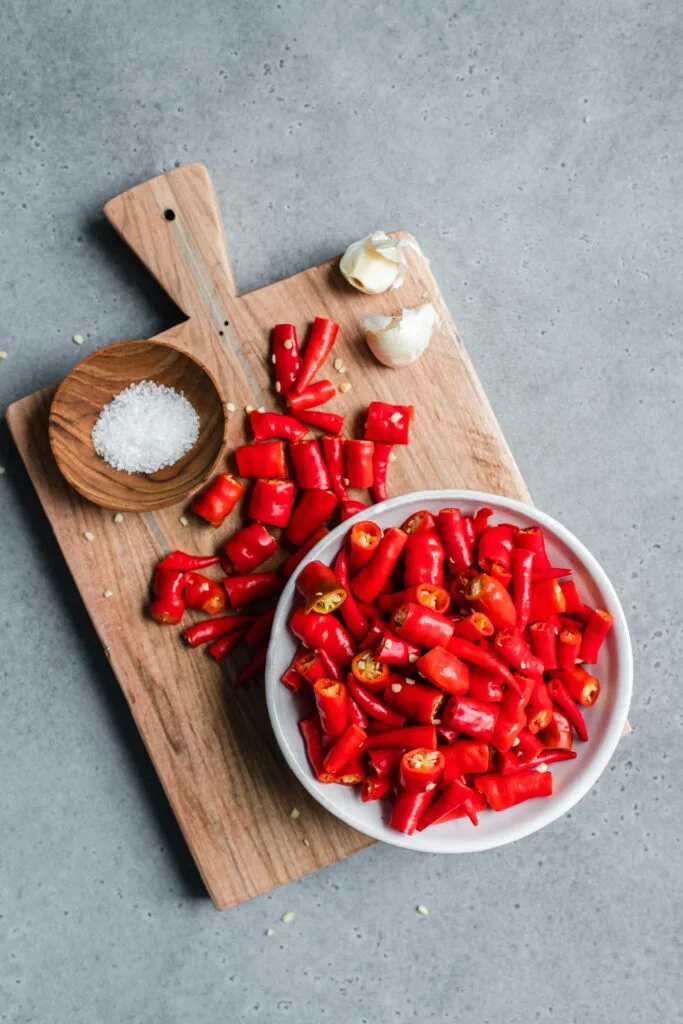 Fermenting the peppers helps the flavor develop and helps preserve the hot sauce. I don't do a long fully fermented version of this hot sauce, where the "pepper mash" made in the first step is submerged fully in brine and left to ferment for 1-2 weeks (if not longer).
But we get a bit of fermentation going and then let it at room temperature.
My process to make hot sauce is simple.
First, you add a bunch of hot peppers, garlic, (onion if using), salt and water to a food processor and chop it coarsely to make a thick and pulpy salsa.
Transfer the mixture to a clean glass jar, cover it with cheese cloth, and place a rubberband around the lip to hold it in place.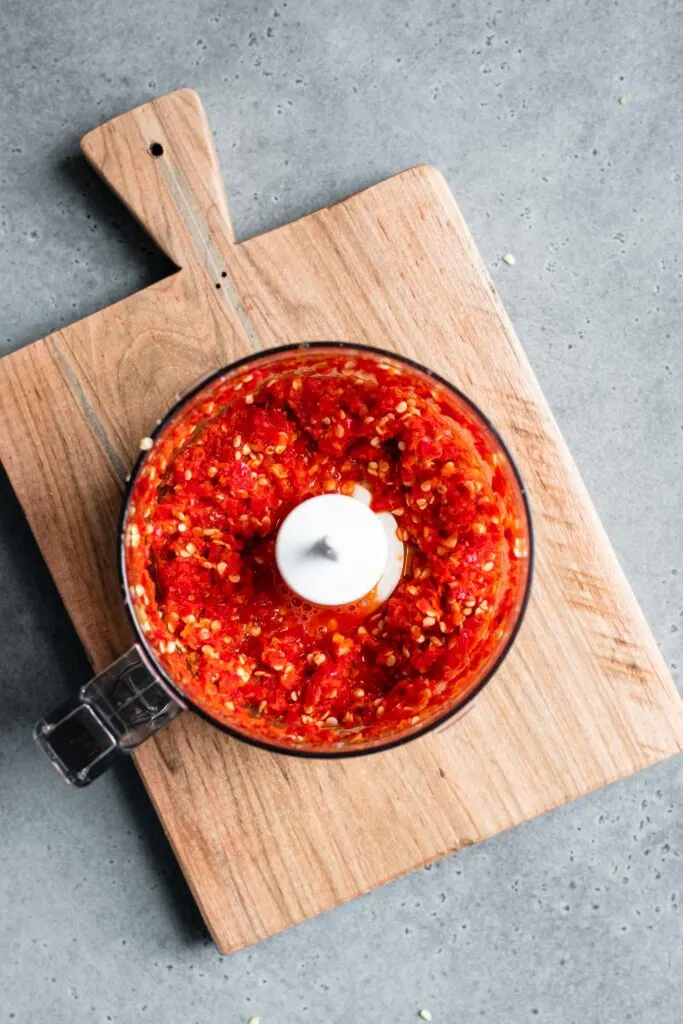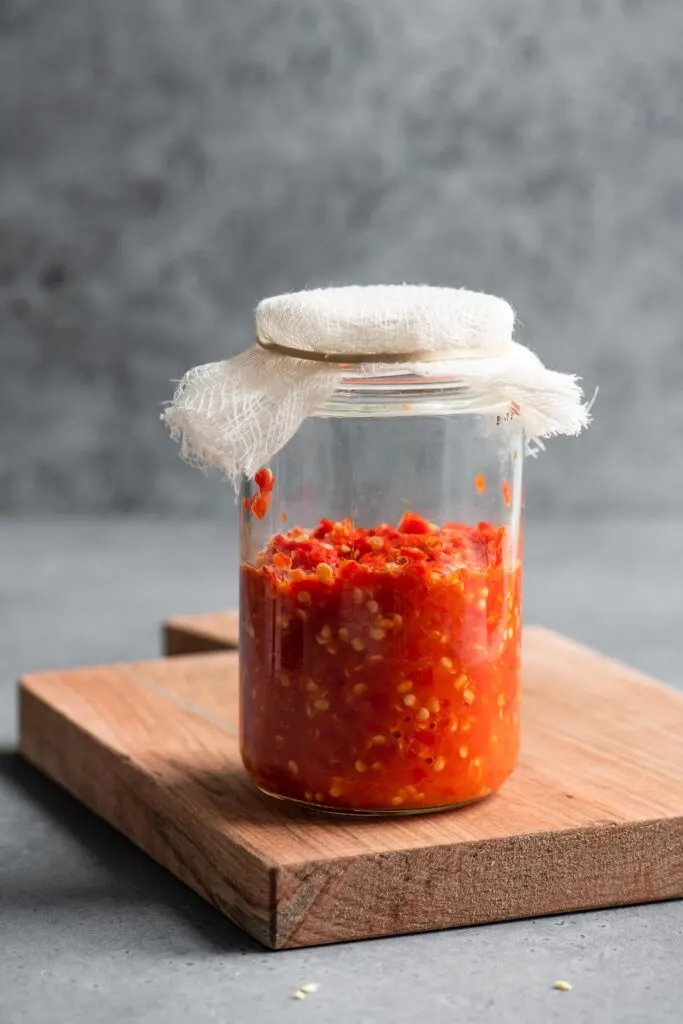 Set aside for 24 hours to kick start the fermentation, then stir in the vinegar and let it ferment for a week–still covered with cheese cloth.
At that point, transfer the mixture to a blender and blend until fairly smooth.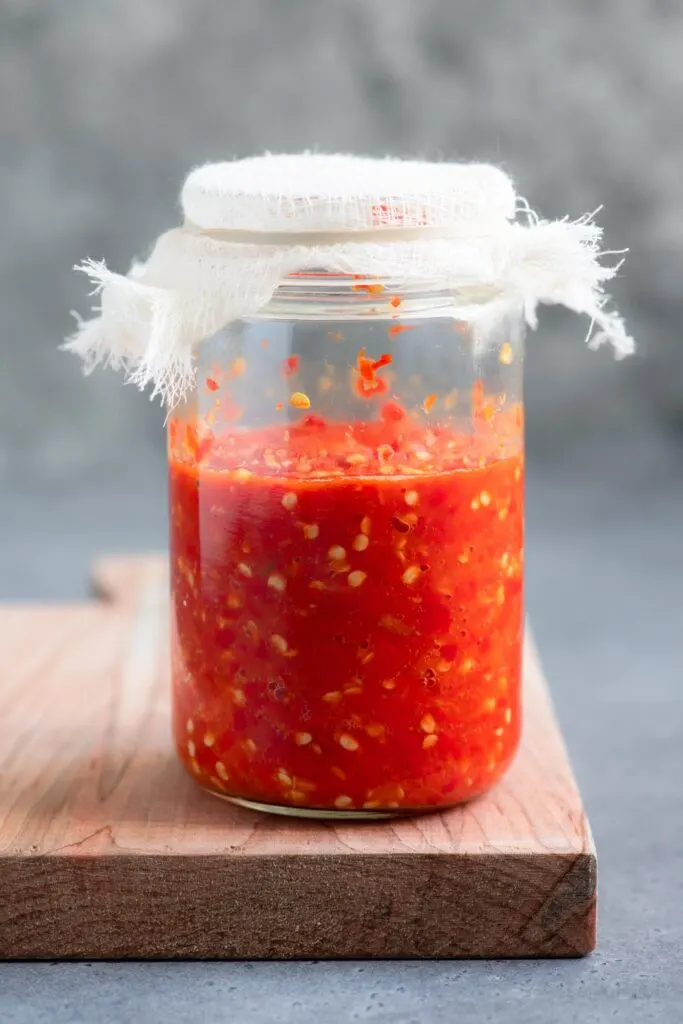 If you want a thinner hot sauce or your blender can't make the sauce smooth enough, you can strain the sauce through a fine-mesh strainer. For a thin and smooth hot sauce you can run it through a cheesecloth lined strainer to remove all pulp. Make sure to squeeze out all the liquid from the pulp if you use cheesecloth!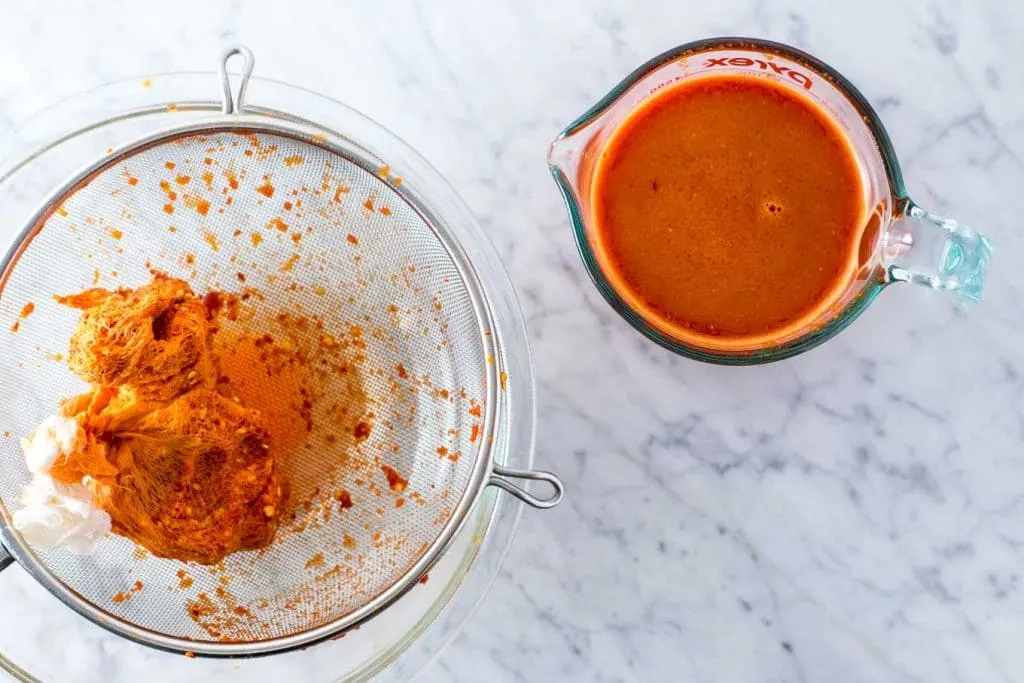 If you want to keep the pulp, just add more water (or cut it with a bit more vinegar if you want more acidity) to thin it out the desired consistency while you're blending.
Wear disposable food safe gloves at all steps when handling the hot chilies!!! This is very important!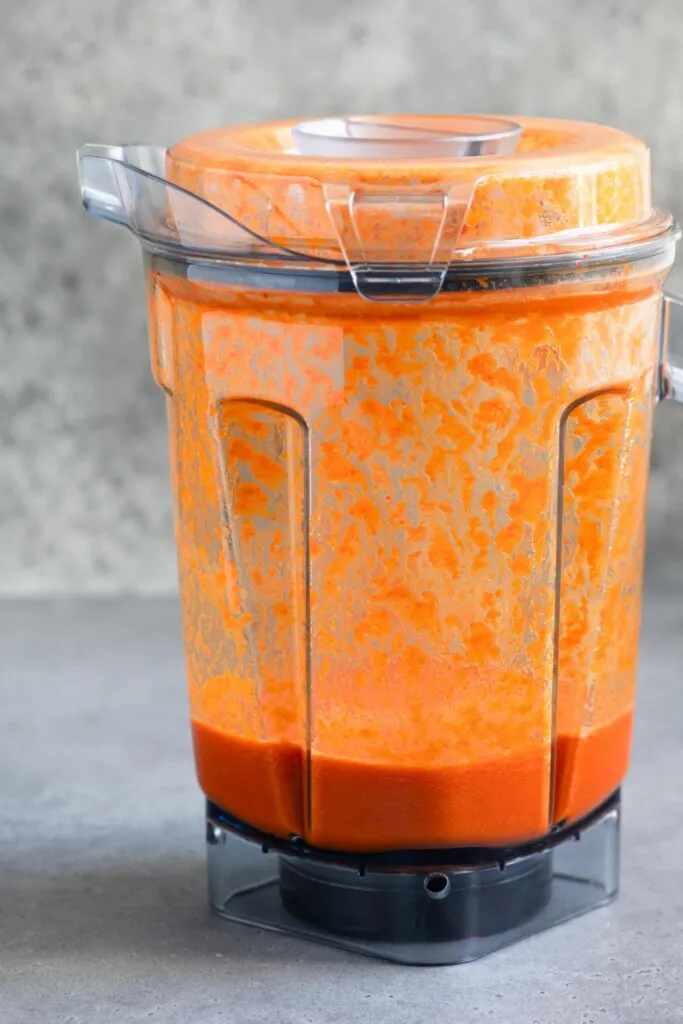 The flavor of homemade hot sauce is so fresh and perfect when compared to store bought versions. For an easy maybe 15 minutes of total hands on time, you have a mouth watering results that can (theoretically) last you for months if you pace yourself. But there is no need, you can just make more!
Make your homemade hot sauce your own!
There are so many variations you could make, from what kinds of chiles you use, to which type of vinegar you use and how much you add even.
Do you want your hot sauce sweeter?
Sometimes sweetness balances out the spicy and brings out flavor even more. You can add sugar to the final hot sauce to taste (start with a teeny amount) or do it by adding sugar containing vegetables to the sauce.
For flavor and a bit of natural sweetness, add chopped onion* when you first chop up the chilies and garlic. Or you can add a carrot at this point! Carrot is a great earthy tasting, natural sweetener.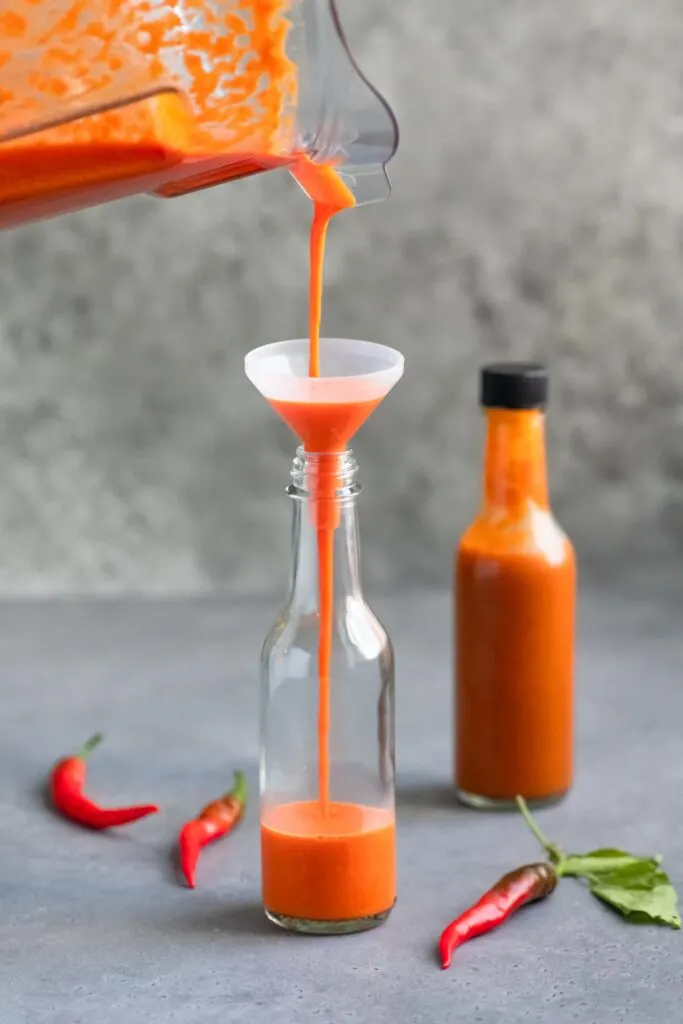 *Doesn't really what kind of onion you use, but white and yellow onions won't "muddy" the color of the final sauce like red onions might.
You could try making a mango hot sauce by rehydrating dried mango and blending it into the final sauce. This is really nice with a spicy sauce like habanero hot sauce.
Try adding spices to your hot sauce.
Try adding some toasted and ground cumin seed or coriander seed. A little ground toasted mustard seed could also be nice to add some "up your nose" heat.
I usually go for the clean peppery flavors of my hot sauces, but sometimes it's fun to switch things up!
Change the heat level:
We've all done it. Bitten off more than we can stomach spice-wise! Hot sauce is nice because you can add more if it's not too spicy and use it in small amounts if its a very spicy hot sauce.
But if you're making it yourself then you can start out with a mix of peppers to suit your own heat tolerance!
For a mild-to-medium hot sauce try using: jalapeños, serrano peppers, cherry bomb peppers, banana peppers, or fresno peppers. You can use all of one pepper or do a combination.
For a medium-to-hot hot sauce try using: cayenne peppers, fish peppers, thai chilies, or tabasco peppers. Again you can use all of one kind of pepper or use a combination.
For a hot-to-insane hot sauce try using: habanero, scotch bonnet, or ghost peppers. If using these peppers I would personally mix them with one of the medium-spicy or milder chiles.
This is not a complete list of chilies of course, and the same pepper (even same pepper plant) can produce peppers of wildly varying spice level. It's part of the adventure when it comes to chilies!
I hope you feel inspired to try making your own, homemade hot sauce!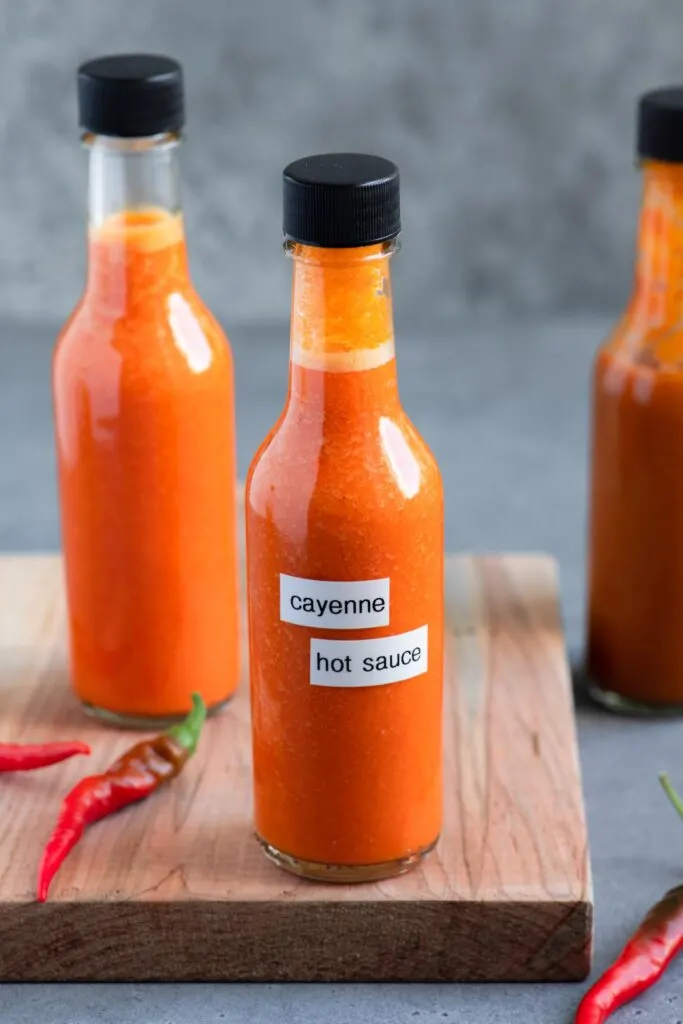 If you make this homemade hot sauce, leave a comment below and rate the recipe on the recipe card. And please share your photos with me on Instagram, tag @thecuriouschickpea and #thecuriouschickpea. I love seeing your recreations!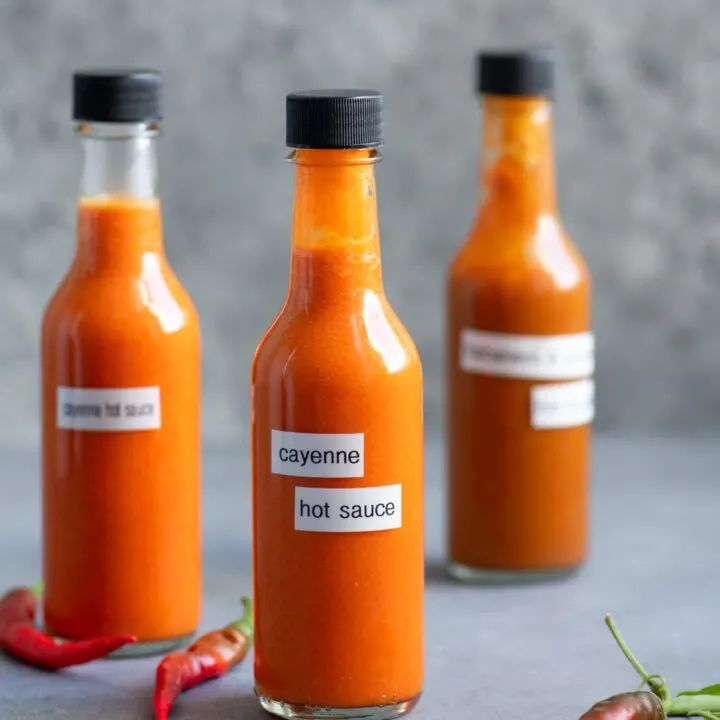 Easy Homemade Hot Sauce
Total Time:
8 days
10 minutes
Homemade hot sauce is cheap and easy, and the results are fresh tasting and mouthwatering. It's way better than store bought versions! This recipe can be adjusted if you have more or less peppers. If you have a scale keep around 2-3% of salt by weight, otherwise weigh your peppers when you buy them and adjust the salt based on the amount you have.
Wear gloves when handling the hot peppers.
Ingredients
226g (8oz) chili peppers, tops removed and coarsely chopped
2-3 garlic cloves, peeled
6g (1 tsp) coarse kosher salt*
1/4 cup water
1/4 cup apple cider vinegar, white wine vinegar, or rice wine vinegar
Instructions
Add the peppers, garlic cloves, salt, and water in a food processor. Process until you reach the texture of a chunky salsa.
Transfer to a clean glass container and cover with a cheesecloth. Leave on the counter at room temperature for 24-48 hours.
After 1-2 days, stir in the apple cider vinegar. Leave on the counter, covered with a cheesecloth for 5-7 days (if you have time, go the full week!).
After 1 week, transfer to a blender and purée until smooth. If it's very thick add more water (and/or vinegar to taste) to thin. Optional: strain the sauce through a mesh strainer or cheesecloth lined strainer. Squeeze out all the juice from the remaining pulp. Straining will make a thinner sauce, so wait to thin the sauce if you are straining it.
Transfer to a clean jar or hot sauce bottle and refrigerate. It will last for several months.
Separation is normal, shake before use.
Notes
*If using finely ground sea salt, decrease amount slightly.
Make the sauce your own! You can sweeten or flavor the hot sauce by adding other vegetables in the first step (e.g. onion or carrots). Or add a bit of sugar to taste to the final hot sauce. Or try adding spices like cumin, coriander, or mustard seed to the final hot sauce.
This recipe was originally published on May 16, 2017. The amounts have been adjusted in this updated recipe to make it easier to work with smaller amounts of peppers. The original amounts were:
1 1/4 lbs cherry bomb peppers, or your choice of fresh chiles, tops removed
6 garlic cloves
1 1/2 tbsp coarse kosher salt
1/2 cup water
1/2 cup apple cider vinegar