With this easy homemade hot sauce you may never have to buy hot sauce again! Well, that's probably not true but you will get to enjoy the most delicious hot sauce, and one that tastes sweeter (well spicier but that's not a saying) for having made it yourself!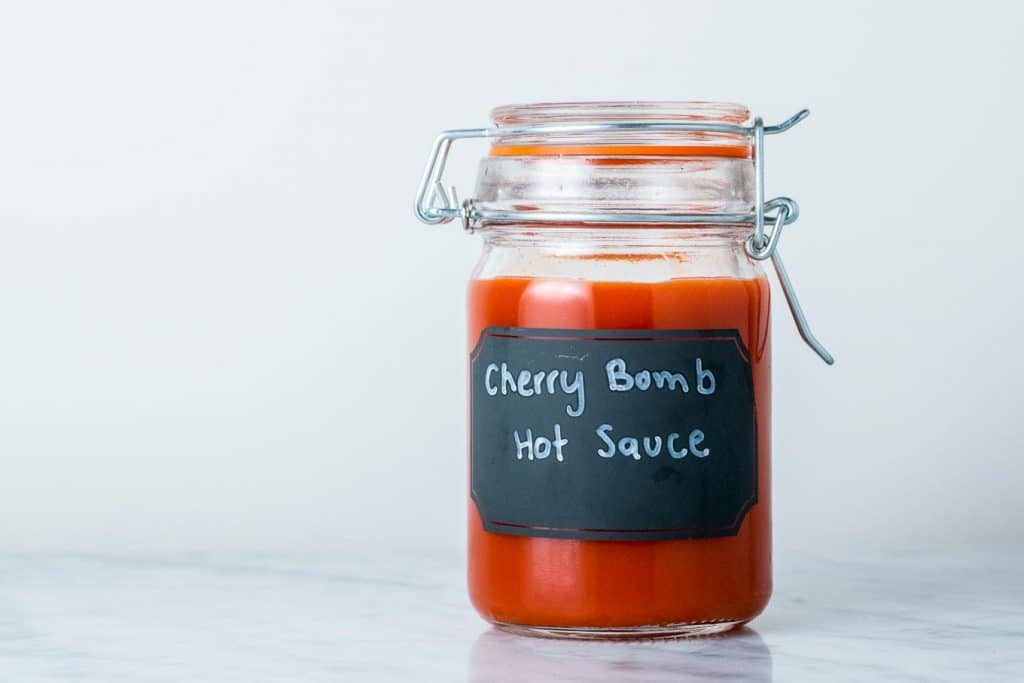 Summer is coming and with it bountiful farmers markets and gorgeous colorful produce displays at the grocery store. And while many of us are fortunate enough to have access to a lot of fruits and vegetables year round, unless it's locally in season, there isn't a lot of variety.
But come summertime there are so many options for tomatoes and eggplant and greens and, yes, peppers! This is especially true if you have access to a farmers market. Or if you're one of those cool people who gardens and likes to grow peppers.
This time of year I turn into a kid in a candy shop, only instead of candy, the jewel toned items I sweep in huge quantities into my shopping bag are peppers. But then I get home and I'm like omg why is my entire produce drawer filled with peppers, whatever am I going to do with them?
A girl can only eat so many jalapeño poppers or jalapeño popper dip. I can only make so much roasted jalapeño cheese (not true, you can basically make infinite cheese). I can't justify that many serranos in my guacamole. Well let me tell you: You can make hot sauce. And then you can put that hot sauce on everything, such as tacos. It's easy to make, and I've done the hard (and sometimes dangerous) experimenting for you.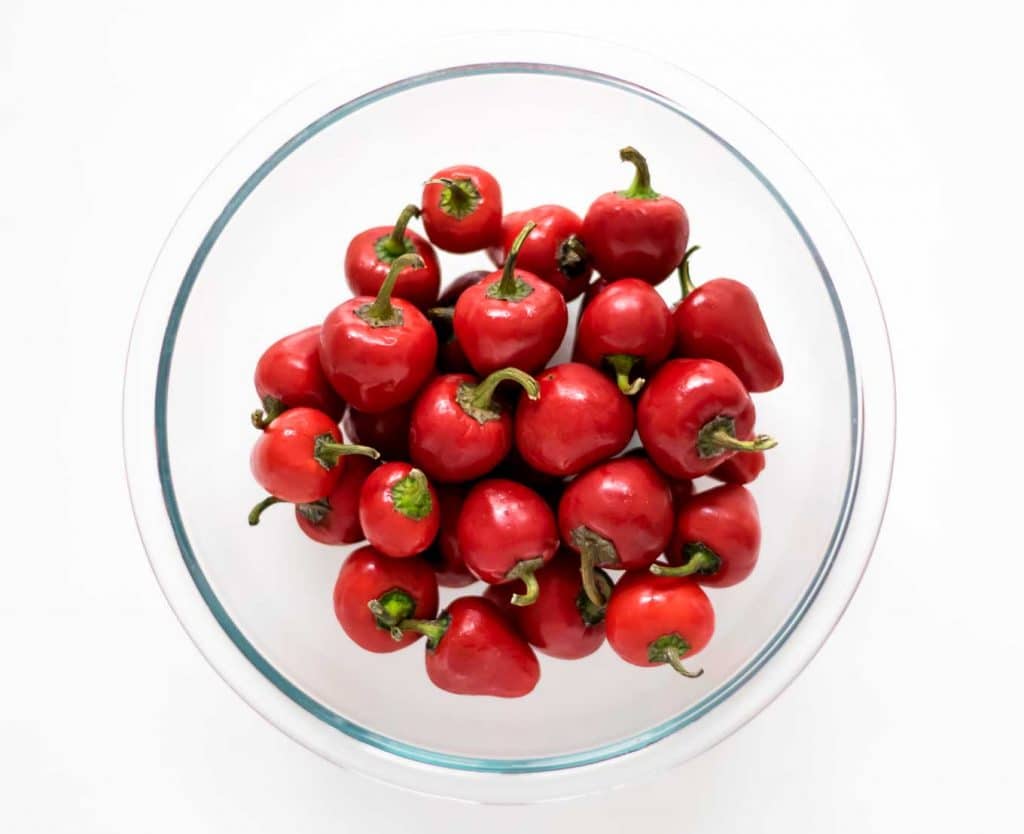 The first time I tried to make hot sauce a few years ago, the recipe I followed had me put the hot sauce mixture into the refrigerator right away. The mixture began to ferment in the fridge, and the pressure built up in the mason jar I had it in.
And when my boyfriend (now husband) went to get it a day or so later, the light jostling from grabbing it actually caused the glass to explode in his hand. Thankfully he had grabbed the lid and managed to not get hurt. But I had to do a lot more research before attempting hot sauce again.
An important step in making hot sauce is letting it ferment. This process develops flavor and helps preserve the peppers. Don't let my story scare you away from making hot sauce, it's straight forward and easy to make, and once you understand that it will ferment and don't put a bubbly mixture into a well sealed jar, not overly dangerous.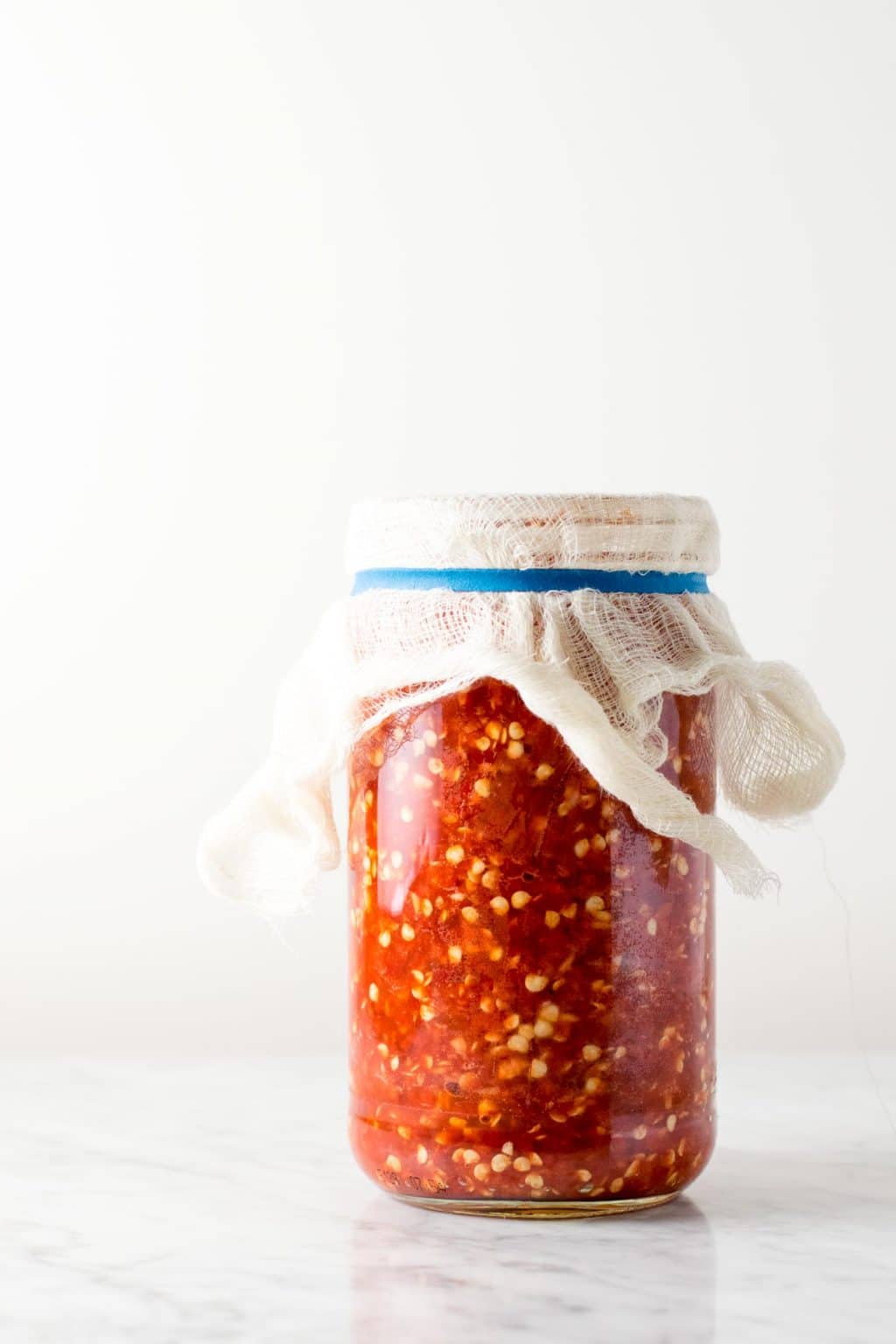 The process to make hot sauce is simple. First, you add a bunch of hot peppers, garlic, salt and water to a food processor and chop it coarsely. Then transfer it to a clean glass jar, and cover it with cheese cloth. Set aside for 24 hours, then stir in the vinegar, and let it ferment for a week–still covered with cheese cloth.
At that point, transfer the mixture to a blender and blend until fairly smooth. Strain through a fine-mesh strainer and/or using cheesecloth (and food safe disposable gloves) to remove all the seeds and squeeze all the mouth watering flavor from the pulp.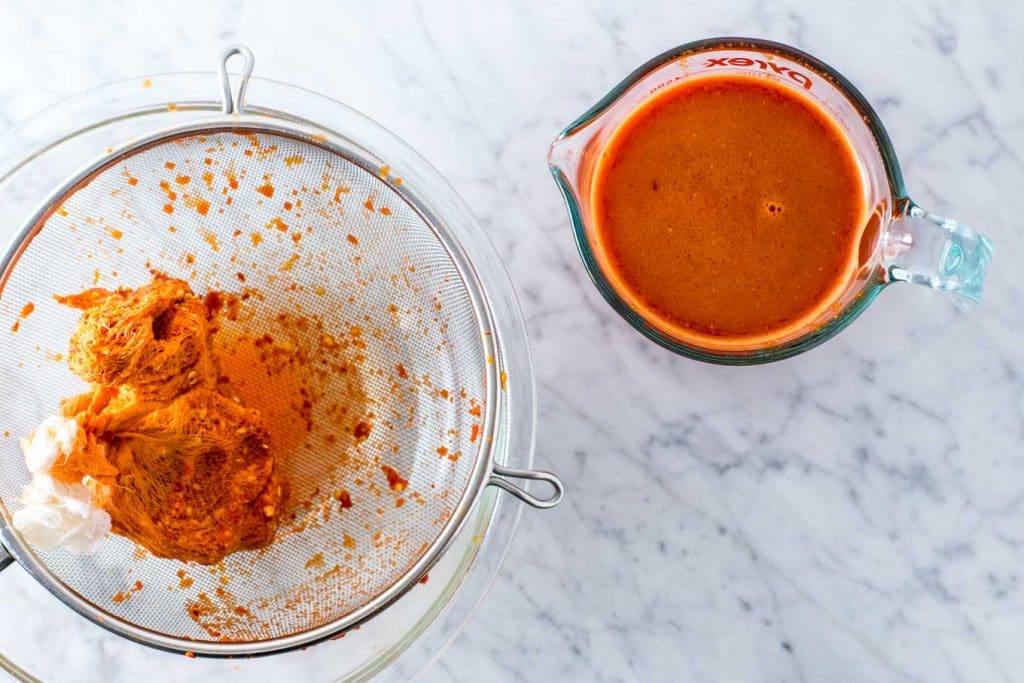 The flavor of homemade hot sauce is so fresh and perfect when compared to store bought versions. For an easy maybe 15 minutes of total hands on time, you have a mouth watering results that can (theoretically) last you for months if you pace yourself. But there is no need, you can just make more!
There are so many variations you could make, from what kinds of chiles you use, to which type of vinegar you use and how much. You can change how spicy your hot sauce is: make it hotter by adding some habaneros or scotch bonnet peppers, or milder with something like fresno chiles.
So this summer when you see the displays of bright red hot peppers calling your names, grab a pound or two and make hot sauce! And if you do make it, please let me know in the comments, rate it, and tag me on Instagram!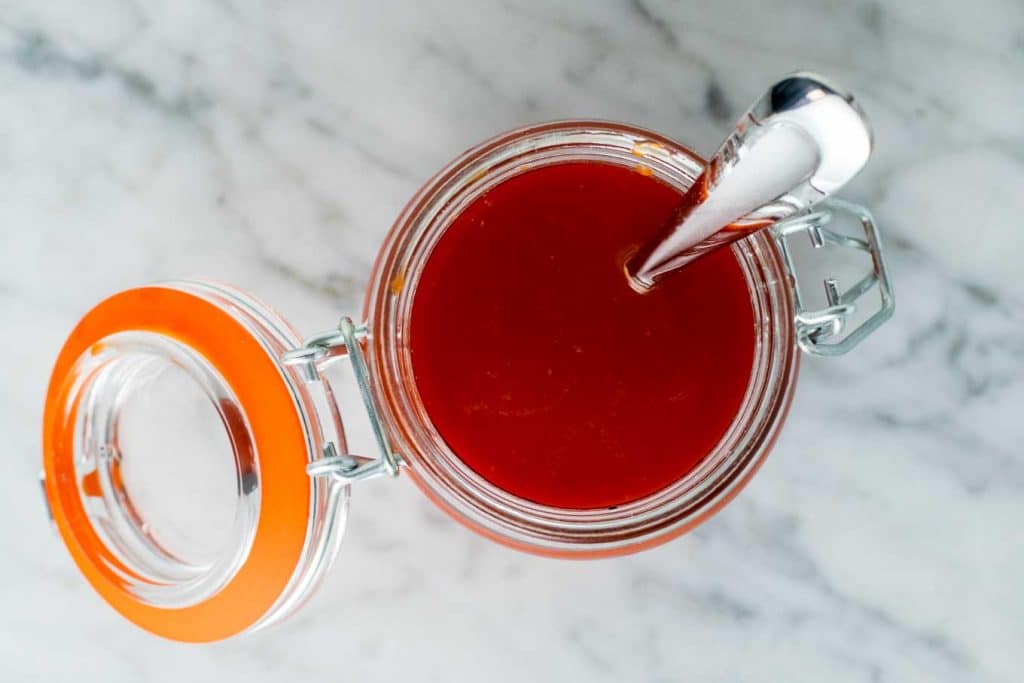 Notes:
I made this batch of hot sauce with cherry bomb peppers, which are a fun seasonally available pepper that isn't too spicy, but has a nice flavor and a very pleasant amount of heat. Feel free to use your choice of chiles, either one kind or a mixture.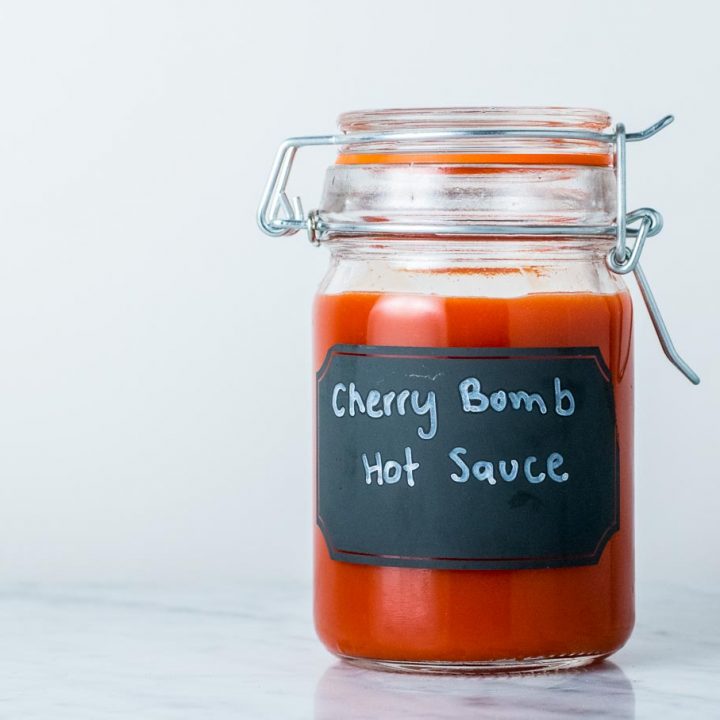 Easy Homemade Hot Sauce
Total Time:
8 days
10 minutes
Homemade hot sauce is cheap and easy, and the results are fresh tasting and mouthwatering. It's way better than store bought versions!
Ingredients
1 1/4 lbs cherry bomb peppers, or your choice of fresh chiles, tops removed
6 garlic cloves
1 1/2 tbsp coarse kosher salt*
1/2 cup water
1/2 cup apple cider vinegar
Instructions
Combine chili peppers, garlic cloves, salt, and water in a food processor. Process until you reach the texture of a chunky salsa.
Transfer to a clean glass container and cover with a cheesecloth. Leave on the counter at room temperature for 24 hours.
Add the apple cider vinegar and stir to combine. Leave on the counter, covered with a cheesecloth for 5-7 days (if you have time, go the full week!).
After 1 week, transfer to a blender and purée until smooth. Pour through a cheesecloth and strainer to separate the seeds and any leftover pulp. Using food safe gloves, squeeze out all the juice from the remaining pulp.
Transfer to a clean jar or ideally an old hot sauce bottle and refrigerate. It should last for several months.
Separation is normal, shake before use.
Notes
*If using finely ground sea salt, decrease amount slightly