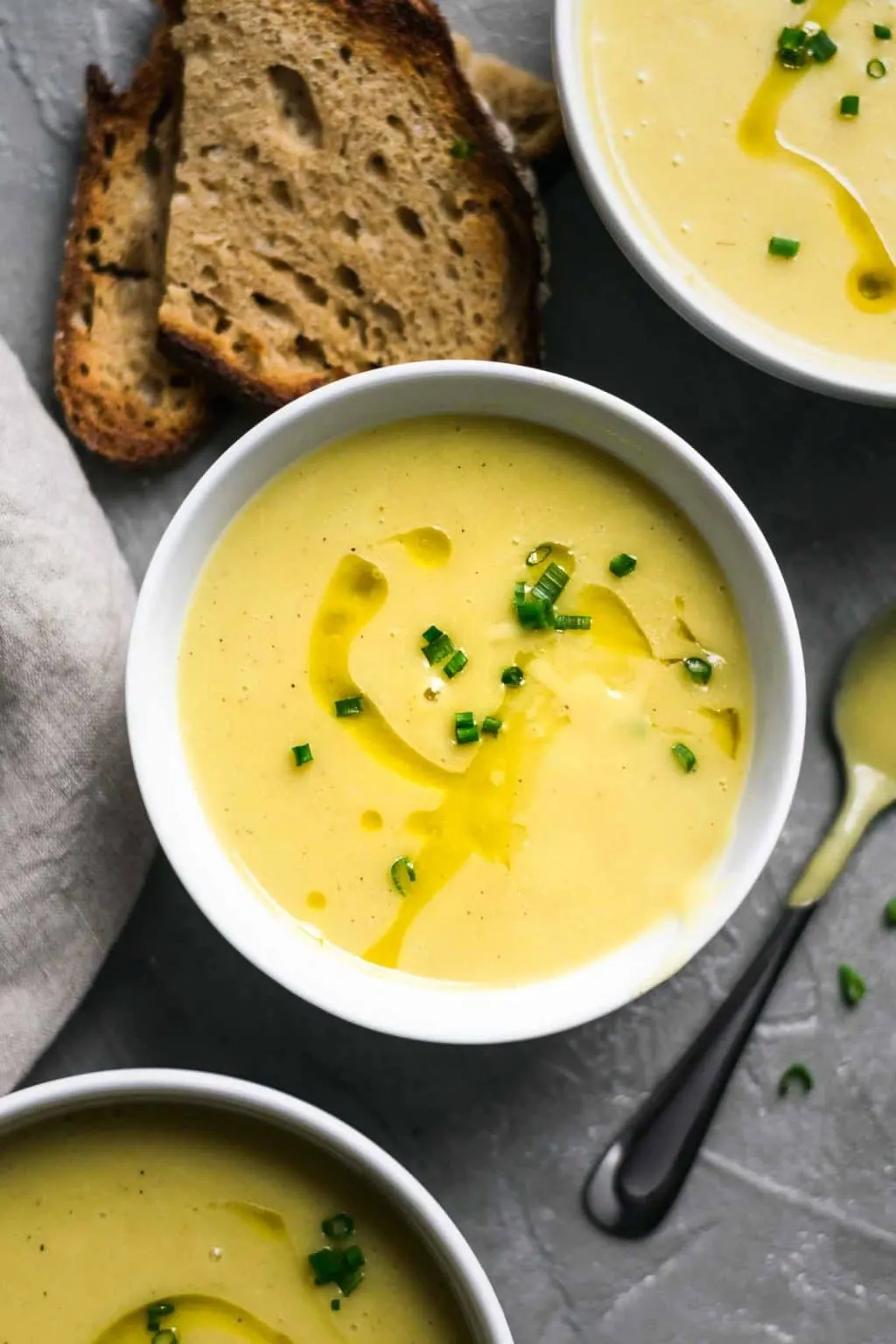 I love this creamy, comforting, heart-warming potato leek soup. It's so incredibly easy to make with only 12 pantry-friendly ingredients (and that's including the garnish!) and it's ready to eat in just over 30 minutes. There is something so satisfying about soup but I don't make them very often, partly because we always eat leftovers for lunch and soups are harder to transport and reheat. But every time I do make soup I regret that we don't eat them more often! They're just so perfect. Especially this one. This potato leek soup blends up in the the most velvety, lusciously smooth texture and it is filling while not feeling too heavy or indulgent.
Potato leek soup typically has heavy cream in it but in this heart-healthy vegan version, that heavy cream is replaced with cashews. Cashews blend up into a thick cream and I don't miss the dairy at all! To make things nice and simple, I add the cashews at the same time as the potatoes so they boil and soften along with everything else. Then when it comes time to blend everything, I just let it go until the whole soup is perfectly smooth and ultra creamy! Sure, my high-powered blender makes easy work of this, but most blenders should be able to get you a nice creamy result, you might just need to blend a bit longer. You can always soak your cashews in cold water for 2+ hours (or overnight in the fridge) and blend them with the water separately from the soup so that you can take allll the blending time you need. 🙂
The hardest thing about making this soup is washing the leeks, but guys, it's really not that hard at all! Cut off the tough dark green leaves at the top as well as the very bottom of your leeks then cut them in half. Then just peel back each layer at a time under running water and wash out all that sandy dirt! See? Easy peasy. I love leeks, they're the mildest of alliums, subtly oniony and garlicky. Their best flavor comes out when cooked in a flavorful fat (like [vegan] butter or olive oil) over a lower heat. I cook the leeks in vegan butter (or olive oil) over low-medium heat to soften along with whole cloves of garlic which I've smashed. The garlic is able to mellow without burning, and since the whole soup gets blended later we don't have to worry about big bites of garlic. Adding a pinch of salt draws out the moisture from the leeks which helps slow down the browning process.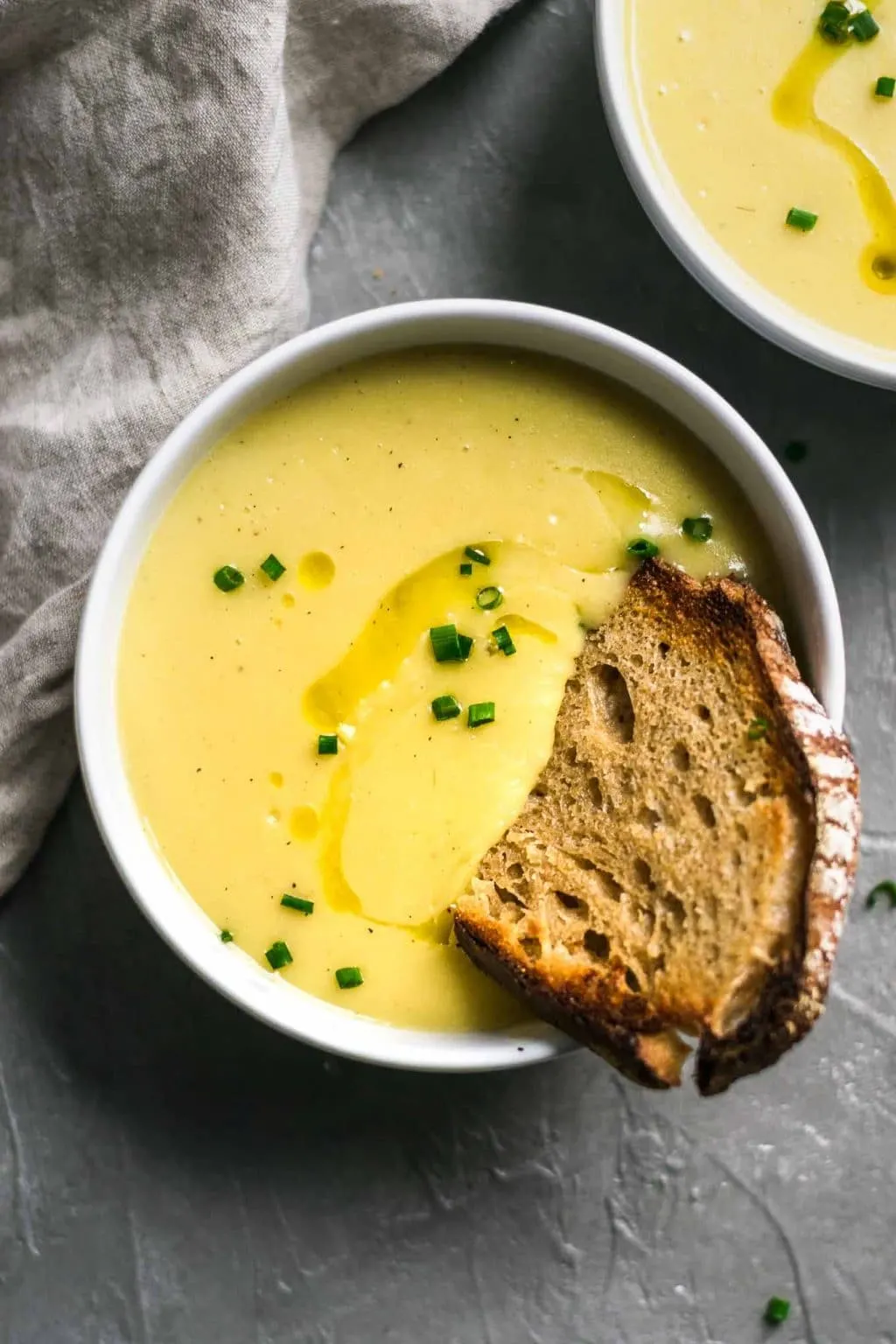 Once the leeks are soft, toss in small cubed potatoes (small means they cook faster!) along with broth, water, cashews, bay leaf, thyme, a bit more salt, and lots of freshly ground black pepper. Bring to a simmer and cook until the potatoes are nice and soft. Blend while the mixture is still hot (making sure to vent the blender!) and then serve immediately! A drizzle of olive oil and some minced chives make for a pretty presentation and highlight that perfect oniony flavor. Blending potatoes causes their starches to break apart and changes the texture of the potatoes. It's why for fluffy mashed potatoes you use a potato masher or a ricer. The more mechanical manipulation of the potatoes the less fluffy they get, and if you take it too far they get a bit gluey in texture. In this soup I think a little blending helps produce the most desirable luscious texture. But you do need to be careful not to over do it. Blend until the soup is perfectly smooth, then stop.
I love serving some garlic bread alongside this vegan potato leek soup. I slather on garlic butter on slices of sourdough then toast the bread under the broiler until the crust is nice and crispy. Dipping the bread into the soup until the crust softens and eating the creamy leek and potato soup soaked garlic bread is one of life's most enjoyable experiences. And now I've just psyched myself up for making another pot ASAP! *runs to store to buy all the leeks* 😉
I hope you guys enjoy this soup as much as we do! It's the perfect spring (and fall and winter) soup when leeks are in season. If you make the vegan potato leek soup, I'd love to know what you think! As always, don't forget to tag your recreations @thecuriouschickpea and #thecuriouschickpea on Instagram, or share with me on Facebook!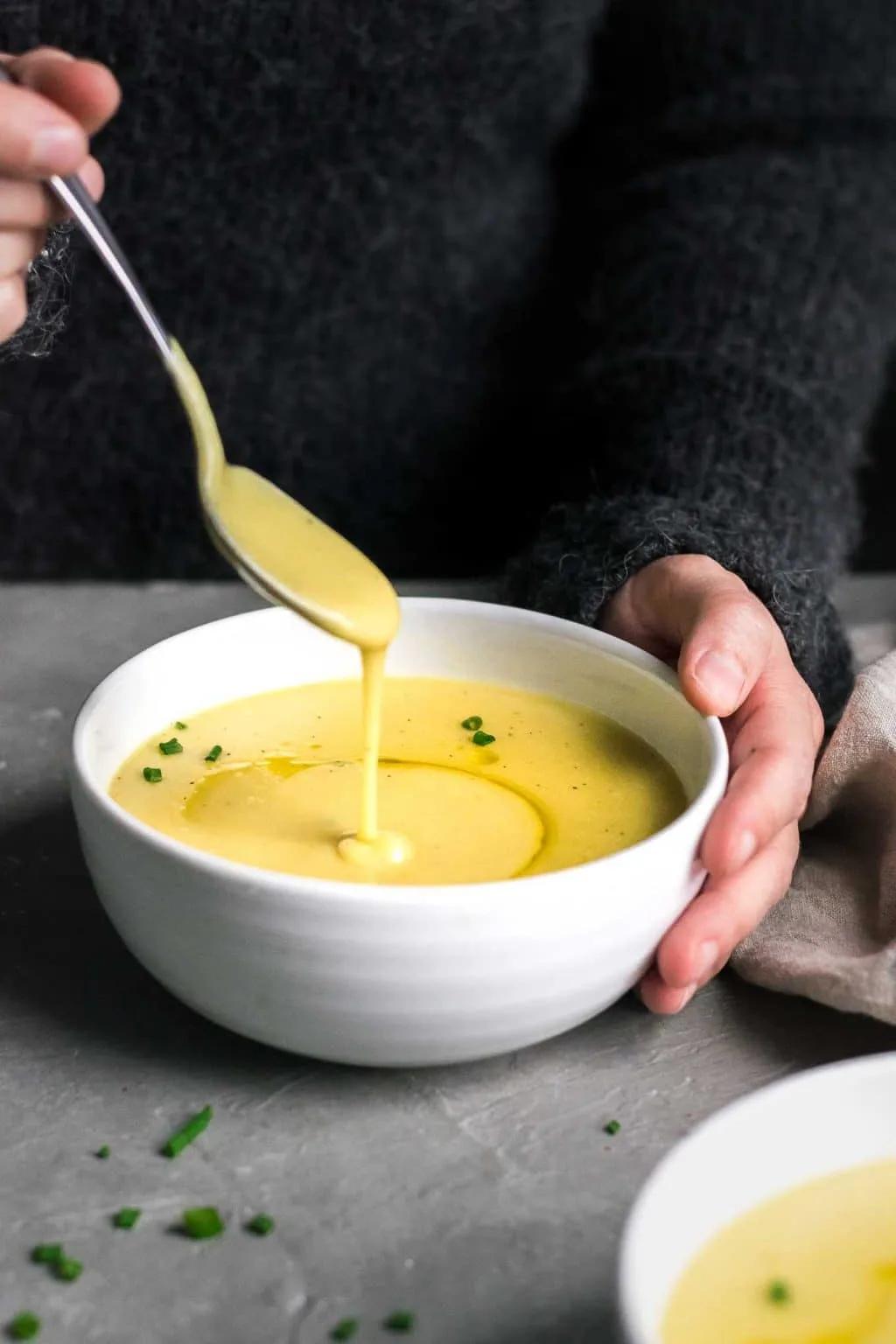 Notes:
To make the soup nut free, omit the cashews and the water and add 1/2 – 1 cup of canned coconut milk or plain unsweetened soy milk.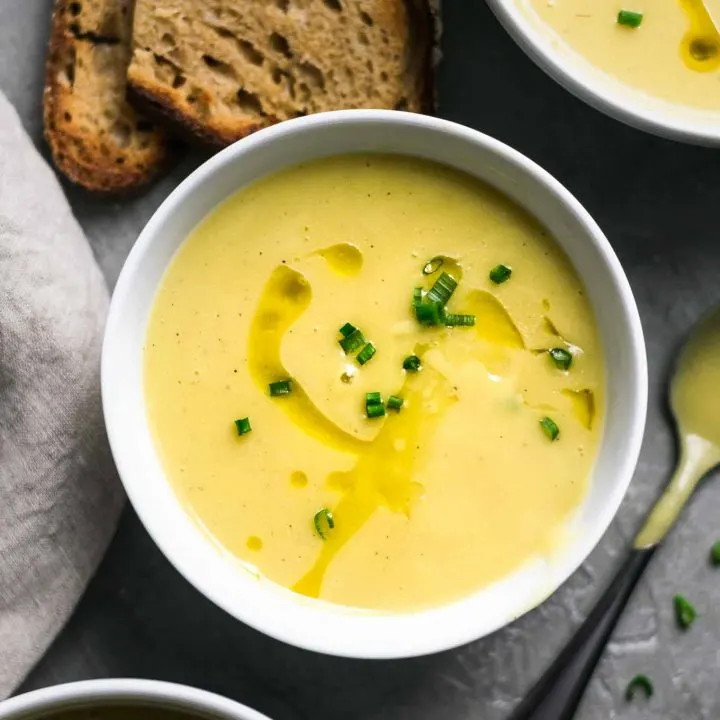 Vegan Potato Leek Soup
This mildly oniony, creamy and silky smooth potato-leek soup is the perfect comfort food. It's ready in just over 30 minutes of mostly hands off time and only needs 12 mostly pantry friendly ingredients. It's a rich tasting and flavorful naturally gluten free soup that's perfect for spring.
Ingredients
2 tbsp vegan butter or olive oil
2 large leeks, cut in half and thoroughly cleaned*, white and light green parts only coarsely chopped (~4 cups)
2-3 garlic cloves, smashed and peeled
1 1/2 lbs yukon gold potatoes, peeled and cut into 1/2" dice (~4 cups)
1/2 cup cashews
4 cups vegetable broth, ideally no-chicken style
1 cup water
1 bay leaf
1/2 tsp salt, or to taste
1/2 tsp dried thyme
freshly ground black pepper to taste
minced chives, for garnish
Instructions
Heat a large, heavy bottomed pot over medium-low. Add the vegan butter (or olive oil) and let it melt. Add the chopped leeks, garlic, and a pinch of salt. Let the leeks cook for 8-10 minutes, stirring occasionally, until soft. You don't want them to brown, so turn down the heat if necessary.
Add the potatoes, cashews, broth, water, bay leaf, salt (if your broth is very salty, use less, you can always add more later), dried thyme, and black pepper. Cover the pot, turn the heat up and bring the broth to a boil. Turn the heat down to low and let the soup simmer for 12-15 minutes or until the potatoes are very tender.
Remove the bay leaf and transfer the mixture to a blender, working in batches. Blend each batch for a couple of minutes until smooth and creamy.
Serve the soup warm, with a garnish of chives and a drizzle of olive oil (if desired).
Notes
*Wash your leeks thoroughly. Slice them in half lengthwise, and then really rinse the layers out well, peeling back each layer as needed, until completely clean. Leeks tend to be very dirty, and a lot of that sandy dirt gets stuck in the layers.