These barbecue tofu sandwiches with pineapple relish and avocado make a delicious meal. They're perfect for summer picnics, BBQs, or cozy dinners. This easy recipe is quite a crowd pleaser!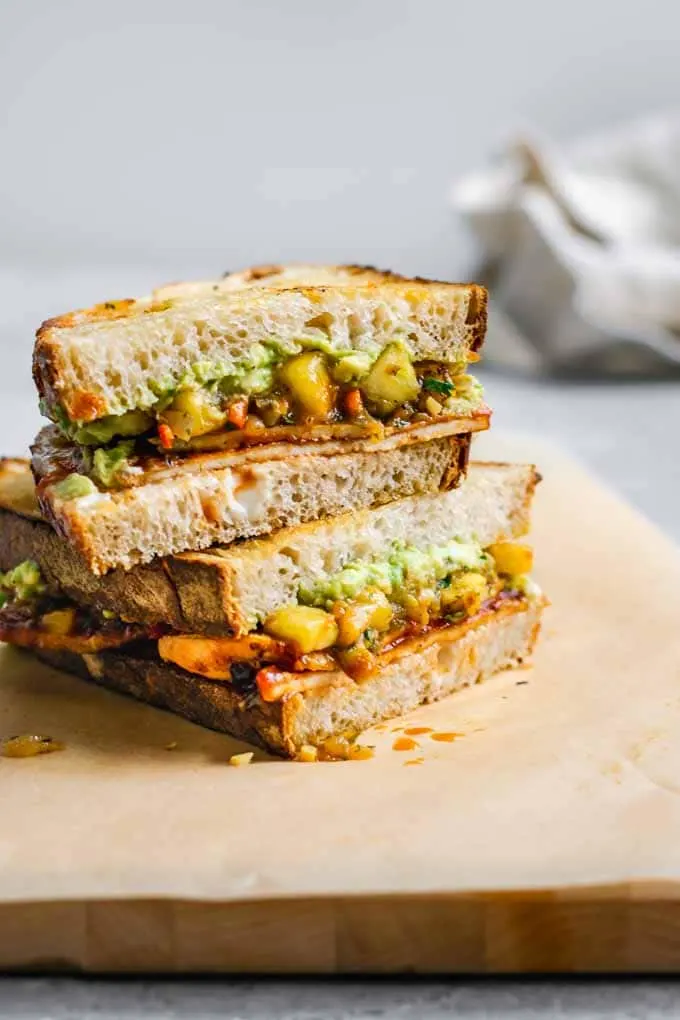 "These are inspired," were the first words my husband Omar spoke after biting into one of these sandwiches. Having already polished one off hours before post photoshoot, I just gave an excited and knowing grin.
A sweet and smoky barbecue sauce, slathered over thin slices of tofu which have been fried until chewy. Paired with a zingy pineapple relish, just a little bit spicy.
Sandwiched between two slices of toasted sourdough bread, one slice generously topped with mashed avocado, and the other slathered with vegan mayonnaise.
Hot sauce is optional (unless you ask Omar), but great anyone who likes their sandwiches to lean spicy.
These easy sandwiches are packed with flavor and will be on repeat around here!
The easy barbecue sauce:
I love a complex, long ingredient, slow cooked barbecue sauce as much as the next person (just me?). But sometimes you want a quick sauce for your hungry belly and luckily there's a great shortcut for that long simmered flavor.
And that ingredient is ketchup. All ketchup is is tomato puree simmered with some spices and sugar until the thick condiment is formed. We can use its robust flavor to our advantage in homemade barbecue sauce!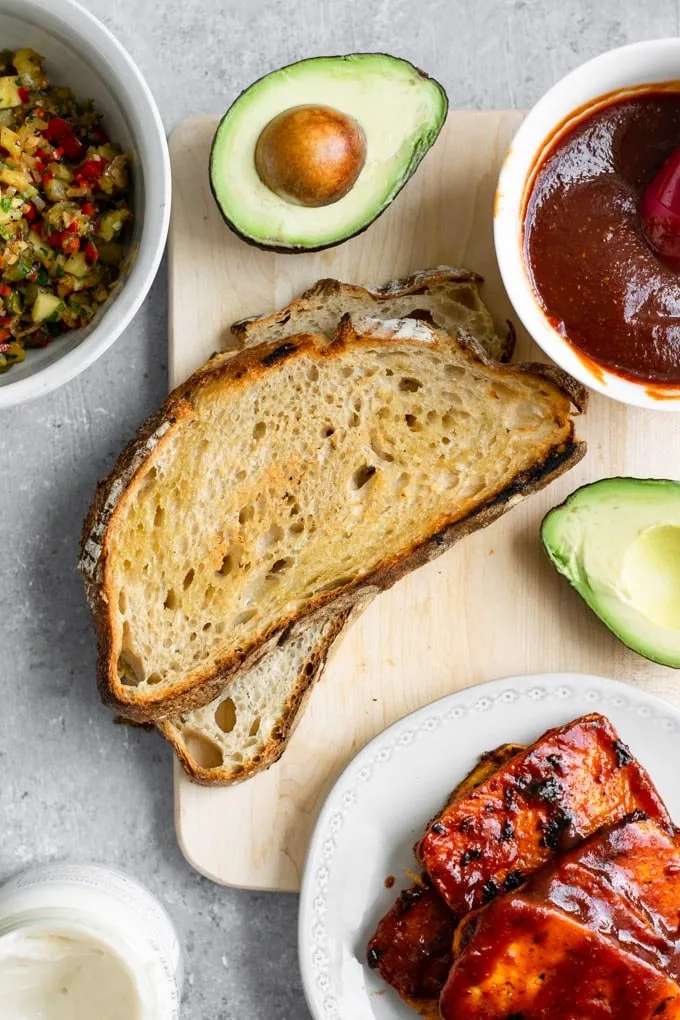 To the ketchup we add some brown sugar to up the sweet factor, apple cider vinegar for the necessary sour, vegan worcestershire sauce for its sweet-savory and tangy flavor, and a dash of hot sauce for a kick.
We also add spices. Smoked paprika introduces the smokiness, garlic and onion powder, ground mustard, salt and pepper.
Whisk those ingredients together then heat and bring to a low simmer for just a few minutes to meld the flavors.
The BBQ glazed tofu:
First, pick your tofu. Choose a super firm tofu if possible, otherwise grab a box of extra firm tofu and squeeze out excess water by wrapping the tofu in a lint free towel and placing a weight atop it.
Thinly slice your tofu. Thin means they'll fry up chewy for a perfect sandwich filling texture, and it also means you'll get loads of barbecue flavor with each bite.
Since we've sliced the tofu so thinly, you'll need to cook it in batches, unless you're able to break out a griddle or two large fry pans.
Heat the skillet and add a thin layer of oil. Fry the tofu on each side until golden, and repeat until all the tofus are cooked. Then return them to the pan brushed with a glaze of barbecue sauce and cook them about 1 minute on each side. Again, work in batches as necessary.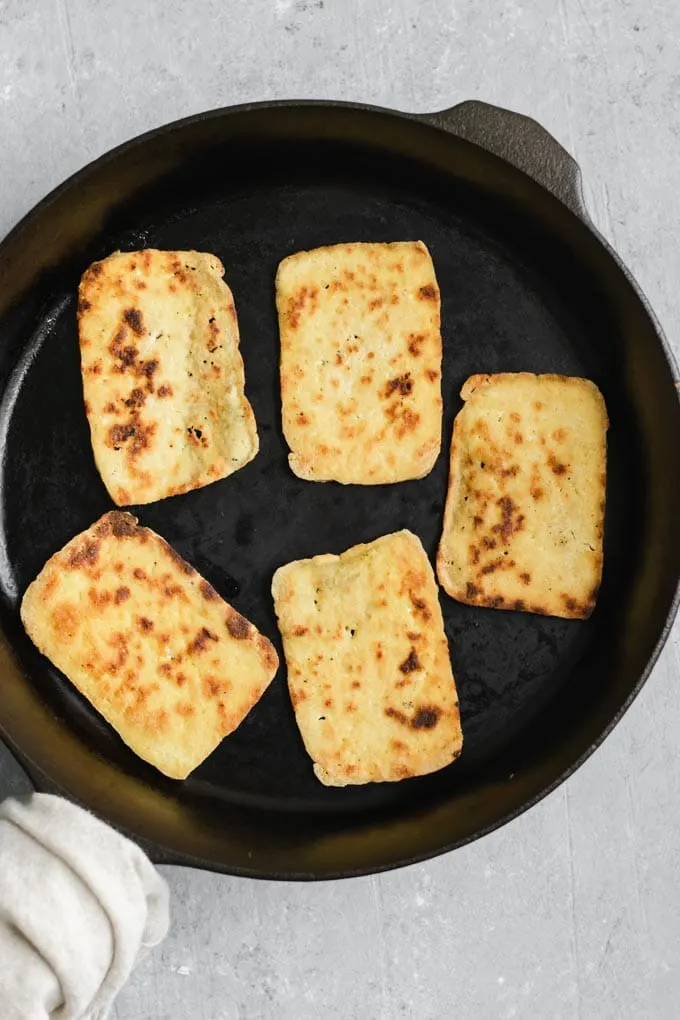 The pineapple relish:
Grill or pan fry cut pineapple until it takes on a bit of color and light charring. Dice it up.
Fry shallot or red onion, a jalapeño (or serrano or whatever spicy green pepper floats your boat), a little red bell pepper, garlic, and ginger until softened.
Mix the aromatics and diced pineapple together along with lime zest and lime juice, salt and pepper, and cilantro. And that's it. Set aside or stick in in the fridge until you're ready to assemble your sandwiches!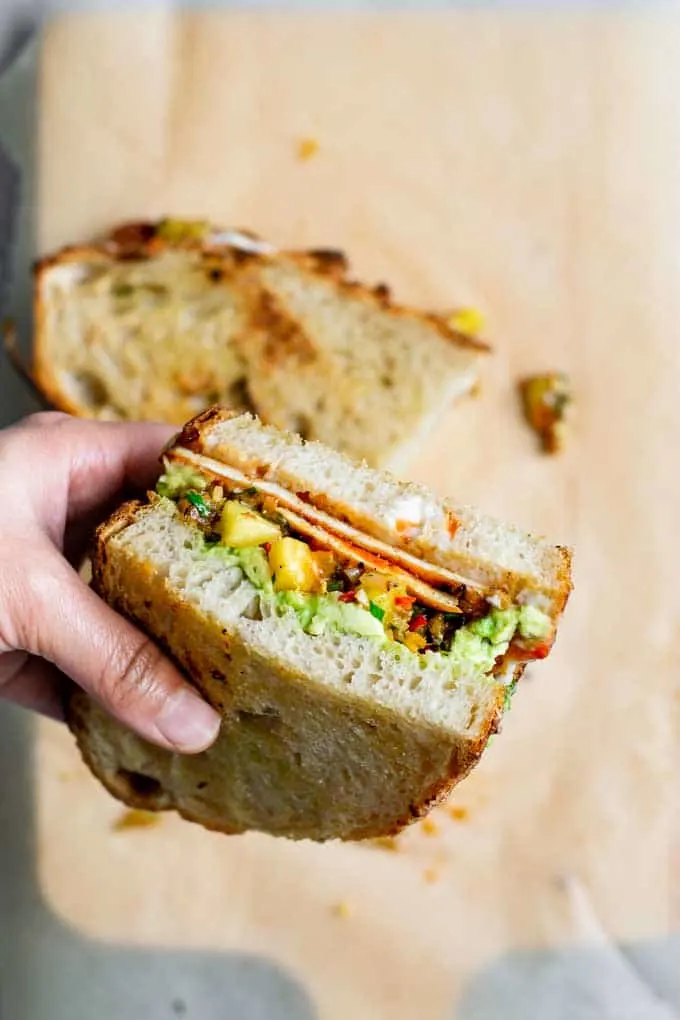 Assemble the barbecue tofu sandwiches:
Grab a couple slices of bread or a sandwich bun. I used some freshly baked homemade sourdough. I like the bread to be lightly grilled, so brush one side with a bit of olive oil and toast that side on a hot skillet until it's golden in places.
Then spread a layer of vegan mayo over one slices (on the not toasted side) and some mashed avocado over the untoasted side of the second slice of bread. Layer up the barbecue tofu, brushing with more barbecue sauce as you assemble, followed by the pineapple relish.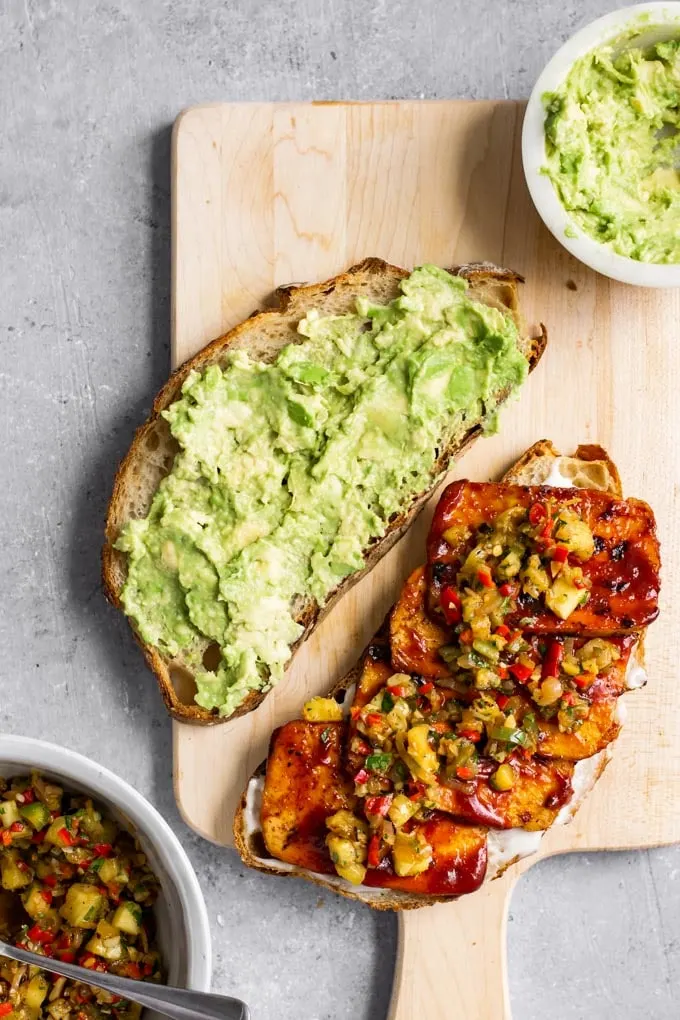 Close up your sandwich and cut it in half to make eating a bit easier if the sandwich is ginormous like mine. ?
Save the extra sandwich components in the fridge for quick and easy meals! Depending on how large your bread is and how much you load up your sandwiches, you'll get about 8 out of this recipe.
These are easy and delicious sandwiches and I do hope you make them and enjoy them as much as us!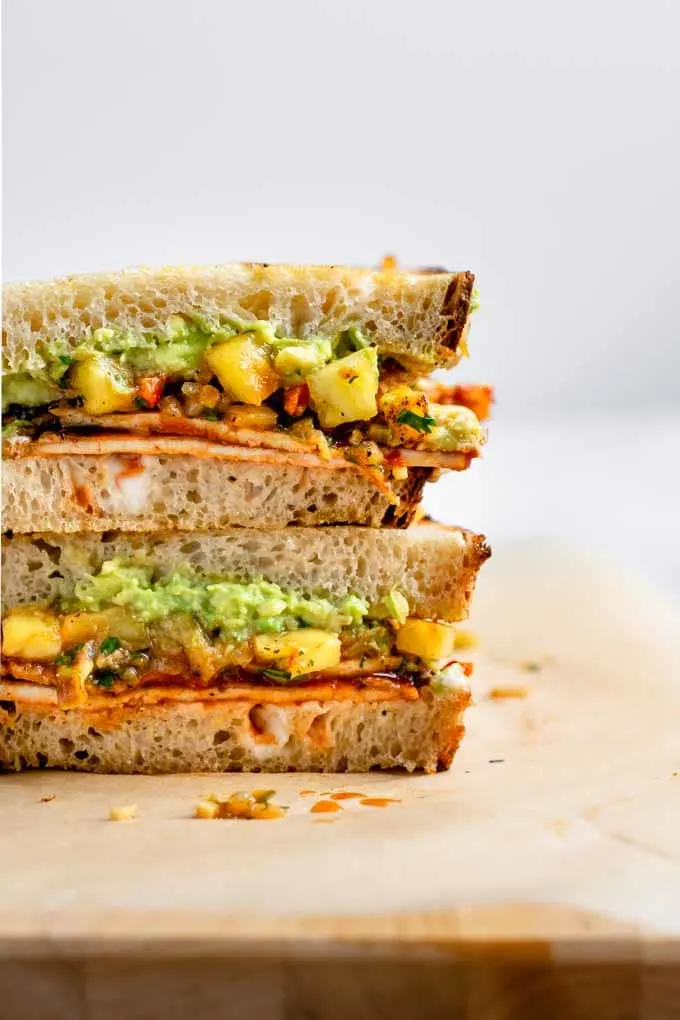 If you're gluten free and making these, as you might imagine you'll want to use gluten free bread or buns. But also check that your ketchup and worcestershire sauce is certified gluten free!
---
If you make these barbecue tofu sandwiches with pineapple relish, leave a comment below and rate the recipe on the recipe card. And please share your photos with me on Instagram, tag @thecuriouschickpea and #thecuriouschickpea. I love seeing your recreations!
---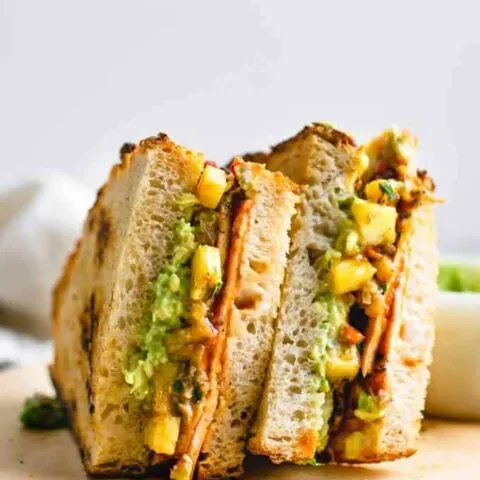 Barbecue Tofu Sandwiches with Pineapple Relish
These crowd pleasing barbecue tofu sandwiches with pineapple relish and avocado make a delicious meal. They're perfect for summer picnics, BBQs, or cozy dinners.
Ingredients
Pineapple Relish
2 tsp oil, divided
1 1/2 cups diced pineapple
1/2 cup minced shallot or red onion
1/4 cup minced red bell pepper
1 jalapeño or serrano, minced
2 cloves garlic, minced
1 tsp minced ginger
zest from 1 lime
1 tbsp fresh lime juice (from 1 lime)
2 tbsp minced cilantro
1/2 tsp salt
freshly ground black pepper to taste
Barbecue Sauce
1 cup ketchup
1/4 cup brown sugar
1/4 cup apple cider vinegar
1 tsp vegan Worcestershire sauce
1/2 tsp hot sauce
2 tsp ground mustard
1 tsp smoked paprika
1 tsp granulated onion powder
1/2 tsp garlic powder
1/2 tsp salt
black pepper to taste
Everything else
1 lb super firm or extra firm tofu
oil to cook tofu
avocado
vegan mayonnaise
bread or sandwich buns
Instructions
Make the pineapple relish:
Heat 1 teaspoon oil in a large skillet over medium heat and fry the pineapple until it's lightly charred, about 5 minutes. Remove from the pan and cool slightly before dicing.
Heat the second teaspoon of oil and add the shallot, bell pepper, hot pepper, garlic, and ginger. Sauté for 3-5 minutes, or until soft.
Combine the diced pineapple, the cooked shallot mixture, the zest from one lime, lime juice, cilantro, and salt and pepper. Taste and adjust seasoning as desired. Set aside or put in fridge until ready to use.
Make the barbecue sauce:
Whisk together all of the ingredients in a small saucepan. Bring to a simmer, partially cover, then lower the heat and let simmer for 5-10 minutes to let the flavors meld.
Make the barbecue glazed tofu:
If using extra firm tofu, wrap the tofu in a lint free towel and place something heavy on top of the tofu to press out the excess water for about 20 minutes. Skip this step if using super firm tofu. Thinly slice the tofu.
Heat a fry pan or griddle over medium heat and spray or drizzle a little oil into the pan and working in batches fry the tofu in a single layer for a couple of minutes on each side, or until golden. Repeat until all tofu has been fried adding a little bit of oil between each batch. Then, brush a layer of barbecue sauce over each side of the fried tofu slices and cook for 1 minute on each side, repeating until all tofu has been glazed and seared.
Assemble the sandwiches:
Brush the outside of the slices of bread with a bit of olive oil, or the inside if using a sandwich roll. Place oiled side down on a hot skillet and let toast until golden in spots.
Spread vegan mayo on the inside of one piece of bread (or the bottom half of the bun), then layer barbecue glazed tofu, adding more barbecue sauce to with them. Top with pineapple relish, then spread mashed avocado on the other slice of bread (or top half of the bun) and close up the sandwich.
Notes
Mini red bell peppers are perfect for the pineapple relish!
Recommended Products
As an Amazon Associate and member of other affiliate programs, I earn from qualifying purchases.