These crispy taquitos, also known as rolled tacos, are stuffed with a vegan cheesy beefy filling. They are super easy to make and are delicious as a snack or for dinner. Enjoy with salsa, guacamole, sour cream, or vegan queso!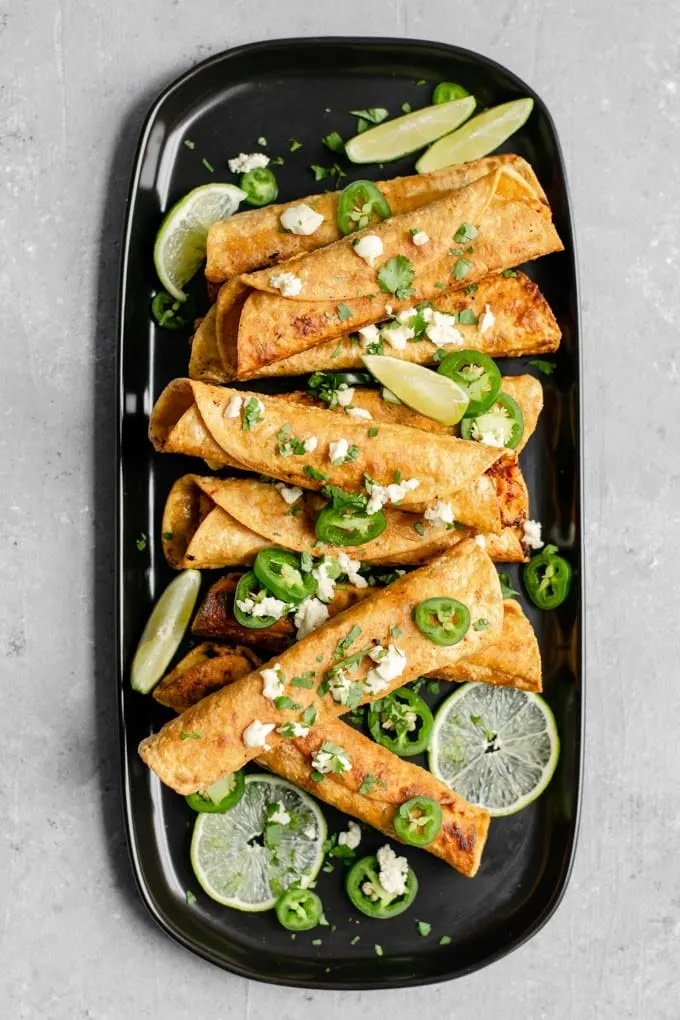 It's hard to get tired of tacos, but for those times you need to switch it up, these taquitos have your back. They're the perfect finger food for cheesing, dipping, hot saucing, or just eating! Crispy on the outside, and a creamy, spicy, meaty filling inside. Warning: they're addictively delicious!
Taquitos are perfect for snacking, make a great party food or game day eats, and they make a delicious dinner! They're also super easy to make, and the filling can be made in advance. Dip them into salsa or just eat them unadorned, they're enjoyable all the ways!
What are taquitos?
Well, a taquito (translates to "little taco") is simply a rolled taco which is then fried (or baked, but those are admittedly inferior) until crispy. They're popular at Mexican restaurants in the Southwestern US, but that popularity has definitely been spreading!
They're often called rolled tacos, and that's what my Arizonian husband refers to them as, but I think taquito is a cuter word. Can you blame me?
The fillings can vary, typically from plain cheese to cheese + meat. They're often topped with a drizzle of sour cream and maybe some guacamole, but the real fun comes down to dipping them in salsa.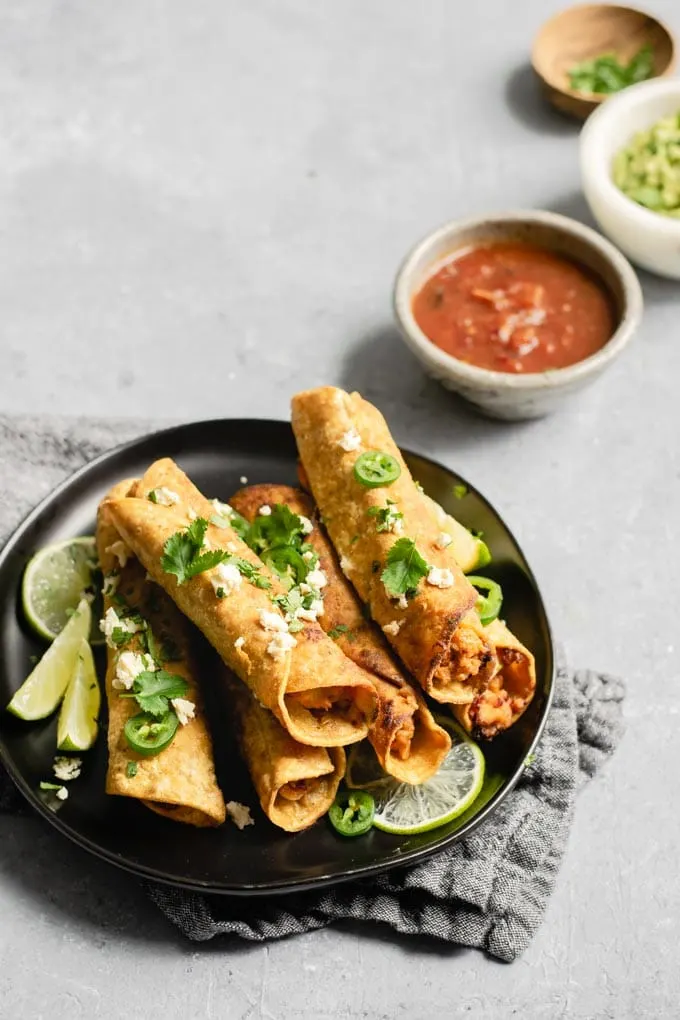 Making taquitos vegan:
For my vegan rolled tacos, I wanted to stick to a more traditional style filling of 'cheese and beef.' It's easy enough to make vegan with a couple substitutions.
First, for the vegan meat I've given two options–TVP or a vegan ground beef. TVP stands for texturized vegetable protein, which, I know, is a super sexy name. What it is is dehydrated and defatted soy protein.
TVP comes in different sizes and shapes, but is easiest to find in either the bulk section of your natural foods store or bagged by Bob's Red Mill. It's cheap, stays good in your pantry for months to years, and is super high in protein. You want to rehydrate it before eating, but this recipe takes care of that while it cooks.
If you prefer, or it's easier for you to find, a vegan ground meat works as well. A package of Lightlife Smart Ground, Gardein Beefless Ground, Beyond Meat Beefy Crumbles, or whatever products are available to you will do the trick. Even seitan chopped up finely will work!
These crumbles just get fried up until warm and are ready to go. This takes a bit longer if they're frozen, but just a few minutes for refrigerated vegan meats.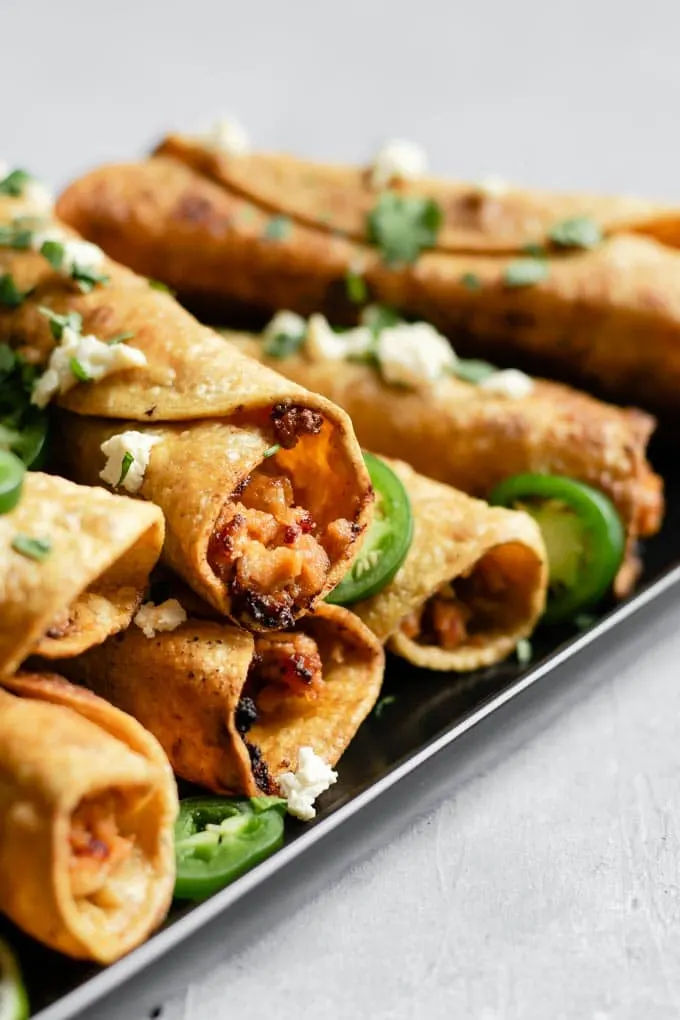 Next, we need to replace dairy cheese with vegan. Yep, as easy as that! I want a creamy filling that's not prone to falling out, so went with a vegan cream cheese. To up the cheesy factor, add a bit of nutritional yeast or some shredded vegan cheese.
If you'd prefer to use something homemade, you can use vegan queso fresco, which I like to have to sprinkle on top at the end anyway. And eat on toast. ?
The rest of the ingredients are naturally vegan. Woot!
How to make the filling for the vegan cheesy beefy taquitos:
Once we have the vegan ingredients down, making the rolled tacos is a cinch!
Fry up some onion and garlic, and to that add chipotles in adobo (both the peppers and the adobo!), cumin, onion powder, and salt. With that add either the TVP or the vegan ground beef.
If making it with TVP, let it fry while you stir things together, then add boiling hot water. Turn the heat off and cover the pot, and let it sit for 10 minutes while the TVP hydrates.
If making it with vegan ground beef, add that with the spices and just fry things until the vegan meat is hot, just a few minutes if refrigerated, or longer if from frozen.
Lastly, add the vegan cream cheese and nutritional yeast and stir until the cheese is soft and distributed throughout the filling. At this point you can make your taquitos, or package up the filling to use over the next few days!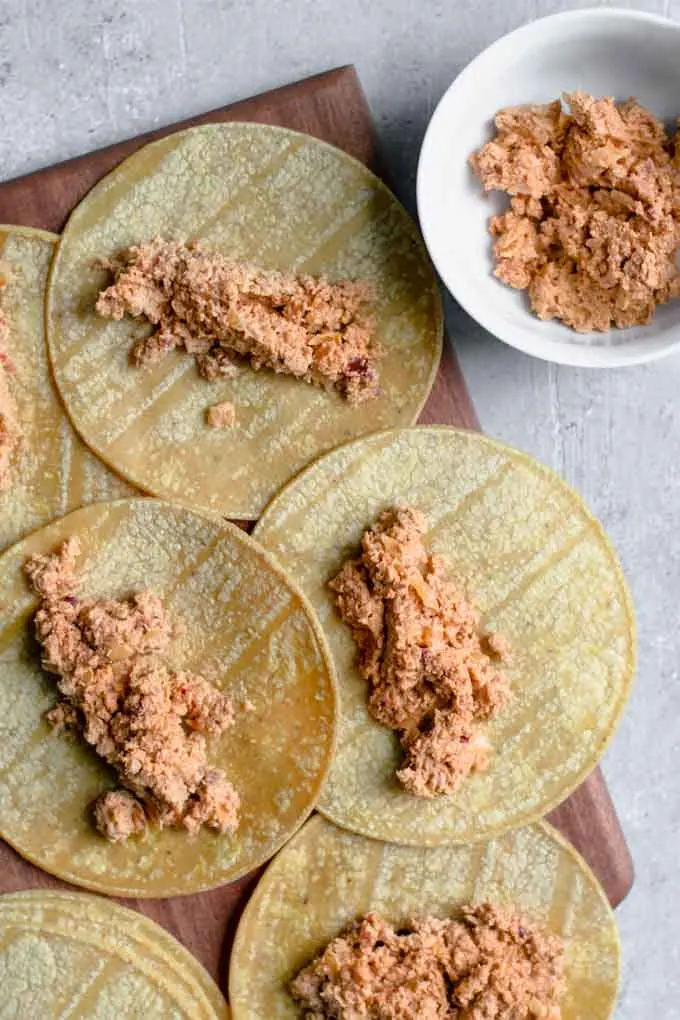 Making the taquitos:
Making the taquitos is as simple as warming up corn tortillas, adding some filling to the center of the tortillas, and rolling them up like a cigar. Ok, I've never rolled a cigar, but I think the phrase fits!
You can pan fry the rolled tacos or bake them. Pan frying tastes better. But, if you want them more than occasionally, baking is totally an acceptable way to prepare them!
To fry, heat a thin layer of oil in a skillet, and put the taquitos in seam side down. Let them fry until golden, turning as each side gets crispy. The whole process only takes about 5 minutes, and you can do it in 2-3 batches depending on the size of your skillet. Drain them on a paper towel lined plate.
That thin layer of oil can get a bit thicker if you're making it for a party, but you don't want the oil to overflow into the taquitos too much or it can cause the filling to spill out.
If baking them, crank the oven up to 425 ºF and spray a layer of oil over a parchment lined tray. Place the rolled tacos seam side down on the tray, then spray them with oil. The spray oil helps them crisp up, so make sure you spray them all! Then, just bake them for about 15 minutes! They'll get almost-perfectly crispy, a bit more on the edges than the center.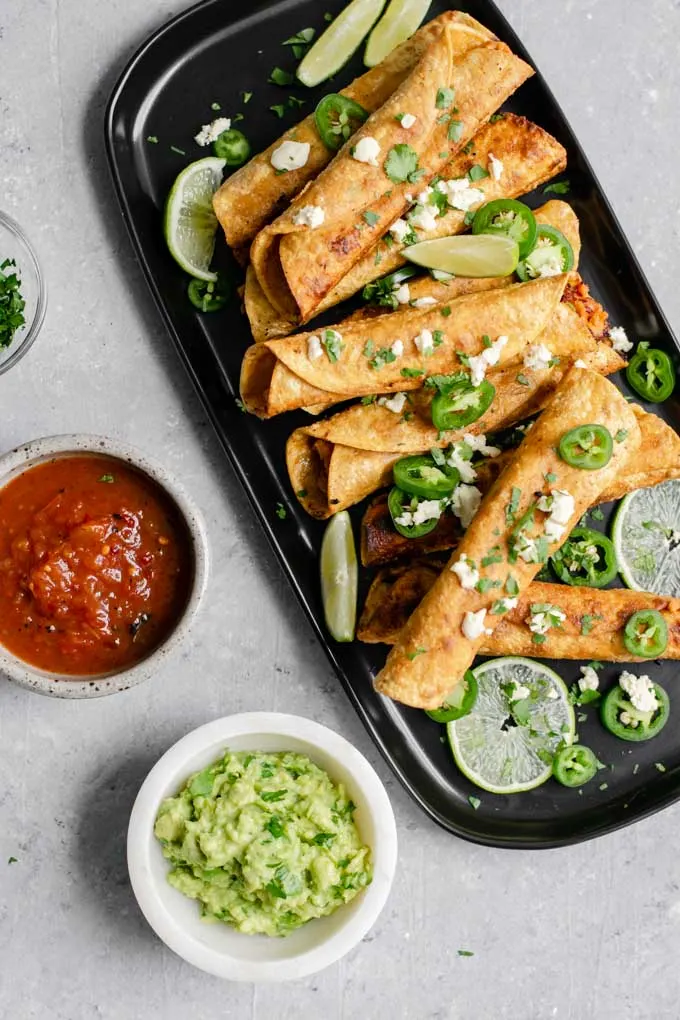 Serving the taquitos:
I like to line up the taquitos on a tray, then top with a bit of my vegan queso fresco, some cilantro, and sliced jalapeño and a squeeze of lime juice. Vegan sour cream, hot sauce, a creamy chipotle sauce, and/or an avocado crema would also be great. Most importantly, serve some salsa on the side! Guac is always acceptable as well. Obviously!
These vegan rolled tacos are a perfect snack whether or not you're vegan, and whether or not you eat gluten free. Using corn tortillas is not only better (I mean, you're basically eating delicious cheesy spicy filling wrapped in a tortilla chip), but great for those who cannot eat gluten.
TVP is naturally gluten free, though of course make sure to buy gluten free certified if needed. However, if you're choosing a store bought vegan ground beef product, not all are gluten free, so make sure to read the labels!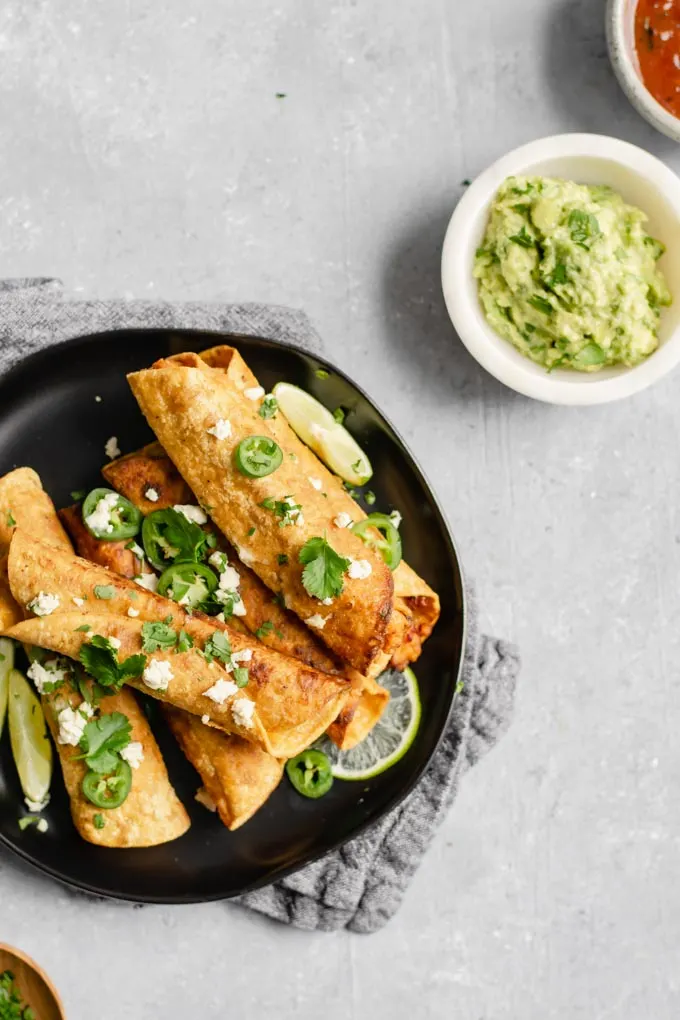 If you make these vegan taquitos leave a comment below and rate the recipe on the recipe card. And please share your photos with me on Instagram, tag @thecuriouschickpea and #thecuriouschickpea, I love seeing your creations!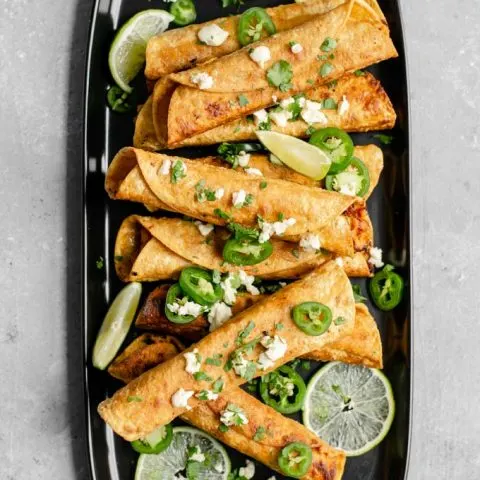 Vegan Cheesy Beefy Taquitos
These crispy taquitos, also known as rolled tacos, are stuffed with a vegan cheesy beefy filling. They are super easy to make and are delicious as a snack or for dinner. Enjoy with salsa, guacamole, sour cream, or vegan queso!
Ingredients
2 tbsp oil
1/2 yellow onion, finely diced (~1 cup)
2-3 cloves garlic, minced
2 chipotle peppers in adobo, minced (optional: seeded for less heat)
2 tbsp adobo
1 tsp cumin
1 tsp onion powder
1/2 tsp salt, more or less to taste
1 cup dehydrated TVP -OR- 12oz vegan ground beef style crumbles
1 cup water, only if using TVP
4oz vegan cream cheese*
2 tbsp nutritional yeast or shredded vegan cheese
12 corn tortillas
oil to fry
Instructions
If making with TVP, bring the water to a boil.
Heat the 2 tablespoons of oil in a pot over medium heat, and add the onions and garlic. Fry them for 3-5 minutes until the onion is soft.
Add the chipotle peppers and adobo, cumin, onion powder, salt, and dried TVP. Stir to coat, and let cook for 30-60 seconds. Add the boiling hot water and stir to combine. Turn the heat off, cover the pot, and let sit for 10 minutes. -OR- If using vegan ground beef, add with the spices and sauté for 4-6 minutes on medium heat. Only add a splash of water if it's dry.
Add the cream cheese and nutritional yeast and turn the heat on low to help soften the cream cheese and stir to combine.
Warm tortillas and put a couple of tablespoons of filling (more or less depending on size of tortillas) in the middle of the tortillas. Wrap the tortillas around the filling to make a roll and repeat with remaining tortillas.
Heat a thin layer of oil in a skillet over medium heat and fry the taquitos in batches, starting with seam side down. Fry for about 5-7 minutes, turning as they cook so that they crisp and turn golden all over. Drain them on paper towel lined plate.
Baking instructions: preheat oven to 425ºF. Line a baking tray with parchment, and spray with oil. Place rolled tacos on baking tray and spray liberally with oil on top. Bake for about 15 minutes or until crispy.
Notes
*You can substitute vegan queso fresco for the cream cheese.
To warm the corn tortillas: In batches of 4 tortillas, wrap in damp paper towel and put on a microwave save plate. Microwave for 30-45 seconds or until the tortillas are soft and pliable.
Taquitos reheat well, particularly the fried versions. To reheat, heat oven to 375ºF and bake until warm and crispy, 5-10 minutes.
Recommended Products
As an Amazon Associate and member of other affiliate programs, I earn from qualifying purchases.
Nutrition Information:
Yield:

12
Serving Size:

1
Amount Per Serving:
Calories:

232
Total Fat:

11g
Sodium:

382mg
Carbohydrates:

21g
Fiber:

4g
Sugar:

3g
Protein:

15g