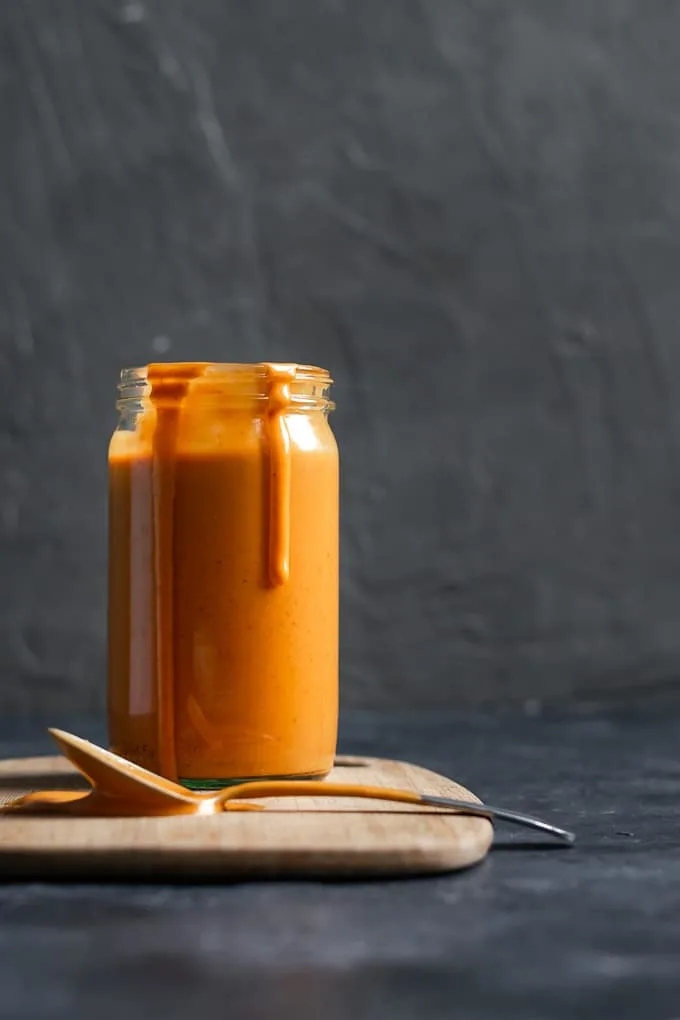 You guys. This recipe is evvvveerrrything. Chipotle sauce, magic sauce, the condiment you should always have on hand in your fridge. Creamy, silky, tangy, spicy–a little drizzle (if you can contain yourself) and your dinner becomes next level!
This creamy Mexican chipotle sauce is made with aquafaba, which helps create the suspension for the creamy lush sauce. Chipotle and adobo for smokey, spicy flavor. Lime juice brightens the flavor of the sauce and makes it mouth-wateringly tangy. A little garlic and onion powders and a big pinch of salt and you have the dreamiest sauce ever.
The real magic of this sauce comes from the method it's made. This is an oil based sauce (don't panic!), just like mayo and aioli. It's not meant to be eaten by the spoonful (though it's tasty enough to do so haha), but served as a condiment.
This chipotle sauce is best made with an immersion blender, but it should work in a regular blender too, as long as you can slowly drizzle in the oil while it's running. Start by whizzing together the aquafaba, whole chipotle peppers (though you can deseed if you want it less spicy), and the adobo until it blends to a pretty smooth consistency and starts to get a bit frothy.
Next, slowly drizzle in the oil while the immersion blender is running. You'll want to use a neutral flavored oil such as safflower oil, canola oil, or grapeseed oil for this recipe. Otherwise a lightly flavored oil like avocado oil or refined olive oil can work.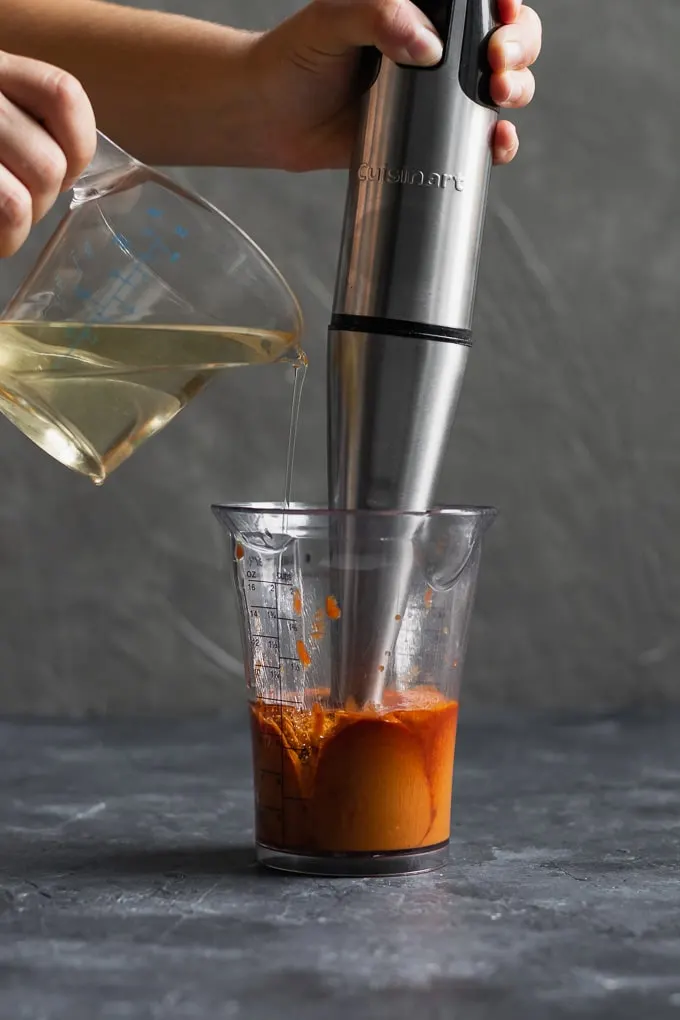 The oil should be coming out at a very fine stream and getting incorporated into the aquafaba-chipotle mixture. As the oil gets added the mixture should brighten in color, turning from a deep red to a vibrant orange. Occasionally you may need to pause the oil drizzle and move the immersion blender around to incorporate any oil pooling at the top.
If you try to add the oil too quickly the emulsification can fail. So be patient and pour the oil in a fine stream–it doesn't take that long, just a minute or two!
Once all the oil is added the mixture should be very thick like mayonnaise. Then we blitz in the rest of the flavorings: just a little bit of salt, granulated garlic, and onion powder, plus a healthy dose of freshly squeezed lime juice! The lime juice does thin the sauce into a pourable consistency and that much added acidity departs us from a true mayo flavor.
Despite using a few chipotle peppers, this sauce isn't too spicy (by my standards). The oil and creaminess of the sauce tempers the heat along with the lime juice. If you're very sensitive to spice, you can always deseed the chipotle peppers. If you want it spicier, add more chipotle peppers!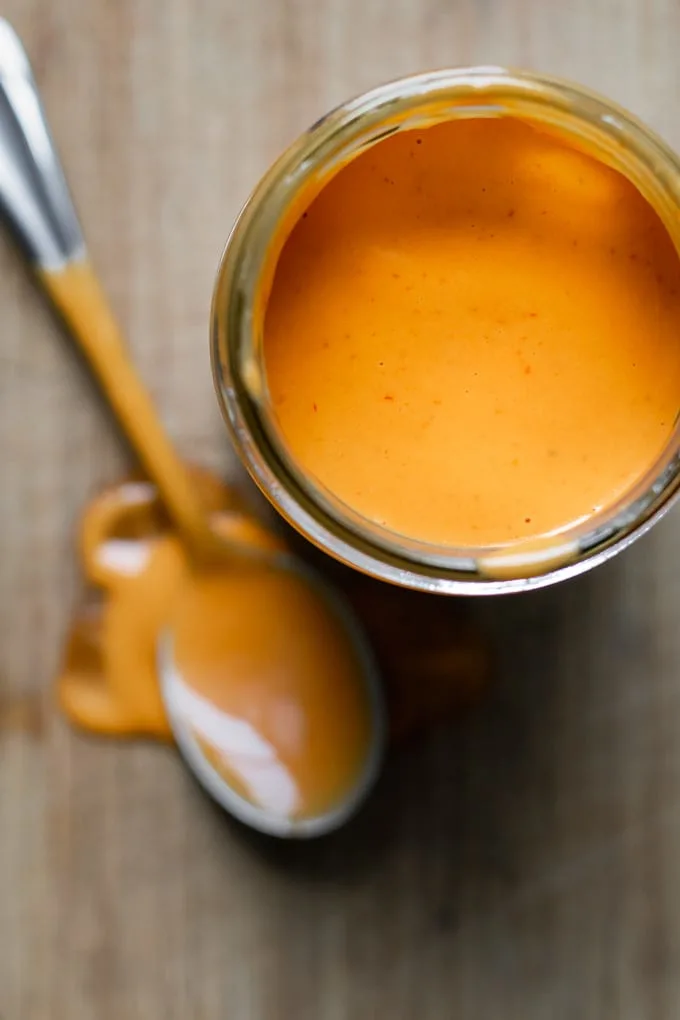 To be honest, I wasn't really sure what to call this sauce. Is it really Mexican? Tex-Mex? Is it a mayo or aioli or just a sauce?
Since I make it to drizzle over tacos (and then proceed to top all sorts of meals with it) I decided to go with Mexican. And while this chipotle sauce may be made in a similar method to mayonnaise, the lime juice is added in quantities to make it rather tangy and also thins it out to a more sauce like consistency. Plus the word sauce isn't as limiting in terms of applications as chipotle mayo.
Whatever you want to call it, this sauce deserves a spot in your fridge. And mine! And now that I've got this creamy Mexican chipotle sauce in my mind, I gotta go whip up some oven baked fries to dip into it! So, I'll catch ya later this week!
If you make this creamy Mexican chipotle sauce with aquafaba (and you really really should) leave a comment and rate the recipe below! And tag your recreations @thecuriouschickpea and #thecuriouschickpea on Instagram, I love seeing your photos!

Notes:
Use canned chipotles in adobo for this recipe. My favorite brand is La Preferida.
Best results for aquafaba, use the liquid from a can of chickpeas. Shake the can, then strain the chickpeas and reserve the liquid left behind. You can keep the liquid in the fridge for a few days before use, or freeze it for longer storage.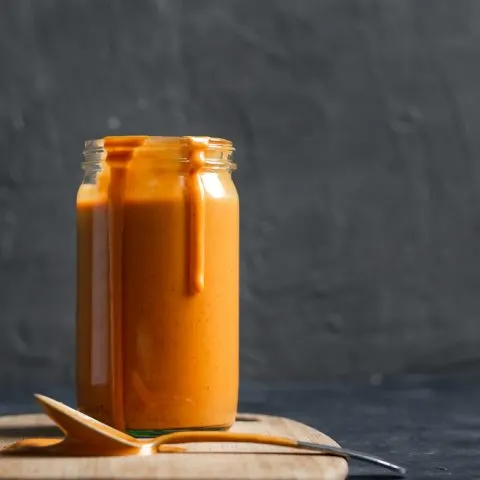 Creamy Mexican Chipotle Sauce with Aquafaba
This creamy, tangy, spicy chipotle sauce is easy to make and perfect on tacos, sandwiches, burritos, and more!
Ingredients
2 tbsp aquafaba*
1/4 cup (~4) canned chipotles in adobo
2 tbsp adobo
1 cup neutral flavored oil, more to thicken if desired
1/4 cup freshly squeezed lime juice
1/2 tsp onion powder
1/4 tsp granulated garlic
1/4 tsp salt
Instructions
In a jar with a wide enough mouth to accommodate an immersion blender, add the aquafaba, chipotle and adobo. Mix with the immersion blender until the blended smooth. Very slowly drizzle in the oil in a fine stream with the immersion blender running. If the oil starts to pool at the top, stop pouring and move the immersion blender around to incorporate that oil before continuing to stream in the oil.
Once all the oil has added the mixture should be very thick and a bright orange color. Add the lime juice, onion powder, granulated garlic, and salt and quickly combine with the immersion blender. The sauce will thin with the addition of lime juice. You can slowly drizzle in more oil to thicken the sauce if desired.
Use immediate or keep in the refrigerator for longer storage.
Notes
*liquid from a can of cooked chickpeas, shake the can before opening.
Loosely adapted from the countless aquafaba mayo recipes, such as this vegan mayo from the New York Times.