These vegan barbacoa tacos are made with a delicious homemade seitan barbacoa. You can also make it with soy curls for a gluten free option, or vegan beef for a meatier option.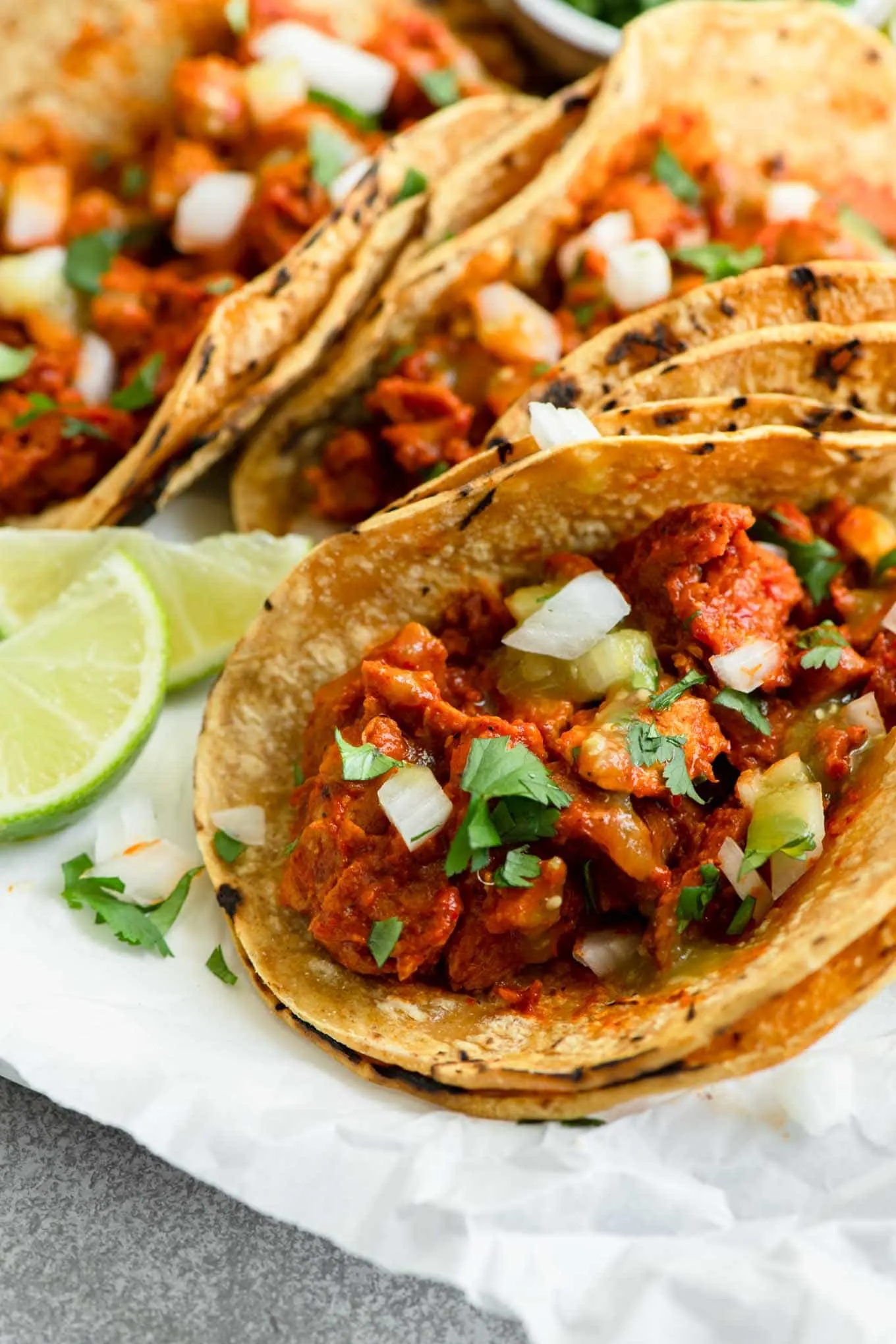 Vegan barbacoa is sooo delicious. It's a saucy chile-seasoned dish that is perfect for stuffing into warmed corn tortillas.
Traditionally you serve barbacoa tacos with salsa verde, minced white onions, and chopped cilantro. It's an incredible combination!
While traditionally made with meat, I've made this vegan barbacoa with seitan, and I also tested a gluten free option using soy curls.
Store bought seitan is great in this recipe! If you want to make your own seitan, then I recommend using my vegan seitan steak recipe. You can also use store bought vegan beef–it's usually in the freezer section.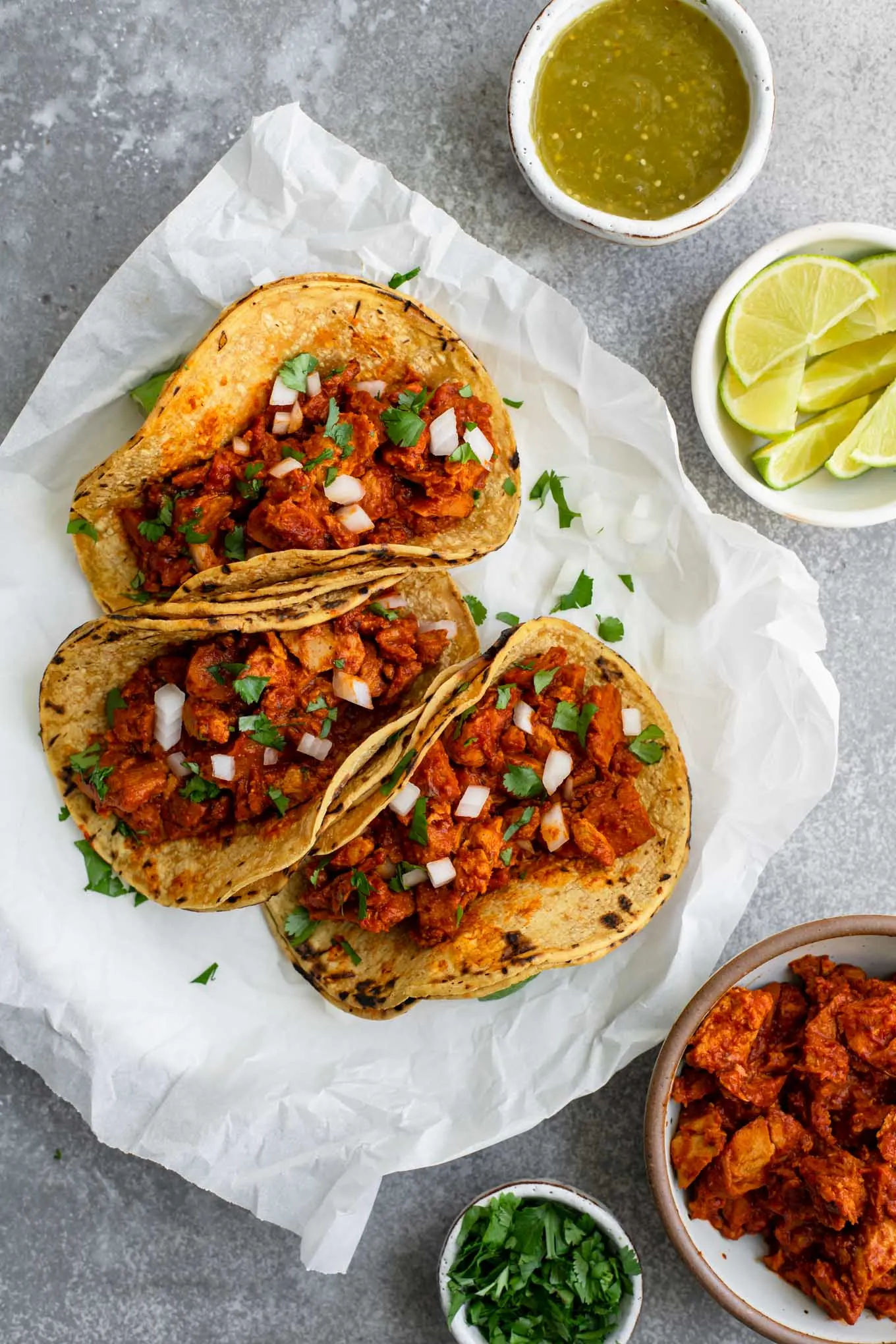 What is barbacoa?
Barbacoa is a Mexican dish typically made with meat (usually beef or goat). Traditionally the meat is wrapped in maguey (agave) leaves and slow-cooked in a pit in the ground.
The method and word derives from the Taíno people of the Carribean. It's also where the term barbecue and the American barbecue techniques derive.
These days the term barbacoa is a lot more flexible in what cooking technique is used, at least in the home kitchen. When you think of barbacoa, you think of chile-seasoned meat. Or if you're vegan, that's chili seasoned vegan meats or vegetables!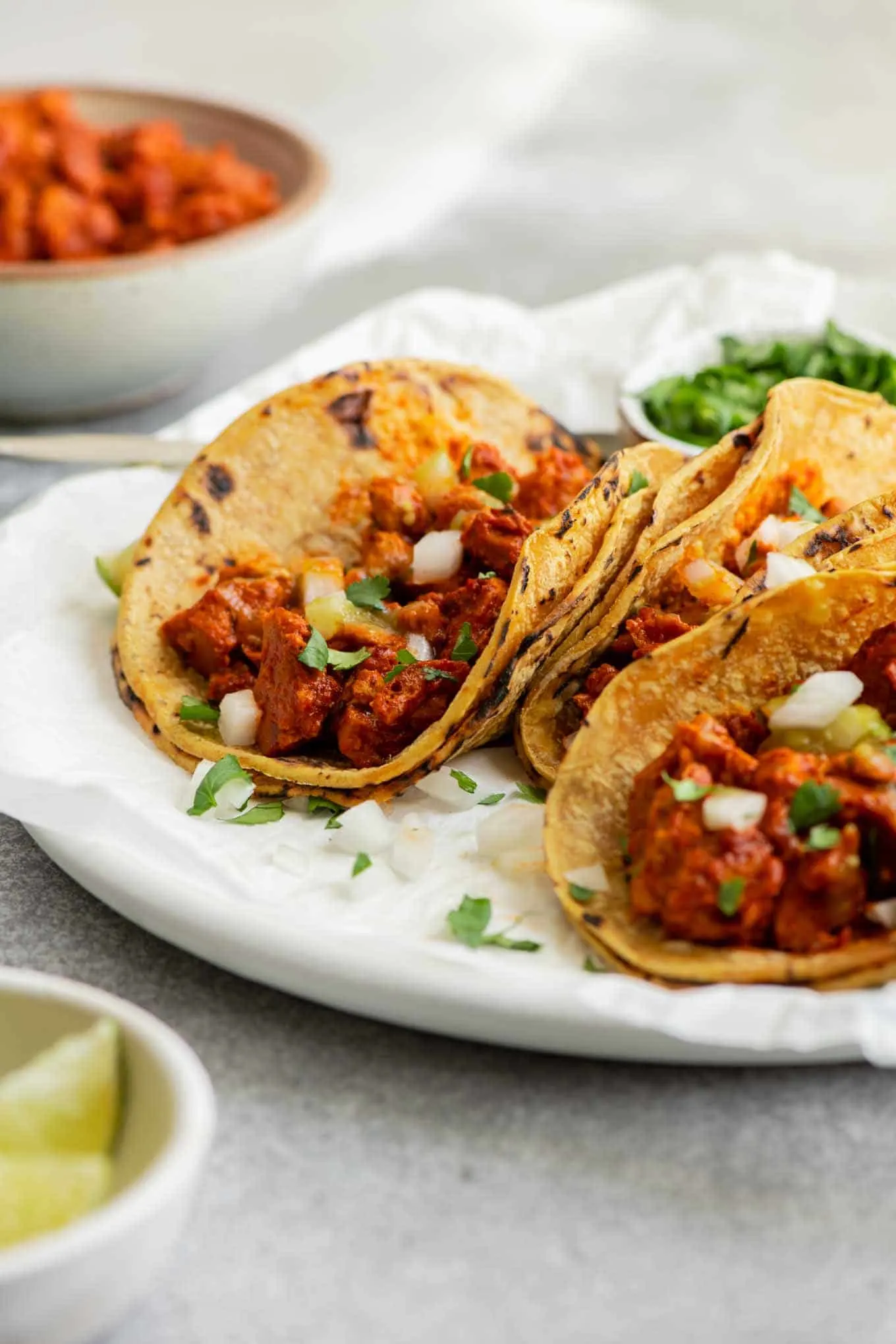 While traditional meat barbacoa dishes are slow cooked, vegan proteins do not require the same long cooking times and do not behave the same way. So in adapting this recipe for my vegan diet, I tried to stay true to the seasoning while changing the cooking method.
The barbacoa seasoning:
There are hundreds of ways to make barbacoa, with different seasoning blends creating different flavors and tastes. For mine I wanted a saucy and chile-flavored dish, inspired by the vegan barbacoa I've enjoyed at the restaurant Quesadilla La Reina in Chicago.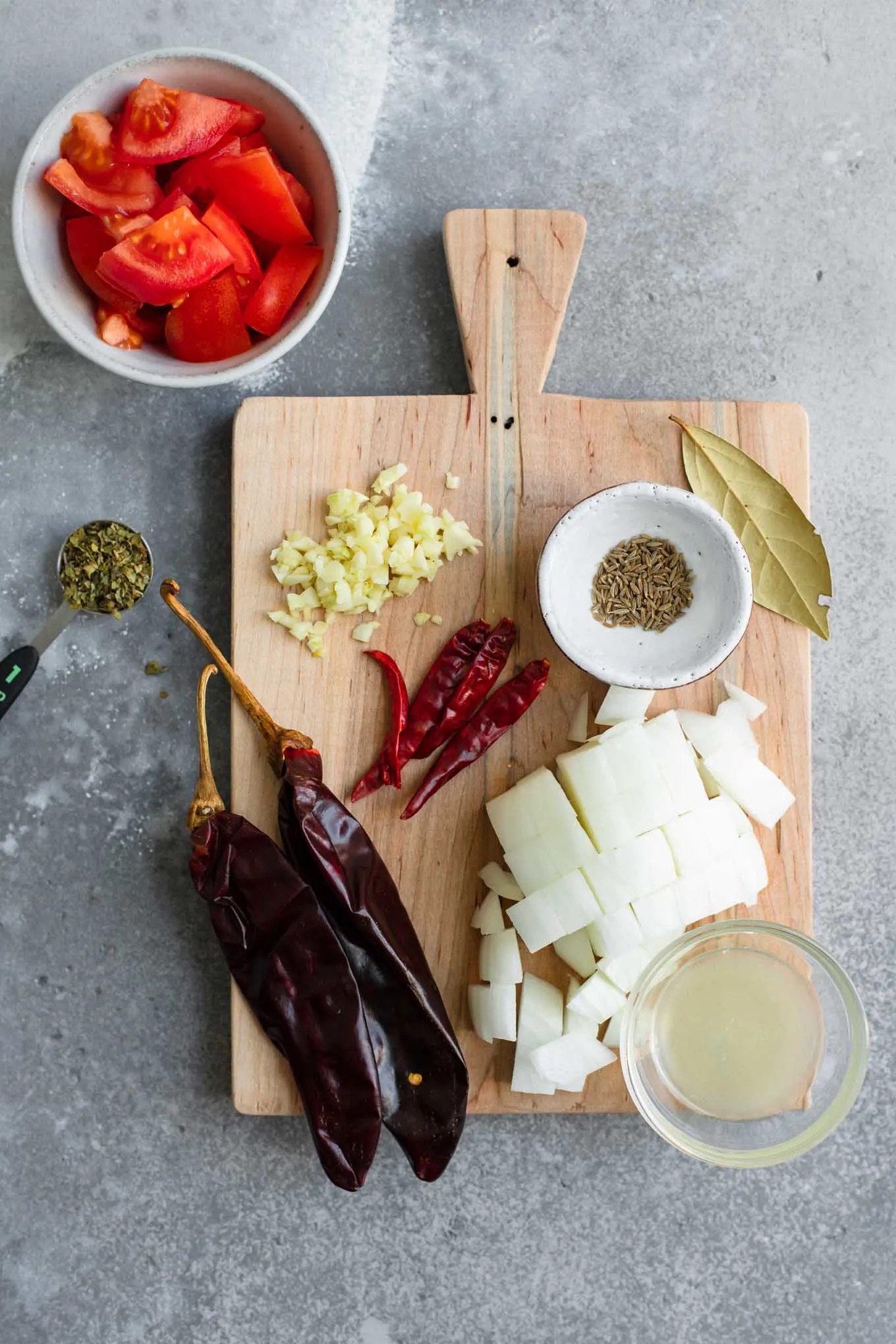 I use dried chilies to make this recipe, specifically a combination of guajillo chiles and chiles de arbol.
Guajillo chiles are dried marisol chili peppers. They're not very spicy, and have a delicious fruity and smoky flavor.
Chiles de arbol, also known as bird's beak chiles or rat's tail chiles, are fiery red chilies. They're a bit less spicy than a cayenne pepper and a little smoky in flavor.
By controlling the amount of chiles you use of each guajillo and chiles de arbol you can make the barbacoa more or less spicy. Personally, I like them to be a bit spicier so often add extra chiles de arbol.
The spices in this dish are pretty simple, some cumin and Mexican oregano (you can use the more ubiquitous Mediterranean oregano, but I love Mexican oregano and recommend you get some for your Mexican-inspired dishes!). A bay leaf, and salt and pepper.
The sauce also has white onion and garlic in it, as well as vegetable broth and tomato.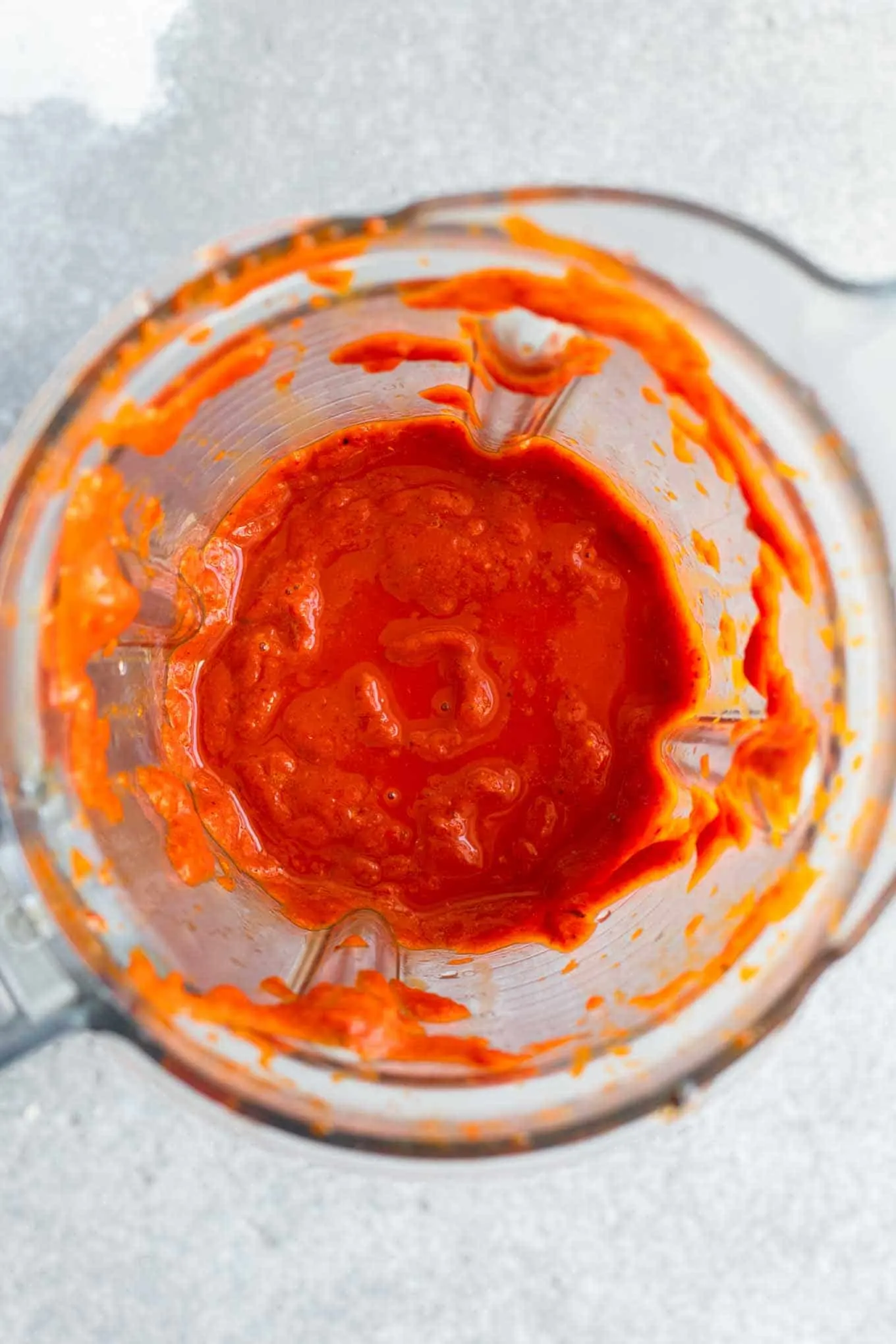 It's not an overly tomatoey dish, but a little tomato nicely complements the flavor of dried chilis.
When cooking meat, you add some vinegar or citrus to help tenderize. This isn't necessary in vegan cooking, but I still add some lime juice because that little bit of acidity brightens the flavors of the dish and brings out further nuances.
For a gluten free option, make soy curl barbacoa tacos.
I used chicken-style seitan to make this recipe. But you can use the seasoning with vegan and gluten free protein and it's just as good!
I recommend using soy curls (like in my vegan tinga taco recipe). Butler Foods makes soy curls and you can purchase them directly from them or via Amazon. You can also use soy chunks of differing sizes or shapes. If very large, cut them into bite sized pieces.
Soy curls are made of dehydrated and defatted soy protein. To use them in this recipe, first hydrate them in water. Then squeeze out that water so that they are ready to soak up the barbacoa seasoning, and proceed with the recipe the same way you would with seitan.
Soy curls (or soy chunks) will soak up the sauce more than seitan, so you may need to add more splashes of vegetable broth or water so it doesn't get too dry. Since the soy curls will have soaked up the sauce, even if it doesn't look as saucy it will taste just as saucy!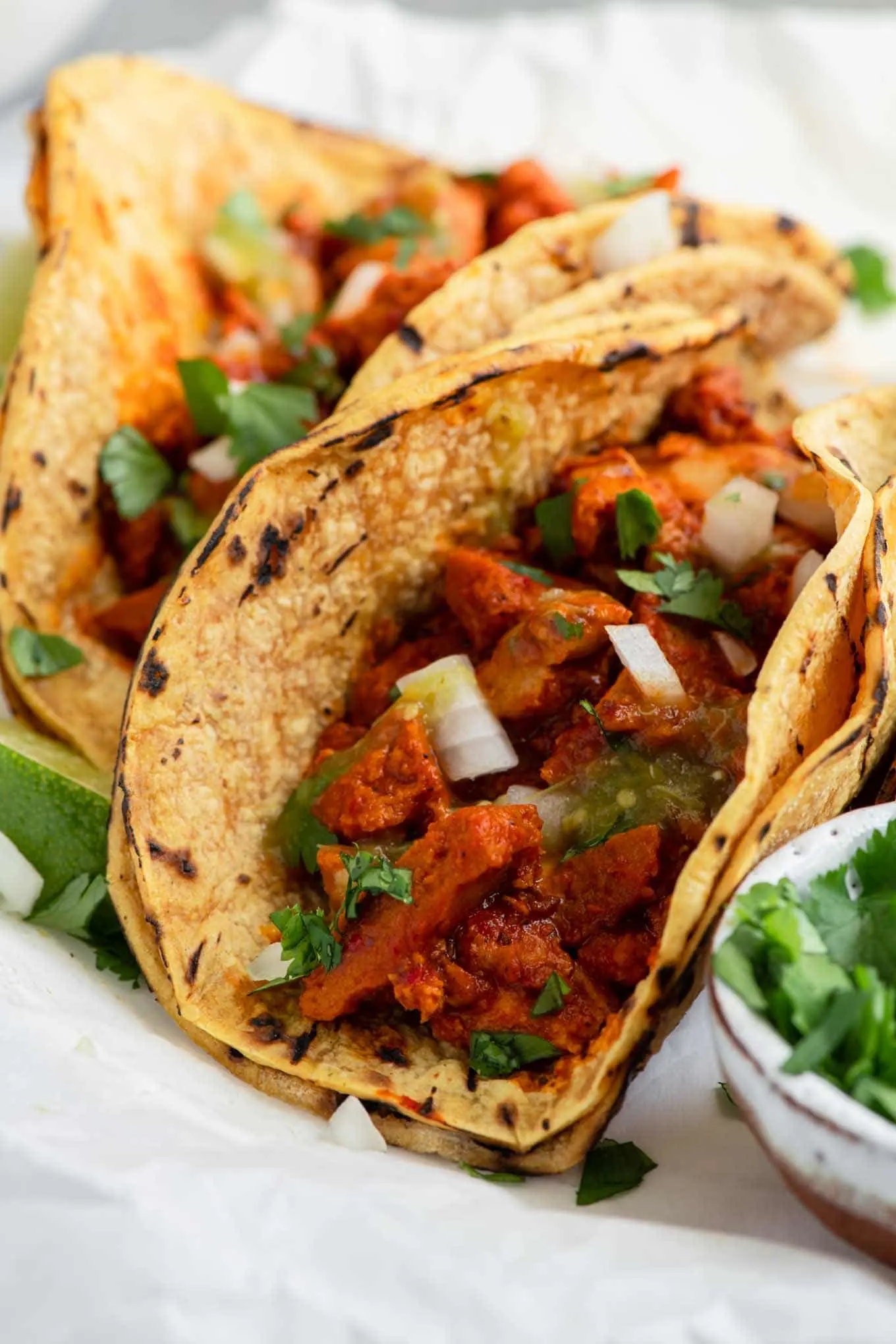 If you make these vegan barbacoa tacos, leave a comment below and rate the recipe on the recipe card. And please share your photos with me on Instagram, tag @thecuriouschickpea and #thecuriouschickpea. I love seeing your recreations!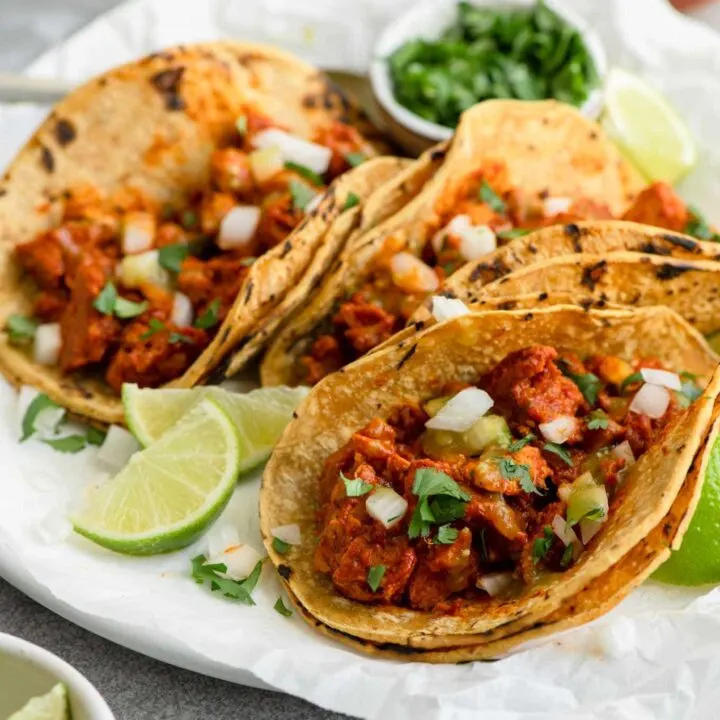 Vegan Barbacoa Tacos
These vegan barbacoa tacos are made with seitan cooked in a flavorful chile sauce. Serve them with salsa verde, onion, and cilantro. For a gluten free option, make them with soy curls (see notes). You can also use the barbacoa to make a great burrito or quesadilla filling!
Ingredients
3-4 chiles de árbol
2 guajillo chiles
3 tsp oil, divided
1/2 large white onion, diced
2 cloves garlic, diced
1/2 tsp whole cumin seed
1 tsp Mexican oregano (sub Mediterranean oregano)
1 bay leaf
1/2 tsp salt, more to taste
black pepper, to taste
1 medium tomato, chopped
1 1/2 cup vegetable broth, divided
1 tbsp lime juice
1 lb seitan or vegan beef pieces*
8 corn tortillas
minced white onion and cilantro, to serve
salsa verde, to serve
Instructions
Rinse the dried chilies and toast on a dry skillet over medium heat until the chilies are soft and pliable, about 1 minute. Let the chilies cool until you can handle them then remove the stems and seeds. (note: wear gloves so as to not get the chili oil on your hands).
Add the oil and onions to the skillet. Sauté on medium heat until softened and lightly charred, about 4 minutes.
Add garlic, cumin, oregano, bay leaf, 1/2 teaspoon salt, and black pepper. Let toast for 30-60 seconds, then add the tomatoes, chilies, and 1/2 cup of vegetable broth.
Bring to a simmer and let cook until the tomatoes have brown down, about 6 minutes. Add more water if it gets too dry.
Remove the bay leaf (reserve it to add back in) and transfer the mixture to a blender. Add the remaining cup of vegetable broth and lime juice and blend until smooth.
Heat the skillet over medium heat and add the remaining 2 teaspoons of oil and the seitan. Sauté the seitan until lightly browned, about 3-4 minutes.
Add the blended sauce and bay leaf back in and turn the heat to low. Let the sauce simmer and thicken for 15-20 minutes. Add more broth or water if it gets too dry at any point. Taste and add salt, pepper, or lime juice if needed.
Remove the bay leaf and serve the warm barbacoa seitan in warmed corn tortillas with salsa verde, minced white onions, and cilantro.
Notes
*to use soy curls, substitute 4 ounces soy curls. Rehydrate in hot tap water for about 10 minutes. Drain and squeeze out water from the soy curls. Then proceed with the recipe. They will soak in the sauce more so the dish will be less saucy.
Recommended Products
As an Amazon Associate and member of other affiliate programs, I earn from qualifying purchases.
Nutrition Information:
Yield:

8
Serving Size:

1
Amount Per Serving:
Calories:

161
Total Fat:

3g
Unsaturated Fat:

2g
Sodium:

291mg
Carbohydrates:

18g
Fiber:

3g
Sugar:

2g
Protein:

16g
Nutrition is calculated automatically so should be used as an estimate.