This vegan caramel sauce is your classic caramel sauce made vegan. It's delicious over ice cream, on brownies, cakes, or cookies, stirred into hot milky beverages–caramel macchiato anyone?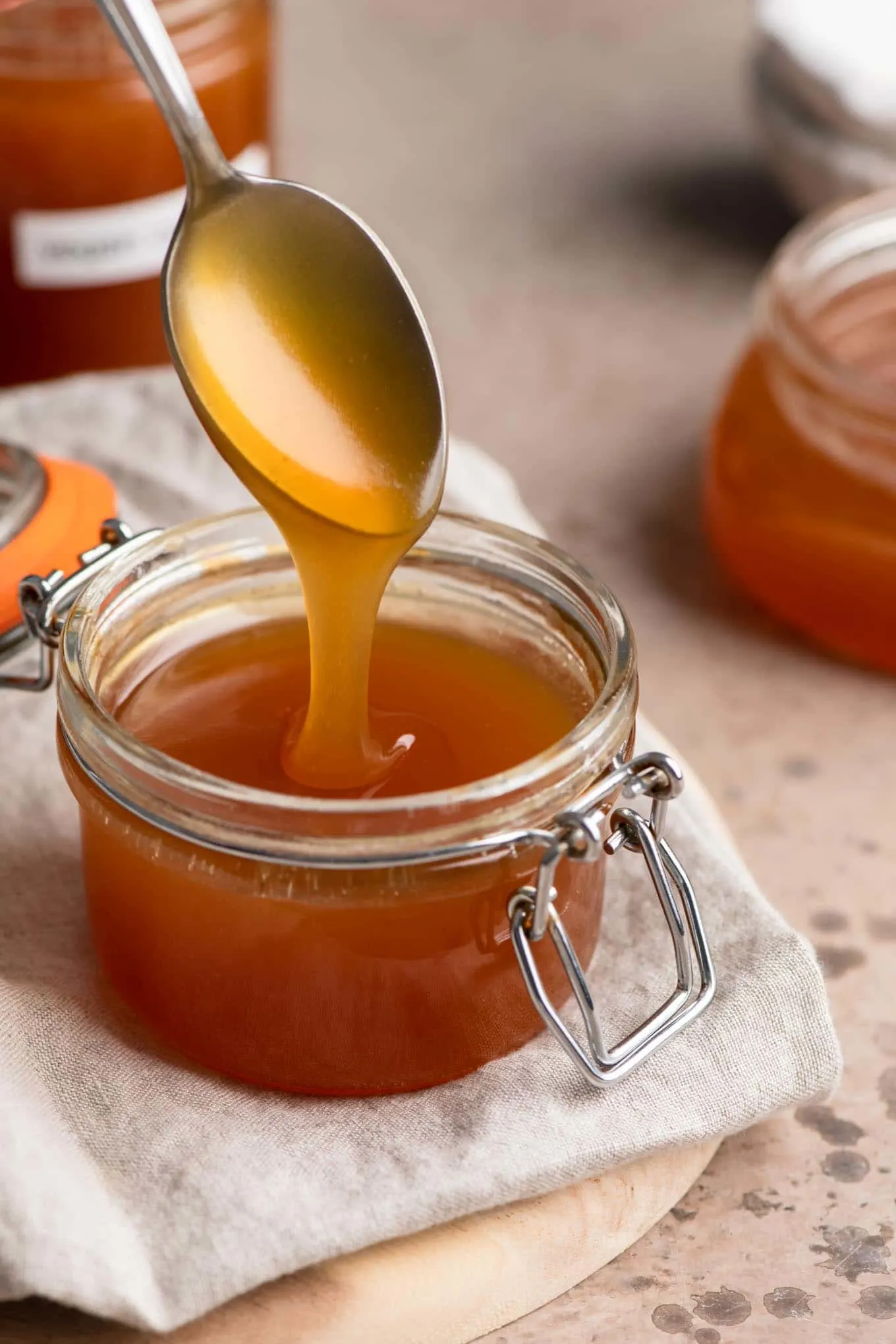 This recipe is for a true caramel sauce, meaning the sugar has been cooked until it melts and caramelizes.
Making caramel always sounds daunting, but I promise it's a lot easier than it sounds! You don't need a candy thermometer to make this recipe, just a pot and a spoon.
Caramel sauce is traditionally made with butter and milk (or half and half/cream) and so is very not vegan friendly. But the good news is vegan butter and coconut milk work like a charm to make a delicious, mouth-watering vegan caramel sauce!
A lot of recipes for caramel sauce tell you that you can make it in just 5 minutes. And sure.. you can, but if you speed through the process like that then half the time you will end up with burnt caramel. Which, trust me, is not very nice.
Instead, I suggest going at a lower temperature, even turning off the heat here or there! Yes it's slower, but this method saves you from burnt caramel. If it takes a few more minutes to make that's fine with me!
The ingredients for Vegan Caramel Sauce:
You only need 5 ingredients for your vegan caramel sauce.
Sugar. This is just your regular white, granulated sugar. Use organic to insure that it's vegan.
Vegan butter. You can use fancier brands like Miyoko's or good old dependable Earth Balance. The vegan butter needs to be room temperature for this recipe!
Coconut Milk. Specifically the kind that comes in a can, as this is completely different (and less watery) than coconut milk beverage. Coconut milk is rich and creamy, similar to half and half. I promise the resulting caramel does not taste like coconut. The coconut milk should also be at room temperature.
Salt. Salt is essential to caramel sauce. Without it the sauce is too cloying, too sweet. Salt balances and enhances the flavors. I like a salted caramel so use a generous amount of salt, if you prefer something less salty then use 1/2 to 3/4 teaspoons of salt.
Vanilla Extract or Paste. A touch of vanilla deepens the flavors of the caramel sauce. It's delicious!
Before you begin:
It's simple to make vegan caramel sauce, but you need to read the recipe carefully and fully understand the process before you begin.
I also recommend that you measure out all of the ingredients before you start and have everything you need on hand.
Be prepared to not walk away from your caramel while it is on the stove. This is so you avoid burning the sugar! Just slightly overdone and you get this unpleasant aftertaste. A minute more and it will be inedible.
I'm including step-by-step photos and a video so you can see the full process.
I don't say all this to intimidate you, but to set you up for caramel sauce making success! I promise, you can do it!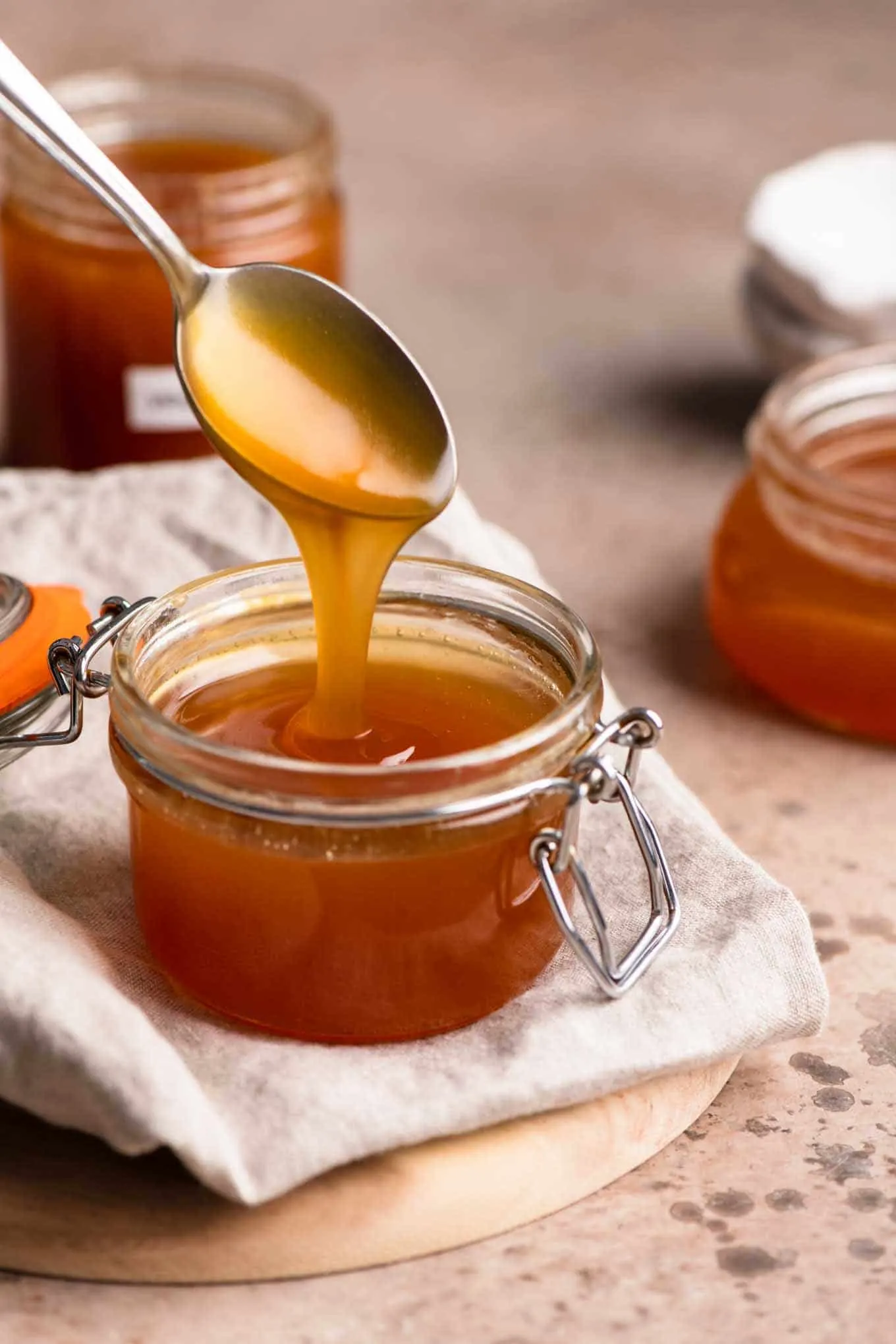 How to make vegan caramel sauce:
First get a medium pot and put it on low heat over the stove. You want to use a medium pot because when you add the vegan butter and coconut milk to the sauce it will bubble up. The larger pot will keep it from overflowing.
I recommend using a low heat, on my gas stove I use setting 2 and on my electric hot plate I liked setting 3. You can always heat it for longer or turn up the heat slightly, but you can't undo any heating or cooking.
Add the sugar to the pot and then let it heat up, stir it almost constantly throughout the whole vegan caramel sauce making process.
First the sugar will get clumpy. Then it will turn a pale golden and start to look liquidy where it's touching the warm pan.
Then slowly the sugar will fully melt. You'll see it 50 then 90% melted with some sugar clumps remaining. When fully melted, the sugar will be a pale amber color, almost like the color of honey. This process takes 5-10 minutes.
Add the vegan butter:
As soon as all of the sugar has melted to liquid* turn off the heat and add the vegan butter.

*you may have some clumps of crystallized sugar stuck on the side of the pan or on the upper part of your spoon or spatula, and this is okay for this caramel sauce.
Be careful when you add the vegan butter as the cooler butter will cause the warm sugar to bubble. This is why we use a deeper pot! You can use oven mitts to protect yourself from potential splatters as these splatters are hot.
Stir the vegan butter in as it melts so that it combines with the sugar. At this point you can turn the heat back on low as you stir until the butter has mixed into the sauce.
Add the coconut milk:
Once the vegan butter has mixed in, with the heat on low, slowly pour in the coconut milk while stirring.
The mixture will bubble as you add the milk. Whisk in the coconut milk until the sauce is smooth and combined. If needed, turn on the heat to get help it combine.
If you turned the burner on, then turn it off again as soon as the coconut milk is mixed in.
Note: this caramel sauce has a perfect syrupy pouring consistency when at room temperature and is drizzle-able even cold from the fridge. For a thicker caramel use less coconut milk–1/4 to 1/3 cup instead of a full 1/2 cup.
Add the salt and vanilla extract.
When the caramel is done, with the heat off, add the salt and vanilla extract and stir it in.
Let the sauce cool down for at least a few minutes before using. Then go ahead and use it anywhere you want some caramel sauce!
The sauce will thicken as it cools, but remains a pourable or spoonable consistency even when cold.
Tip: Pour the warm caramel sauce into a clean glass jar or other container and wash your pot and spoon right away before any crystallized sugar becomes too hardened.
Storing vegan caramel sauce:
The caramel sauce should be stored in the refrigerator and will keep for for several weeks. For longer storage, freeze some or all of the sauce.
You can freeze caramel in an ice cube tray and pop into a freezer safe bag, or freeze it in a glass jar, leaving the lid off until the caramel has frozen.
Substitute for Coconut Milk?
I haven't tried any substitute yet, but my suggestions would be to either use a store bought vegan creamer or the Silk Dairy Free Half-and-Half or Silk Dairy Free Heavy Cream.
If you do try one of these substitutes let us know in the comments!
If you make this vegan caramel sauce, leave a comment below and rate the recipe on the recipe card. And please share your photos with me on Instagram, tag @thecuriouschickpea and #thecuriouschickpea. I love seeing your recreations!
Vegan Caramel Sauce
This vegan caramel sauce is rich and creamy and just like the traditional non-vegan version! It's simple to make, but go slow to prevent burning the sugar.
Ingredients
1 cup (200g) organic granulated sugar
6 tbsp (84g) vegan butter, room temperature, cut into tablespoon pieces
1/2 cup (130g) canned full fat coconut milk
1 tsp (6g) salt*
1 tsp (5g) vanilla extract
Instructions
Add the sugar to a medium pot turn the burner on to low heat (setting 2-3). Stir almost constantly with a wooden spoon or silicon spatula. The sugar will first begin to clump, then turn a shade golden and begin to melt, until finally the sugar has completely melted and is an amber color.
When the sugar has melted, turn off the heat and add the room temperature vegan butter. Be careful as the mixture will bubble and has the potential to splatter (you can wear oven mitts for protection). Stir in the vegan butter, turning the heat back on low if needed.
When the mixture is smooth and butter has been incorporated, add the coconut milk while stirring. Stir until the coconut milk has been combined, turning the heat on low if needed. Turn the heat off when the sauce is smooth and uniform.
Add the salt and vanilla extract and mix to combine. Let the sauce cool and then enjoy! The sauce thickens as it cools.
Notes
*I prefer a salted caramel so recommend the full teaspoon of salt. You can adjust this to use 1/2 to 3/4 teaspoons of salt if you prefer a more intense sweetness.
Store the caramel sauce in a clean glass jar in the fridge for a up to a month. For longer storage freeze the caramel sauce.
The sauce will thicken and turn opague when cold, but is drizzle-able even cold from the fridge. For a thicker caramel reduce the coconut milk (try using 1/4 cup to 1/3 cup coconut milk).
Nutrition Information:
Yield:

60
Serving Size:

1
Amount Per Serving:
Calories:

27
Total Fat:

2g
Sodium:

48mg
Carbohydrates:

3g
Sugar:

3g
Nutrition is calculated automatically so should be used as an estimate.