Drop all your plans and get on this garlic scape pizza ASAP! With delicious charred scapes, zippy Calabrian chiles, and spiced vegan Italian sausage, this pizza is all you need for your summer pizza making!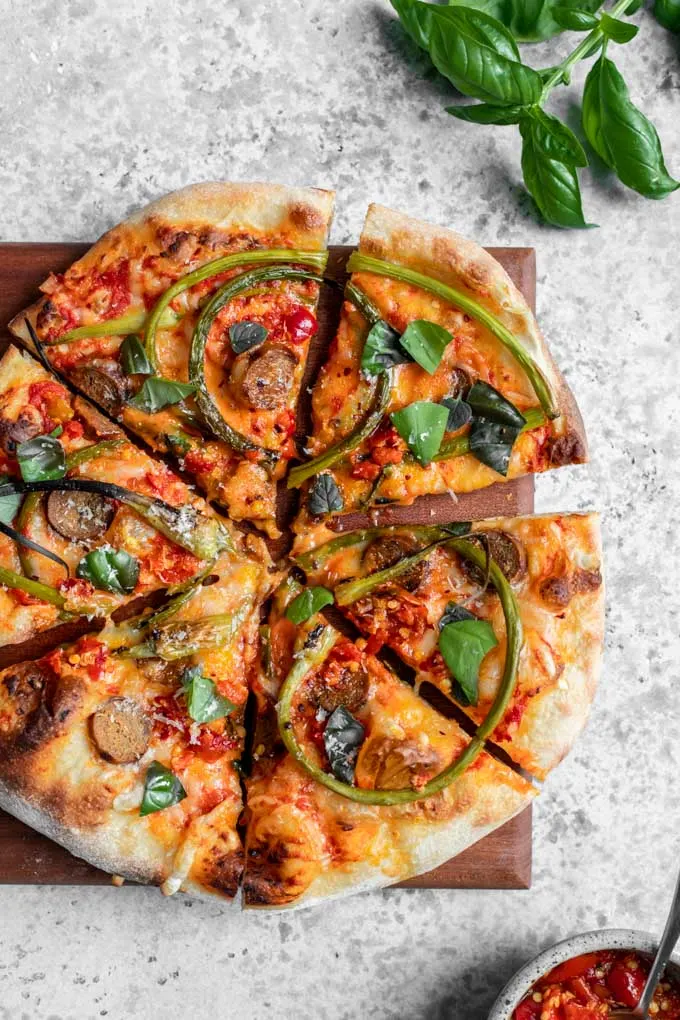 Garlic scape season (aka spring/early summer) is one of my favorite seasons. These delicious green shoots make the best dishes, so really, what's not to love!

Garlic scapes have a texture reminiscent of asparagus and a milder garlic flavor. Mind you, they're still plenty garlicky, it's just nowhere near as concentrated as say, biting into a clove of garlic.
You'll want to keep your eyes out for scapes at your local farmers market or some well stocked grocery stores (I see them at Whole Foods and my local organic market). The season is fleeting, so make the most of it while you can!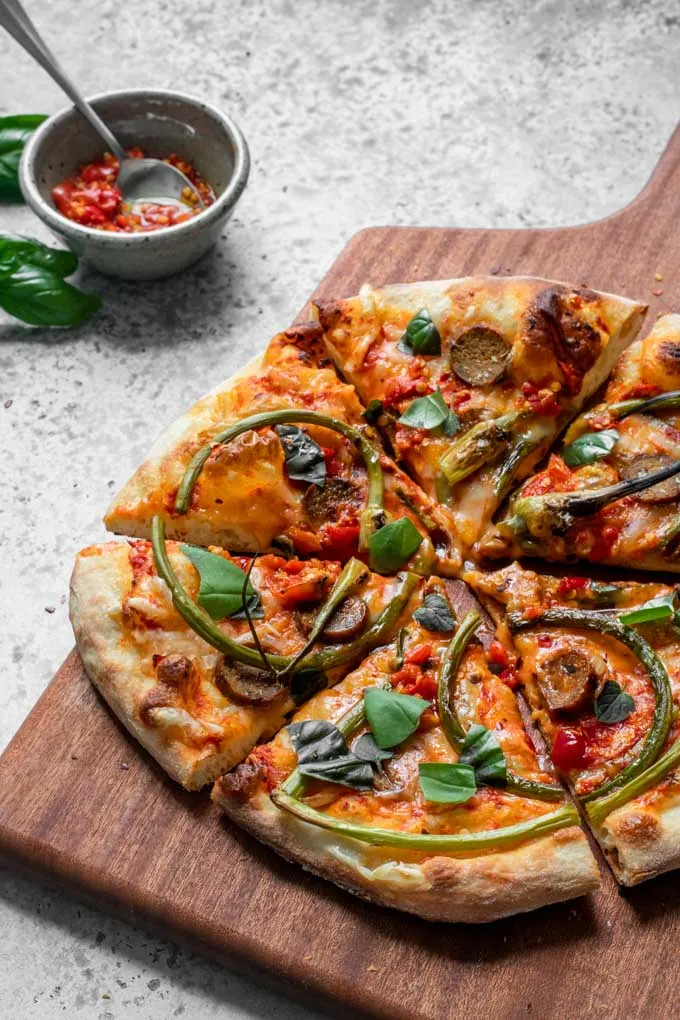 Putting garlic scapes on pizza is one of my favorite ways to eat them! I make sure to enjoy a garlic scape pizza at least once a season, like any sane person should!
I topped some homemade pizza dough with a no cook tomato sauce and vegan mozzarella. Then loaded it up with garlic scapes, some vegan Italian sausage, and Calabrian chiles.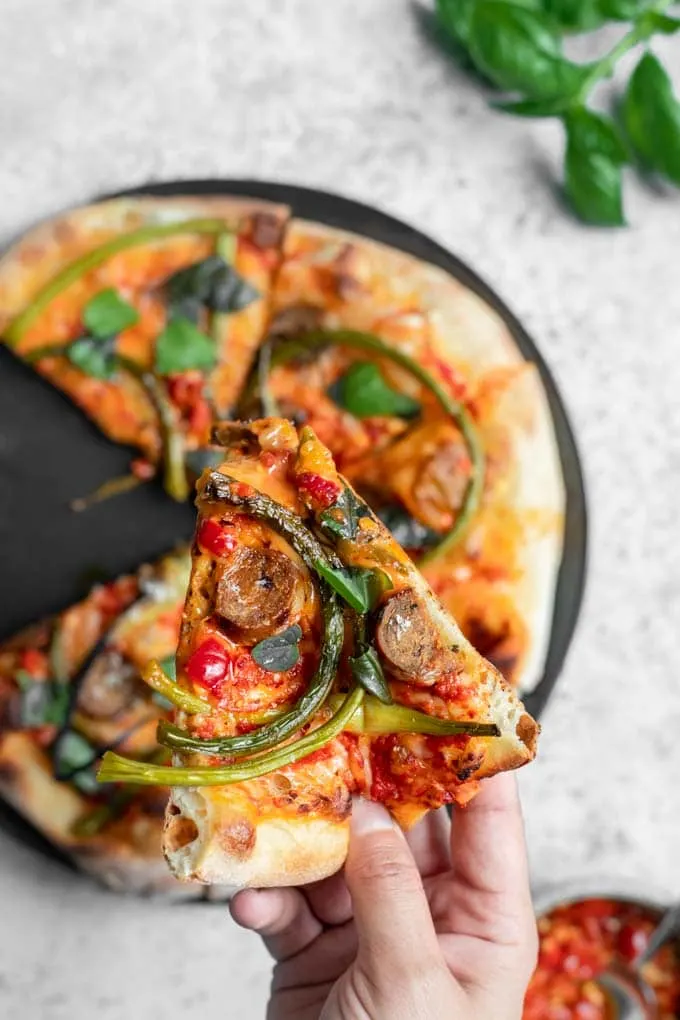 Out of the oven I garnished it with fresh basil and fresh oregano because and added some vegan parmesan because I'm extra. It was such a simple pizza to throw together and one of my favorite combos of all time!
First, let's make the pizza dough!
The first step to pizza is not rushing it. That means taking the time 1-3 days in advance to make some dough, or feel free to buy some pizza dough, but give it time to come to room temperature before baking.
I used my overnight pizza dough in this recipe, and let it rise for about 2 1/2 days before making this pizza. It led to a beautifully soft puffy crust (the rim is called cornicione) that's just a delight to tear into.
If you make my recipe, you can definitely use the pizza dough after an overnight rise in the fridge. But if you have the time making it 2-3 days in advance really makes for some spectacular flavor and texture.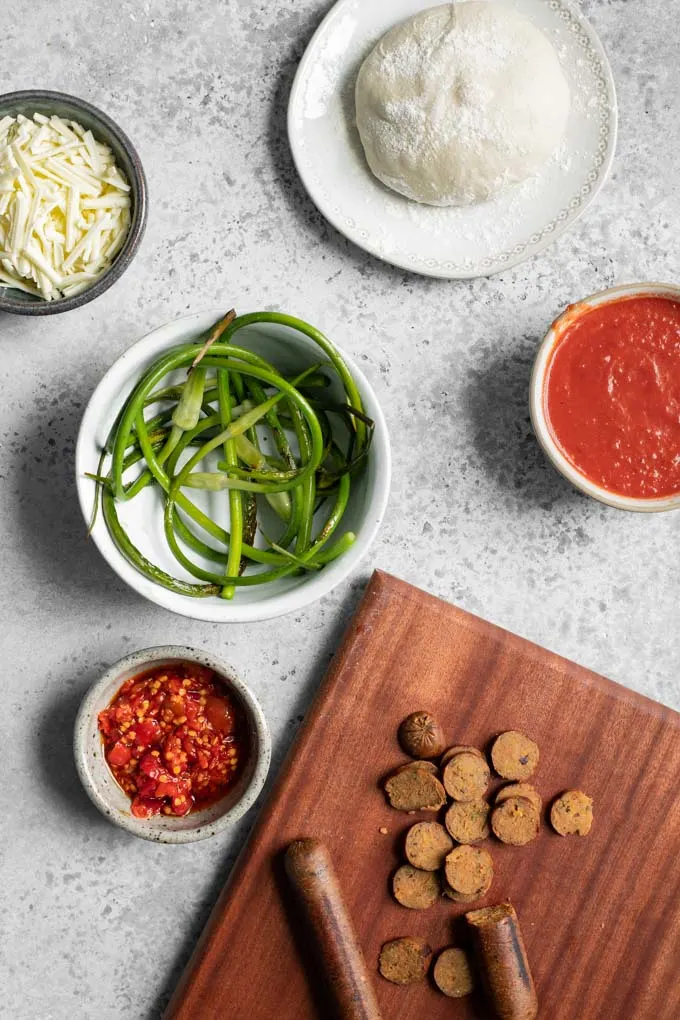 The no cook pizza sauce:
I'm a big fan of making this fresh tasting blender sauce. Take high quality canned tomatoes, organic if you can swing it.
Scoop out a few tablespoons of the tomatoes and their juices and add it to a blender along with some salt, red pepper flakes, dried oregano, and extra virgin olive oil. Blend these together until they're smooth.
Then add the rest of the tomatoes and all their juices and pulse the blender a couple of times to break up the tomatoes. You want some texture left in the sauce and don't want to over-blend the tomatoes which can make the sauce watery.
You can make the sauce in up to a couple of days in advance, or quickly whip it up while the oven preheats.
The garlic scapes:
Prepping the garlic scapes is not 100% necessary, but I think makes them even better. Heat a large skillet and add a drizzle of oil along with the scapes and a pinch of salt.
Fry them just a couple of minutes to turn them a couple shades more vibrant and sear in a few spots. It also makes the scapes more tender and easier to plop onto the pizza. Do this a couple hours ahead of time, or while the oven preheats.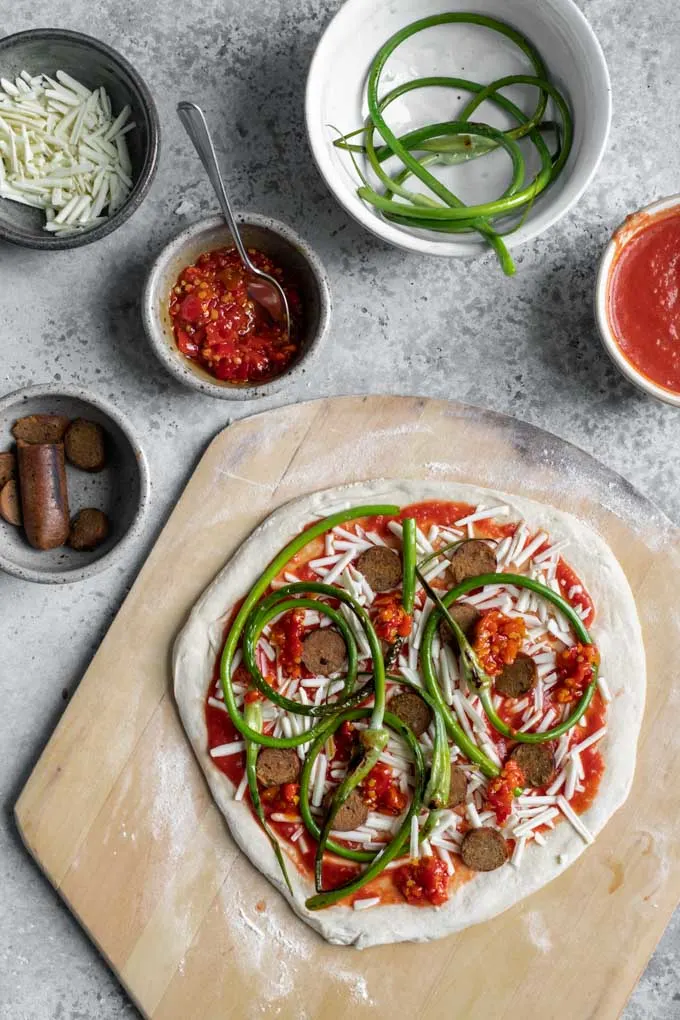 The rest of the toppings:
The Italian seasonings of the sausage pair really well with the sharp bite of the scapes. You have some sweetness from the fennel, and some spiciness from red pepper flakes.
I like seitan sausage, and there are a few brands on the market these days for you to choose from (in the US at least!). You can also look into making your own, such as my seitan deli meat slices which aren't Italian seasoned but would also pair really well with the scapes.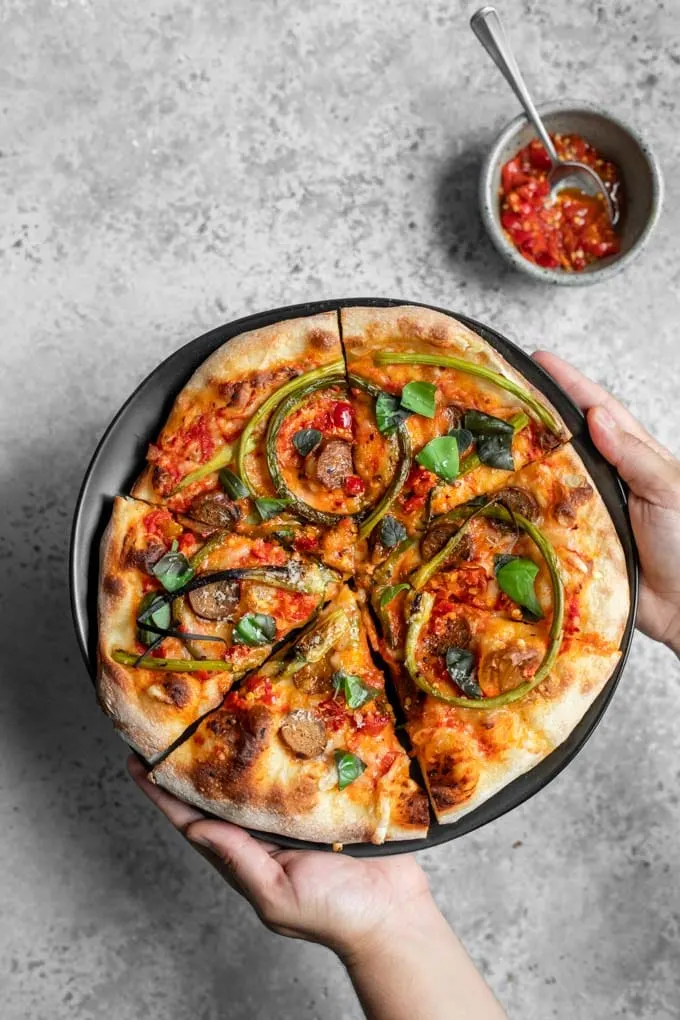 I picked up some jarred Calabrian chiles in oil for this pizza for a sweet heat, but if you can't find them or a suitable jarred substitute, fresh peppers are always a nice addition!
For the cheese, choose your favorite vegan mozzarella. The creaminess of the mozz mellows the bite of the scapes and ties the whole pizza together for the ultimate drool-worthy meal.
When it's out of the oven, the pizza is finished with fresh basil. I happen to grow some oregano in my herb garden so used that, but otherwise you can use the dried stuff! A little sprinkling of vegan parm and it's pizza perfection.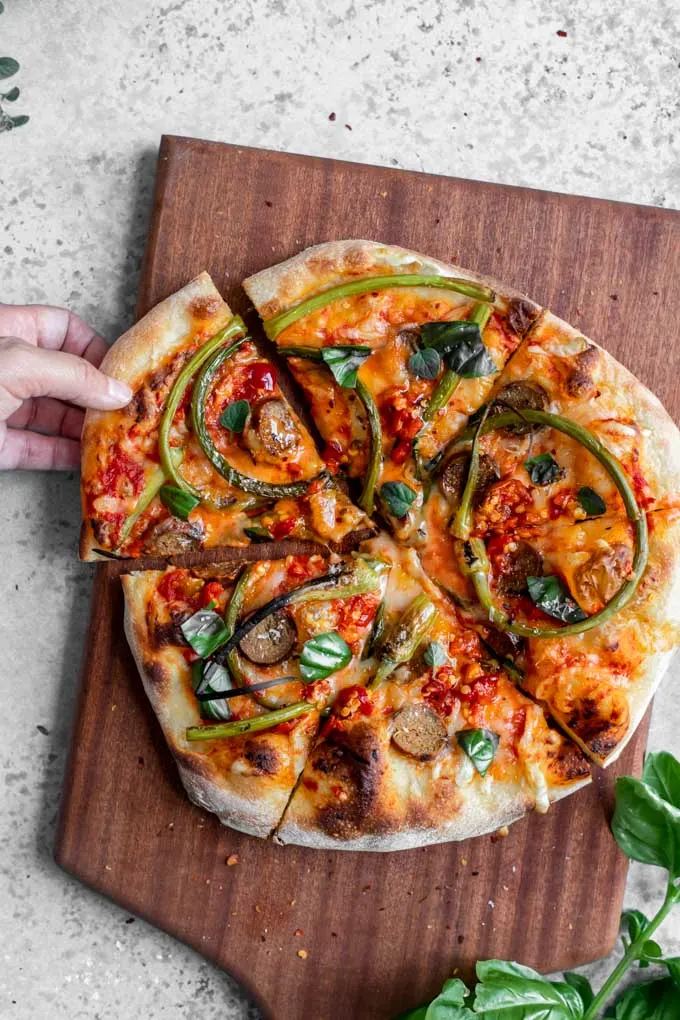 Baking the pizza:
I've got a lot of tips on shaping pizza dough in my overnight pizza dough recipe, so check that out if you want to up your pizza making game!
Otherwise, the most important things you can do are:
Preheat your oven as hot as it goes for an hour before you want pizza. That's 550 ºF for a lot of us.
Take your pizza dough out of the fridge and let it sit at room temperature for about an hour.
Put your oven rack towards top of the oven, I like mine about 1/3 of the way from the top.
Use a pizza stone or pizza steel.
The goal is to transfer as much a heat as possible to the pizza as quickly as possible. This leads to soft and tender crusts, a beautiful golden color with some charred and blackened spots. It also helps your cheese melt, which can be especially fussy with vegan cheeses. And lastly it won't dry out your toppings.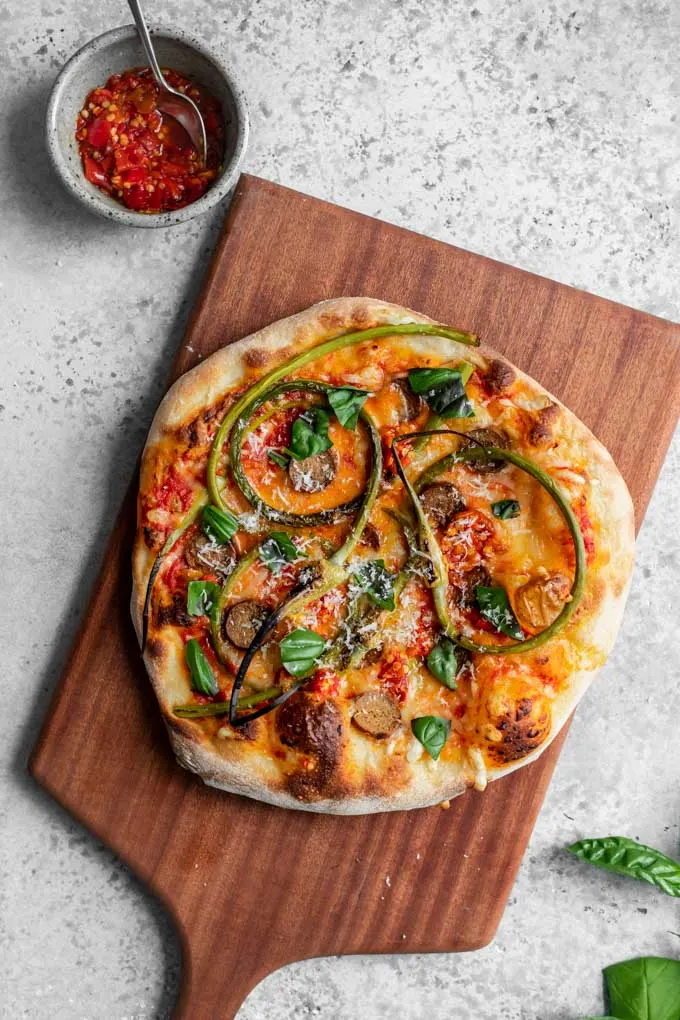 Pizza is a fun food to make for guests, and while it's makes a bit of a mess of your counter while you shape the dough and top the pizzas, you can get everything together in advance. This means easy and stress free baking for your friends and family! Or just yourself. That's cool too.
---
If you make this garlic scape pizza, leave a comment below and rate the recipe on the recipe card. And please share your photos with me on Instagram, tag @thecuriouschickpea and #thecuriouschickpea. I love seeing your recreations!
---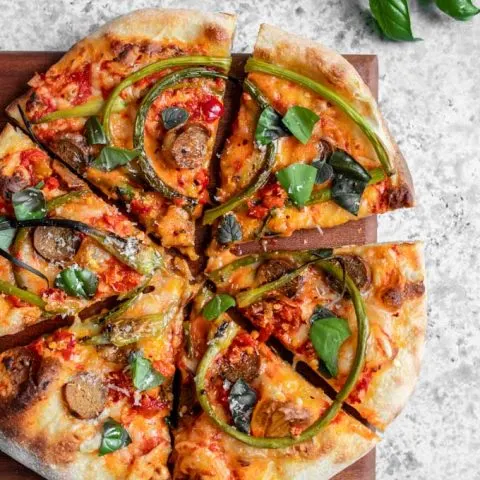 Garlic Scape Pizza
Cook Time Per Pizza:
10 minutes
Total Time:
1 hour
10 minutes
A delicious vegan garlic scape pizza topped with Calabrian chiles and vegan Italian sausage.
Ingredients
Sauce
15oz canned whole tomatoes
1 tbsp extra virgin olive oil
1/2 tsp dried oregano
1/2-1 tsp red pepper flakes, to taste
1/4 tsp salt
Everything Else
12 garlic scapes (~4.5 oz)
1 tsp olive oil
vegan mozzarella
vegan Italian sausage
Calabrian chiles
Fresh basil
Fresh or dried oregano
vegan parmesan (optional)
Instructions
Turn the oven to 550 ºF, or as hot as it will go. Place a rack one third of the way down from the top of the oven, and place a baking steel or baking stone on that rack. You want the oven to saturate with heat for about 1 hour before baking pizza for best results.
At this time also remove the pizza dough from the fridge so it can come to room temperature and the gluten can relax.
Make the sauce: in a blender combine a couple spoonfuls of the tomatoes and their juices with everything else (olive oil, oregano, red pepper flakes, salt) and blend until smooth. Add the rest of the tomatoes and pulse a couple of times.
Cook the garlic scapes: heat a large skillet over medium. Add the oil and garlic scapes along with a pinch of salt. Fry until the garlic scapes are a couple shades more vibrant and charred in a few spots. Remove from heat.
Fry the vegan sausage: Leave the skillet on and add a little more oil (if needed). Fry the sausage until it is browned, then remove from heat and slice when it has cooled enough to touch.
When the oven has preheated for about an hour, prepare your pizzas one at a time. Stretch your dough to around 10-12" diameter and place on a lightly floured pizza peel.
Spread the sauce over the dough then top with vegan mozzarella, vegan sausage, dollops of Calabrian chiles, and about 4 garlic scapes.
Transfer the pizza onto the baking steel or pizza stone and bake for about 8 minutes. If needed, turn the heat to broil for another 1-2 minutes to brown the top. Alternatively, bake on a baking sheet: assemble the pizza straight on the pan and place directly in the oven to bake. Ideally the pan is on a baking stone or steel.
Repeat the pizza assembly and baking with the remaining dough.
Top the pizza with fresh basil, vegan parmesan (optional), and fresh or dried oregano, and cut into it once it's cooled for a couple of minutes. Best enjoyed while hot!
Notes
For pizza shaping, baking, and transferring to the oven tips, please read my Easy Overnight Pizza Dough post.
I used Violife Mozzarella style shreds and Parmesan cheese on this pizza and No Evil Foods The Stallion sausage.
Recommended Products
As an Amazon Associate and member of other affiliate programs, I earn from qualifying purchases.