This nourishing buddha bowl is filled with tamari glazed tofu, sesame kale, and the most mouth watering creamy carrot ginger dressing. A delicious veggie filled recipe perfect for easy meal planning and filling dinners. Vegan and gluten free.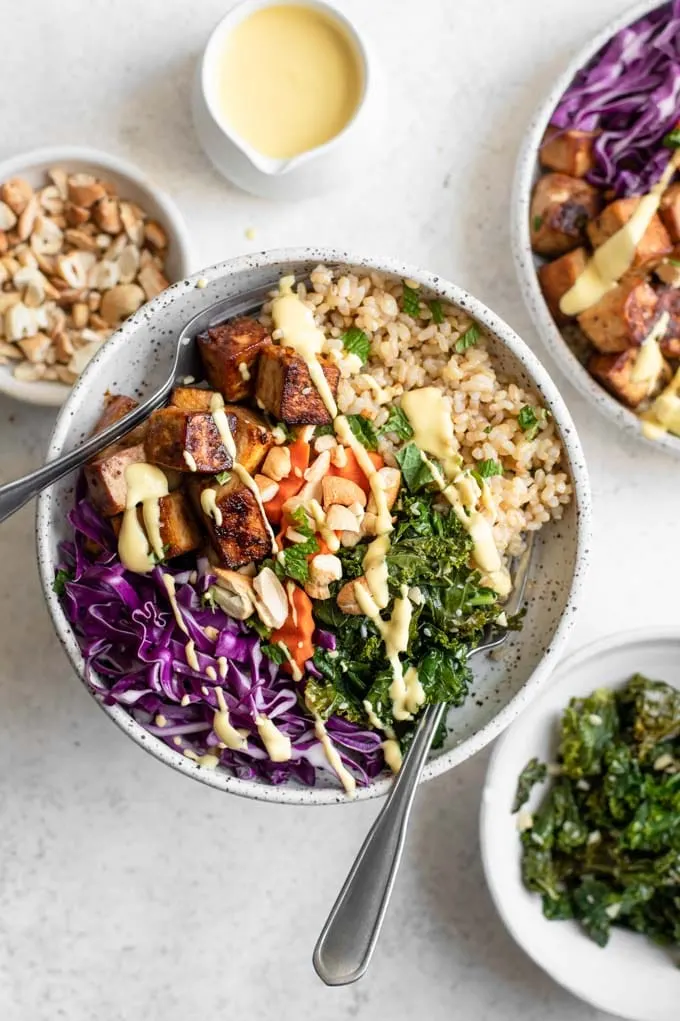 This recipe was sponsored by Pacific Foods.
---
Buddha bowls (named such for their round shape and generous overflowing portions) make the most satisfying meals. To make one you need a hearty grain, a protein, lots of vegetables and a flavorful sauce to bring it all together.
These tofu bowls are made with brown rice, tamari glazed tofu, garlicky sesame kale, crisp cabbage, and sweet carrots for a range of delectable flavors and textures.
The most special part about this recipe is its zingy and creamy carrot and ginger dressing. It's sweet and tangy and perfectly balanced.
This dressing is made using Pacific Foods Organic Cashew Carrot Ginger Soup as the base and couldn't be easier!
There are a few components that go into these bowls, but nothing is complicated to make!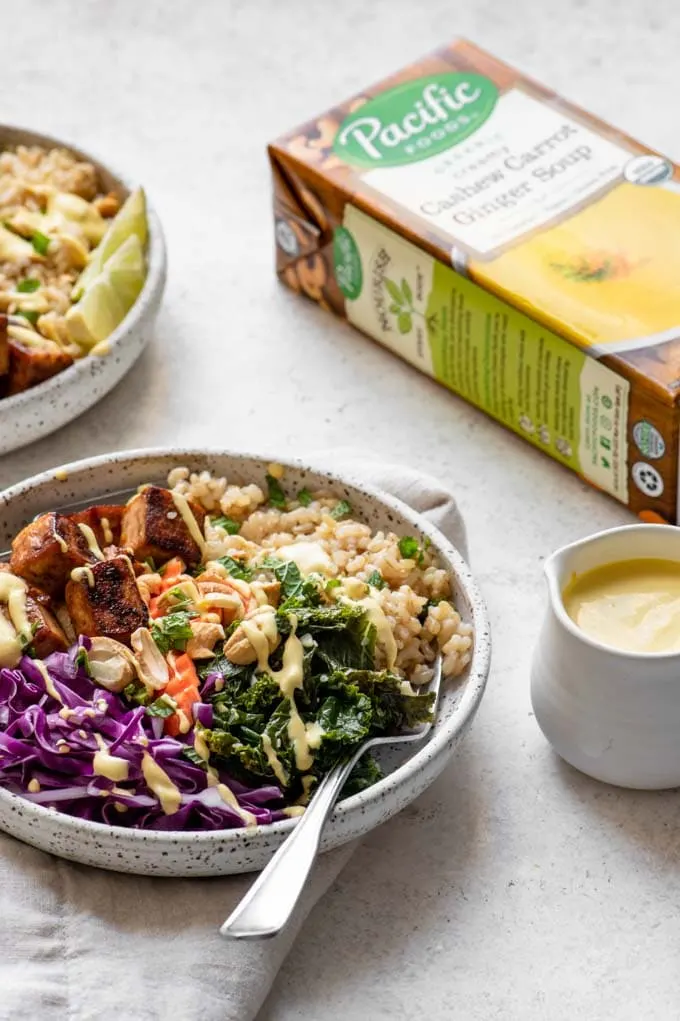 Let's start with the Carrot Ginger Dressing:
By taking advantage of a prepared soup this dressing can pack in a lot of flavor with minimal effort.
Pacific Foods Organic Cashew Carrot Ginger Soup is made with whole foods simple ingredients, and is exactly what you'd make at home to prepare this sauce without actually having to go through the fuss of it yourself!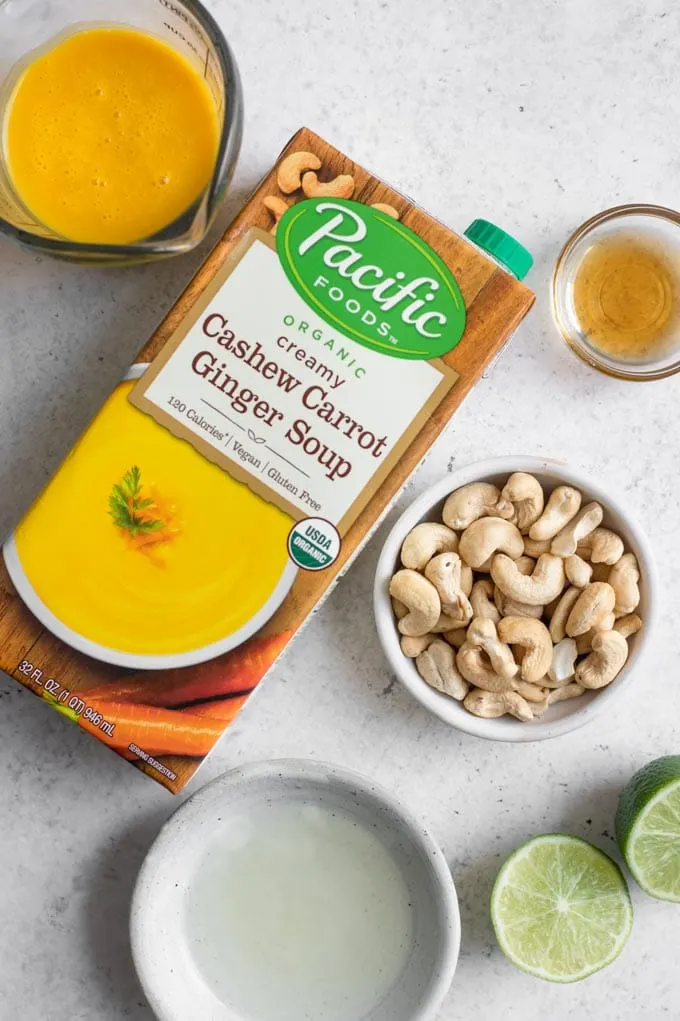 To make this dressing you need the Cashew Carrot Ginger Soup, rice vinegar, toasted sesame oil, freshly squeezed lime juice, and cashews.
The rice vinegar and lime juice combine with the gingery soup for a mouth watering tang which is rounded out by the sweetness from the carrots, nuttiness of the toasted sesame oil, and creaminess from the cashews.
The cashews are used to thicken the dressing, and depending on your blender you can use raw cashews, soaked cashews, or cashew butter.
If you have a powerful blender you can throw the cashews in raw and it will be able to blend them until smooth.
Otherwise you'll want to soak your cashews to soften them. You can do a quick soak by boiling the cashews for 10-15 minutes before draining the water. Or you can cover the cashews in cold water and let them sit at room temperature for a couple of hours.
With softened cashews you'll be able to blend a smooth dressing with a regular blender.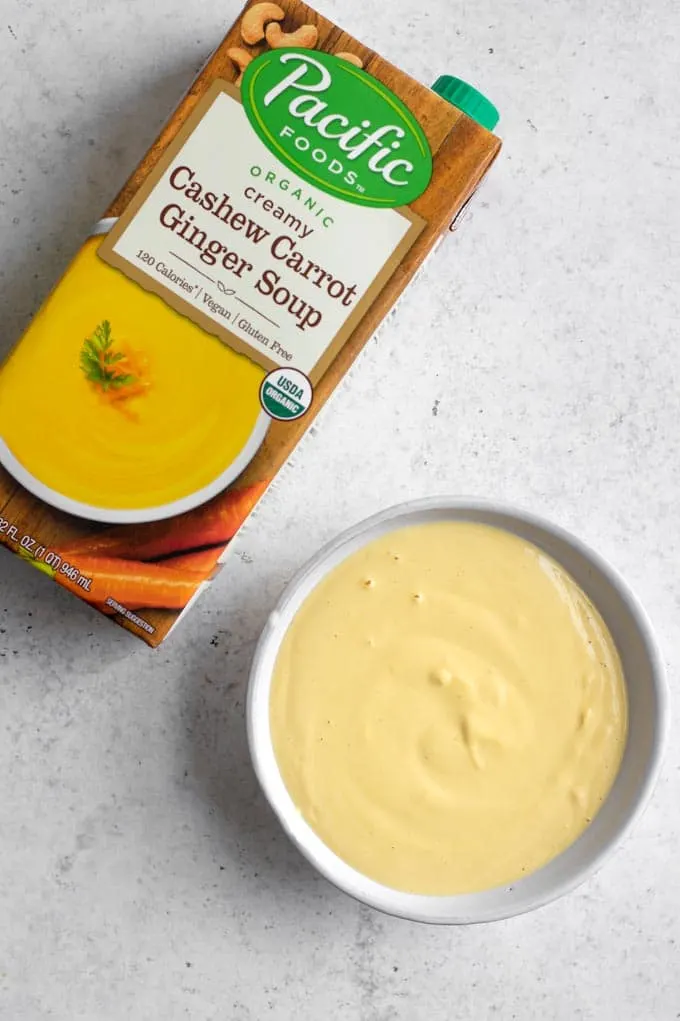 Alternatively, you can use smooth cashew butter instead (substitute 1/3 cup of cashew butter for the 1/2 cup of cashews). Cashew butter is typically made with roasted cashews so the flavor is a bit different but I enjoyed both versions!
If using cashew butter you can blend the sauce with an immersion blender with a whisk and a bit of stirring.
Once your dressing is blended smooth, stick it in the fridge until you're ready to use it. As it chills the flavors will continue to meld and it just gets better and better!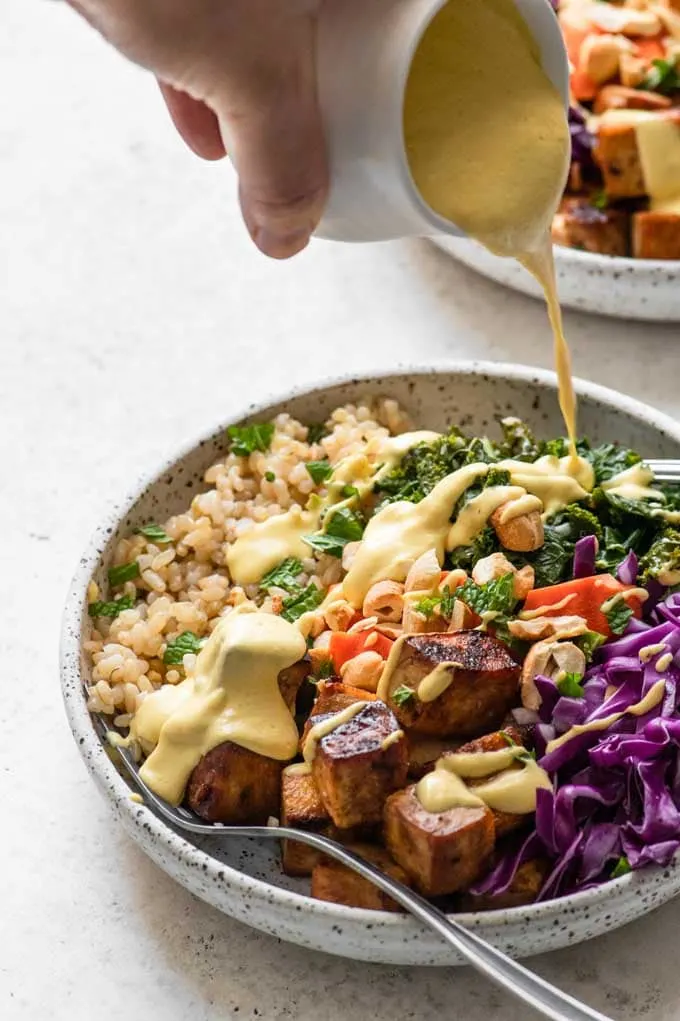 Cooking the sesame kale:
Sesame kale is so easy to make. To clean it, first submerge the kale in a big bowl of cold water and let it sit for a few minutes. This loosens any dirt that's stuck in those curly edges. Then swish it around and give it a quick rinse to clean it off.
To remove the stalk of your kale, wrap your thumb and pointer finger around the bottom stem and pull up. The more delicate leaves separate from the stem and you can then chop them up.
Now you're ready to cook the kale! Heat a skillet up then add a drizzle of oil and the chopped kale. Sprinkle with a bit of salt and let the kale wilt as it sautés.
Once wilted, add the minced garlic and sesame seeds and let them toast for a minute.
Now pour in some rice vinegar. The acidity of the vinegar complements the earthy flavors of kale nicely and the steam helps soften the kale further.
When the kale is cooked, turn off the heat and add the toasted sesame oil to maximize its flavor.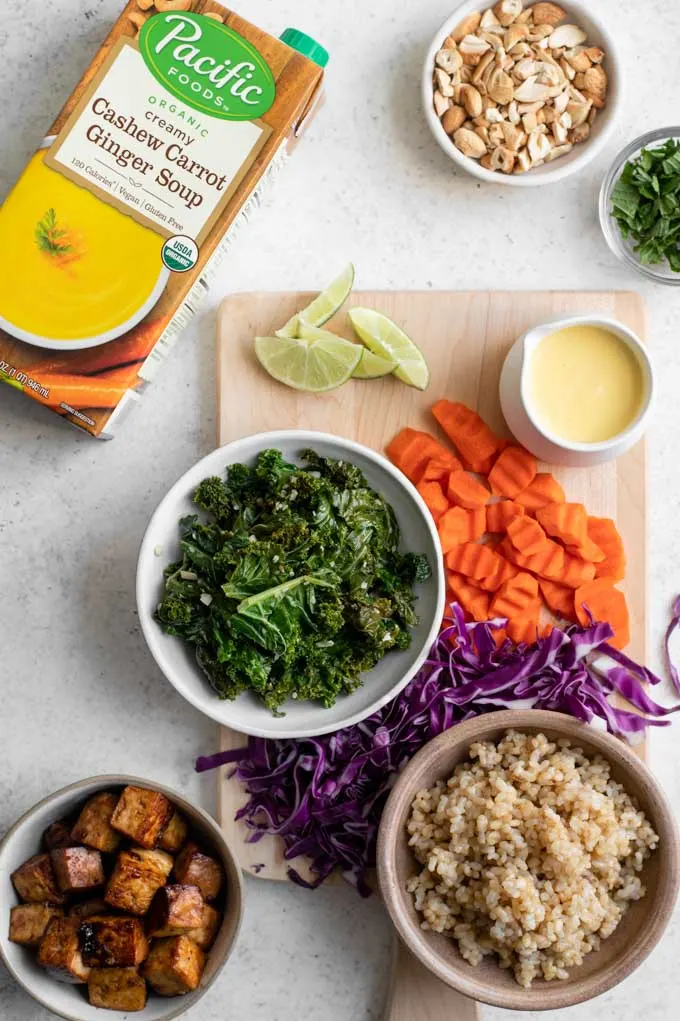 Making the tamari tofu:
When it comes to making great pan fried tofu, you need to start with extra firm tofu and press out excess liquid. Or you can use 'super firm' tofu and skip the pressing.
Pressing the tofu improves its texture and keeps the tofu from falling apart easily while cooking. Easily press a block of tofu by slicing it into 5 slabs. Laying the slices flat on a lint free towel (paper towels also work) and wrap the towel around the tofu.
Lay something heavy on top such as the heavy cast iron skillet you're about to use to fry in. A cutting board topped with cans or cookbooks works as well.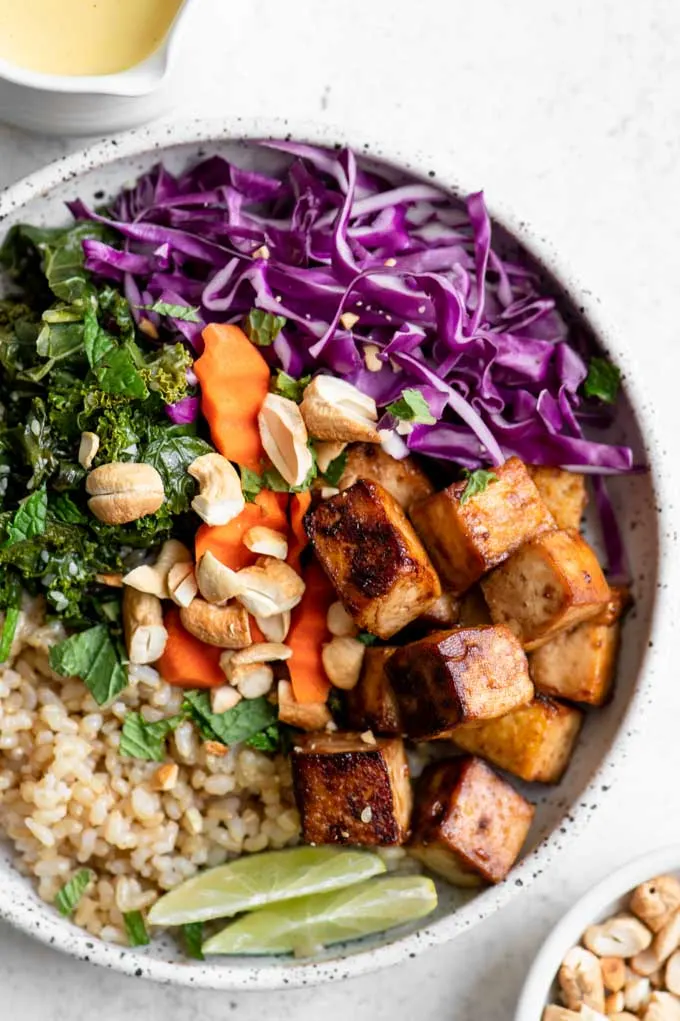 Let the tofu sit for about 20 minutes, then unwrap the towel and remove the tofu. The slices will be thinner. Cut the tofu into cubes and it's ready to cook!
The tofu gets seasoned with a tamari marinade, so go ahead and whisk that up before cooking the tofu. Combine tamari, rice vinegar, maple syrup, toasted sesame oil, and miso. These flavors combine to make a delicious sweet and sour style tofu.
Note: Use tamari instead of soy sauce for a gluten free recipe. I prefer to use low sodium tamari. If making gluten free, also check that your miso is certified gluten free.
I like to use cast iron skillet to fry the tofu but a coated nonstick pan works as well. Heat the pan so it's nice and hot so the oil creates a thin layer across the pan. Once the oil is hot and shimmering, add the tofu.
When cooking tofu you want to let the bottom sear before trying to stir it. If you try to flip it too early it may stick a bit to the pan and tear. Once you have a nice light golden layer then it's easy to slide the spatula under the tofu and flip.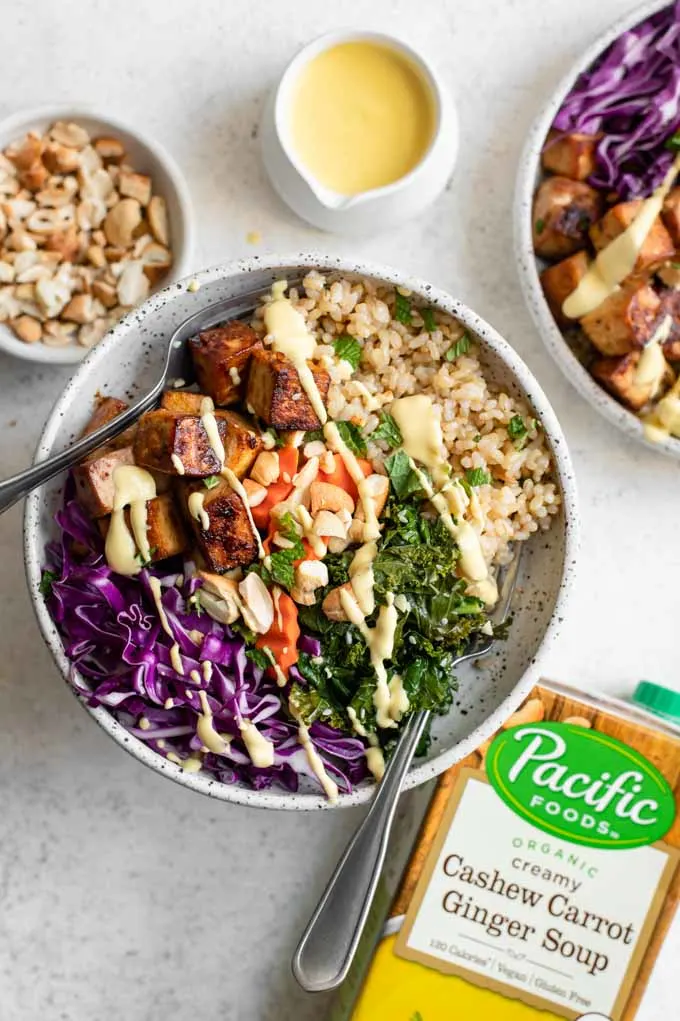 Let the tofu cook, flipping to get at least 3 sides a light golden.
Add the tamari marinade to the pan and let it simmer and absorb into the tofu. Stir the tofu as it cooks to get it well coated, then let it sear on a couple of sides for those dark caramelized edges.
The remaining components:
I like to add fresh cabbage to the bowls, though pickled or fermented cabbage (like sauerkraut or Salvadoran curtido) would also be really nice as well. Cabbage adds a peppery crispness that's so delicious!
If you'd like, you can add some sliced carrots to the bowl for extra sweetness and crunch. Feel free to use what you have in the fridge, cucumber, avocado, and salad greens can be used as well in this recipe.
For garnish I like adding some roasted cashews. They're nutty and the perfect combination of buttery and crunchy. If you prefer you can use sesame seeds, pepitas, or peanuts instead.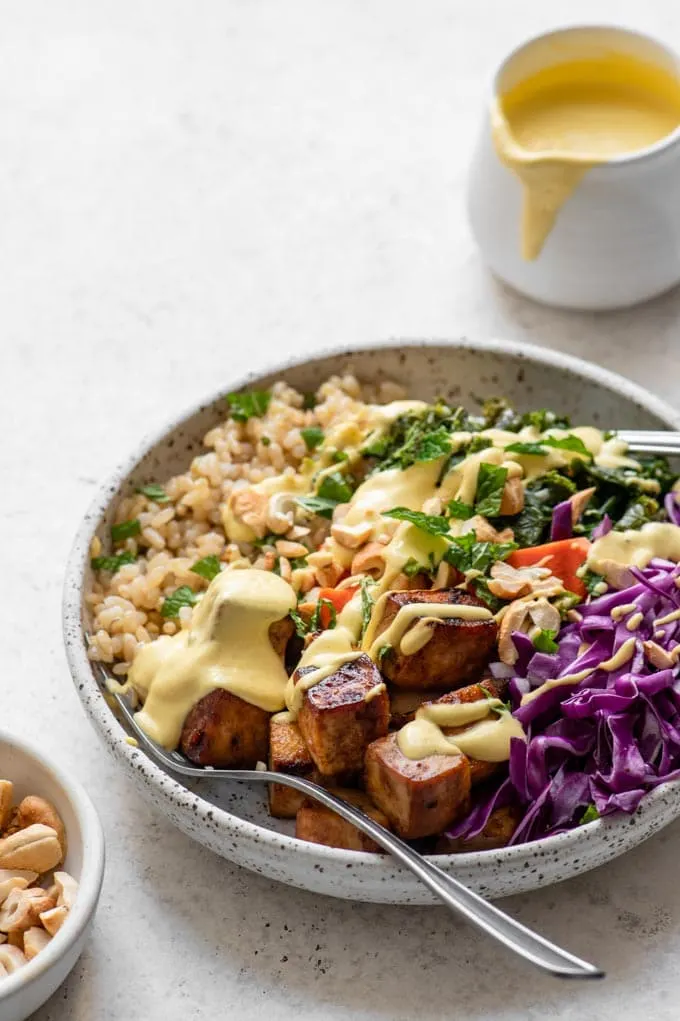 To serve, sprinkle on some fresh herbs! Mint is incredible here, but you could also use Thai basil or cilantro.
Lastly serve the bowls up with a wedge of lime. There's nothing like a fresh squeeze of citrus to make everything better!
This recipe is great for meal planning as the components can be prepped in advance.
You can keep the components separate and combine to serve, or pack it all together for prepared lunches.
You can easily double the dressing and cook more tofu and kale as the week goes on. Or you can switch it up and make the bowls with tempeh or chickpeas! Kale can be substituted for other greens like collard greens, spinach mustard greens, or swiss chard.
You could also switch out the grains for another one such as quinoa, farro, barley, or freekah. All of it will taste great with that carrot ginger dressing!
If you make this tofu buddha bowl with carrot ginger dressing leave a comment below and rate the recipe on the recipe card. And please share your photos with me on Instagram, tag @thecuriouschickpea and #thecuriouschickpea. I love seeing your recreations!
Thanks to Pacific Foods for sponsoring this recipe!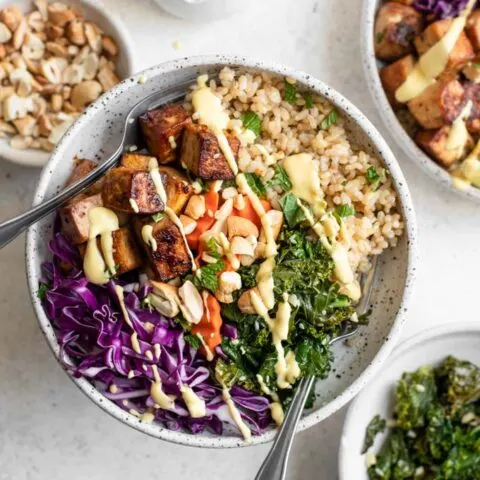 Tofu Buddha Bowl with Carrot Ginger Dressing
Inactive Time:
20 minutes
This nourishing buddha bowl is made with tamari glazed tofu, sesame kale, fresh cabbage, and a mouth watering creamy carrot ginger dressing. It's vegan and gluten free, perfect for easy dinners and meal planning!
Ingredients
Carrot Ginger Dressing
1/2 cup cashews*
1/4 cup rice vinegar
1 tsp toasted sesame oil
2 tbsp fresh lime juice
Sesame Kale
1 bunch kale, ribs removed and chopped
1 tsp oil
2 cloves garlic
1 tbsp sesame seeds
1 tbsp rice vinegar
1 tsp toasted sesame oil
Tamari Tofu
1 block extra firm tofu
1 tbsp oil
2 tbsp low sodium tamari
1 tsp miso
1 tbsp rice vinegar
1 tbsp maple syrup
1 tsp toasted sesame oil
Everything else
Cooked brown rice
Shredded red cabbage
Sliced carrots
Roasted cashews, chopped
Fresh mint, for garnish
Instructions
Make the dressing:
Combine all of the ingredients for the dressing in a blender and blend until smooth. If using cashew butter (see note below), use a whisk or immersion blender to combine. Refrigerate until ready to use.
Make the sesame kale:
Wash the kale, remove the stalks and roughly chop the leaves. Heat a large skillet over medium heat and add the teaspoon of oil and the kale along with a pinch of salt.
Cook the kale until wilted, then add the garlic and sesame seeds. Let fry a minute or two until a shade darker, then add the rice vinegar and sauté until absorbed. Turn off the heat and add the toasted sesame oil.
Make the tamari tofu:
First press the tofu. Slice the block of tofu into 5 slabs and wrap them in a lint free towel on the counter. Place a heavy object on top and let press for 15-20 minutes, then cut the pressed tofu into cubes.
Whisk together the tamari, rice vinegar, maple syrup, miso, and toasted sesame oil to make the marinade and set aside.
Heat a large skillet over medium heat and add the tablespoon of oil. When hot, add the cubed tofu. Let fry until the bottom is light golden, then gently ease the spatula under the tofu and flip. Let the tofu cook on at least three sides, then add the tamari marinade and toss to coat.
Let the marinade simmer and reduce, glazing the tofu. Once the tofu is lightly caramelized, remove from the heat.
Assemble the bowls:
In a bowl pile cooked brown rice, sesame kale, tamari tofu, shredded cabbage, sliced carrots, roasted cashews and fresh mint. Drizzle with the carrot ginger dressing and toss before eating. Enjoy!
Notes
*If not using a high powered blender, boil the cashews in water for 10 minutes to soften, then drain. Alternatively you can substitute 1/3 cup of cashew butter for the cashews.
To roast cashews: heat oven to 325 ºF and add cashews in a single layer. Roast for 5-10 minutes, stirring halfway through.
Nutrition estimate is calculated assuming 1/4 of the dressing, 1/2 cup brown rice, 1/2 cup cabbage, 2 tbsp carrots, and 1 tbsp roasted cashews per serving.
Nutrition Information:
Yield:

4
Serving Size:

1
Amount Per Serving:
Calories:

473
Total Fat:

24g
Sodium:

515mg
Carbohydrates:

48g
Fiber:

8g
Sugar:

11g
Protein:

19g
Nutrition is calculated automatically so should be used as an estimate.