For an easy and mouth watering pasta recipe look no further than this walnut parsley linguine! It's quick to make and uses pantry friendly ingredients. This recipe is a veganized version of a long-adored Italian recipe and can easily be made gluten free.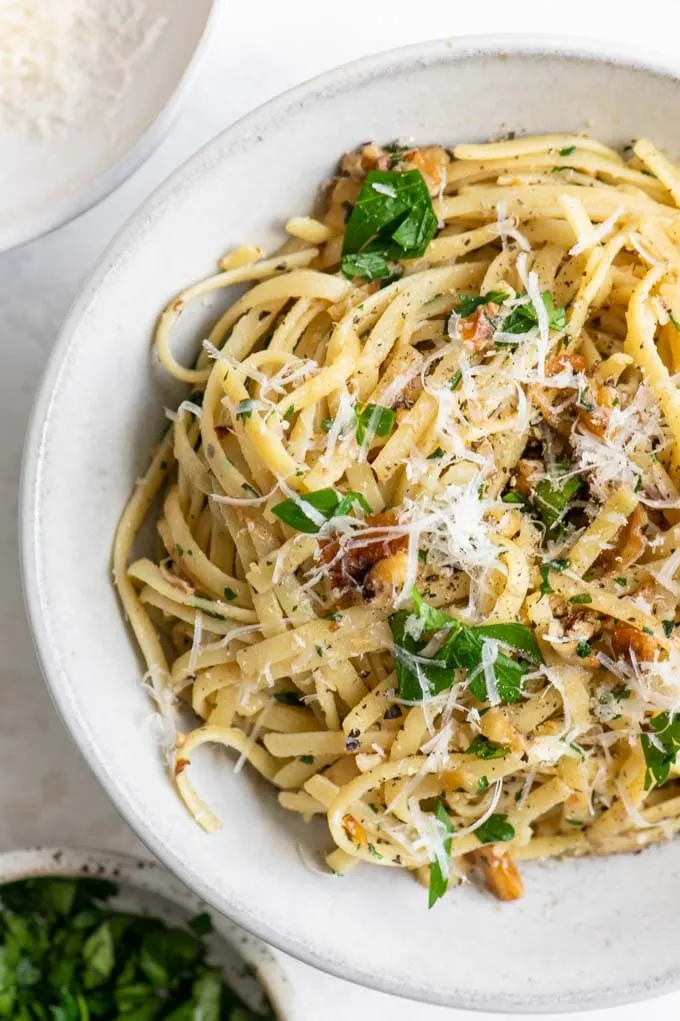 I love the simplicity of this recipe. It is the perfect example of how you don't need a lot of ingredients or a lot of time to make pasta magic!
All you need is 6 pantry friendly ingredients and under 30 minutes (and this includes the time it takes for your pasta water to boil) and you have a most delicious meal!
The sauce for this recipe, and I hesitate to call it that, is essentially a walnut and garlic infused olive oil mixed with pasta cooking water. I mean, yum.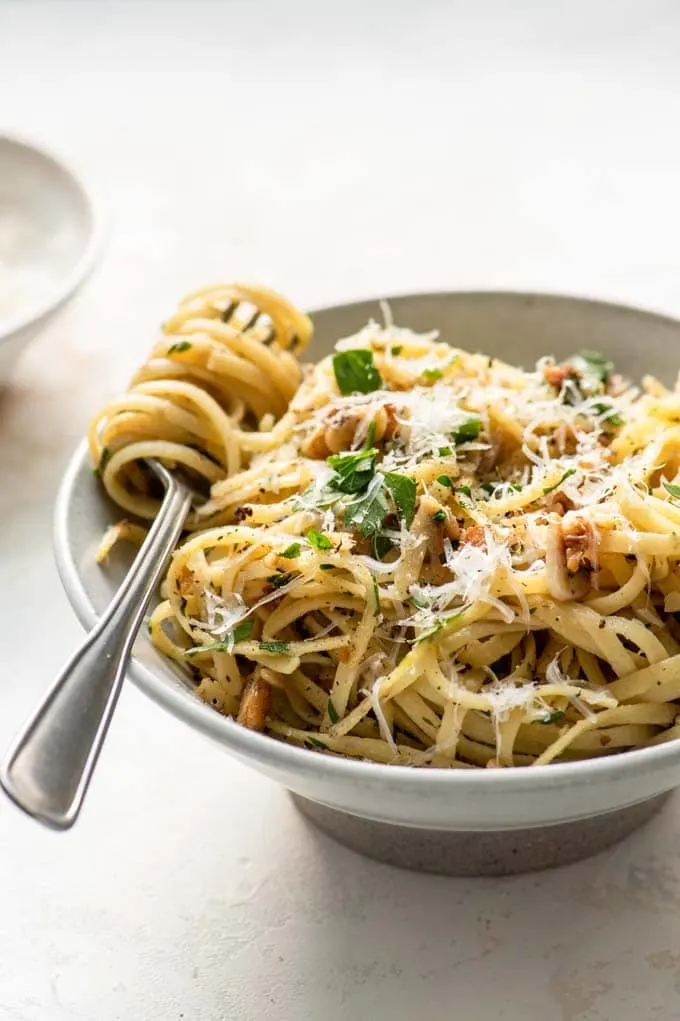 I first made this recipe as a teenager, picking it out of an otherwise unremarkable cookbook I bought for myself. It was a generic vegetarian cookbook that's long gone at this point, but I still remember this recipe.
It was easy and carb laden and garlicky and so good. It became a go to recipe for me, one I would cook for and my family regularly even if they didn't love pasta as much as me (I know, right??).
The recipe was quickly committed to memory, so even all these years later I could still pull it together.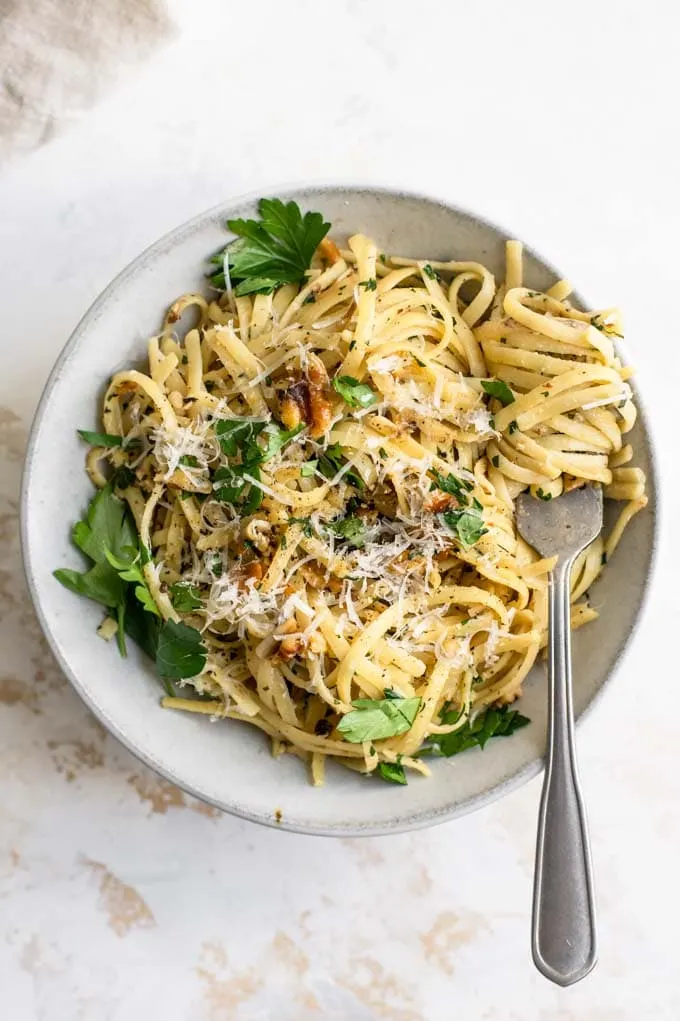 The original version was not vegan and used parmesan cheese as one of the main ingredients, but I make it with nutritional yeast now and omg it's perfect!
What is nutritional yeast?
Nutritional yeast is a deactivated yeast that's full of vitamins and minerals (often supplemented with that all important B12!) as well as protein. It's a pretty golden color and has a nutty and savory flavor that is almost cheesy in nature.
You're not going to eat nutritional yeast and confuse it for cheese, but when added to the right dishes and prepared the right way it adds depth of flavor and umami.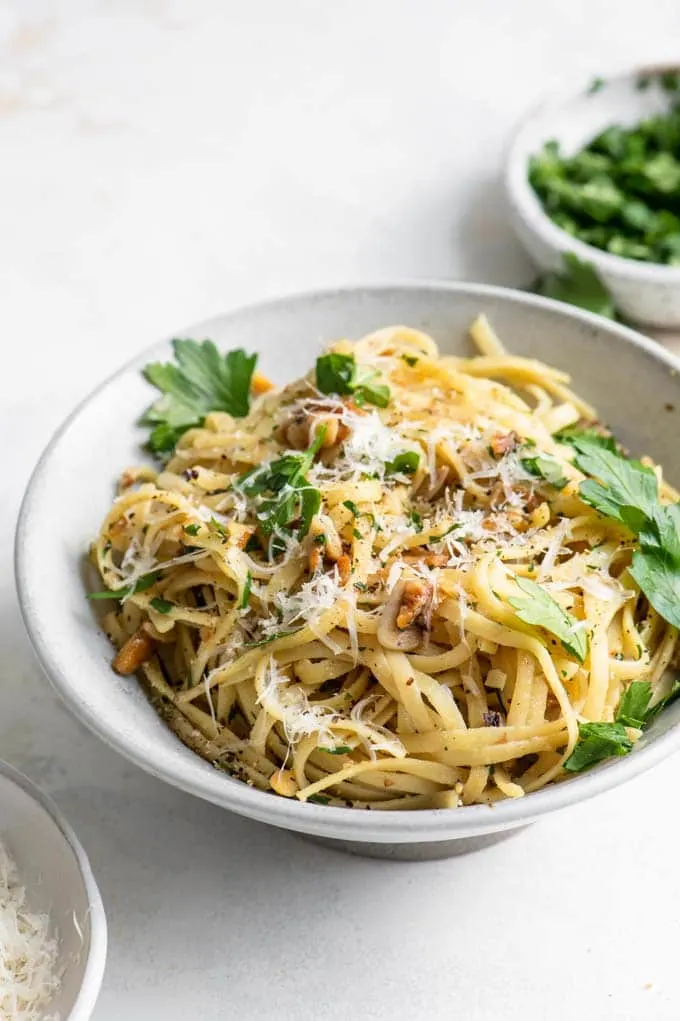 In this recipe you can use either nutritional yeast or a store bought vegan parmesan. You could even make a nutritional yeast "parm" to use (these usually are nutritional yeast, salt, garlic, and a nut or seed blitzed together to form a crumbly powder).
I used straight nutritional yeast in this recipe and love it that way! You do run into the occasional person who doesn't like nutritional yeast, so in that case use a vegan parmesan or just leave it out (and miss out ?).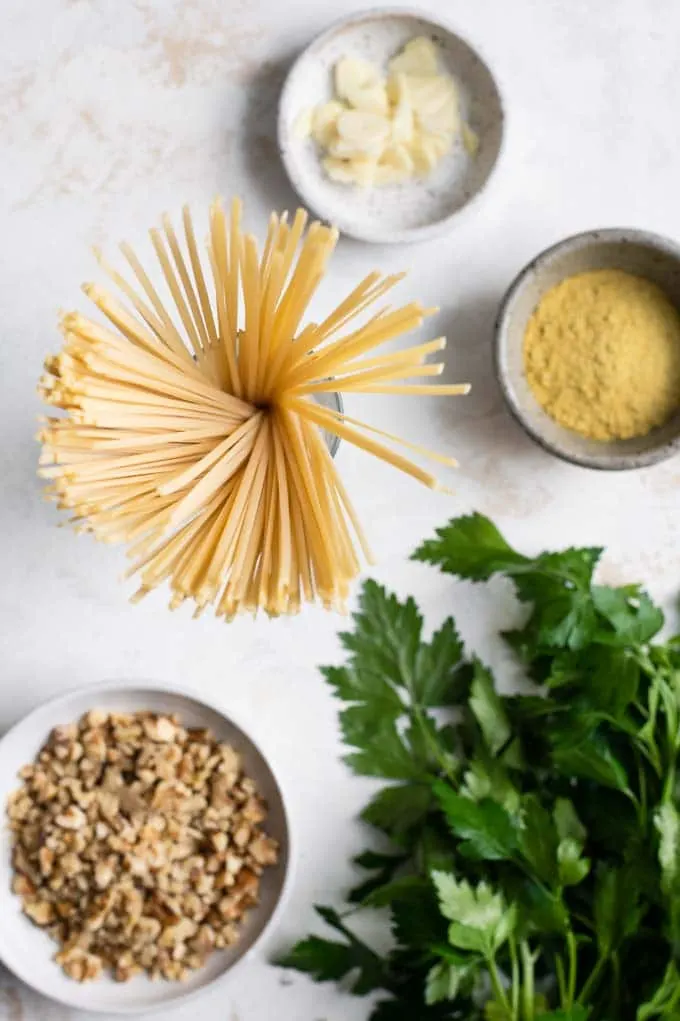 How to make walnut parsley linguine aka the best pasta ever:
You guys, this is how easy this pasta is–you cook pasta, toast some nuts and garlic, parsley and nutritional yeast. Add pasta and some cooking water to the nut mixture, toss it all together and serve!
You want long noodles for this recipe. I use linguine because it's not too flat and wide and not too skinny. But you could use spaghetti, fettuccini, or bucatini if you'd prefer.
Cook your pasta until it's just shy of perfectly done. You want it undercooked because it will finish cooking once you've added it to the walnut mixture.
Before draining the pasta, scoop out about a cup of the salted cooking water. This will help coat the noodles in nutty, garlicky, cheesy goodness.
While the pasta is cooking, grab your biggest skillet (well, like 12″). You'll need to accommodate all the cooked pasta in it as well as leave some room for mixing everything together. If you don't have a skillet that large use a wide pot.
Heat up the skillet over medium low heat. We don't want to burn our nuts and garlic so it's safer to go a bit slower and cook at a lower temperature.
This is also why we thinly slice the garlic. This shape doesn't burn as quickly as minced garlic and the thin slices still distribute the garlicky flavor across all bites of pasta.
The walnuts and garlic get roasted in olive oil until the nuts are deliciously toasty and the garlic is tender and caramelized. Then toss in a big handful of parsley for a burst of herbaly freshness and nutritional yeast for a savory, cheesy, nuttiness.
At this point our quick cooking linguine is going to be done cooking. If not, turn the heat off and move the pan off the burner. We don't want to burn our nuts and garlic while we wait for the pasta!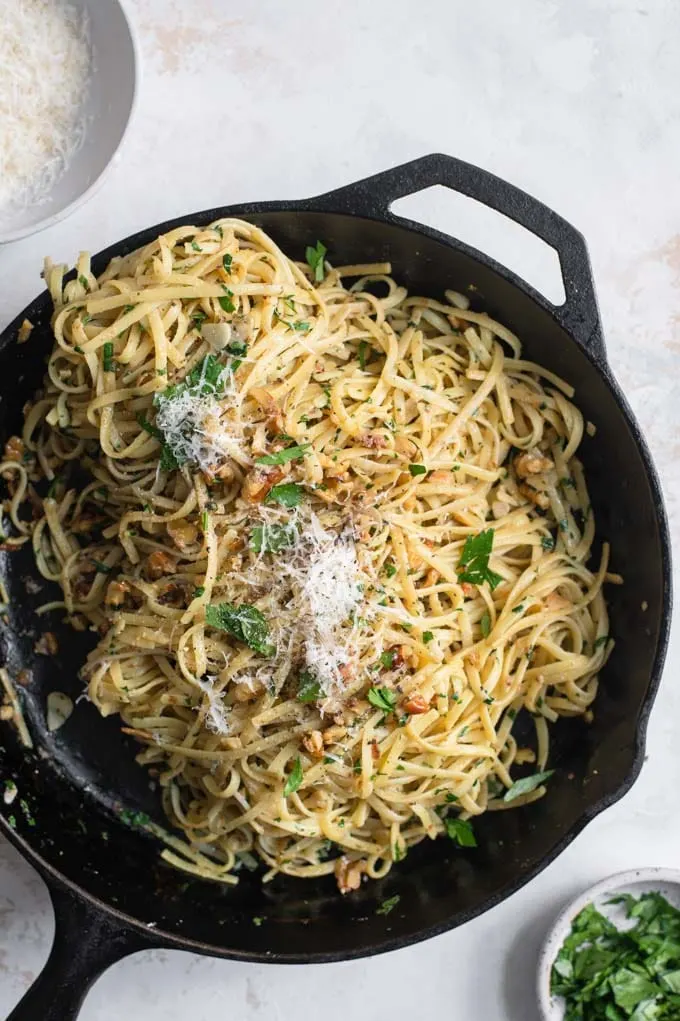 Once the pasta is ready, turn the skillet to a low heat and dump it in. Add some of the cooking water and start stirring things around to coat the noodles.
Now taste the noodles, add any or all of the salt and pepper you want and serve it up!
Top the finished pasta with some fresh parsley and pass around some vegan parmesan for people to add as they like. And now I'm officially hungry!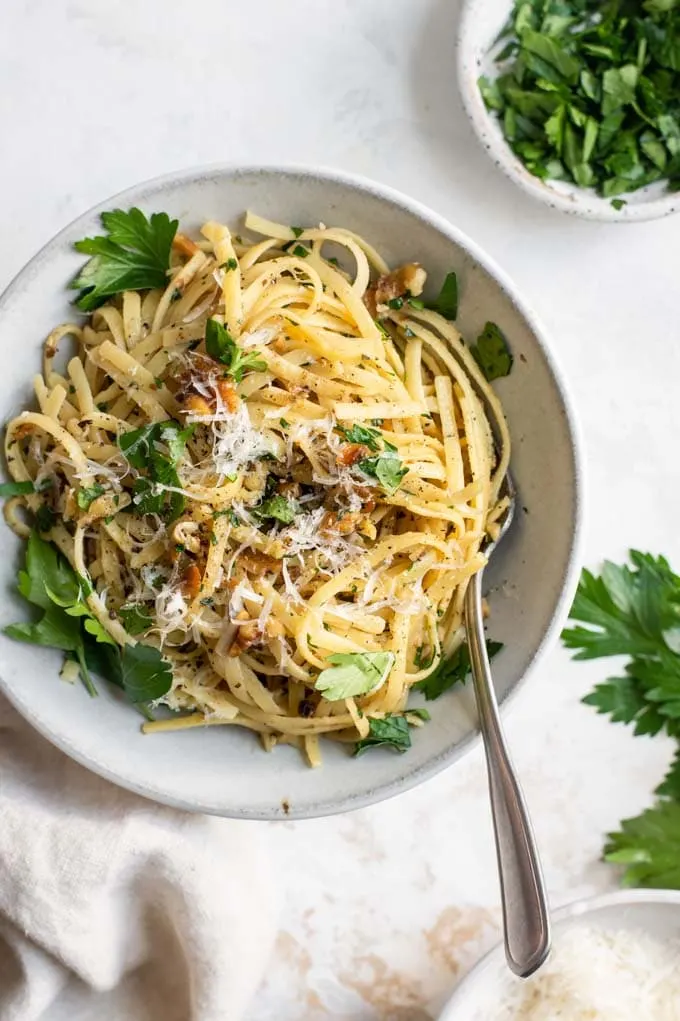 Flat leaf parsley or curly parsley?
I grew up mostly having curly parsley and so have made this pasta plenty with that variety. And it's good that way.
That being said, I do generally prefer Italian, or flat leafed, parsley. It may not look as pretty as a garnish but it is my favorite to use in this (and most) applications!
If you make this walnut parsley linguine, leave a comment below and rate the recipe on the recipe card. And please share your photos with me on Instagram, tag @thecuriouschickpea and #thecuriouschickpea. I love seeing your recreations!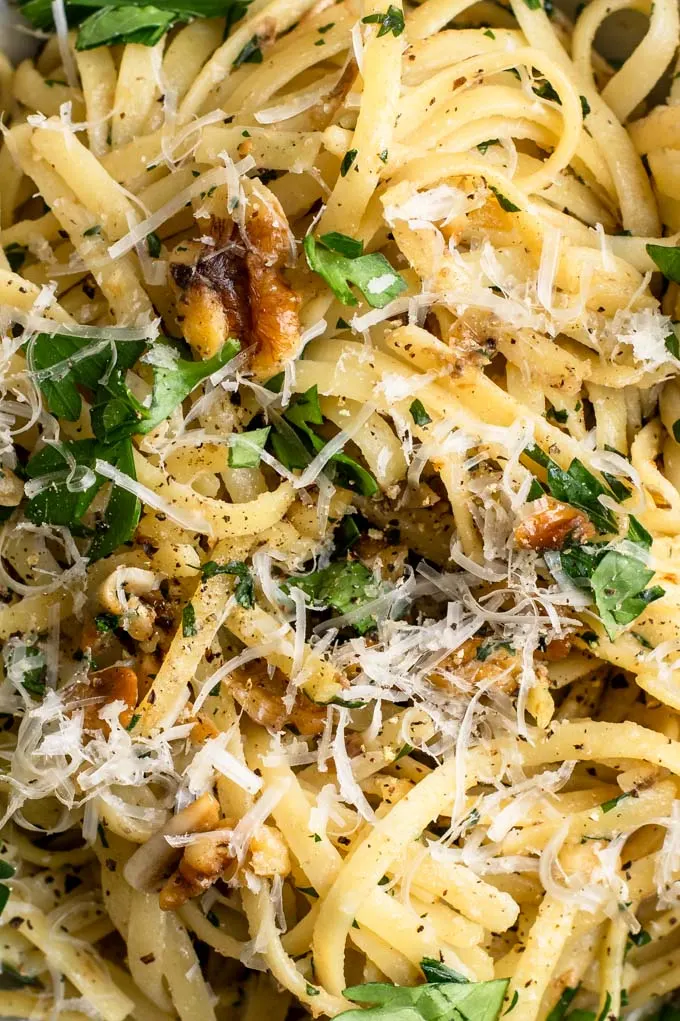 Like pasta? Check out some of my other pasta recipes!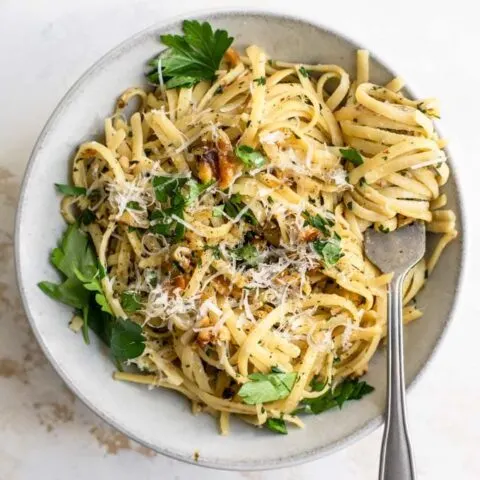 Walnut Parsley Linguine
This easy pasta recipe is perfect for quick dinners but fancy enough to serve to company. You can halve the recipe if cooking for 1 or 2 people, but leftovers are great! The recipe is vegan, and can be made gluten free.
Ingredients
1 lb linguine, gluten free if desired
1/4 cup olive oil
1 cup chopped walnuts
3-4 cloves garlic, peeled and thinly sliced
1/2 cup chopped Italian parsley, more for garnish
1/4 cup nutritional yeast, or vegan parmesan
1/2 cup pasta cooking water, more as needed
salt and pepper to taste
vegan parmesan to serve (optional)
Instructions
Bring a large pot of salted water to a boil. Cook the pasta according to package directions until it is 1-2 minutes short of perfectly cooked. Reserve about 1 cup of pasta water then drain the pasta.
Meanwhile, heat a large 12" skillet (or large pot) over medium low heat. Add the olive oil, walnuts, and thinly sliced garlic. Sauté until toasty and the garlic is a pale golden in places, 3-4 minutes.
Add the parsley and nutritional yeast and stir to coat. Cook about 1 minute to toast the nutritional yeast.
Turn the heat to low and add the cooked pasta along with 1/2 cup of the pasta cooking water. Stir together and let cook 1 minute or until the pasta is perfectly done. Add more pasta water if needed. Season with salt and pepper to taste.
Serve hot, garnished with additional parsley and pass vegan parmesan at the table.
Notes
You can use vegan parmesan instead of the nutritional yeast if you prefer. If doing so add the cheese along with the pasta.
Recommended Products
As an Amazon Associate and member of other affiliate programs, I earn from qualifying purchases.
Nutrition Information:
Yield:

6
Serving Size:

1
Amount Per Serving:
Calories:

353
Total Fat:

23g
Saturated Fat:

3g
Unsaturated Fat:

19g
Cholesterol:

0mg
Sodium:

202mg
Carbohydrates:

29g
Fiber:

4g
Sugar:

1g
Protein:

10g
Nutrition is calculated automatically so should be used as an estimate.