All you need to make this easy vegan ricotta is a handful of pantry- and fridge-friendly ingredients and a food processor or blender!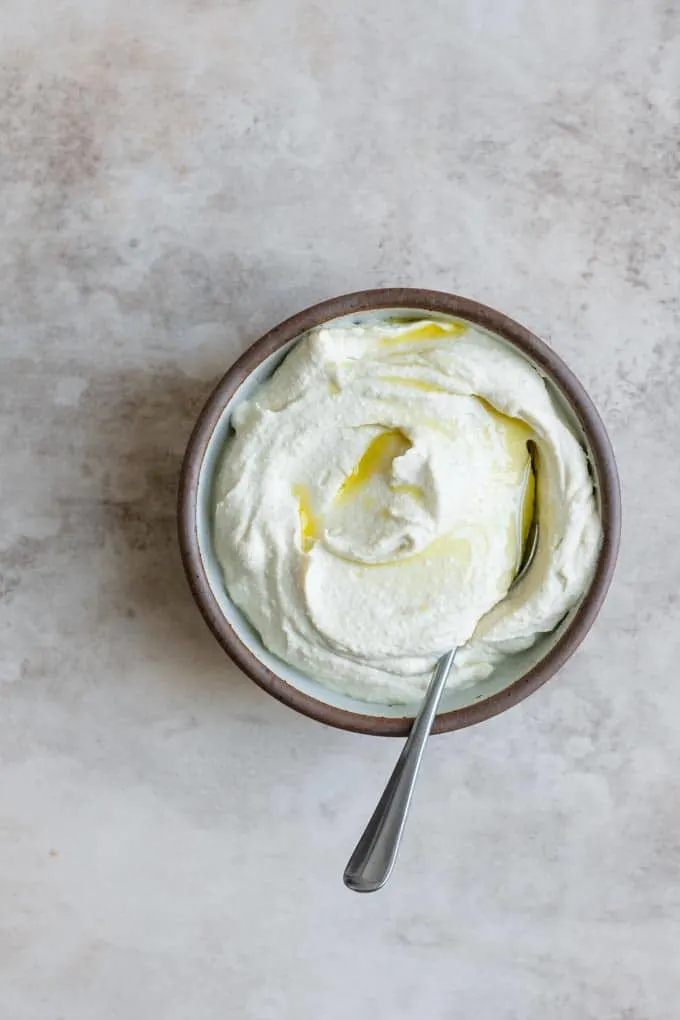 You can use this vegan ricotta in any recipe that calls for dairy ricotta. It's perfect for stuffing into large pasta shapes, for layering in a lasagna. I love it scraped over toast, and as a pizza topping. It's delicious tucked into grilled or roasted veggies, and makes a fabulous addition to salad.
It's a bonus that it's rich in protein, contains good for you vitamins and minerals, and healthy fats.
There are many ways one can make vegan ricotta, but this is how I've been enjoying it since before I went vegan. It's so tasty that it doesn't even matter that it's tofu-based and free of dairy.
I think the simplicity of the recipe makes it even better, but honestly the clean flavors of the ingredients just shine through and I don't find you need to do anything fussier to make your vegan ricotta.
So what ingredients do you need to make this vegan ricotta cheese?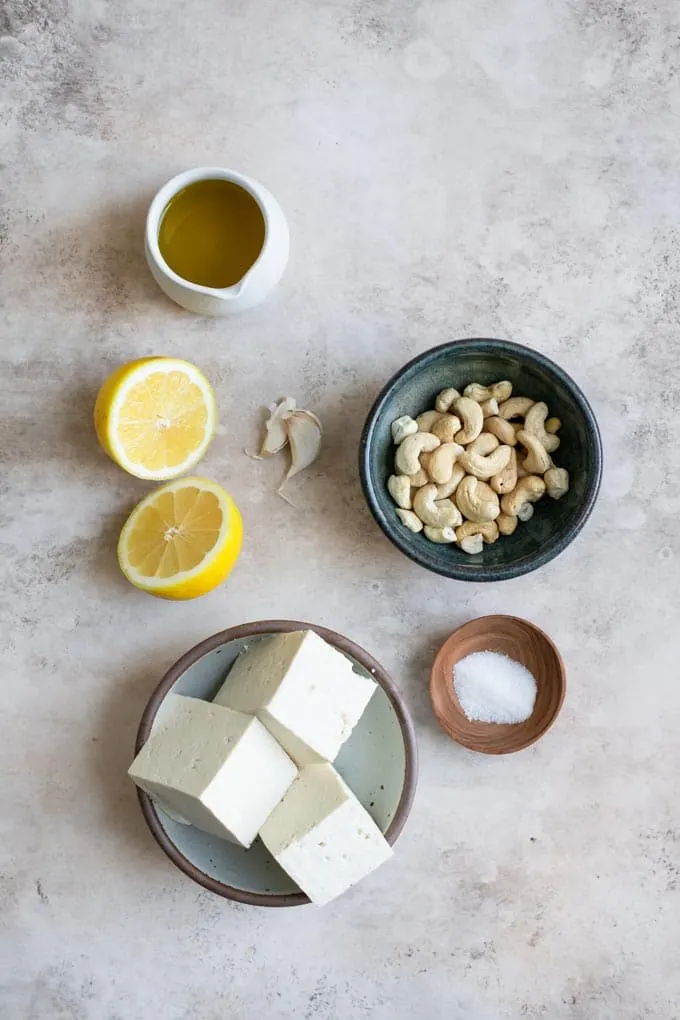 Tofu for one. I use firm or extra firm tofu for this recipe. You want the spongey kind that's packed in water, not silken tofu.
You want to skip the super firm or high protein tofu for this recipe, because the liquid in the tofu is needed to help it blend creamier.
When it comes to the "firmness" of tofu it depends a lot on the brand (not all extra firm tofu is the same level of firmness), but this is a pretty flexible dish so if you find you need to add a bit of water or plant milk to get the right consistency you can go ahead and do that!
And if you find it's a bit soft you can either lean into it this time around and press out some water next time you make it, or add additional nuts to the dish.
And about the nuts, I use cashews as the second main ingredient for my easy vegan ricotta cheese. Cashews are mild tasting and super creamy when blended. They're a go to for a lot of us when it comes to making cheese. But if you need to skip them I'll cover that in a moment.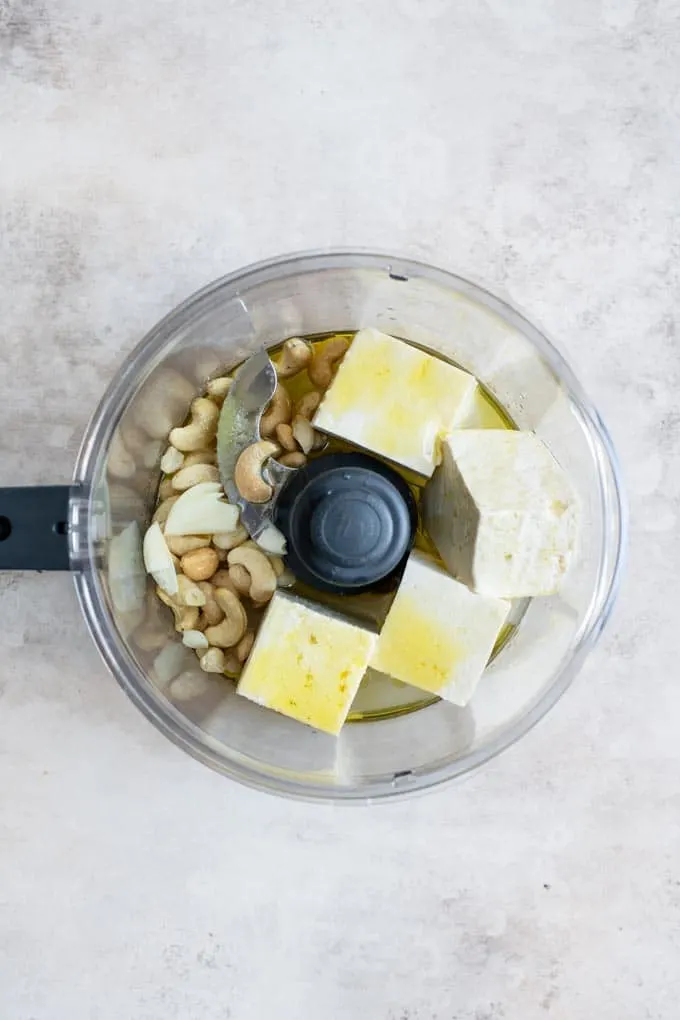 Tofu and cashews are the base of the ricotta, and for seasoning I add garlic, lemon juice, and salt.
A little bit of garlic goes a long way to give the cheese depth of flavor. Lemon juice adds a hint of tang and brightness to the ricotta. And actually, diary ricotta is an un-aged cheese that is made by coagulating milk with an acid (such as lemon juice) then draining out the excess liquid (whey in this case).
If you think about it, that's also exactly how tofu is made (but with soy milk and typically a non-lemon juice coagulant)!
When it comes to making these fresh cheeses vegan, I stand by tofu being my favorite base.
The last ingredient I add is extra virgin olive oil. It adds richness to the vegan ricotta that you find in its dairy counterpart.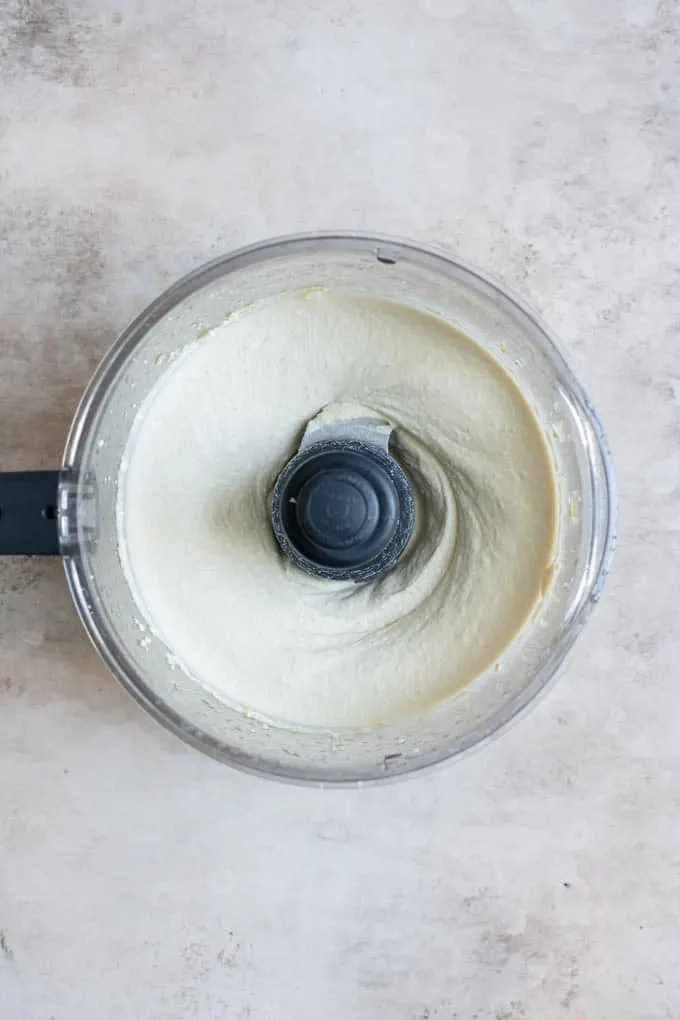 Substitutes for the cashews:
But what if you can't eat cashews? Or just don't have any in your fridge?
Well here are your options! You can (a) use a different mild tasting nut, (b) use raw hulled sunflower seeds for a nut-free alternative, (c) leave out the nuts altogether and know you'll just be losing some of the richness and creaminess. It's fine!
My other favorite nuts to use are almonds and macadamia nuts. If you are using almonds I recommend slivered almonds as these are blanched and peeled. If you use whole almonds and don't pop those skins off you'll have brown flecks in your ricotta. This is fine, just an aesthetic thing.
Another note about the cashews. You may notice that I do not soak my nuts in this recipe. That's because I don't find it a problem if this recipe blends up the nuts to the ultimate smoothness.
Dairy ricotta is a bit grainy in texture after all. You can of course decide to soak your nuts in water before making this if you want.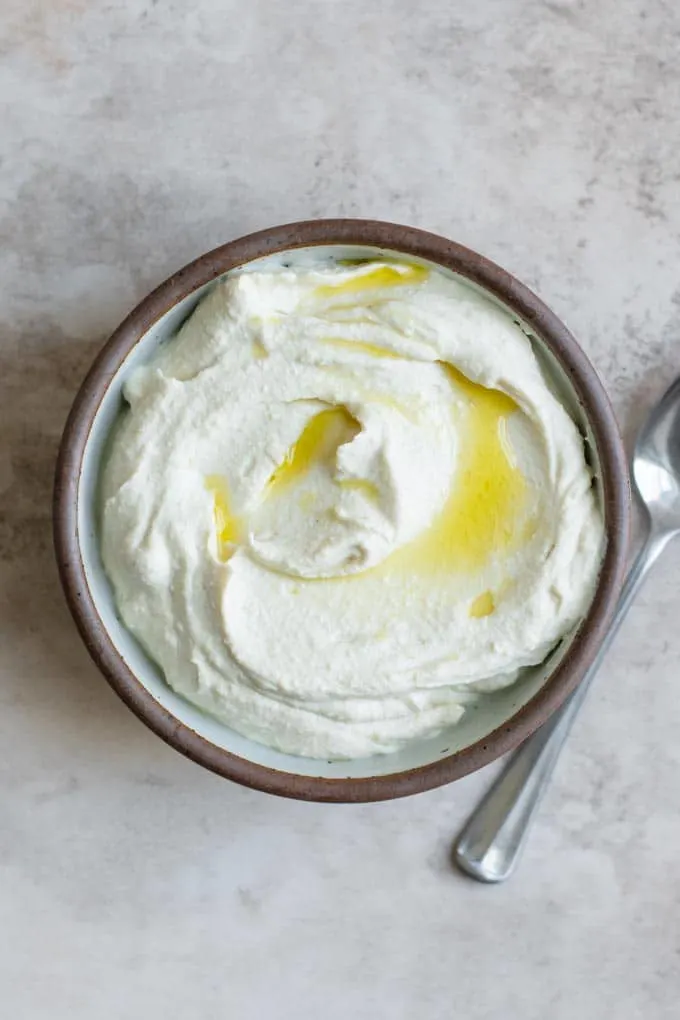 Ok think that's all you need to know before you embark on your own vegan ricotta making! If you're looking for something a bit different you can always check out my whipped pea ricotta too!
If you make this easy vegan ricotta cheese, leave a comment below and rate the recipe on the recipe card. And please share your photos with me on Instagram, tag @thecuriouschickpea and #thecuriouschickpea. I love seeing your recreations!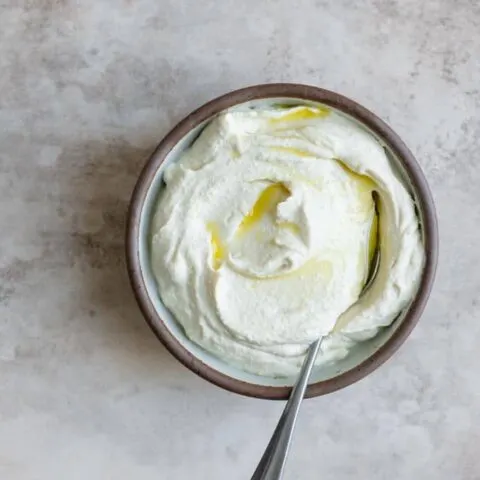 Easy Vegan Ricotta
This vegan ricotta is quick and easy to make. Use it in place of dairy ricotta in any recipe!
Ingredients
1 14-16oz package firm or extra firm tofu
1/2 cup raw cashews
2 cloves garlic, peeled and coarsely chopped
1/4 cup extra virgin olive oil
1/4 cup lemon juice
1 tsp salt
Instructions
Combine all ingredients in a food processor or blender and process until fairly smooth, some grainy texture is ok. Pause to scrape down as needed.
Transfer to a sealed container and store in the fridge until ready to use. It lasts about 7-10 days. It can be frozen, but the texture may change slightly.
Notes
You can substitute almonds (use slivered almonds to avoid the flecks from the skins) or macadamia nuts for the cashews. For nut free either use hulled raw sunflower seeds or leave out the cashews.
Recommended Products
As an Amazon Associate and member of other affiliate programs, I earn from qualifying purchases.
Nutrition Information:
Yield:

24
Serving Size:

1
Amount Per Serving:
Calories:

51
Total Fat:

4g
Saturated Fat:

1g
Trans Fat:

0g
Unsaturated Fat:

4g
Cholesterol:

0mg
Sodium:

117mg
Carbohydrates:

1g
Fiber:

0g
Sugar:

0g
Protein:

2g
Nutrition is calculated automatically so should be used as an estimate.