If it's comfort food you're craving look no further than my vegan chickpea meatballs! They're easy to make and filled with good for you ingredients. You can serve them with sauce, over pasta, in sandwiches, and even on pizza!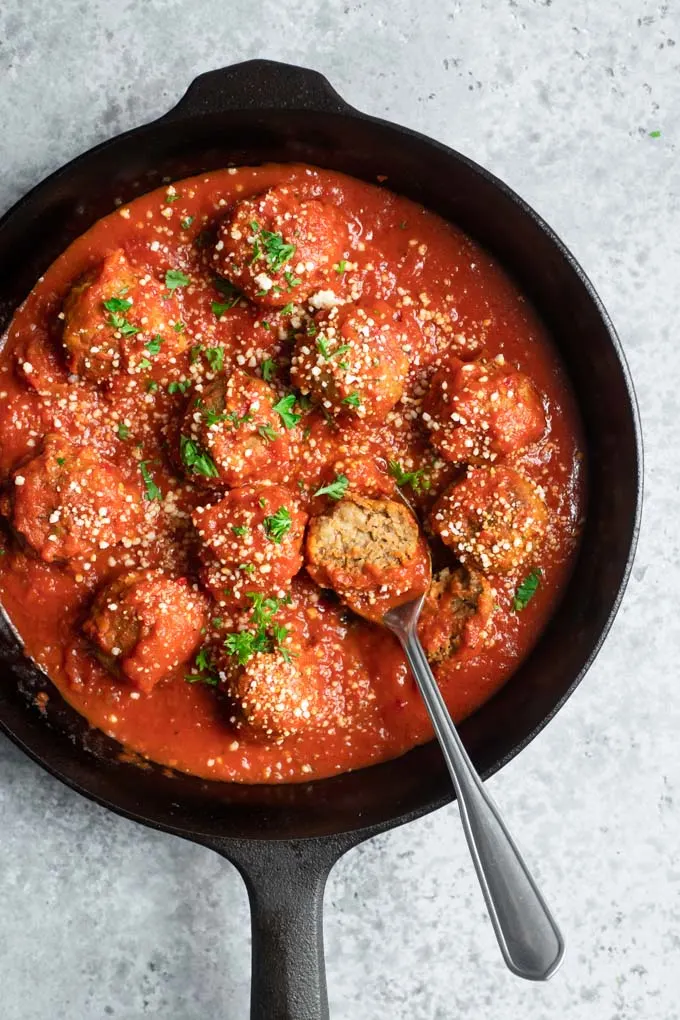 These are my favorite vegan meatballs. And as a lifelong vegetarian turned vegan, I've had a lot of vegan meatballs, neat balls, bean balls, you name it!
It's a recipe I've been coming back to for years now, and one that finds its way into my regular dinner rotation.
These chickpea meatballs have a great dense texture and are packed with savory flavor. There are so many ways they can be enjoyed!
From vegan spaghetti and meatballs, to a meatball sub, with a roasted red pepper sauce, baked atop pizza, I'm not sure there's anything they couldn't do! Other than not be a vegan meatball, of course.
Now, before anyone gets up in arms that I dare call my vegan round shaped protein and flavor packed nuggets meatballs, cool your jets.
By using the word meatball you know *exactly* what I am referring to, and hey I've double qualified the term with vegan and chickpea.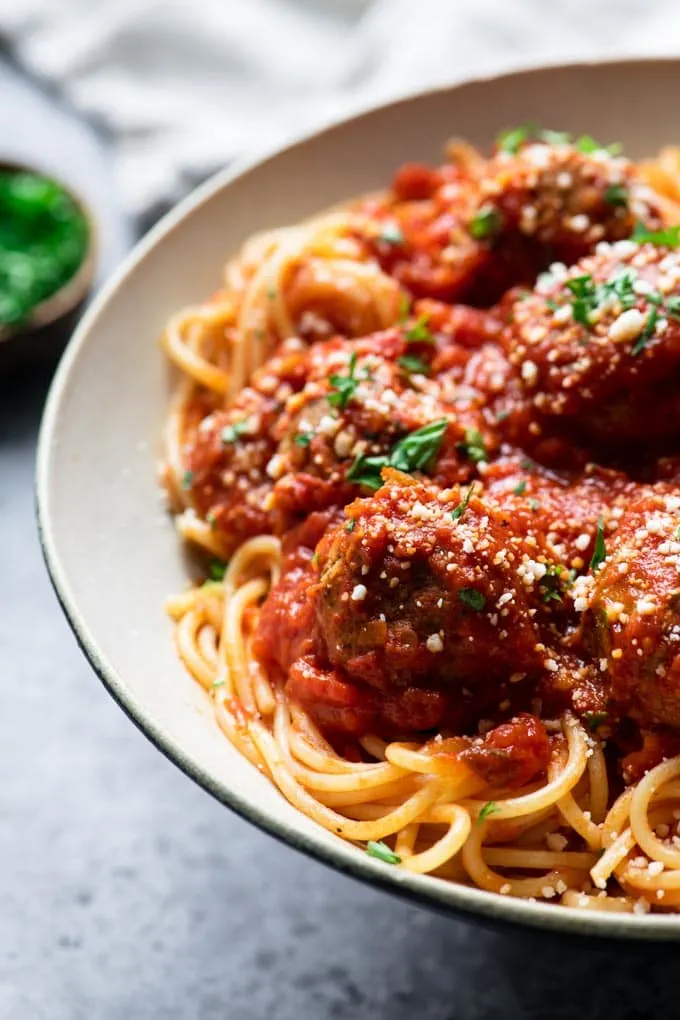 You're smart. You know I mean a savory vegan meatball, made with chickpeas and a bunch of other yummy ingredients and perfect for drowning in sauce or serving with pasta. No need to pretend otherwise!
Plus, I'll have you know, these chickpea meatballs are enjoyed by vegans, vegetarians, and omnivore's alike!
Those good for you ingredients:
So what do you need to make the best vegan meatballs? Some very pantry friendly ingredients is all!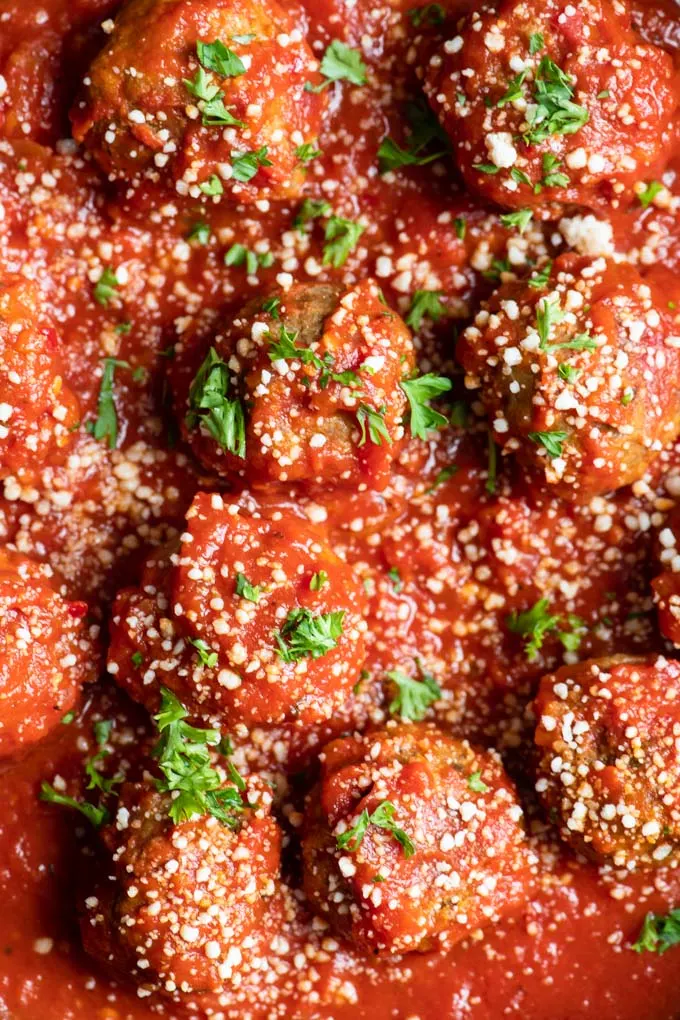 The base of this recipe is chickpeas and brown rice. You want a grain to help the binding of the balls, and I find that rice has just the right amount of sticky to bring the dish together.
Now, I've also made these with bulgur and quinoa, and I imagine other grains like barley or farro would do the trick as well. So if you've got a different grain cooked and on hand, feel free to give it a go!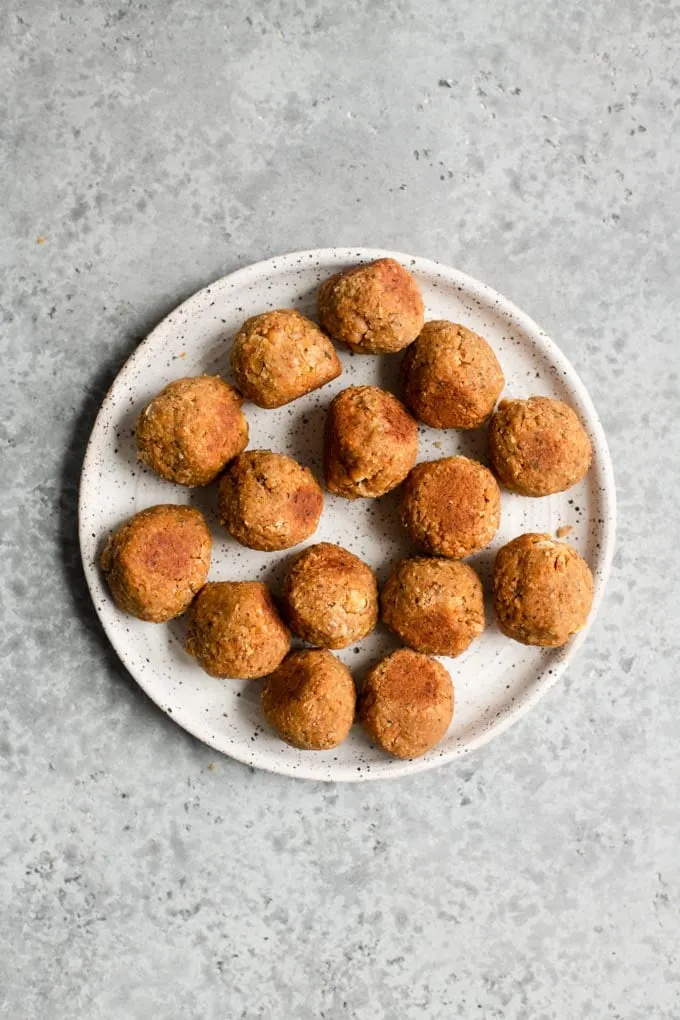 Next up we have a flavorful duo: pecans and garlic. I love adding nuts to these balls. They have great flavor and add some richness with their natural fats.
If pecans are out you can use walnuts which is a close second favorite, or to avoid nuts all together try hulled sunflower seeds. Pepitas would also work.
Now it's time to build the flavor! For some cheesiness I add nutritional yeast–though occasionally substitute vegan parmesan or vegan mozzarella shreds. Then a heaping spoonful of tomato paste.
Some extra virgin olive oil adds additional richness to them and adds the moisture you need for binding. If you want to make these oil free, try substituting with the liquid from the chickpeas (known as aquafaba).
For Italian seasoning I use dried basil and oregano. Both are strong flavored, delicious herbs. An Italian seasoning blend would be A-okay here as well, or your choice of Italian herbs!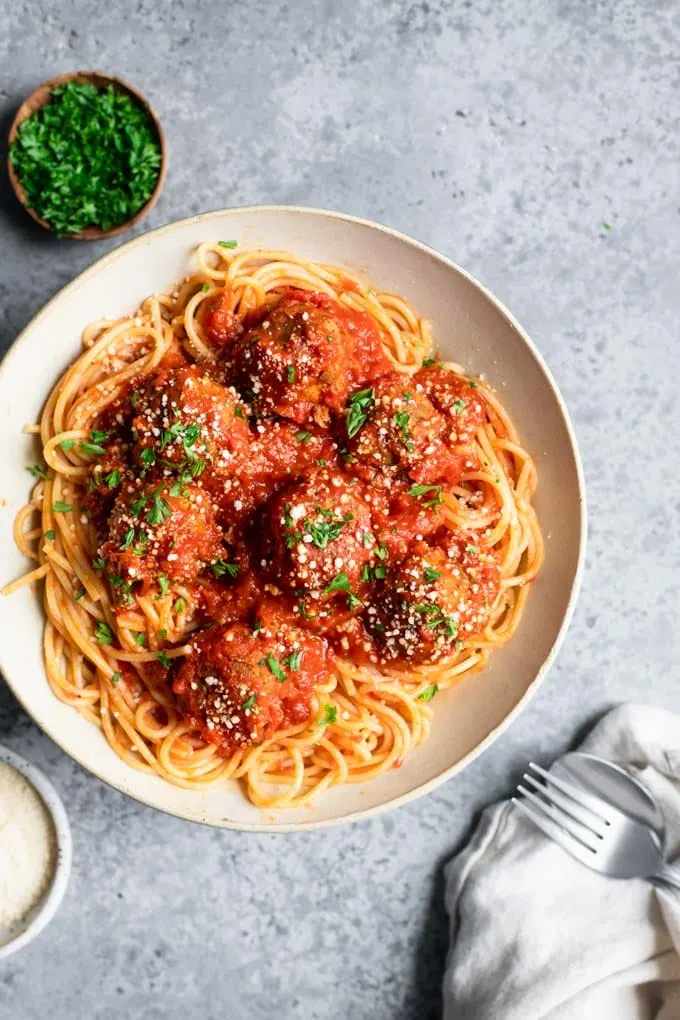 This recipe uses a generous amount of salt, because you know as well as I do that meatballs should be on the salty side! Not salty here means a bit bland. And all the black pepper you want! Or red pepper flakes if you prefer those.
Lastly we need to add some bread crumbs for binding. Bread crumbs can be gluten free if you need! The bread crumbs soak up any extra moisture and help hold everything together nicely. You'll add more or less depending on your particular batch of vegan chickpea meatballs comes out.
The method:
One thing I love about this recipe is how easy it is to actually make.
You'll want a food processor for speed, but it can be made without one if you don't have one or if you only have a smaller or less powerful one.
The recipe does make a lot of mixture, so feel free to cut it in half or work in batches if you have a smaller capacity food processor!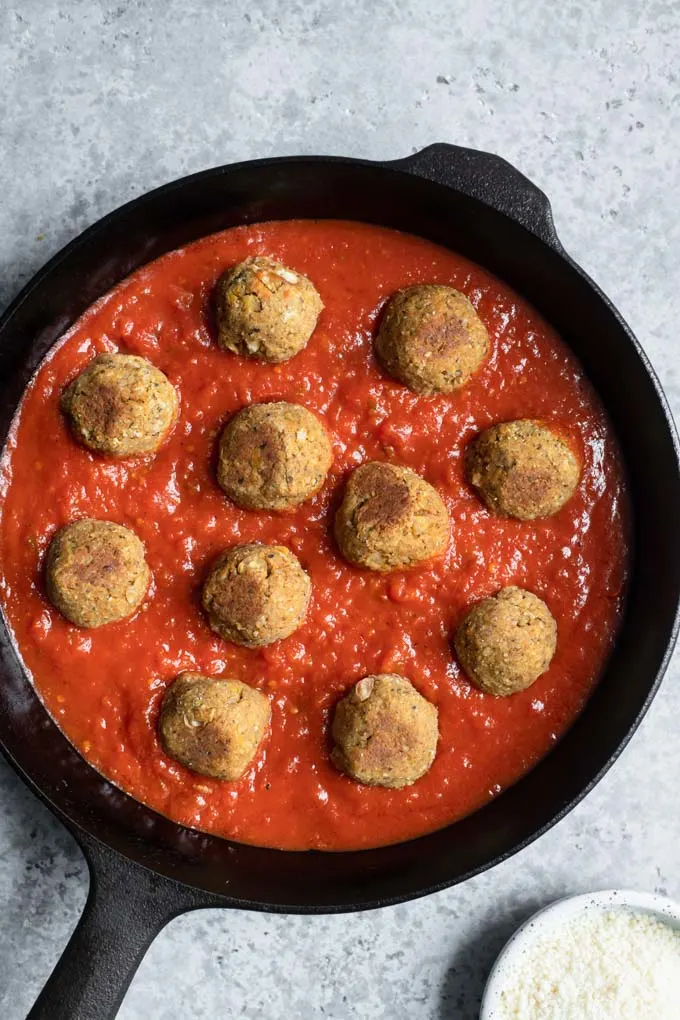 First we pulse up the brown rice, pecans, and garlic to chop them up finely. Then add the chickpeas, and here I like to set aside about 1/2 cup of the beans to add later so that some will keep their bigger chunks for texture.
With the chickpeas goes everything else but the bread crumbs. Process that until it forms a thick mixture. Be careful to not over process!
Check the mixture by trying to form a ball and see if it's very soft and sticky nor not. This will tell you how much bread crumbs to add! Likely you'll need to add close to the full amount.
Add the bread crumbs and reserved chickpeas and pulse to slightly chop up the chickpeas and mix in the bread crumbs. You'll need to help it along with a rubber spatula as the mixture is very thick at this point! If it's easier you can chop up the chickpeas by knife or mash slightly and mix the bread crumbs and chickpeas into the mixture in a mixing bowl.
To make it without a food processor:
Chop up the nuts, mince or press the garlic, and then combine all ingredients except for bread crumbs and mash up with a potato masher or by going in with your hands and squeezing and mashing up the mixture together.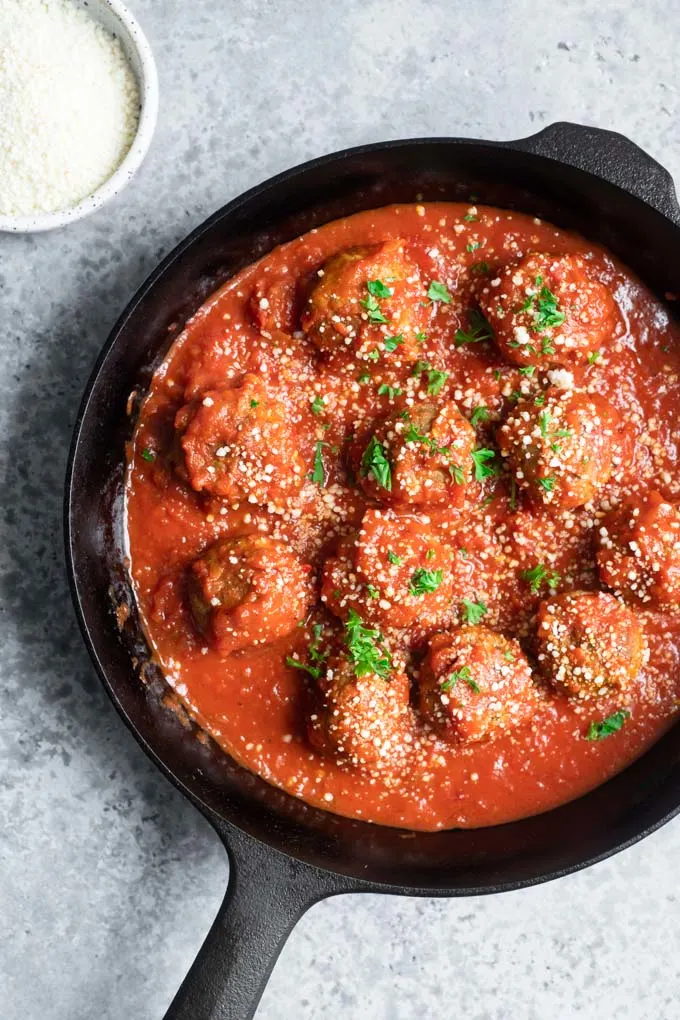 There's no need to reserve chickpeas using this method because it's harder to over do it by hand.
You'll want to add the bread crumbs as needed to get everything to hold together enough!
Cooking the vegan chickpea meatballs:
This is one of the rare cases where baking actually turns out a better result than pan frying! While deep frying may work (I haven't tried it), these actually will start to fall apart if pan fried.
So portion the mixture into balls, I like to use a cookie scoop to make quick work of the process. And roll each one between your hands to compress them and help them hold together.
Lay them out on an oiled baking tray, then oil the tops. You can spray them with oil or brush some on top.
Then all you need to do is let the vegan meatballs bake! I like to flip them halfway through so that more than one side browns.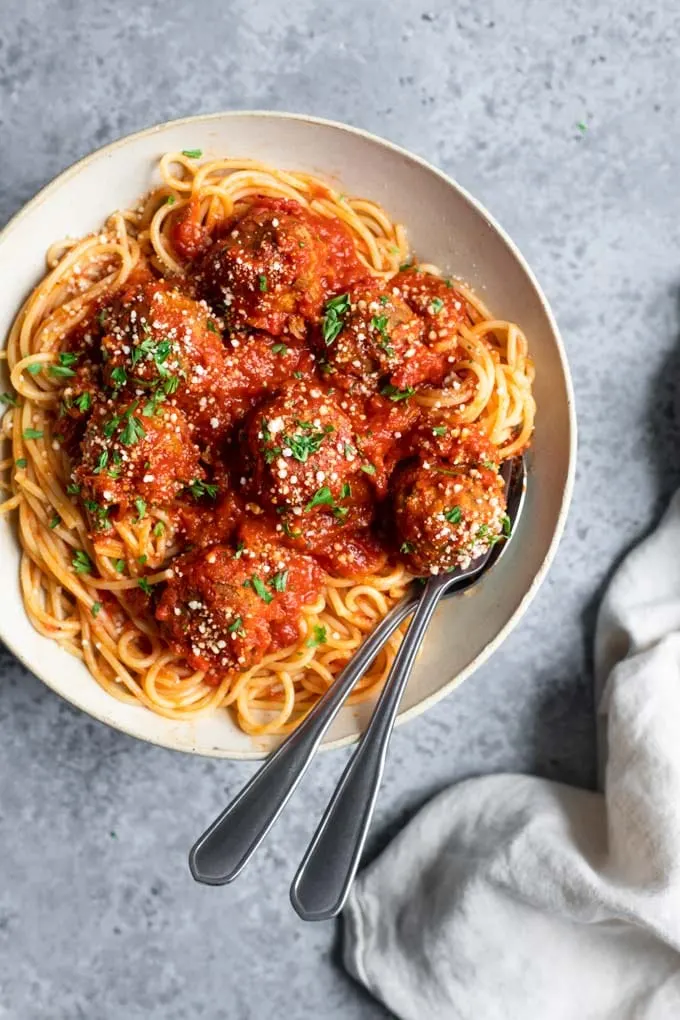 If you make these vegan chickpea meatballs, leave a comment below and rate the recipe on the recipe card. And please share your photos with me on Instagram, tag @thecuriouschickpea and #thecuriouschickpea. I love seeing your recreations!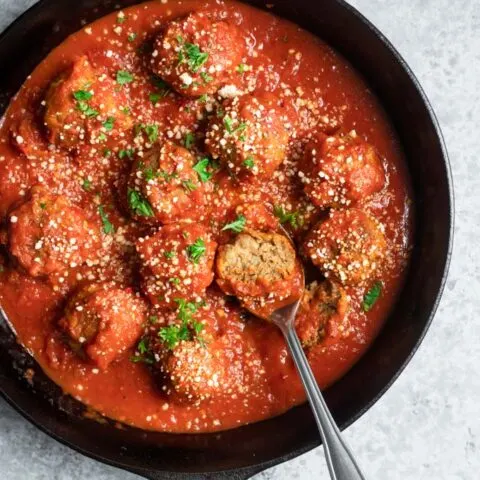 Vegan Chickpea Meatballs
Yield:
~3 dozen meatballs
These vegan chickpea meatballs are a perfect comfort food! They're super savory, flavorful, and so easy to make. Enjoy them with some tomato sauce or other favorite sauce, use for spaghetti and meatballs, or use them on pizza or in sandwiches! The possibilities are endless for this healthy and delicious meal!
Ingredients
2 cups (305g) cooked brown rice or other grain, cold or room temperature
1 cup (100g) pecans
4 cloves garlic, peeled
30oz can (560g) cooked chickpeas, drained and rinsed (substitute 3 cups cooked chickpeas)
1/2 cup (28g) nutritional yeast
2 tbsp (30g) tomato paste
2 tbsp (24g) olive oil
2 tsp dried basil
1 tsp dried oregano
1 1/2 - 2 tsp salt, to taste
freshly ground black pepper
1/4 cup bread crumbs (can substitute gluten free), if needed
Instructions
Preheat the oven to 375 ºF. Prepare a baking tray by lightly oiling.
In a food processor combine the cooked brown rice, pecans, and garlic and pulse until finely ground.
Drain and rinse the chickpeas, and reserve about 1/2 cup. Add the rest of the chickpeas to the food processor along with the nutritional yeast, tomato paste, olive oil, dried basil, oregano, salt, and black pepper. Process until ground into a thick mixture that holds together and keeps its shape when pressed into a meatball. Work in batches if needed.
Add the breadcrumbs if the mixture is soft and needs help holding together along with the rest of the chickpeas and pulse until they are coarsely chopped. Alternatively, if the mixture is too thick for your food processor, transfer the mixture to a mixing bowl and add the final 1/2 cup of chickpeas (slightly mashed) along with the bread crumbs and mix in by hand.
Shape the mixture into balls using about 2 tbsp per ball. A cookie scoop makes quick work of this! Press the mixture together as you roll to help the balls hold together. Place shaped vegan meatballs on the tray and spray or drizzle with oil.
Bake for 25-30 minutes at 375 ºF, flipping halfway through for even baking. Let cool slightly before using, or make in advance and freeze or refrigerate until ready to eat.
Recommended Products
As an Amazon Associate and member of other affiliate programs, I earn from qualifying purchases.
Nutrition Information:
Yield:

8
Serving Size:

1
Amount Per Serving:
Calories:

323
Total Fat:

16g
Sodium:

474mg
Carbohydrates:

37g
Fiber:

9g
Sugar:

4g
Protein:

12g
Nutrition is calculated automatically so should be used as an estimate.