These crowd pleasing kale pakoras make for a great appetizer, snack, or can even be enjoyed as a light meal! Serve them with chutney or ketchup. They also happen to be naturally gluten free and vegan!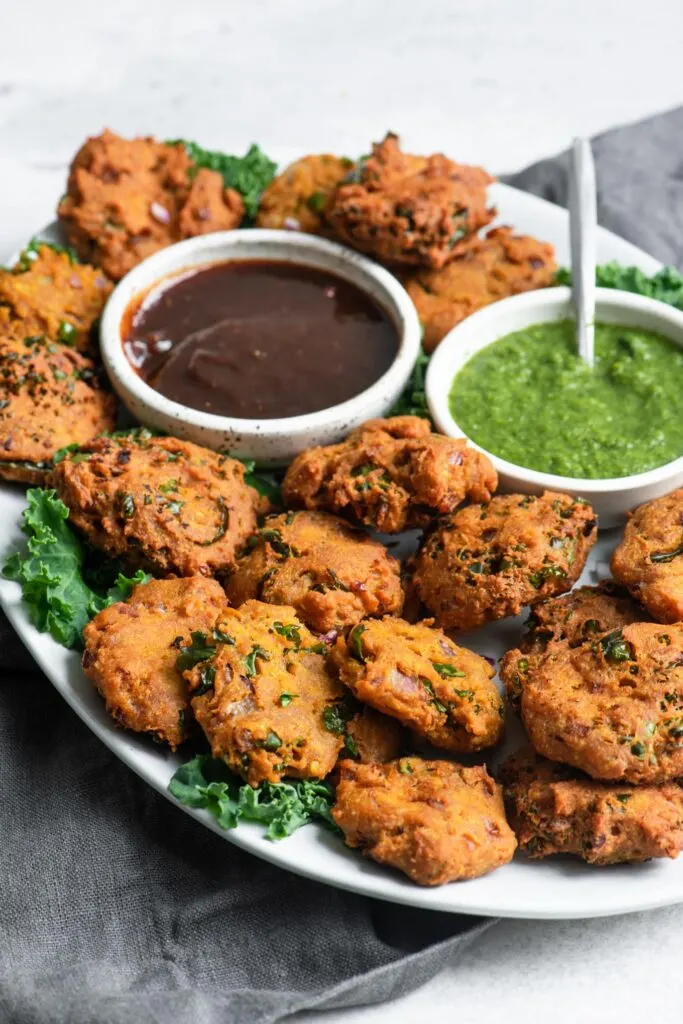 This recipe was sponsored by Nature's Greens.
---
Growing up, pakoras were a frequent and favorite treat. Crispy, savory, with juicy bits of onion and spicy bites of pepper.
We'd dip them into tamarind chutney (my favorite), cilantro-mint chutney (a close second), and sometimes even ketchup.
They were a quick snack to throw together, and could quickly feed a crowd of hungry kids or visiting friends. I especially loved sharing them with friends!
My grandmother made the best pakoras (obviously), though since she taught my mom, my mom's were great too.
Pakoras were one of the first recipes I asked my parents for when I moved to my first apartment after college, and reading my parents back and forth emailed discussion of the best way to make pakoras will always bring me joy.
Learning to cook Indian food is always an adventure, as practiced Indian home chefs are big on the "add a little of this" and "some of that." Everyone plays fast and loose with amounts and cooks by intuition and from practice.
There's not one "correct" way to make anything, and the best part about learning to make Indian food at home is once you have the technique down you can adjust things to your own preferences. A little more spice, a bit less. Skip the garlic, add more onion.
When Nature's Greens asked me to share a family recipe using their greens, there was really no question as to what I needed to make. Nostalgia doesn't get better than fresh, homemade kale pakoras!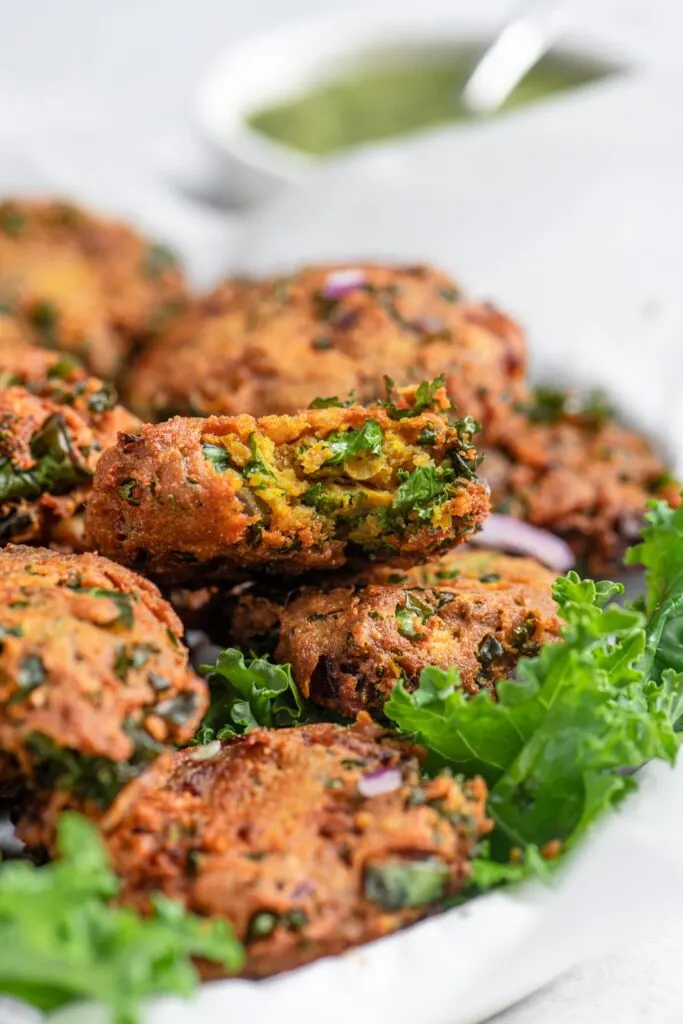 What is a pakora?
A pakora is a spiced Indian fritter made with besan (chickpea flour). Yes, that means they are protein packed and gluten free!
They're savory and packed with flavor. They can be "plain," which here means still heavily spiced but only onion, hot chili peppers, and maybe cilantro mixed in the batter, or be made with veggies. There is also of course my favorite childhood lunch, bread pakora, but that's a recipe for another day!
Kale might not be the most traditionally used vegetable, but it's one of my favorite veggies and so good in pakora!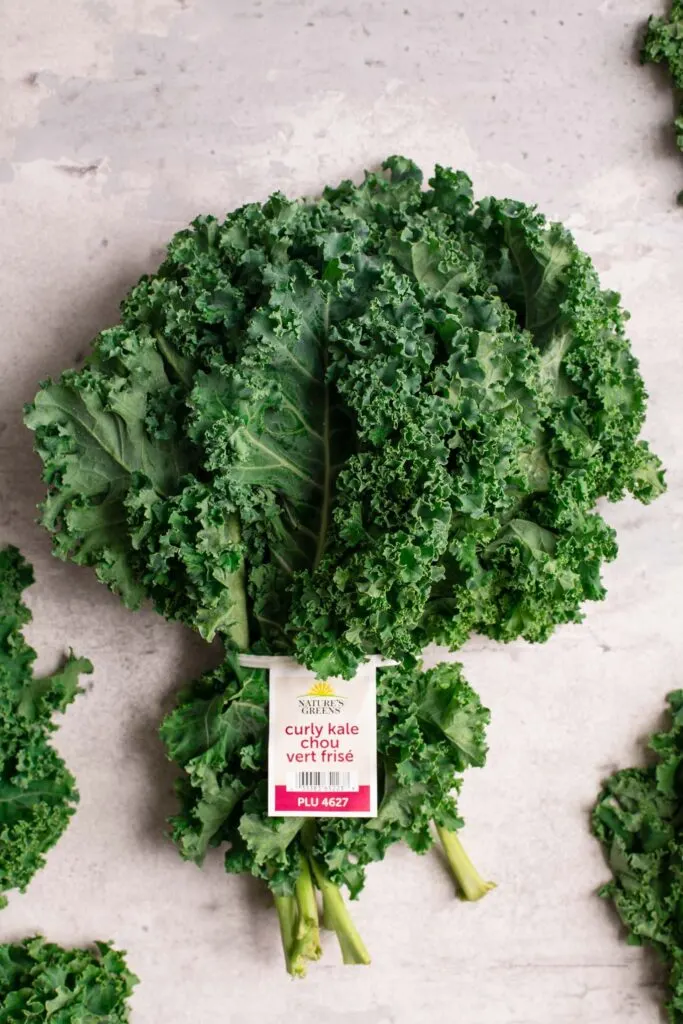 Substitute for kale?
I love love love Nature's Greens kale. It's always so tender and never too bitter, but if kale isn't your cup of tea or you're looking to get a different veggie in your diet, I get it!
You can substitute more tender greens like mustard greens or turnip greens in the pakoras. And with these greens you don't even have to worry about removing all of the stem as the stems are more tender.
If you want to use collard greens, I recommend you remove the leaves from the stalks then blanch or sauté the leaves before using. This will make the collard greens more tender, which is good because they are a bit tougher than kale before cooking!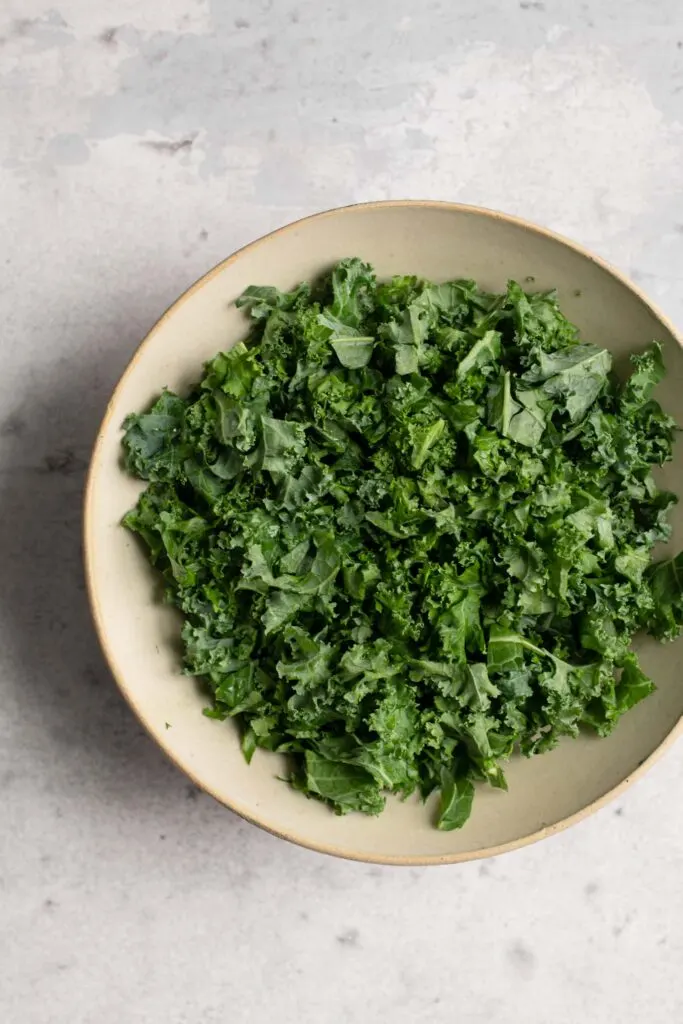 How to make kale pakoras?
First we need to prep the kale. I'm a big fan of using the stalks whenever possible to reduce food waste, however, in this recipe, they just won't get cooked long enough to become tender. So remove the leaves from the stem before chopping.
You want to finely chop your kale, no bigger than a square inch. Large pieces of kale will not be as easy to eat in a fritter!
To prepare the kale for the pakora batter, lightly massage it. Yes, I mean just go in with your hands and, um, massage it! This helps tenderize the leafy green so that it becomes less chewy.
Now let's add the spices. There are a lot of spices that go into a good pakora! Of course it's best when you have all of them, but if you're short a spice never let that stop you from making them!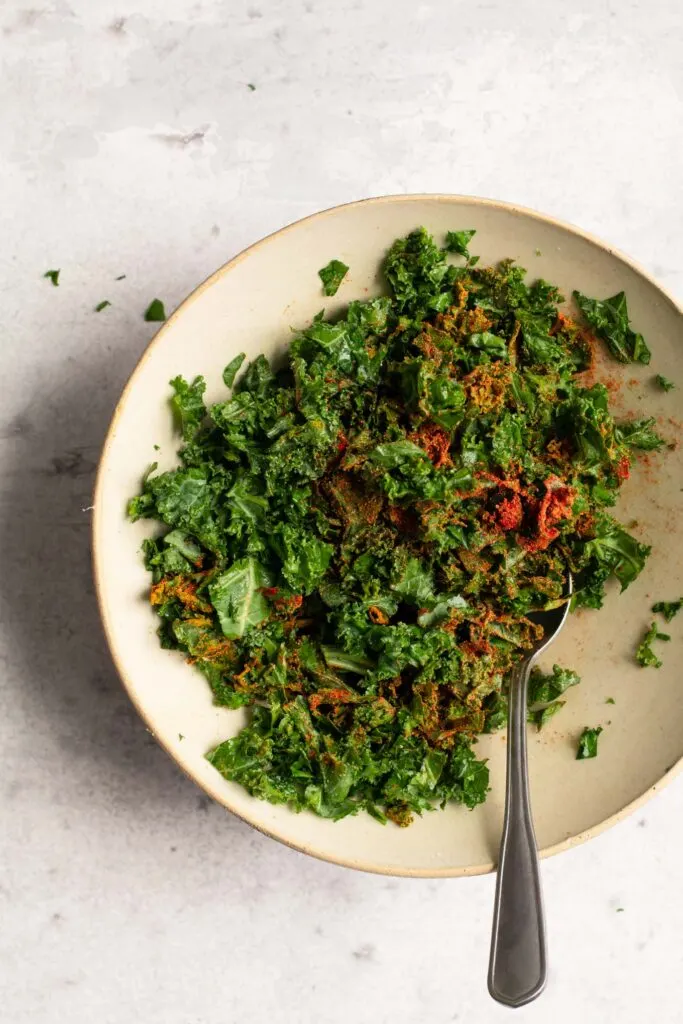 Spices for pakoras:
Garam masala–this is a classic Indian/Pakistani/Bangladeshi/etc. spice blend.
Coriander–ground coriander seed, its citrusy and floral-y flavor is bright and delicious. Sure it's an ingredient in garam masala but I love emphasizing it by adding extra.
Cumin–earthy and savory, it is also in garam masala but add extra for extra oomph.
Turmeric–earthy and delicious, plus it lends a lovely yellow color to everything it touches.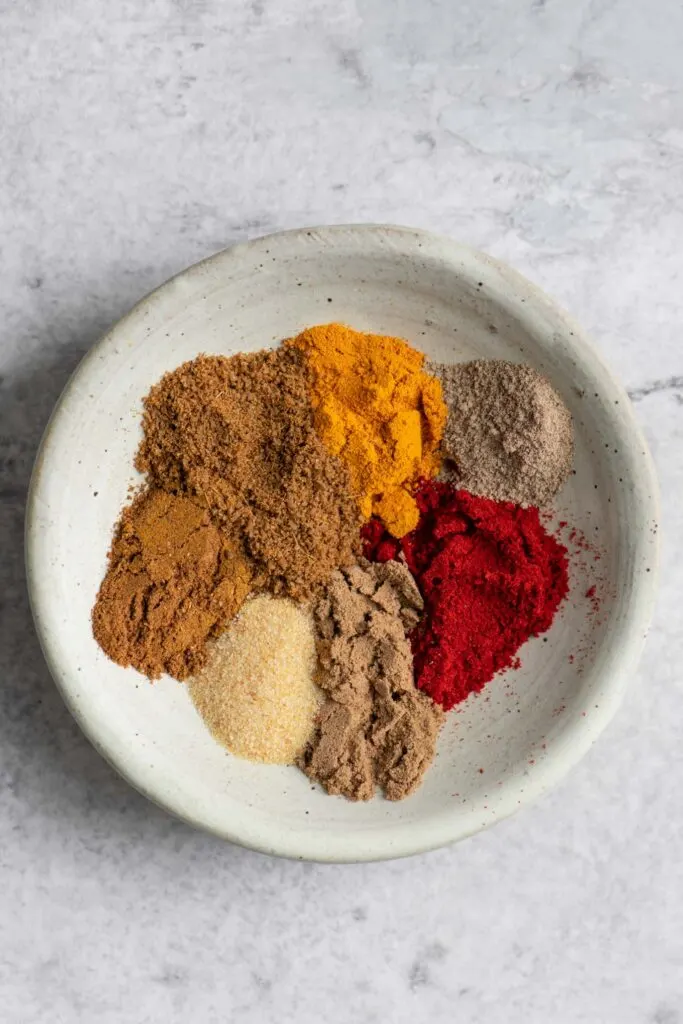 Chili powder–I like to use an Indian chili powder, such as kashmiri chili, but be careful because some Indian chili powders are very hot. Like spicier than cayenne pepper hot! Of course, this is fine if you like spicy and you can even use cayenne pepper here. A Mexican style chili powder blend is a great option if you want a milder chili powder.
Garlic Powder–pretty sure you're familiar with this one. It tastes like garlic!
Amchoor–this is dried mango powder made from unripe green mangoes, and it's a delightful tart spice. There's not a direct substitute for it but you can try adding a tablespoon of lemon juice to the batter or just leave it out.
Salt–it makes food taste better, but it also enhances the flavors of the spices and helps draw out their subtleties.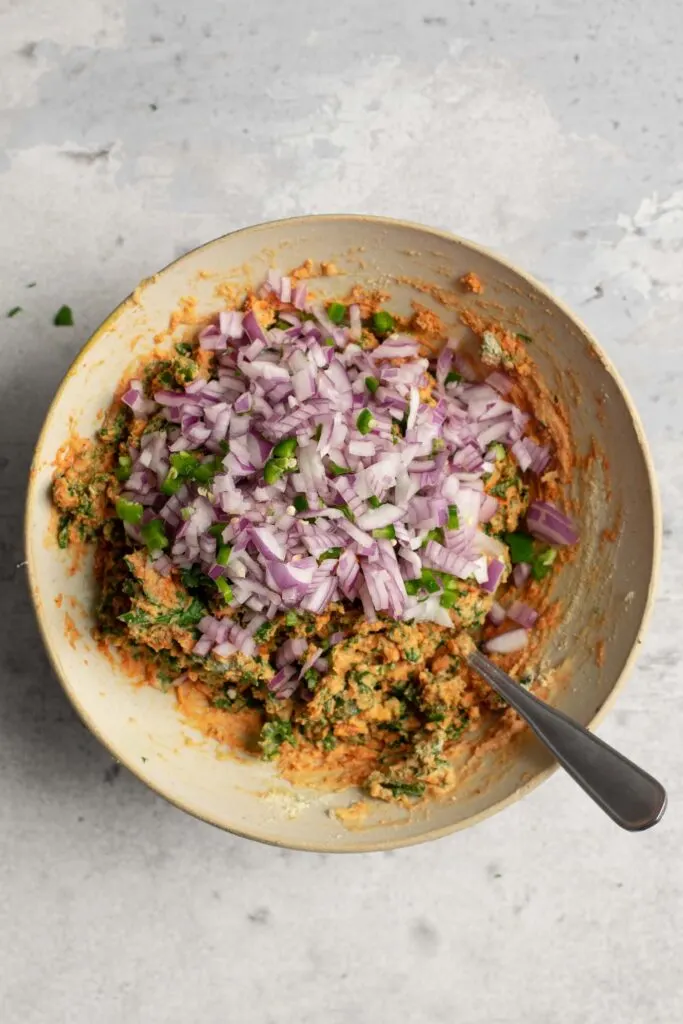 Pakora batter:
Now we make the batter. Pakora batter is thicker than you'd expect. For the kale pakoras we make it especially thick so that the liquid released by the kale doesn't cause the fritters to fall apart.
Add the besan (which is chickpea flour) and mix it into the spices and kale, then add water until it's a thick batter. You should be able to shape the it into patties. It will stick to your hands as you shape it though so wet your hands occasionally.
Be careful though, as you don't want the pakoras to get too wet. If there is water on the surface, it will splatter when the pakoras hit the hot oil. There's a happy medium–let the pakora batter stick to your hands a little but not too much, and form them before frying so they can absorb the water a bit.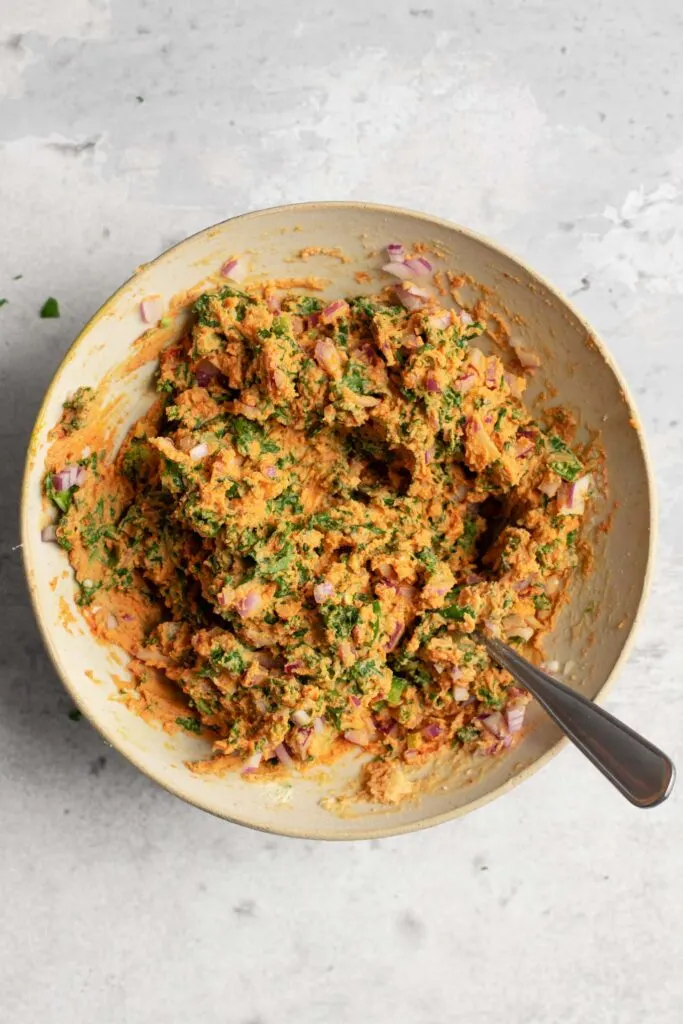 Before you start shaping any pakoras, add in minced red onion and minced green chilies. Onions studded through the pakoras mean juicy bites and add a nice crunchy texture. Chilies also add a bit of crunchy texture and some heat.
Pakora batter might take a bit of trial and error, so I recommend frying a test pakora and then you can adjust the batter if needed (both in flavor and thickness).
Unlike wheat flour, chickpea flour can't be over stirred (a benefit of no gluten) so don't stress about that!
Cooking kale pakoras:
Ok. I'm going to be honest with you here. Pakoras are supposed to be deep fried.
So, if you're comfortable setting up a deep fryer or filling a pot with a couple inches of oil then do so. I personally use a kadai to deep fry.
Now if you're not comfortable deep frying, these pakoras have an advantage that they are thick enough to be shaped and pan fried (a lot of pakoras you just drop batter into oil). I still recommend adding a half inch of oil to the pan to fry.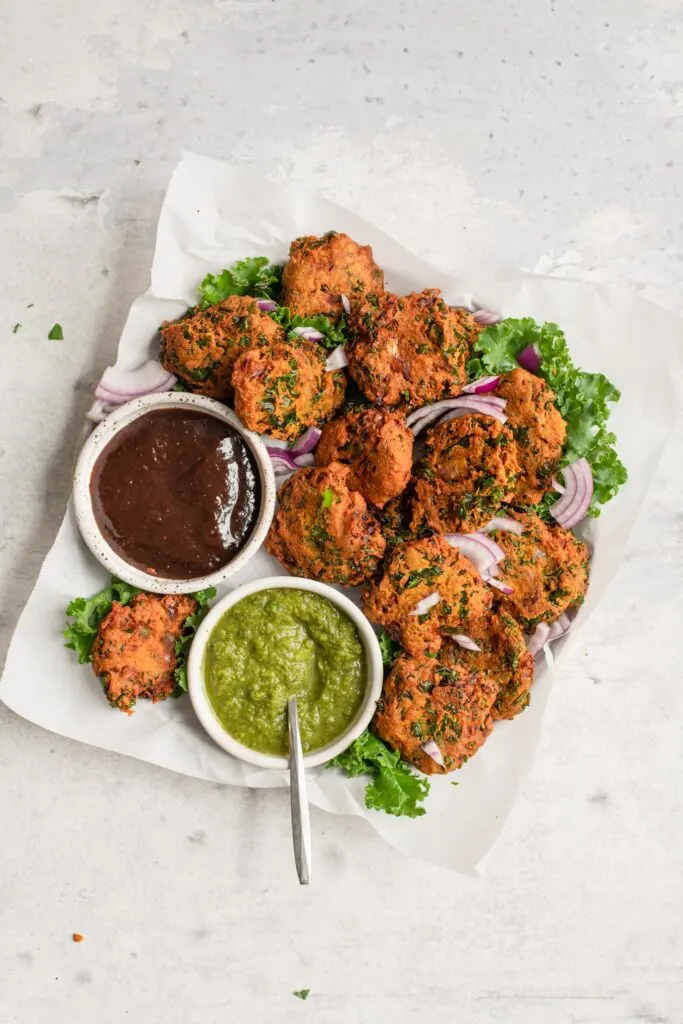 The oil should be hot, between 350 – 365 ºF. If you have a cooking thermometer use it, but the old fashioned way (and the method my grandmother would use) is to stick the handle of a wooden spoon (or a chopstick or wooden skewer) into the oil, and as soon as the oil bubbles and boils around the wood, the oil is hot enough!
I will also very half heartedly say you can bake them. But baked pakoras are inferior. Like, if you have to bake them I cannot stop you (and bake them at 425 ºF for 30 minutes, flipping halfway through). But I can't say I recommend it. If you have an air fryer that may give slightly better results.
How to serve kale pakoras?
Pakoras should always be served with dips! I love dipping them into sweet and tangy tamarind chutney as well as creamy and spicy cilantro chutney.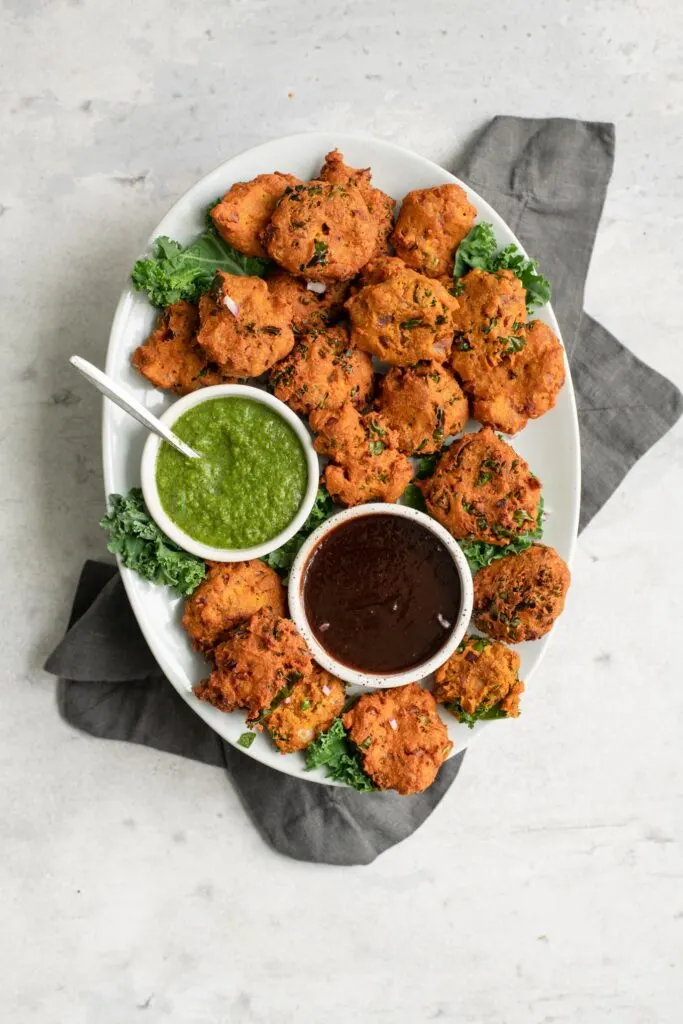 You can buy pre-made chutney from Indian grocery stores, and some well stocked "international" sections as your basic local grocery store. Or, you can make it yourself!
Ketchup is also a tasty dip for pakoras. Or if you're feeling fancy, you can make a ketchup chutney by thinning ketchup with water, adding a bit of sugar, salt, and the spice blend chaat masala to taste).
Pakoras are best enjoyed fresh and still hot from cooking, this is when they are the most crisp on the outside. However they reheat really well in the oven (400 ºF until crisped back up) or on a dry skillet.
I hope you enjoy my homemade kale pakoras! Thanks Nature's Greens for sponsoring this recipe!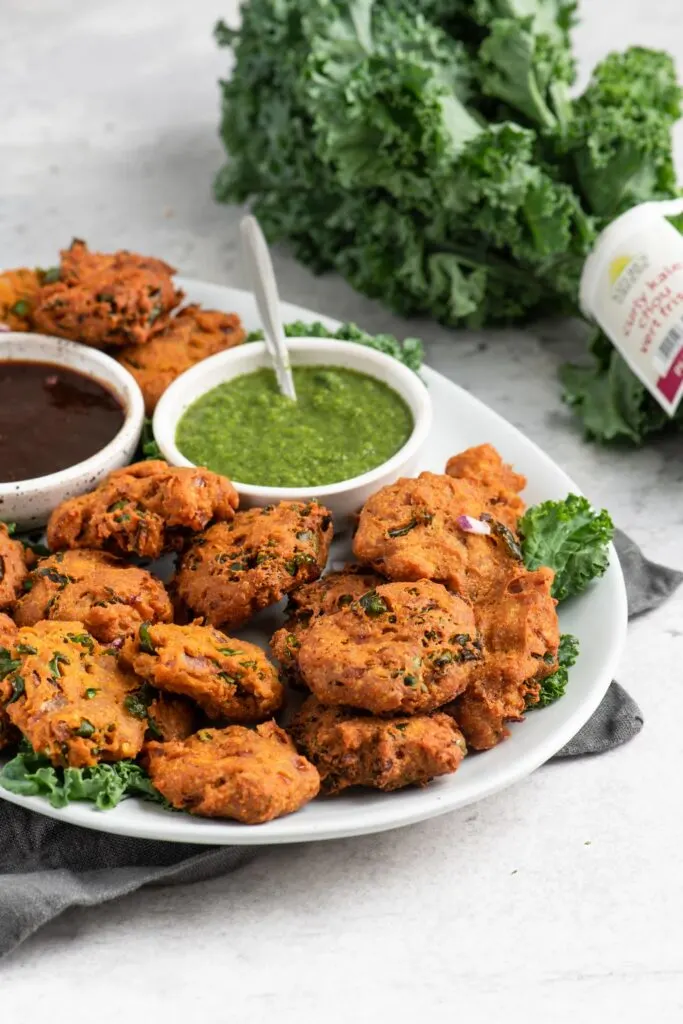 If you make these kale pakoras, leave a comment below and rate the recipe on the recipe card. And please share your photos with me on Instagram, tag @thecuriouschickpea and #thecuriouschickpea. I love seeing your recreations!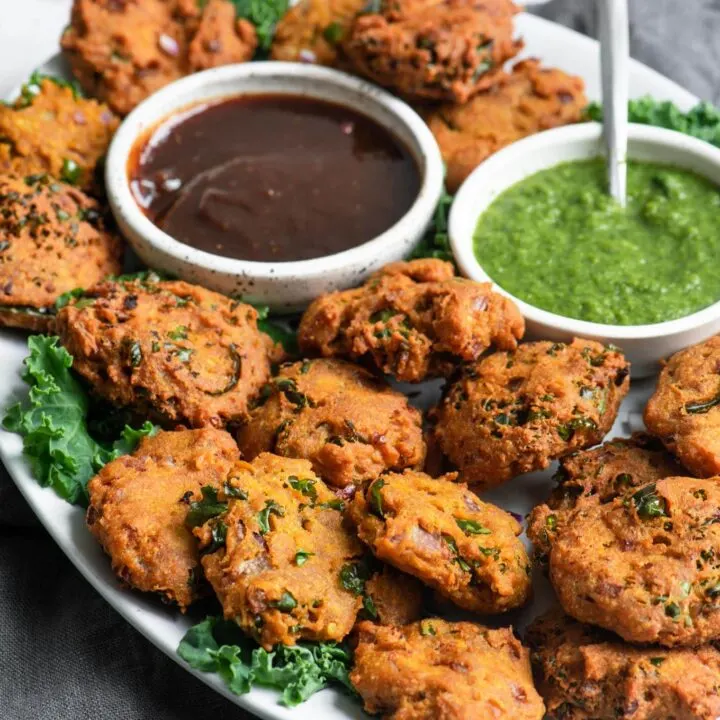 Kale Pakoras
These kale pakoras make a great appetizer or snack. Enjoy them with chutney for dipping. They are naturally vegan and gluten free!
Ingredients
4 cups finely chopped kale (stems removed), 3-4 leaves
2 tsp garam masala
2 tsp coriander powder
2 tsp ground cumin
2 tsp turmeric
2 tsp chili powder (Indian chili powder, cayenne, or chili powder blend)
1 tsp garlic powder
1 tsp amchoor powder (substitute 1 tbsp lemon juice or omit)
1 1/2 tsp salt
2 cups besan (chickpea flour)
1 1/2 - 2 cups water
1/2 red onion, finely chopped
2+ green chilies, minced (more or less to taste)
Oil to fry
Instructions
Add the kale to a large mixing bowl and massage with your hands until the kale has shrunk in size and turned a bit tender.
Add all of the spices and salt to the kale and stir to evenly coat. Add the besan and mix in, then add the water (start with 1 1/2 cups) and stir to make a thick batter, add more water as needed. Stir in the onion and chilies.
Heat 2-inches of oil in a large pot to deep fry or about 1/2-inch of oil in a pan to shallow fry. Heat until the oil is 350-365 ºF or until the oil boils around the handle of a wooden spoon (or chopstick/skewer).
Shape about 2 tablespoon portions of batter into patties, and fry in batches so not to overcrowd the pan. Fry for 2-4 minutes or until a dark golden color. Flip halfway through, especially if shallow frying. Remove from oil with a slotted spoon and let drain on a paper towel lined plate.
Serve hot with chutney and/or ketchup for dipping and enjoy!
Notes
To reheat pakoras: bake at 400 ºF until hot and crisped up, or reheat in a dry skillet over medium heat.
I don't recommend it, but you can bake them: 425ºF on an oiled parchment lined baking tray for 30 minutes, flipping half way through. Brush with oil before baking.
Recommended Products
As an Amazon Associate and member of other affiliate programs, I earn from qualifying purchases.
Nutrition Information:
Yield:

24
Serving Size:

1
Amount Per Serving:
Calories:

45
Total Fat:

4g
Sodium:

155mg
Carbohydrates:

2g
Fiber:

1g
Sugar:

1g
Protein:

1g
Nutrition is calculated automatically so should be used as an estimate.