When it comes to snack time, it doesn't get better than these cocktail chana samosas! They are filled with a flavorful and easy to prepare chana dal and can be baked or fried depending on the occasion. They're wrapped in [vegan] egg roll wrappers, but can be made using phyllo dough if baked.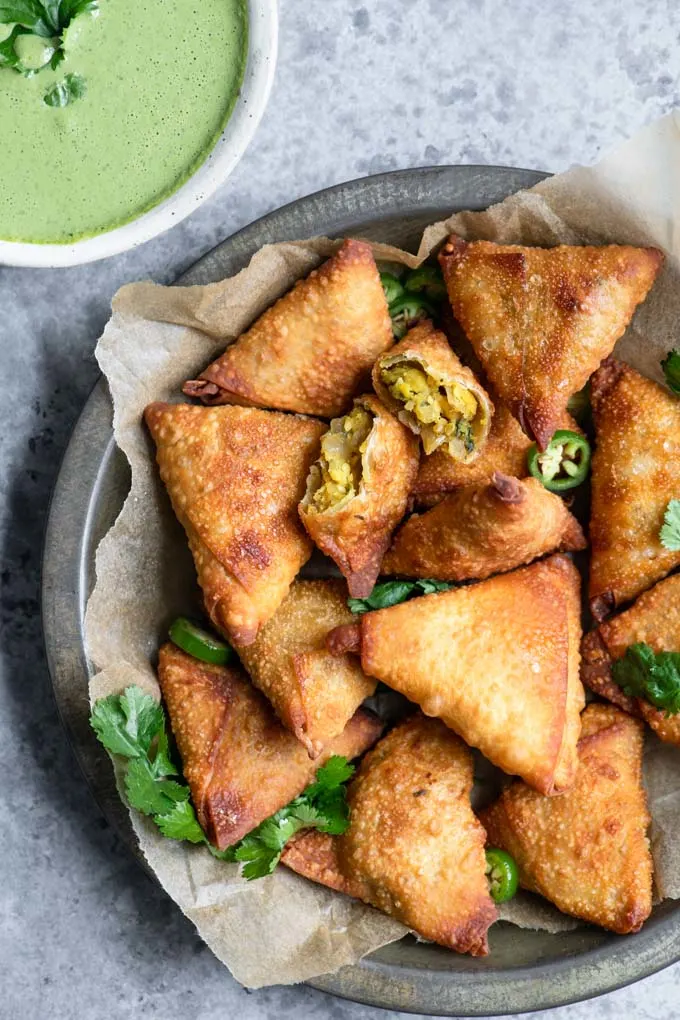 You made it. You found the recipe you maybe didn't even know you needed! Trust me, you need!
Growing up, my family always kept those little store bought 'cocktail' samosa stashed in the freezer. They made perfect last minute snacks for company–and if you're South Asian, last minute company is a given–and hungry children alike.
Making my own homemade version of those cocktail chana samosas not only hits all the nostalgic notes, but is a fun project recipe! Shaping these is actually quite easy and speedy, and made more fun by a helper or two.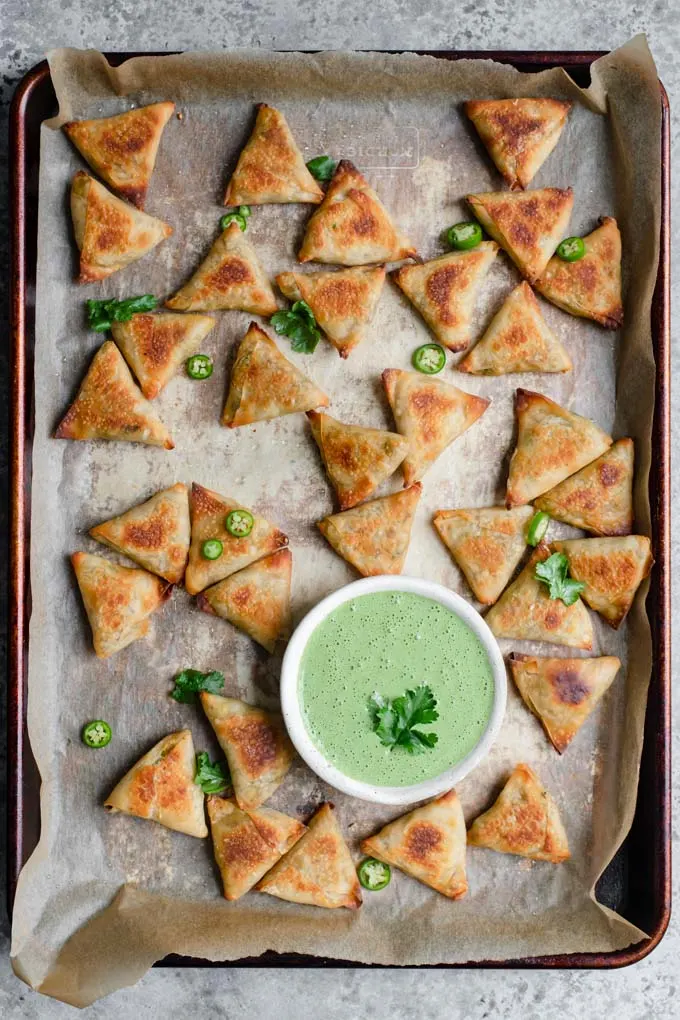 I learned the trick of using egg roll wrappers (some have egg as an ingredient so make sure to check the label!) from my Bengali mother-in-law. This is what she uses to make her samosa!
And while I love my MIL's delicious potato filled samosas, I wanted to make cocktail-sized chana samosas of my childhood for you.
The chana dal lends itself well to a spicy filling, which is delightful paired with a cooling but spicy cilantro mint chutney or sweet and tangy tamarind chutney.
The Chana Dal Filling:
The most important part of these samosa is the chana dal that you make to fill them.
Chana dal is a type of lentil/bean commonly used in Indian cuisine, it refers to split chickpeas. Yellow split peas can also be used, as can toor dal (split pigeon peas), but their cooking times may be less and I haven't tested it.
The key to making good chana samosa is that your filling should not be too wet. This means cooking your lentils separately and draining excess water. A wet filling means soggy samosa!
The filling makes use of a popular Indian technique called a tempering, takda, or tarka (other words may be used but those are the most common ones). For a tadka, you fry the spices and aromatics separately before adding them to the cooked dal.
Chana dal takes a longer time to cook than your smaller lentils, so I use a pressure cooker to make this go fast. Using my Instant Pot also allows me to cook the dal without soaking it first.
You can cook this dal stovetop, but you will want to soak the dal first to keep the cooking time shorter. Soak the chana dal for minimum of 1 hour, but ideally 2-4 hours, then drain and cook stovetop covered until the lentils are tender. Add more water as needed to keep it from cooking dry.
The tadka:
When your chana dal is cooked until tender but not mushy, and excess water is drained off you can start the tadka. You can also cook the lentils in advance and keep in the fridge until ready to use.
The flavoring of the dal is quite simple.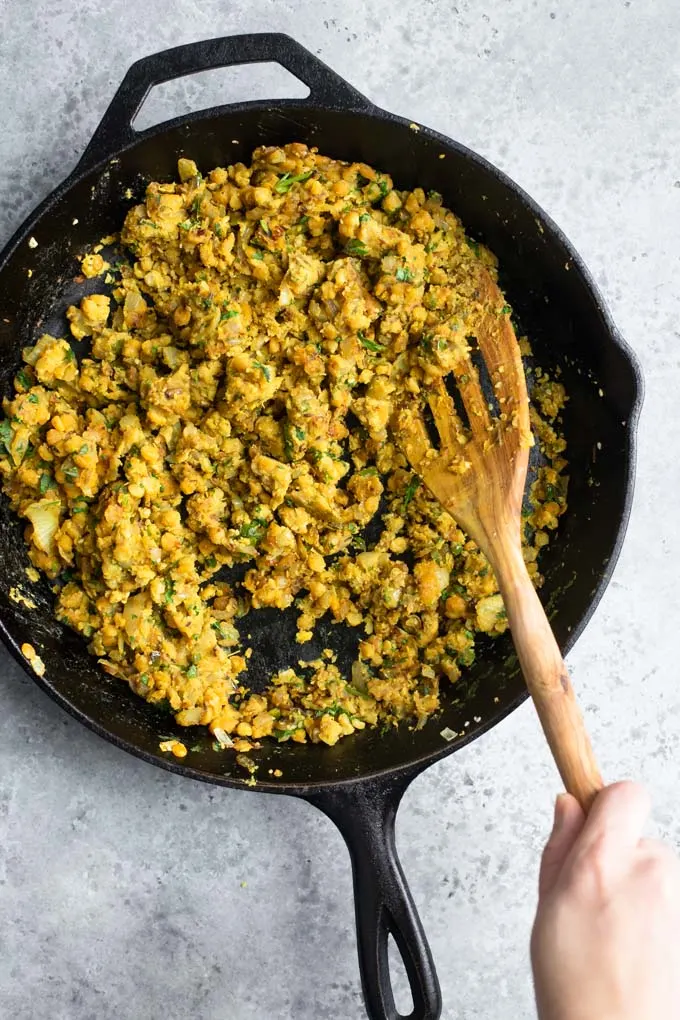 I use whole cumin seed toasted in oil to bring out its richest flavors (which are fat soluble). When the cumin has sizzled to a shade darker finely chopped onion, fresh chopped green chiles, and sesame seeds.
When it comes to the peppers you can use whatever peppers you can buy locally! Serranos are a great choice, but jalapeños work as well.
If you want the filling to be less spicy remove the seeds and membrane from the peppers. If you want it to be more spicy you can up the chili, or add some cayenne or hot chili powder to the dal.
Once the onion has softened we can add the powdered spices. If you don't have whole cumin seed, you can substitute ground cumin, and you should add it at this time.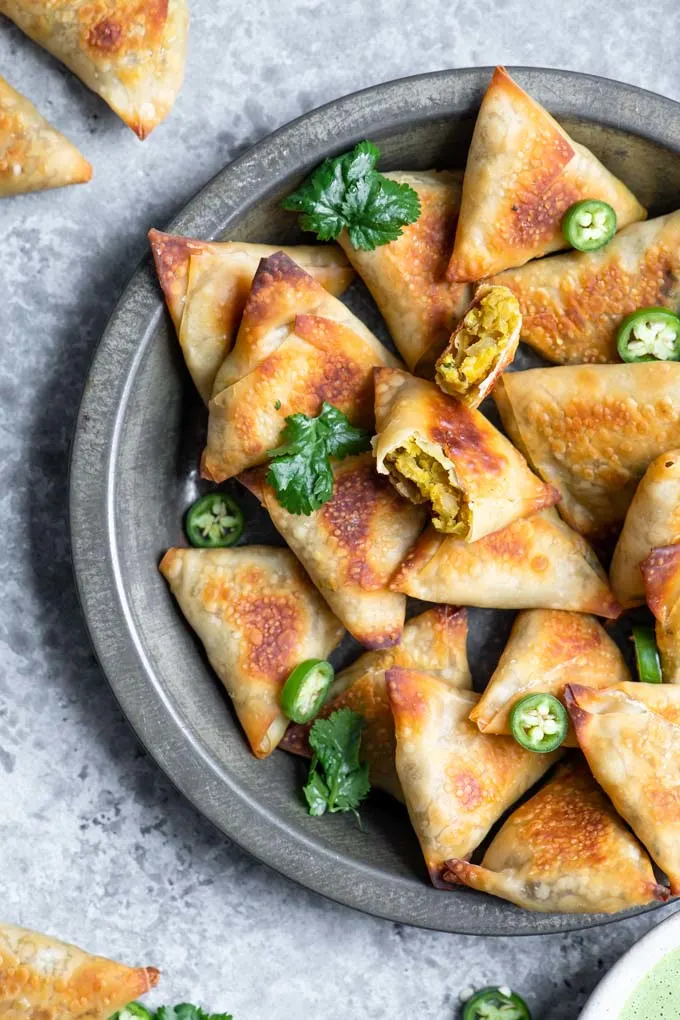 It's also time to add the turmeric, garam masala, and salt and stir them in to mix.
The cooked chana dal can be added now, and mixed together while cooking over heat until the dal dries out. It can be tasted and any spices and seasoning can be adjusted now.
Once it's perfect, turn off the heat and mix in a whole lotta chopped cilantro! This is a great place to use up the tender part of the stems as well, no reason for those flavor filled stems to go to waste!
Your filling is now done. You'll need to let it cool to room temperature, or you can pack it up and store it in the fridge until ready to fill and shape your samosas.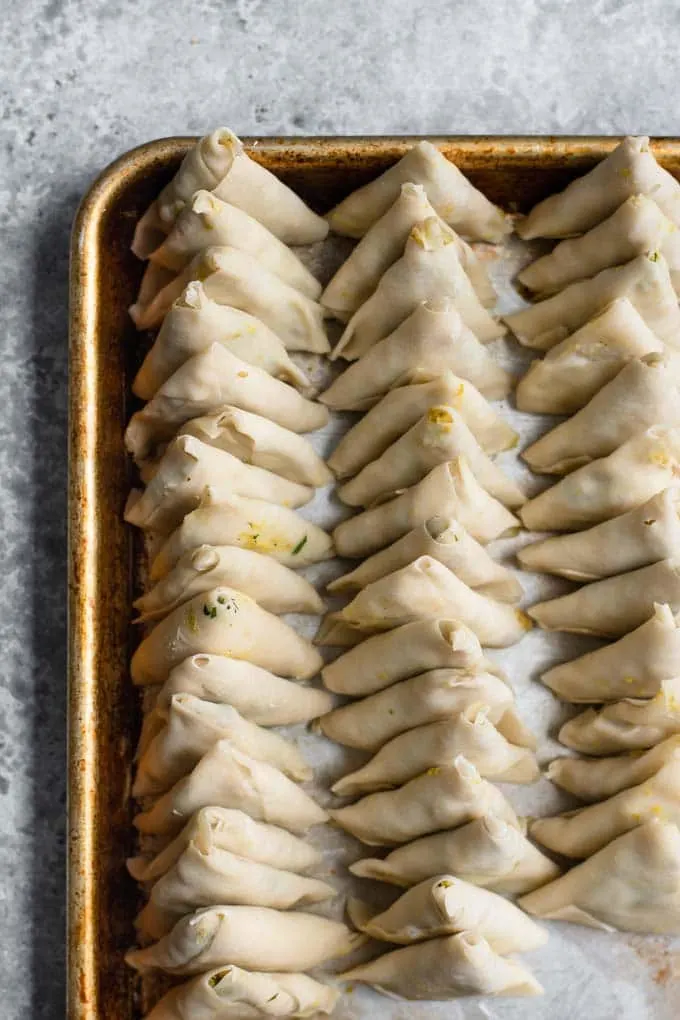 Shaping the chana samosas:
Vegan egg roll wrappers are my favorite little samosa wrappers! You can buy them at the store. If you're in the US Nasoya started selling vegan egg roll wrappers (yay!). Otherwise an Asian grocery store is a good bet.
Most do not contain egg, but some do (particularly at non Asian markets for whatever reason), so make sure to read the packaging.
Once you have your egg roll wrappers, they will likely be approximately a 6-inch square. For these little cute cocktail sized samosa, that two bite, hors d'oeuvre samosa I cut my wrappers into thirds.
Keep the wrappers covered while you work as they will get dried out and become harder to shape. Only take out and cut a few at a time.
Small samosas mean small amounts of filling, scoop a heaping teaspoon into the bottom portion of the cut wrapper. Fold the bottom over to make a triangle and cover the filling.
Then flip that triangle to make the second fold, lining up the side of the triangle with the opposite side of the wrapper.
You should be making an equilateral triangle. That's when all sides are equal lengths. It won't be perfect, but that's the goal!
Give the triangle another flip, two if needed, until you have about an inch left of the wrapper.
To get your wrapper to seal, which is very important and particularly if you're deep frying these, you need to use a flour and water "glue" mixture. Use a pastry brush to brush this flour paste glue onto the last piece of wrapper, then wrap it over to seal in the samosa.
There! You've done it! Shaped a samosa! Now you can continue until you've used up your filling or wrappers! (Leftover filling can always be eaten with rice for a tasty meal.)
Cooking the samosas:
Once all your samosas are shaped, you can cook immediately, or seal up in a storage container to refrigerate (for up to a day) or freeze (for up to a couple of months) and cook later.
If cooking from frozen the cooking times will take longer so keep an eye on them and adjust as needed.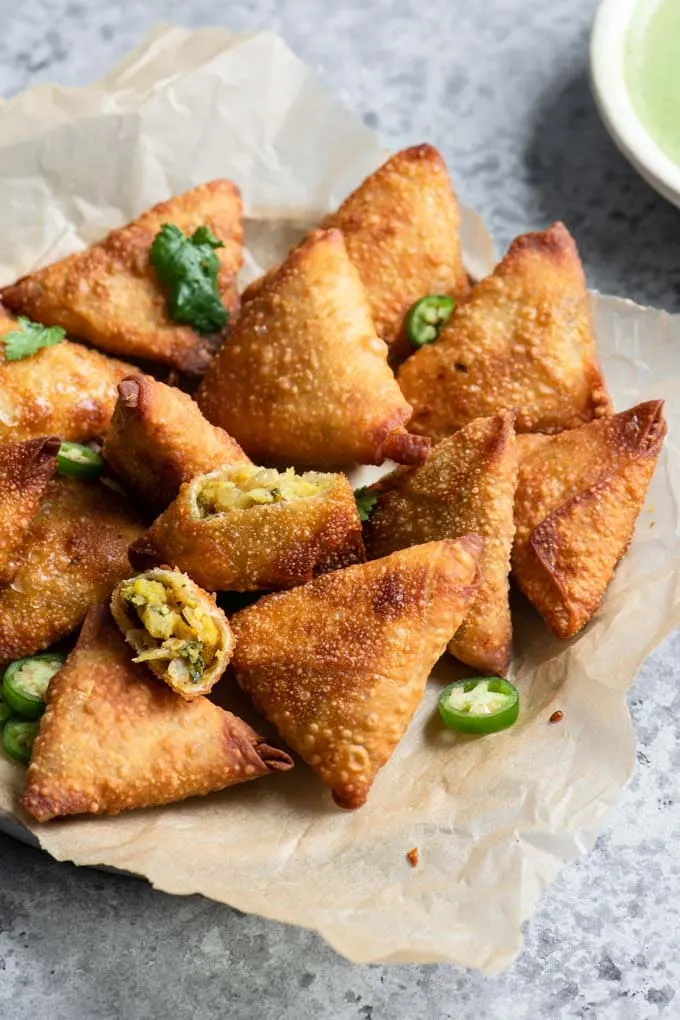 You can cook the samosas by baking or frying. Frying is traditional and makes for a tastier samosa. The wrapper gets deliciously crisp with a bit of a chewy interior and is SO GOOD.
If baking, I brush the samosa with some oil and bake them until golden. It doesn't bring out the same good qualities of the wrapper, but they are still really good, and a bit less indulgent.
You can also use phyllo dough to wrap up the samosas.
If you can't find egg-free egg roll wrappers, or know that you want to bake your samosa and do not care how they look, you can use phyllo dough to wrap up the filling.
Cut your phyllo dough into about 2″ strips place some filling on, and do your best to fold it up into a triangle. It will be a bit of a hot mess to warn you.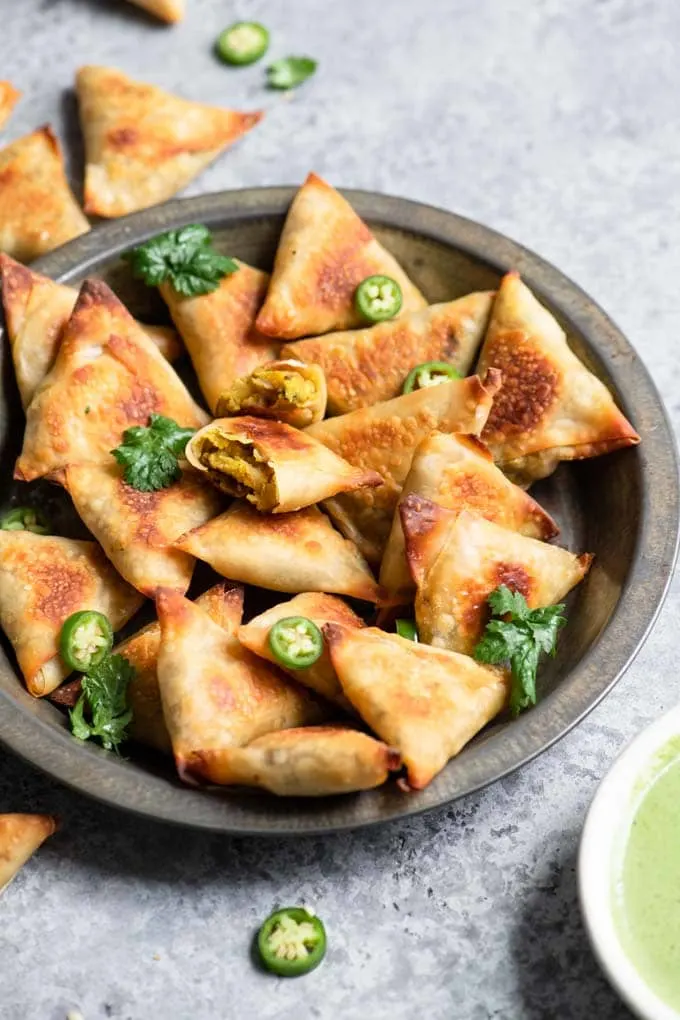 Brush your shaped samosa with oil and the phyllo dough will hold the shape. Which probably will not look quite like a triangle. That's ok.
You bake these the same was as you would with the egg roll wrapper. They are flaky and a bit more delicate to eat. Super delicious though!
Serving your chana samosas:
Samosas are best served warm, either hot from the frier or from the oven. You can eat them plain, but let's be real, they're best with chutney!
I served these with a homemade cilantro mint chutney that I threw together (you can find my cilantro chutney recipe here). They would also be excellent with a tamarind chutney.
You can purchase bottled chutney at Indian grocery stores and some well stocked International sections of your local supermarket, or make chutney at home.
You could also give one of my Afghan chutney recipes a try! They would pair deliciously with these samosas!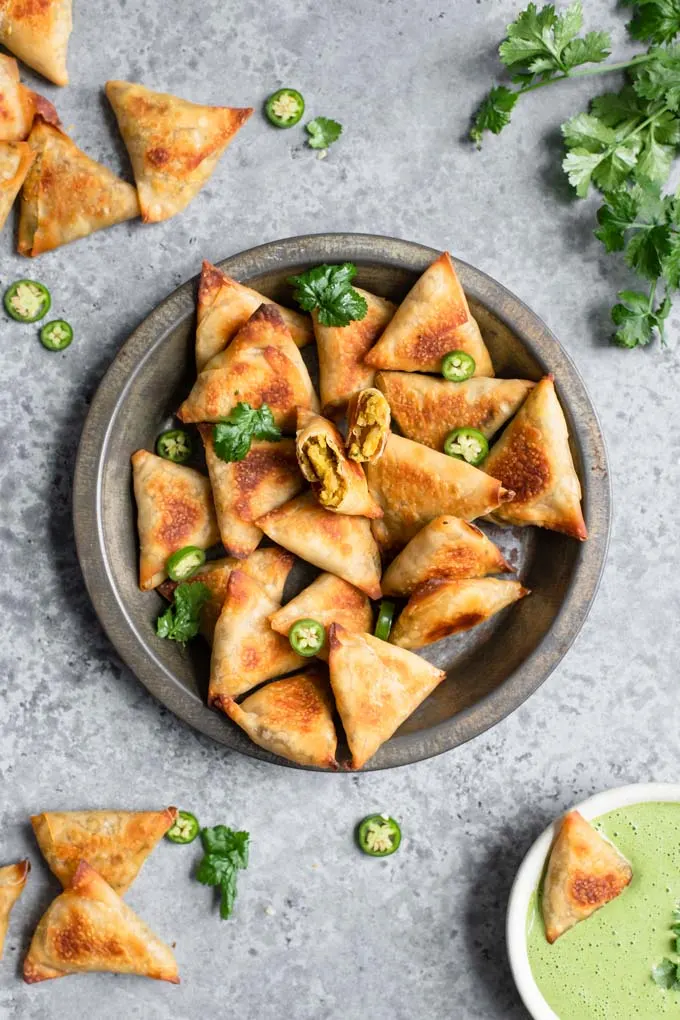 If you make these cocktail chana samosa, leave a comment below and rate the recipe on the recipe card. And please share your photos with me on Instagram, tag @thecuriouschickpea and #thecuriouschickpea. I love seeing your recreations!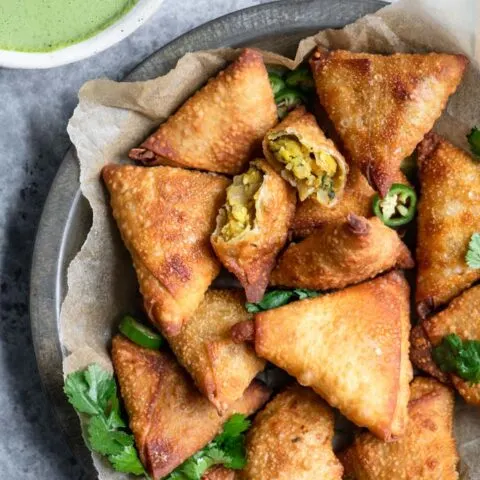 Cocktail Chana Samosa
Chana Dal Cook Time:
30 minutes
Samosa Cook Time:
20 minutes
These finger food sized cocktail chana samosa are the perfect appetizer or snack! You make them using spring roll wrappers and can bake them or fry them to cook.
Ingredients
Chana Dal
1 cup (200g) dry chana dal, sorted for debris and rinsed
2 cups water
1/2 tsp salt
2 tbsp oil
1 tsp whole cumin seed
1 large yellow onion, finely chopped
2 green chiles, minced (seed for less heat)
2 tbsp sesame seeds
1 tsp garam masala
1/2 tsp turmeric
1/2 tsp salt, or to taste
1/4 cup minced cilantro, leaves and tender part of the stem
Everything Else
1 package vegan egg roll wrappers (1 lb)
3 tbsp water
1/4 cup flour
oil to fry or bake
Instructions
Combine the rinsed chana dal, 2 cups of water, and 1/2 teaspoon of salt in a pressure cooker. Cook on high pressure for 7 minutes, then do a natural pressure release for at least 15 minutes before releasing any remaining pressure. Drain any excess water.
Heat the oil in a large skillet over medium-low heat, and add the cumin seed. Let sizzle until a shade darker and fragrant, about 30 seconds.
Add the onion, chili peppers, and sesame seeds, turn the heat up to medium and cook until the onion is soft, about 3-5 minutes.
Stir in the garam masala, turmeric, and salt. Then add the drained chana dal and gently mix in. Let cook so that any remaining water cooks off. Taste and adjust the seasoning. Turn off the heat and mix in the cilantro. Set aside to cool to room temperature, or store in the fridge until ready to use.
Mix together the 3 tablespoons of water and 1/4 cup of flour to make the glue and set aside.
Using a few egg roll wrappers at a time, and keeping the rest covered to prevent them from drying out, cut the wrappers into thirds.
Place a heaping teaspoon at the bottom of the cut wrapper, then fold the edge over to make a triangle. Flip the triangle over to line up with the opposite side, making an equilateral triangle shape. Flip it once or twice more, until you only have about 1" remaining. Brush the end with the flour paste 'glue' and then fold that end over, sealing up your samosa. Repeat with remaining wrappers and filling.
To bake the samosa: Brush each samosa with oil, then bake at 400ºF for 10 minutes, flip and bake another 5-8 minutes until golden and edges are crispy.
To fry the samosa: Heat at least 2" of oil to 325 ºF (or use a deep fryer). Fry the samosa in batches to not overcrowd. Fry each batch of samosa for about 4 minutes, or until golden and the pastry is covered in small bubbles. Let drain on a paper towel lined plate or on a cooling rack.
Enjoy your samosa warm and with a side of chutney!
Notes
To cook the chana dal stovetop: soak the sorted and rinsed dal for 1-4 hours. Drain, and combine the dal with plenty of fresh water to cover by ~2 inches and some salt. Cook the lentils on the stove until they are tender but still hold their shape.
If baking the samosa, you can alternatively wrap them in phyllo dough. They will not look as pretty or make as perfect triangle shapes, but they will taste good! Fold them the same way, then brush them with oil before baking with the same directions.
Recommended Products
As an Amazon Associate and member of other affiliate programs, I earn from qualifying purchases.
Nutrition Information:
Yield:

40
Serving Size:

1
Amount Per Serving:
Calories:

68
Total Fat:

3g
Sodium:

141mg
Carbohydrates:

9g
Fiber:

1g
Sugar:

0g
Protein:

2g
Nutrition is calculated automatically so should be used as an estimate.