Homemade tamarind chutney tastes so much better than any store bought jarred version! It's quite easy and inexpensive to make, and you can make a lot! Luckily it stores for a couple of months in the fridge or can be frozen for even longer storage.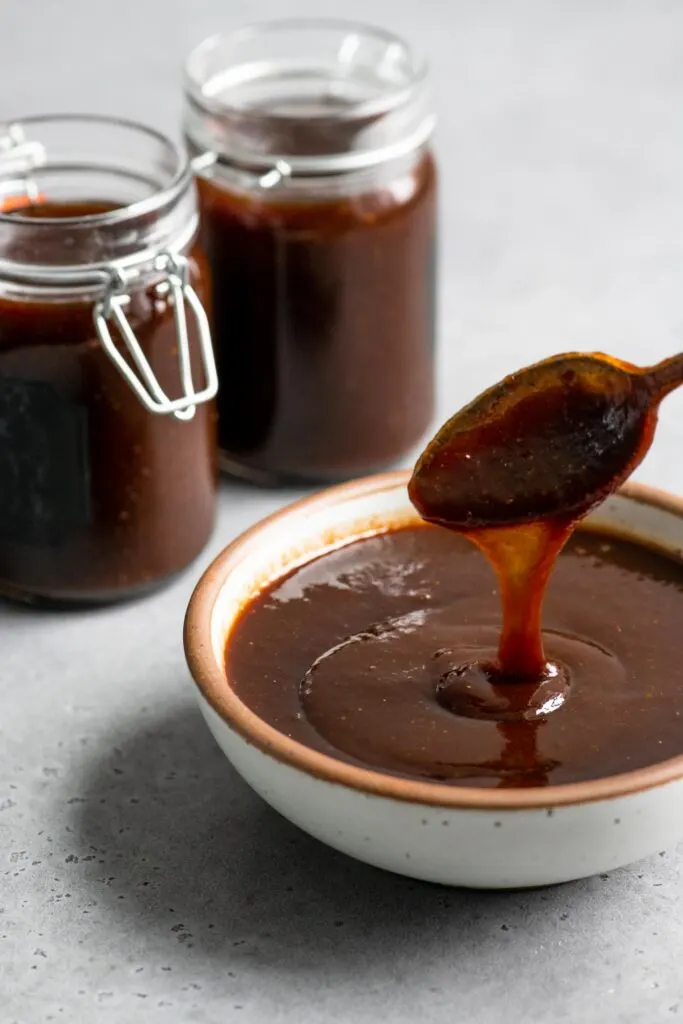 Growing up, tamarind chutney was my favorite of the chutneys. I loved the sweet and tart flavor combo and found it the perfect tangy complement to spicy samosas and other chaats. And it would always find its way onto my plate alongside subzis and dals.
We would usually buy tamarind chutney, and those pre-made jars of chutney are what I was raised on.
There are two popular varieties of tamarind chutney. First, there's "plain" tamarind chutney which sweetened with sugar or jaggery (an Indian unrefined sugar). Then there is tamarind-date chutney which is, you guessed it, sweetened with dates and often sugar.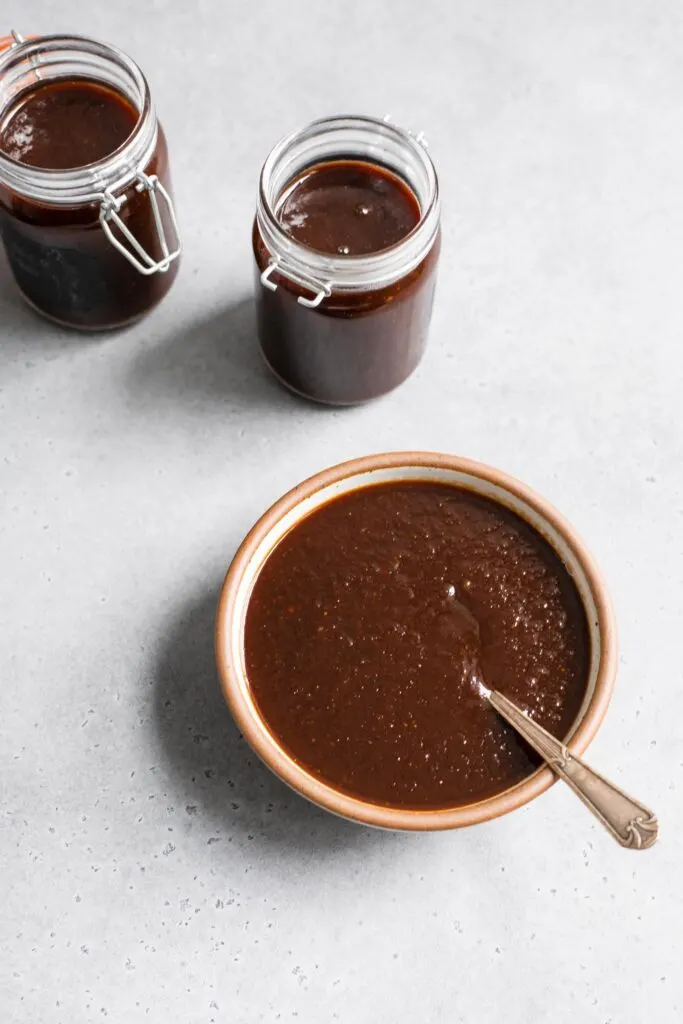 Personally I've always preferred the non-date sweetened tamarind chutneys, so that's the version I make at home. I just love the flavor of tamarind and don't want it to compete with dates!
What is tamarind?
Tamarind is a fruit that comes in seed pod from the tamarind tree. The pods look a lot like bean pods and are indeed part of the legume family. However, the seeds inside the pods are covered by a sweet, sticky, tangy, tart fibrous fruit.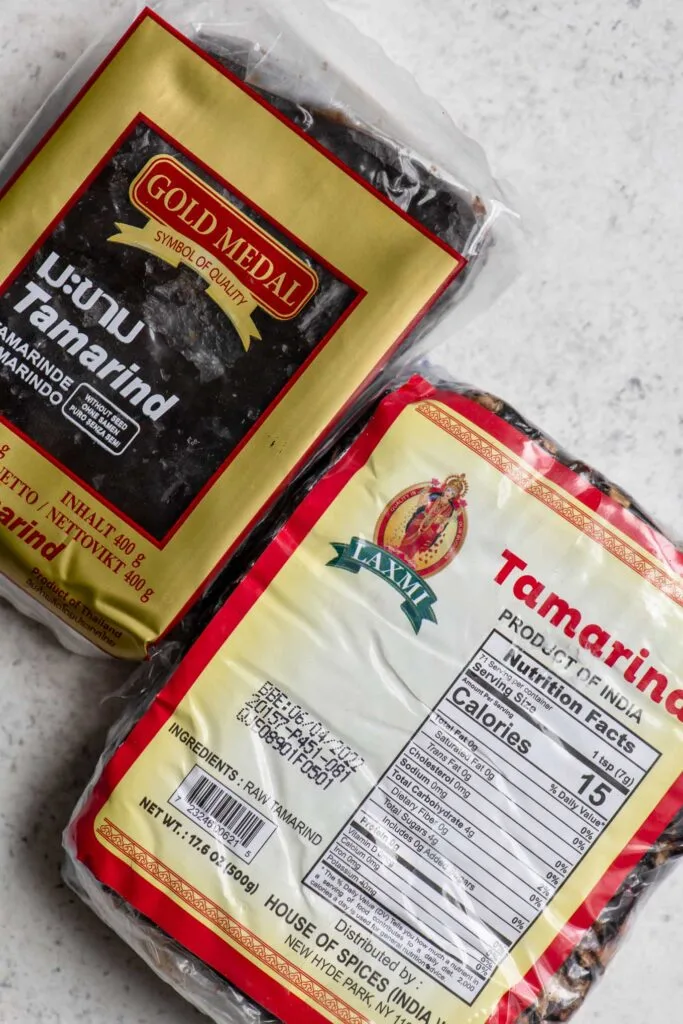 When we think of tamarind, usually we are thinking of some form of this sweet and tart pulpy fruit.
Tamarind can be purchased in pods, in pulp form with the pods removed, or in concentrate.
The pods you can buy at the store have been aged, and you can tell because the fresh green pods turn brown as they age. If you buy the pods you need to remove the shell before using.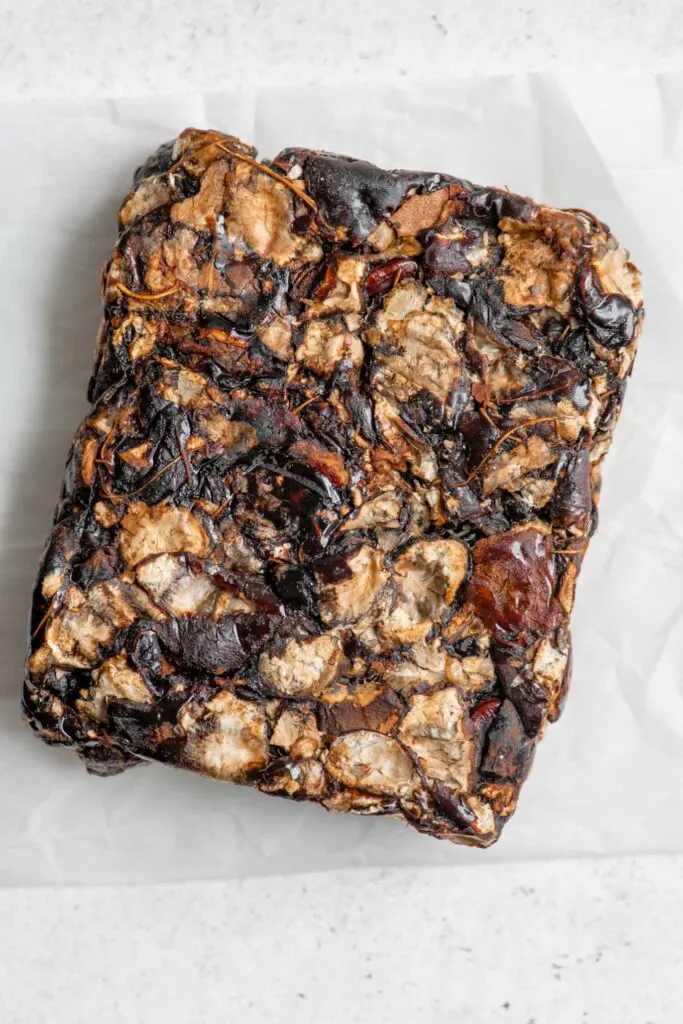 You can also buy raw tamarind with the shell removed, and the sticky and fibrous pulp is sold packaged in bricks. You can purchase it this way with or without the seeds.
Buying raw tamarind pulp makes your life easier than buying the pods, and it's also easier to find most of the time thanks to the packaging.
As one of the goals while making tamarind chutney is to remove the seeds, you've save a little bit of your own effort by getting the kind with seeds removed.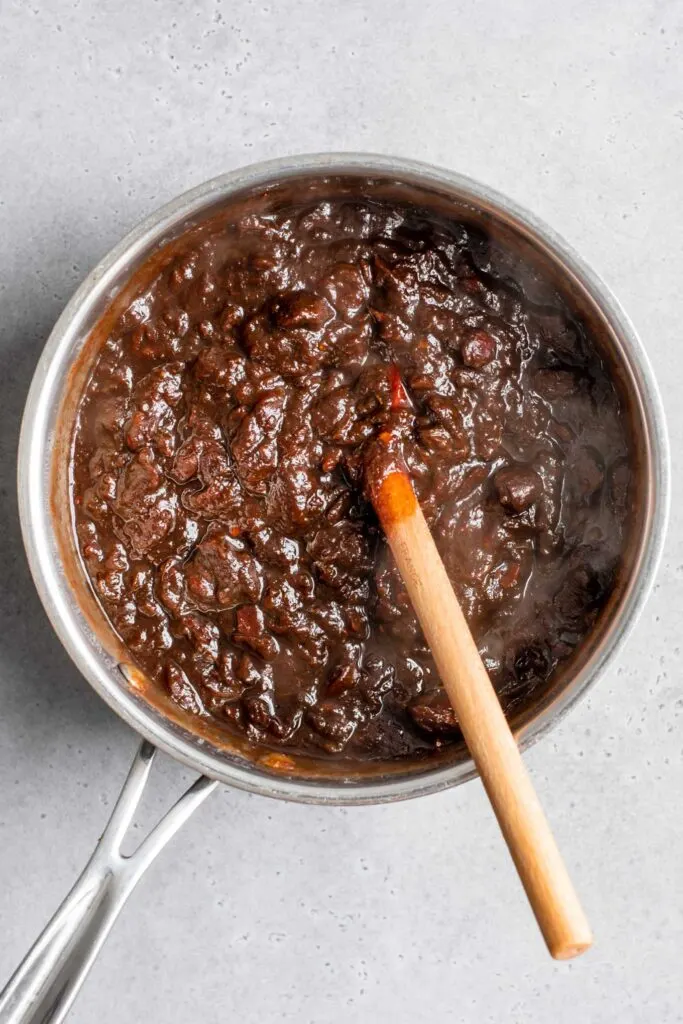 I recommend buying raw tamarind in one of the above mentioned forms, as you'll get the most bang for your buck and there's nothing like fresh homemade tamarind concentrate.
However, you can also buy tamarind concentrate, and this already has the seeds and fibrous parts of the pulp removed. Leaving behind some concentration of thick tamarind juice.
No matter what form of tamarind you buy, the potency and strength of flavor varies a lot. And like any fruit, sometimes it will be more tart and other times more sweet. Because of this it's important to taste and adjust seasonings and sugar when you make your chutney!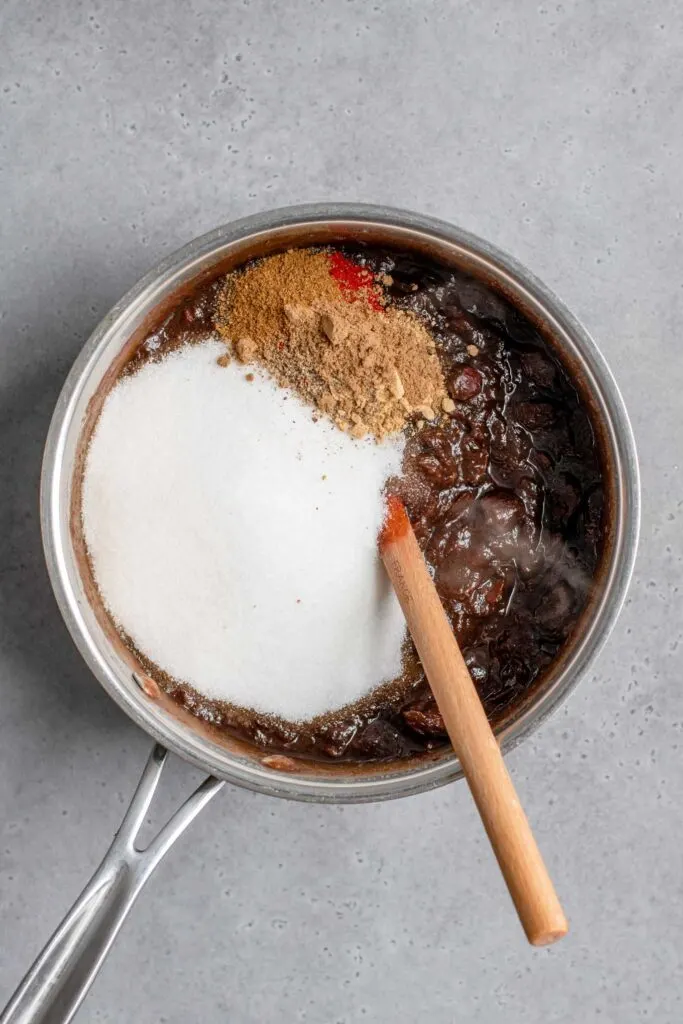 How to use tamarind chutney?
There are a lot of ways to enjoy chutney, but they're most commonly served alongside snack foods.
My favorite two foods to enjoy with tamarind chutney are samosas and pakoras. But tamarind chutney is also a must with aloo tikki and other Indian snack foods and small bites!
Check out my cocktail chana samosa recipe and kale pakora recipe if you want to make them yourself!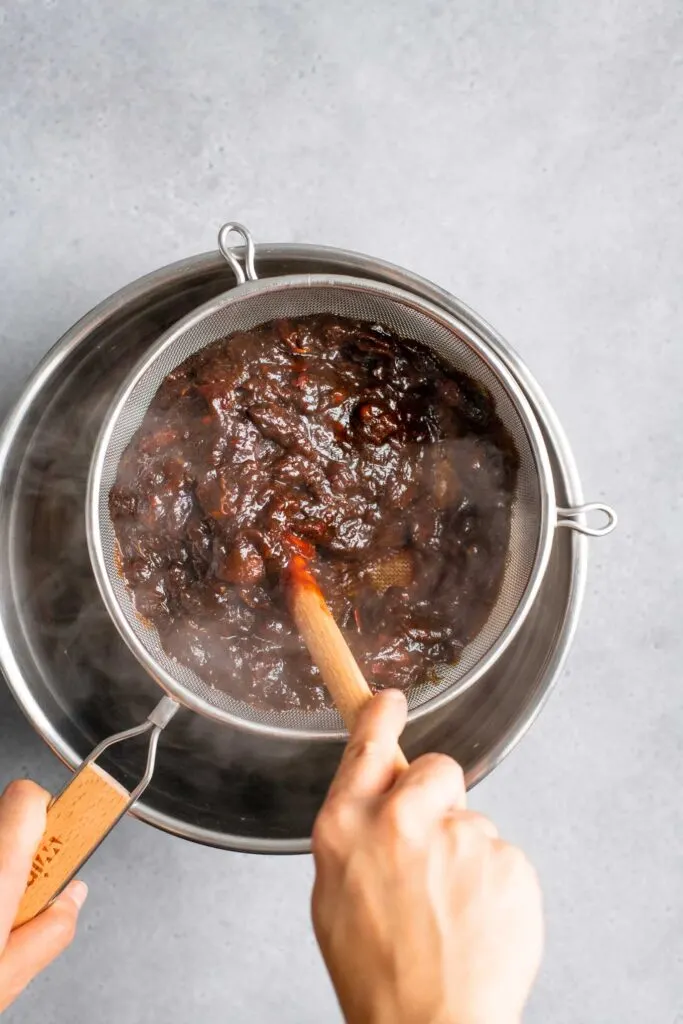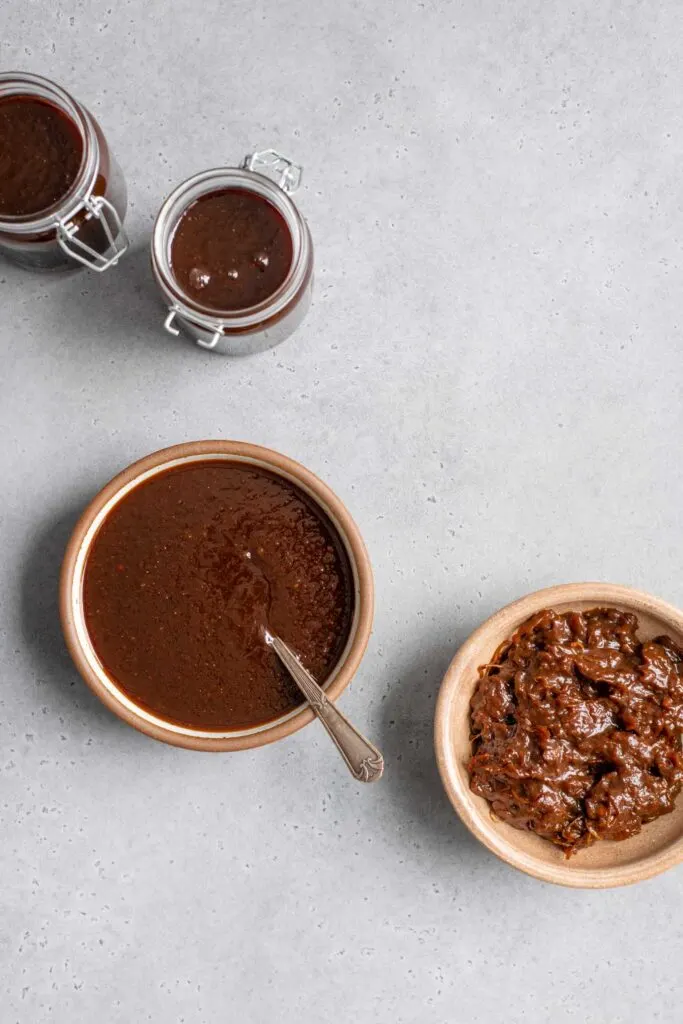 I also enjoy dolloping chutney onto my plate of any Indian meal. I love love love it with any chana (chickpea) recipe, and it's so good over potatoes.
Just stir some chutney into the food you're eating, or dip roti wrapped bites into a puddle of chutney on your plate.
If you love pani puri, then thin out the chutney so it's very watery to make tamarind water which gets poured into each little puri right before you bite in.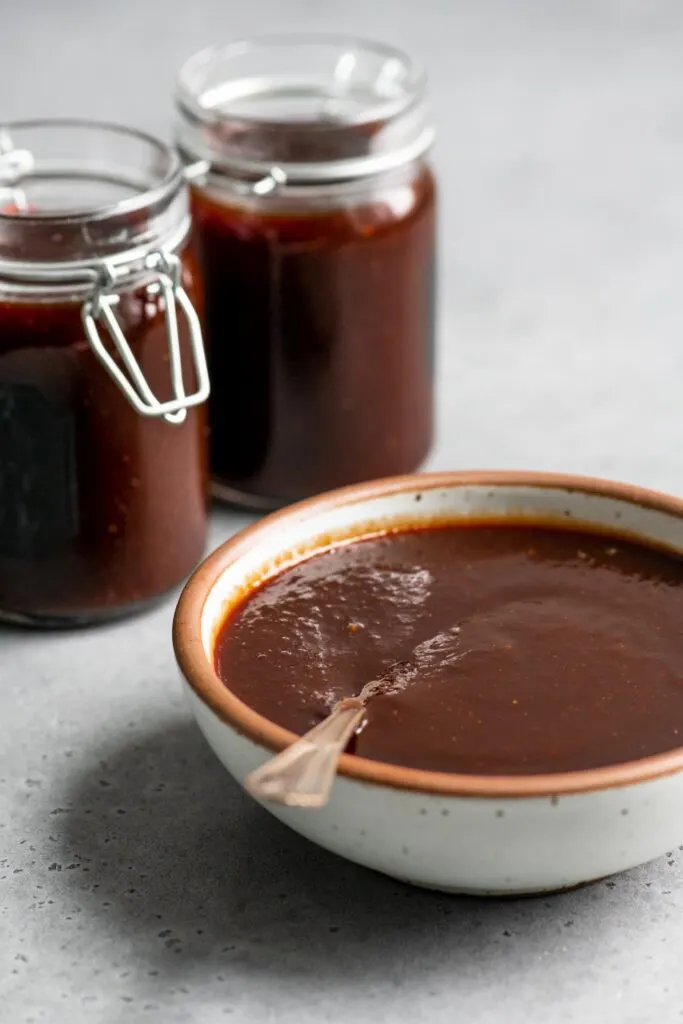 If you make this homemade tamarind chutney, leave a comment below and rate the recipe on the recipe card. And please share your photos with me on Instagram, tag @thecuriouschickpea and #thecuriouschickpea. I love seeing your recreations!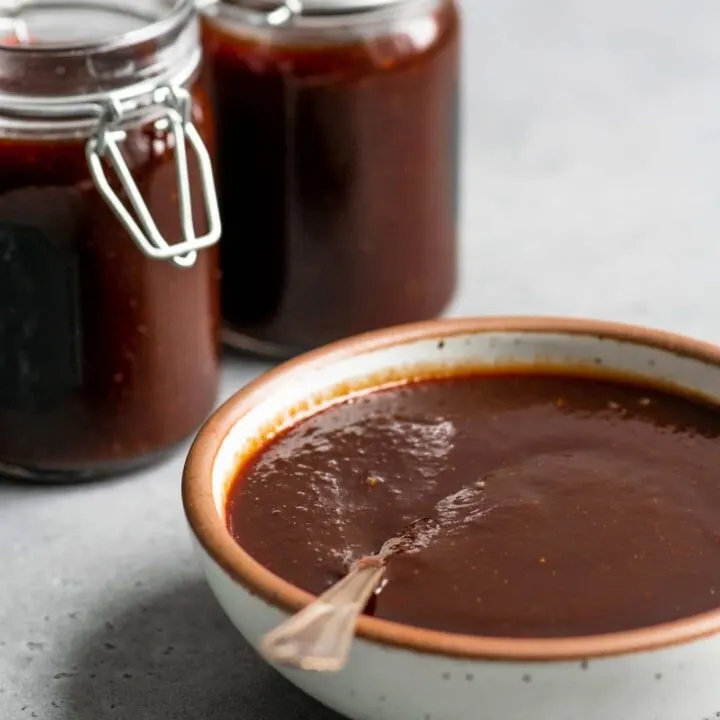 Homemade Tamarind Chutney
Tamarind chutney is a mouth watering sweet and tangy sauce. Serve it with Indian curries, samosas and other Indian snacks, or use in place of tamarind concentrate for extra flavor in any recipe!
Ingredients
250g raw tamarind pulp (with seeds)
3 cups water, more as needed
1 cup sugar, more to taste
1 tsp chili powder
1 tsp ground cumin
1 tsp ground coriander
1/2 tsp ginger powder
1 tsp salt (or substitute kala namak)
1 tsp black pepper
Instructions
Add tamarind pulp to a pot and cover with 3 cups of water. Bring to a simmer and let simmer covered for about 20 minutes or until the tamarind is very soft and has broken down. If it gets too thick at any point, add more water.
Add the sugar, spices, salt, and pepper and stir in. Cook over medium-low heat for about 3 minutes for the spices to release their flavor.
Set up a wire strainer over a large bowl. Transfer the tamarind pulp to the strainer and push the juice through using a large spoon (wooden or metal). You'll be left with a thick and fibrous pulp in the strainer which you can discard.
Taste the chutney concentrate in the bowl and adjust spices, salt, and sugar to taste. Some tamarind is more tart and requires more sugar.
Store in clean glass jars for up to 2 months in the fridge. You can freeze the chutney for longer storage.
Thin out as desired when you serve it.
Notes
To keep the chutney fresh for longer, use distilled, filtered, or boiled and cooled water.
This recipe assumes you are using the tamarind pulp with the seeds. If you are using the kind without the seeds, just use less of the pulp (use around 150-200g). If using tamarind concentrate, then use about 2 cups of concentrate and add sugar to taste. If using the pods, measure out 250g of the pulpy seeds after the husks have been removed.
Nutrition Information:
Yield:

36
Serving Size:

1
Amount Per Serving:
Calories:

39
Total Fat:

0g
Saturated Fat:

0g
Trans Fat:

0g
Unsaturated Fat:

0g
Cholesterol:

0mg
Sodium:

70mg
Carbohydrates:

10g
Fiber:

0g
Sugar:

8g
Protein:

0g
Nutrition is calculated automatically so should be used as an estimate.