Harissa roasted Brussels sprouts make for a mouth watering side dish. Oven roasting sprouts brings out their best flavor and texture, and pairs beautifully with the North African chile paste.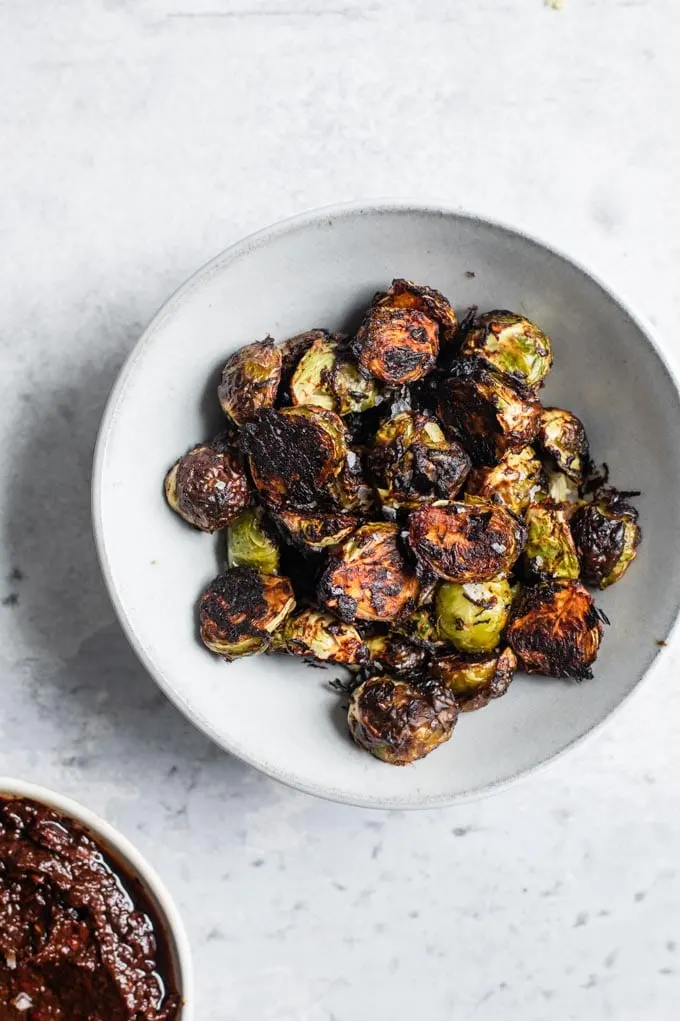 Brussels sprouts go on repeat in our house every fall and winter. Tossing them in harissa before roasting is possibly my favorite way to enjoy them!
When roasted Brussels sprouts turn tender on the inside with crispy caramelized outer leaves. They become irresistible and snackable, and the perfect accompaniment to just about any meal!
There are many ways to enjoy roasted Brussels sprouts and one should certainly explore all types, but there's something about the combination of nutty, sweet roasted Brussels sprouts and the fiery harissa that gets me every time.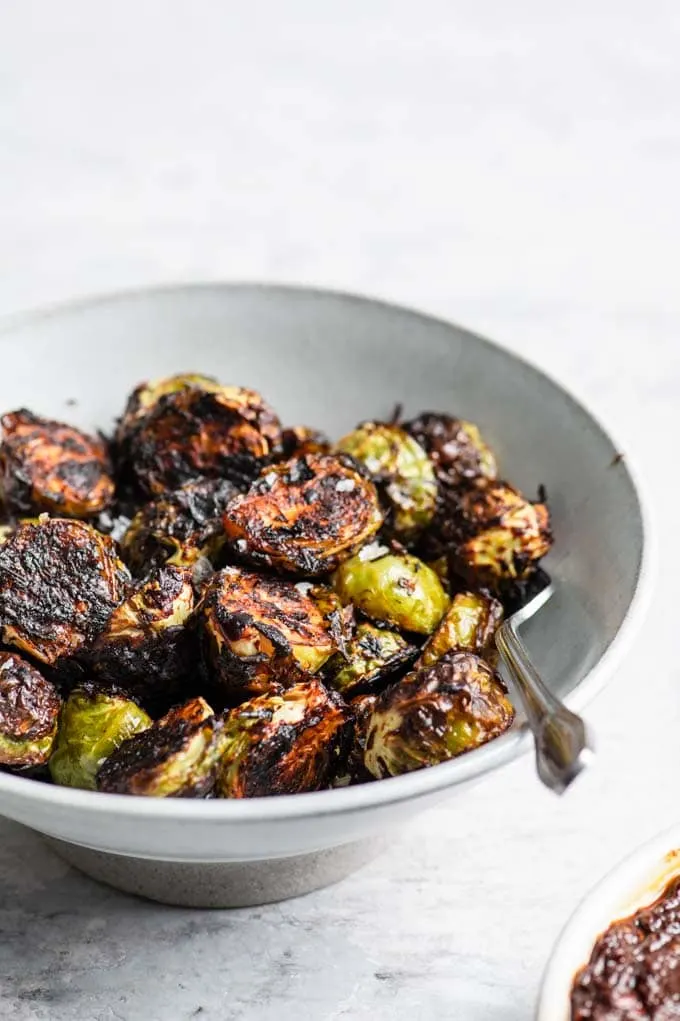 You should think of this more as a starting off point and method, less of a recipe. You can add spices or garlic, use more or less harissa paste, cut the heat with a splash of sweetened vinegar (e.g. apple cider vinegar) or lemon juice.
Pair these harissa roasted Brussels sprouts with creamy pastas, stews, casseroles, sandwiches, salads, grain bowls and more!
What is Harissa?
Harissa is a dried chile paste from Northern Africa. It can be spicy or mild, amped up with spices or seasoned simply with garlic and salt. Whatever your harissa, it will make for a great dressing for Brussels sprouts.
You can buy store bought bottled harissa, or make your own. I've done both and my roasted Brussels come out great every time!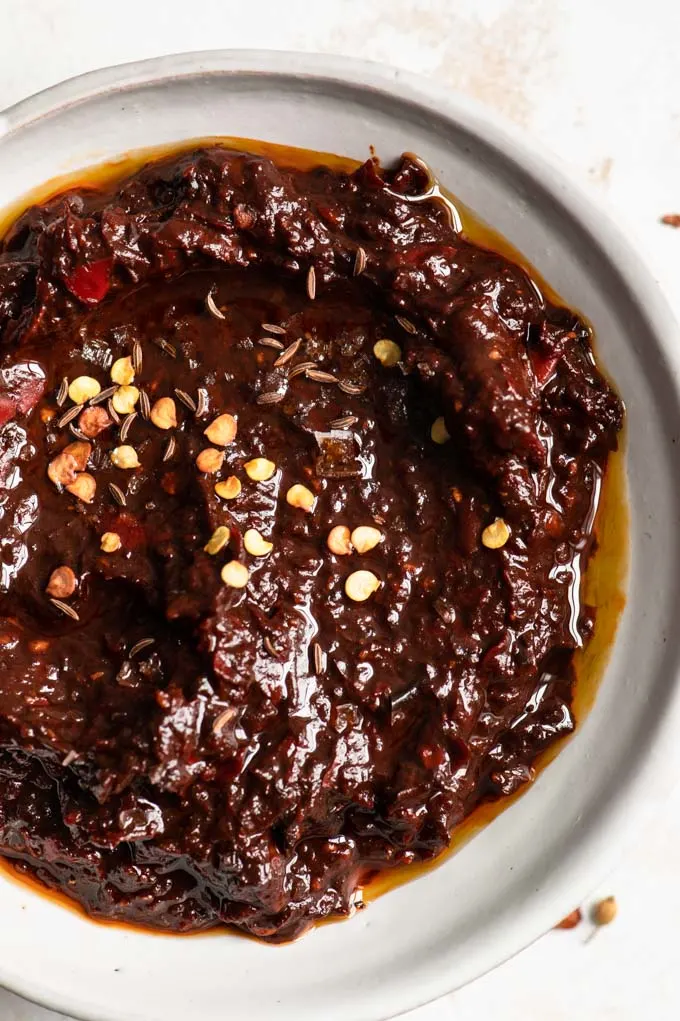 The only thing I suggest is to know your own spice tolerance, if you know you can't handle your spice, choose a mild harissa. If making it yourself, this means using less of the spicy dried chiles and more roasted red pepper.
If like me, you enjoy spicy food, go for the hot stuff! You can also use more or less harissa to get the level of flavor you prefer.
If using a harissa with no spices (typically cumin and caraway, sometimes also coriander and paprika as well) you may want to add a little seasoning such as cumin to the mix.
Tips for roasting Brussels sprouts:
When it comes to cooking Brussels sprouts, it doesn't get better than roasting them in the oven. Luckily, they're a fall crop, hitting peak ripeness at exactly the time of year we don't mind cranking those ovens up!
Brussels sprouts are best when cut in half (or quarters if your sprouts are very large). This gives them a flat surface that crisps up nicely in the oven and helps them cook more quickly.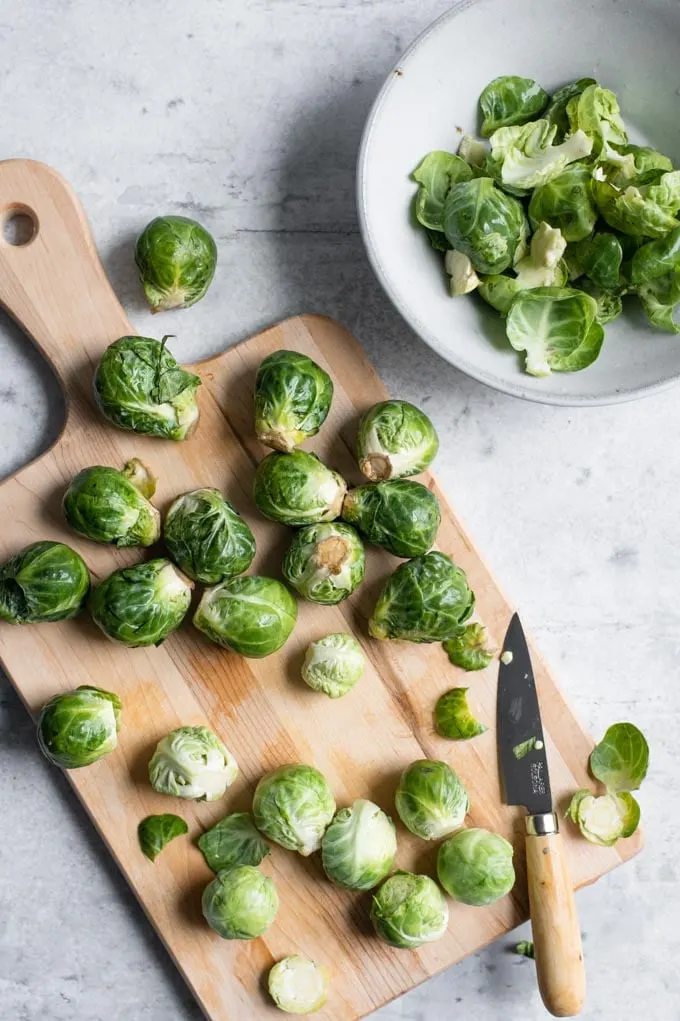 To trim your Brussels sprouts, cut off the end of the stems, and remove any outer leaves that look wilted and damaged. Then cut them in half, and any larger sprouts in quarters so that they all are more or less the same size.
For the Brussels sprouts to cook perfectly, you need to add some oil. We're not deep frying them here! Just coating them evenly in some oil to aid caramelization and crisping!
In a large mixing bowl toss the sprouts in oil, harissa, and salt. How much of the latter depends on your taste preferences and how salty the harissa is.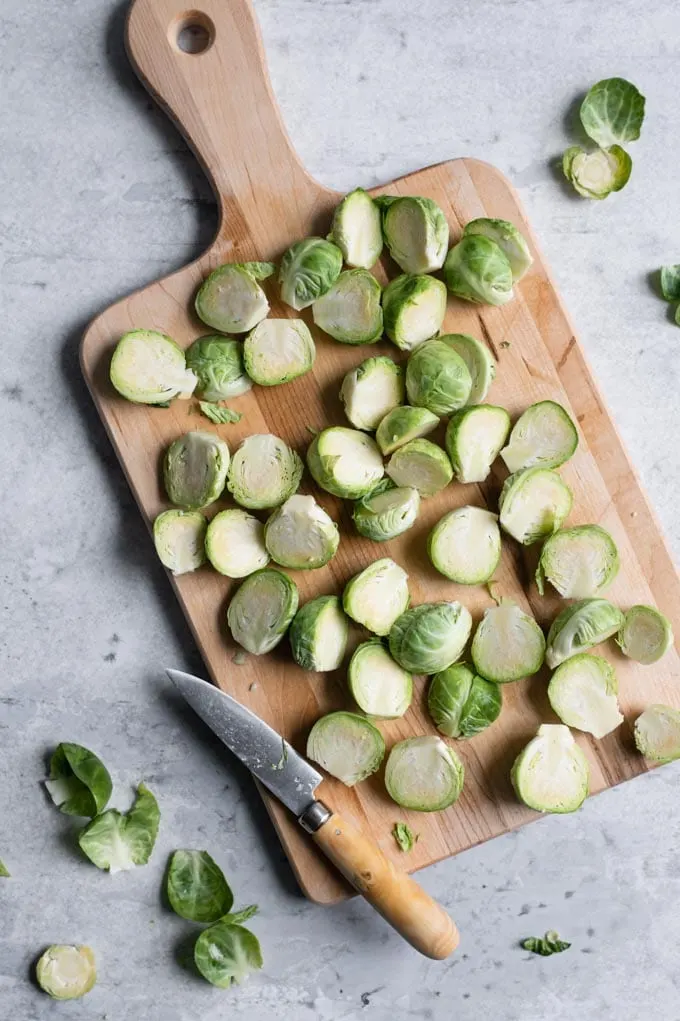 Taste the harissa paste before deciding how much salt and harissa to add. Keep in mind you can always add more harissa and salt after the sprouts are out of the oven!
Once seasoned, arrange the sprouts on a parchment or silicon mat lined baking tray. Include any stray leaves that may have separated during the seasoning process.
Single sprout leaves crisp up (think kale chip not) and are SO good. Just note they'll cook faster so you may want to remove them before the rest of the sprouts are done cooking.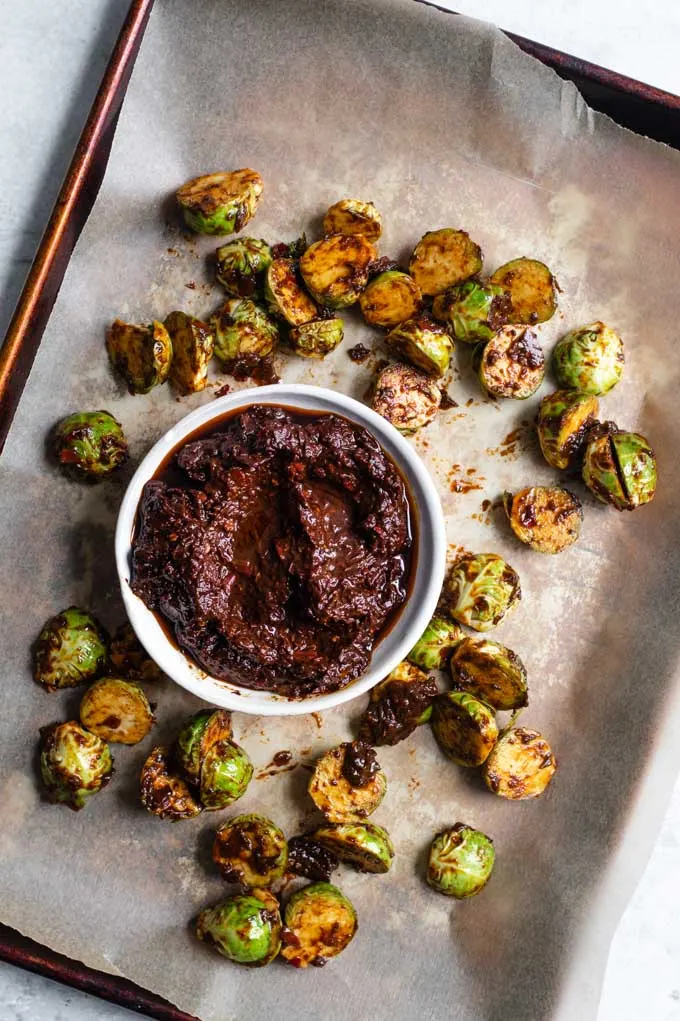 Now all that's left is to cook them! When it comes to roasting Brussels sprouts (and most vegetables), high temperatures give best results.
This means bake these at 425 ºF (use a convection setting if your oven has one! You'll save time–they cook in about 20% less time–and energy). You don't have to stir these halfway through, but you can if you'd like.
After baking, taste a sprout and add any additional salt, harissa, or seasoning you deem necessary. A squeeze of lemon juice never goes amiss!
Try pairing these harissa roasted Brussels Sprouts with: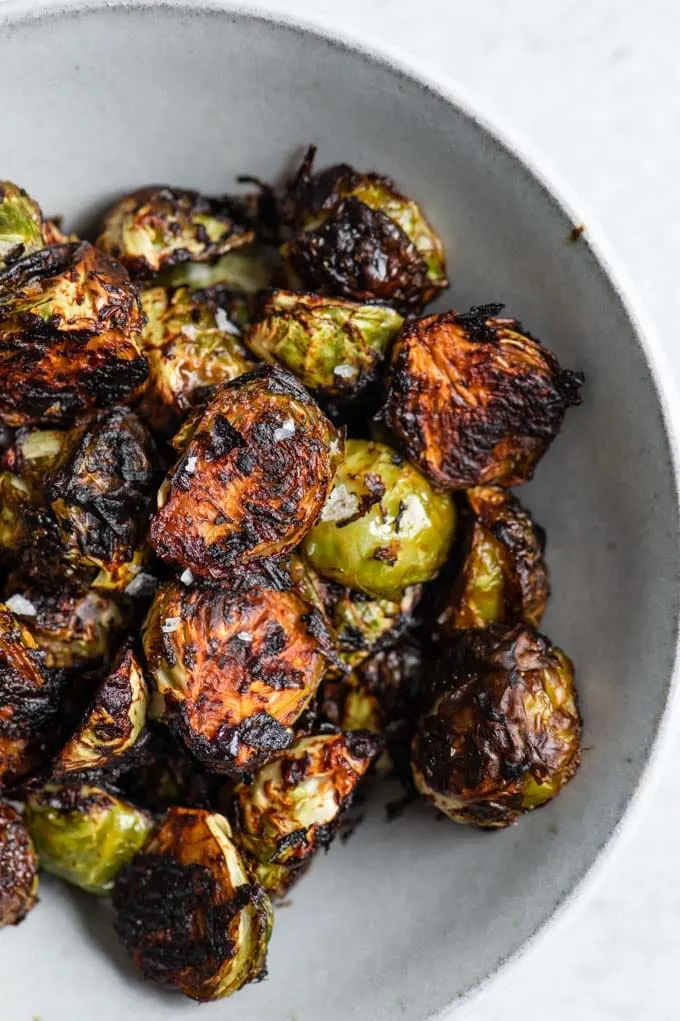 If you make these harissa roasted Brussels Sprouts, leave a comment below and rate the recipe on the recipe card. And please share your photos with me on Instagram, tag @thecuriouschickpea and #thecuriouschickpea. I love seeing your recreations!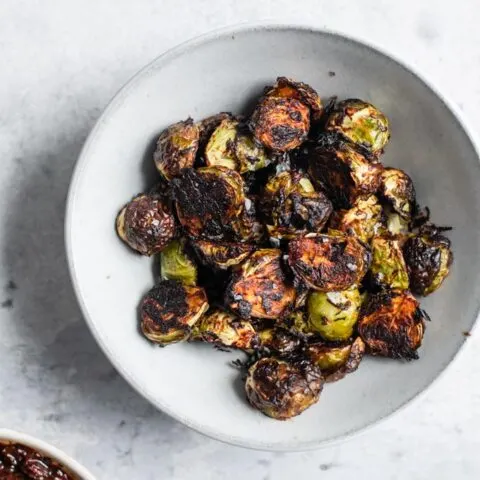 Harissa Roasted Brussels Sprouts
Brussels sprouts are tossed in a spicy harissa paste and roasted until soft and caramelized for the perfect side dish!
Ingredients
1 lb Brussels sprouts
1 tbsp oil
1-4 tbsp harissa paste, to taste
salt, to taste
Instructions
Preheat oven to 425 ºF and line a baking tray with parchment paper.
Wash the Brussels sprouts, trim their bottom stems, and remove any discolored or damaged leaves. Cut the Brussels sprouts in half, or in quarters if they are very large.
Toss the Brussels sprouts in the oil and harissa (use 1 tablespoon for milder Brussels sprouts, or up to 4 for a fiery side). Sprinkle with salt.
Arrange the sprouts in a single layer on a baking tray (face down will get that beautiful browned bottom). Roast for about 25 minutes, or until the Brussels sprouts are tender and caramelized. Add more salt or harissa to taste.
Notes
There are spicy and mild harissa pastes. I used my spicy homemade one (which you can make milder as well). Taste the paste before using to know how much you would enjoy on the sprouts. You can always add more after they are cooked! The same goes for salt--some pastes will be very salty and others not. Add a sprinkling to begin and you can always salt more later.
Also note that some harissa pastes are heavy on the spices and some use very little, if you use one that is mainly chiles, garlic, and olive oil, feel free to add some spices to this dish--cumin, coriander, caraway, and paprika are all common in harissa.
Recommended Products
As an Amazon Associate and member of other affiliate programs, I earn from qualifying purchases.
Nutrition Information:
Yield:

4
Serving Size:

1
Amount Per Serving:
Calories:

95
Total Fat:

6g
Sodium:

283mg
Carbohydrates:

10g
Fiber:

4g
Sugar:

2g
Protein:

3g
Nutrition is calculated automatically so should be used as an estimate.