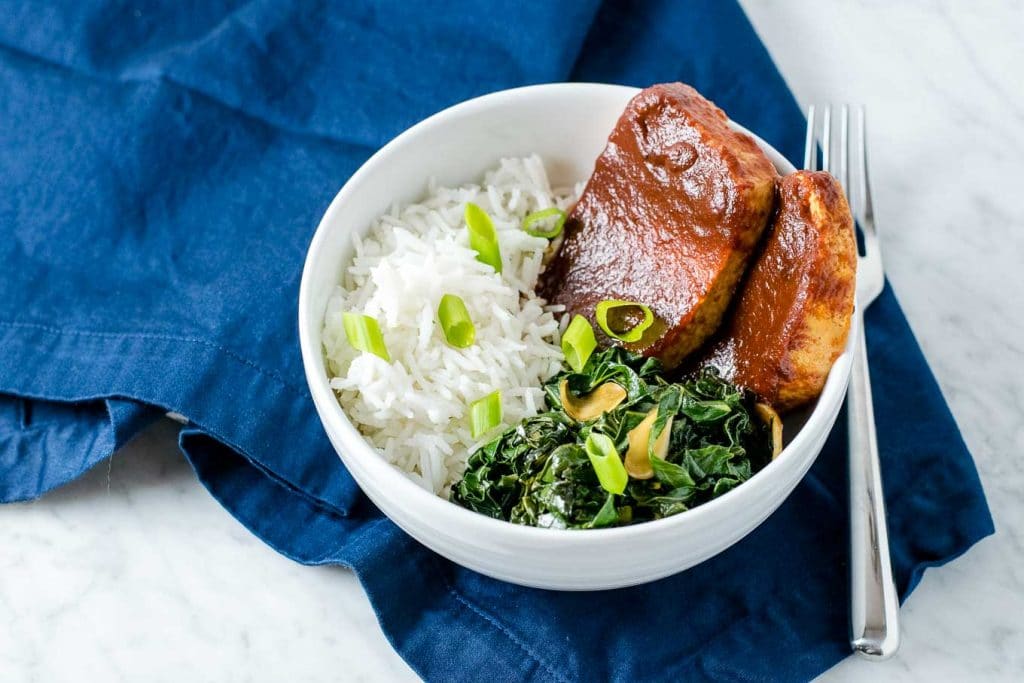 I spent too long thinking about how to share these recipes. Because while they are really good together, they are also excellent on their own. And I worried that if I shared them in the same post I'll get people thinking that if they're trying one they HAVE to try the other.
On the other hand, I love having complete meals handed to me, and together this is it: protein, green veggies, and carbohydrates. So if you want to make BBQ tofu but want to serve it with some cooked broccoli instead, do it.
Or if you want to make the collards to serve alongside some beans or a sandwich or something, do it. Both the tofu and the greens are great mix-and-match dishes.
There are probably a million and one barbecue sauce recipes out there, and seemingly as many available pre-packaged at the store. If you've never made a homemade barbecue sauce before, I implore you to try it!
This one happens to be really easy to make, and it's zippy and tangy and so flavorful. All you need is a blender and some pantry friendly ingredients. It's so quick to throw together for a last minute/you forgot to plan ahead sort of dinner.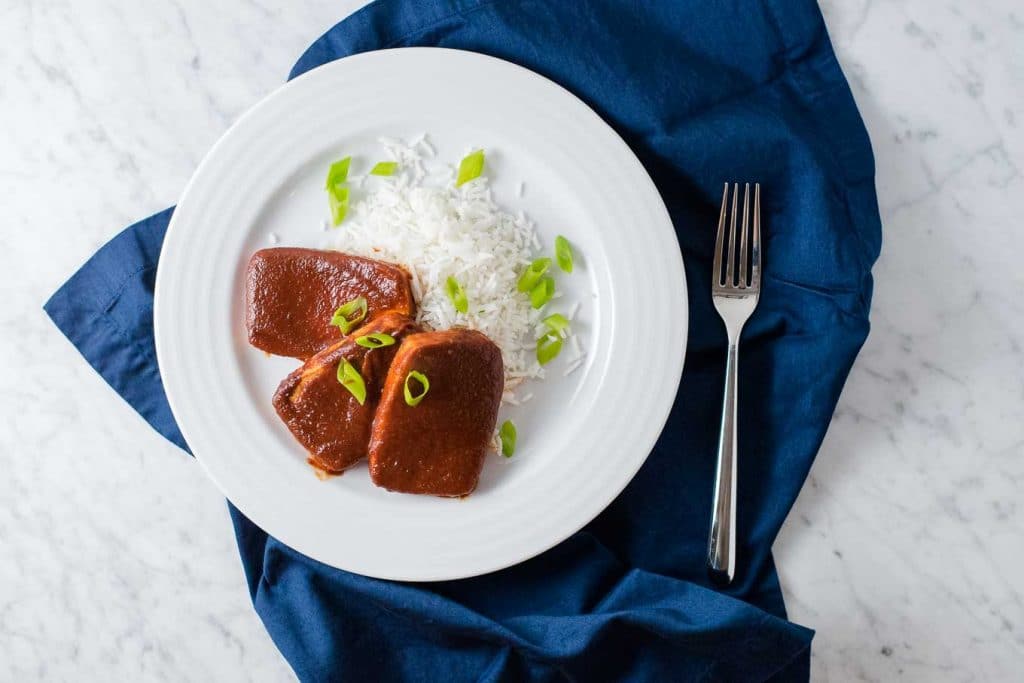 It's easy to love barbecue sauce for that sweet and sour, spicy, and smoky flavor and this sauce is no exception. Tomato paste provides the tomatoey base for the sauce, and maple syrup the sweetness.
Add pomegranate molasses (see notes), a syrup made from pomegranate juice, for it's sweet and tangy flavor. I'm not actually a huge molasses fan, but I love this stuff and substitute it for molasses all the time. But, even if you love molasses I think you'll enjoy this pomegranate stuff too!
Red wine vinegar and vegan Worcestershire sauce provide additional tanginess and soy sauce adds some of that umami filled saltiness. To spice it you add garlic, onion powder, smoked paprika (for extra smoky flavor!) and chipotles with their adobo sauce.
I like my food to have a kick to it, and BBQ sauces are no exception. You can adapt this to your desired level of heat. If you're heat sensitive make sure to remove the seeds and membrane and perhaps use only one. If you are like my dad, and only get excited about your dinner if it's super spicy and you think 2 chipotles is nothing, don't seed them and possibly add more. It's your call!
Tofu pairs well with barbecue sauce, because it let's the bold BBQ flavor shine. When baked, tofu gets nice and chewy, and coated with thick flavorful sauce. Bonus–it's all hands off. Let your oven do the cooking! And meanwhile, you can prep and cook your vegetables (and grain/carb of choice!).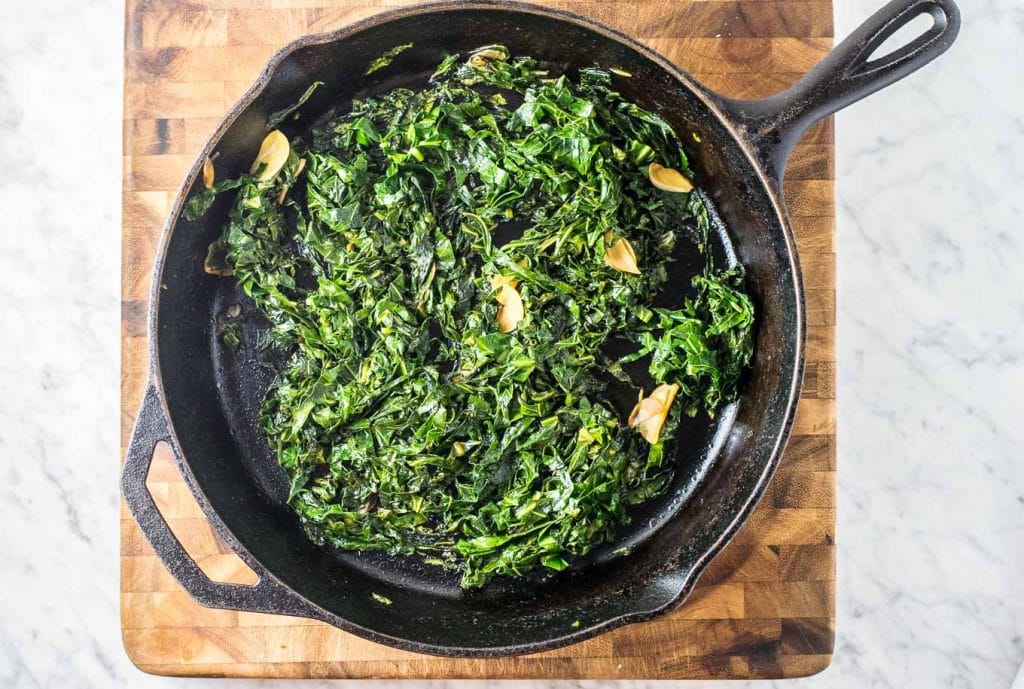 These collard greens cook up smoky and tender. Flavored with thinly sliced garlic, which is fried in a little oil until lightly caramelized to soften the otherwise sharp bite.
Seasoned further with umami rich soy sauce, a little bit of maple syrup for sweetness, some tabasco for an undertone of spice, and liquid smoke because smoky collard greens are the best. This dish is cooked in under 10 minutes, making it the perfect last minute accompaniment to so many things, including the BBQ tofu.
Let me know in the comments if you make this dish, rate it, or tag me on Instagram!
Notes:
Pomegrate molasses can be found in a well-stocked international section of your local grocery store (or possibly with the regular molasses), as well as in a middle eastern grocery store. You can also order it online!
The collard greens recipe can also be used as a method to cook kale.
If your bunch of collard greens weighs a lot less than 1 lb, just reduce the soy sauce mixture proportionally.
If you want to use the barbecue sauce as is, I recommend simmering it on the stove for around 15 minutes to allow the flavors to meld and have it thicken.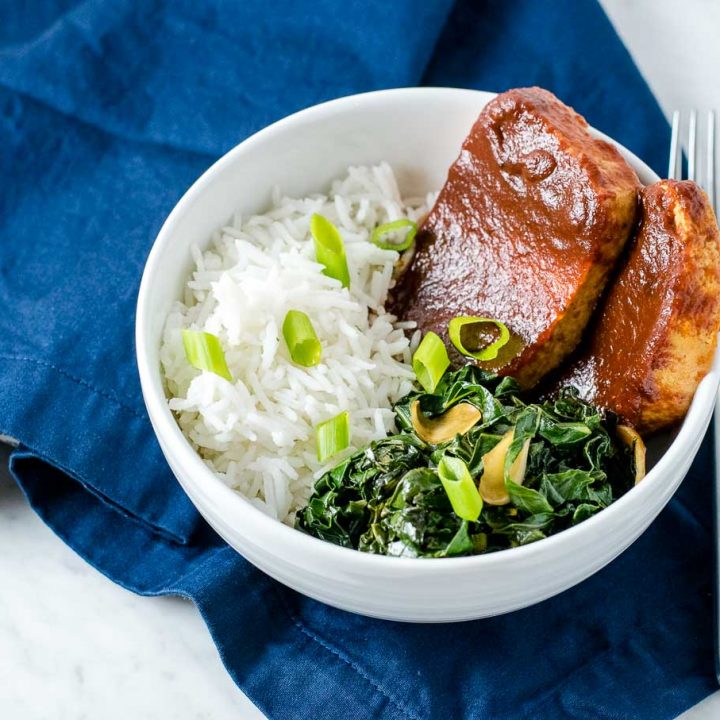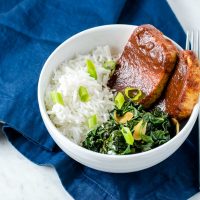 Chipotle Barbecue Tofu with Smoky Collard Greens
Yield: 4 servings

Prep Time: 10 minutes

Cook Time: 50 minutes

Total Time: 1 hour

Tofu is baked in a spicy, smoky barbecue sauce and served with smoky flash fried collard greens
Ingredients
BBQ sauce
1 6oz can tomato paste (~2/3 cup)
1 1/2 cups water
1/4 cup maple syrup
2 tbsp pomegranate molasses*
2 tbsp soy sauce
2 tbsp red wine vinegar
1 tsp vegan Worcestershire sauce*
2 cloves garlic, smashed and peeled
2 chipotles in adobo, seeded
1 tbsp adobo sauce
1 tbsp smoked paprika*
1 tsp onion powder
1/2 tsp salt
lots of freshly ground black pepper
Smokey Collard Greens
1 large bunch (~1 lb) collard greens
3 tsp oil, divided
pinch of salt, or more to taste
2 cloves garlic, thinly sliced
2 tbsp soy sauce
2 tsp maple syrup
1 tsp tabasco or hot sauce
1/2 tsp liquid smoke
To serve
Rice, quinoa, or mashed potatoes
scallions for garnish
Instructions
To make the bbq tofu
Preheat the oven to 400 ºF
While the oven is preheating, press the tofu. Cut the tofu into 8 slices widthwise. Arrange the slices on a lint free kitchen towel, or paper towel. Wrap the towel around the tofu to cover and then place a heavy skillet, pot, or a baking sheet and some books on top. Leave to drain for around 30 minutes.
Meanwhile, make the barbecue sauce. Place all ingredients into a blender, and process until smooth.
When the tofu is pressed and the oven is hot, pour some barbecue sauce into the bottom of a baking dish (9" square or 9 x 13" both work). Place the tofu on top of the sauce and pour the rest of the sauce over the tofu. Bake for 20 minutes, then remove from the oven and carefully flip the tofu. Bake an additional 20-25 minutes. The barbecue sauce should be thick and bubbly. Let cool for a few minutes before serving.
To make the Collards
Prepare the collard greens. Wash them thoroughly and cut away the tough stem. Taking several leaves at once, stack them and then roll the stack into a tight cigar shape. Then holding the log together with one hand, cut it into thin strips. Set aside and repeat once or twice until you've cut all the greens.
In a small bowl, measure out the soy sauce, maple syrup, hot sauce, and liquid smoke. Set aside.
Heat a large skillet over medium heat. Add 1 tsp of oil, and then add the collard greens and a pinch of salt. Cook for 3-5 minutes, stirring occasionally, until the collard greens are wilted, tender, and bright green.
Move the collards over so they only cover about half the pan. In the empty space, add the remaining 2 tsp of oil and the sliced garlic. Cook the garlic in oil, stirring, for about 60 - 90 seconds or until it is lightly golden. Then stir everything together.
Add the soy sauce mixture to the greens and cook for another minute or so, until the sauce is thick and absorbed. Taste, and add salt if desired. Remove from heat.
Serve the tofu and collard greens with some rice or mashed potatoes and sprinkle scallions on top for garnish.
Notes
*Pomegranate molasses can be substituted for regular molasses if needed

*If you can't find/don't have Worcestershire sauce, you can substitute tamarind concentrate, steak sauce, or just leave it out

*If you don't have smoked paprika use regular paprika, and add a splash (~1/2 tsp) of liquid smoke, if desired
Nutrition Information:
Yield: 4 Serving Size: 1
Amount Per Serving:Calories: 654 Total Fat: 14g Saturated Fat: 2g Trans Fat: 0g Unsaturated Fat: 10g Cholesterol: 1mg Sodium: 1553mg Carbohydrates: 121g Fiber: 8g Sugar: 86g Protein: 20g