Tofu is baked in a smoky chipotle barbecue sauce and served with sweet and smoky flash fried collard greens and your choice of grain for an easy and delicious dinner! It's vegan and gluten free, so perfect for everyone!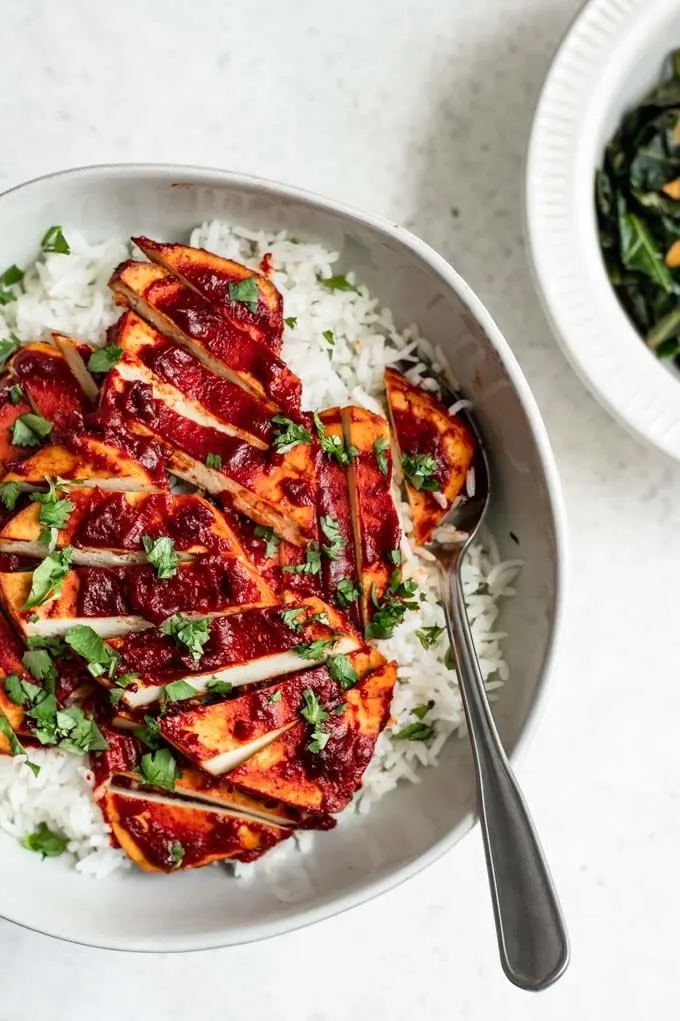 Everyone needs a go to baked tofu recipe to feed our inner hippie. It really doesn't matter if you're vegan or just trying to eat a bit more plant based! Good baked tofu is for everyone!
And this might just be my favorite stand alone baked tofu meal. Tofu, baked with a delicious homemade chipotle barbecue sauce and served with rice (or potatoes or vegan mac and cheese) and smoky collard greens.. it's just so delicious!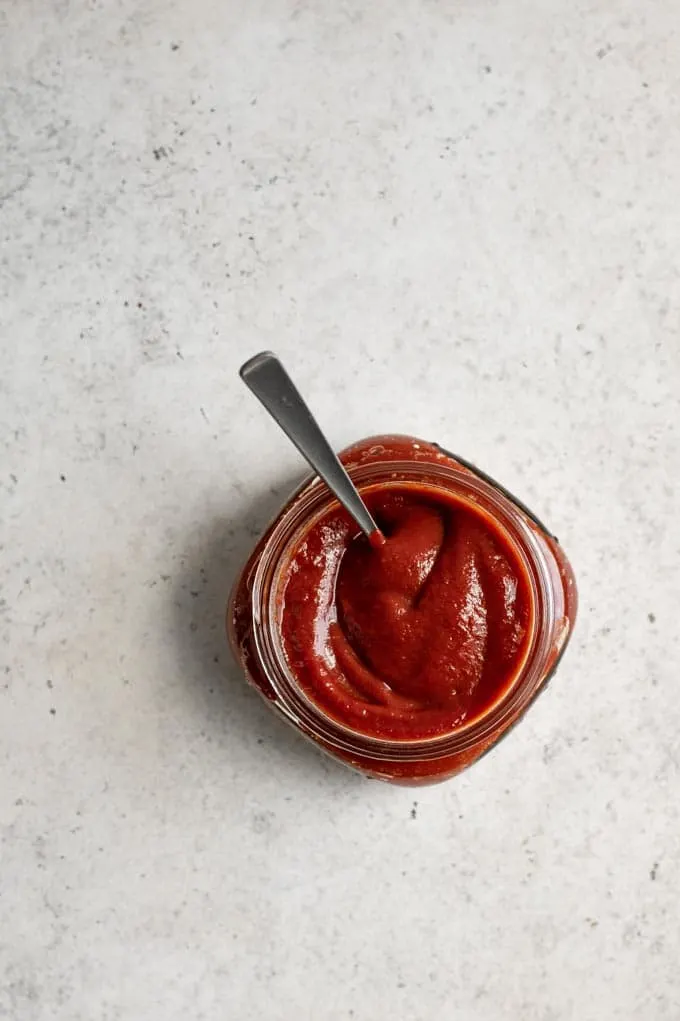 We've been making some version of this recipe for years, but this is the barbecue baked tofu to end all barbecue baked tofus! And it starts with the barbecue sauce–the easiest barbecue sauce there ever was!
It is such a delicious barbecue sauce, I had to give it its own recipe post. But I've also left the recipe at the bottom of this post so keep scrolling to find it!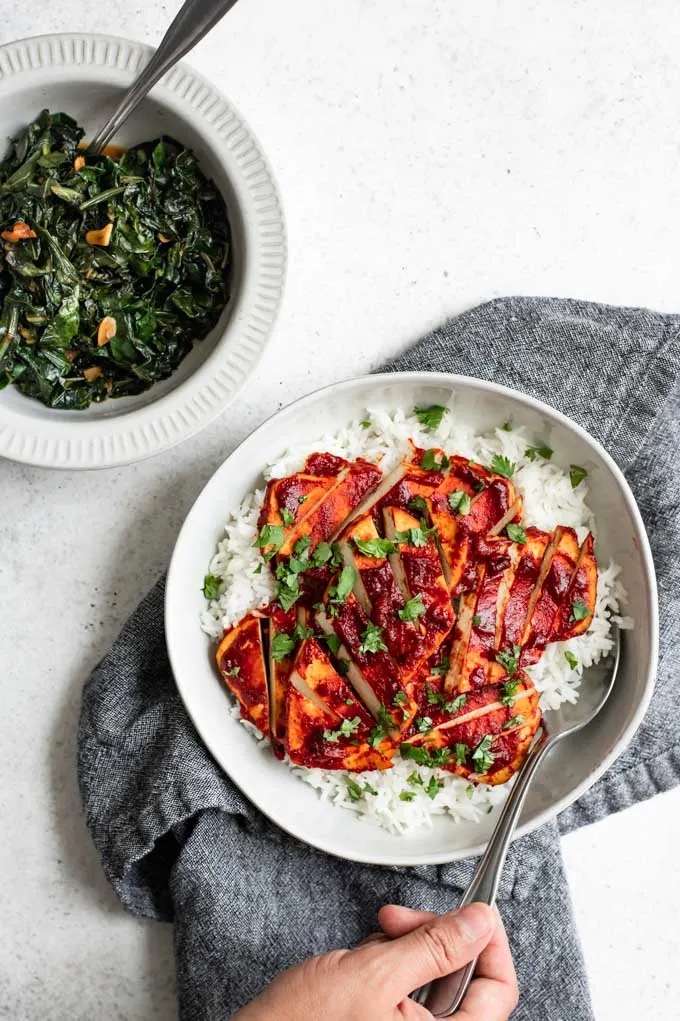 While you certainly could use a store bought barbecue sauce to make this recipe, the homemade version is easier and tastier, so I implore you to try it! It's zippy and tangy, and oh so flavorful! And pantry friendly, so easy to throw together as a last minute meal.
Tofu pairs so well with barbecue sauce, because it lets the bold BBQ flavor shine. When tofu is baked, it gets nice and chewy, and thickly coated with the flavorful sauce.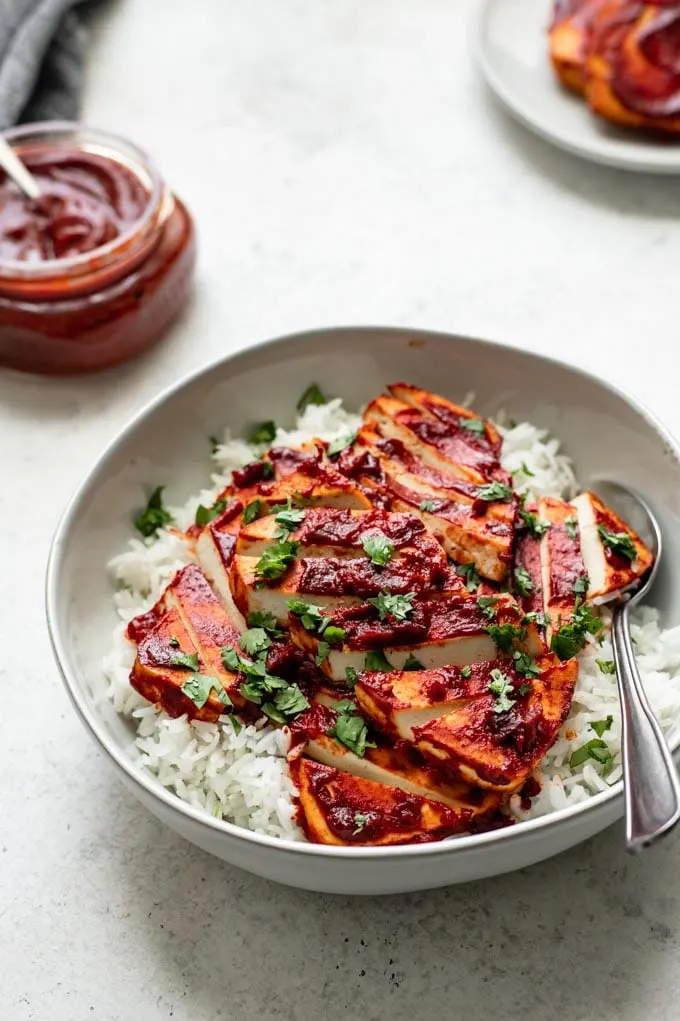 Making the baked chipotle barbecue tofu:
To get a delicious baked tofu first choose the firmest tofu available to you. Typically that's going to be extra firm or super firm tofu.
If using extra firm or a firm tofu then press out extra water from the tofu. If using super firm tofu there is no need to press the tofu as it already has more of the liquid pressed out of it.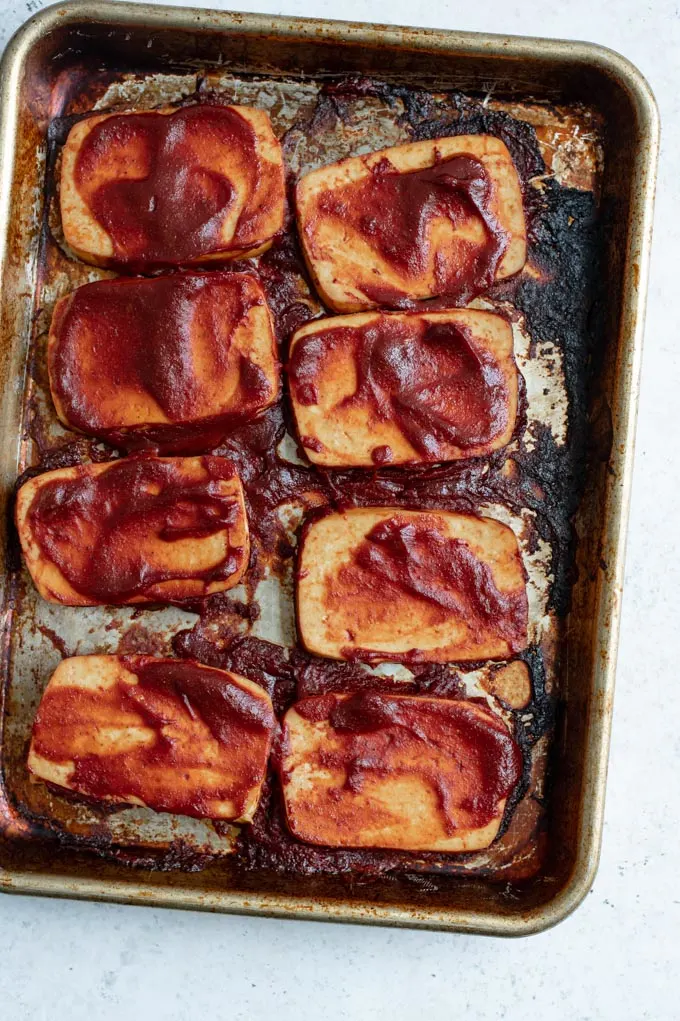 To press the tofu, cut it into 8 slices and wrap it in either paper towels or a lint free kitchen towel. Then place something heavy on top, like a cast iron pan, or a cutting board with some cookbooks or canned goods placed on top.
Pressing the extra water out of the tofu makes for a firmer tofu and improves the texture. It also opens up space for some of the flavors to soak into the tofu.
Once pressed, the recipe couldn't be simpler. Layer some barbecue sauce in the bottom of the pan, add the tofu, and pour sauce over to cover the tofu. Then bake the tofu until the sauce is thickly coating the tofu and glossy, flipping the tofu halfway through.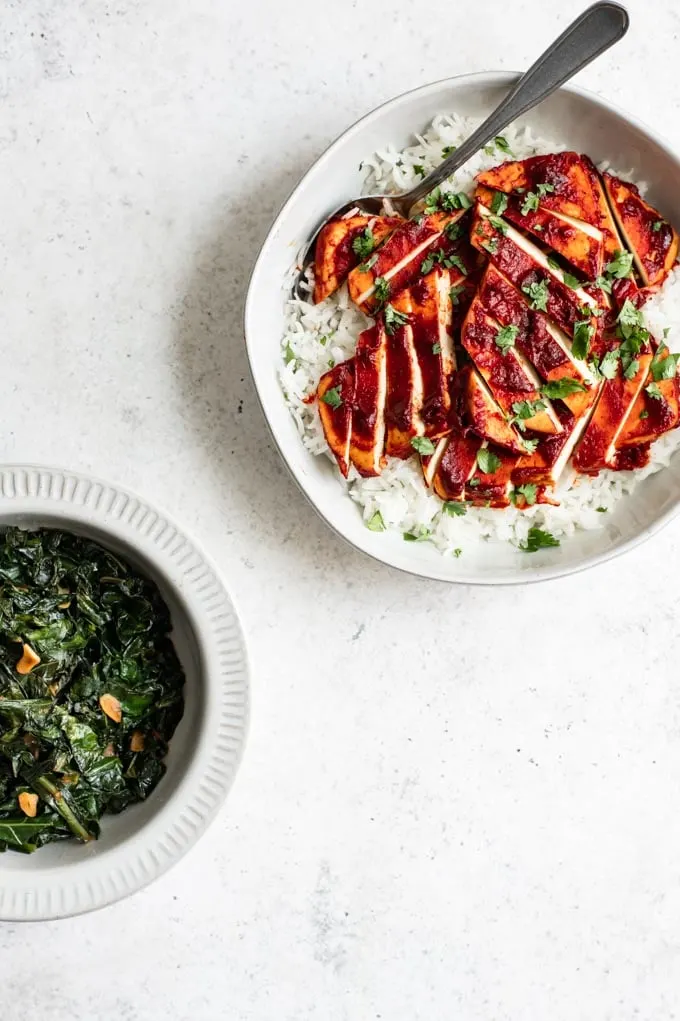 While the tofu is baking is a great time to make a veggie side to go with it.
My favorite pairing is my smoky collard greens (recipe also posted at the bottom of this page). But if you'd rather have some steamed or roasted broccoli, or brussels sprouts, or whatever else go ahead and make it!
But assuming you follow suit and make the smoky collard greens, they take about 15 minutes from start to finish so it's can be casually taken cooked while the tofu bakes!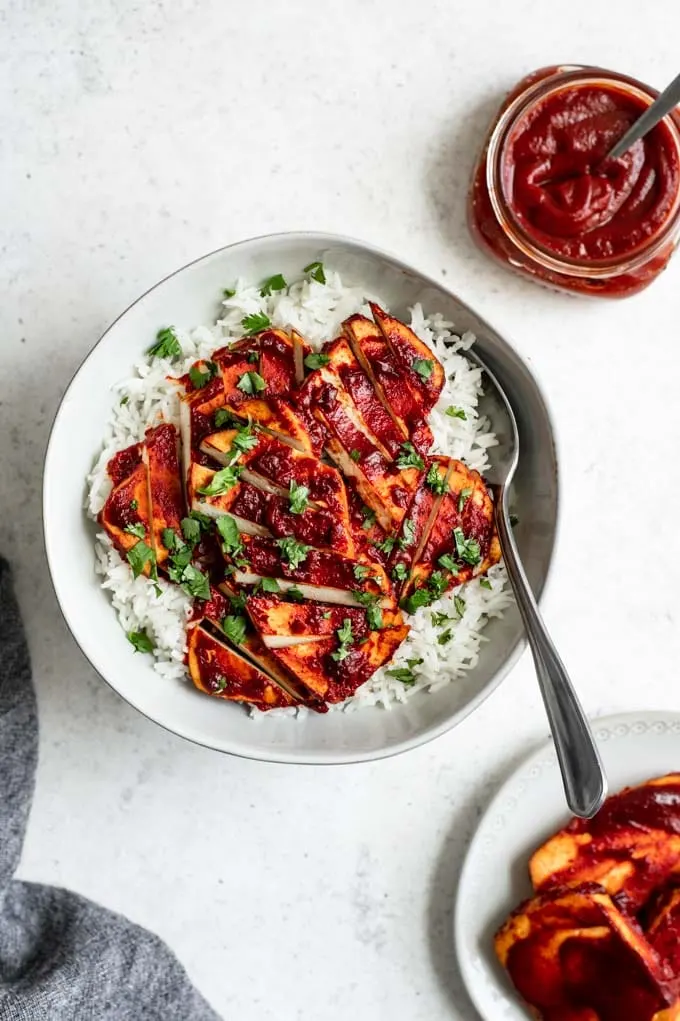 It's also a good time to prepare any carbs or grains you want to serve alongside the tofu. Unless you're making brown rice or another slow cooking grain, and in that case you'll want to get that started while you're pressing the tofu.
I love this recipe because of how hands off it is! The barbecue sauce is no cook and comes together in minutes. Your oven does all the work cooking the tofu, and the collard greens are so quick and easy to make.
It makes for a delicious summer barbecue plate, or will warm you up on a cold winter day. I hope you enjoy this recipe as much as we do!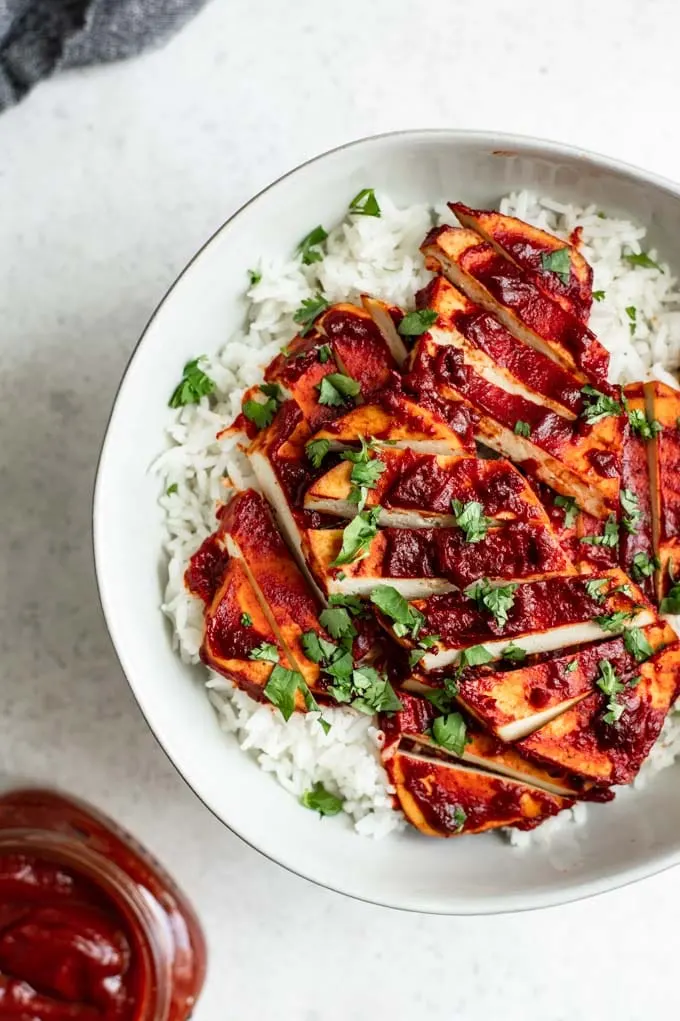 This recipe was originally posted on April 25, 2017. A photo from the original post is below!