This moist and tender carrot cake is studded with walnuts and laced with cinnamon and warming spices for a perfect sweet treat! It's easy to make and just happens to be vegan. A light layer of vegan cream cheese frosting finishes it off for a dessert that is as beautiful as it is delicious.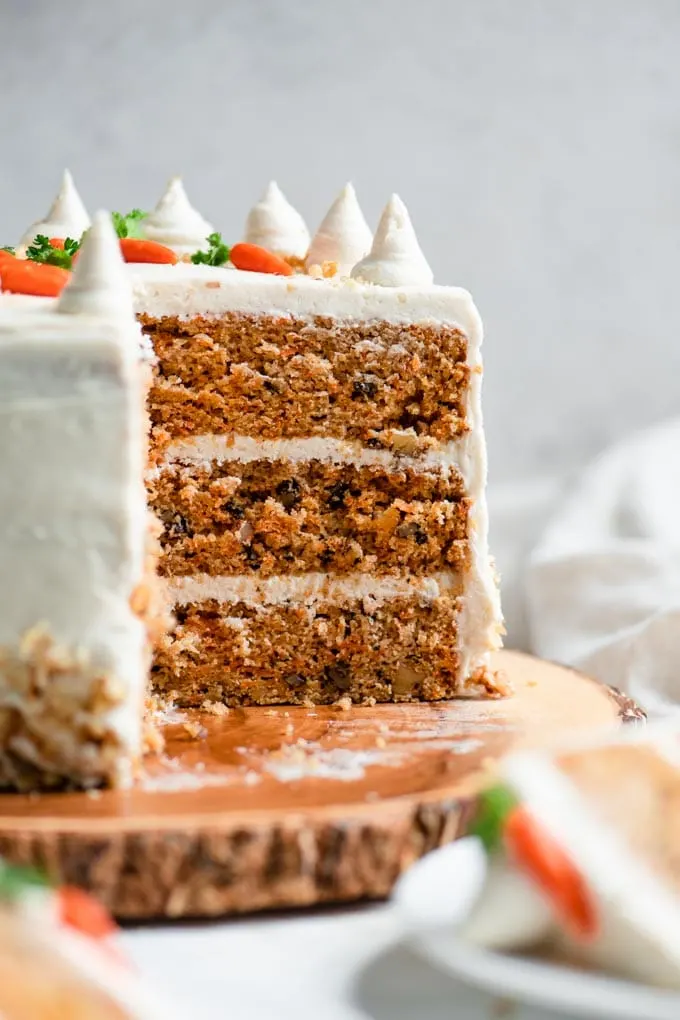 The perfect carrot cake should be pillowy and soft, well spiced and fragrant. It should be sturdy enough to hold up to stacking for a layer cake, and frosted with cream cheese frosting.
My ideal carrot cake is full of juicy, freshly grated carrot and contain plenty of chopped walnuts. No raisins are invited to this cake party!
This cake demands generous slices and big forkfuls. Consider yourself warned.
Serve it for a spring treat, birthday parties, or just because–just because cakes may be my favorites, we are all always deserving!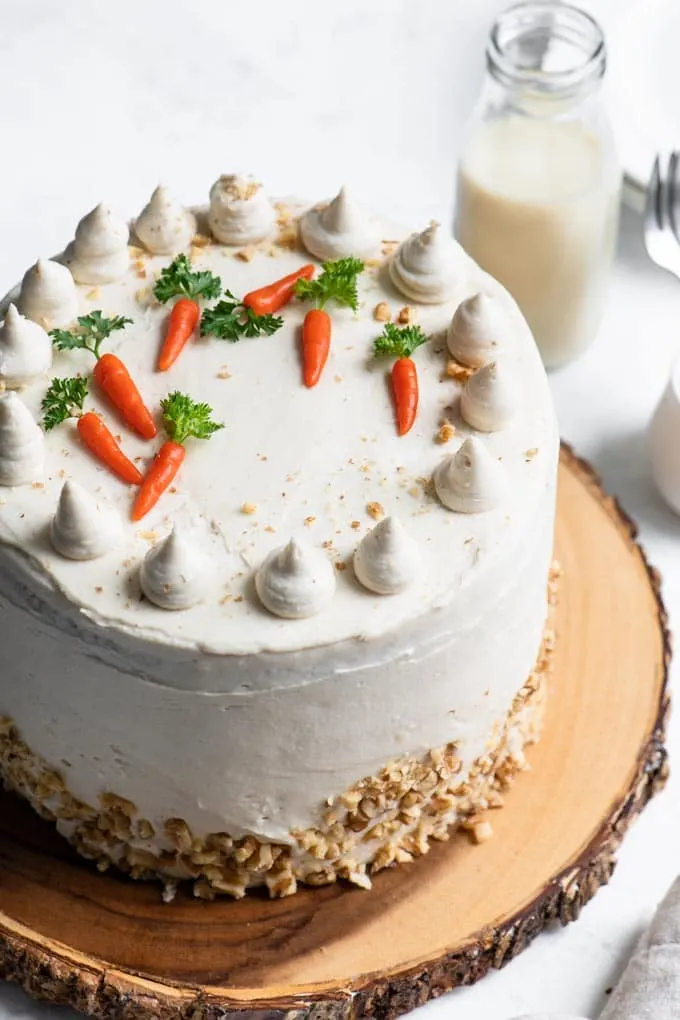 How to make a vegan carrot cake:
It's actually quite easy to make vegan cake. No eggs mean less fuss and less chance of over mixing things.
Cow's milk is easily substituted for your choice of non-dairy milk. My personal preference is soy milk or oat milk, but if you prefer another that works as well.
The rest of the ingredients are pretty standard: flour, sugar, baking powder & baking soda for leavening, oil, salt, spices, vanilla extract. A splash of vinegar tenderizes the cake and reacts with the baking soda for a light and fluffy cake texture.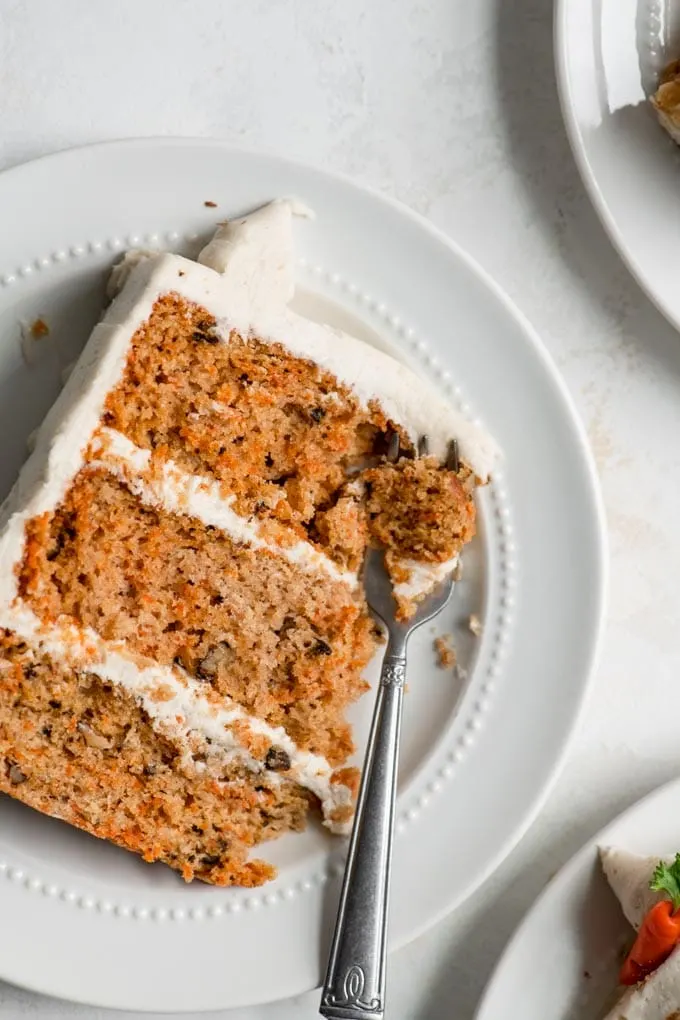 Carrot cake and cinnamon go together like peanut butter and jelly (your your favorite classic combo ?), but I also add some ground ginger and nutmeg for additional doses of warming spices. It leads to a deliciously spiced cake and the aroma is simply irresistible!
I have found white sugar to make a superior carrot cake crumb. Brown sugar leads to an almost too moist cake, and the stronger flavor of the molasses in the sugar overpowers the delicate flavors of the spices and carrots.
Of course you can't forget the carrots when making carrot cake! Use finely grated carrots for best results.
If you want to skip the walnuts you can, and if you want to add raisins, well, I can't stop you.
How to measure your flour:
When it comes to cakes, the ingredients are only half the battle. The method is just as important!
I always recommend weighing your ingredients when baking. Cakes, breads, cookies–all of these benefit from the consistency of weighing.
Kitchen scales are inexpensive, and baking with them requires a lot less clean up! Plus it makes it easy to double to recipe or halve it.
But if you need to measure your ingredients by volume there are ways to be more consistent. You will always get best results if you measure with the same method that the recipe writer does.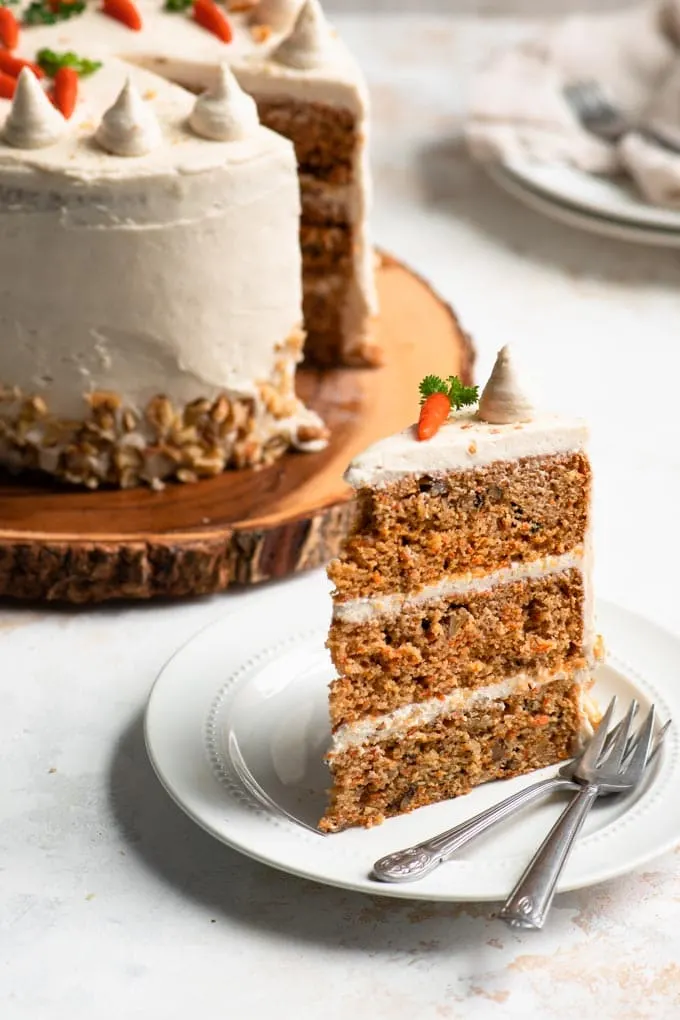 Specifically, mis-measuring flour is what can really throw your recipe off. Flour settles in your cabinet, and if you scoop versus if you spoon flour into your measuring cup can really change how much flour you get per cup.
Too much flour in your cake can lead to a dense and dry cake, while too little flour can lead to a wet cake that doesn't bake in the written amount of time.
To properly measure your flour for my recipes: whisk your flour to undo any settling. Then scoop your measuring cup into the flour, and finally level flour with the backside of a butter knife.
The other ingredients are not as finicky for measuring by volume as flour is, but it still helps to weigh everything (except ingredients that are very light and used in small quantities, e.g. the spices, baking soda, baking powder, & salt).
Let's bake some vegan carrot cake!
Now that you know all the ingredients and how to properly measure your flour, let's make the cake!
Before you do anything, preheat your oven and prepare your baking pan(s). Spray the pans with oil, then add a cut out of parchment paper to cover the bottom of the pan. This leads to easy removal after baking.
Go ahead and peel and grate your carrots. Freshly grated carrots make better carrot cake. You'll want to peel them (even if you buy organic) because in my experience unpeeled carrots can brown quickly and we want those vibrant pops of orange in your final cake!
Now you're going to mix together your dry ingredients. Combine flour, sugar, baking powder, baking soda, salt, and spices in a large mixing bowl. Fluff and combine with a whisk.
This is important: do not add any wet ingredients until your oven is preheated!
Add the plant milk, oil, vanilla extract, and apple cider vinegar to your dry ingredients.
Switch to a wooden spoon (the batter will be thick) and mix the ingredients together until it's mostly cohesive. Some dry powdery spots are ok, but make sure that you don't have a big clump of unmixed flour at the bottom of the bowl.
Add the freshly grated carrots and walnuts (if using) and gently fold these in. This should take care of any remaining dry spots.
Transfer the batter to your prepared baking pan(s) and smooth the batter with a spatula or back of a spoon to spread the batter to fill the pan and flatten the tops.
You'll bake your cakes until a tester comes out clean and the edges of the cake start to pull away from the pan.
Let the cake cool in the pan for several minutes before turning them out, removing the parchment paper from the bottom of the cake and letting cool completely on cooling racks.
Making the cakes in advance and storing the cakes:
You can bake your cakes in advance, but due to the more perishable nature of carrots, I recommend just baking them 1 day in advance or freezing for longer storage.
To store your cakes, place a cardboard cake round underneath the cake and wrap the cake in plastic wrap. To help trap moisture in you can then place the wrapped cake in a large ziplock bag.
Store the wrapped cakes in the fridge until ready to use, or freeze for longer storage. Let defrost in the fridge before frosting.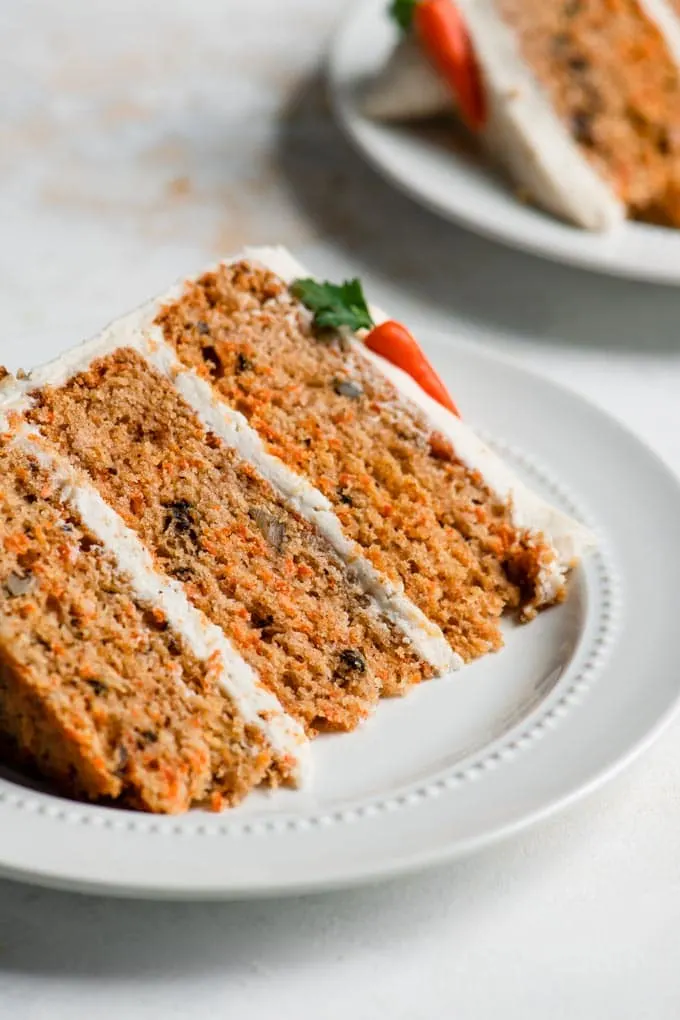 Frosting the vegan carrot cake:
I'm frosted this cake with a simple vegan cream cheese frosting which I love with carrot cake! But you can definitely make another kind if you prefer!
The cream cheese frosting recipe (found below the cake recipe) makes just enough to frost a 3 layer 8-inch cake with a little piping flourish (exactly how I've decorated it in these photos), and more than enough for a 2 layer cake.
It's easiest to frost a cold cake, so I always recommend refrigerating your cake for at least a few hours (wrapped up in plastic wrap so it doesn't dry out) before frosting.
These cakes bake quite flat, but for even layers you can level the top of the cake with a bread knife or a cake leveler tool. There are a lot of tutorials out there if you google, or you can check out this one by Wilton.
Layer the cakes with frosting between each cake, then spread a thin layer of frosting to coat the cake. This is called a crumb coating. Refrigerate the cake for about 10 minutes or until the crumb coating is "set" (a bit firm). Then add more frosting for a thicker layer.
Look at my post about my Vegan Aquafaba Italian Meringue Buttercream for step by step photos of frosting a layer cake.
My cream cheese frosting can be stiff enough for piping, but you'll want to refrigerate it for a firmer texture before doing so. I just add some to a piping bag and place that in the fridge until it's firm enough to pipe and hold points!
Once frosted, the buttercream will crust and hold its shape.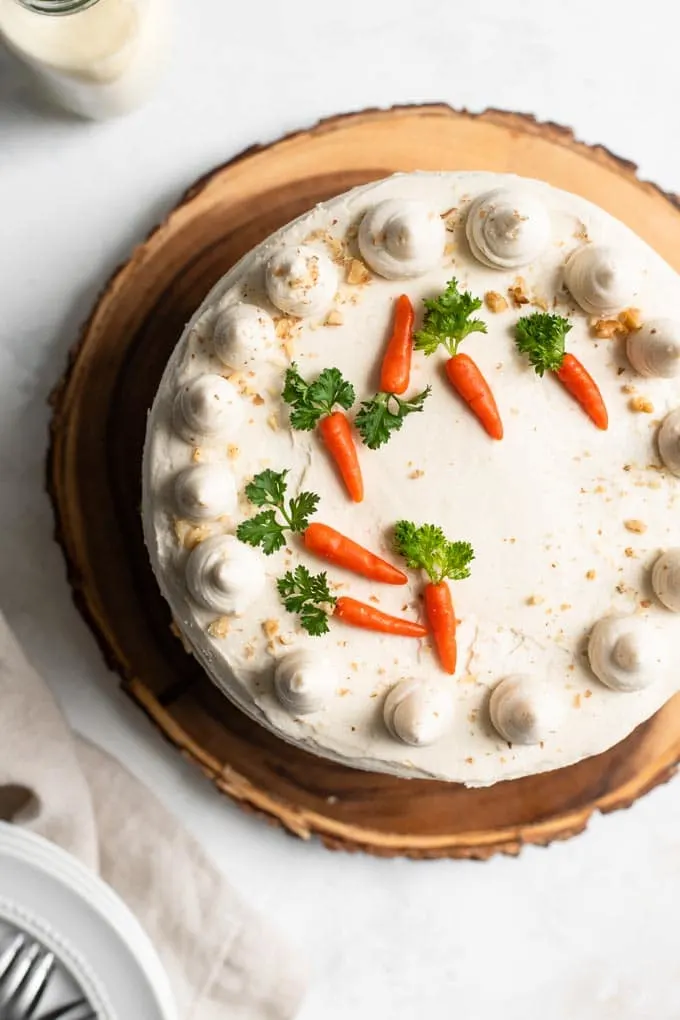 The final decorating flourishes:
To finish off the cake I pressed some chopped walnuts into the bottom third. You'll want to do this while the frosting is still fresh and before it crusts.
Just cup some walnuts in your hand and gently press it into the sides of the cake. The more natural and haphazard this is done the better it looks in my opinion!
To finish off the decor I made marzipan carrots. I got store bought marzipan (check that it's vegan), mixed in orange food coloring (technically I mixed together red and yellow to make orange) while wearing food prep gloves to not stain my hands.
Then roll little carrot shaped pieces, and use a tooth pick to add texture to the carrots.
Make a depression in the top of the carrots and stick a small piece of parsley in the tops for the green flourish. I'd remove the parrsley before eating or alternatively you can pipe the green top in with green frosting.
I only used 1/4 of the package of marzipan for these carrots and it made 2 dozen.
Note: Marzipan gets a big weepy when on the cake stored in a sealed container. To keep your decorations looking nice, do not add it until soon before you are ready to serve the cake!
You can make the carrots in advance and store in a plastic or parchment lined storage container, then plop them on the cake when ready to serve.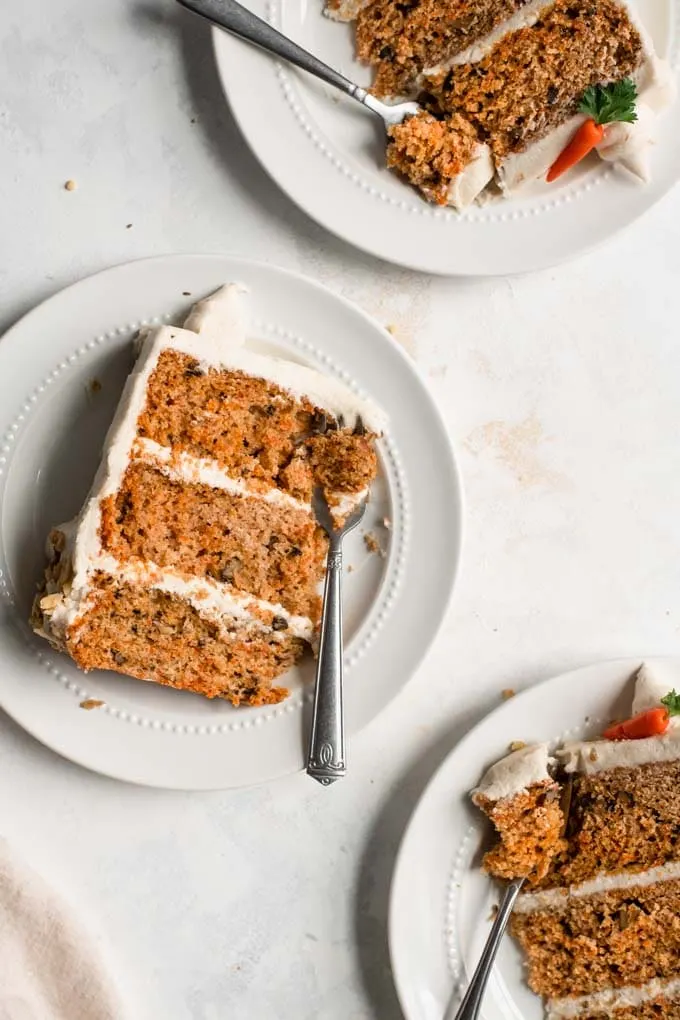 If you enjoyed this recipe, check out and share my Easy Vegan Carrot Cake Story with your family and friends!
If you make this easy vegan carrot cake, leave a comment below and rate the recipe on the recipe card. And please share your photos with me on Instagram, tag @thecuriouschickpea and #thecuriouschickpea. I love seeing your recreations!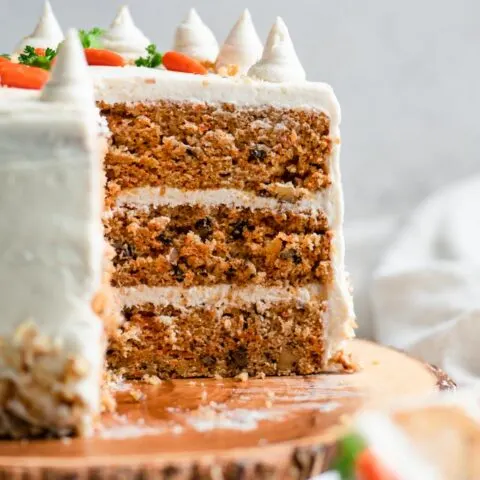 Easy Vegan Carrot Cake
This perfectly spiced vegan carrot cake is soft and tender and incredibly easy to make! Make it into a layer cake with instructions for both 6-inch and 8-inch cakes.
Ingredients
One 8-inch cake or Two 6-inch cakes
1 1/2 cups (200g) all purpose flour
3/4 cups (150g) granulated white sugar
1 1/2 tsp (7g) baking powder
1/2 tsp (2.5g) baking soda
1 tsp (6g) salt
1 tsp ground cinnamon
1/2 tsp ground ginger
1/4 tsp ground nutmeg
1/2 cup (120g) plain non-dairy milk
1/4 cup (56g) oil
2 tsp (10g) apple cider vinegar
2 tsp (10g) vanilla extract
1 cup (100g) grated carrot
1/2 cup (60g) chopped walnuts (optional)
Two 8-inch cakes
3 cups (400g) all purpose flour
1 1/2 cups (300g) granulated white sugar
1 tbsp (14g) baking powder
1 tsp (5g) baking soda
2 tsp (10g) salt
2 tsp ground cinnamon
1 tsp ground ginger
1/2 tsp ground nutmeg
1 cup (240g) plain non-dairy milk
1/2 cup (112g) oil
4 tsp (20g) apple cider vinegar
4 tsp (20g) vanilla extract
2 cups (200g) grated carrot
1 cup (120g) chopped walnuts (optional)
Instructions
Preheat the oven to 350 ºF. Prepare your baking pans by spraying them with oil, then placing a cut piece of parchment paper to fit the bottom on the pan. Set aside.
In a large mixing bowl whisk together the flour, sugar, baking powder, baking soda, salt, cinnamon, ginger, and nutmeg.
Once the oven has preheated, add the plant milk, oil, apple cider vinegar, and vanilla extract and mix in with a wooden spoon so that it is mostly combined. Some dry patches are ok.
Fold in the grated carrot and chopped walnuts (if using).
Divide the cake between the prepared pans and gently spread the batter to fill the pans and flatten the top.
Bake at 350 ºF until a tester comes out clean and the edges start to pull away from the sides of the pan. For a 6-inch cake this is 27-28 minutes, for an 8-inch cake this is 34-36 minutes.
Let cool in the pan for 5-8 minutes, then gently turn out of pan. Peel off the parchment paper from the bottom of the cake, then flip upright on a cooling rack and let cool to room temperature.
Place the cakes on cardboard rounds and wrap them in plastic wrap. Refrigerate to chill before frosting.
Notes
To measure your flour by volume: whisk the flour in its container to undo any settling, then scoop with the measuring cup and level with the back of a butter knife. Any other method may lead to over or under measuring your flour for this recipe.
To make the grated carrot: peel the carrots, then grate with the smaller shredding side on a box grater. You can also use a food processor with a grater attachment.
Use a neutral flavored oil like canola, safflower, sunflower, or vegetable oil.
Recommended Products
As an Amazon Associate and member of other affiliate programs, I earn from qualifying purchases.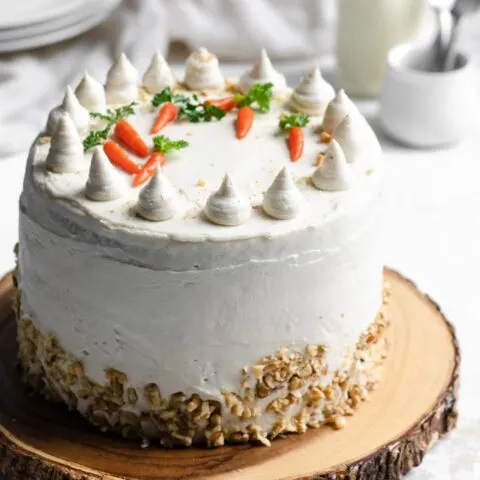 Vegan Cream Cheese Frosting
This vegan cream cheese frosting is perfect for frosting layer cakes, topping cupcakes or muffins, or decorating cookies.
This recipe makes enough to frost an 8-inch layer cake (two to three layers) or about 2 dozen cupcakes.
Ingredients
8oz (1 cup) vegan butter, softened (use the kind in a stick, not tub)
8oz tub vegan cream cheese, softened
28-32oz (7-8 cups) powdered sugar, sifted
1 tsp vanilla extract
Instructions
Mix the vegan butter and cream cheese together with a handheld mixer or with the whisk attachment of a stand mixer until they are creamed and fluffy.
Add the sugar 1 cup at a time (sift before adding), turning the mixer on slow and incorporating in each cup before adding the next.
Once the frosting is as firm and sweet as you like it (it will firm up more when refrigerated), turn the mixer on high and let mix for a few minutes for a smooth and fluffy frosting. Add the vanilla extract and mix it in.
Then, switch to a paddle attachment (skip this step if not using a stand mixer) and mix on low speed for 1-2 minutes.
Use right away, or refrigerate briefly for to firm up before using.
Notes
Let your vegan butter and cream cheese warm on the counter to a cool room temperature (about 20 minutes) before using. Otherwise they may split when whipped together.
If your frosting does split, just continue with the recipe, it should come back together when you add the sugar. If that doesn't do the trick, try refrigerating it for 10-20 minutes then rewhipping.
You can store frosting in the fridge or freezer if made in advance. Before using, bring the frosting to room temperature then rewhip to fluff up the frosting.