This easy vegan cream cheese frosting can be made stiff enough to hold shape for simple piping or silky enough for a more casual frosting look. It's perfect on carrot cake, pumpkin cake, spice cakes (e.g. my chai spice cake), banana bread, for frosting cookies, and more!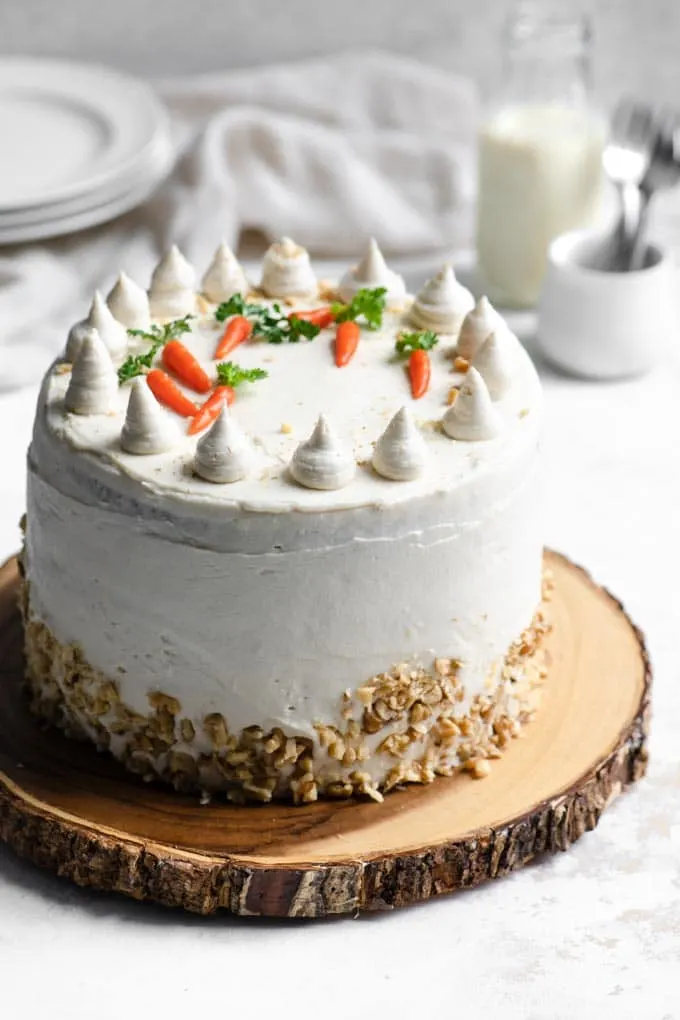 Cream cheese frosting is so easy to make vegan. It's sweetness is balanced by the tang of the cream cheese and its so beautifully spreadable.
Making vegan cream cheese frosting is as simple as swapping out the dairy butter and cream cheese for vegan versions!
What vegan cream cheese to use?
You'll want to choose a cream cheese that is firm so that the frosting is not too soft.
It should resemble the brick style of dairy cream cheese in texture, not whipped.
You should also consider if it has coconut oil in it, because coconut oil at a warm room temperature starts to turn to liquid and so the frosted cake will not be as stable in warm environments.
This isn't an issue if the cake is refrigerated or if it's kept below 75 ºF (but ideally cooler than room temperature).
I personally don't worry about spending extra money on the more expensive, fancier vegan cream cheeses (and let's face it, generally more tasty too!) when I make frosting, but that's personal preference!
What vegan butter to use?
There are plenty of options these days when it comes to vegan butter!
The main rule when it comes to frosting is that you want to use the stick style of vegan butter, not the tub style (which can contain more water and not make as firm of a frosting).
The only other thing to consider is if it's made using coconut oil or not. Similarly to the cream cheese, you don't want to use a vegan butter with coconut oil as the base if your decorated cake is going to be subjected to warmer temperatures.
How do I know if my powdered sugar is vegan?
I know. Not all sugar is vegan. This is because during the refining process, cane sugar is often bleached with animal bones and the like.
If you buy organic sugar, this ensures it will be vegan! Some brands also mention on the packaging if their sugar is vegan.
It's also up to you if you are going to worry about how your sugar is refined, I'm certainly not telling you how to live your life! But if you're baking for other's its best to ask before assuming if they will or won't care.
Sift your powdered sugar before measuring (if measuring by volume). Organic and more natural powdered sugar can be clumpier and we don't want any clumps in our frosting!
How much powdered sugar to use? You give a big range!
This depends on how you want to use it. If you want a stiff frosting that can hold its shape when piped you'll need more powdered sugar.
If you want a softer frosting or one that is less cloying, you should use less powdered sugar.
The frosting will firm up when refrigerated, so if it's the sweetness you prefer but it's still softer than you'd like–chill it for a bit and see if it gets to the desired consistency.
The same goes if you want to pipe it, chill it to firm up before piping! I'll preload a piping bag if I'm just doing some decorative detail, then refrigerate that while I frost the cake. By the time I'm done with the cake, the frosting in the piping bag is firm enough to pipe!
If you make this vegan cream cheese frosting, leave a comment below and rate the recipe on the recipe card. And please share your photos with me on Instagram, tag @thecuriouschickpea and #thecuriouschickpea. I love seeing your recreations!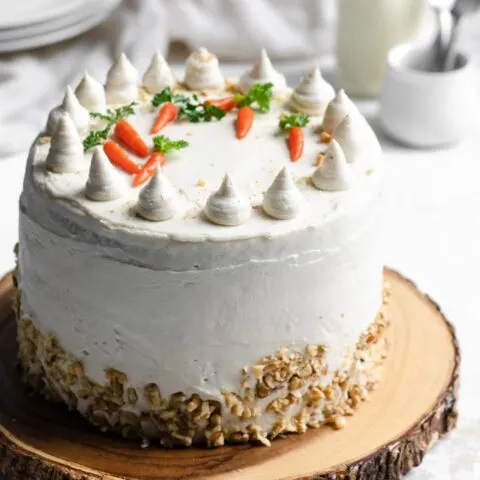 Vegan Cream Cheese Frosting
This vegan cream cheese frosting is perfect for frosting layer cakes, topping cupcakes or muffins, or decorating cookies.
This recipe makes enough to frost an 8-inch layer cake (two to three layers) or about 2 dozen cupcakes.
Ingredients
8oz (1 cup) vegan butter, softened (use the kind in a stick, not tub)
8oz tub vegan cream cheese, softened
28-32oz (7-8 cups) powdered sugar, sifted
1 tsp vanilla extract
Instructions
Mix the vegan butter and cream cheese together with a handheld mixer or with the whisk attachment of a stand mixer until they are creamed and fluffy.
Add the sugar 1 cup at a time (sift before adding), turning the mixer on slow and incorporating in each cup before adding the next.
Once the frosting is as firm and sweet as you like it (it will firm up more when refrigerated), turn the mixer on high and let mix for a few minutes for a smooth and fluffy frosting. Add the vanilla extract and mix it in.
Then, switch to a paddle attachment (skip this step if not using a stand mixer) and mix on low speed for 1-2 minutes.
Use right away, or refrigerate briefly for to firm up before using.
Notes
Let your vegan butter and cream cheese warm on the counter to a cool room temperature (about 20 minutes) before using. Otherwise they may split when whipped together.
If your frosting does split, just continue with the recipe, it should come back together when you add the sugar. If that doesn't do the trick, try refrigerating it for 10-20 minutes then rewhipping.
You can store frosting in the fridge or freezer if made in advance. Before using, bring the frosting to room temperature then rewhip to fluff up the frosting.