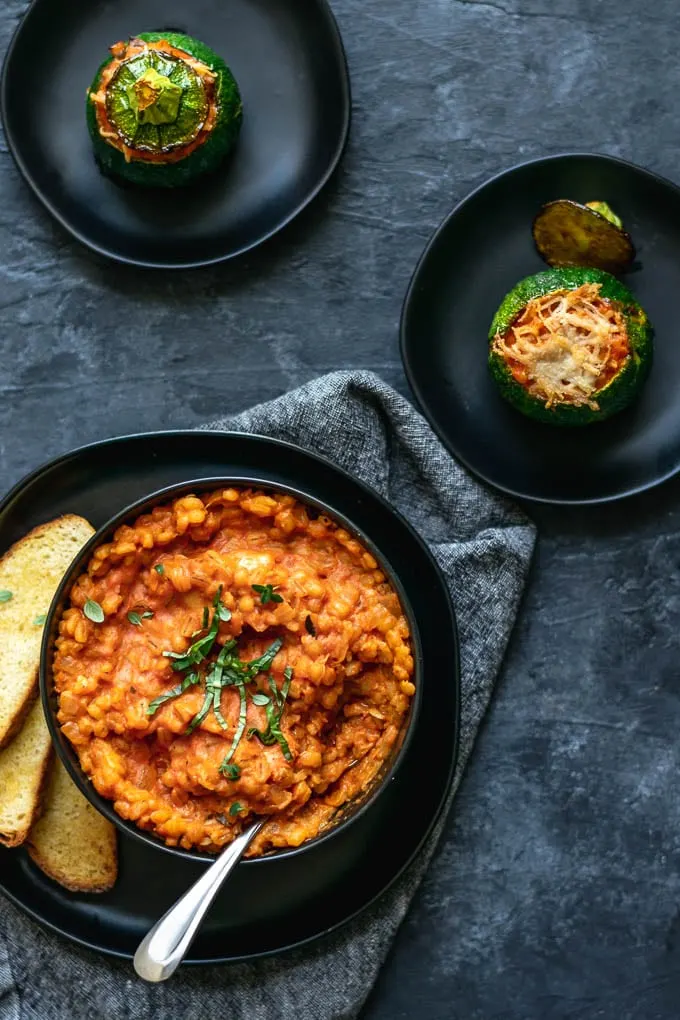 Barley risotto is like regular arborio rice risotto's chewy, hearty cousin. It's still ultra creamy, it's decadent tasting, and guess what–it's much simpler to make! You've got to try this creamy vegan barley risotto stuffed zucchini. You heard me, stuffed zucchini!

You might be used to seeing barley in hearty winter stews or maybe a veggie burger or two (personal favorite of course is my stuffed mediterranean veggie burgers made with barley). But you can do so much more with it!
Like make risotto, who would've guessed!? I mean you, because you're already looking at this recipe, but whatever, haha.
I believe in getting a large variety of grains in my diet. I mean sure, wheat is my one true [grain] love and rice is great, but sometimes you just need to branch out, and barley is a great grain to enjoy!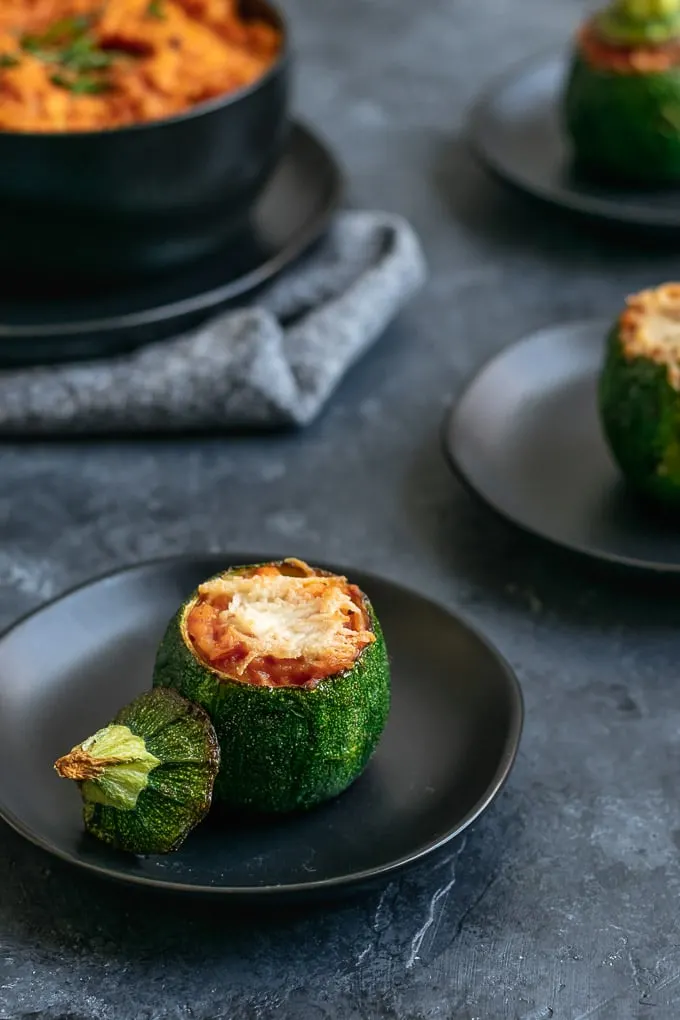 Barley is super high in fiber, higher than all the other whole grains! Of course this is only somewhat relevant as we used pearled barley, which is the most commonly found kind of barley at grocery stores in the US.
Pearled barley has had the hull removed, and the mechanical polishing process removes part to all of the bran at the same time. The bran is the part of the grain which contain most of the fiber and vitamins and minerals.
However, a cool thing about barley is that it has a lot of fiber throughout the entire grain, and not just in the hull (and this is unique to barley). So even if you are eating barley with the hull completely polished off, you still are eating a high fiber meal!
If your barley isn't labeled, it's probably pearled barley, but you can always check out this handy visual guide!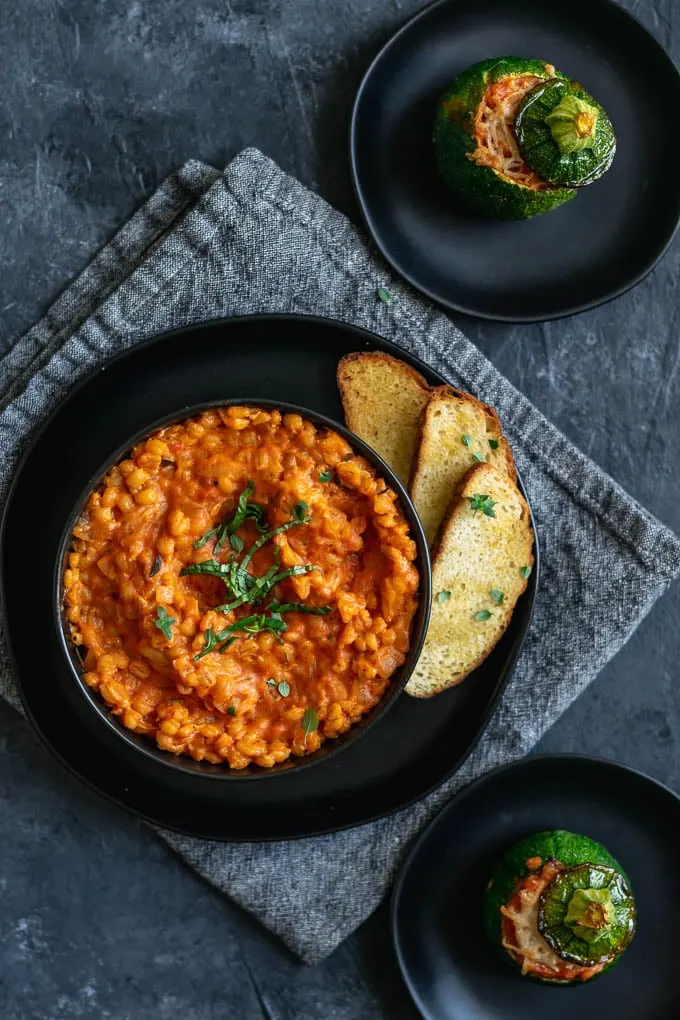 Anyway, you know how I love my tangents, but let's move on to the part where I actually tell you how to make barley risotto!
Unlike risotto made with rice, barley risotto is much more hands off. All the liquid can be added at once and then it can be left to simmer away stovetop until the barley is fully cooked. And you're still left with a creamy slightly sticky dish!
Barley risotto only needs the occasional stir here and there to keep it from sticking to the bottom of the pot, and really that's just in the final 10-15 minutes of cooking! This is a nice change of pace from rice risotto where you stir almost constantly while slowly adding liquid.
As great as barley risotto is on it's own, I really loved serving it in these cute round zucchini squash.
Zucchini pairs perfectly with the creamy risotto! It roasts up perfectly juicy and tender, and contrasts nicely with the rich creamy barley risotto.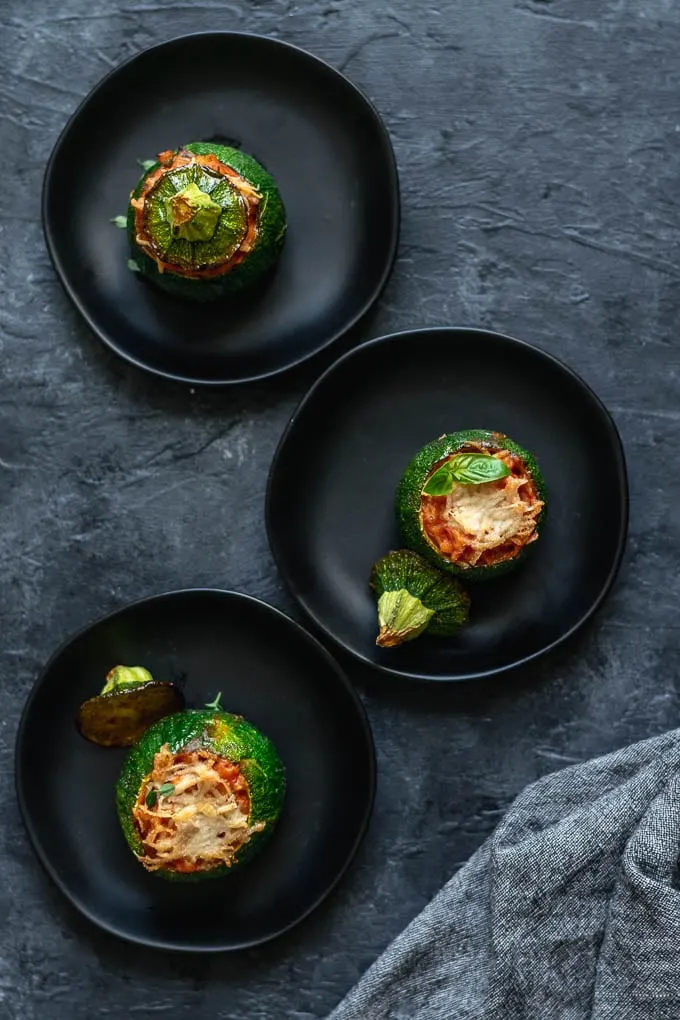 While you could chop up some roasted or pan fried zucchini and toss it in at the end for a similar effect, there's something extra special (and seasonal) about stuffing the risotto into the squash.
Now, if you can't find round zucchini, the more commonly found long shapes work just as well. You can cut them lengthwise and hollow them out to form a zucchini boat! And stuffed zucchini boats are a thing so that's cool, though admittedly less cute.
I like to chop up the scooped out zucchini flesh and sauté it alongside the garlic. It gets nice and tender and practically melts into the creaminess of the risotto while the barley cooks.
Zucchini might be the #1 sneaky vegetable (I know, it's really a fruit). I mean you can make cake (let's face it, zucchini bread is really a cake) from it for crying out loud!
While the risotto cooks the zucchini can be par-roasted (pretty sure that's a new term!), then stuffed with risotto and topped with a little vegan mozz or cheese of your choice and the whole thing can finish roasting in no time! While you do the dishes! 😛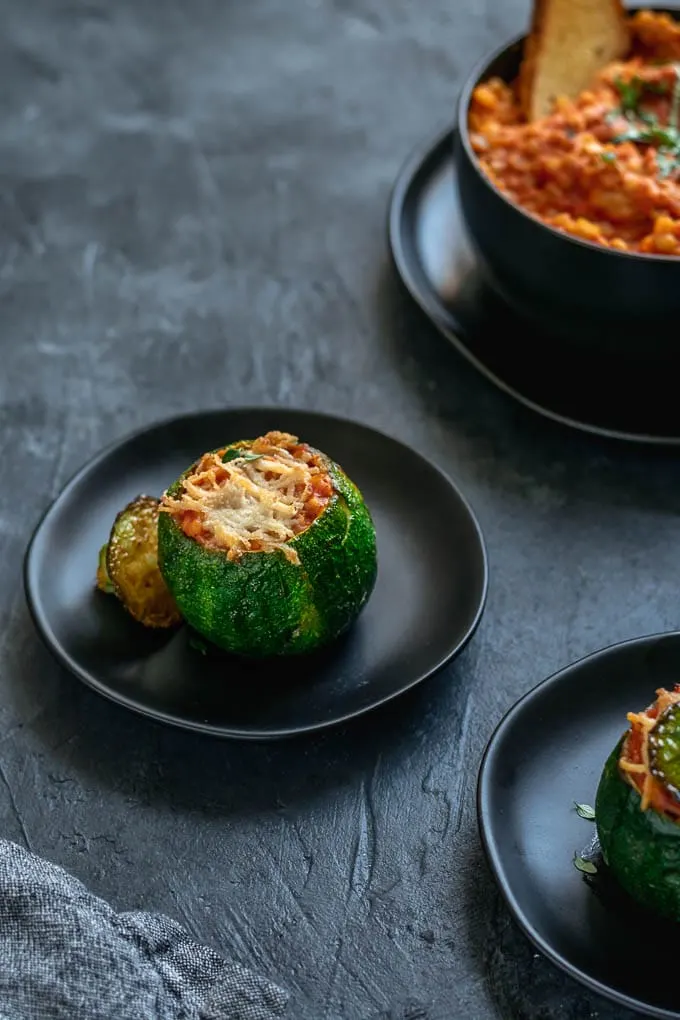 Now, this recipe makes more barley risotto than will fit into those little squashes.
You can fix that in part by making the recipe before half your squash go bad (oops), and just use extra squash in the risotto. The recipe can certainly handle a bit more zucchini cooked into it!
Or you can save extra zucchini meat for another recipe and just go to town filling all the summer squashes you want!
You could also fill small ramekins with barley risotto and bake those alongside your stuffed squashes. Or the simplest way, just enjoy the risotto hot off the stove! There's really no wrong way to eat your barley risotto.
And I hope that you do eat it! Barley might not be the quickest grain to cook, but it's an easy dish to make and once you go barley risotto, you probably won't go back!
I mean, ok, you will, because both barley and rice make darn good risotto, but switch up your grains sometimes people! And if I can say this as a self proclaimed Bread Queen, you can do it too.
Alright, let me know how you like this recipe! Leave a comment, rate the recipe, and I hope you enjoy!
And don't forget to tag your recreations @thecuriouschickpea and #thecuriouschickpea on Instagram! I love seeing your photos!
Like what you see? Follow along on Instagram, Facebook, and Pinterest!
Notes:
You can substitute cashew cream or any plain, unsweetened non-dairy cream for the coconut milk. For a lighter dish you can use a plant milk instead of cream.
If you eat gluten free, please note that barley contains gluten so this is not a recipe for you! But the same idea would work nicely for a arborio rice based risotto, and you can always stuff my recipe for vegan risotto bolognese into these cute summer squash!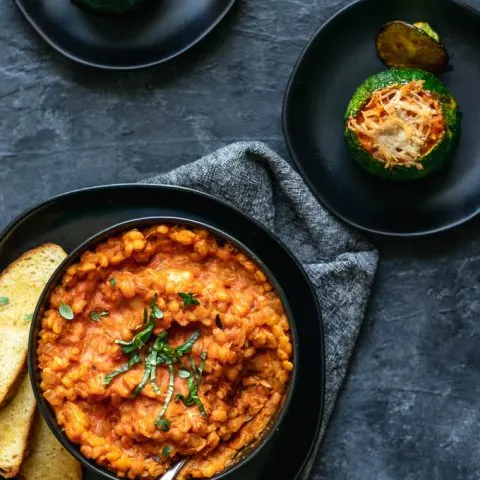 Creamy Vegan Barley Risotto Stuffed Zucchini
Total Time:
1 hour
10 minutes
Creamy herbed tomato barley risotto with zucchini is stuffed into the hollowed out summer squash and baked for a super cute presentation. The chewy, rich tasting barley pairs perfectly with the tender and juicy squash.
Ingredients
3-4 small zucchini or 1 1/2 - 2 cups chopped zucchini
1 tbsp olive oil
1 small yellow onion, finely diced
2 cloves garlic, minced
1 cup pearled barley
1/2 tsp dried oregano
1/2 tsp dried sage
3-4 sprigs fresh thyme (or 1/2 tsp dried)
1 - 1 1/2 tsp salt, to taste
freshly ground black pepper
15 oz can tomatoes, or 1 1/2 cups chopped
1 cup canned coconut milk
1 cup water
2 tbsp nutritional yeast
vegan mozzarella, optional
fresh basil or thyme for garnish
Instructions
Preheat the oven to 400 ºF and lightly grease a baking tray.
If making the zucchini bowls, slice off the top of the zucchini and using a small teaspoon scoop out the inside flesh then chop it up, you should end up with at least 1 1/2 cups of squash, 2 or 2 1/2 cups is fine too. If using long thin zucchini, slice in half lengthwise and hollow each half out like a canoe. Set aside.
In a large heavy bottomed pot, heat 1 tablespoon of oil over medium low heat. Add the diced onion and sauté for 5-6 minutes, until the onion is soft, translucent, and just starting to brown. Add the garlic and the chopped zucchini and sauté another 6-7 minutes until the zucchini is tender.
While the zucchini is cooking, add the canned tomatoes to a blender blitz for a few seconds to grind them up into a thick sauce. You can skip this step if you used crushed tomatoes.
Add the barley, oregano, sage, thyme, 1 tsp of salt and freshly ground black pepper and stir to coat in oil. Stir in the tomatoes, coconut milk, water, and nutritional yeast and turn the heat up to bring the pot to a low boil. Turn the heat to low, cover the pot, and cook for 35 minutes, stirring occasionally, particularly towards the end so it doesn't stick to the bottom. Taste and adjust salt and pepper as desired. When done barley will be completely tender but remain chewy.
While the barley risotto is cooking, lightly drizzle or brush olive oil over the insides of the squash and turn them upside down on the greased baking tray. If you're going to use the caps for the presentation place those next to the squash to roast as well. Bake at 400 ºF for about 10 minutes then remove from oven and let cool enough to handle.
Scoop the cooked barley risotto into the hollowed out zucchini and top with a little bit of shredded vegan mozzarella. Place back in the oven and bake another 10 minutes until the cheese is nice and melty. You can turn on the broiler for 1-2 minutes at the end to help with browning as needed.
Garnish with fresh basil and/or thyme to serve. Extra risotto can be enjoyed on it's own or baked in ramekins alongside the squash.