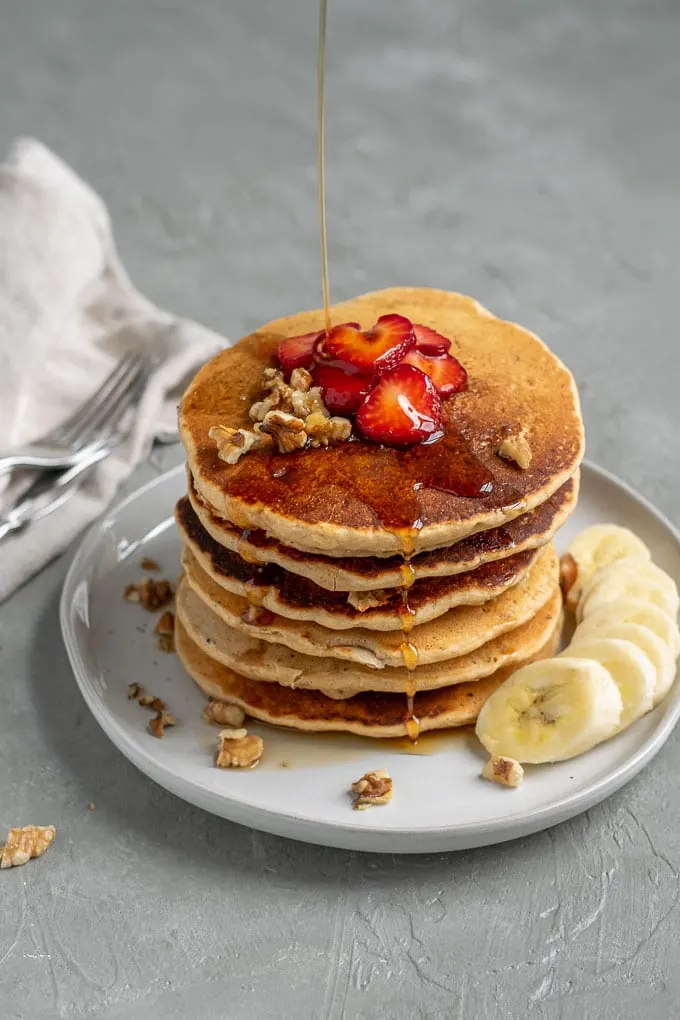 Growing up we ate two kinds of pancakes: your average bisquick fluffy white flour pancakes and what we affectionately called "parent pancakes" (and still call them that to this day). Parent pancakes were a completely whole grain "healthy" pancake, at least until we drowned them in maple syrup.
My parents would mix up a couple whole grain flours with baking powder and salt, and this mix would be stored in the pantry. Come weekend mornings, they'd scoop out the amount of mix needed and add soy milk to make a batter for super quick whole grain pancakes.
I had a really difficult time not titling this post Parent Pancakes, but then no one but my immediate family would have any idea what I was talking about! Plus I took some liberties with my parent's recipe that makes it a teeny bit less quick, but it does make the pancakes even tastier!
We all would benefit from some pancake mix hanging out in the pantries, don't you think? And it's even better if it's this whole grain cornmeal vegan pancake mix!
We're talking delicious and hearty vegan pancakes, which cook up soft and fluffy. I like mine studded with walnuts for an extra tasty result, but one of my sister's prefers hers with chocolate chips and the other with diced apples.
Since this is my blog I'm going to push my walnut agenda! 😛 But, okay, feel free to switch it up with your favorite pancake fill-ins or even leave them plain (a solid and classic choice).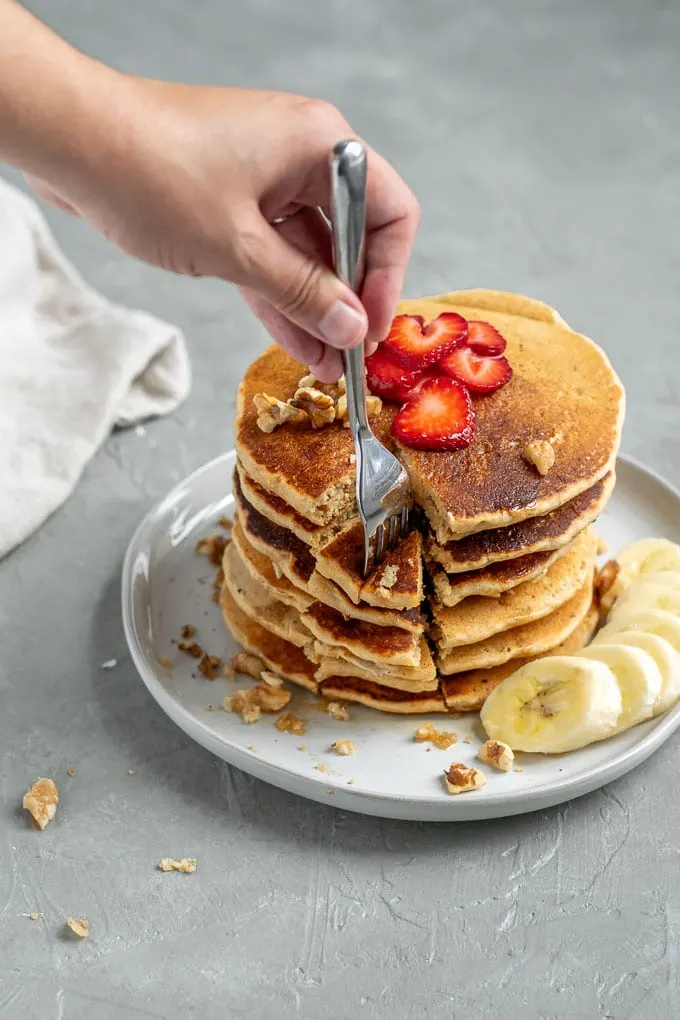 The pancakes are made with two flours: whole wheat pastry flour and cornmeal. Whole wheat pastry flour is a 100% whole grain wheat flour that happens to be more similar to all purpose flour than whole wheat.
This is because whole wheat pastry flour is made of a soft white wheat versus the hard red wheat that your whole wheat flour is milled from. Compared to regular whole wheat, whole wheat pastry flour has a lower protein content (typically 7.5-10% protein by weight) and has a finer grind which means a softer, fluffier, more tender baked good.
If you want to increase your whole grain intake in your baked goods, whole wheat pastry is a great flour to have on hand. While it won't fool you for all purpose flour, as it is whole grain after all, it has a really nice effect on pastries and these pancakes.
You can buy whole wheat pastry flour at more health food type grocery stores such as Whole Foods or grocery stores with a well stocked natural foods section. It was never a struggle for my parents to buy it in the middle of Illinois in the early 90s, so I imagine you can find it too! Or you can always order from Amazon.
The second flour these pancakes use is cornmeal. There's no need to seek out the superfine cornmeal for these pancakes, we have made them with just about every grind of cornmeal and they come out beautifully each time. Just don't try polenta ground, those need a lot more cooking time than a quick pancake can give them!
The other ingredients that are essential to these pancakes coming out are cornstarch (which can be substituted with arrowroot powder, tapioca starch, potato starch–trust me, these pancakes have seen it all over the years), baking powder, and salt.
Baking powder is crucial for the fluffiness of the final pancakes. It activates when it hits the hot skillet and prevents your pancakes from falling flat (literally) and dense. Salt is there for a flavor enhancer.
The starch tenderizes the gluten in the flour, which is extra important for a soft and delicate pancake. The starch also adds to the formation of the final airy texture of the pancakes, which is (fun fact) one of the reasons starches are an important part of gluten free flour mixes.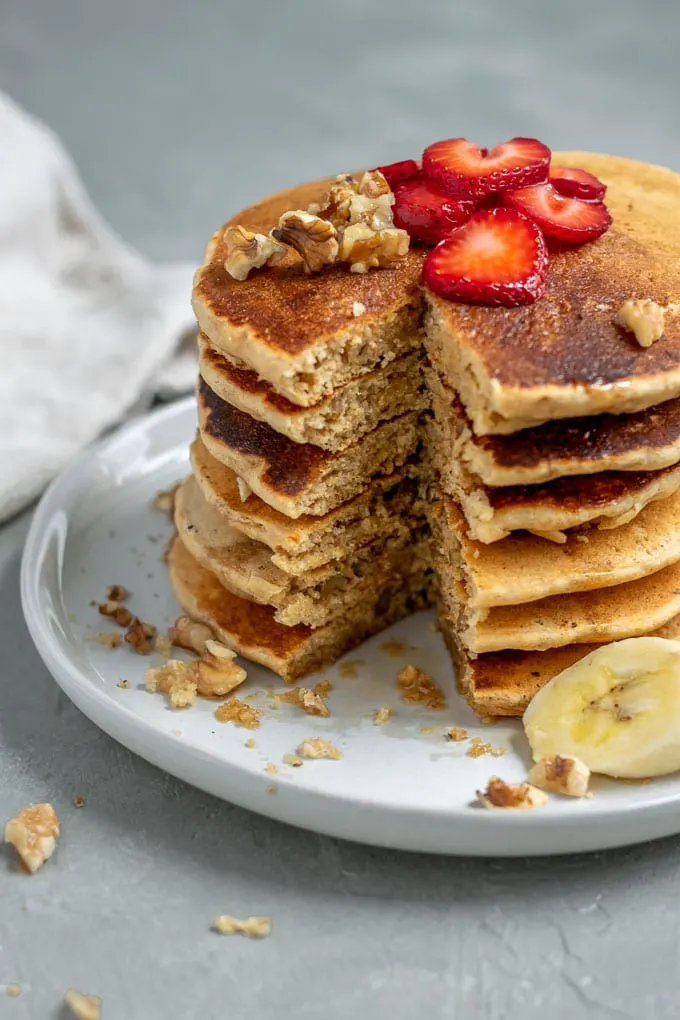 My personal additions to this make ahead pancake mix is the bit of sugar and the ground cinnamon. Sugar is a common ingredient pancakes batters you're probably used to. I add just enough to add a subtle sweetness to the pancakes, so that if you happen to grab a bite without maple syrup (heaven forbid!) it's still quite delicious.
Cinnamon is a nice touch to any pancake recipe. It really needs no further explanation! But I think it's especially a nice flavor pairing with walnuts (and apples).
Those dry ingredients can be whisked together then stored in the cupboard. We always go through the parent pancake mix pretty quickly, but if you're a slow pancake eater and it's going to take you longer than a month or so to finish you can always stick the mix in the fridge or freezer for longer storage. High quality and whole grain flours will go rancid eventually.
Once you get the basic whole wheat pastry and cornmeal pancake mix down, you can always get a little creative with the pancakes. I've made these with spelt flour, which can substitute for either the whole wheat pastry flour or the cornmeal, and I know my parents have used all sorts of flours over the years. Just stay away from regular whole wheat flour, though I'd probably be willing to try them with white whole wheat flour as that is also a softer finer flour.
I have a feeling a gluten free all purpose flour blend would work nicely in place of the whole wheat pastry flour but have not tested it yet. If you do, please let us know how it works out!
When you're ready to make pancakes, it's an easy matter of adding liquid to to the dry mix! I've written the instructions out to just use 1 cup of dry mix at a time, which is about appropriate for a single very hungry person or 2 not starving people, as I find these pancakes quite filling. You can double, triple, quadruple as needed!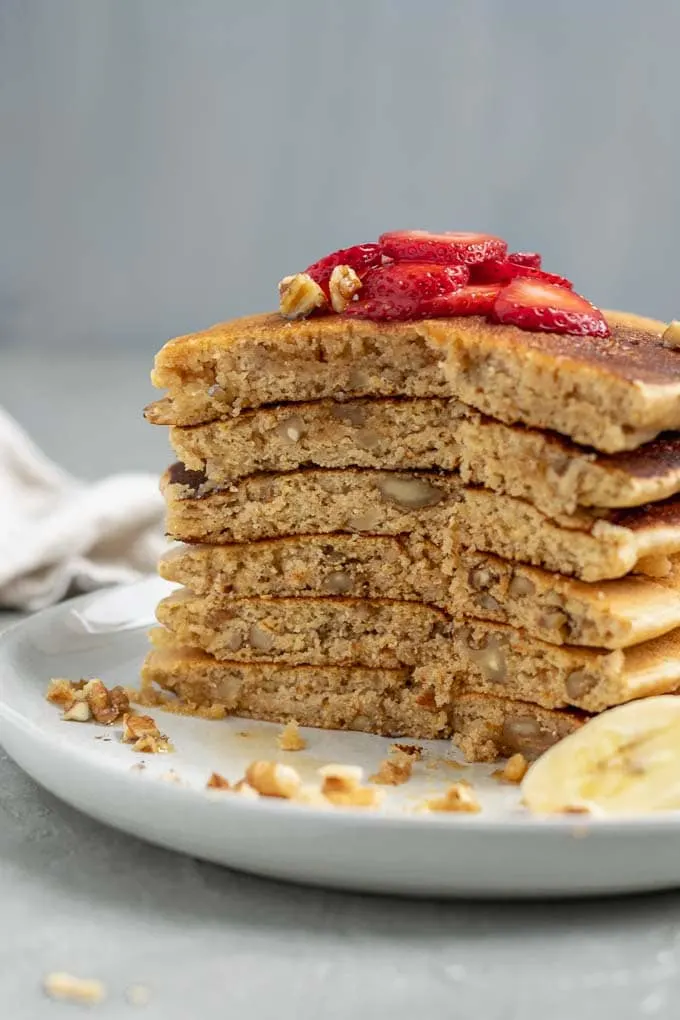 Each cup of dry mix gets some milk and water added (you can use all milk if you'd rather, but it does make for a bit richer of a pancake). Then once more I digress from the way my parents made these pancakes, and add a splash of oil and vanilla extract.
The oil is definitely optional but a little bit goes a long way for making the final texture of the pancake extra tender and delicious. I do recommend you try it that way!
The vanilla extract also adds a bit of that quintessential baked good taste. A little sweet, it rounds out the flavor of the pancakes for pancake perfection.
At this point the mix is ready for any add-ins, and here I use and suggest walnuts. Mix them in, then let the batter rest for 10 minutes before cooking them up. This resting time allows the gluten in the batter to relax and the flours to hydrate and improves the final texture of the pancake!
Cook up as many pancakes as you need, and enjoy warm with some fresh fruit and a drizzle or some glugs of real maple syrup! Trust me, the fake stuff doesn't work ever but especially not on these pancakes! 😉 That being said, 5-10 year old Eva would probably disagree.
These aren't your soft bisquick-style white flour pancakes (though if you're looking for those, try my vegan chocolate chip pancakes). They are made with only whole grain flours, and it's not the same thing. But like, who cares, they're really delicious and we can all use more whole grains in our diets! These pancakes have been enjoyed by us for years as well as by so many guests and extended family.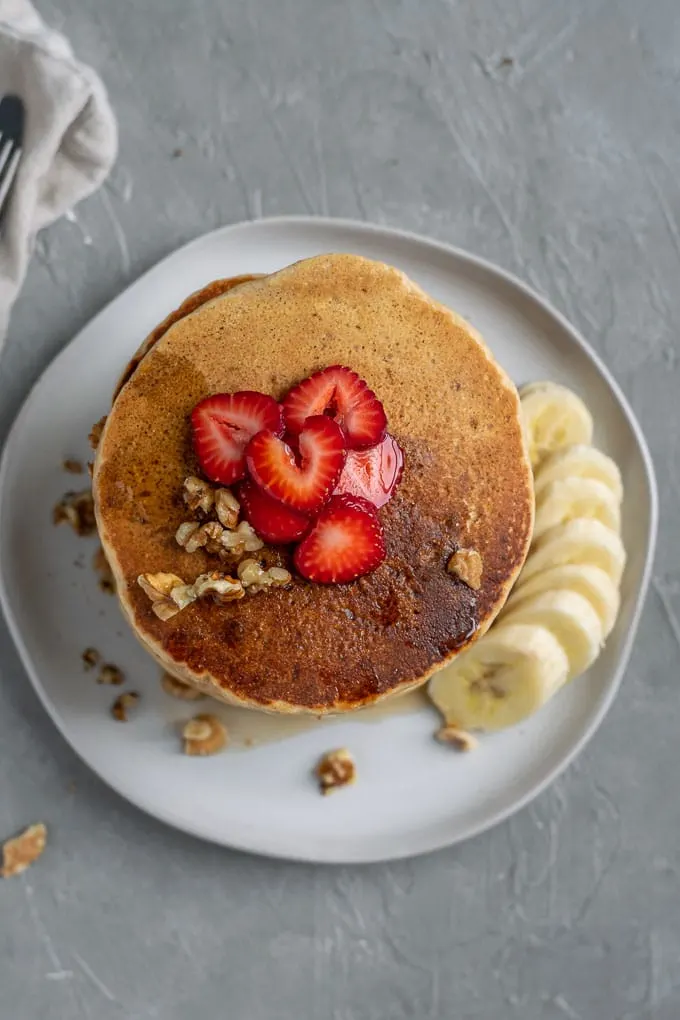 I do hope this make-ahead whole grain pancake mix sneaks its way into your family's pantry to be enjoyed over the years just like it has been in ours. Please let me know how you like it and leave a comment below!
And don't forget to tag your recreations @thecuriouschickpea and #thecuriouschickpea on Instagram! I love seeing your photos!
Like what you see? Follow along on Instagram, Facebook, and Pinterest!
Notes:
Besides walnuts, other tasty mix-ins include diced apples and chocolate chips. Blueberries or banana can also be enjoyed when nestled into the freshly poured batter over a hot skillet.
The sugar and oil are optional in the recipe, but do make the pancakes better (by a standard definition of what makes for good pancakes anyway)!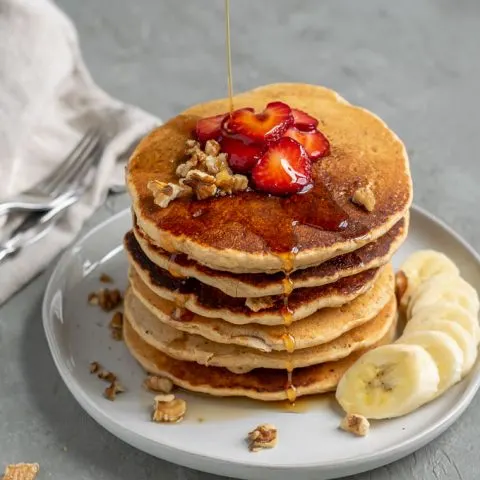 Whole Grain Cornmeal Vegan Pancake Mix
Yield:
3 1/2 - 4 cups dry mix
These fluffy whole grain pancakes are made with whole wheat pastry flour and cornmeal and stuffed with walnuts for a delicious and hearty vegan breakfast. Make the dry mix ahead of time for quick pancakes whenever you want!
Ingredients
Dry Mix
1 1/2 cups (190g) whole wheat pastry flour
1 1/2 cups (215g) cornmeal (coarsely ground or finely ground)
2 tbsp (14g) cornstarch or arrowroot
2 tbsp (28g) sugar (granulated, coconut, raw, your choice!)
4 tsp (19g) baking powder
1 tsp (5g) salt
1 tsp (2g) ground cinnamon
Wet ingredients per 1 cup dry mix
1 cup dry pancake mix
1/2 cup plant milk
1/4 cup water
1 tbsp neutral oil
1/2 tsp vanilla extract
1/3 - 1/2 cup chopped walnuts (optional)
Instructions
Make the dry mix: whisk together the whole wheat pastry flour, cornmeal, cornstarch (or arrowroot), sugar, baking powder, salt, and cinnamon in a large mixing bowl to combine. Transfer to a sealed container and keep in your pantry until ready to use. It will keep for at least a month or two, but place in freezer for longer storage.
When ready to make pancakes: For each cup of dry mix, you'll get about three 5-6" pancakes. Feel free to double or triple as needed! Scoop out the desired amount of dry mix into a mixing bowl and add the plant milk, water, oil, and vanilla extract. Stir to combine, then mix in the walnuts. Let the batter rest for 10 minutes and heat up a skillet or griddle over medium-low to medium heat. If the batter sits much longer you may need to thin it a bit with additional water or plant milk.
Pour 1/2 cup of batter onto a lightly greased skillet and let it cook until the top is starting to look dry around the edges and the center is starting to bubble (might not happen if the batter is very thick). The bottom of the pancake should be a nice golden brown at this point, adjust the heat of the skillet if it's cooking too slowly or browning too quickly.
Flip the pancake and cook an additional minute or two until the second side is golden. Repeat with remaining batter.
Recommended Products
As an Amazon Associate and member of other affiliate programs, I earn from qualifying purchases.