Stay cool and hydrated this summer with some thirst quenching watermelon mint agua fresca! It's incredibly quick and easy to make this light fruity beverage, and you really can't beat that beautiful pink color!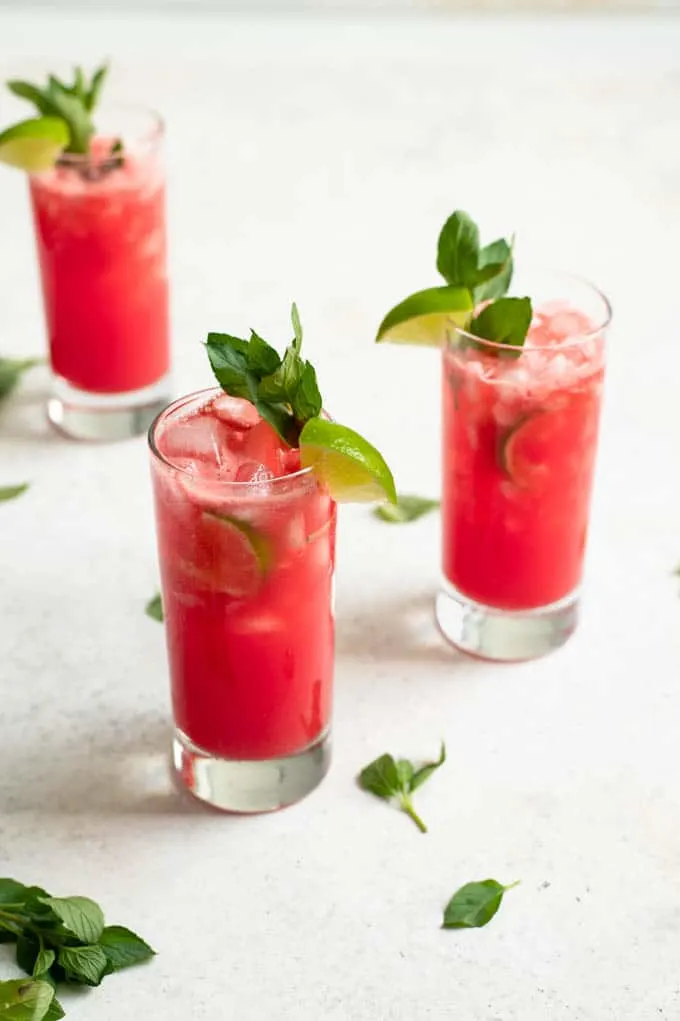 When you live in swamp (well, not really, but it is really hot and humid in Washington, DC!) you do what you can to stay cool and hydrated in the summer. With a fridge stocked full of sparkling waters and a water bottle glued to your side at all times.
But for days you want to treat yourself, times you have guests coming over, or maybe even your parents visited and left a giant watermelon in your fridge and you husband is allergic and you can't eat the whole damn thing yourself (what too specific?)–you're going to want to delve into the world of agua frescas!
Agua frescas are a light and hydrating fruity beverage popular in Mexico, made with blended fruit (or grains/flowers/seeds) and water, often with some added sugar and lime juice as well.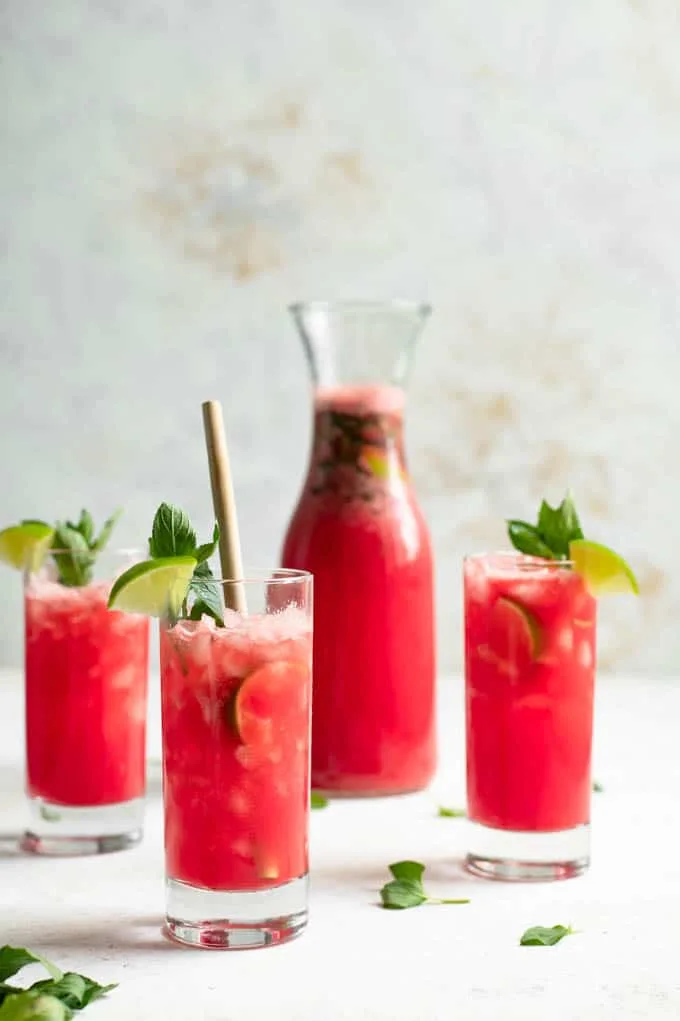 They're mighty refreshing, cooling you down while replenishing some of those electrolytes you've sweat out. Watermelon in particular is high in electrolytes and good for you vitamins, making it the perfect way to rehydrate yourself on a hot day! Not to mention it's super delicious!
At it's most simple, watermelon agua fresca is watermelon blended with water, with sweetener added to taste.
But why stop there when you can add some fresh herbs and muddle in some lime! It amps up the fresh flavor and the citrus contrasts the sweetness of the watermelon perfectly.
Just a quick note, if my mint looks a bit different than you expect, it's because I am using a variety of mint called chocolate mint that grows in my garden. You can whatever variety of mint you have on hand, or if you prefer, try this with basil!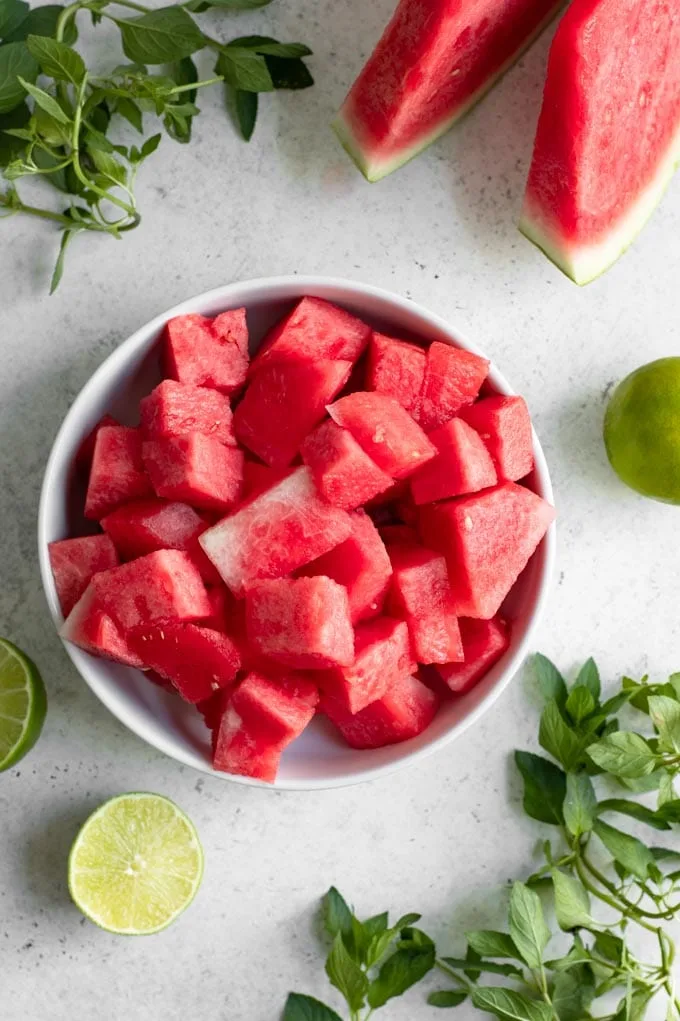 Without further ado, let's make some watermelon mint agua fresca!
First, muddle the lime, mint, and sugar together.
Cut your lime into wedges and wash the mint and remove the leaves from the stems. Add these to a large pitcher, and drizzle in some agave nectar (feel free to substitute sugar or another sweetener).
If you don't have a large pitcher (mine is not clear, so you wouldn't have been able to see the juice!), or can't reach a muddler into the pitcher, then you can muddle these together in a glass before transferring it to a pitcher.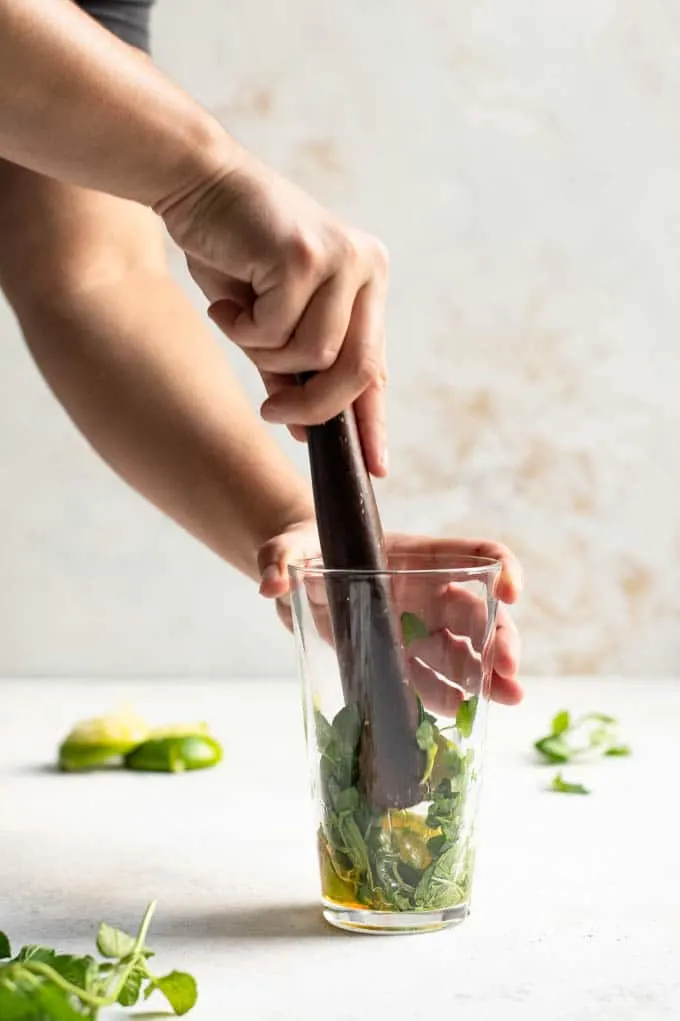 Note that this recipe makes about 7 cups of agua fresca, so use a pitcher that is large enough to hold all of the juice, or divide up the ingredients to work in batches.
Muddle the lime wedges, mint, and sugar together. Essentially what muddling means is to smash and press the ingredients together to release the juices from the lime and bruise the mint which brings out their scent and flavor. The sugar doesn't change, but if you use a granulated sugar the grains help break down the lime and mint.
Transfer your muddled mixture to one (or more) pitchers if needed and set aside.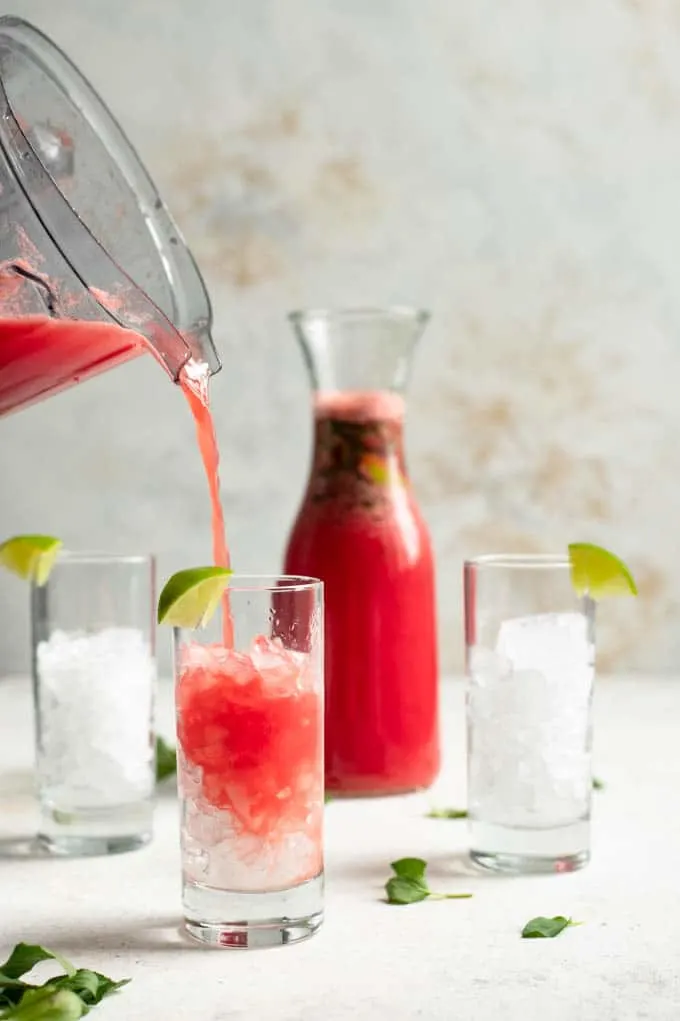 Chop up your watermelon into cubes.
Put the cut watermelon in a blender along with some water. Watermelon naturally has so much water in it, you don't need to add much.
Now likely you will need to blend the melon in two batches (three if you're working with a smaller blender), so just divide up the water as you need with the melon.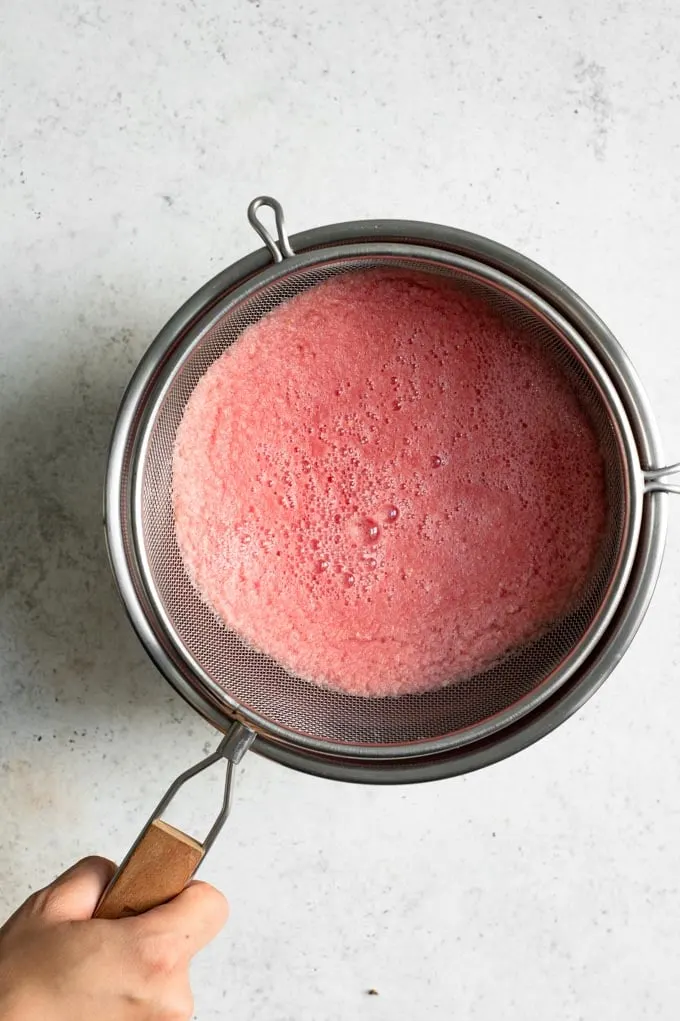 And you certainly don't need a fancy high powered blender for this job, watermelon is easy to blend!
Once the juice is blended (and again, in batches is fine), we're going to strain it through a fine mesh strainer. This removes the majority of the pulp, so what we have stays clear of smoothie territory.
Now, add fresh squeezed lime juice to your watermelon juice! I add lime juice in two places because I like the extra acidity and sweetness the lime juice brings, but don't want to overpower the juice with the more bitter notes of the oils in the peel.
Pour the strained juice into your prepared pitcher(s).
Stir together the watermelon juice with the muddled mint, lime, and sugar and set in the fridge to meld flavors. You can serve it right away, or enjoy it after several hours.
Bottled up and sealed with a lid (I like to use old juice bottles that I've cleaned), the watermelon fresca will stay good in the fridge for several days. However, if you plan on having it sit there for more than 24 hours, I recommend straining the juice to remove the mint leaves and lime. As the lime sits in the agua fresca more of the bitter oils will release and the beverage can turn bitter.
Keep the watermelon mint agua fresca cold, and serve over ice. Additional lime wedges or sprigs of mint can be added to garnish the glasses as you like!
I hope you enjoy these most refreshing watermelon mint agua frescas! They really make summer better and more delicious!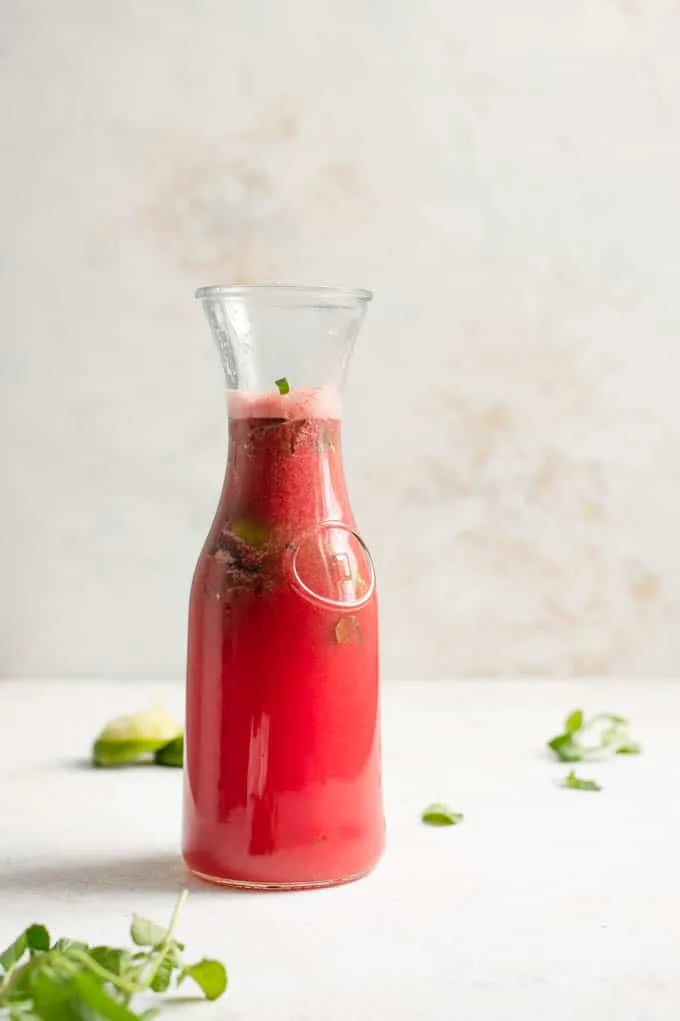 Related: For another sweet, summery beverage, enjoy a vegan mango lassi!
---
If you make this agua fresca, leave a comment below and rate the recipe on the recipe card. And please share your photos with me on Instagram, tag @thecuriouschickpea and #thecuriouschickpea. I love seeing your recreations!
---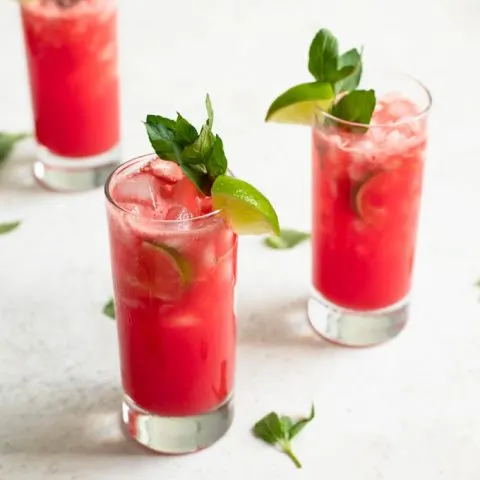 Watermelon Mint Agua Fresca
Watermelon mint agua fresca is a lightly sweet and refreshing beverage that's quick and easy to make!
Ingredients
6 lbs watermelon (~12 cups cubed)
1 cup water
1/4 cup fresh squeezed lime juice
1 lime cut into wedges, more for garnish
1/4 cup packed mint leaves, more for garnish
1 tbsp agave or sweetener of your choice, more to taste
Instructions
Blend the watermelon and water together, in batches if needed. Strain through a fine meshed strainer to remove most of the pulp and add the lime juice.
In a pitcher (or glass if the pitcher is not the ideal size shape for muddling inside) muddle together the lime wedges, mint, and agave. Transfer to 1 or more pitchers if needed.
Pour the strained juice over the muddled mint and lime, stir together and serve immediately over ice. Garnish the glasses with wedges of lime and fresh mint if desired.
Notes
Store the agua fresca in a sealed container (such as a mason jar or old juice bottle) in the refrigerator and enjoy over the course of a day. For longer storage, strain out the lime and mint. The juice will stay good for several days.
Nutrition Information:
Yield:

8
Serving Size:

1
Amount Per Serving:
Calories:

111
Sodium:

5mg
Carbohydrates:

28g
Fiber:

1g
Sugar:

23g
Protein:

2g
Nutrition is calculated automatically so should be used as an estimate.