Baingan bharta is a delicious Indian eggplant dish that's easy to make and super flavorful! This recipe is better than any restaurant version (I may be biased but it really is just *that* good). Enjoy with basmati rice and/or any Indian flatbread.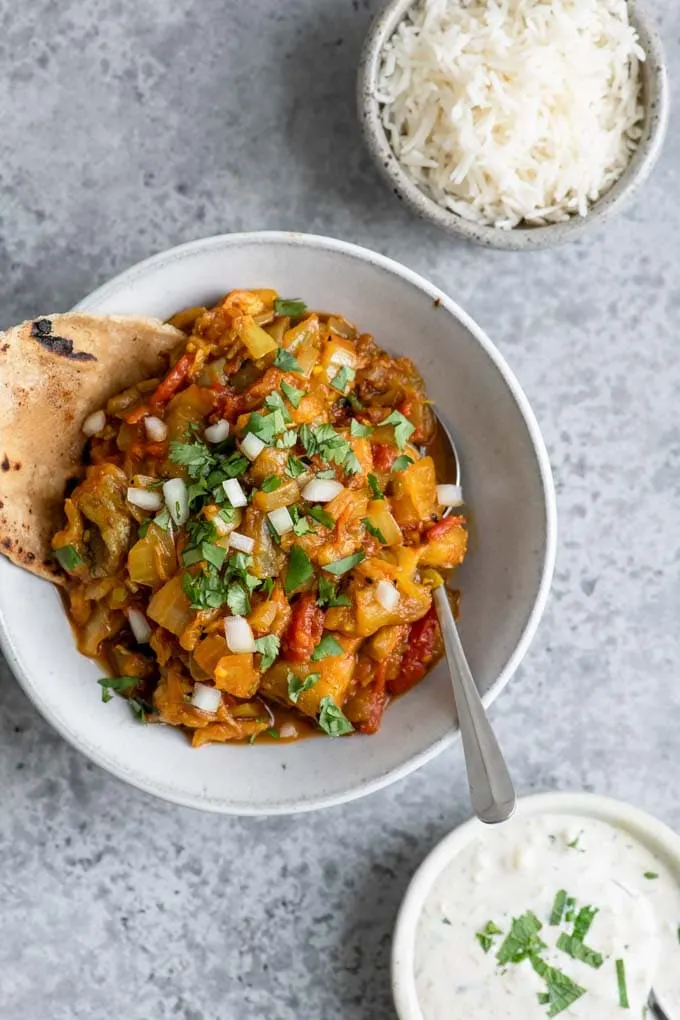 Baingan bharta is a smoky roasted eggplant Indian subzi (vegetable dish). It has to be one of the most delicious ways of preparing eggplant.
Traditionally the eggplant would be cooked in a charcoal oven, but in our western home kitchens you're more likely to cook it over a bare gas flame, under the broiler, or on a grill.
In this dish, eggplant gets cooked until it's so tender that it just melts away in your mouth, and I simply adore the smoky notes it gets from grilling and those crisped skins.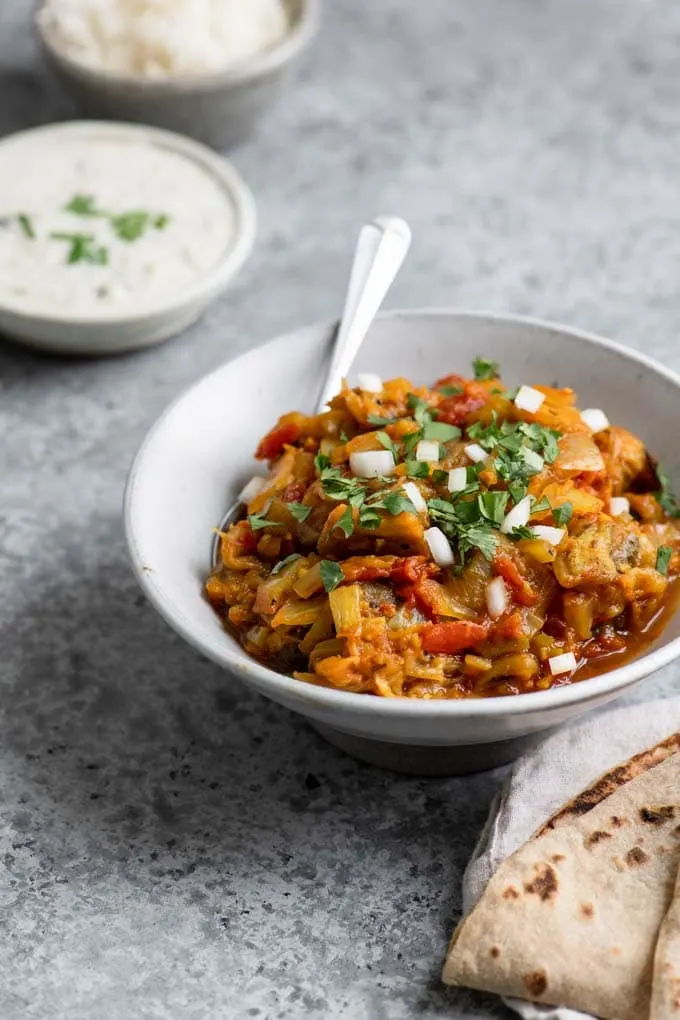 The soft eggplant is complemented by crisp onions and it is spiced almost simply (by Indian standards) so the flavors of the vegetables really shine through.
Baingan transaltes to eggplant in Hindi while bharta refers to the mashed consistency (which we get by dicing the roasted eggplant).
Eggplant is actually indigenous to the subcontinent and its first documented culinary uses are from Indian cuisine. From there it spread to South-East and Eastern Asia, eventually making its way North through what's now called the Middle East all the way to the Mediterranean/Southern Europe.
So when exploring eggplant in all it's delightful forms, it would be remiss to not enjoy it in Indian cuisine! [Ahem, here are all of my eggplant recipes.]
Choosing your eggplant:
When it comes to picking out eggplant, go for the globe variety as these are most ideal for grilling and will leave you with the most eggplant flesh after you pick off the burnt skins.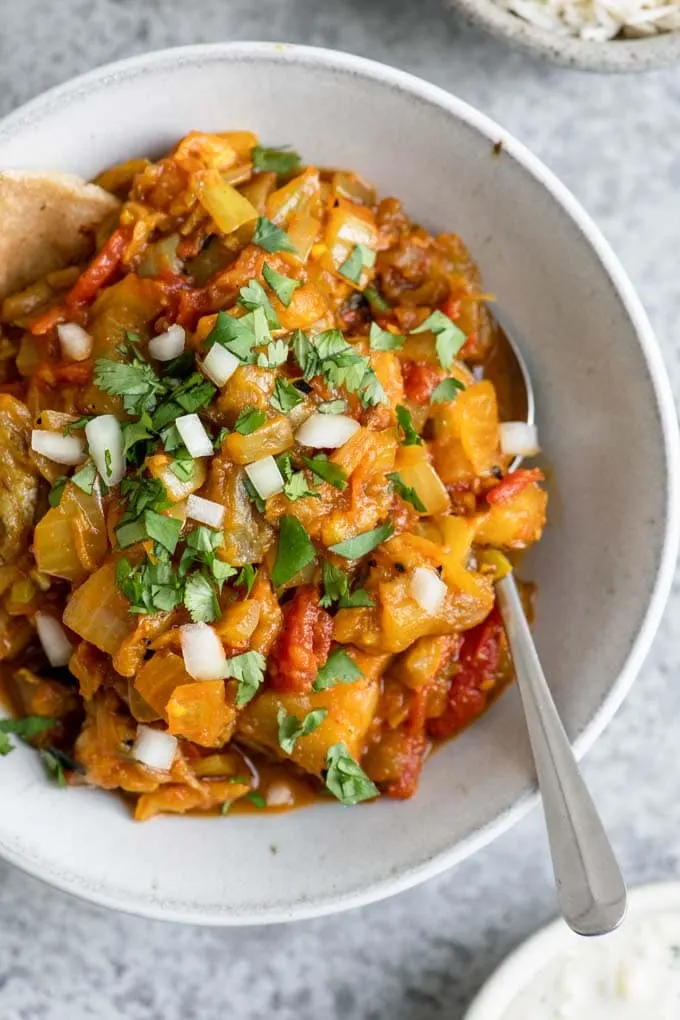 Pick eggplant that feels firm to the touch and lighter weight comparatively as these will likely have fewer and smaller seeds. Also try to pick ones with smaller navels (the spot on the bottom of the eggplant).
You want medium to large eggplants, ideally 2 eggplants will be all you need for this recipe. Otherwise it will just take that much longer to cook the eggplant, especially if you are doing it one by one over your stove.
Cooking the eggplant:
The quickest and easiest way to cook the baingan which also happens to have the most flavorful results (of the home cooking options) is to cook it directly over a gas flame.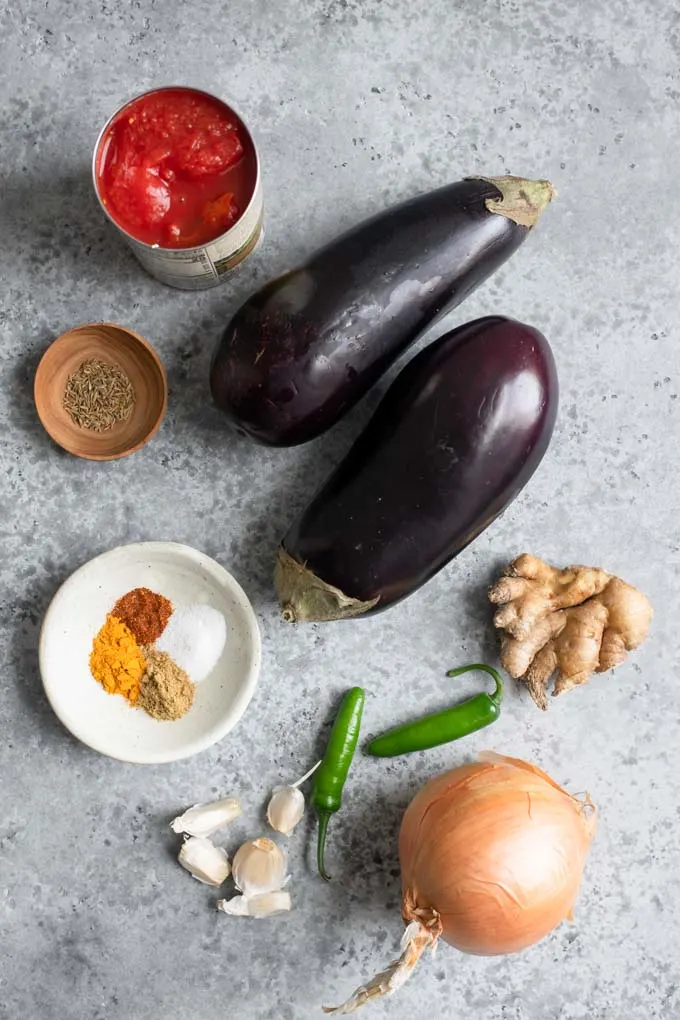 I line my stove with some foil to make cleanup easy, just cutting out a hole to fit around the burner, then turn the heat on medium-high and place the eggplant directly on the grates of my gas stove.
As the flames lick the eggplant, they start to burn the skins and cook the insides. The eggplant gets limp and juicy, even starting to leak juice over the stovetop. Just clean it up as soon as the stove cools and any mess is easy to wipe up!
By the time the eggplant is done its skins are blackened and flaking, liquid is leaking from the fruit*, and there should be no resistance when pierced with a fork or knife. Your eggplant should be super tender.
*That's right, eggplant is technically a berry.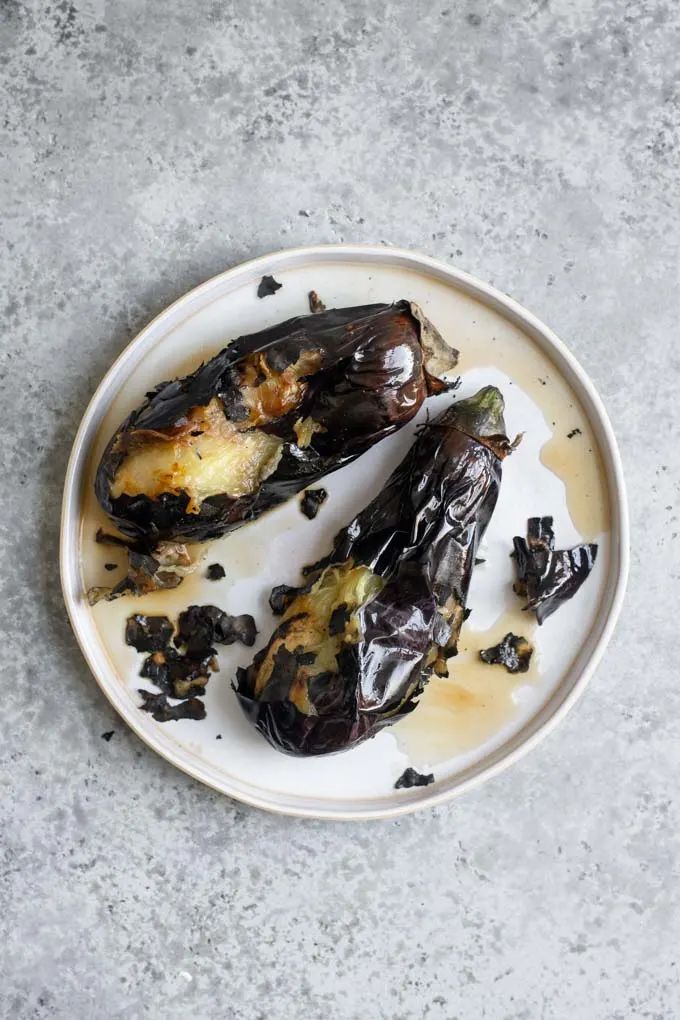 Now, not everyone has a gas stove. So if you don't the best bet is to put the eggplant under the broiler on high and keep it close so that the heat can char that eggplant! It'll take longer this way but you can do multiple eggplants at once.
If you have a grill then you can also cook it over the grill. Just watch for those same tell tale signs of being done!
And no matter how you cook it, I recommend you rub the skins with oil first because this helps with the smoky flavor!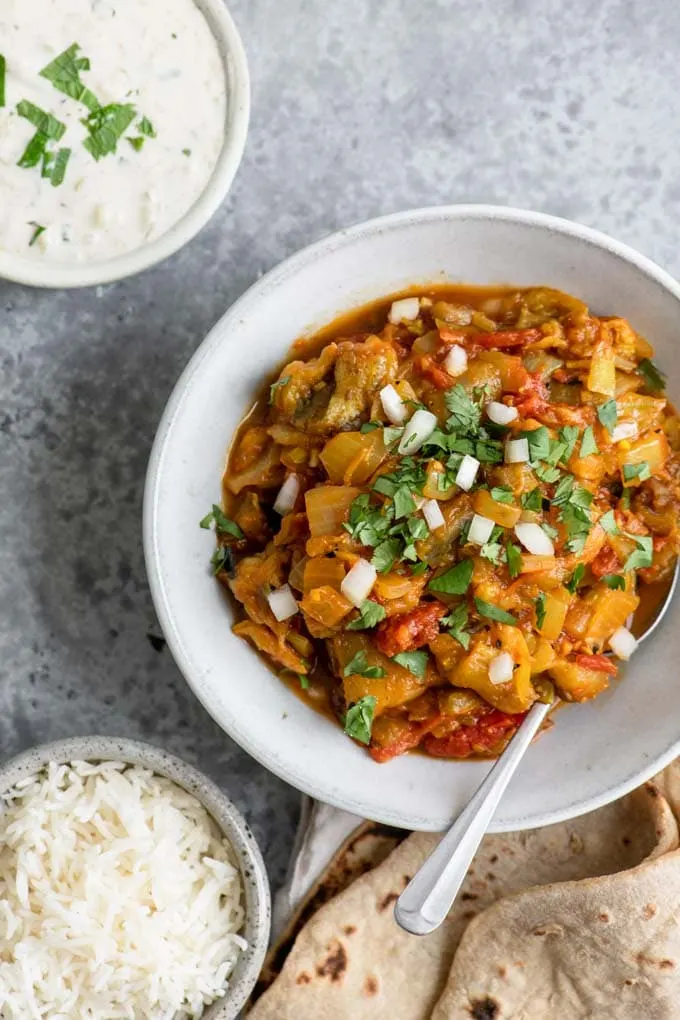 This is a simple recipe at heart.
My favorite versions are light on the spice (again, by Indian standards) and let the flavors of the vegetables shine through!
Like all savory cooking, you should taste as you go and you can always make adjustments to suit your tastes!
If you want to up spices, switch things up a bit to highlight other flavors, you can certainly do so. But I do recommend you make it per the recipe the first time because oh man is it good!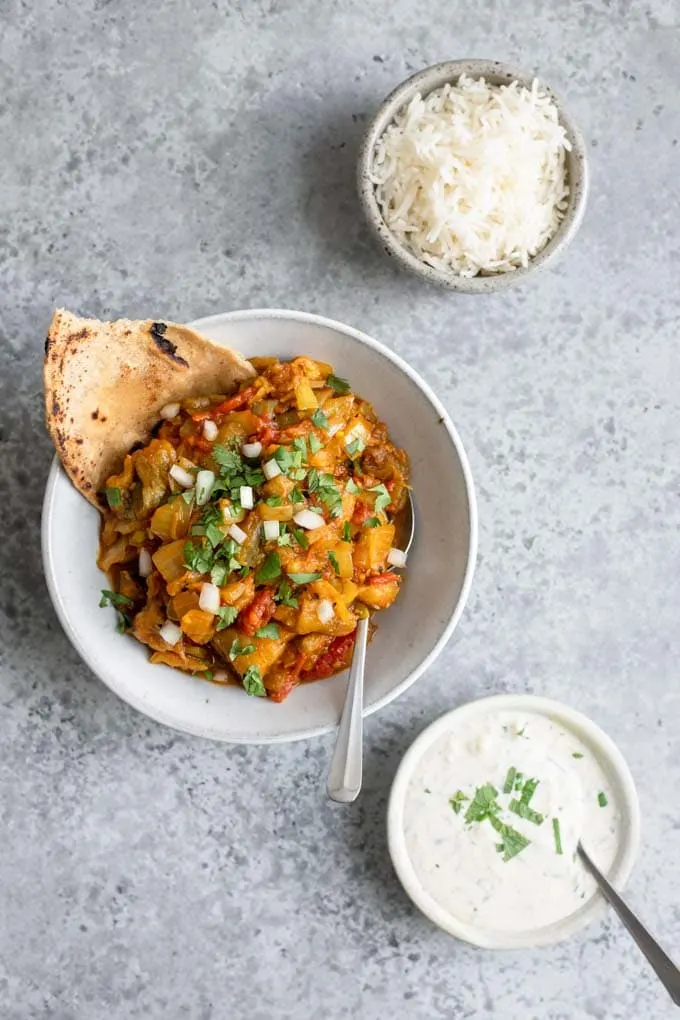 In the words of my Bengali husband, "this is what you hope for when you order baingan bharta."
I will note that restaurant baingan bharta tends to be very oily. This isn't necessary and I personally find it detracts from the deliciousness of the dish. You do need oil to bring out all the flavors of the spices, but you can just use a drizzle here and there, it doesn't need to be swimming in the fat.
Now if you want a more indulgent version, it's totally fine to just add more oil to your liking.
Cooking the baingan bharta:
So you have your roasted eggplant, which gets peeled and chopped up to be ready to use.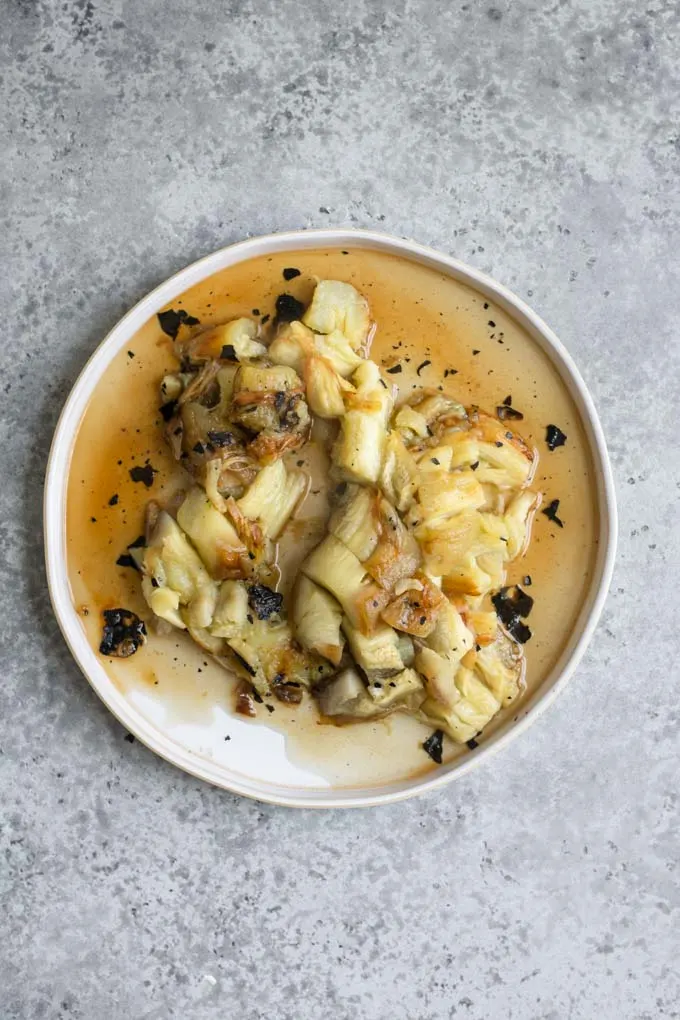 And now we build flavor. Starting with frying whole cumin seed in oil to release all those fat soluble flavor molecules.
Then we add in aromatics, garlic and ginger for a flash fry before adding onion and chili peppers.
You can use whatever peppers you want but I love fresh ones in this recipe! Serranos, jalapeños, or wahtever peppers you find at an Indian market will be great in here.
The onion gets cooked enough to soften and lightly brown, then add in the ground spices and tomatoes.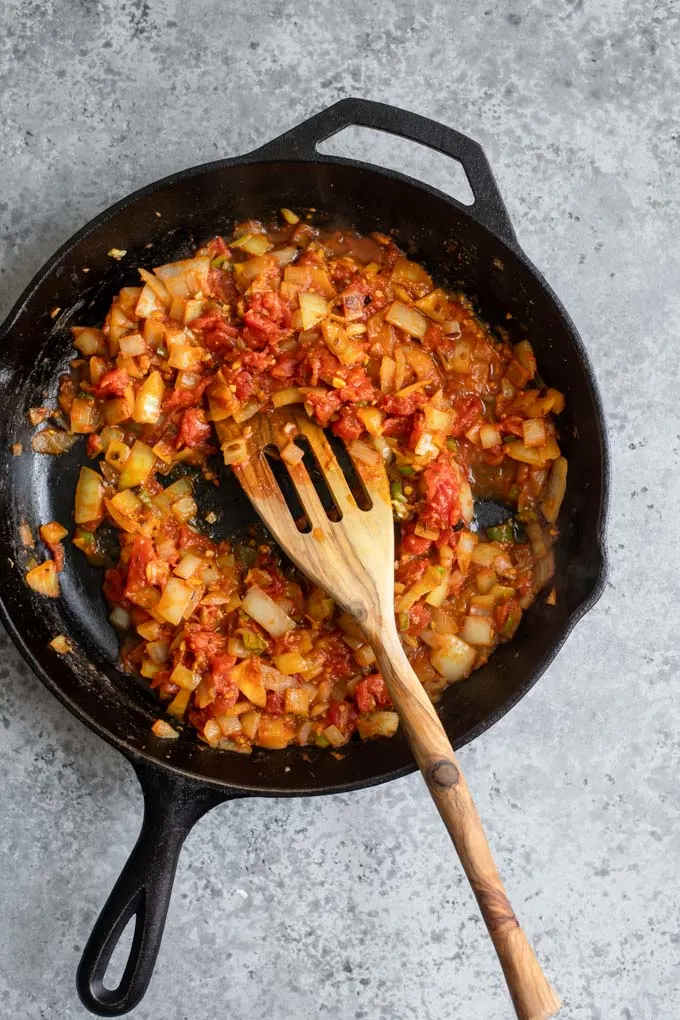 Often with Indian cooking I use canned tomatoes because these are the best quality, they keep my cooking pantry friendly, and if we're being honest, tomatoes are only really good during late summer when they're fresh off the vine.
But if you prefer you can always use fresh tomatoes! You'll want to substitute 1 1/2 to 2 cups chopped tomato.
For spices beyond the cumin seed I add turmeric and ground coriander. If you want to up the heat you can add some ground hot pepper like ground cayenne or Indian chili powder.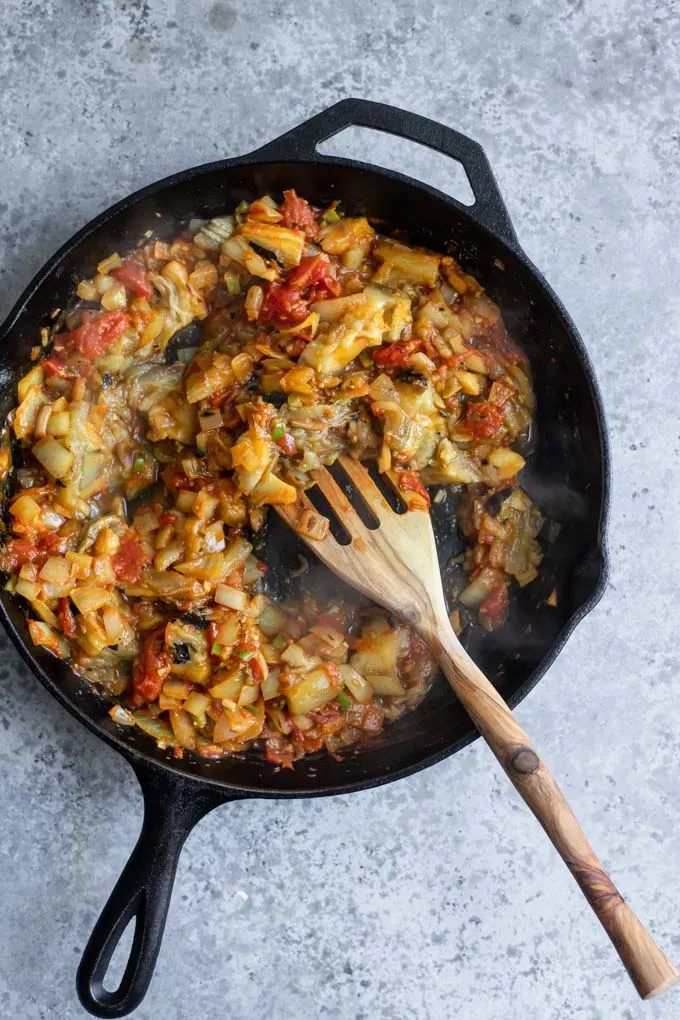 After a couple of minutes for the tomatoes to cook down, add in the chopped eggplant and let it cook in so the flavors meld.
The last note of importance is to make sure you add enough salt! If your Indian cooking lacks pizzazz and falls flat, you likely didn't add enough salt. Salt brings out alllll the flavor!
To serve:
Garnish your baingan bharta with some fresh cilantro at minimum (unless you hate cilantro). You can also add some chopped white onion for garnish.
If you hate cilantro, try adding in a bit of a mint garnish!
I like this dish with some flatbread like my homemade naan, chapati (pictured here in these photos), or paratha. It's also great with fragrant and buttery tasting basmati rice.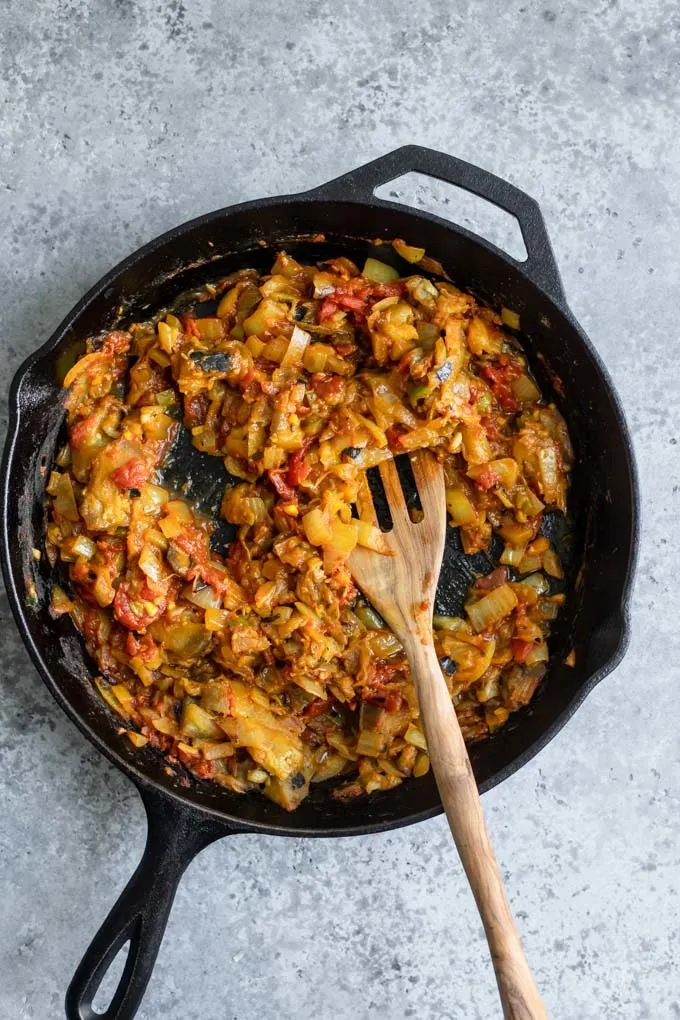 You can make any of my other vegan Indian recipes to go along with it! I like to pair it with some sort of dish with protein like a dal or one of my tofu paneer recipes.
If you like to cool down your Indian food make sure to serve it with dahi (plain yogurt) or raita (seasoned yogurt).
But I promise I wont tell if you just want to eat a big bowl of rice or bread and baingan bharta! Trust me, I get it.
If you make this baingan bharta, leave a comment below and rate the recipe on the recipe card. And please share your photos with me on Instagram, tag @thecuriouschickpea and #thecuriouschickpea. I love seeing your recreations!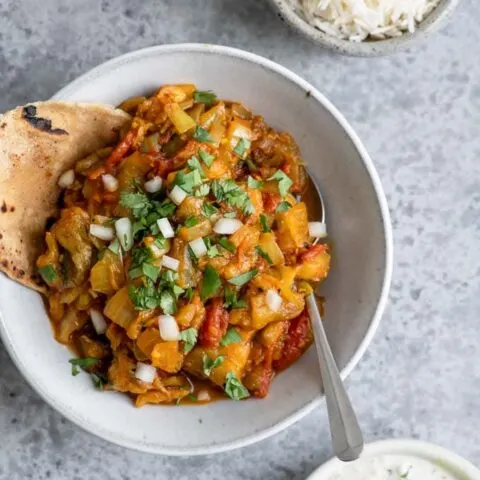 Baingan Bharta
Baingan bharta is a smoky Indian eggplant dish that is naturally vegan and gluten free. It's easy to make and so delicious! Serve it with basmati rice and/or Indian flatbread. And it's great with a side of raita!
Ingredients
~1 1/2 lbs (2 medium to large) eggplants
1 tbsp oil
1 tsp whole cumin seed
4-6 cloves garlic, minced
1 tsp minced fresh ginger
1 yellow onion, diced
1-2 green hot chili peppers, or to taste
1 tsp ground coriander
1/2 tsp turmeric
1 tsp salt, or to taste
1 15oz can chopped tomatoes
cilantro for garnish
Instructions
Rub the eggplants with oil and line gas stove with foil (for easier cleanup). Cook the eggplant one at a time over medium-high flame, rotating every 2-3 minutes, until the eggplant is ultra tender and the skins are blackened. This can take 8-12 minutes depending on the size of the eggplant.

To cook under the broiler: Place eggplants on a baking dish and set up about 6-inches from the broiler. Broil on high until the skins are blackened and eggplant is tender, turning every few minutes to cook evenly. Alternatively you can also cook the eggplant on an outdoor grill.
Let the eggplant cool, then peel off the blackened skin and roughly chop.
Heat a large skillet over medium heat and add the tablespoon of oil and cumin seed. Let fry for about 15 seconds or until the cumin is fragrant and a shade darker. Add the garlic and ginger and let it cook another 30 seconds.
Add the onion and chili peppers along with a pinch of salt. Cook for 4-5 minutes or until the onion is lightly browned.
Stir in the ground coriander, turmeric, and the salt, then add the tomatoes and cook for about 3 minutes or until tomatoes start to break down.
Add the chopped eggplant and any of their juices and cook on medium-low heat for 5-10 minutes to let flavors meld. Adjust salt and seasoning to taste. Garnish with plenty of minced cilantro to serve.
Notes
This recipe serves 6 as a side dish and accompanied with rice and/or bread. If eating it as a main dish you may find it only makes 2-4 servings.
Nutrition Information:
Yield:

6
Serving Size:

1
Amount Per Serving:
Calories:

87
Total Fat:

3g
Sodium:

394mg
Carbohydrates:

16g
Fiber:

4g
Sugar:

6g
Protein:

2g
Nutrition is calculated automatically so should be used as an estimate.