This vegan pesto cream gnocchi is a delicious dairy-free, egg-free, comfort food meal. It's easy enough for a quick dinner while tasting fancy enough for date night or serving to guests.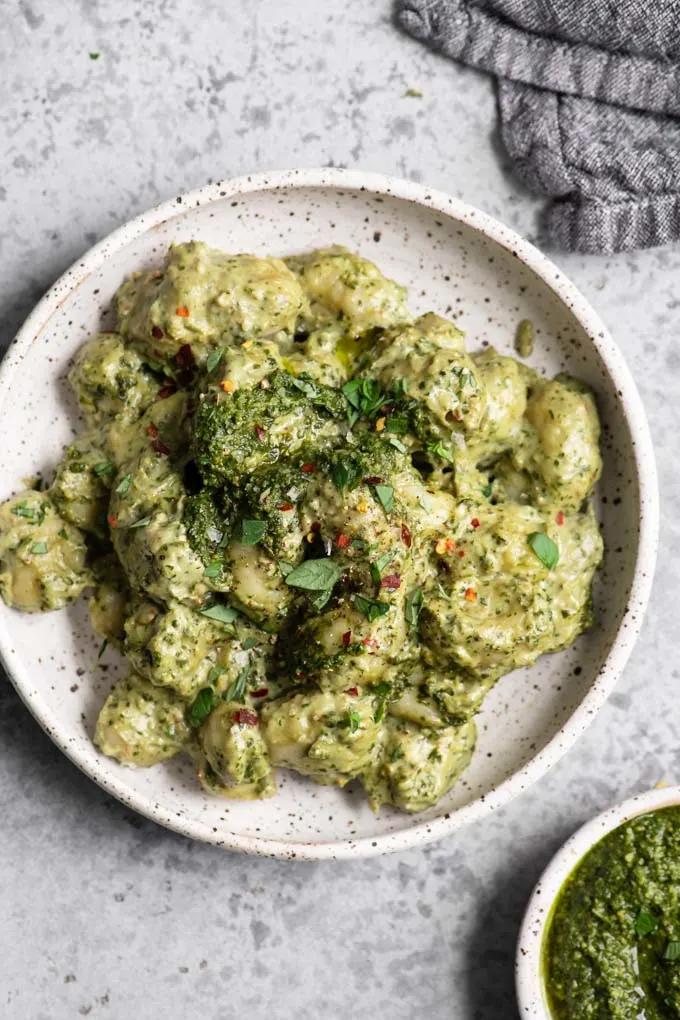 If you love the idea of pillowy potato dumplings sauced up in a luscious, herbaceous sauce, well, you've come to the right place.
This recipe is so easy I almost loathe to call it a recipe, but hey, we all need more easy dishes in our repertoire!
You only need a few things to make this. Gnocchi, pesto (or the ingredients to make pesto if you prefer), cashews, water, and salt + pepper. I know right. So simple!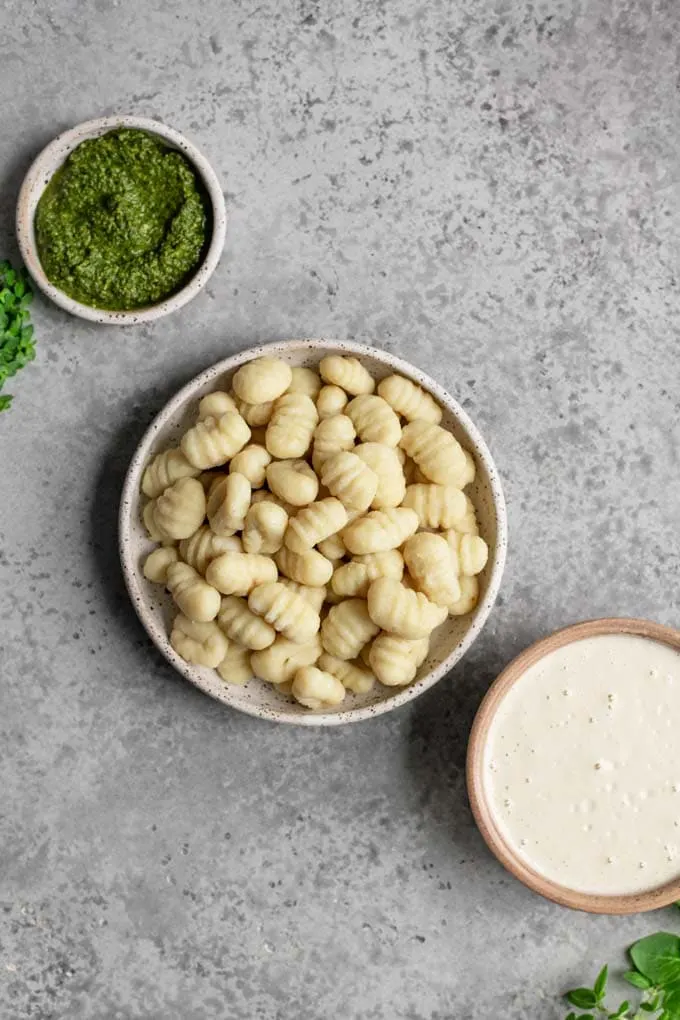 The gnocchi:
I used my easy homemade gnocchi when I made this recipe. But it is totally fine to use store bought instead!
Obviously if you make your own gnocchi it makes this recipe a bit more time consuming. And if you want to make your own gnocchi you can speed things up by shaping and cooking the gnocchi in advance.
Store your cooked homemade gnocchi in a sealed container in the fridge and use it directly from the fridge for this recipe. It will take a bit longer to heat up when adding the gnocchi to the sauce, but just add water to thin the sauce as needed while the little dumplings warm through.
If cooking from frozen homemade gnocchi you'll simply cook your gnocchi from frozen and then use it in this recipe after cooking.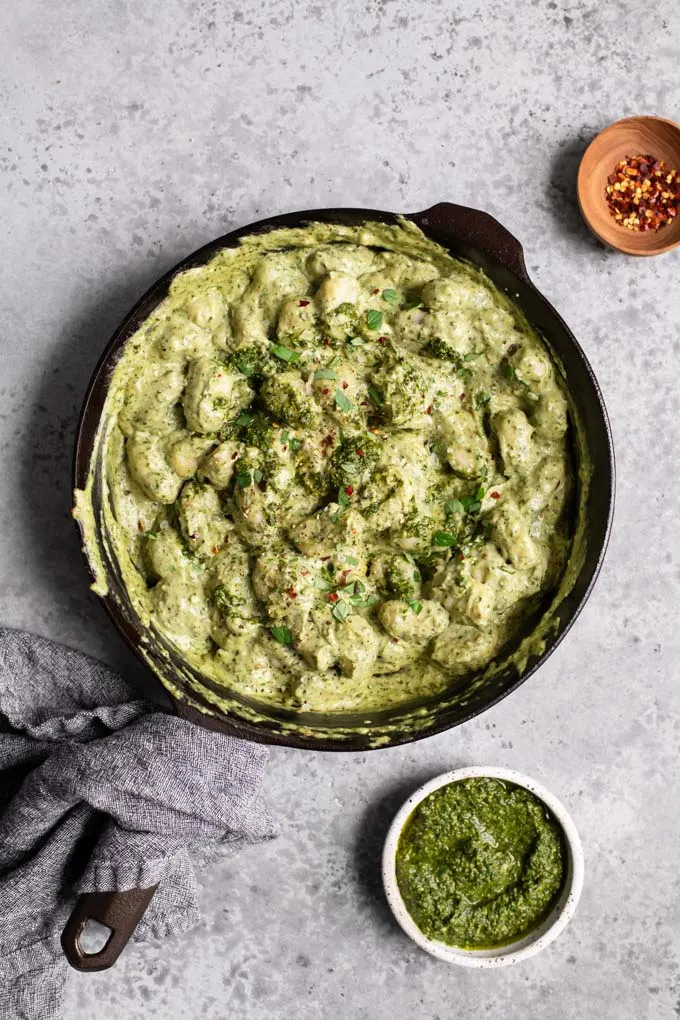 And of course whether you use homemade or packaged gnocchi, you can always cook the gnocchi immediately before making this recipe. In this case reserve some of that cooking water for your cream sauce. It will make it even more lush while also thinning the sauce as needed.
A quick note if you're buying packaged gnocchi–not all store bought gnocchi is vegan. Read the ingredients to make sure it suits your needs! You can also buy gluten free gnocchi if you need your food to be gluten free.
The cashew cream:
So this is a pesto cream sauce and ya girl's vegan so obviously I'm not using dairy cream. Instead I turn to the trusty cashew to make a silky smooth and rich tasting sauce.
All you need to make cashew cream is a blender. If you have a high powered blender such as a Vitamix or Blendtec your life is easier, but you can use any blender to make cashew cream!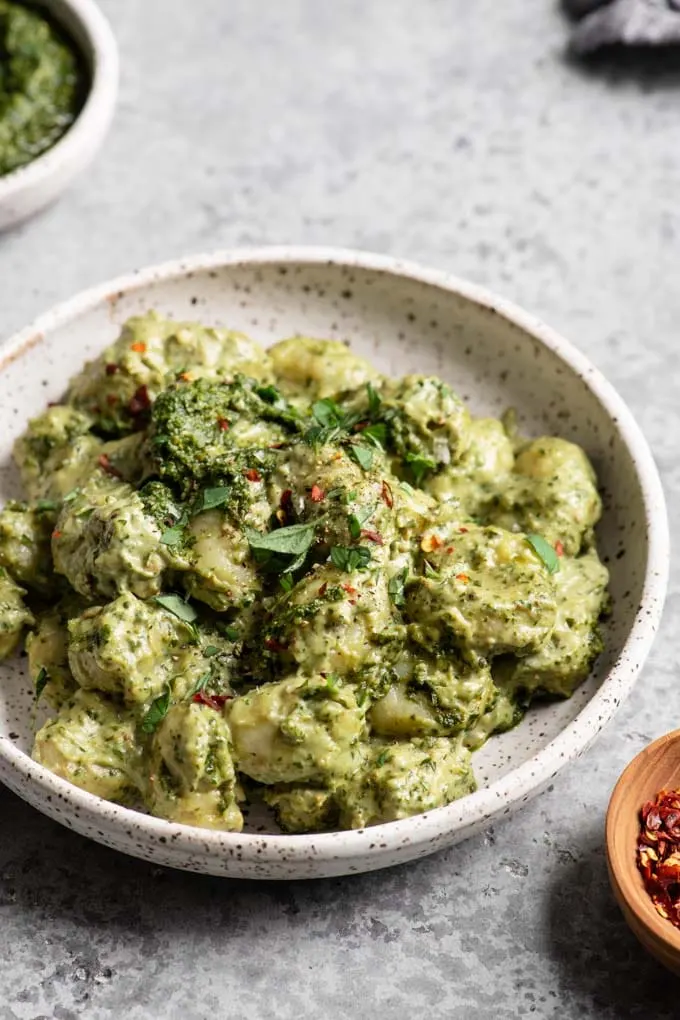 For your average blender I recommend that you soak your cashews in water first.
You can soak your cashews in cold water: just let them sit for two hours at room temperature, or if longer then stick them in the fridge (they can hang out for up to a day in there).
For a quick soak: either boil the cashews for 10-15 minutes in plenty of water, or pour boiling water over them and let rest for 30 minutes. Or do some combination, like bring a pot of cashews + water to a boil then let cool off for 15-30 minutes.
The point is, you can soak your cashews to soften them and make them easier to blend if you need or want.
If you've soaked your cashews, drain them and rinse them off then add them to the blender with fresh water. Otherwise dump in those unsoaked cashews!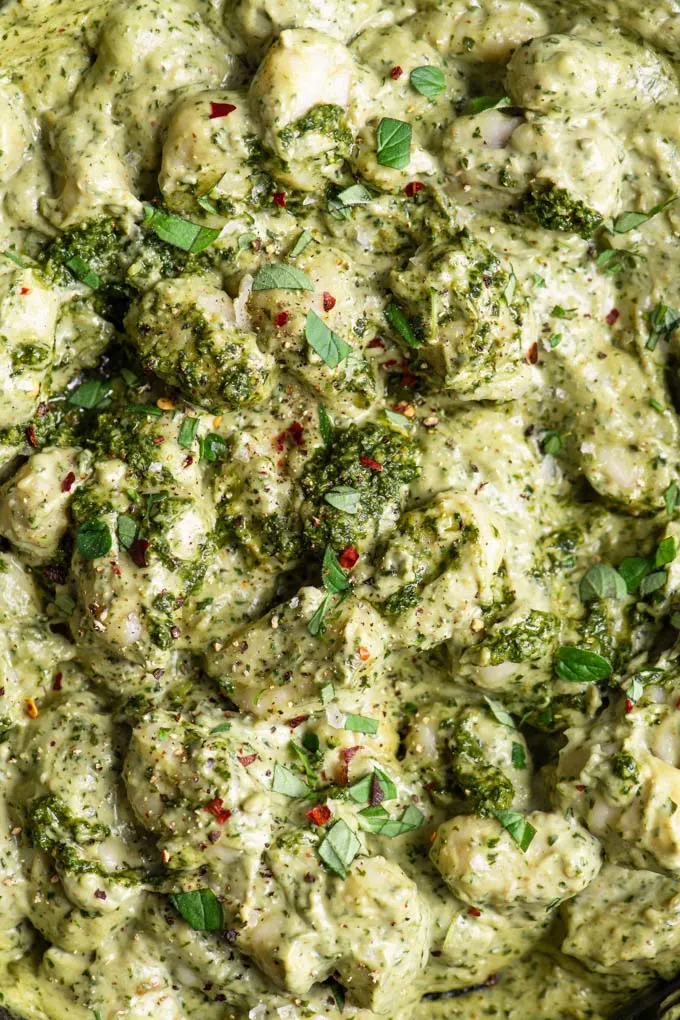 And either way, use raw cashews, not roasted! Roasted cashews have a much stronger flavor and it's not the same.
To make beautifully thick cashew cream, use a 1:1 ratio of cashews to water. This recipe is easy because its 1 cup of cashews and 1 cup of water! If you've soaked your cashews they will increase in volume, and that's fine, just measure before soaking.
Substitute for cashews?
If you need to substitute out cashews for any reason (e.g. allergy or just don't have them) I recommend using either slivered almonds or raw sunflower kernels.
Slivered almonds are blanched and peeled which is why they are my almond of choice. If using whole almonds you will want to soak them and pop the skins off before blending. Unless you want a brown flecked cream.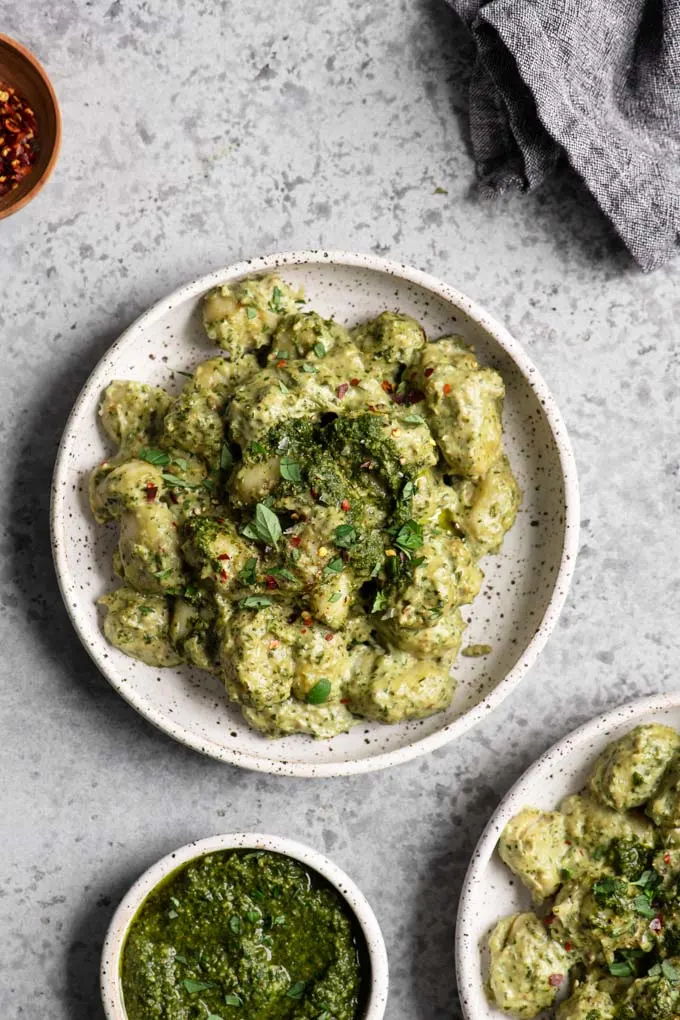 Also almonds do not get as creamy smooth as cashews, but I actually like the extra texture they have in pasta (or gnocchi) sauces!
Sunflower kernels, or shelled/hulled sunflower seeds are a great nut-free substitute for cashews. They have a mild and nutty flavor (stronger tasting than cashews, but I really like the flavor) and blend nice and creamy.
If you like the taste of coconut, then you could also use coconut milk (the full fat kind in a can). One 15 oz can will do the trick! You obviously skip the whole blending with water in this situation. Also note coconut milk will not thicken the same way as cashew/almond/sunflower cream.
The Pesto:
I'm not including a pesto recipe with this recipe. This is partially because I used some of last summers pesto that was still hanging out in my freezer, but mostly because you can use whatever pesto you want in this dish!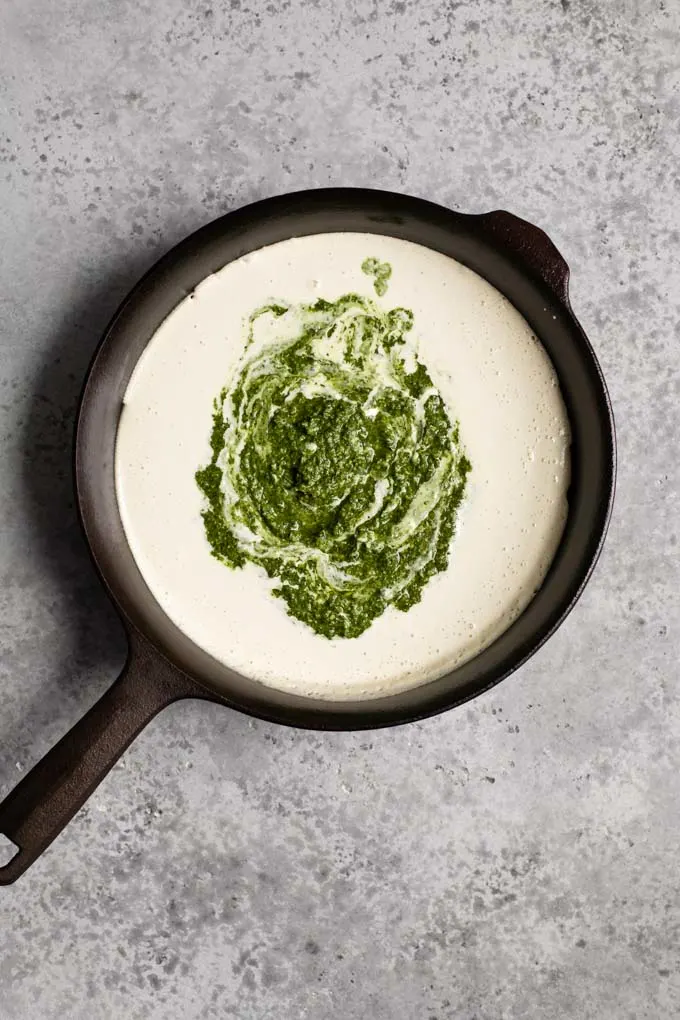 I have a few pesto recipes found in other dishes on my site, so feel free to poke around and use any of those, or use your own pesto recipe or use store bought!
If using a store bought pesto then make sure to check those ingredients. There is often sneaky dairy (usually parmesan) in there.
Cooking the vegan pesto cream gnocchi:
Once you have all your ingredients, all you need to do is warm up the cashew cream on the stove, swirl in the pesto, and add the cooked gnocchi.
Keep it over the heat until the gnocchi is warmed through, and add any water if needed to thin it out. Salt and pepper to taste.
Serve it warm with some vegan parmesan if you want (though it honestly doesn't need it), and some red pepper flakes or more black pepper.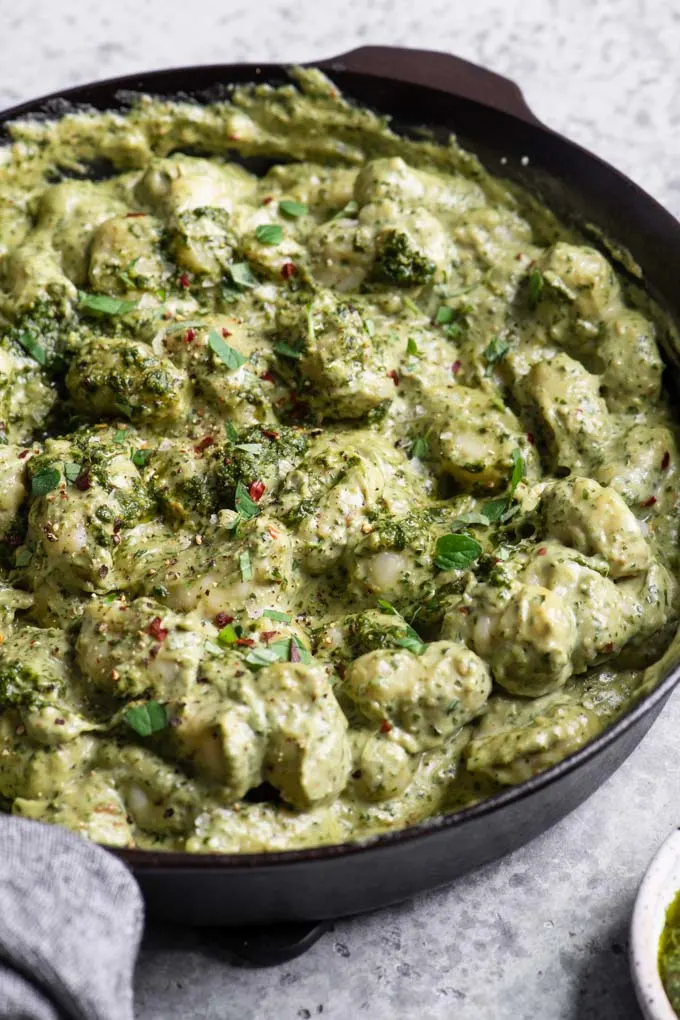 If you make this vegan pesto cream gnocchi, leave a comment below and rate the recipe on the recipe card. And please share your photos with me on Instagram, tag @thecuriouschickpea and #thecuriouschickpea. I love seeing your recreations!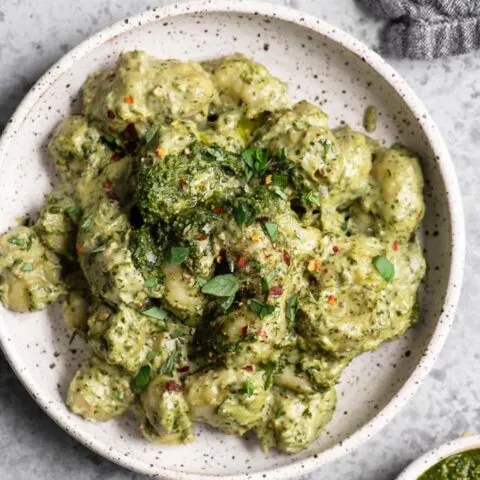 Vegan Pesto Cream Gnocchi
This is pure comfort food, with pillowy gnocchi tucked into a creamy pesto sauce. Completely vegan and easy to make gluten free (just use gluten free gnocchi)!
Ingredients
1 cup raw cashews
1 cup water
1/2 to 3/4 cup pesto
1 to 1 1/4 lbs cooked gnocchi
salt + pepper, to taste
Instructions
If not using a high powered blender, soak your cashews in boiling hot water for 30 minutes, then drain and use in recipe.
Add the cashews and 1 cup of water to a blender and blend until smooth, pausing to scrape down as needed.
Add the cashew cream to a pan over medium low heat and swirl in 1/2 cup of pesto. Add the cooked gnocchi and let cook until everything is heated through. Thin with water as needed. Add more pesto if desired, and salt and pepper to taste.
Notes
I use about half a recipe of my homemade vegan gnocchi in this recipe. Store bought gnocchi is also fine! It increases in weight by about 25% when cooked so use 12 to 16oz of uncooked gnocchi in this recipe.
Cook gnocchi to package or recipe directions. You can cook the gnocchi in advance, and keep stored in the fridge for up to a few days before using. Or cook immediately before preparing this dish.
Nutrition Information:
Yield:

4
Serving Size:

1
Amount Per Serving:
Calories:

616
Total Fat:

38g
Sodium:

245mg
Carbohydrates:

47g
Fiber:

4g
Sugar:

2g
Protein:

16g
Nutrition is calculated automatically so should only be used as an estimate.