A delicious vegan dark chocolate crepe cake is made with rich chocolate beer crepes and has a luscious whisky whipped cream filling. This beautiful dessert is a showstopper, perfect for any celebration! It can also be made without alcohol.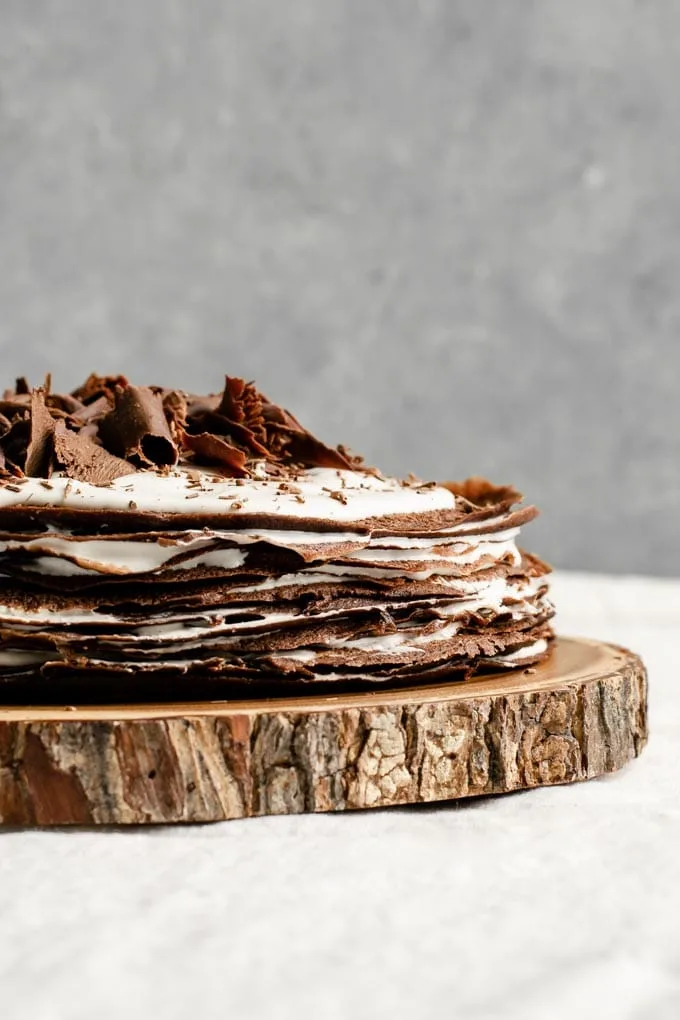 Crepe cakes have to be the most humble showstopping dessert out there. Thin crepes sandwich creamy frosting, with more than a dozen layers. It may look simple from the outside, but cutting reveals the full beauty inside
It is the dessert to impress, both in taste and uniqueness. We start with rich, bittersweet chocolate crepes. They're thin and delicious and begging to be doused in something sweet. Spread between each crepe is a layer of silky vegan cream, whipped to soft peaks.
It took 5 crepe cakes and 2 years to bring you this recipe. But I promise it was well worth the wait! Each crepe cake I made was better than the last, before finally making the cake of my dreams!
The trickiest part about this recipe was figuring out what to use for the filling. I tried an aquafaba meringue like filling, whipped coconut cream, and even a cream cheese filling before settling on this version.
The whipped filling is creamy, light tasting, not overly sweet with a hint of whiskey. The crepes are also only lightly sweetened, and made with stout (beer can be substituted and whiskey left out if you don't use alcohol) for extra depth of chocolatey flavor.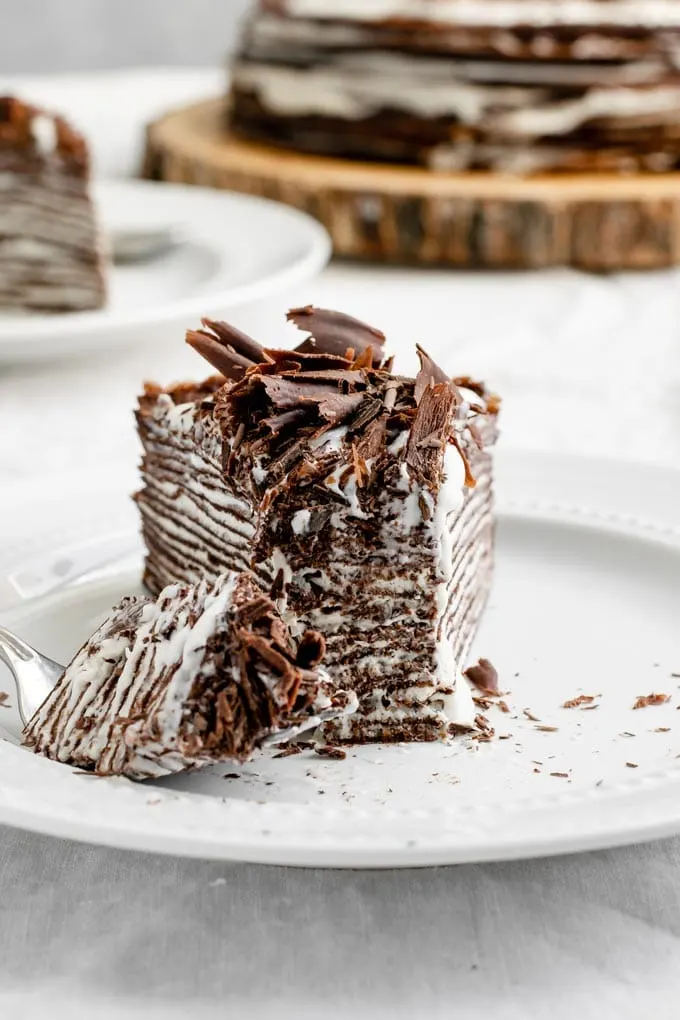 How to make the chocolate beer crepes:
Crepes are quite easy to make. Simply put, you blend all the ingredients in a blender, then stick the batter in the fridge for at least an hour before making the crepes.
For the liquids in the batter we have your choice of plant milk (I'm a soy or oat milk gal myself) plus a dark beer like a stout (substitute sparkling water or more non-dairy milk). For the flour use a combination of all purpose and chickpea flour.
Then we add cocoa powder for the chocolate, a bit of sugar to sweeten, salt to balance, and tapioca starch to bind (you can substitute a different starch). If you're curious about the ingredient choices or want to learn more about making crepes, read my Easy Vegan Crepes post, as I go into a bit of depth about the why and how of vegan crepes!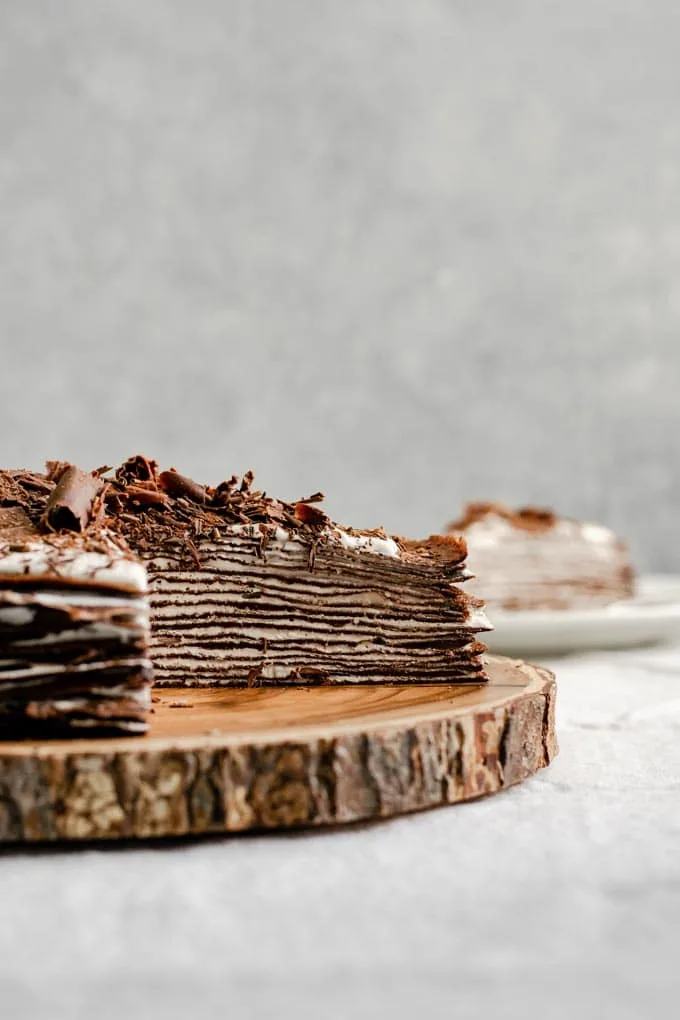 T0 make the crepes spread a thin layer on a non stick pan, you can either do this by rotating the pan or by using a crepe spreader (more about the equipment I use to follow). Cook the crepe over low heat, and once it starts to dry all over and the lacy edges peel upwards, loosen and release the edges with a thin spatula before sliding it under and flipping.
Flipping crepes can take a bit of practice. You need the crepe to be cooked enough to flip without tearing, but if it starts to tear don't stress. Just put it back, let it cook a little bit longer if needed, or just try flipping from another angle.
If you have a crepe paddle then you can slide it under one edge of the crepe and then rotate it to lift the crepe off the pan section by section. If you do end up with tears they get covered by the filling. And other things, practice makes perfect so just keep going!
Chocolate crepes are more difficult to tell the readiness to flip as you can't watch for a golden color. I like to use a low heat and cook them slowly so that it does cook and not burn.
Making the 16-ish crepes is not speedy, so put a podcast on or some good tunes, relax and enjoy yourself! It is well worth the effort.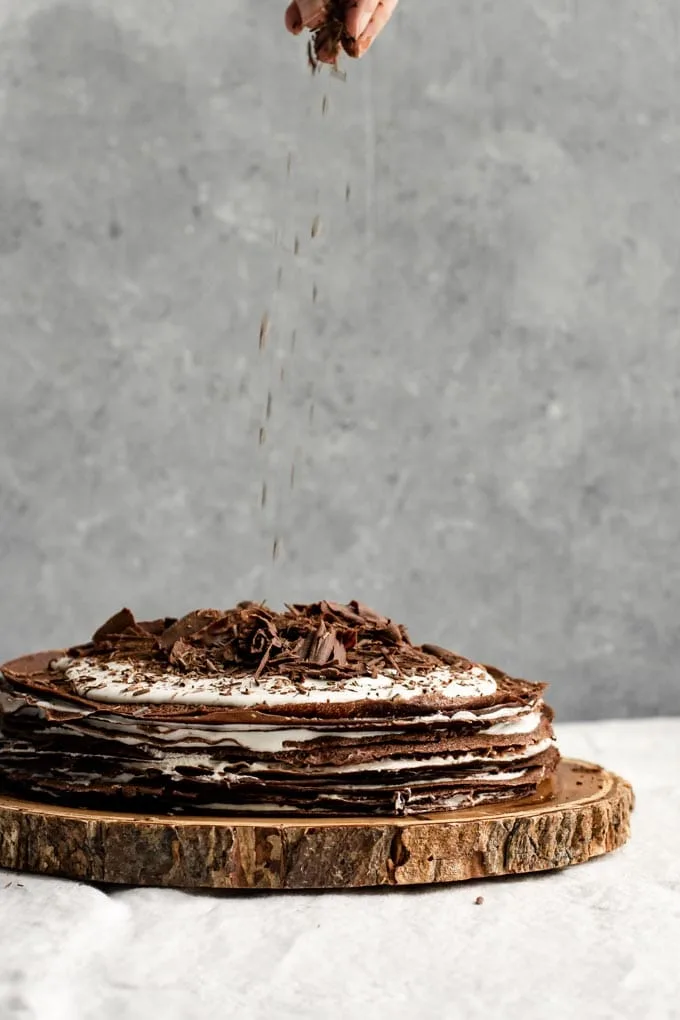 Choosing the whipped cream filling:
For the filling we needed a light and stable cream. I wanted something that anyone with a blender could make, and didn't want to fuss with finicky fillings. Because trust me, when you spend an hour making crepes you don't want to question the cream to fill them with.
I tried an aquafaba meringue and coconut cream filling, which was delicious and a little marshmallow-y in flavor, but finicky to make and had the downside that aquafaba meringue is not stable on its own for long periods of time. Plain whipped coconut cream could work but I needed multiple cans of the cream to make enough filling and run into the issue that it's still rather wet and the crepe cake layers wanted to slide around.
But when I came across this whipped cream recipe on Gretchen's Vegan Bakery I knew I had found my answer and method. Generally speaking, we emulsify plant milk with refined coconut oil to make a thick cream, then whip it to very soft peaks.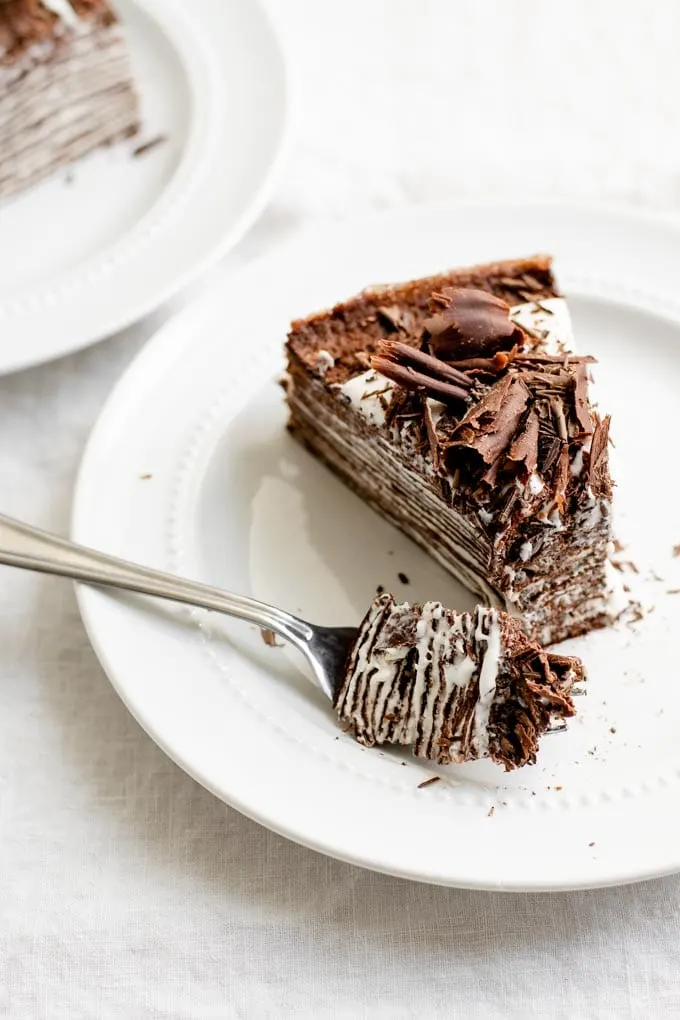 How to make the whiskey whipped cream:
How this works is you blend warmed plant milk and melted refined coconut oil together. The transformation takes about 30 seconds on high speed, if your blender is not so powerful this could take longer. But you'll watch it thicken and turn into cream, a bit like mayonnaise (as that is essentially what mayo is, an oil emulsion), but of course it doesn't taste anything like mayo.
I'm a big fan of using soy or oat milk but any creamy milk will work! Just avoid watery plant milks like rice milk. For the coconut oil I recommend using refined or expeller pressed coconut oil as it has a neutral flavor. If you want it to taste coconutty go ahead and use the unrefined stuff.
While you're blending the milk and oil, add some sugar, xanthan gum (which helps thicken and stabilize the cream), vanilla extract and whiskey. If you want it booze free then skip the whiskey. No need to substitute it or add more liquid.
The cream is absolutely delicious at this point, it's silky and lush in texture and lightly sweetened. I could eat it by the spoonful, but instead, stick it in the fridge overnight to chill. You can speed this up by putting it in the freezer, and stirring occasionally.
Once it's cold, you'll have a thickened cream, though it's still a bit liquidly. Whip the cream for several minutes until you get soft peaks. While you'll see it does increase in volume, as written you won't be able to turn the cream into thick whipped cream texture. But it's fine, it's perfect for the application we need to use it for!
What you can expect is that the streaks left in the cream from whipping don't instantly flood back into place, instead slowly doing so. Once your cream is whipped it's ready to use! You can use immediately or stick it back in the fridge.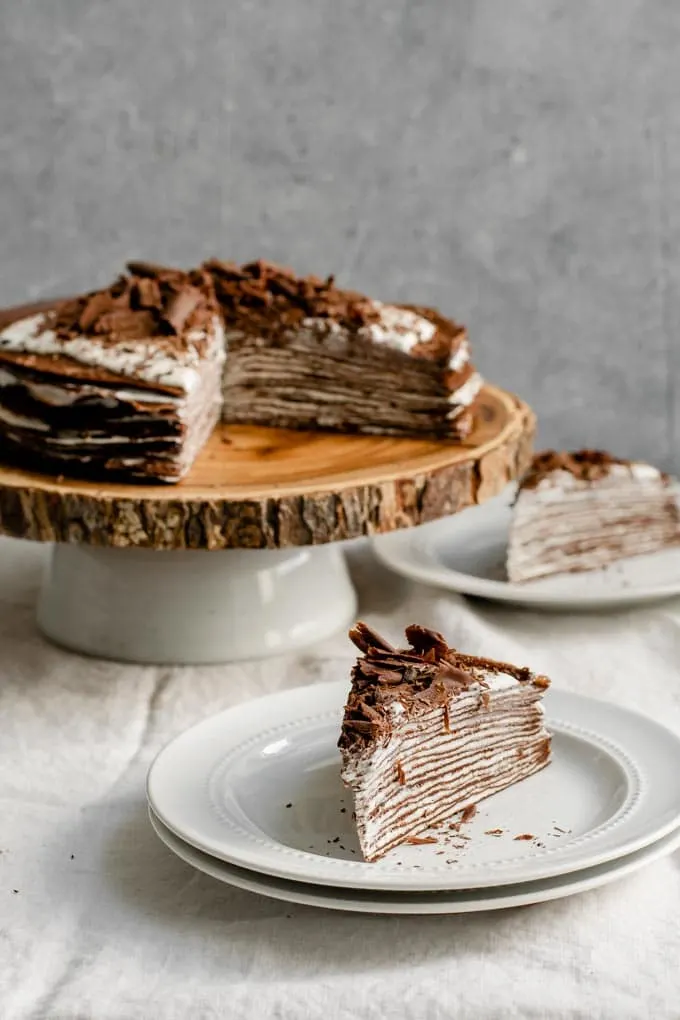 Assembling your vegan dark chocolate crepe cake:
You'll want cold crepes and cold whipped cream to assemble. Start by putting one crepe down on a plate or large cardboard cake round. Then spread a thin layer of cream until it reaches close to the edge. It won't look like a lot, but it all adds up between the layers!
Layer a crepe on top of that and repeat until you use up your last crepe. Spread some cream on top, I like to leave a bit more space around the edge on this one, then sprinkle with shaved chocolate.
If you want pretty large chocolate curls, follow these instructions or you can use a vegetable peeler on a bar of chocolate for fine curls. Warm the bar slightly to get slightly bigger curls.
You can slice into the cake immediately, but for the cleanest cuts and easiest eating let it chill for a few hours. The cream firms and a little bit of it soaks into the crepes.

Equipment you'll ideally want for making a crepe cake:
First you need a blender. Any blender should do the trick, I have an ancient Vitamix.
Next, you need a pan to make the crepes in. You absolutely need a nonstick pan to make crepes. I love my cast iron griddle (Amazon link) and it works like a charm. But of course a regular nonstick pan is super easy to use. The size of the pan will determine the size of the crepe cake and also how many crepes you make from the batter.
I use a 10.5″ pan, and I wouldn't recommend larger, but if you use a smaller pan you may need to use a bit less batter for each crepe and therefore make more crepes.
You can spread the batter by rotating the pan in a circular motion to let the batter run around to the edges. I did this for a long time. But then I invested a little (like, under $20) in a crepe spreader and paddle and it really does make the job easier! If you don't have a paddle you'll want to use a offset spatula or maybe a butterknife. The full sized spatula is tricky to maneuver with crepes. And if you're using a nonstick pan be careful about/don't use metal!
For whipping the cream, a handheld mixer works, or use a stand mixer and balloon attachment. Spread it with an offset spatula.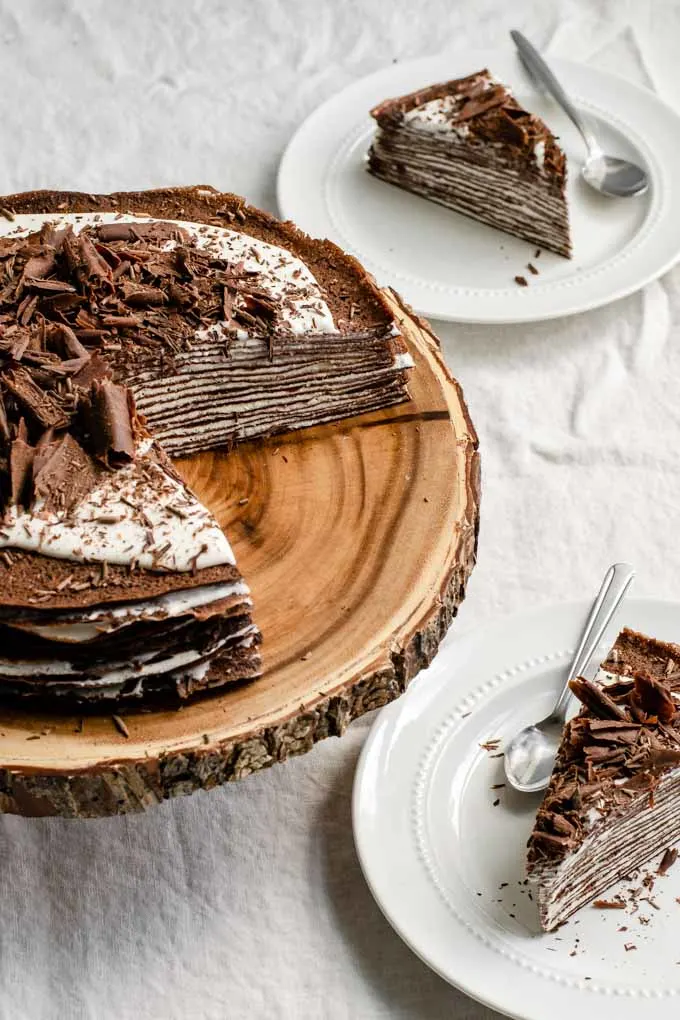 A helpful timeline for making the crepe cake:
Make the cream first. Blend up the ingredients then stick them in the fridge. Let it chill overnight or for several hours. You can speed this up by using the freezer.
Make the batter for the crepes. Let it chill for an hour, or also make it the night before.
Cook the crepes. Leave yourself about an hour to do this. Let them cool fully, but for the most part this will happen as you cook as it takes awhile to make so many crepes! Two pans would speed up the process but then you'd have to own two identical pans.
Whip the cream to soft peaks, then assemble the crepe cake.
Let it chill for at least an hour before cutting into. Or make it the day before but wait to decorate the top layer with the cream and chocolate. Wrap it up then stick it in the fridge to chill. Decorate the top of the cake before serving.
And that's it! I gave a lot of information that will hopefully help you tackle this cake! It might not be speedy but it's easy and so worth the time!
Who would have guessed that this vegan dark chocolate crepe cake would be so insanely good! I mean, I did, it's chocolate and whipped cream and all the yummy things! You'll find yourself going in for a snack, pre-dinner dessert, or second breakfast. I love that it's not overly sweet, it makes it that much more satisfying!
---
If you make this beautiful vegan dark chocolate crepe cake, leave a comment below and rate the recipe on the recipe card. And please share your photos with me on Instagram, tag @thecuriouschickpea and #thecuriouschickpea. I love seeing your recreations!
WANT MORE DELICIOUS VEGAN RECIPES? FOLLOW ME ON INSTAGRAM, FACEBOOK, AND PINTEREST!
---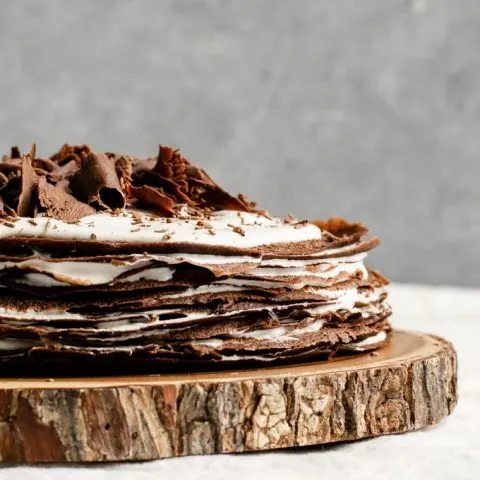 Vegan Dark Chocolate Crepe Cake with Whipped Cream Filling
Total Time:
7 hours
20 minutes
This beautiful crepe cake is made up of dark chocolate beer crepes and a whiskey whipped cream. It's a showstopper of a dessert and absolutely delicious and decadent. You can also make it without alcohol if you prefer.
Ingredients
Dark Chocolate Beer Crepes
3 cups (705g) soy milk or your choice plant milk
1 cup (245g) stout beer, substitute sparkling water or additional plant milk
1 1/2 cups (230g) all purpose flour
1/2 cup (53g) chickpea flour
3/4 cups (65g) cocoa powder, dutch processed or natural
1/4 cup (50g) sugar
2 tbsp (19g) tapioca starch
1 tsp (5g) salt
Whiskey Whipped Cream Filling
2 cups (490g) soy milk or your choice plant milk, warmed
2 cups (448g) refined coconut oil, melted
3/4 cup (150g) sugar (use 1 cup for sweeter cake)
1/2 tsp xanthan gum
2 tsp (10g) vanilla extract
1/4 cup (45g) whiskey (optional)
Instructions
Make the crepes:
Blend all the ingredients for the crepes together until combined, about 30 seconds, then transfer to a sealed container and refrigerate for an hour or up to overnight.
When ready to make crepes, heat a 9 - 10" non-stick skillet or specialized crepe pan over medium-low heat. Lightly spray pan with oil then pour 1/3 cup of batter in the center of the pan. Use a crepe spreader to easily spread the batter in a circles until you have a thin pancake -or- if you don't have the tool rotate the pan in a circular motion so the batter rolls around and spreads to the outside of the pan into a thin pancake. Note: If the batter dances around when it hits the pan the pan is too hot. It's better to go slower at a lower temperature with crepes.
Let the crepe cook until the top no longer looks wet and the edges are starting to curl up, about 2-3 minutes. Gently flip by loosening the edges of the crepe first then sliding the spatula under the crepe. Cook an additional 1 1/2 - 2 minutes, or until the bottom side is cooked. Repeat with the remaining batter, spraying the pan with oil between each crepe. Let the crepes cool to room temperature or wrap and store in the fridge until ready to use.
Make the cream:
To make the cream: blend all the ingredients in a blender until smooth and emulsified, about 30 seconds on high.
Transfer to a sealed container and refrigerate until fully chilled. This will take several hours, or speed it up by using the freezer.
Whisk to soft peaks using a balloon whisk on a stand mixer or handheld beaters. This will take about 3-5 minutes.
Assemble the cake:
Put the first crepe onto a cardboard round or a flat plate and then put about 3-4 tablespoons of whipped cream on the crepe. Use an offset spatula to spread to just before the edge of the crepe. Place a crepe on top and repeat with adding cream and crepes until you've used up all of your crepes.
Spread a layer of cream on top and decorate as desired. Refrigerate the crepe cake for about 1 hour before slicing into and serving. Alternatively wait to decorate the top crepe and wrap the cake up and refrigerate overnight, decorating before serving.