These vegan enchiladas are filled with an easy savory lentil filling and topped with a homemade enchilada sauce and a dairy free butternut queso. Simple to make but so special, it's a meal that tastes as good as it is good for you!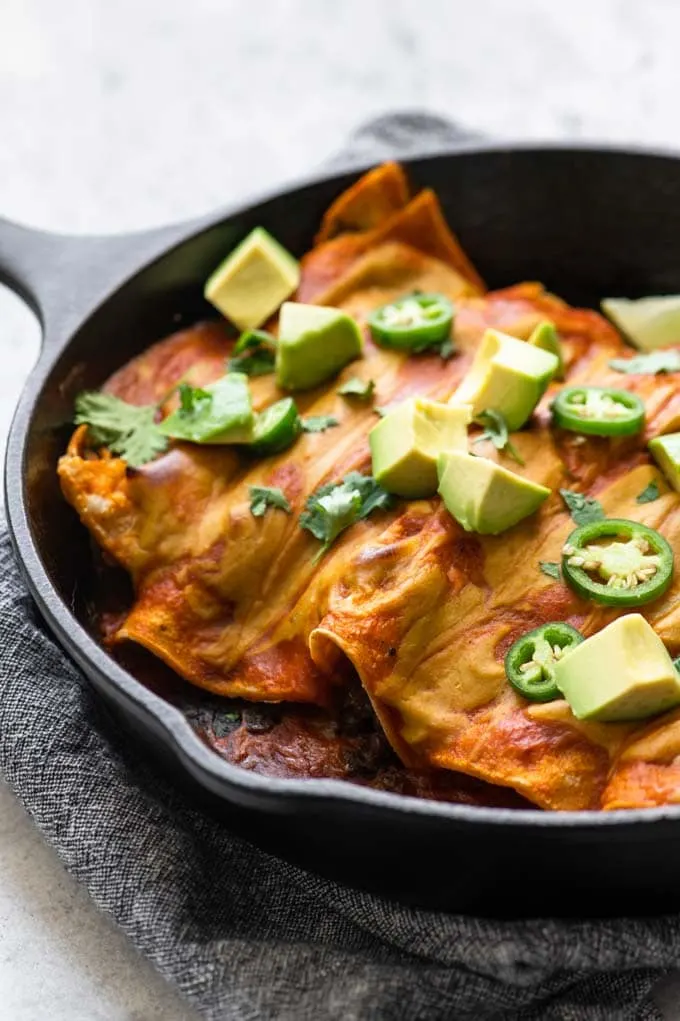 They say enchiladas are only as great as the filling and sauces that go into them. And if they don't really say that, well it's true!
These ones are loaded with a speedy and easy filling of lentils fried up with aromatics and spices. It's simple but packed with savory flavor.
The earthiness of the lentils goes so well with my vegan butternut squash queso that I had to switch out the store bought vegan cheese with my whole foods, plant based queso!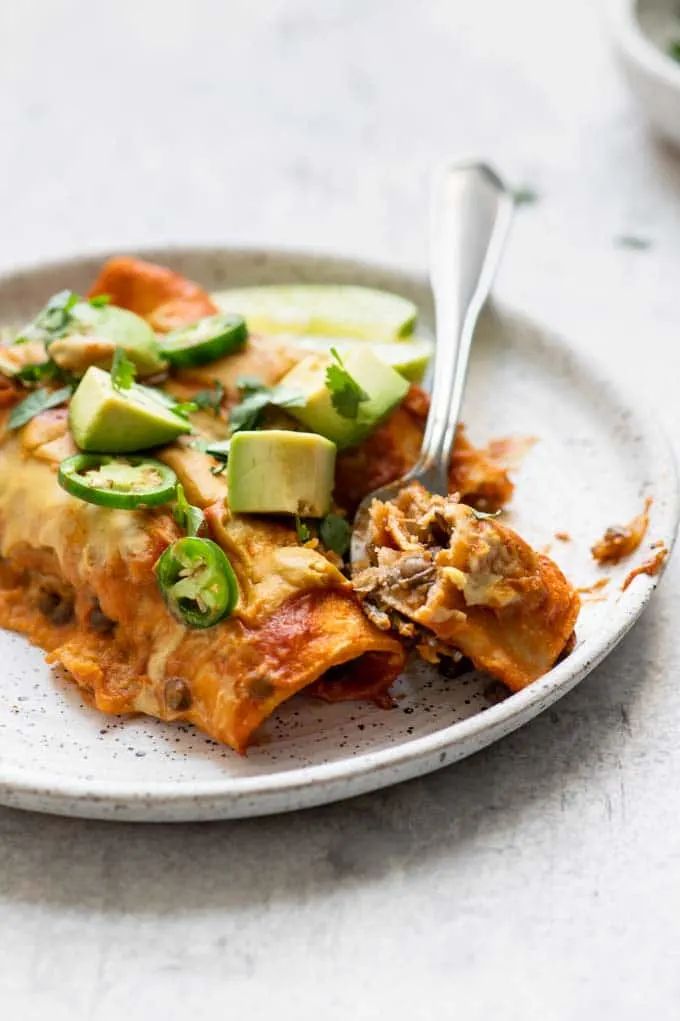 It wouldn't be enchiladas without a flavorful sauce, and I've got you covered with my homemade enchilada sauce. It's no secret that I think a homemade sauce makes the difference between ho hum enchiladas and one to knock your socks off!
It's really the combination of all three of these recipes (the lentil filling, the butternut queso, the enchilada sauce) coming together to make the best enchiladas!
The lentil filling:
I took my inspiration for this filling from a 'traditional' ground beef enchilada filling. But instead of the meat, I used lentils! It's not going to fool you for meat like some of the store bought ground plant meat, but that's not the goal.
I'm on a mission to eat more pulses (the edible seeds of the legume family, i.e. beans, lentils, and peas) because they are good for you. Full of protein, fiber, prebiotics, complex carbohydrates, important vitamins and minerals… you get the idea!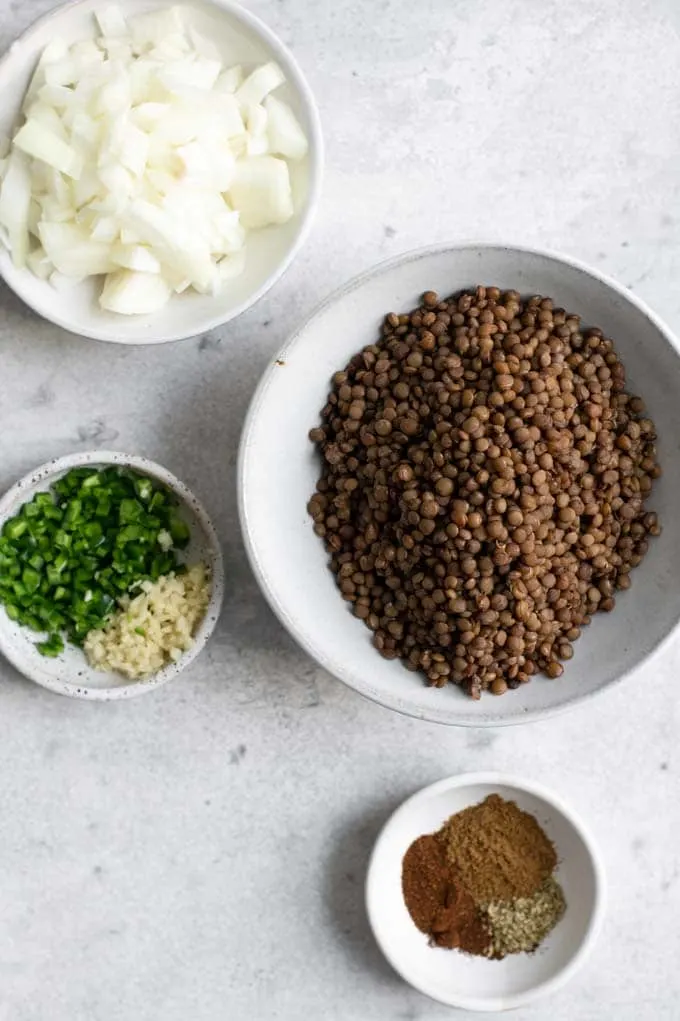 But also, when it comes down to it, I just really like them! They're also really inexpensive to buy (particularly dried), which is a bonus.
I recommend using brown lentils, green lentils, or french lentils for this recipe. All of these have a nice toothsome texture that can mostly hold its shape when cooked, breaking down just enough to hold the filling together a bit. I used French lentils this time around!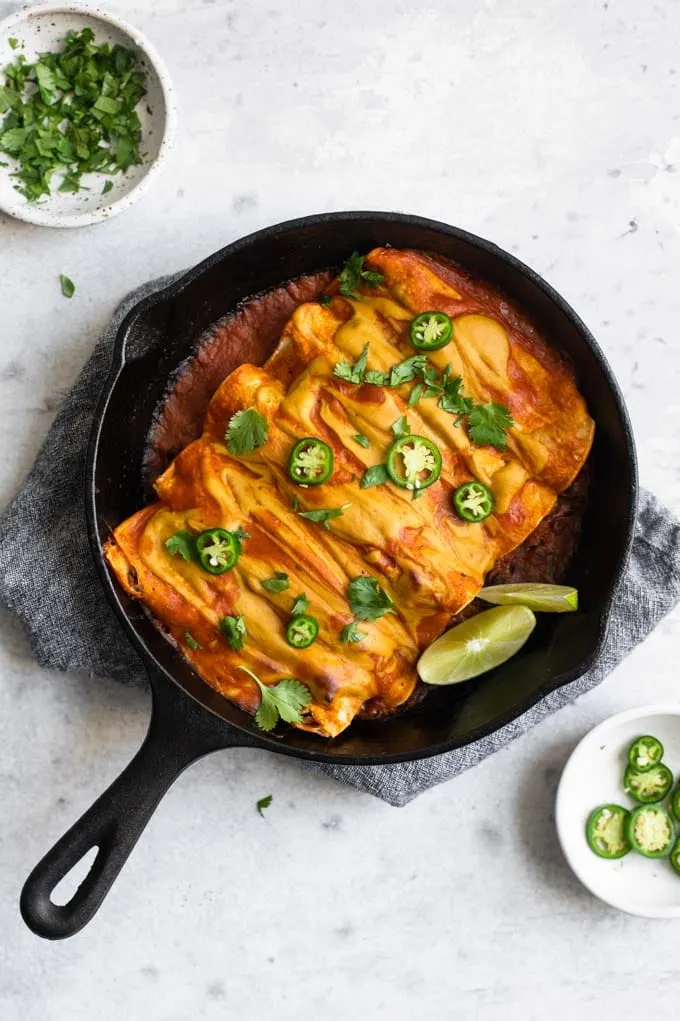 They're earthy and savory, downright delicious on their own! But fried up with onion, garlic, jalapeño, and spices and they become even better, perfect for filling up your tortillas!
We start building flavor into this dish early on by cooking the lentils in salted and spiced water.
Then fry some onion until soft before adding minced garlic and jalapeño. Once those have taken on a darker shade of color, we add cumin, chili powder, oregano, and salt.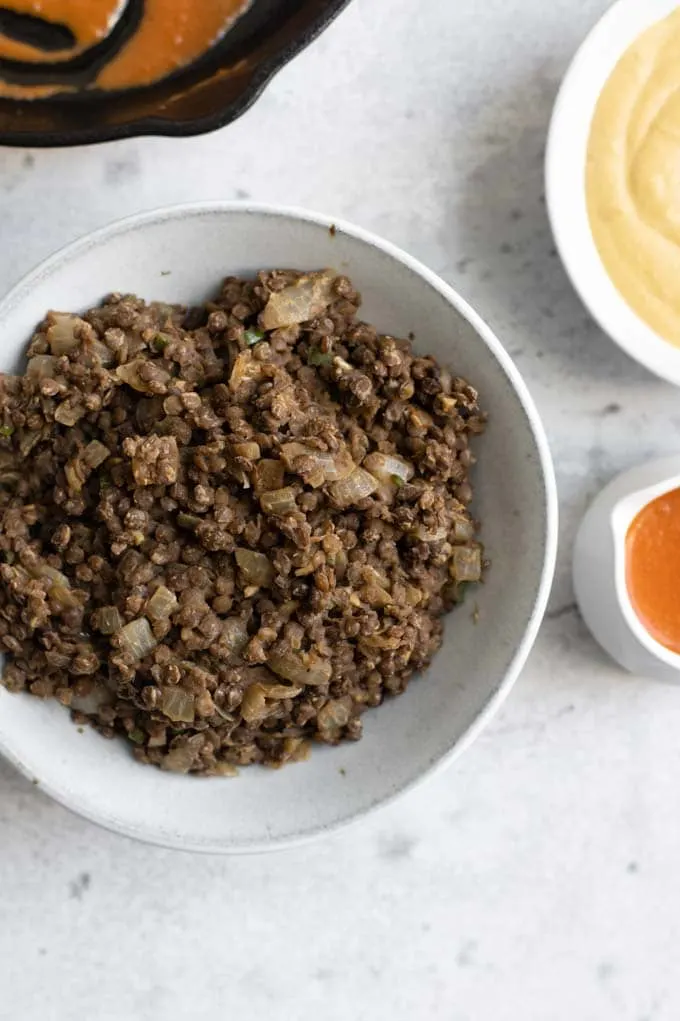 Like any of my Mexican recipes, if possible source Mexican oregano, but otherwise use the more common Mediterranean oregano. As for the chili powder you can use either a chili powder blend (labeled "chili powder" in the US) or ancho chili powder.
Lastly we add the lentils into the seasoning with some of the cooking water and let it fry until the lentils start to break down a bit. Taste and adjust any seasoning, then turn off the heat and you have your filling!
Building the lentil enchiladas:
I'm team corn tortilla when it comes to enchiladas, but I wasn't always. As a kid the natural foods tortillas my mom would buy were dry and no amount of softening could get rid of that um.. undesirable texture.
These days options for corn tortillas are better (softer) which means you can make tender enchiladas with corn tortillas!
Now I haven't been everywhere so if all you can get is flour tortillas or you want grain free tortillas, you can make these as easily with those as well! just note you'll likely make fewer enchiladas as corn tortillas are smaller than flour ones.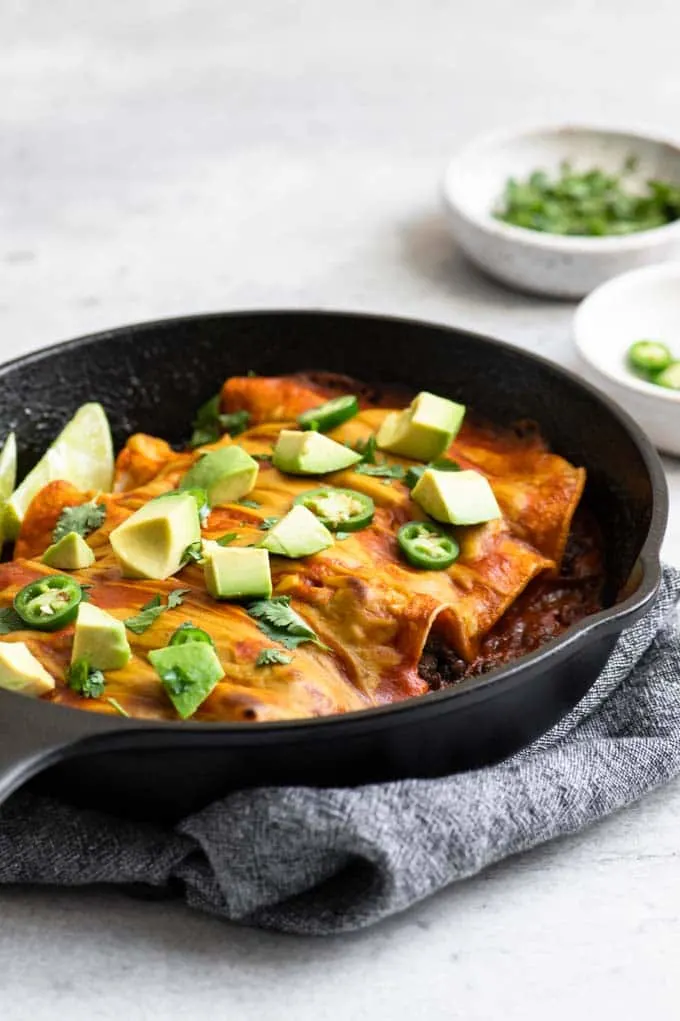 Assemble your tortillas, warm up the enchilada sauce (essential as it helps soften the tortillas!), and get out the butternut queso.
Now I'm not going to hold you to making the sauces from scratch, so if you'd rather use a store bought enchilada sauce you could probably get away with about 3 1/2 cups (my recipe makes 4 cups and I used it all).
You could also use a store bought cheese, or my homemade roasted jalapeño cheese. That said, make the queso! You'll have extra for nachos, tacos, chips and dip, you name it. And it's SO good!
I like to set up an assembly line for building enchiladas.
Have your lentil filling in a bowl, a stack of tortillas, a pan for the enchiladas, enchilada sauce and queso set out.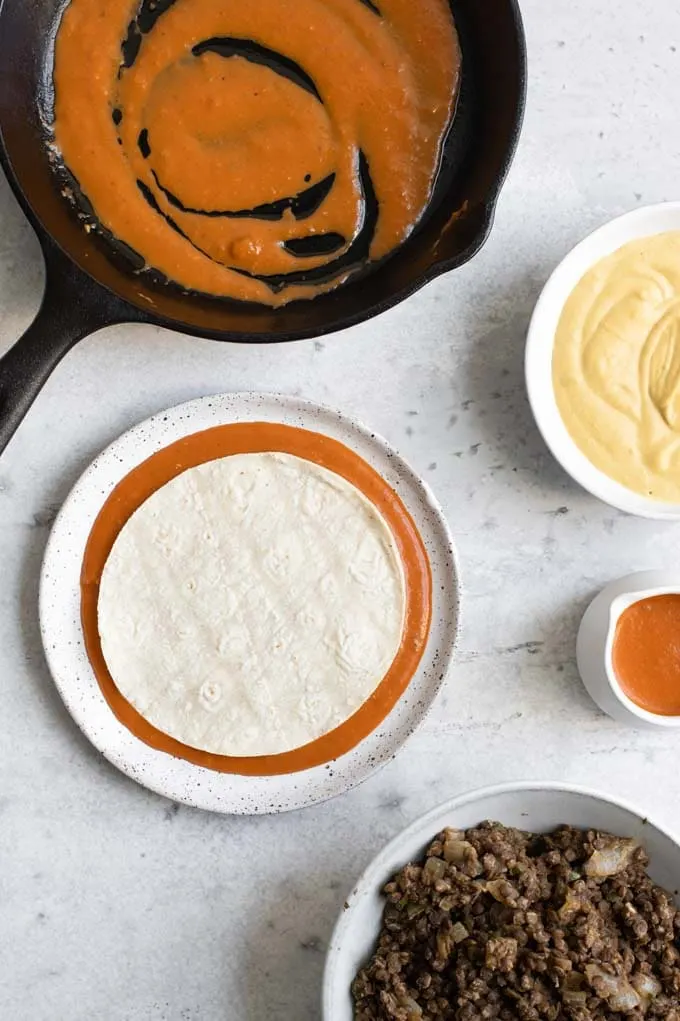 Spread some enchilada sauce on the bottom of the baking pan for a light coating, then pour some sauce on a plate. Dip a tortilla into the sauce, flipping to coat both sides. The warm sauce softens the tortillas for easy rolling and no ripping.
*If your tortillas are drier this may not be enough to soften them, and in that case, wrap your tortillas in a damp paper towel and microwave in 20 second increments until they're soft and pliable.
Now load up the tortillas with some filling and roll them up. Place them in the baking dish seam side down. Repeat with the remaining tortillas.
Pour enchilada sauce over the filled tortillas, then follow with some queso. Spread the queso out, and feel free to get fancy with a pattern like I did or just dollop and spread carelessly!
The enchiladas get baked (uncovered) until warmed through, the tortillas are softened, the queso is melty and even browned in a couple spots, and the edges are just a bit crispy!
You can make all the enchiladas at once in a big lasagna sized casserole dish (like 9 x 13″ or even a bit bigger) or make them a few at a time like I did here! These are arranged in a 9″ cast iron skillet in these photos
I find that 2-3 enchiladas makes a pretty decent dinner, and like to top mine with diced avocado (or guacamole), chopped jalapeño, cilantro, and some freshly squeezed lime juice!
If you make these vegan lentil enchiladas, leave a comment below and rate the recipe on the recipe card. And please share your photos with me on Instagram, tag @thecuriouschickpea and #thecuriouschickpea. I love seeing your recreations!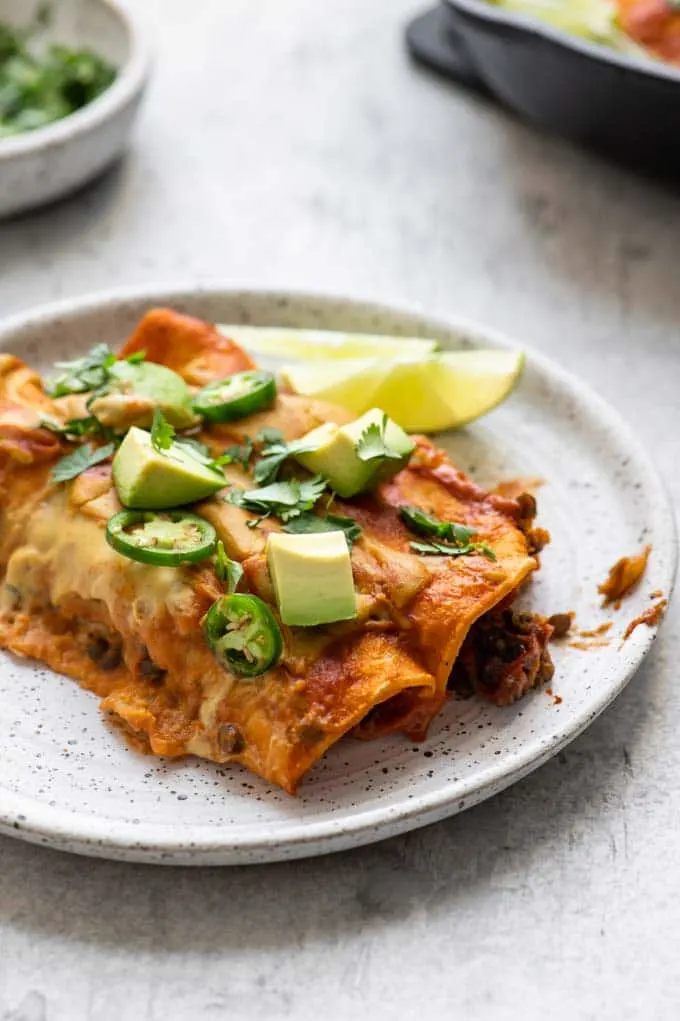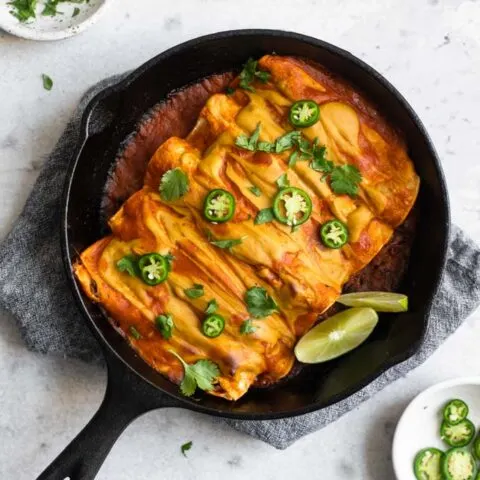 Vegan Lentil Enchiladas
These vegan and gluten free enchiladas are stuffed with a savory lentil filling and topped with homemade enchilada sauce and plant based butternut squash queso for a delicious and healthy meal! The recipe can easily be doubled to feed a crowd, and any leftovers can be frozen for longer storage.
Ingredients
Lentils
1 1/2 cups dry Brown, French, or Green lentils
4 1/2 cups water
1 tsp dried oregano
1/2 tsp salt
1 bay leaf
For the filling
2 tsp oil
1 yellow onion, diced
2 cloves garlic, minced
1-2 minced jalapeños, seeded for less heat
1 tsp ground cumin
1 tsp chili powder
1/2 tsp dried oregano
1/2 tsp salt, more to taste
Everything Else
Instructions
Sort any debris or small stones from the lentils and rinse thoroughly. Transfer to a pot and cover with 4 1/2 cups water. Add the 1/2 teaspoon of salt, 1 teaspoon of oregano, and bay leaf. Bring to a boil, then reduce heat and let simmer for about 20 minutes, or until the lentils are tender. Drain the lentils, reserving at least 1 cup of cooking water. Discard the bay leaf.
Heat a large skillet or pot over medium and add the oil. Sauté the onion until soft and translucent, about 5 minutes. Add the garlic and jalapeño and cook for 1-2 minutes.
Stir in the spices, then add the cooked lentils and 1/2 cup of cooking liquid. Cook the lentils for 7-8 minutes or until the lentils are starting to break down. Add more of their cooking liquid as necessary to keep it from getting too dry. Taste and adjust seasoning.
Preheat the oven to 375 ºF and warm the enchilada sauce.
Pour some enchilada sauce to lightly coat the bottom of a baking dish, use a 9 x 13" pan or lasagna pan to make all enchiladas at once.
Pour some enchilada sauce into a plate. Dip the tortillas into the enchilada sauce, flipping to coat both sides. Fill with the lentil filling and roll the tortillas. Place the filled tortilla seam side down in the baking dish. Repeat with remaining tortillas.
Pour enchilada sauce to cover tortillas and then top with butternut queso. Bake uncovered for about 20 minutes.
Notes
If the tortillas are dry and prone to cracking, wrap in a damp paper towel and warm them in the microwave in 20 second increments until soft and pliable. Also have more than 18 tortillas on hand in case some break or you end up with extra filling if yours are more lightly filled than mine!
For gluten free, make homemade enchilada sauce or check ingredients if purchasing to certify gluten free.
I like to use ancho chili powder and Mexican oregano, but regular chili powder blend and mediterranean oregano work really well in this recipe as well!
Nutrition Information:
Yield:

18
Serving Size:

1
Amount Per Serving:
Calories:

142
Total Fat:

3g
Sodium:

695mg
Carbohydrates:

22g
Fiber:

5g
Sugar:

4g
Protein:

5g
Nutrition is calculated automatically so should be used as an estimate.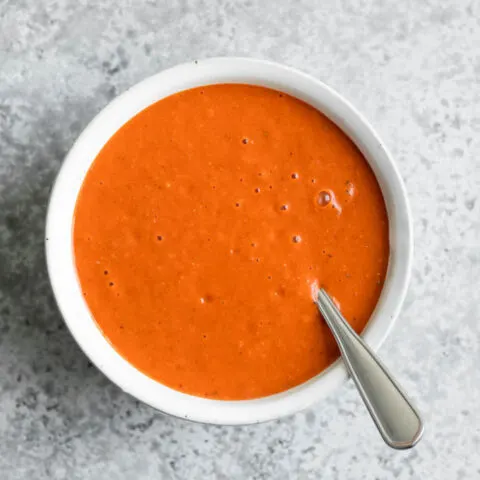 Homemade Enchilada Sauce
Making your own enchilada sauce is super easy and tastes better than any store bought version! It's vegan and can be made gluten free if desired. Make in advance, and store in the fridge for a week, or freeze for longer storage.
Ingredients
3 tbsp oil, divided
1/2 medium yellow onion, diced
2 cloves garlic, minced
1/2 tsp cumin seed
2 tsp chili powder
1/2 tsp dried oregano (Mexican oregano if possible)
1/4 tsp cayenne
1/2 tsp salt, or to taste
freshly ground black pepper, to taste
1/4 cup flour, can be gluten free if desired
2 cups vegetable broth, or water
15 oz can tomatoes
1 tbsp tomato paste
Instructions
Heat 1 tablespoon of oil in a large pot over medium-low heat. Add the onions and cook, stirring occasionally, for about 5 minutes until the onions have softened and lightly browned.
Move the onions to one side of the pot, then add the additional 2 tablespoons of oil in the empty space. Add the garlic and cumin seed to the oil and let fry for about 30 seconds.
Stir in the chili powder, oregano, cayenne, salt, and pepper, then add the flour and mix to coat. Cook for about 1 minute, then slowly pour in the broth while stirring.
Add the tomatoes and tomato paste, breaking apart the tomatoes if using whole. Turn heat up to bring to a simmer, then lower heat and cook , partially covered, about 10 minutes or until the tomatoes are breaking down and sauce is thickened.
Transfer the sauce to a blender or use an immersion blender in the pot and process until smooth. Be careful as sauce is very hot! Vent the heat as needed if using an upright blender.
Notes
For the chili powder use either ancho chili powder or a chili powder blend (labeled chili powder, contains mild ground chilis and spices). Use more or less cayenne pepper to taste. As is it's a mild sauce but not without any heat.
Nutrition Information:
Yield:

32
Serving Size:

1
Amount Per Serving:
Calories:

23
Total Fat:

1g
Sodium:

99mg
Carbohydrates:

2g
Sugar:

1g
Nutrition is calculated automatically so should be used as an estimate.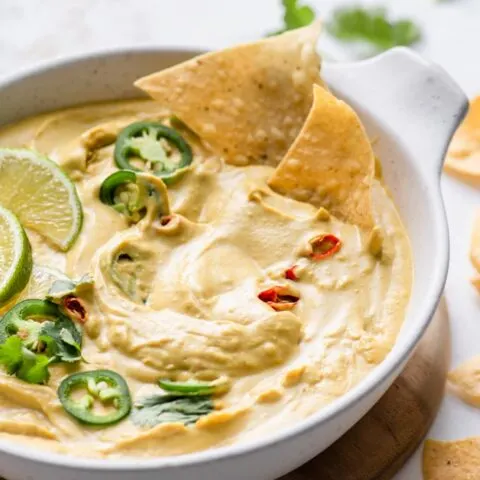 Vegan Butternut Squash Queso
This ultra creamy queso is made with butternut squash and loaded with flavor. Use it to make nachos, smothered burritos, bean dips, for chips and queso, or to top enchiladas! Recipe is vegan and gluten free.
Ingredients
2 tbsp oil
1 small onion, diced
3-4 cloves garlic, minced
2 jalapeños, minced (seeded for less heat)
2 cups (~8 oz) cubed butternut squash
1 cup cashews
2 tsp ground cumin
1 tsp chili powder
2 tbsp nutritional yeast (optional)
1 tsp salt, more to taste
2 cups water
1 tbsp miso (certified gluten free if needed)
1 tbsp lime juice
1 tsp cornstarch, arrowroot, or tapioca starch
Instructions
Heat the oil in a large pot over medium. Add the onion, garlic, and jalapeño and sauté for about 5 minutes, or until soft.
Add the butternut squash and cashews and sauté about 5 minutes to get a bit of color on them.
Stir in the spices, nutritional yeast, and salt. Add the water and miso, cover and bring to a simmer. Let simmer until the squash is tender, about 10 minutes.
Transfer the mixture to a blender (be careful as it is hot), add the starch and lime juice and and blend until smooth, pausing to vent the heat and scrape down the sides as needed.
Return to the pot and turn on low heat. Adjust salt and lime to taste. Let simmer for 2-3 minutes to activate the starch.
Nutrition Information:
Yield:

12
Serving Size:

1
Amount Per Serving:
Calories:

109
Total Fat:

8g
Sodium:

330mg
Carbohydrates:

8g
Fiber:

2g
Sugar:

1g
Protein:

3g
Nutrition is calculated automatically so should be used as an estimate.