This creamy vegan white bean and wild rice has the most luscious, rich texture. Seasoned with tarragon and thyme, it takes the best flavors of French cooking. This simple to make soup tastes even better the next day, so make sure to make enough for leftovers!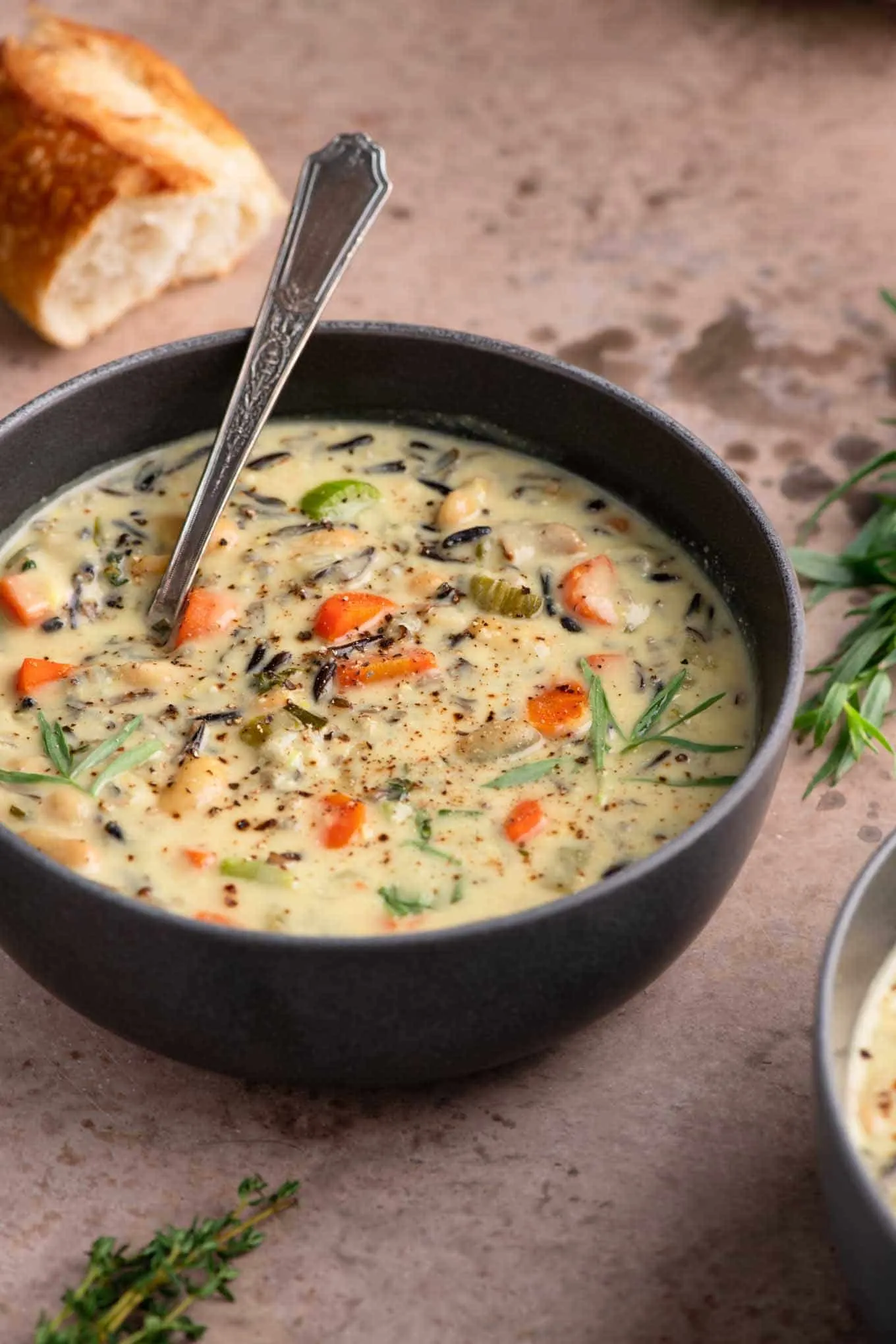 White beans and wild rice make for a hearty and protein filled soup. It's stick-to-your-ribs good, but much lighter and better for you than the popular dairy- and meat-laden inspiration. Especially when you enjoy it with the recommended rustic bread or baguette to sop up every last drop.
It's pure comfort food, with chewy grains of wild rice, buttery textured white beans, and tender pieces of carrot and celery in every bite. You really don't want to miss out on this recipe!
The ingredients for vegan white bean wild rice soup:
Making this cream of wild rice soup vegan is pretty simple! Most of the ingredients remain the same from its non-vegan counterpart. You have onion, carrot, celery, garlic, tarragon, and thyme to season the dish. A sprinkling of turmeric is optional but gives the soup a pale golden color.
For the broth, choose a lighter tasting vegetable broth. I recommend using a vegan "chicken style" broth. I personally like to use the Better Than Bouillon brand No-Chicken Base and mix it with water to make as much broth as needed.
White beans, such as cannellini beans, navy beans, or great northern white beans plump out the soup. They are all mild tasting beans, and lend themselves beautifully to this dish. I used cannellini beans in these photos.
The soup is thickened in three ways. The first is by way of a roux, which is cooked flour and fat (typically butter). A roux brings flavor to a dish and the flour adds thickening power. We use vegan butter for a vegan soup, but if you prefer sticking to olive oil that works as well.
The second is through the rice. Just cooked rice is tender, but as you let the soup simmer past that point the starches of wild rice start to work to thicken the soup as the rice absorbs extra liquid.
The third is from the vegan cream. For creaminess I really love using cashew cream, it is lightly nutty tasting and blends up really creamy. The starches of the cashews also work to thicken when the cashew cream warms up.
For this savory soup, I like to blend cashews with vegetable broth instead of plain water. This brings extra flavor to the dish and it doesn't get better than cashew cream when you want a luscious texture.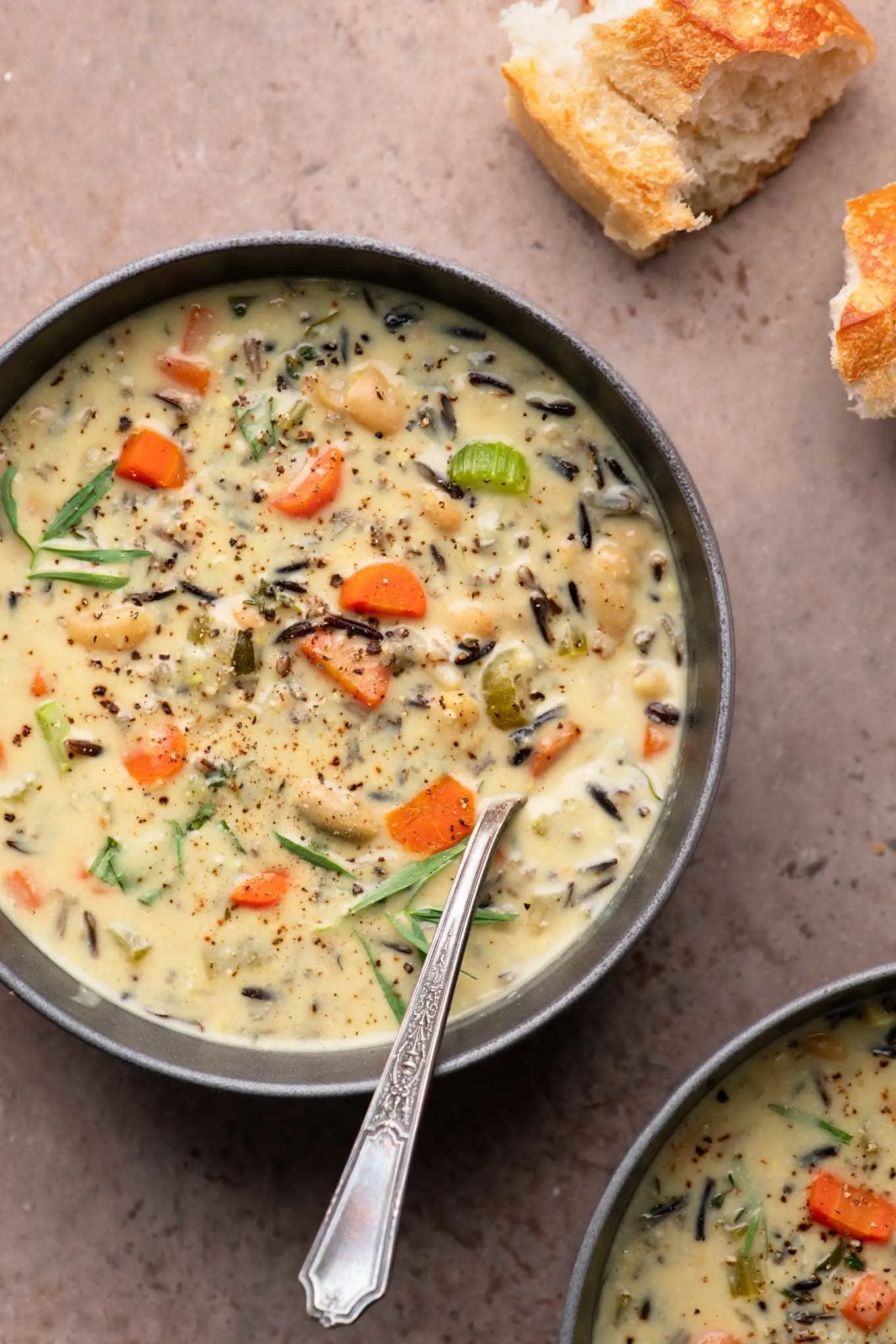 Making the cashew cream, or substituting it:
Cashew cream does require a blender, and if you don't have a particularly good blender it can be hard to get the cream really smooth.
To help out your blender, soak the cashews in hot water for 30 minutes before blending. If you have more time, you can soak it in cold water for a few hours. Drain this water before adding fresh water (plus the bouillon paste!) or broth to blend with.
Soaking the cashews softens them and makes it easier for your blender to get a smooth cream.
If you have a high-powered blender then feel free to skip the soaking.
Now, if you want to avoid using a blender all together or you have a cashew allergy you can make the vegan white bean and wild rice soup creamy another way.
Option 1: coconut milk or cream
My first choice would be to use coconut cream. This is the solid fluffy white portion that separates in a settled can of coconut milk. If you open the can and you have a cohesive blended milk, then it's fine to use the milk.
If using coconut milk, open a 15oz can of coconut milk or cream (DO NOT use the coconut milk beverage sold in cartons–it is not the same!!!!!). If the cream has separated, then scoop it out and use the entirety of the cream. If it has not separated that's totally fine. Use 1 cup of coconut milk or cream to the entire can (1 1/2 cups) depending on how creamy you want the soup.
Option 2: almond cream or sunflower seed cream
Neither almonds or hulled sunflower seeds produce as smooth of a cream as cashews. For smoother results you will need to strain the cream through a nut milk bag to remove the pulp. Or you could just lean into the slight texture of the almond/sunflower cream and use as is.
If using whole almonds you definitely want to pour it through the nutmilk bag or you will have a brown-flecked cream. To avoid the color of the almond skin, use blanched slivered almonds.
I haven't tested these particular substitutions in this soup, but do believe their rich nutty flavors would also be delicious in it.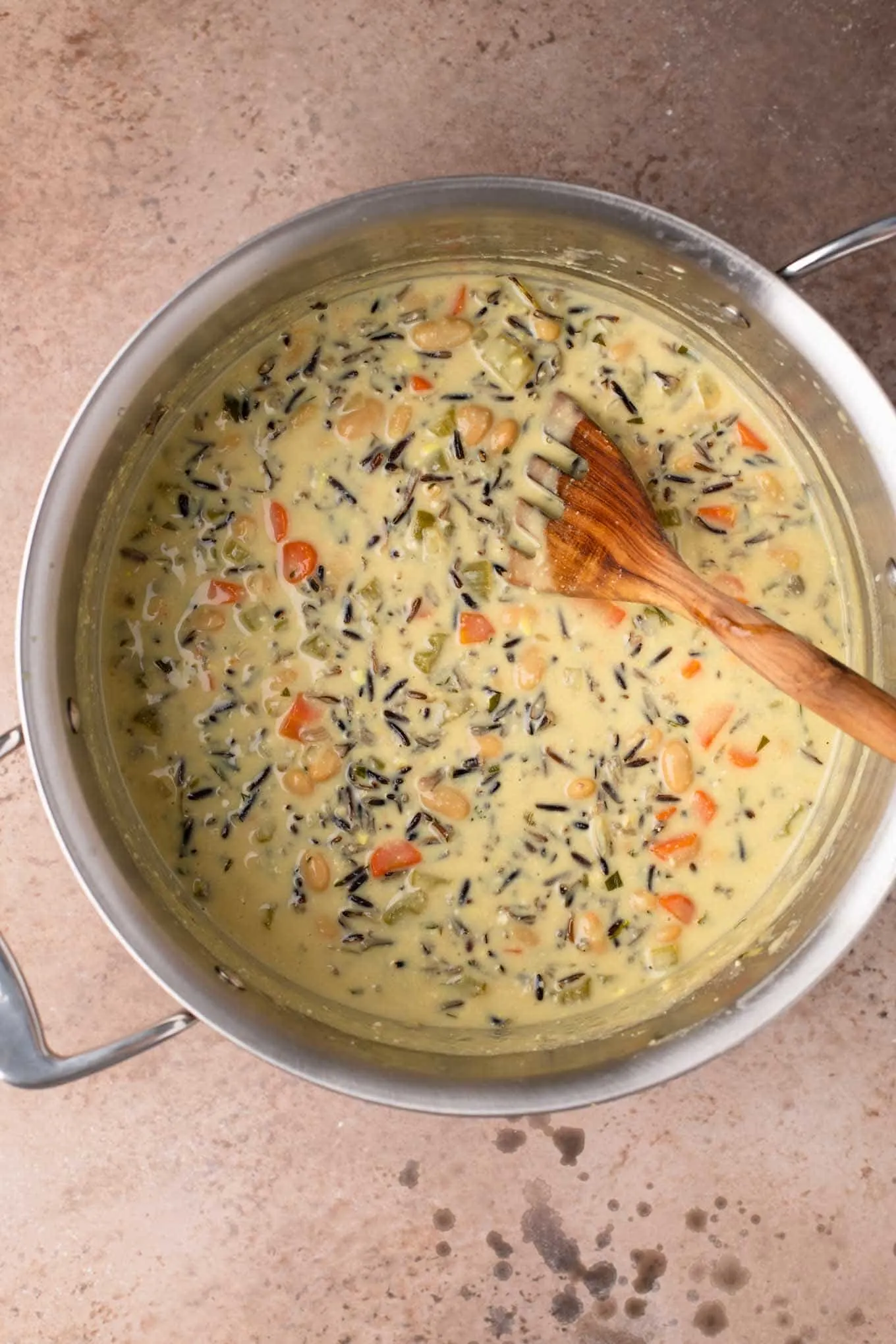 Making the wild rice soup:
The method is simple, cook the mirepoix, add vegan butter and flour to the vegetables, pour in broth, wild rice, white beans, turmeric, salt, and sprigs of thyme and cook until the rice is tender.
The mirepoix is the flavorful base of traditional french cooking. You use equal amounts of diced onion, carrot, and celery and cook it until softened without browning.
When the rice is tender add your cashew cream (or substitute for cashew cream) and tarragon and let the soup simmer away until the soup has thickened.
Finally add salt and pepper to taste and an extra sprinkling of fresh thyme and fresh tarragon for an added punch of herby goodness.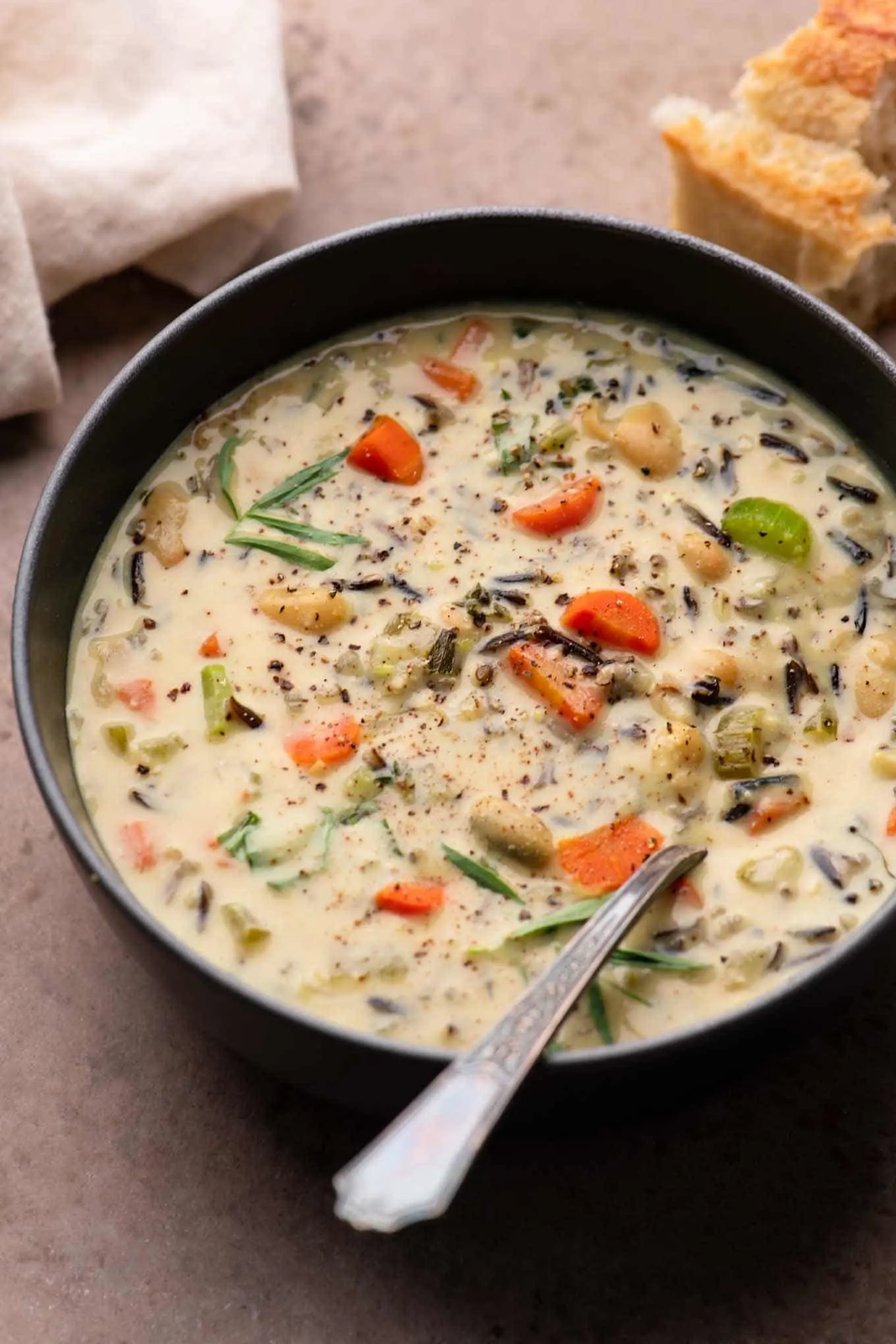 If you make this vegan white bean wild rice soup, leave a comment below and rate the recipe on the recipe card. And please share your photos with me on Instagram, tag @thecuriouschickpea and #thecuriouschickpea. I love seeing your recreations!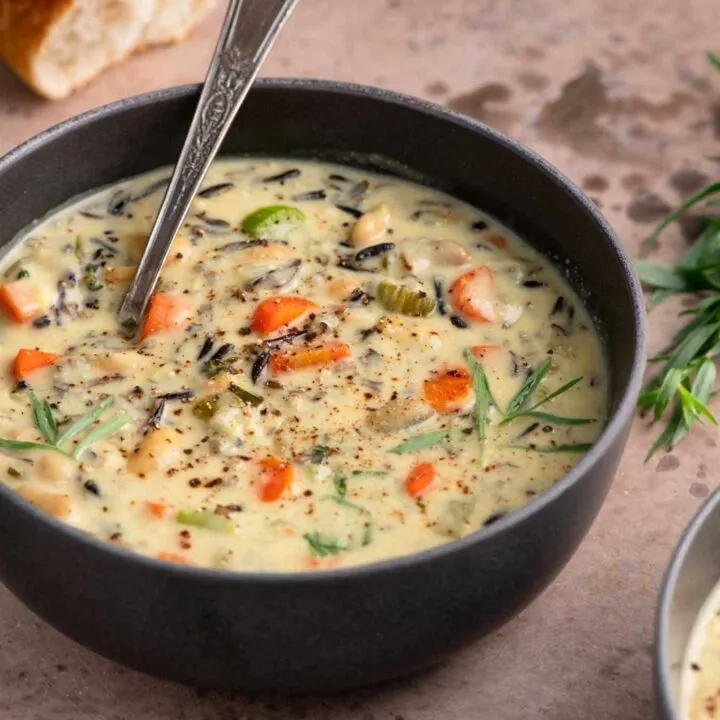 Vegan White Bean Wild Rice Soup
Cook Time (mostly hands off):
1 hour
5 minutes
Total Time:
1 hour
20 minutes
Creamy white bean and wild rice soup is pure comfort food. This simple recipe is naturally vegan and can be made gluten free. Leftovers taste even better, so be sure to make extra!
Ingredients
1 tbsp olive oil
1 cup diced (1 small) yellow onion
1 cup diced (2-3 medium) carrots
1 cup diced (3-4 stalks) celery
4 cloves garlic, minced
2 tbsp vegan butter
1/4 cup all purpose flour (or gluten free flour)
4 cups chicken-style vegetable broth
1 cup (5.5oz/155g) wild rice, rinsed
15oz can cannellini or other white beans, drained and rinsed
4 sprigs fresh thyme (1 1/2 tsp dried)
1/4 tsp ground turmeric (optional, for color)
1 tsp salt, more to taste
black pepper, to taste
1 tbsp chopped fresh tarragon (1 tsp dried)
Cashew Cream*
3/4 cups raw cashews
1 cup chicken-style vegetable broth
Instructions
Heat a large heavy bottomed pot over medium heat. Add the olive oil, onion, carrot, celery, and a pinch of salt. Cook until the onion has softened and turned translucent, 8-10 minutes.
Add the garlic and vegan butter, and cook until the garlic no longer smells raw, about 60 seconds. Sprinkle over the flour and stir to coat the vegetables, letting toast for about a minute.
Slowly pour in the vegetable broth while stirring, then add the wild rice, white beans, sprigs of thyme (or dried thyme), tarragon (if using dried), turmeric, salt, and a few grinds of black pepper. Turn the heat up to bring to a boil, then lower the heat and cover the pot, simmering for 45 minutes or until rice is tender.
While the soup is cooking, soak your cashews in boiling hot water to soften for at least 30 minutes (only necessary if not using a high-powered blender). Drain the water and add the soaked cashews and broth to a blender and blend until smooth, pausing to scrape down the sides as needed.
Add the cashew cream to the soup when the rice is tender, along with the fresh tarragon. Return to a simmer for another 10 minutes, or until the soup has thickened. Taste and add salt, pepper, and more fresh thyme and/or tarragon as desired.
Notes
*For substitutions for the cashew cream, please see details in post.
Leftover soup may need to be thinned with a splash of water or broth when reheating.
Recommended Products
As an Amazon Associate and member of other affiliate programs, I earn from qualifying purchases.
Nutrition Information:
Yield:

6
Serving Size:

1
Amount Per Serving:
Calories:

333
Total Fat:

14g
Saturated Fat:

4g
Trans Fat:

0g
Unsaturated Fat:

9g
Sodium:

1007mg
Carbohydrates:

42g
Fiber:

10g
Sugar:

5g
Protein:

12g
Nutrition is calculated automatically and should be used solely as an estimate.