These stir fried spicy sichuan noodles with eggplant are cooked up with tofu for a delicious and filling meal! This easy recipe is also quick to make, and adaptable to the veggies, noodles, and protein you have on hand. It always comes out so flavorful and addictively good!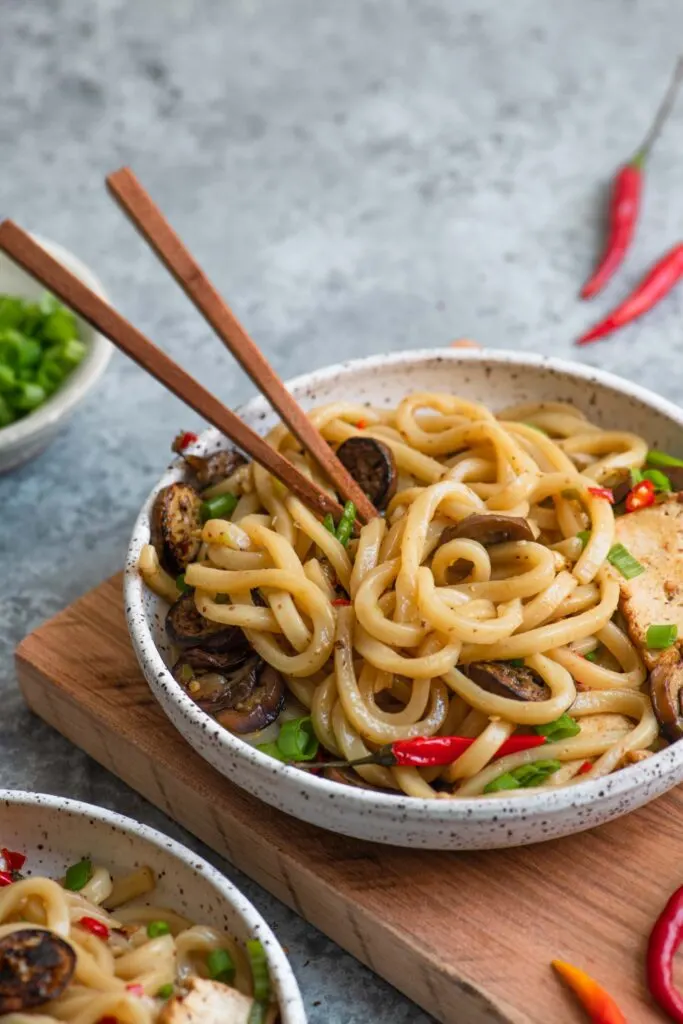 Today's noodles are inspired by traditional sichuan (or szechuan) noodles, and my favorite tongue-tingling spice, sichuan peppercorns.
They're garlicky, spicy, tongue warming, salty, savory, and oh so good. The recipe comes together quickly and in just one wok (or pan) so it's great for lazy or busy day cooking.
I add some form of vegan protein to the sichuan noodles, usually tofu, and some veggie so that it's a one stop meal!
It's incredible how just a few choice ingredients can come together to create such a flavorful meal.
Think of this recipe as a template.
It's an adaptable recipe for what you have in your pantry!
What do you definitely need? Some kind of noodle, a protein, and some kind of vegetable. I mean sure, you could skip the veggie, but um, veggies are good for us???
This time I made it with eggplant, but I love other veggies in it as well. Bok choy and baby bok choy are great, If using the latter I just peel off the leaves, wash them, and toss them in whole. Big bok choy needs some chopping, and the stems should go in a minute or two before the tender leafy part.
Keep in mind that eggplant takes longer to cook, so if you switch to another veggie it will probably go a lot faster. Just cook until tender, then remove from the pan!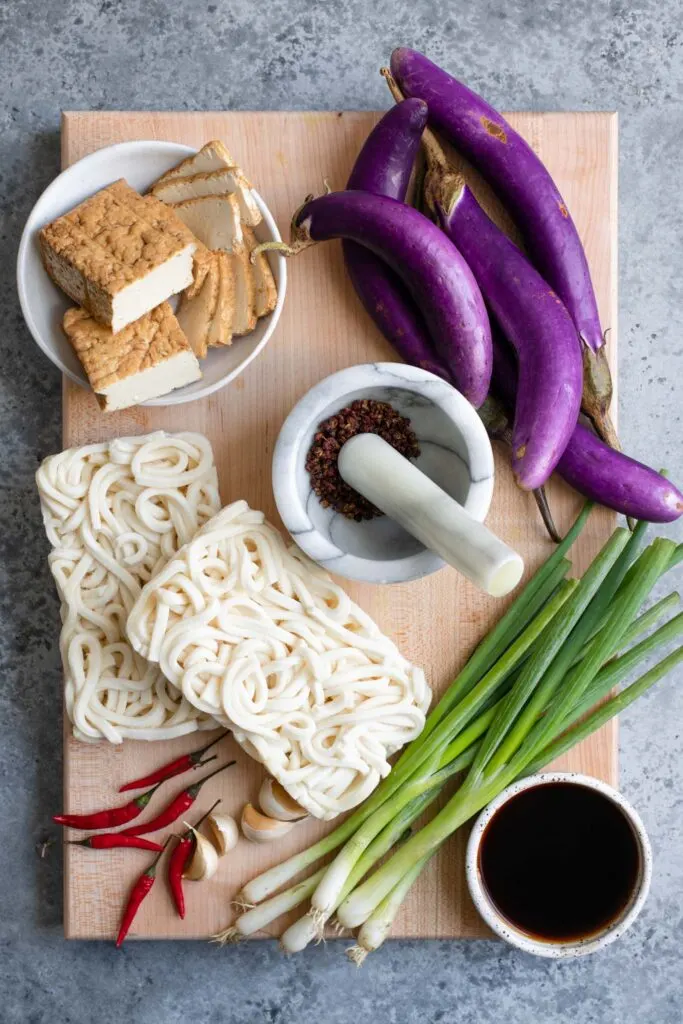 I also used those big fat udon noodles you buy frozen at asian grocery stores. I really extra puffy heart love this recipe with big chewy noodles like these udon noodles.
But sure, udon is a Japanese noodle and this is a Chinese-inspired recipe! I also love to make this with shan xi (or xi'an) pulled noodles, which are also known as biangbiang.
But really any noodle will do the trick! And if you need a gluten free noodle choose a rice noodle.
For your protein you have options. I used fried tofu in this recipe, which is tofu that you buy that has been deep fried previously. If you want to make it yourself, you can follow the instructions for frying tofu in my tofu with black bean sauce recipe.
Otherwise you can use uncooked extra firm or super firm tofu cut into strips, cubes, or triangles.
If you don't want tofu you can use a seitan, I've used a vegan beef-style seitan with this recipe and it's great that way! Other vegan "meat" options can be great as well! You can use crumbles or chop one up to bite sized pieces.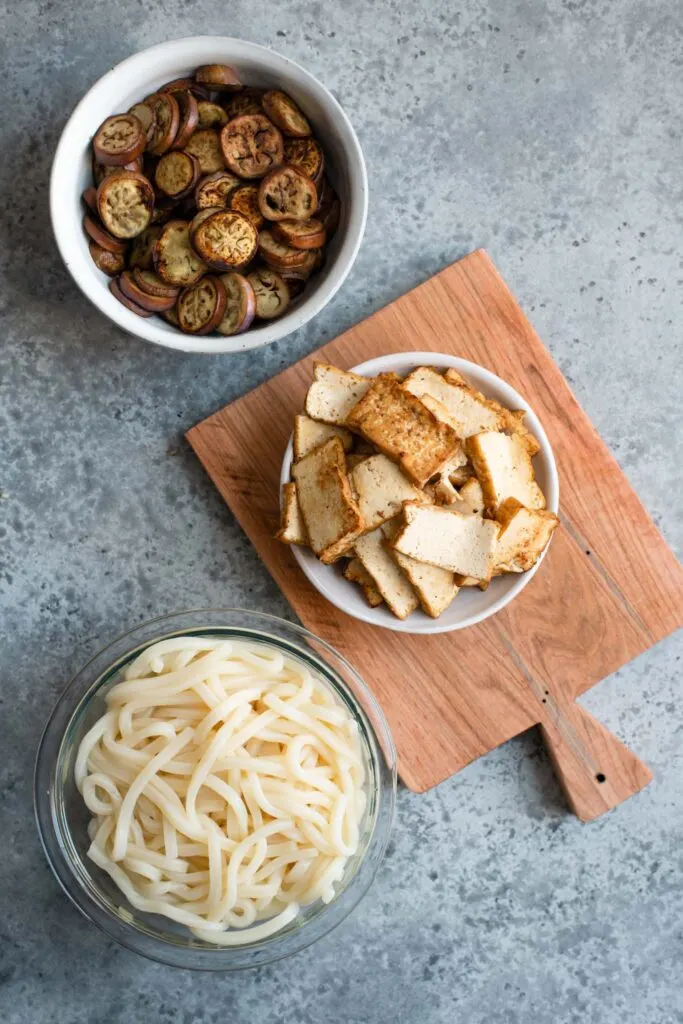 The seasoning:
Once you have your noodles, protein, and veggies picked out, it's time to gather the rest of the ingredients.
Because stir fries are cooked at high heat, things move very quickly when you start cooking. This means you should have everything out, chopped, and measured before you turn the stove on.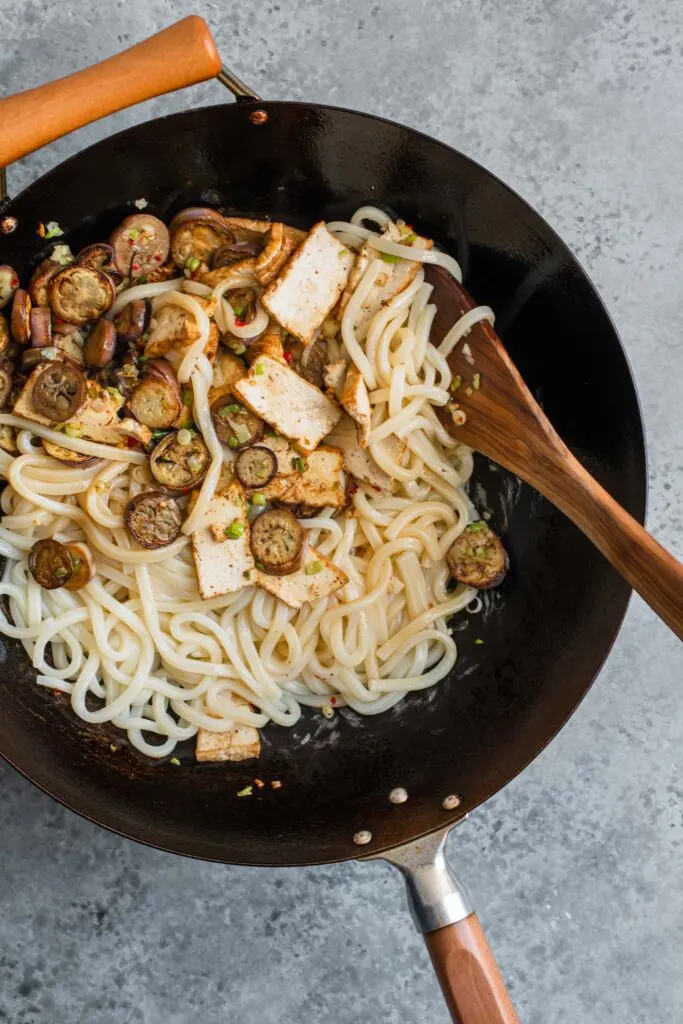 Everything else you need for this recipe is there to build the flavor!
The most important ingredient is going to be your sichuan peppercorns. They are irreplaceable for the unique heat and flavor, not to mention mild tongue tingle! If you've had them, you know exactly what I'm talking about!
I have a bag of whole sichuan peppercorns stashed in my pantry, and just prep them as needed. The husks are not pleasant to eat, so to prepare them I first toast the peppercorns, which releases their flavor. Then I grind them in a spice grinder or mortar and pestle which crushes the inner peppercorn while leaving the coarse husk mostly whole. Lastly just use a mesh strainer to separate out the ground peppercorn from the husks. Discard the husk and use the ground pepper!
Next it's the usual suspects, garlic, chili peppers, and green onions, fried in oil to release their flavors and mellow some of the sharp bite.
Lastly we have the sauces!
Light soy sauce, dark soy sauce, and Chinese cooking wine.
Different Asian cultures have their own light and dark soy sauces, but you find the combination of light and dark soy sauce in recipes across cultures. And it's this combination, along with the cooking wine, that brings such a depth of flavor to the dishes.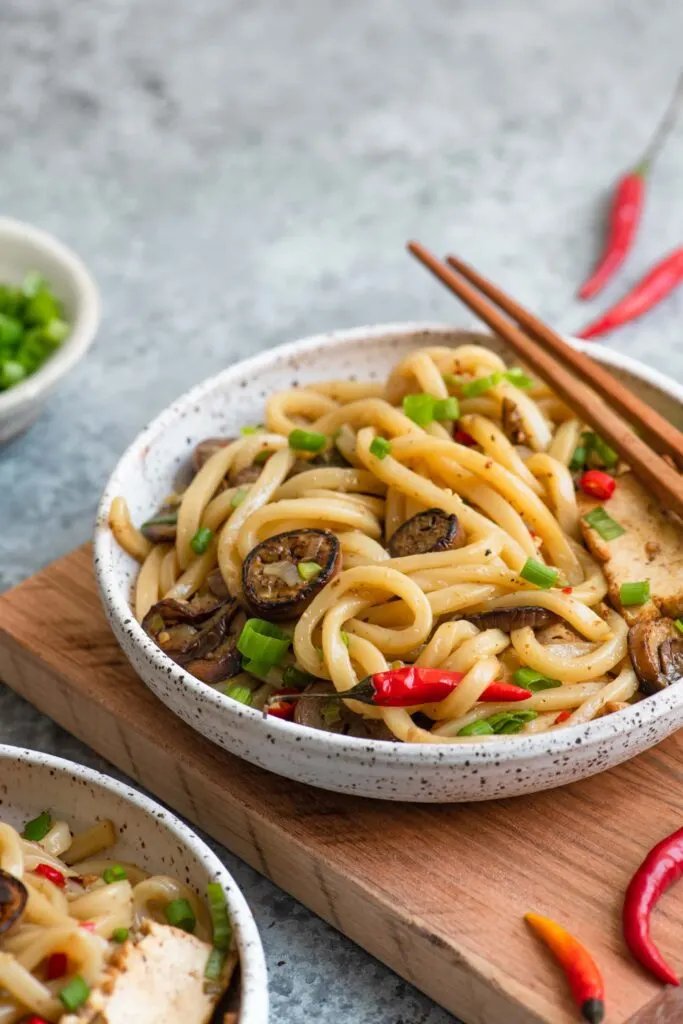 Light soy sauce is milder in flavor, it's nice and salty while still having a nice fermented soy aroma.
Dark soy sauce tastes less salty, is darker in color, and is a bit sweet. It's aged longer than light soy sauce and has a more concentrated flavor.
Chinese cooking wine, also called shaoxing wine, is a quintessential ingredient in Chinese stir fries. It's a rice-based wine that is made specifically for cooking, and it is salty!
Similarly to adding white wine to an Italian pasta dish, or even vodka, the alcohol adds a lot of flavor to the finished dish. It's best to not skip it!
Substitutes for the soy sauces and cooking wine?
I can't say I recommend substituting them, and these days even if you don't live near a Chinese, Vietnamese, Korean, Japanese, or pan-Asian grocery store you can order these specialty ingredients online.
However, I like to cook Thai food as well as Chinese food as well as Korean, and do not have space in my pantry for light and dark soy sauces from each region. So I'll use my Thai thin soy sauce in place of Chinese light soy sauce, and my Thai thick or Thai dark soy sauce in place of Chinese dark soy sauce.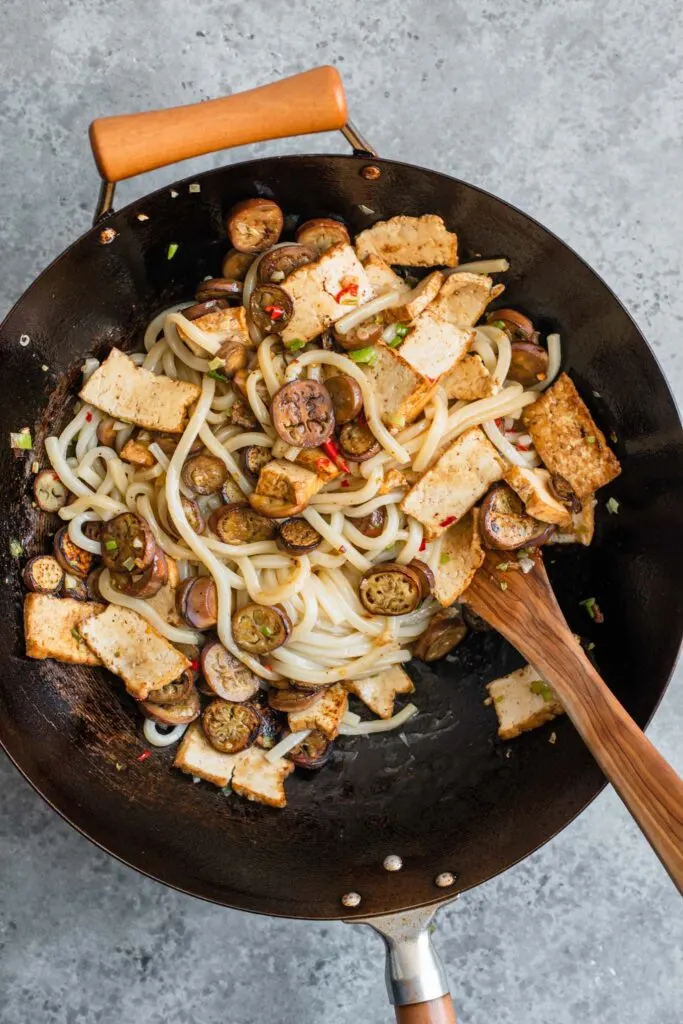 But then the next time I'll buy the Chinese soy sauces and use them in my Thai cooking. It takes away some authenticity sure, but you still get the complexity of flavors!
If you cannot get the different soy sauces, then pick up some low sodium tamari or shoyu and use it in place of both the soy sauces and add a teaspoon or two of brown sugar, turbinado sugar, or coconut sugar.
For the Chinese cooking wine, if you can't find that but do have mirin (which is a Japanese rice cooking wine that's a bit sweetened) in your pantry or at your local store, then use that instead. Similarly you can use a low cost/cooking grade sake, which is Japanese rice wine meant for drinking.
If not an Asian cooking wine, then try substituting a dry sherry or sherry cooking wine.
If you don't use alcohol, substitute vegetable broth, but you will miss out on some of that depth of flavor. C'est la vie!
Cooking your spicy sichuan noodles with eggplant (or other veggie):
The basic instructions you follow are:
First cook up the noodles according to package directions.
Cook the eggplant (or veggie of choice) in the wok/skillet, remove from pan.
Cook the tofu (or vegan protien of choice) in the wok/skillet, remove from pan.
Fry the aromatics–light part of the green onions, garlic, and hot chilies, then add sichuan peppercorn, cooked noodles, veggie, tofu, and the sauces. Toss together, taste, adjust any seasoning (if you need more soy sauce or wine add it!).
Finally, turn off heat, top with the dark green part of the green onions, and serve right away!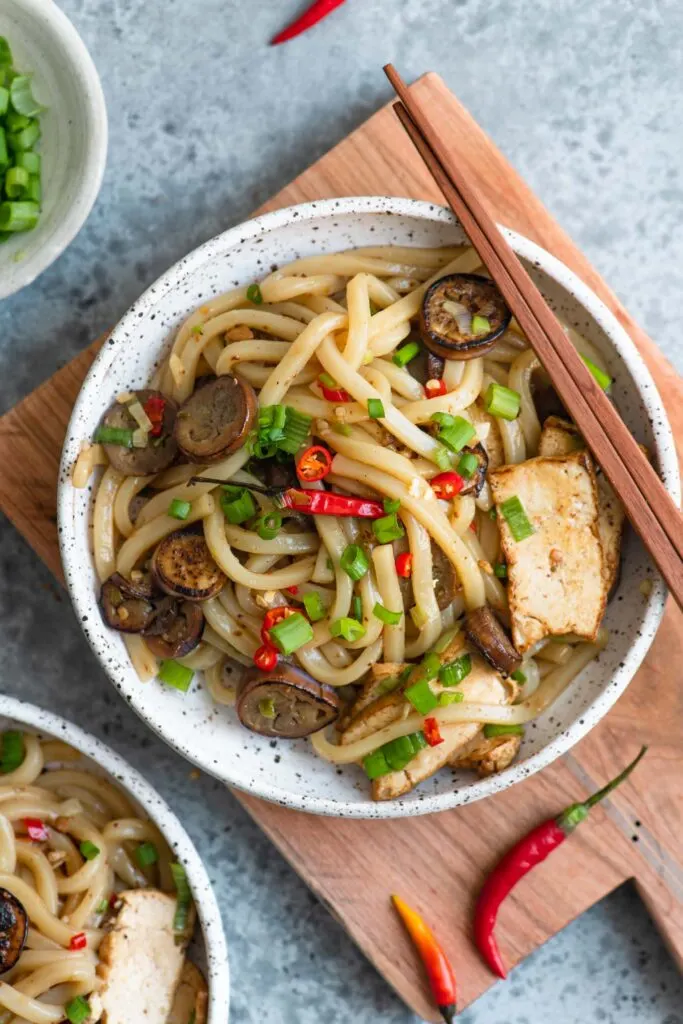 If you make these spicy sichuan noodles with eggplant, leave a comment below and rate the recipe on the recipe card. And please share your photos with me on Instagram, tag @thecuriouschickpea and #thecuriouschickpea. I love seeing your recreations!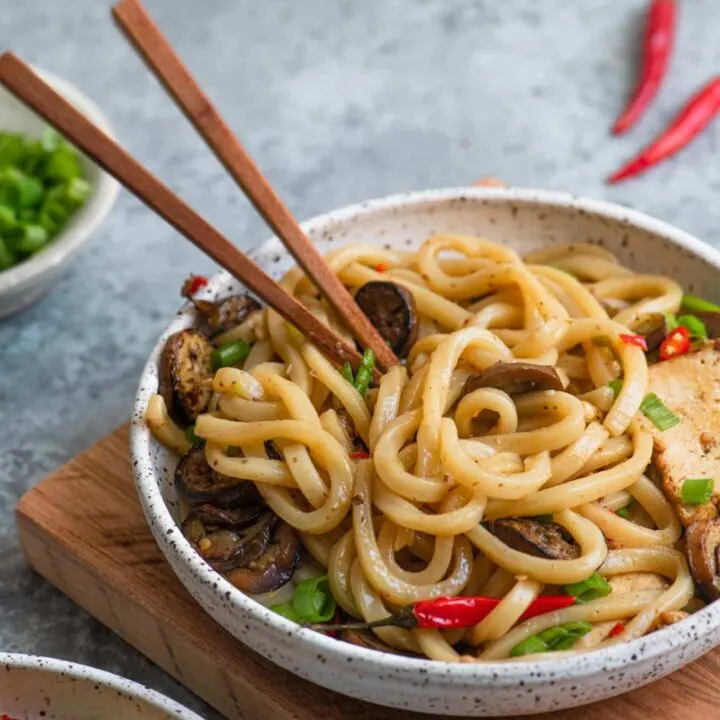 Spicy Sichuan Noodles with Eggplant
Enjoy these Chinese inspired noodles as a quick and easy dinner. I served them with eggplant but another favorite is bok choy which cooks even more quickly.
Ingredients
1 tbsp whole sichuan peppercorn (or 1 tsp ground)
1 1/2 lbs frozen or fresh noodles, or 12 oz dried noodles
Oil, to cook
1 lb Japanese eggplant, 1/4" slices, half moons if larger or cut into matchsticks
9oz fried tofu, or half block of extra firm tofu
1 bunch green onions, sliced, light and dark parts separate
3-4 cloves garlic, minced
2-8 Thai chilies, minced (to taste)
2 tbsp light soy sauce
1 tbsp dark soy sauce
1 tbsp Chinese cooking wine
Instructions
Toast 1 tablespoon of sichuan peppercorns on low heat in a dry skillet until fragrant. Grind with a mortar and pestle or spice grinder until the pepper is a coarse powder and separated from the hull. Sift to remove the hull and measure out 1 teaspoon of the ground sichuan pepper. Reserve the rest for another use.
Cook the noodles according to package direction, then drain and rinse in cold water to arrest cooking. Set aside.
Heat a wok or large skillet over medium-high heat and add some oil and the eggplant. Cook the eggplant until very tender, about 10 minutes. Remove from wok.
Add a drizzle of oil and the tofu and cook until golden in spots, 1-2 minutes. Remove from wok.
Add a bit more oil and the light part of the green onions, the garlic, and chilies. Cook for 1 minute or until fragrant, darker, and softened. Add the 1 teaspoon of sichuan peppercorn and stir to coat.
Return the eggplant and tofu to the wok along with the noodles. Add the soy sauces and cooking wine and stir to coat. Taste and add more sauce if needed. Turn off heat and garnish with the dark part of the green onions to serve.
Notes
I used frozen udon noodles this time, but another favorite in this recipe are Chinese pulled noodles!
Recommended Products
As an Amazon Associate and member of other affiliate programs, I earn from qualifying purchases.