Vegan ermine frosting is a perfect buttercream for decorating your vegan cakes and cupcakes! It's an incredibly smooth and light frosting, and can even be piped.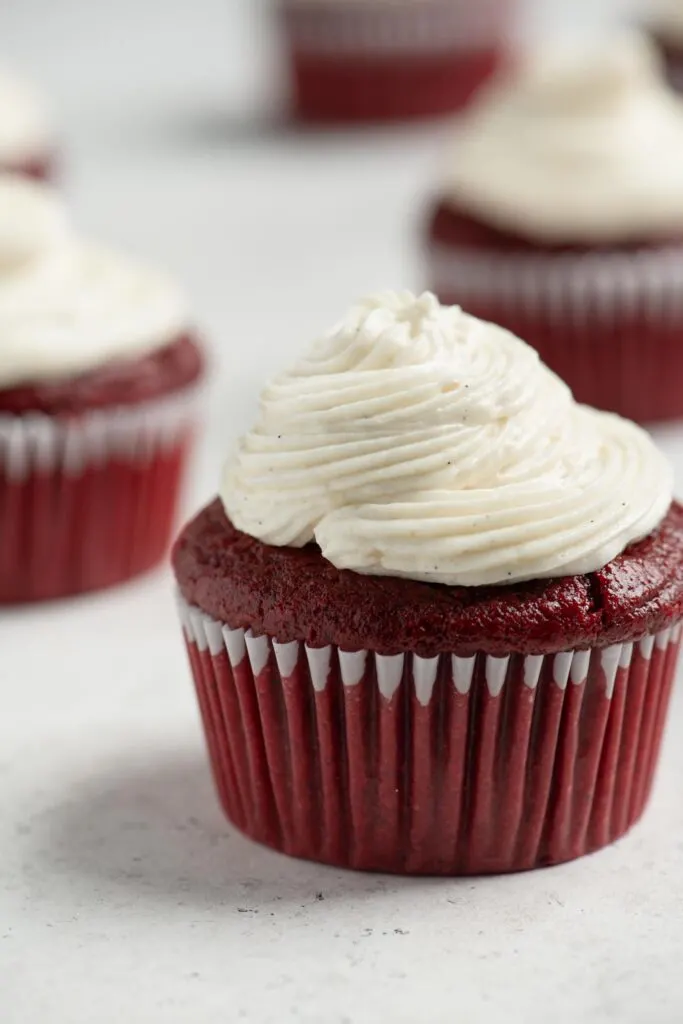 Ermine frosting, also known as old-fashioned frosting or cooked flour frosting, is a lusciously smooth and light tasting buttercream. It's super creamy with a soft mouthfeel, not too sweet, fluffy, and pipe-able!
It might be the most perfect frosting, especially if you don't want to go to the effort of making a meringue buttercream.
My vegan ermine frosting uses superfine sugar (aka caster sugar) instead of powdered sugar. You can use granulated sugar, but it takes longer to dissolve and if it doesn't dissolve fully you'll have a slightly gritty frosting.
The fine sugar dissolves into the flour pudding and the result is less sweet tasting than a standard American buttercream powdered sugar frosting. Powdered sugar tastes so sweet in part because of how quickly it dissolves on your tongue.
Ermine frosting is a non-crusting buttercream, meaning it stays soft and doesn't form the "crust" that a powdered sugar buttercream will. And unless I need that crust or extra stability from American buttercream, I will choose this old fashioned frosting every time!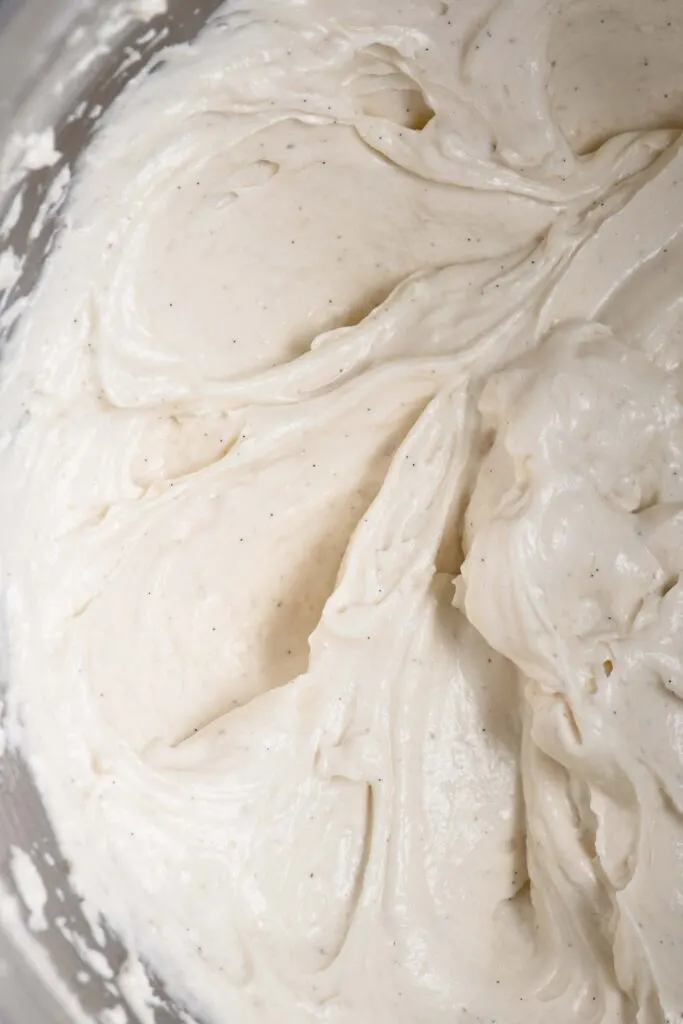 The cooked flour:
I keep alluding to the "pudding" that makes this old fashioned buttercream work.
It's the part of the recipe that gives it the sexy name "flour frosting" as if that sounds like something you'd want to eat. But trust me, you do want to eat it!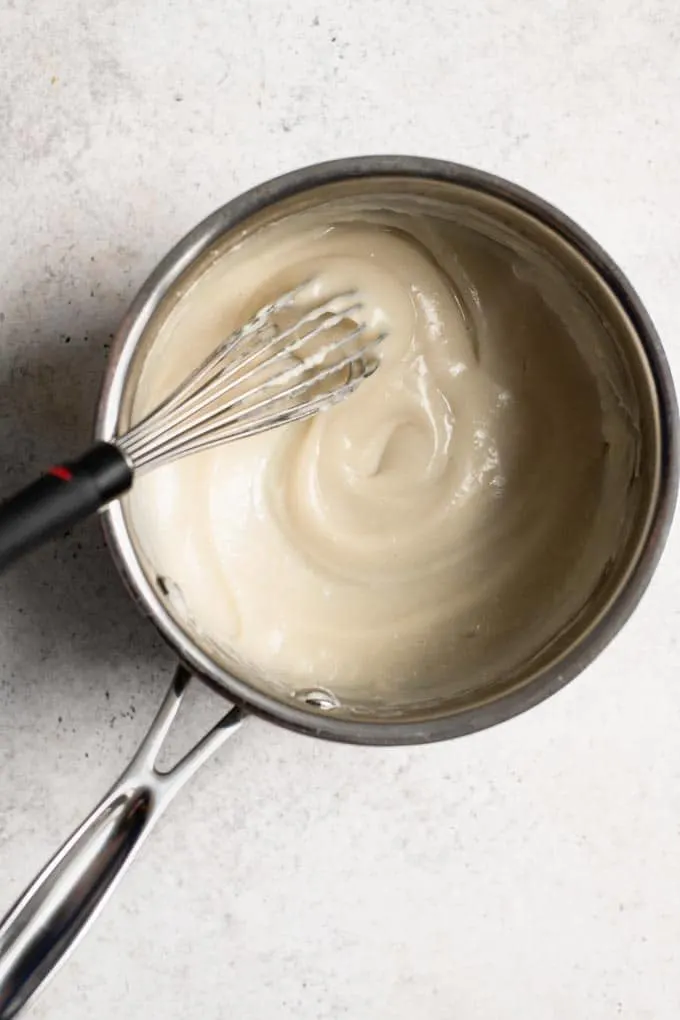 You cook flour and milk (in our case a nondairy milk) until it the flour cooks and it turns into a pudding consistency.
The pudding helps make an emulsion in the frosting, letting it stabilize at a lighter and fluffier texture than the standard American Buttercream and is more similar to meringue buttercreams which are stabilized by the eggs.
All you do to make it is whisk together flour and milk, and any plain (or vanilla) non dairy milk should do. I prefer to use soy milk or oat milk personally.
Bring the mixture to a simmer over medium-low heat and let it cook for a few minutes until it thickens to a pudding. It will continue to thicken as it cools.
Let it sit in the pot for 5 minutes, then transfer the mixture to a bowl, and cover with a piece of plastic wrap so the wrap is touching the pudding. This will prevent it from forming a skin. Unfortunately this is not a situation for reusable wraps as the coating can melt from the heat of the pudding.
Now this is super important! You must let the pudding cool down completely to room temperature!!!!!!
A warm pudding will cause the vegan butter and shortening to melt and the frosting will look curdled or turn runny.
For good measure I like to stick it in the fridge for 10 minutes after it feels room temperature to me.
The fine sugar:
The recipe calls for granulated sugar, but I blitz the sugar in my blender (or food processor) to make a fine sugar. This helps it dissolve more easily.
I find this is especially important if you use organic sugar, as the sugar crystals tend to be larger for organic sugar than conventional.
You can also buy caster sugar or superfine sugar at the grocery store.
Once we have the pudding and sugar ready to go, making the frosting goes quickly!
The vegan butter and shortening:
Whip up vegan butter and vegetable shortening. I recommend using the kind of vegan butter that comes in a stick, not the kind that comes in a tub. Tub butter is softer and more spreadable and usually has a higher water content. It's less stable for making frosting and your frosting will be softer.
I like to use half shortening and half vegan butter for my frostings as the shortening makes for a more stable frosting. You can use all vegan butter in this recipe however if you prefer to do so.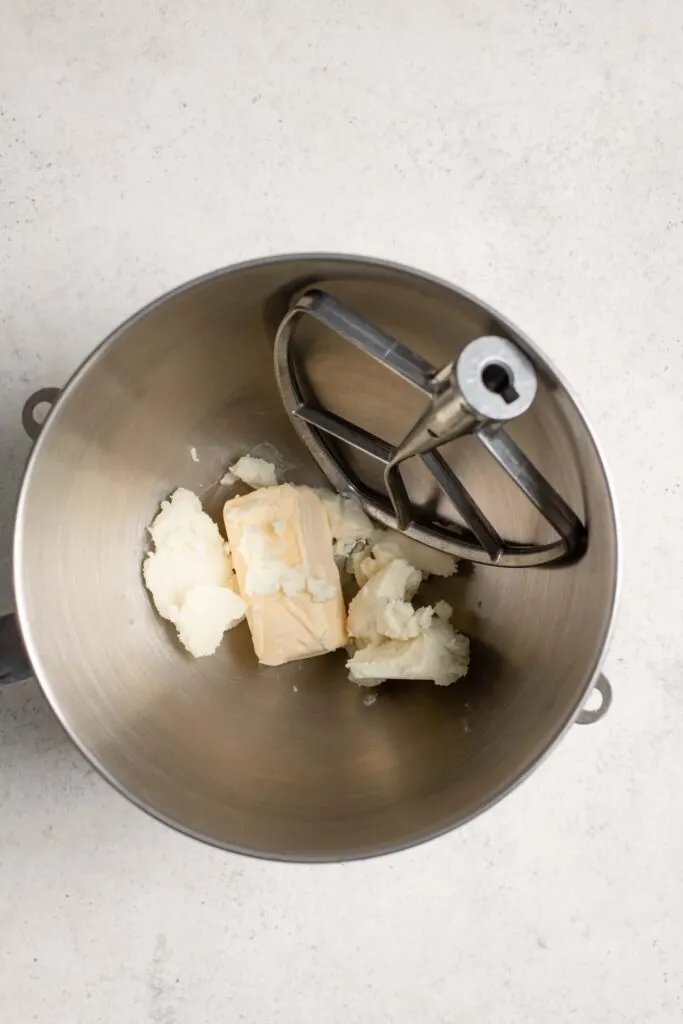 Start with the vegan butter and shortening at a cool room temperature. Vegan butter tends to be pretty soft so I just take it out 5-10 minutes before I'm ready to make the frosting.
I'll grab shortening right from the cabinet, unless it's especially warm in the kitchen. In that case I'll measure out what I need and put it in the fridge for about 20-30 minutes before using.
How to make vegan ermine frosting:
Beat the vegan butter and shortening together with an electric mixer. I like to use my stand mixer for the fluffiest buttercream, and use the paddle attachment. If using a handheld mixer the two beaters do the trick.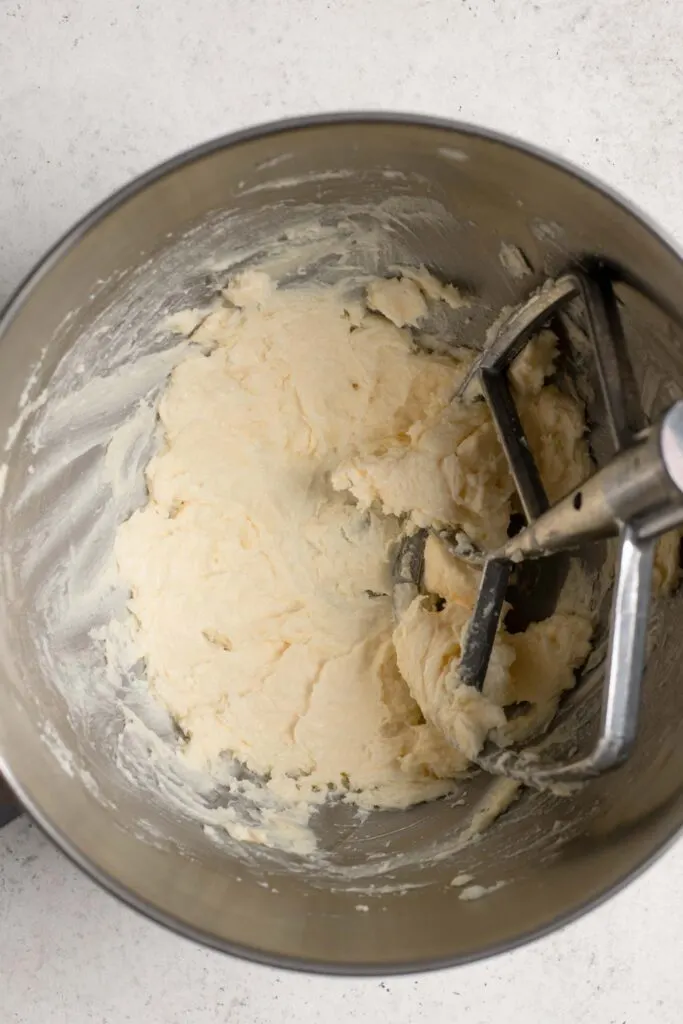 Once the fats are combined and fluffy, add the fine sugar and mix in until fluffy. As the sugar is dissolves into the fat the mixture will start to lighten and get a bit fluffy.
After the sugar is mixed in, add the pudding one spoonful at a time, whipping after each one to fully incorporate. Once it's all been added whip on high until it's light and fluffy. Let it go a full five minutes with a stand mixer (possibly more with handheld)!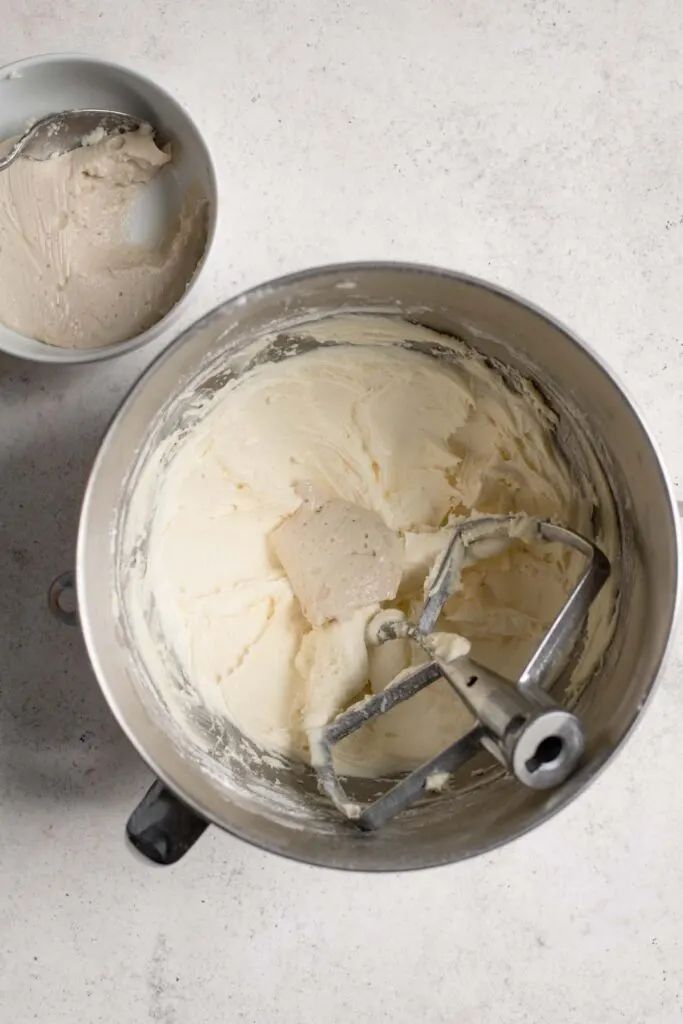 Note: my pudding got a bit thicker than it needed to when I made it this time around. So if your pudding is a bit softer than the one in my photo that's ok! It's also fine if it got this thick.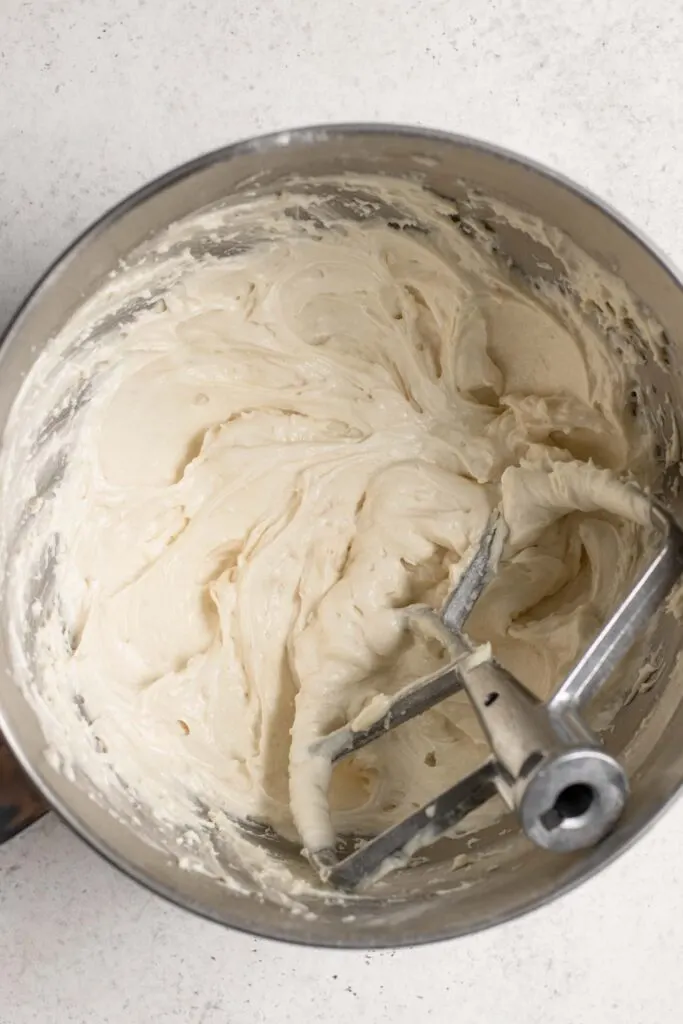 Lastly add the vanilla extract and turn the mixer on a low speed to incorporate, and let it run for a full minute or two. This slow process presses out any large air bubbles and makes for a smoother frosting.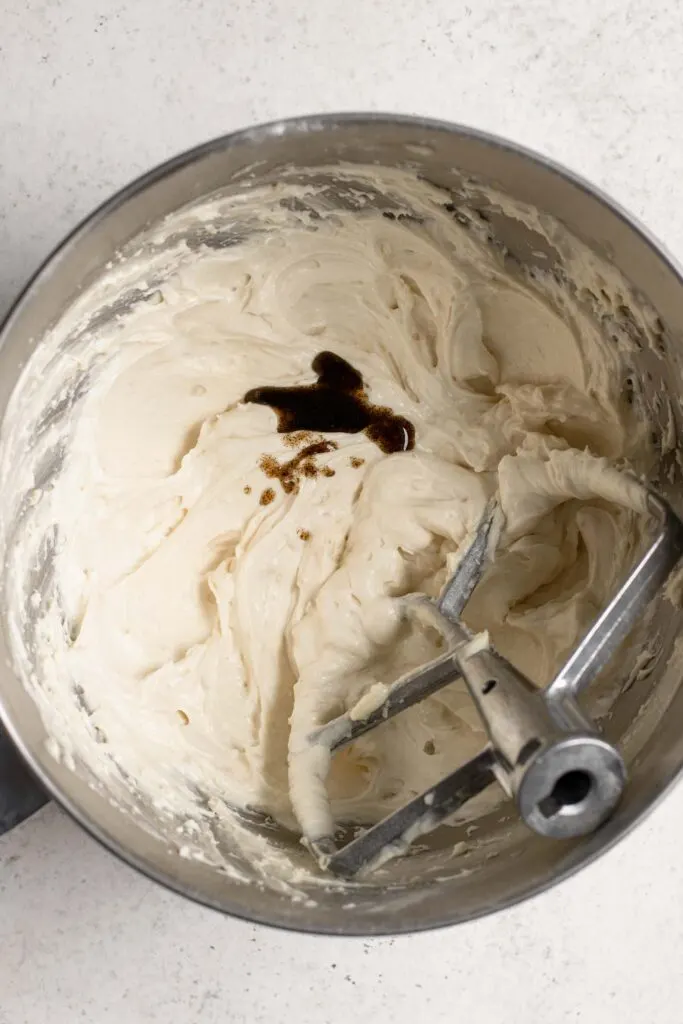 This last step only works with a paddle attachment, so if using a hand held mixer just whip the extract in and call it a day!
How to use old fashioned frosting:
First of all, use the old fashioned frosting right away!
If the frosting is too soft because it's warm, then stick it in the fridge to firm up. Check it every 10 minutes! If it gets too cold it won't be spreadable anymore.
And speaking of which, if you make the frosting in advance you can keep it in the fridge or freezer for longer storage. In this situation you will want to rewhip the frosting before using. For a successful rewhipping of the frosting you need to let it come fully to room temperature before whipping!
This is very important. Frosting is an emulsion, and a cold frosting will often break when the physical force of mixing it is applied! This will make the frosting look curdled.
To try and fix this "breaking" you can use a kitchen torch (or small blow torch) and literally warm the bowl as it mixes. This quickly warms up the frosting enough so it can re-emulsify.
Vegan ermine frosting is perfect for frosting a layer cake, and I used it in my blackberry chocolate lavender cake. It's also great for frosting cupcakes, like my vegan red velvet cupcakes. Ermine frosting is the traditional frosting choice for red velvet cake!
Pipe it or just use to rustic-ly frost your cake, but definitely enjoy it!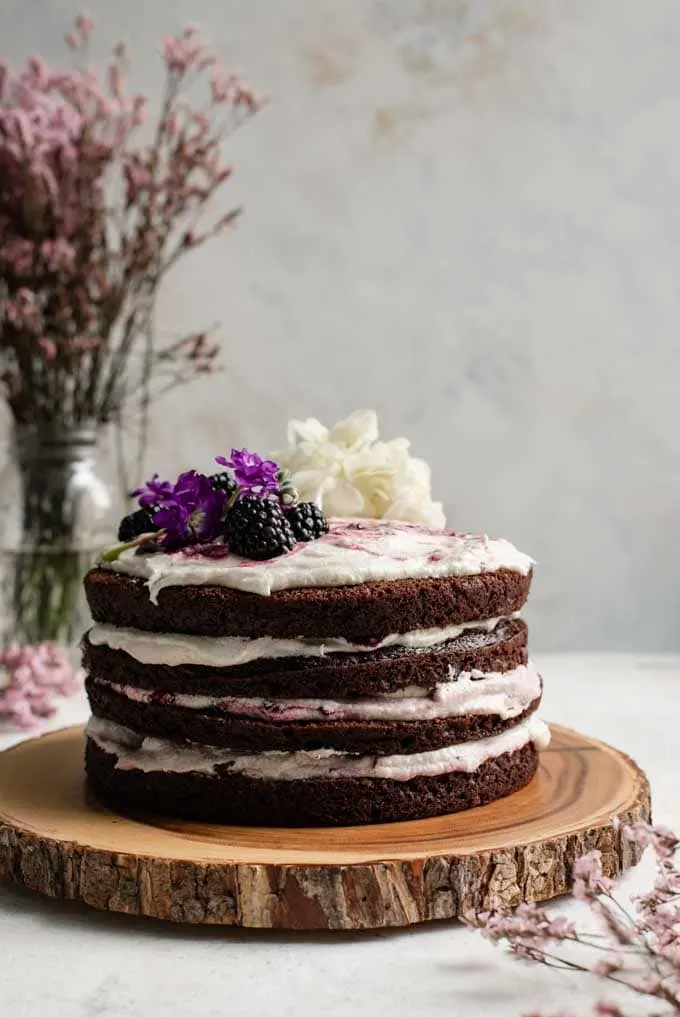 If you make this vegan ermine frosting (also known as old fashioned frosting), leave a comment below and rate the recipe on the recipe card. And please share your photos with me on Instagram, tag @thecuriouschickpea and #thecuriouschickpea. I love seeing your recreations!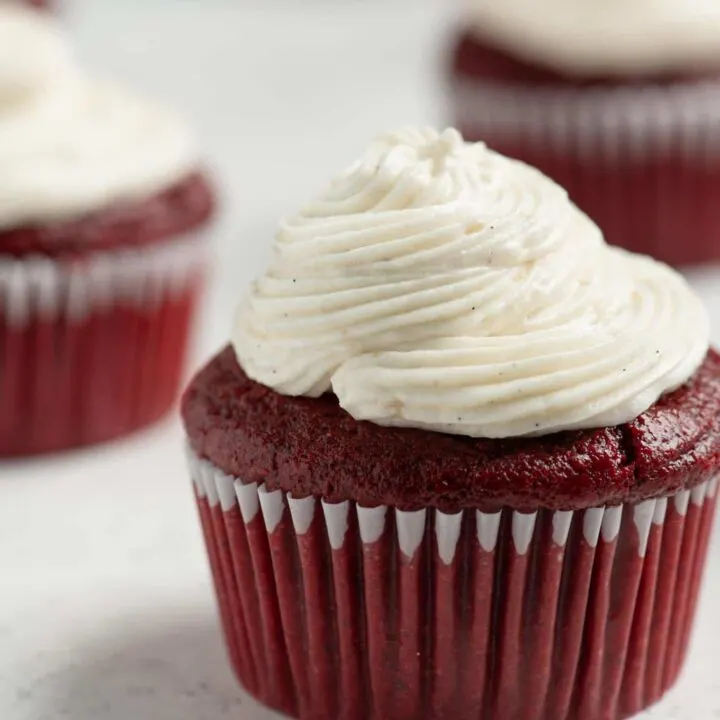 Vegan Ermine Frosting (Flour Frosting)
This fluffy, smooth, and light tasting frosting is perfect for decorating layer cakes or sheet cakes, or piping onto cupcakes. It makes enough for 12 cupcakes, or a lightly frosted 2 layer 8-inch cake. If making a naked cake (no frosting on the sides) you can frost 4 layers.
Ingredients
1/4 cup (33g) all purpose flour
1 cup (235g) plain non-dairy milk (e.g. soy, almond, oat, cashew)
1 cup (192g) granulated sugar
1/2 cup (113g) vegan butter, cool room temperature
1/2 cup (96g) vegetable shortening, cool room temperature
1 tsp vanilla extract or vanilla bean paste
Instructions
Whisk the flour and plant milk together in a small pot and bring to a simmer over medium heat. Cook, stirring continuously, until the mixture has thickened to a pudding, about 3-5 minutes. It will continue to thicken as it cools.
Let it sit in the pot for five minutes, then transfer to a bowl and cover with plastic wrap so that the wrap is touching the pudding. This prevents skin from forming. Let it cool to room temperature, then stick in the fridge for 10-15 minutes.
Add your sugar to a blender or food processor and blend for about 30 seconds or until the sugar is fine textured.
In a stand mixer fitted with a paddle attachment add the vegan butter and vegetable shortening and whip on medium to high speed until combined and fluffy. You can alternatively use a large mixing bowl and handheld electric beaters.
Add the sugar and beat it in, starting on low and increasing the speed to high. Let it whip in until fluffy, about 2-3 minutes. At every step, pause to scrape the sides and bottom of the bowl as needed.
Add the cooled pudding one big spoonful at a time (4-5 additions), whipping after each addition to incorporate. Once all the pudding has been added, turn the speed up to high and whip until light and fluffy, about 5 minutes.
Turn off the mixer and add the vanilla extract. Then mix it in. If using a stand mixer with the paddle attachment, turn the speed on low and let it run for 1-2 minutes to press out any large air bubbles for an extra smooth frosting.
Use the frosting right away or see notes for tips on using later. If the frosting is a bit soft from being warm after mixing, then refrigerate until it firms up enough to use. Check on it every 5-10 minutes.
Notes
If using store bought caster (aka superfine) sugar, measure by weight as caster sugar is less dense than granulated sugar.
For the vegan butter, use the kind that comes in sticks or blocks, not the kind that comes in a tub and is formulated to be better for spreading. The latter is soft for using in frosting.
You can refrigerate or freeze frosting to use at a later date, but it must come to room temperature before you try to rewhip it. If you whip cold frosting it will break and look curdled.
If the vegan butter and shortening start to melt or look curdled after you add the pudding, it's likely that your pudding wasn't cool enough. You can try to refrigerate the frosting to cool it down and whip once cool to bring it back together.