Pesto cashew aioli is a delicious and healthy vegan twist on the popular condiment. Enjoy it as a dip for potatoes, a spread for sandwiches or burgers, or even a creamy sauce for bowls or pasta!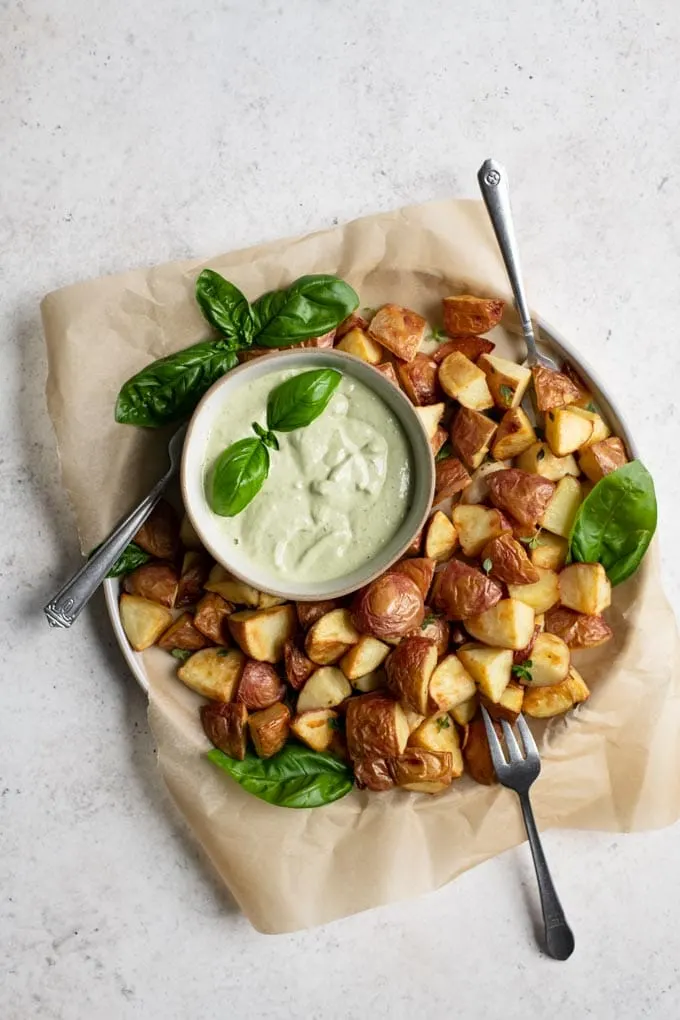 Cashews make the most luscious creamy sauces. Velvety smooth, with a rich mildly nutty flavor.
And while a cashew based sauce isn't going to confuse you for the oil emulsion that is mayonnaise and aioli, it is delicious in its own right. Plus it has the benefit for being full of healthy fats!
There's a place for both in my kitchen, and recently I was craving a creamy basil spread for my herbed chickpea burgers and this cashew aioli was born!
What is aioli?
Well, aioli is a olive oil and garlic emulsion. Emulsion means that two ingredients that don't want to mix (such as oil and water) are held mixed together. This takes the addition of an emulsifier.
Typically eggs are used as an emulsifier in aioli and mayonnaise (which are two very similar condiments when it comes down to it). And while garlic on its own can be used to emulsify oil, and this technique is used to make Lebanese Toum, this mixture is fussier and more likely to break.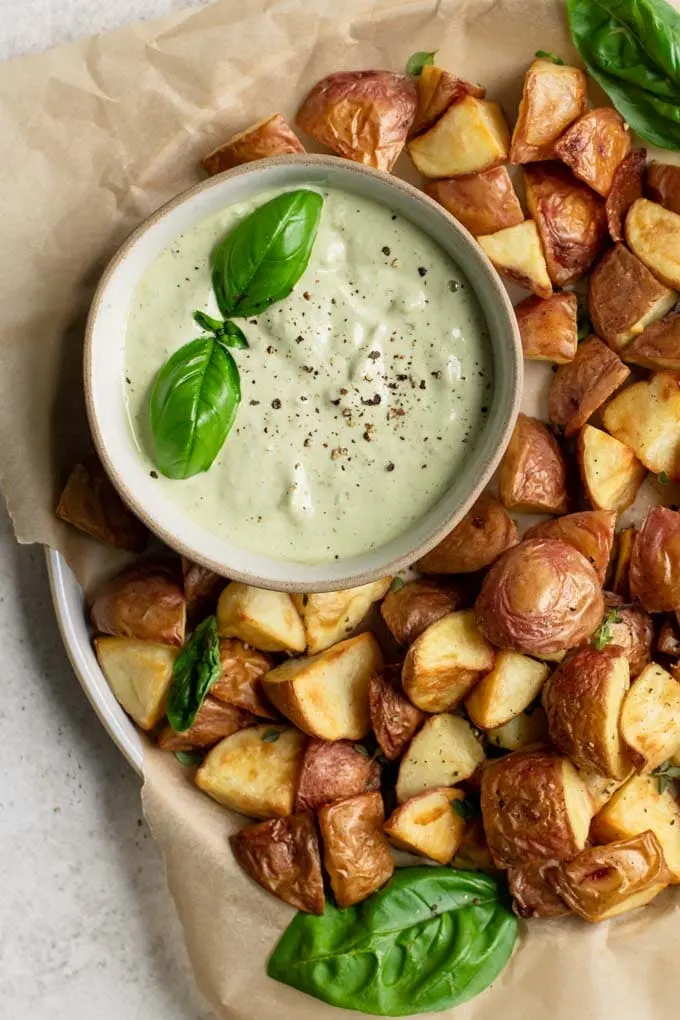 Adding egg solves that problem. However, if you're vegan like me, or have an egg allergy, or are trying to reduce your animal product consumption (kudos!), then you need a different solution.
And there are ways to make a creamy oil suspension without eggs (such as in my creamy mexican chipotle sauce), but that's not the point of this recipe, is it.
So, aioli is olive oil and garlic. But these days it's colloquially used to describe fancy flavor-filled mayonnaise. So when I wanted a pesto aioli, I really wanted a creamy, basil filled condiment.
How to make this cashew aioli:
It's easy, and all you need is a blender! Whip up some garlic, cashews, water, olive oil, lemon juice, lemon zest, and dijon mustard until creamy.
Garlic because 1) aioli should have a good garlicky kick to it and 2) pesto should have a nice garlicky kick to it.
Cashews and water because these will whip together to make a thick cashew cream that is the base of our vegan aioli.
Olive oil, because it 1) adds some richness to the aioli and you want it to be rich tasting, 2) because aioli is made with olive oil, and 3) because pesto has olive oil in it! I don't use a ton to keep it lighter, and while strictly speaking you can leave it out, I recommend using it for that flavor.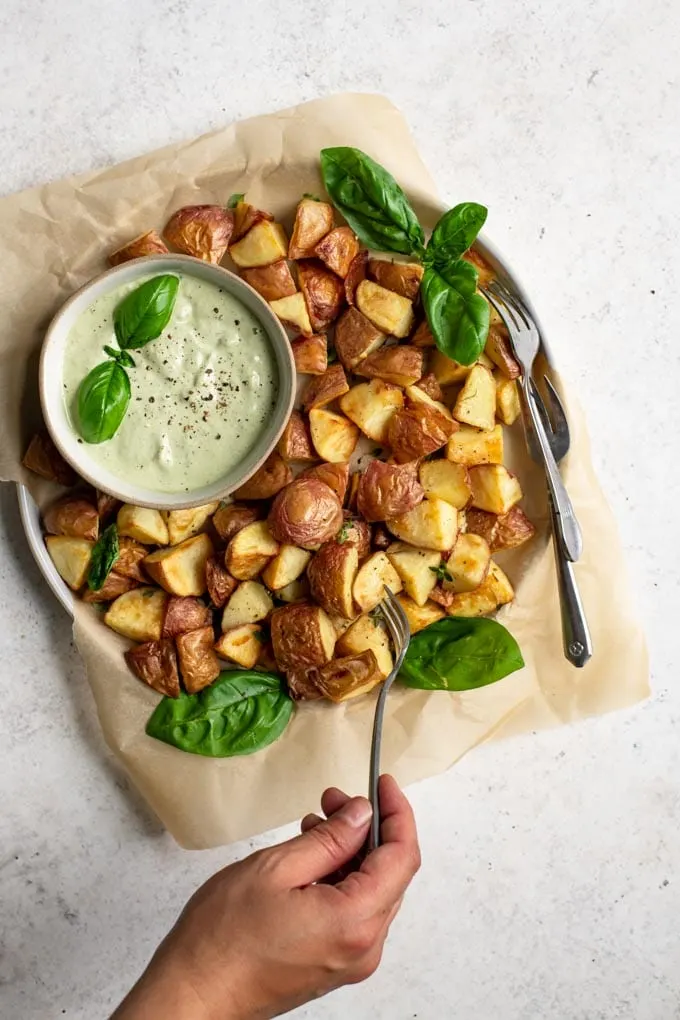 Lemon juice is a common ingredient in both aioli, mayonnaise, and pesto. The zest adds a bit more pizzazz.
And lastly dijon mustard, because while ground mustard seed is a common ingredient in mayo and makes a regular appearance in aioli, I wanted a short cut. Dijon mustard adds a bit of up your nose spiciness, but it's used in a small amount for a subtle affect.
Once we have our cashew aioli, just add basil!
Well really I recommend blending the garlic, cashews, and water until smooth before adding the rest of the flavorings so we don't abuse their more delicate flavors with the blender blades.
But that's really it, the basil will get chopped up by the blender, and how smooth vs how speckled you want it is really up to you! And the power of your blender.
The aioli is thick but still runny out of the blender, but will firm up in the fridge over several hours to a more mayo-like consistency.
Spread it on sandwiches, dip baked or fried potatoes into it, add it to burgers. You can even use it as a creamy pasta sauce (which, I bet you wouldn't do with traditional aioli haha).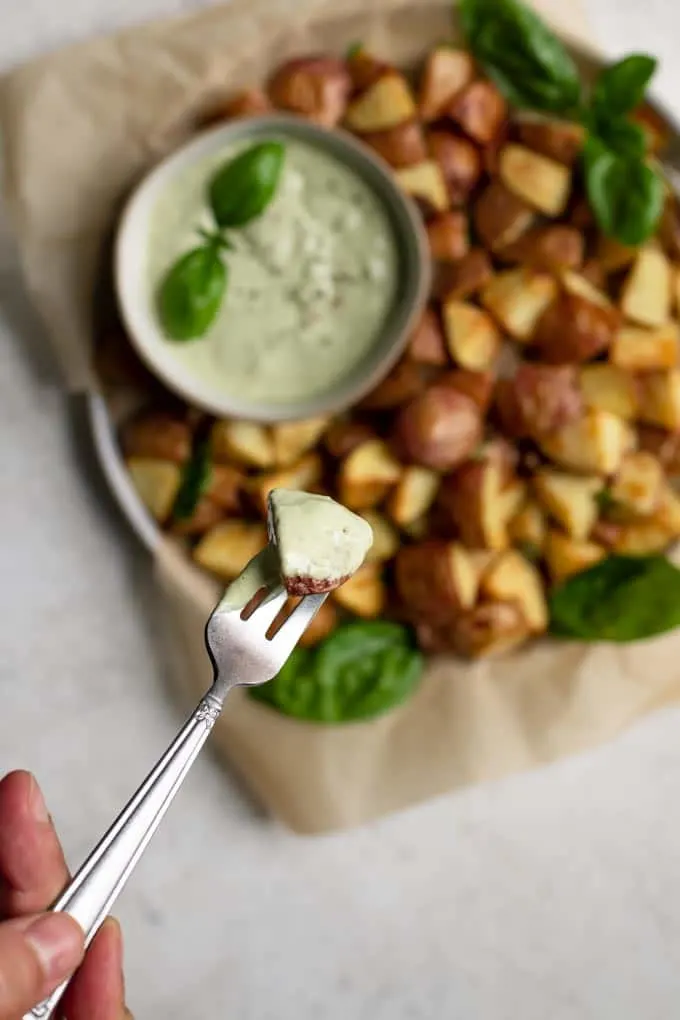 If you make this pesto cashew aioli leave a comment below and rate the recipe on the recipe card. And please share your photos with me on Instagram, tag @thecuriouschickpea and #thecuriouschickpea. I love seeing your recreations!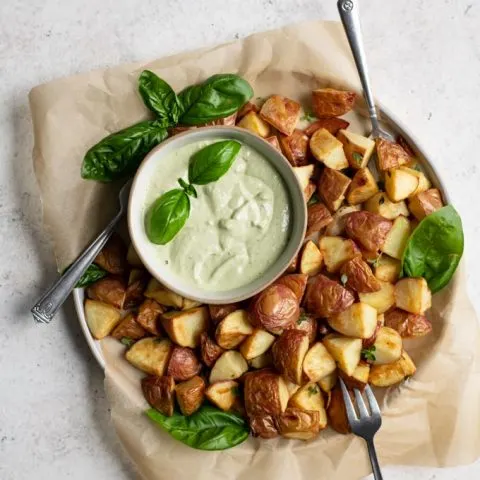 Pesto Cashew Aioli
Cashew Soaking Time (if not using high speed blender):
30 minutes
This creamy vegan pesto aioli is made with cashews for a healthy and delicious take on your traditional condiment. If avoiding cashews, use shelled sunflower seeds!
Ingredients
1 1/2 cups cashews
1 cup water
2 garlic cloves, peeled
2 tbsp olive oil
1 tbsp lemon juice
1 tsp lemon zest
1 tsp dijon mustard
1/2 tsp salt
1 cup packed fresh basil, chopped
Instructions
If not using a high speed blender, soak your cashews. Cover the cashews in cold water and soak for about 2 hours, then drain or rinse. For a quick soak, bring cashews to boil in water and let boil for about 10-15 minutes. Then drain and rinse. If using a high speed blender, skip this step!
In a blender combine the garlic cloves, cashews, and water. Blend until smooth and creamy, scraping down the sides as needed.
Add the olive oil, lemon juice, lemon zest, dijon mustard, salt, and basil. Blend until the basil is as chopped as you'd like it and the aioli turns green.
Use right away, or refrigerate for a few hours to thicken and let the flavors meld. The aioli can be stored in the refrigerator and will keep for about 7-10 days.
Notes
If your blender can handle smaller amounts, feel free to half the recipe.
Nutrition Information:
Yield:

24
Serving Size:

1
Amount Per Serving:
Calories:

60
Total Fat:

5g
Sodium:

110mg
Carbohydrates:

3g
Protein:

1g