This grilled salad with smoky lentils is a delicious and healthy vegan and gluten free meal or starter. It's made with grilled heirloom radicchio, but is also delicious with romaine. Served with roasted sweet potato and baby kale for some delicious sweetness to balance the smoky.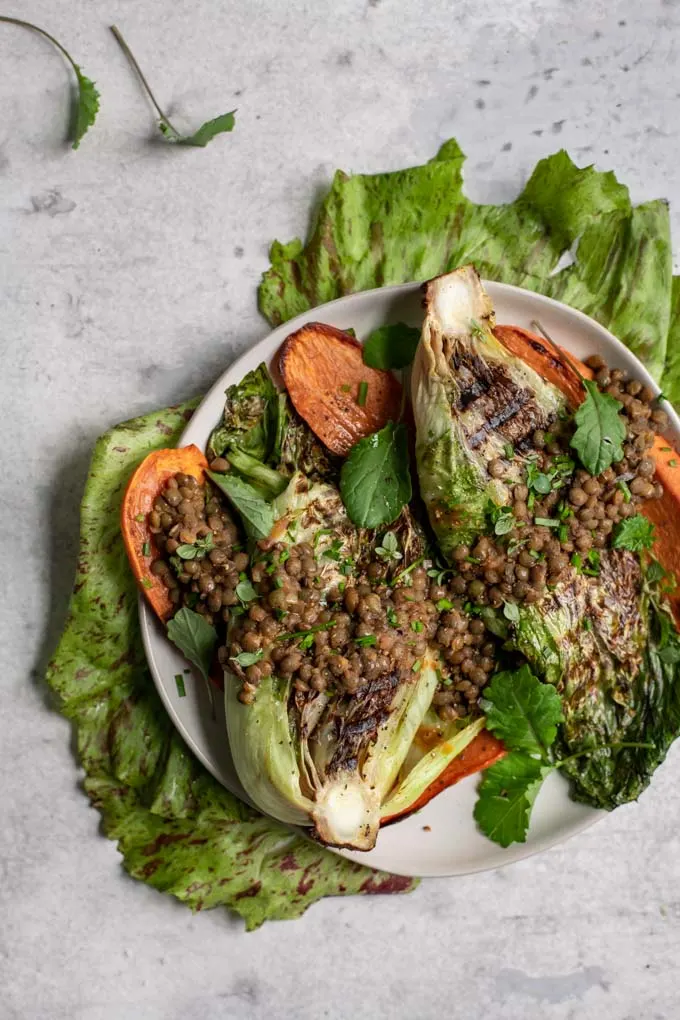 If you've never grilled your greens yet, it's time to change that. It takes lettuce from basic sustenance to something spectacular. A little smoky from the charred bits, extra tender and juicy, but maintains some of that crunch.
Remember the wedge salad? Well this is also a knife and fork sorta salad, but even better. Elevated, if you will.
It's a striking way to serve that traditional first course. In fact, I found myself gobbling down an unprecedented portion size of salad (like, this entire head of radicchio y'all).
The smoky and slightly bitter charred green played perfectly with the caramelly bites of roasted sweet potato. Downed in seasoned smoky french lentils and garnished with a generous portion of fresh herbs the salad doesn't even need an extra dressing.
Each bite is so flavorful, a mix of creamy and crunchy textures, both juicy and chewy at the same time. It's one of the more satisfying salads I've had in a long time.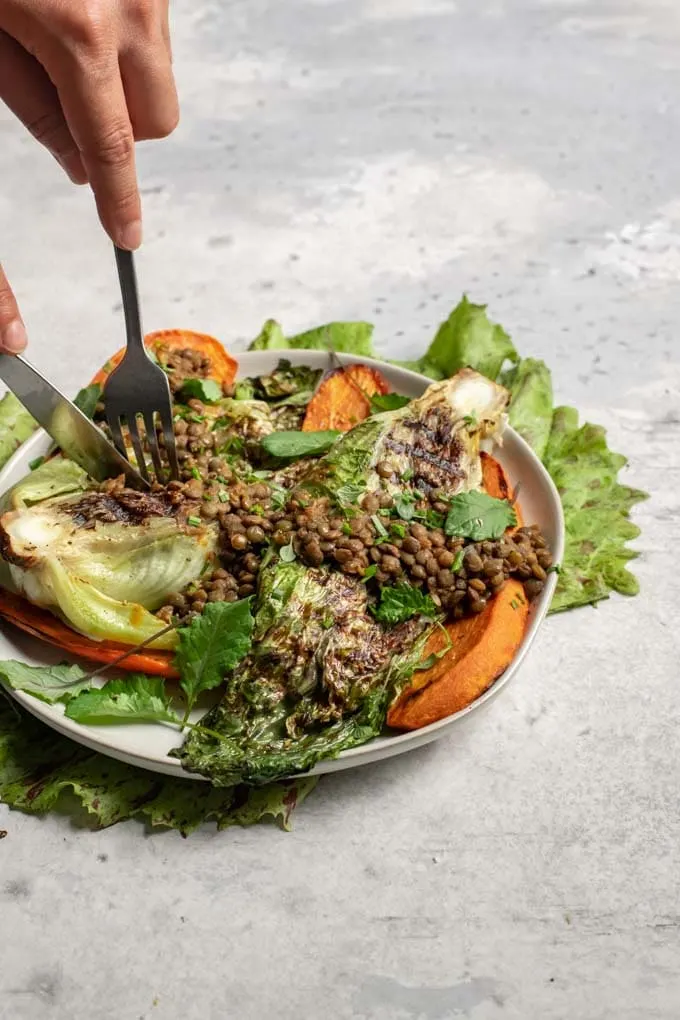 First, make your seasoned smoky lentils.
The lentils can be made in advance for this salad for quick and easy dinners. They're so good I could eat them on their own, but they're also amazing over a bed of greens (or reds).
Use a lentil that can hold its shape when cooked. I used lentils du puy (french lentils) for this recipe, but brown lentils or even black beluga lentils would be great too.
Cook the lentils with salt, a bay leaf, and some fresh thyme until they are just tender. Then add a bunch of ice to the pot to bring the temperature down to room temp then transfer to a container and stick in the fridge until ready to use.
This will keep the lentils from cooking further and turning to mush. That being said, if you're going to use them right away you can skip this step.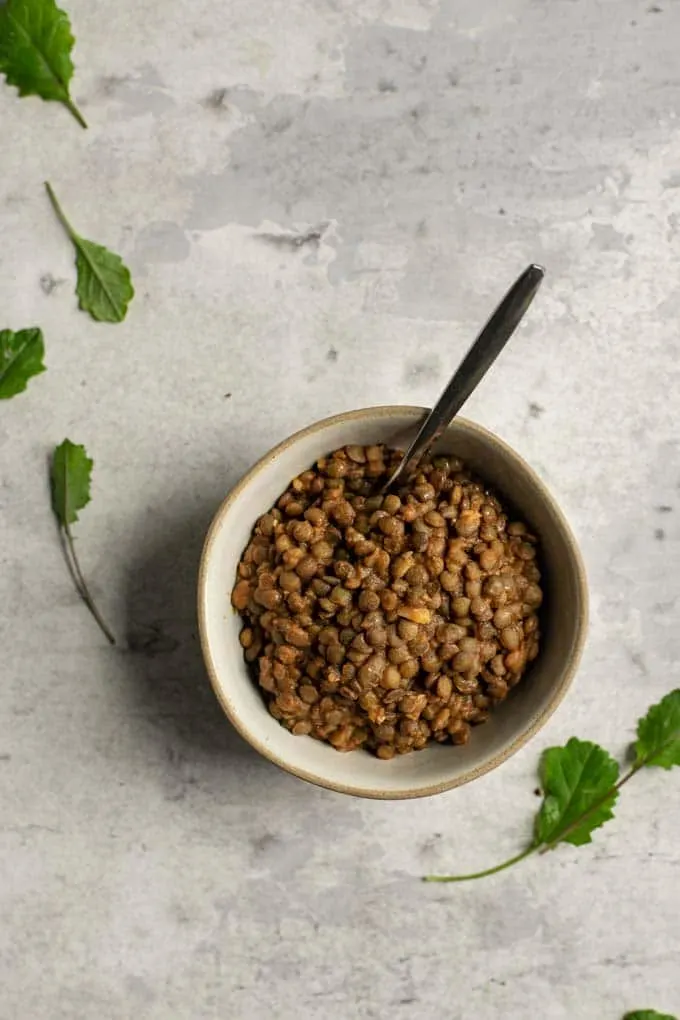 Whenever you're ready to use the lentils, drain them but reserve about 1/2 cup of the cooking liquid. In a pot fry a bit of garlic in olive oil, then add some smoked paprika (this is where the smoky flavor comes in!) and the drained lentils with a splash of that cooking water.
Bring to a simmer and let it cook until thick and creamy. Add a splash of red wine vinegar and add salt and pepper to taste! It may not need extra salt if you salted your water well when cooking.
The lentils are ready to go.
Next, we roast the sweet potatoes.
Slice up the sweet potato long ways to make thin slabs (peeled or unpeeled is up to you, just wash them well), then brush both sides with olive oil and a sprinkling of salt and pepper. Roast until the sweet potato is tender.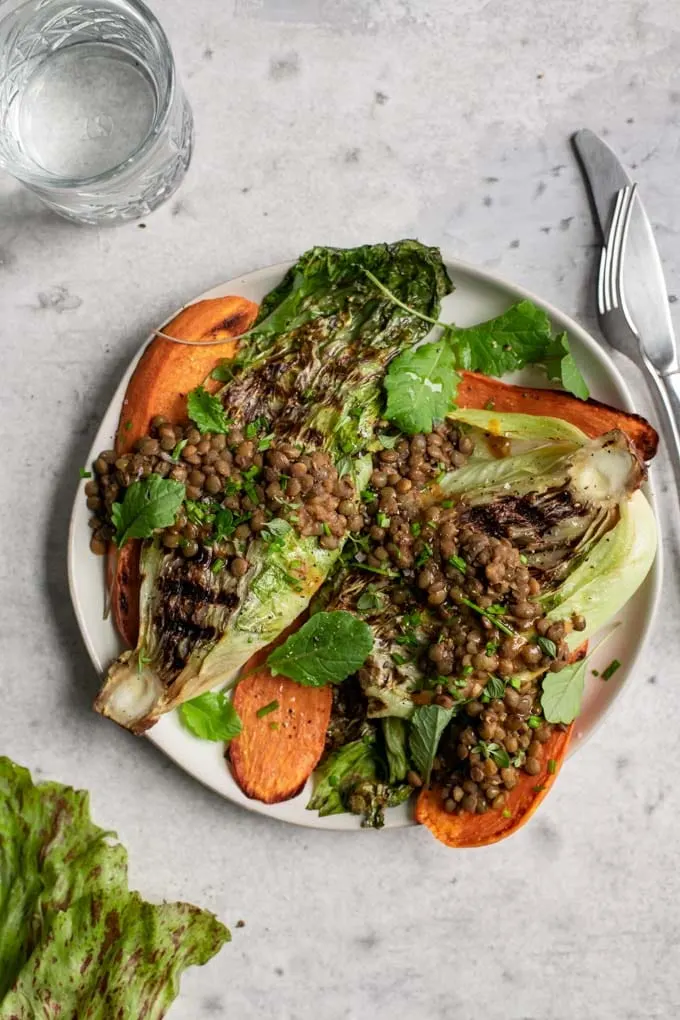 Grill the lettuce right before you're ready to eat.
Choose a crisp variety of greens like romaine or radicchio. Here I used an heirloom variety of radicchio from Italy called castelfranco radicchio. It looks a lot like lettuce, with pale leafy green leaves, but spotted with dark red blotches of color.
It's milder than the more commonly found deep purple more cabbagey looking radicchio. It's less bitter and a bit sweeter, and definitely a green you should pick up if you come across it at your local market or perhaps in your CSA box (community supported agriculture).
But if you don't happen across castelfranco radicchio, never fear! This salad works amazingly well with romaine or romaine hearts. And if you like a little bit of bitter veggies in your life, any other variety of radicchio is excellent grilled as well.
Whichever vegetable you choose, the preparation is super simple. Cut them in half (if using a larger red radicchio you may want to cut thick 1 – 2″ slices), wash them and shake off excess water. Brush a grill with oil, and let cook on one side until charred.
You can use an indoor grill pan or an outdoor grill. Either works well! That's it.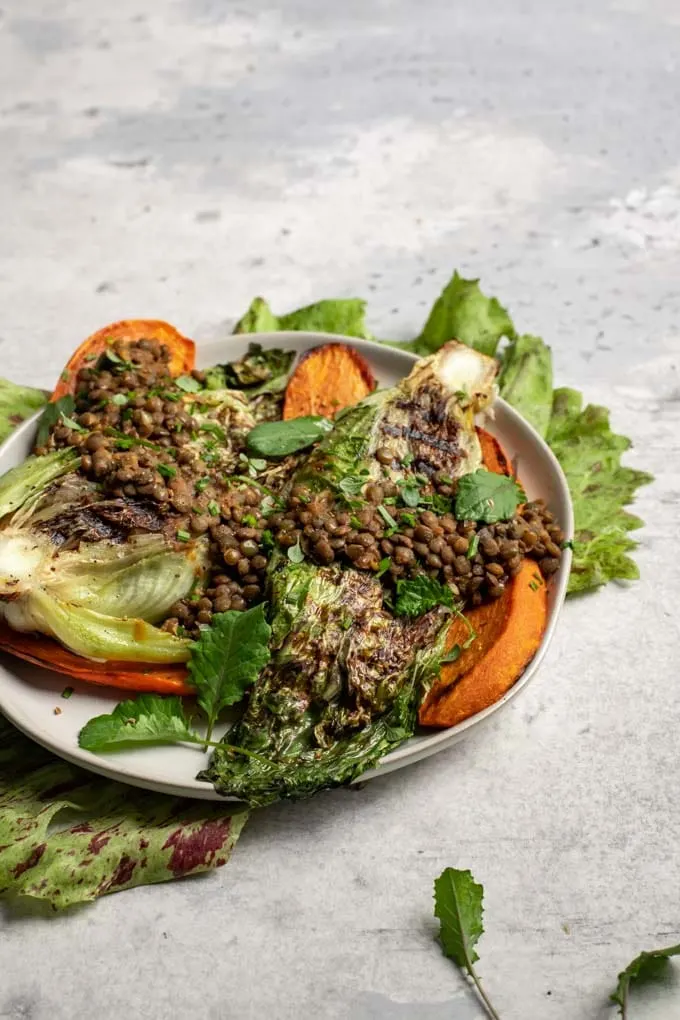 Assemble your grilled salad with smoky lentils.
Layer roasted sweet potato on a plate, next the grilled lettuce, and add a generous amount of the lentils overtop.
To finish off add a drizzle of extra virgin olive oil, fresh herbs (I used lemon thyme and chives), and a smattering of baby kale. A little flaked sea salt and freshly ground black pepper is the last touch.
Then get your knife and fork out, and enjoy a healthy and flavorful meal! Or starter, if you prefer!
---
If you make this grilled salad with smoky lentils and roasted sweet potato, leave a comment below and rate the recipe on the recipe card. And please share your photos with me on Instagram, tag @thecuriouschickpea and #thecuriouschickpea. I love seeing your recreations!
---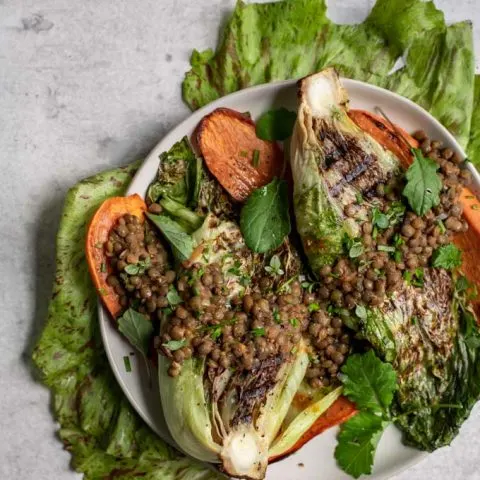 Grilled Salad with Smoky Lentils
Yield:
4 large side servings
This grilled salad with smoky lentils is made with an heirloom radicchio, but is also great with romaine. Served with sweet potato and baby kale for a delicious vegan and gluten free dish! Makes 2 large entrée meals or 4-6 sides.
Ingredients
Lentils
1 cup french lentils (du puy), brown lentils, or black beluga lentils
1 bay leaf
2 sprigs fresh thyme
2 tbsp olive oil
2 cloves garlic, minced
1 1/2 tsp smoked paprika
1 tsp red wine vinegar
salt and pepper to taste
Everything else
1-2 sweet potatoes
2 heads romaine lettuce or radicchio
oil for cooking
salt and pepper to taste
baby kale (optional) for garnish
fresh herbs for garnish (chives, basil, thyme, etc.)
flaked sea salt and black pepper to taste
Instructions
Sort and rinse the lentils, add to a pot and cover with a couple inches of water. Salt the water and add a bay leaf and the sprigs of thyme. Bring to a simmer and then lower heat to medium low for a very low simmer. Cook 15-20 minutes or until lentils are just tender. They should easily smash when pressed against the roof of your mouth with your tongue.
If not using the lentils right away, add ice cubes to bring the temperature to room temperature and then transfer to a container and store in the fridge. When ready to use, drain the lentils reserving about 1/2 cup of the cooking liquid.
Wash the sweet potatoes and peel if you'd like. Slice into ~1/4" slices. Brush each side with olive oil and sprinkle with some salt and pepper. Bake at 450 ºF for 12-15 minutes or until tender.
Season the lentils: In a pot heat the 2 tablespoons of olive oil over low, add the garlic and let cook for about 1 minute until a shade darker. Add the smoked paprika and immediately add the lentils and about 2-4 tablespoons of their cooking liquid.
Bring the lentils to a simmer and cook until thick and creamy, add more cooking liquid if needed. Turn off the heat and add the teaspoon of red wine vinegar. Taste and add salt (if needed) and pepper to taste.
Wash the lettuce or radicchio and shake off excess water. Cut them in half, if using larger radicchio, then cut into thick ~1 1/2" slabs.
Heat a grill pan or outdoor grill over medium high heat/flame. Brush the grill with some oil then place the lettuce cut side down on the grill. Let cook until you get char marks across the greens. Remove from heat.
To serve layer the roasted sweet potato and grilled lettuce. Top with smoky lentils and baby kale, garnish with fresh herbs. Add flaked salt and pepper to taste.
Nutrition Information:
Yield:

4
Serving Size:

1
Amount Per Serving:
Calories:

393
Total Fat:

12g
Saturated Fat:

1g
Unsaturated Fat:

10g
Sodium:

281mg
Carbohydrates:

57g
Fiber:

22g
Sugar:

11g
Protein:

20g