Enjoy these flavorful and refreshing peanut tofu spring rolls year round. They're filled with crisp vegetables, fresh herbs, rice vermicelli noodles, and delicious peanutty tofu.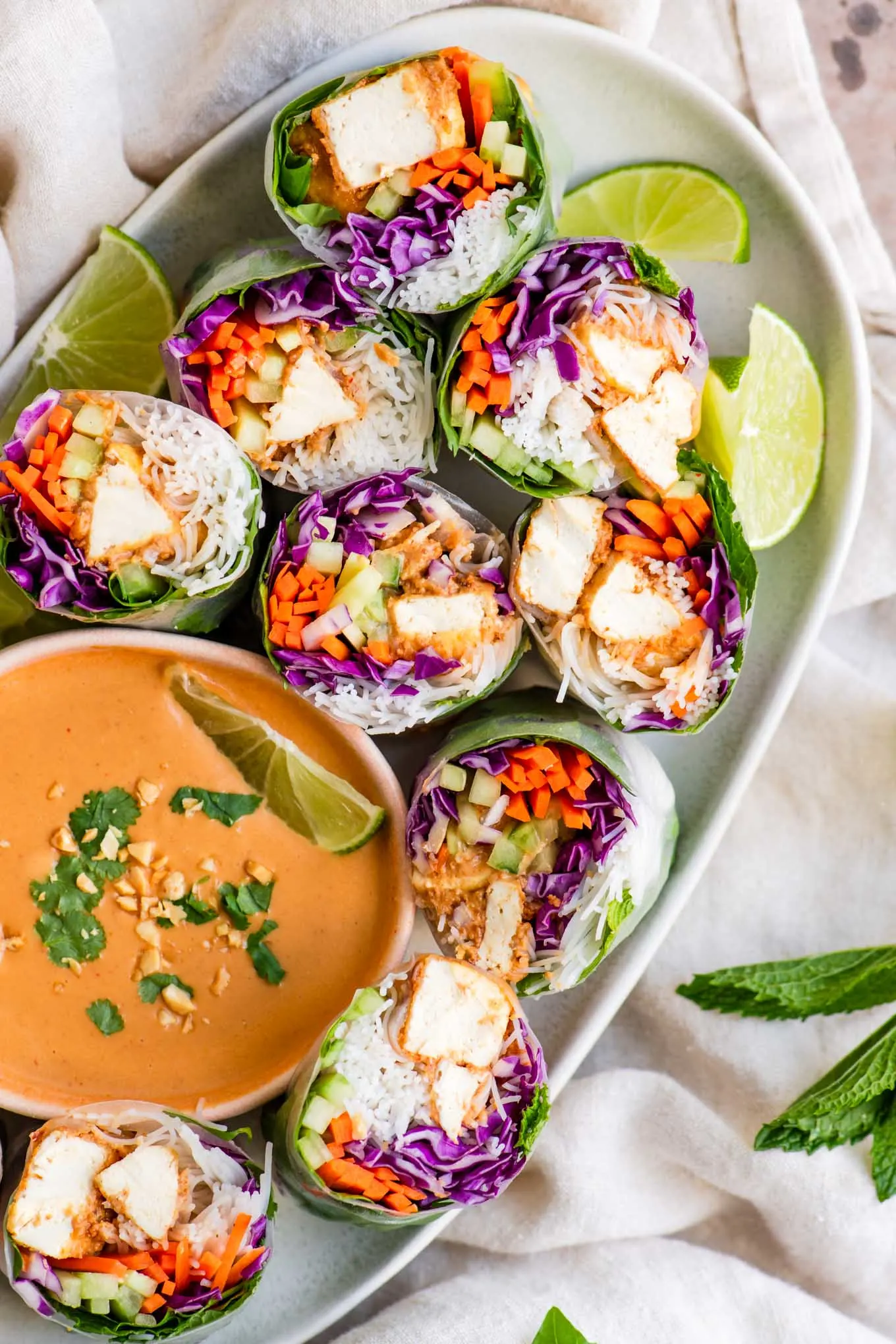 Spring rolls are easy to make and perfect for snacking on, serving as appetizers or hors d'oeuvres, enjoying as a light meal. Eat enough of them and they're quite filling!
Spring rolls are a classic Vietnamese dish, called gỏi cuốn. They're made with rice paper wraps (bánh tráng) and eaten fresh (as in the wraps themselves are not fried or otherwise cooked).
They're commonly filled with meat alongside the fresh veggies and rice vermicelli. Vegetarian versions sometimes include tofu but the tofu is typically plain.
Spring rolls are served with flavorful sauces for dipping, and peanut sauce is a popular option.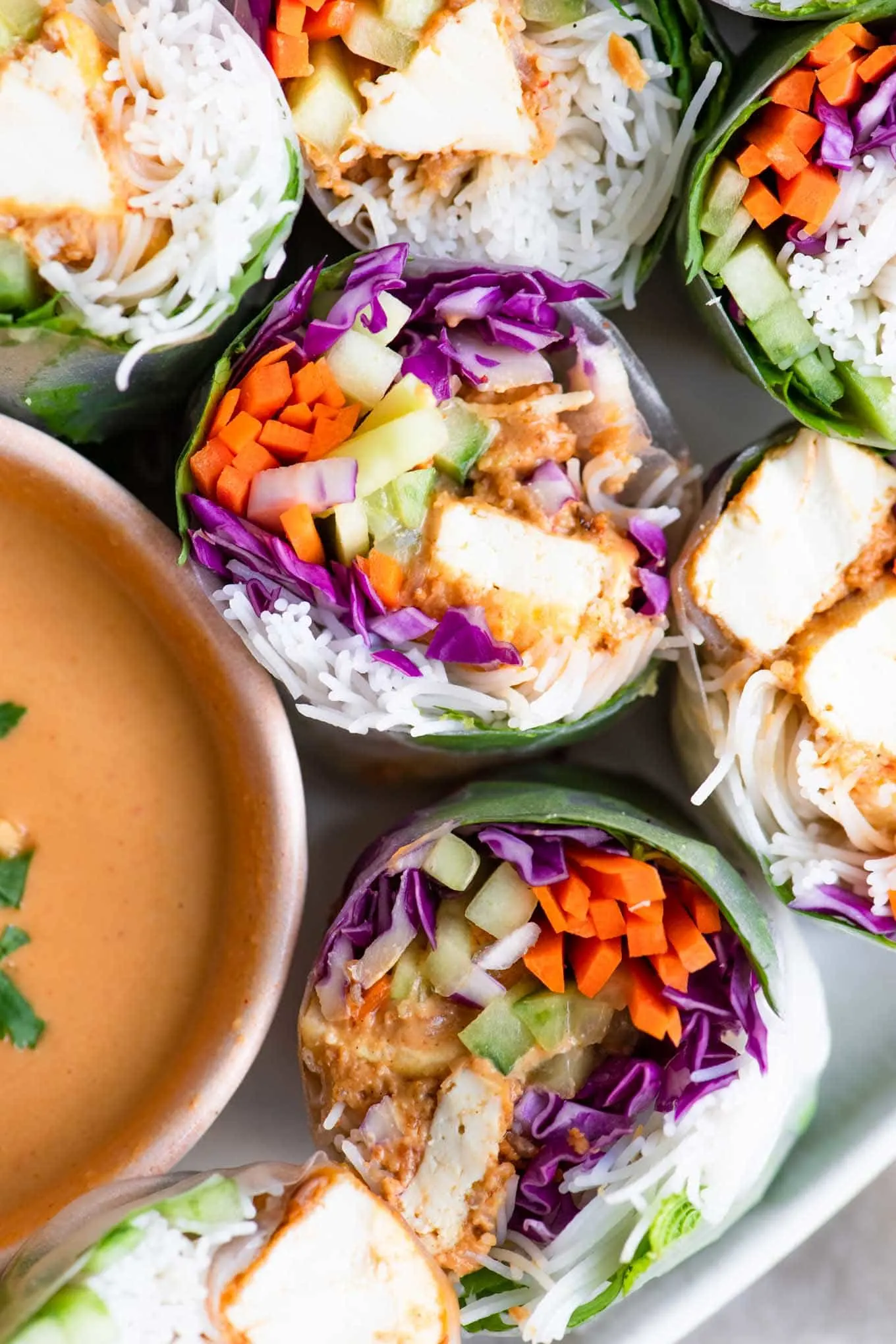 I was inspired by these flavors of vegetarian Vietnamese spring rolls, but wanted to up the flavor of the rolls themselves by cooking up the tofu in a delicious peanut sauce.
By making the tofu saucy you could skip the dipping sauce, but I'm team flavor so the recipe makes enough peanut sauce for extra to dip those rolls in!
The Peanut Sauce:
This peanut sauce is salty, a little tangy, a touch spicy, and garlicky. Pretty much irresistible!
It's made with lots of peanut butter, thinned with water, and seasoned with soy sauce, hoisin, lime juice, rice vinegar, sriracha or other chili sauce, and garlic. Plus a little salt if it needs it!
I like a little onion in the mix, but prefer not to eat raw onion so instead set it aside to sauté with the tofu.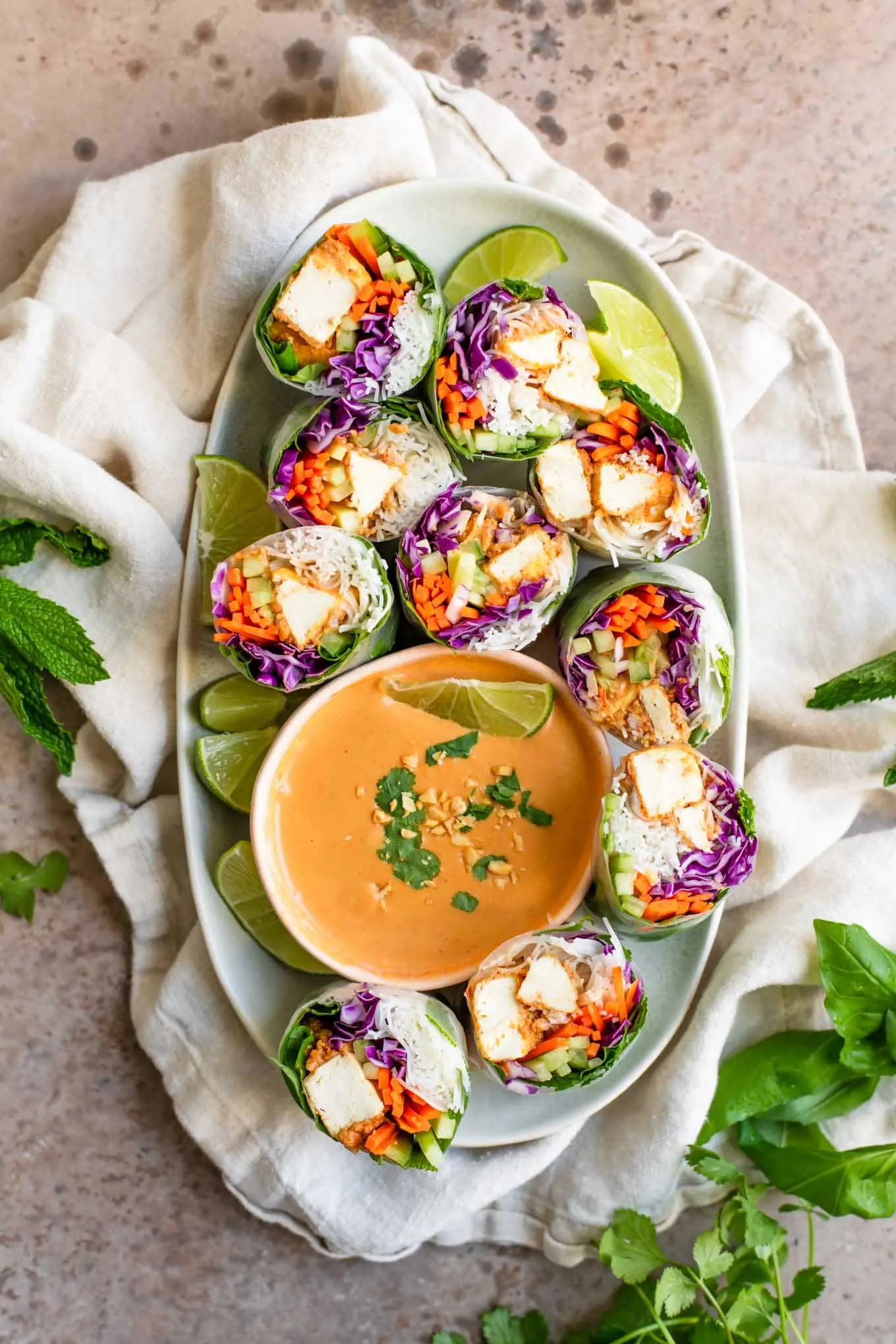 You should taste this sauce as you make it and make any adjustments based on your own taste preferences. You may also find you need to add more water to thin the sauce or more peanut butter to thicken the sauce depending on the consistency of your peanut butter.
About half the sauce is used to season the tofu, and the rest is used for dipping the wraps into. You may choose to thin the portion of the sauce used for dipping with some more water.
Depending on how saucy you like things you may end up with leftover peanut sauce. Make some peanut noodles or peanut tofu with it of course! 😊
Can I make this without peanut butter? I'm allergic/don't like it.
Yes, of course feel free to swap out the peanut butter for another nut butter. I recommend almond butter (like in these almond butter udon noodles), but tahini works as well (though is a stronger flavor so you may need to tweak the sauce a bit or use less). You can also give sun butter a go!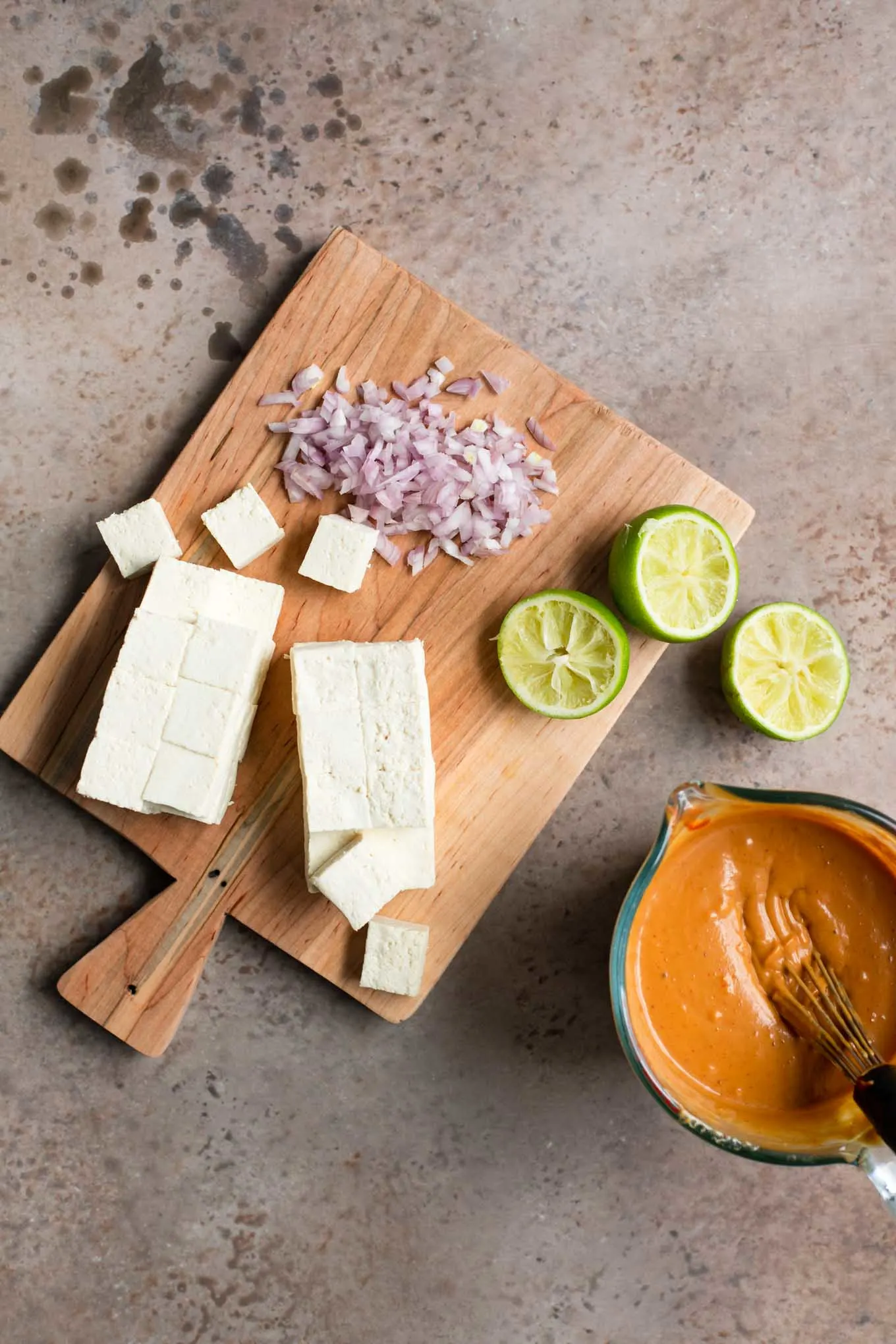 The peanut tofu:
Use extra firm or super firm tofu in this recipe. If the tofu is wet it will make it more delicate for pan frying, and more likely to fall apart.
Because of this I recommend taking the time to press your tofu if you are using anything but "super firm" tofu. You can skip pressing but again, it will make pan frying the tofu more fussy.
To press the tofu slice it into 6 slices widthwise, then wrap those slices in a lint-free tea towel and place something heavy on top to weigh it down. Let it press for at least 10 minutes but ideally closer to 20 minutes then cut the slices into cubes.
Next you want to use a non-stick skillet, my go to choice will always be cast iron! Add some oil then the tofu with a pinch of salt (flavor!) and arrange so the tofu is filling the pan in a single layer. Then don't touch the tofu until it has turned golden on the side that's touching the pan!
Once it has browned it will release easily from the pan. If you try to flip it before it's turned golden then it will likely stick to the pan and tear. Don't stress if this happens! Your peanut tofu will be great even if the tofu is in pieces instead of cubes.
Let it cook until golden on 3-4 sides (or more if you're patient) then add the shallots and cook it another couple of minutes to soften the onion.
Pour in the peanut sauce, stir it to coat the tofu, and turn off the heat. That's it! The tofu is ready.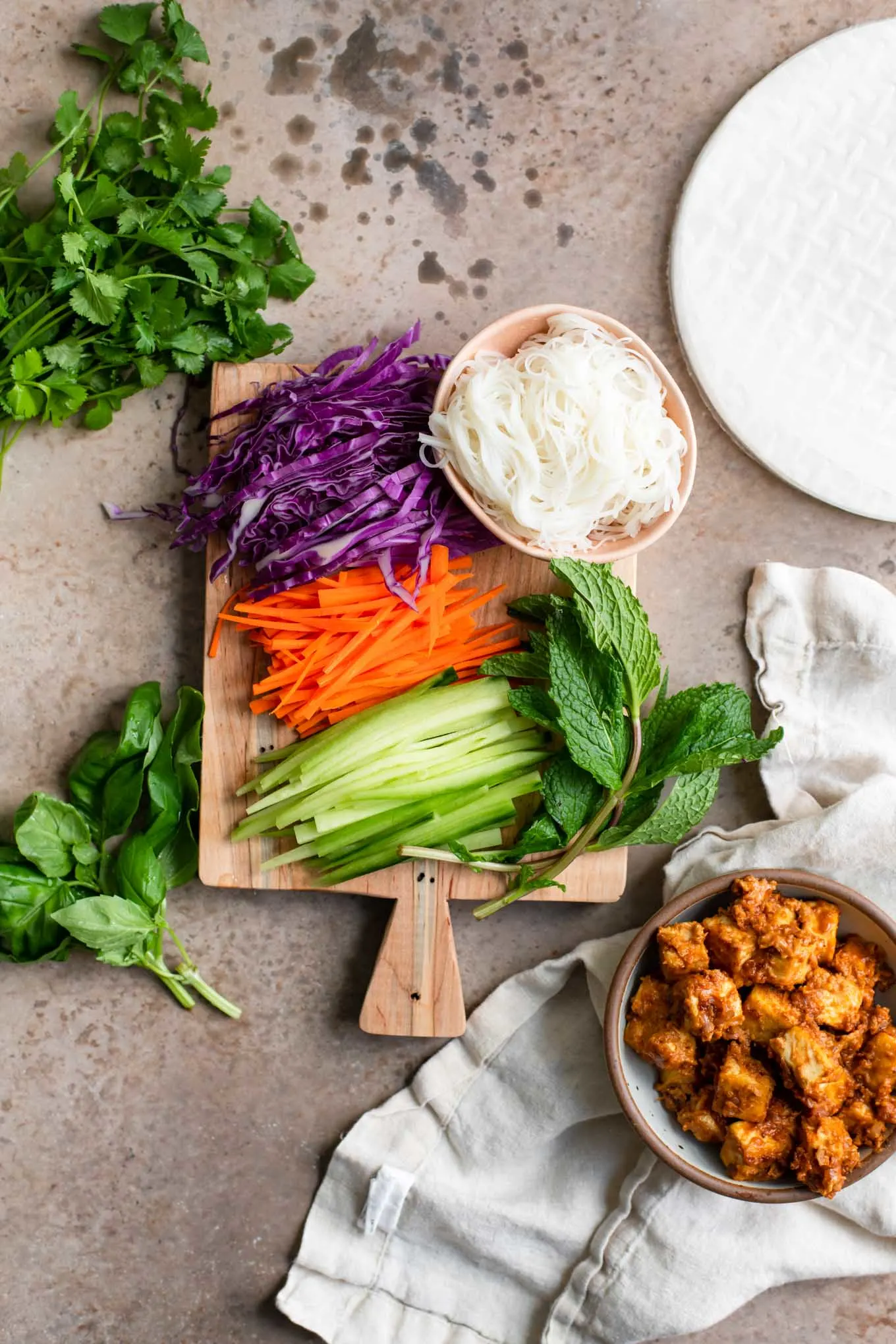 Assembling the peanut tofu spring rolls:
I filled these spring rolls with lots of fresh herbs, crunchy carrots and cabbage, juicy cucumber, and rice vermicelli.
You can add bean sprouts (my store was out) or some torn lettuce (I find lettuce makes it a bit harder to roll the wraps however). And feel free to mix-and-match based on what you have on hand.
And of course, you can't make spring rolls without rice paper wraps!
The key to easy spring roll shaping is to soften the rice paper the right amount. Too soft and it will stick to itself and be more prone to tearing. Not softened enough and it will break or not stick to itself to seal.
This is the method that works for me!
Run both sides of the rice paper wraps under warm water and set on a damp wood cutting board.
Arrange your ingredients inside the wrap while it softens.
Like it's a burrito, fold in opposite sides so that they top the filling slightly. Then fold the side closer to you overtop the filling so that it sticks to those edges folded in. Then roll the wrap.
Be gentle as you roll and don't wrap too tightly or the wrap may tear!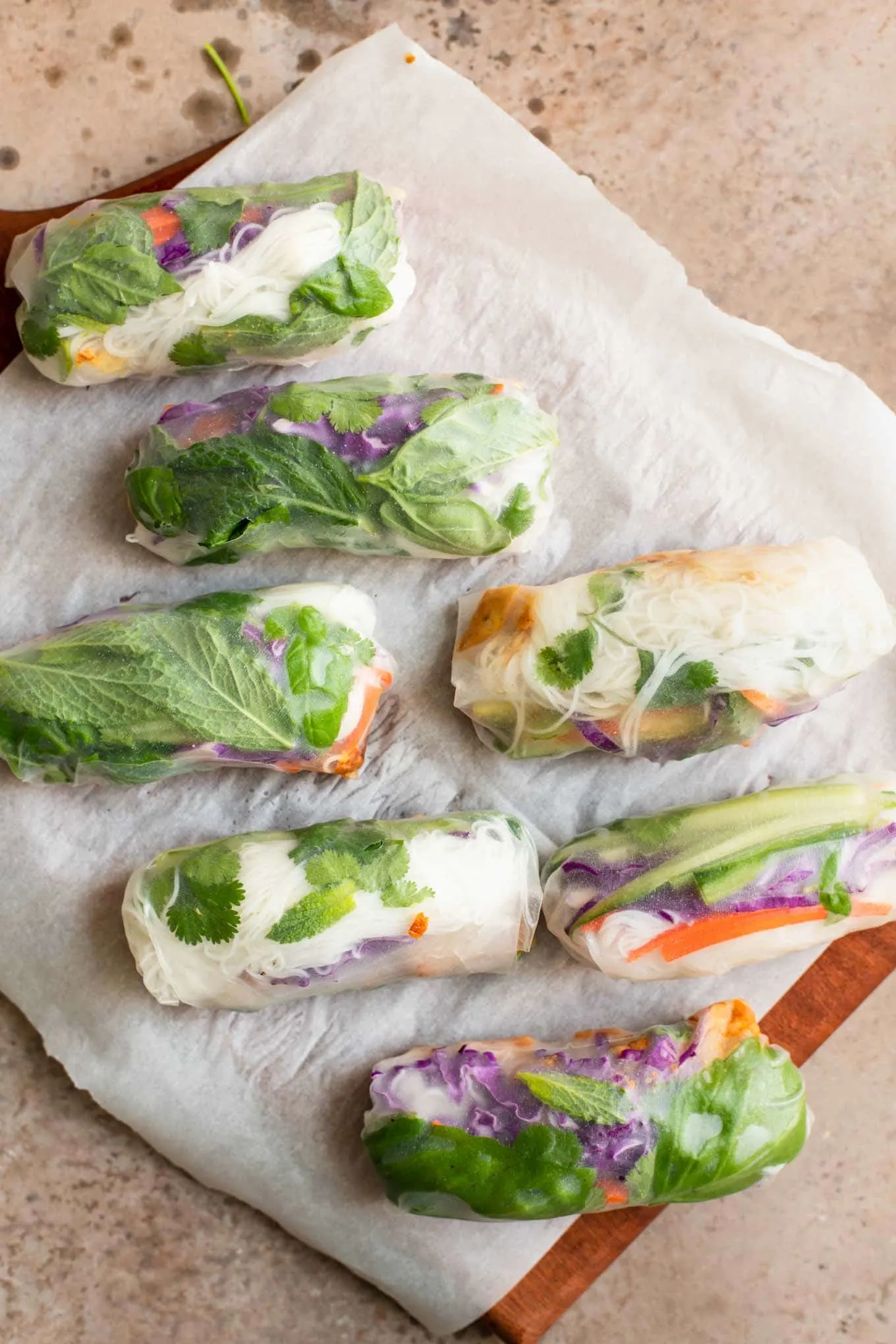 Tips for wrapping spring rolls:
To make it pretty place the herbs down first as they will show through the semi-transparent wrap. Place the julienned ingredients (cabbage, carrot, cucumber) in the center for their beautiful pops of color.
Don't overfill! This makes it harder to shape and you're more likely to overfill it.
If the wrap does tear a little that's ok! As long as it still has structural integrity (as in you can pick it up and the filling isn't falling out) just leave it.
If the wrap tears a bunch you have two options: a) you can soften a second rice paper and use it to wrap around the torn wrap. This will make for an extra chewy roll! Or b) you can take out the filling and try again in a new wrap.
I like to set prepared rolls on a piece of parchment paper so it doesn't stick to them.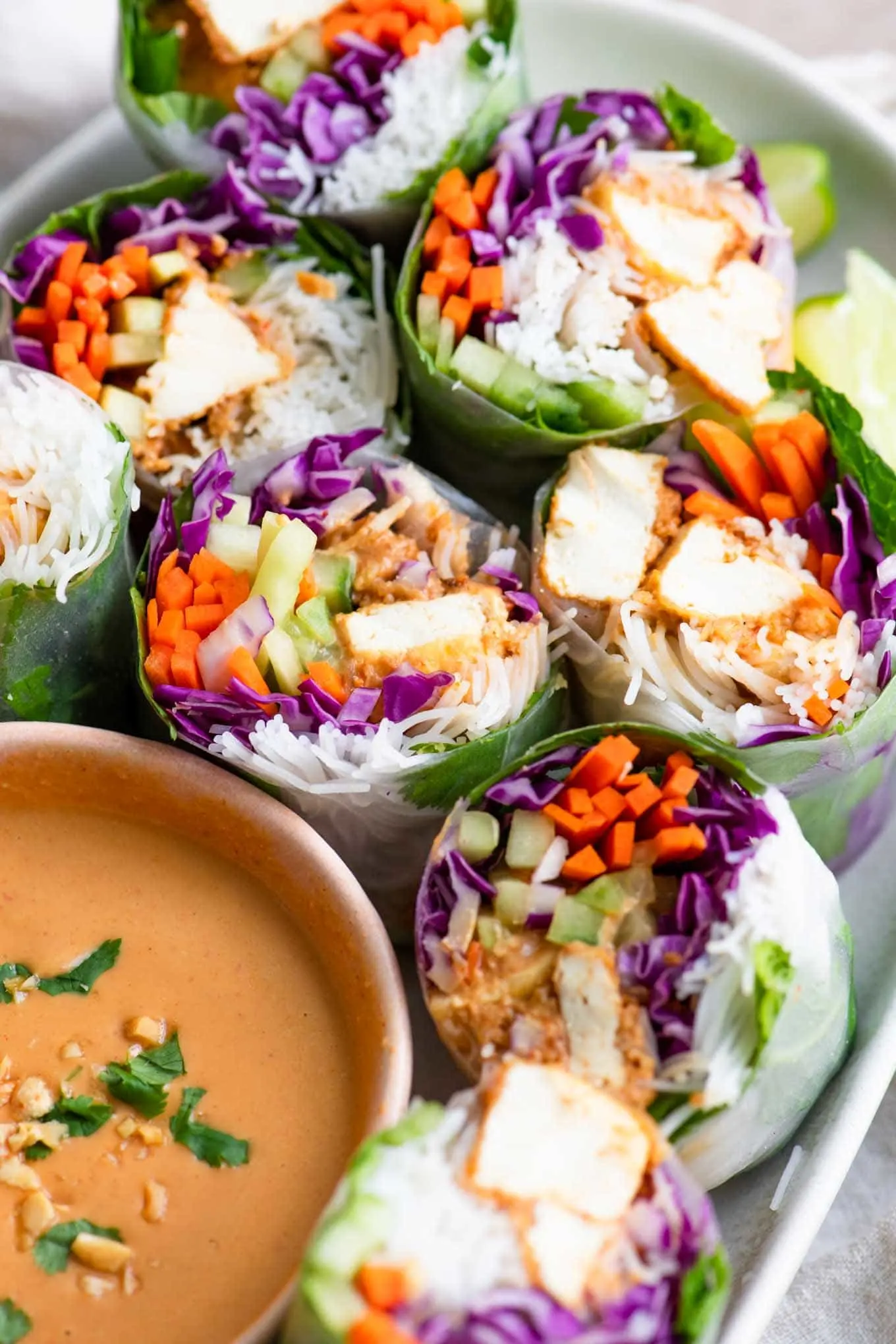 How to store spring rolls for future meals:
Of course the wraps are great when eaten right away when everything is at its freshest, but you can store them for a couple of days.
I store these peanut tofu spring rolls in a sealed container in the fridge, and set them on parchment so they don't stick to the pyrex. They'll last for 1-2 days. You can place a lightly dampened towel overtop them to help keep it moist.
The worst thing that can happen to a rice paper wraps is that they dry out. When dry they get hard, and not in a good crispy way, but a "this is impossible to eat" kind of way.
If that happens just unwrap it and put the filling in a bowl to eat. Make sure to drizzle it with the peanut dipping sauce!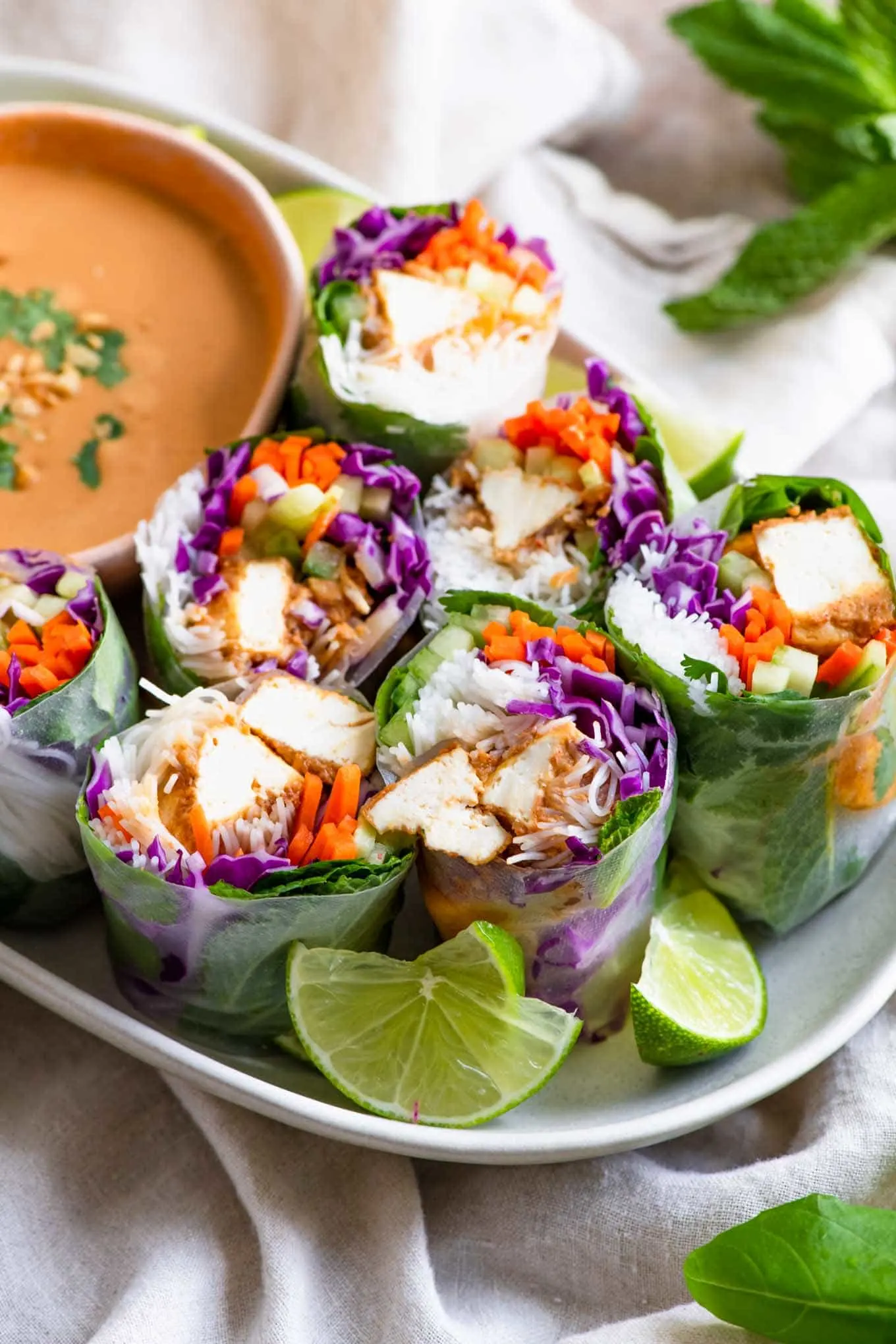 If you make these peanut spring rolls, leave a comment below and rate the recipe on the recipe card. And please share your photos with me on Instagram, tag @thecuriouschickpea and #thecuriouschickpea. I love seeing your recreations!
For a fun idea for any leftover rice paper wraps, check out my Buffalo Chickpea Rice Paper Wraps!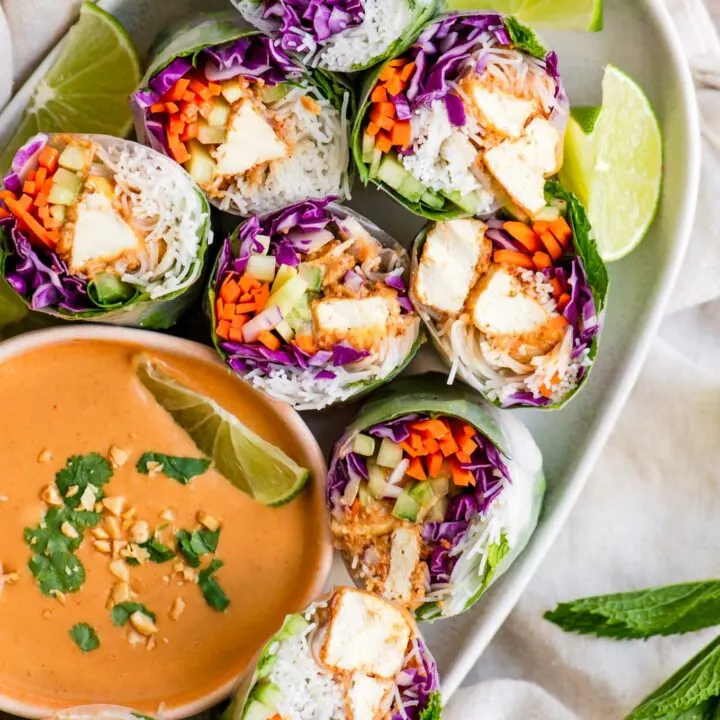 Peanut Tofu Spring Rolls
These spring rolls make a great snack, appetizer, or light meal. They're vegan and gluten free, and to make it peanut free you can substitute almond butter or sun butter.
Ingredients
Peanut Tofu
1 14oz block extra firm or super firm tofu
1/2-3/4 cup smooth peanut butter
1/2 cup hot water
1-2 cloves garlic, crushed
3 tbsp soy sauce
3 tbsp hoisin
2 tbsp fresh lime juice
1 tbsp rice vinegar
1-2 tbsp sriracha or other chili sauce
salt, to taste
2 tsp oil
1/4 cup minced shallot
Everything Else
8 rice paper wraps (have extra to spare)
fresh basil leaves
fresh cilantro leaves
fresh mint leaves
90g dry rice vermicelli, prepared to package directions
cucumber, peeled and julienned
carrot, peeled and julienned
red cabbage, thinly sliced
Instructions
Make the Peanut Tofu
If using extra firm tofu, slice the tofu into 6 slices widthwise and wrap in a lint free tea towel. Place something heavy on top and let drain for 10-20 minutes. Cut the sliced tofu into cubes. If using super firm tofu skip the pressing step.
Mix together 1/2 cup peanut butter with hot water until it's smooth. Add the garlic, soy sauce, hoisin, lime juice, rice vinegar, and sriracha. Taste and add salt or adjus seasonings as needed. If the sauce is too thin add more peanut butter, if it's too thick add more water.
Heat a large skillet over medium and add the oil, the cubed tofu, and a pinch of salt. Pan fry until the tofu is a light golden color on 3-4 sides, about 5 minutes. Wait to flip each side until it has browned for easy release from the pan.
Add the minced shallot and let cook another 2-3 minutes alongside the tofu, until softened. Then add about half the prepared peanut sauce. Feel free o add more for a saucier tofu. Stir in the peanut sauce then turn off the heat.
Prepare the rice paper wraps:
Run both sides of the rice paper wrap under hot water then place on a dampened cutting board. Arrange the basil, cilantro, and mint in the center of the wrap then top with the carrot, cucumber, and cabbage. Add some rice vermicelli and peanut tofu.
Fold opposite ends of the softened rice paper in to partially cover the filling. Then fold the bottom into the center so that it meets the edges and seals and roll to wrap the spring roll. Repeat with the remaining wraps and filling.
Leave the wraps whole or cut in half and enjoy fresh with extra peanut sauce for dipping!
Notes
The wraps will keep for 1-2 days in a sealed container in the fridge. Place a lighly dampened paper towel in the container to keep them moist for slightly longer storage.
Nutrition Information:
Yield:

8
Serving Size:

1
Amount Per Serving:
Calories:

240
Total Fat:

12g
Saturated Fat:

2g
Trans Fat:

0g
Unsaturated Fat:

9g
Cholesterol:

0mg
Sodium:

702mg
Carbohydrates:

24g
Fiber:

3g
Sugar:

5g
Protein:

11g
Nutrition is calculated automatically so should be used as an estimate.