These vegan Belgian waffles are my perfect waffle–light and fluffy inside, with a shatteringly crisp exterior, and deep craggy pockets to collect pools of maple syrup or whichever fruit compote I feel like putting on my waffles.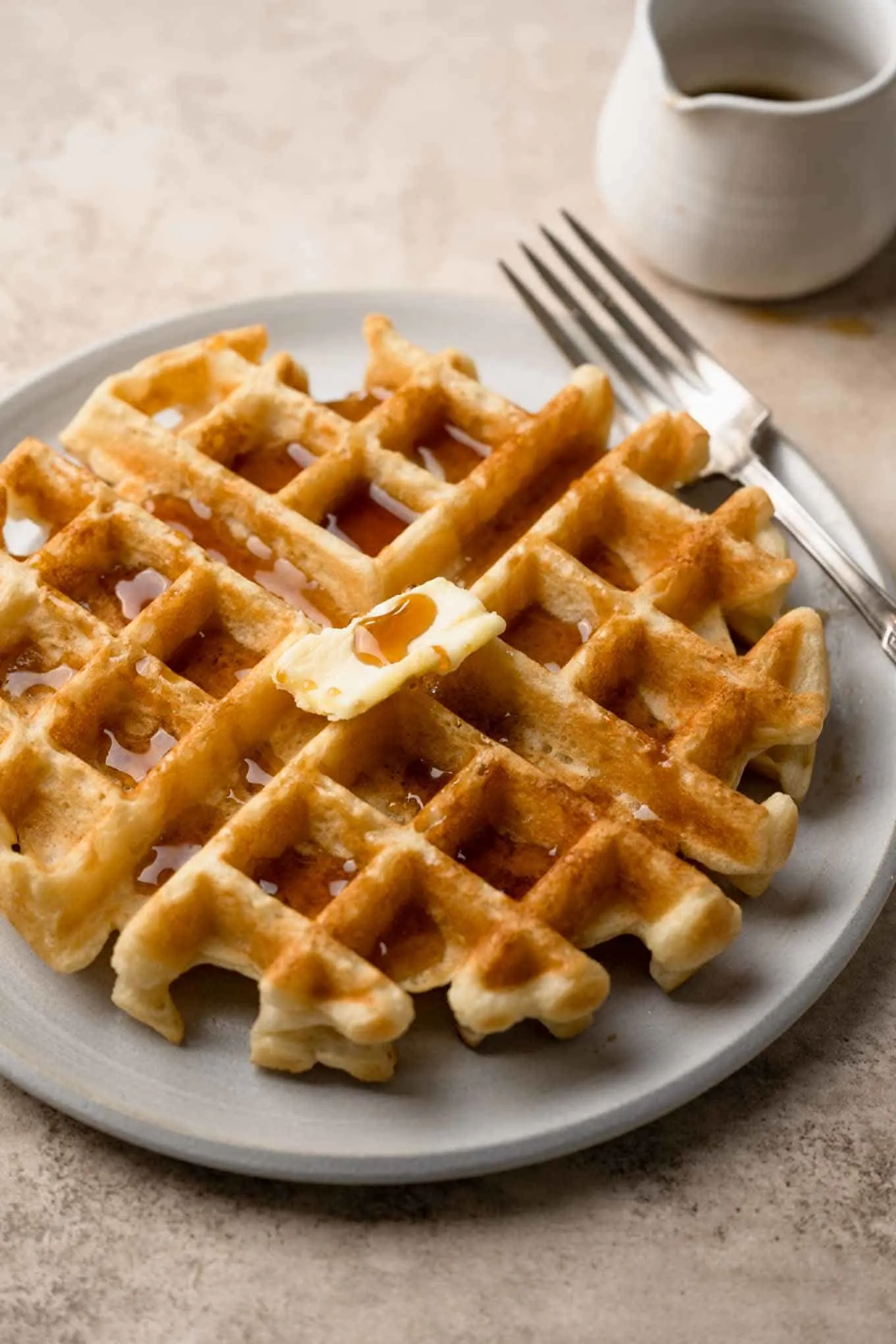 They're a touch sweet, and yummy enough to eat plain or with a dusting of powdered sugar.
And possibly the best part about them? They are super easy to make and pantry friendly! No, really. They come together quickly with a single mixing bowl and a whisk.
Why are they called Belgian waffles?
Belgian waffles are iconic for their large size, light texture, and large, deep pockets. Traditionally they were prepared using yeast, but these days it's more common to use whipped egg whites and baking powder.
To make Belgian waffles you need to use a special waffle maker. The waffle maker is essentially the mold for this fluffy skillet cake, and the batter pools and expands to fill the space while crisping up on the hot grooved plates.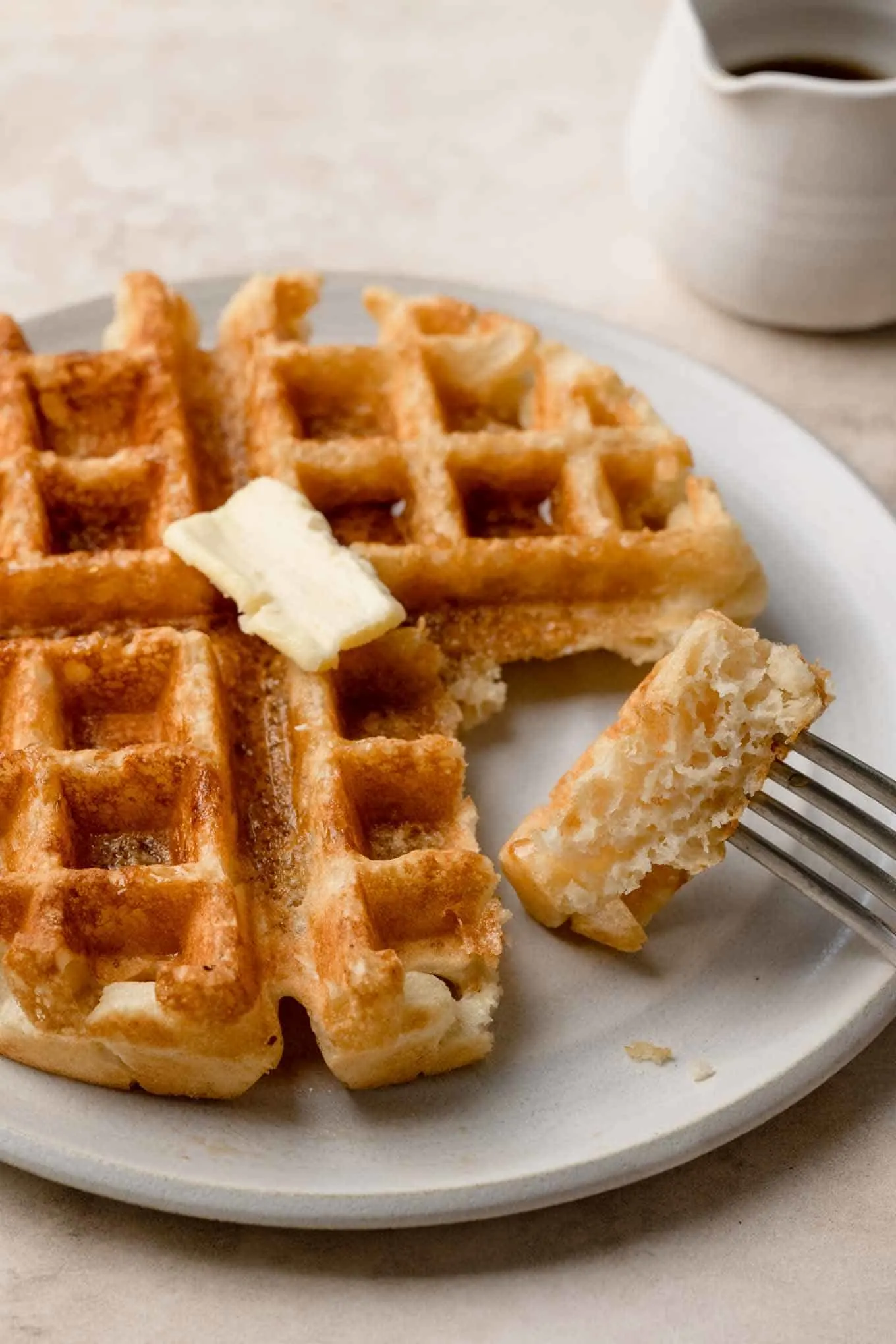 Can I make these waffles in a "regular" American-style waffle maker?
The batter should work to make the thinner American waffles, however I do not have that kind of waffle maker to test it out! If you try and run into any difficulties, I recommend thickening up the batter with an extra 2-4 tablespoons of flour.
Craving a sweet breakfast but don't have any waffle maker? Try my vegan chocolate chip pancakes, vegan peach pancakes, easy vegan crepes, or whole grain pancakes recipes.
How do we make these vegan Belgian waffles?
For a recipe that usually depends on eggs and milk, these waffles are actually quite easy to make vegan!
We could, of course, look to the yeasted version for our leavening, but that requires advance planning. Which is fine, but not what we're after today.
No, when you get a last minute Saturday morning hankering for some thick and fluffy waffles, these vegan Belgian waffles better come together quick!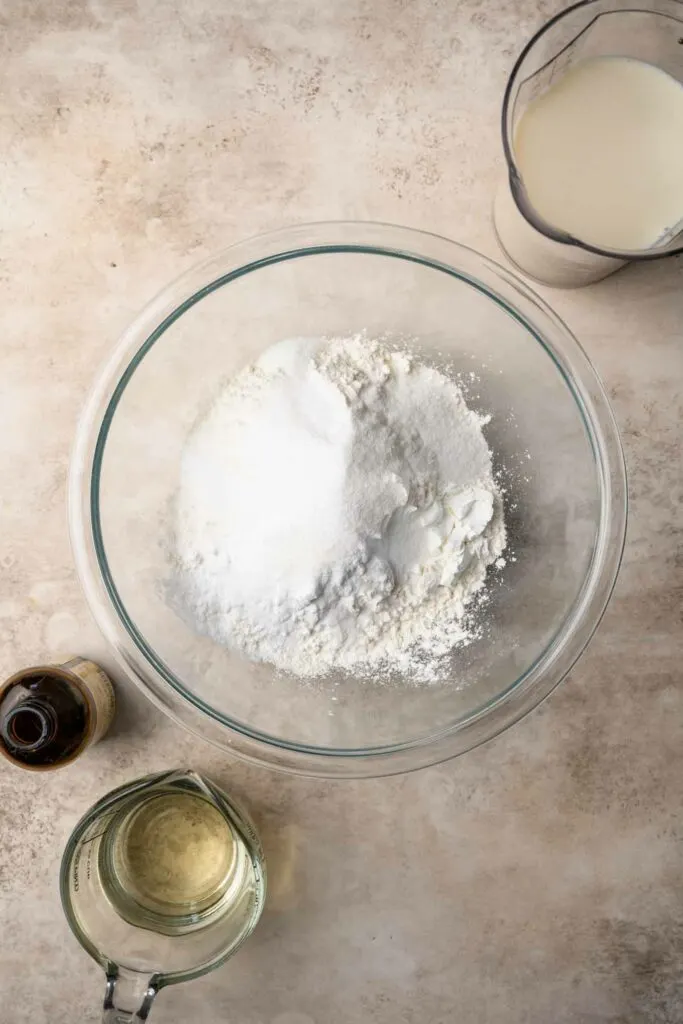 The first step to making these waffles vegan is to leave out the eggs. Yup, you don't need them. Not only does it make this recipe easier (no whipping egg whites separately! no gently folding them in!) with fewer dishes, but there is less room for error.
You know what will give us the leavening we need? Baking powder. That's right. An ingredient you find in waffles anyway! Baking powder is a double acting leavening agent. It starts to work when wet ingredients hit the dry, and then gets a second rise when it's exposed to heat in the waffle iron.
The other thing we want with these waffles is a really tender texture inside. I improve upon the texture by adding a bit of cornstarch (called corn flour in the UK) to the flour. Cornstarch can be an egg substitute, and it can also be used to hack an at-home cake flour. I take advantage of both of these properties by adding it to the batter.
And lastly we need to swap out the dairy milk for non-dairy. I like to use soy milk, and would encourage you to use a richer creamier milk like soy milk or oat milk, but any plant based milk should work just fine.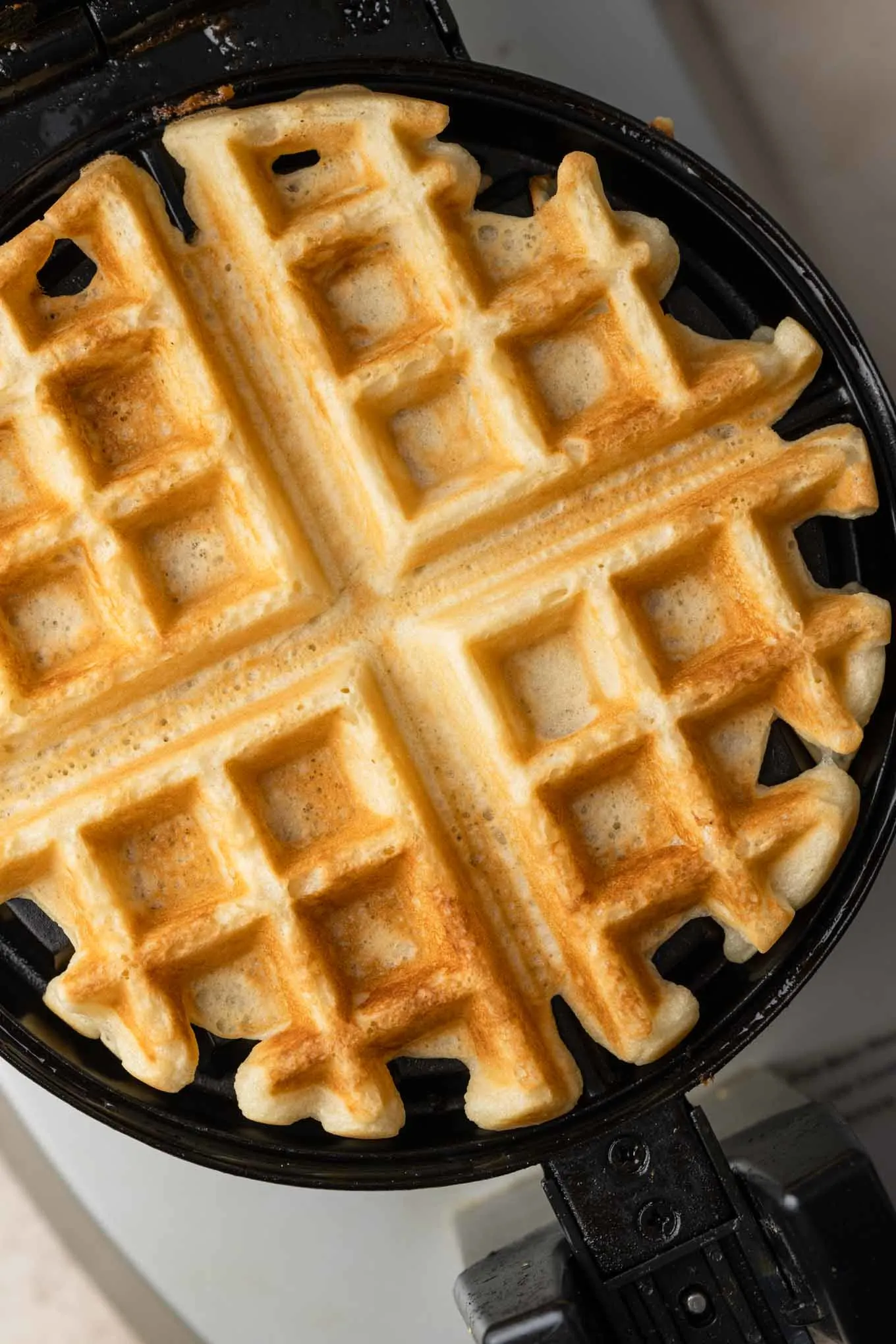 Can I reduce the oil?
Can I stop you? These waffles are supposed to be crisp on the outside. You won't get that without adding fat!
Trust me, I have cut back oil in many a waffle recipe, and the results are never "restaurant-style." No, for this recipe, you want to use the full amount of oil. Not only that, but I can't guarantee they will come out if you cut back significantly.
Another thing to consider is in this recipe we aren't using eggs. Eggs contain a good amount of fat that are in your "traditional" Belgian waffles on top of the added oil! So if anything, these waffles are lower fat than their non-vegan counterparts.
Just make them per the recipe! I promise, they are incredible.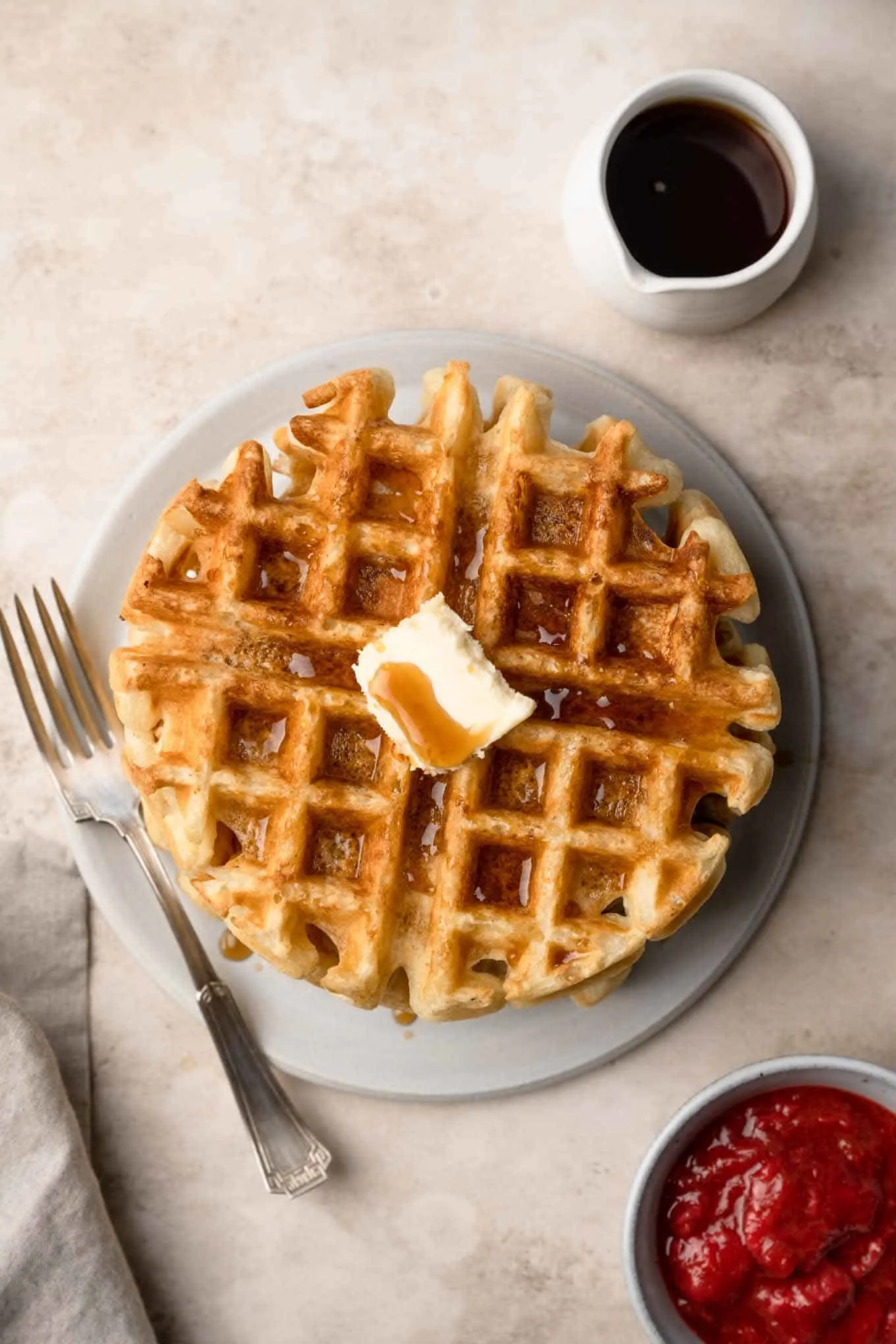 Tips for the perfect waffles:
Let the batter rest for 10 minutes while the waffle iron preheats. This will give the batter time to hydrate the flour and thicken a little, and relax some of the gluten that formed as you whisked the batter together. This makes for a more tender waffle!
Cook the waffles according to your waffle maker's instructions. That being said, this recipe makes a thinner "wet" batter, and I had best results cooking the waffles on the second highest or highest setting. This is a level 5 or 6 on my waffle maker. This cooks the waffle for longer, and as you can see the waffles do not get overly browned!
For visual cues that your waffle might be done, pay attention to the steam escaping the edges of the waffle maker. When this steam has lessened significantly, then the waffle is probably done (especially when accompanied by the beep beep of the machine telling you the time is up).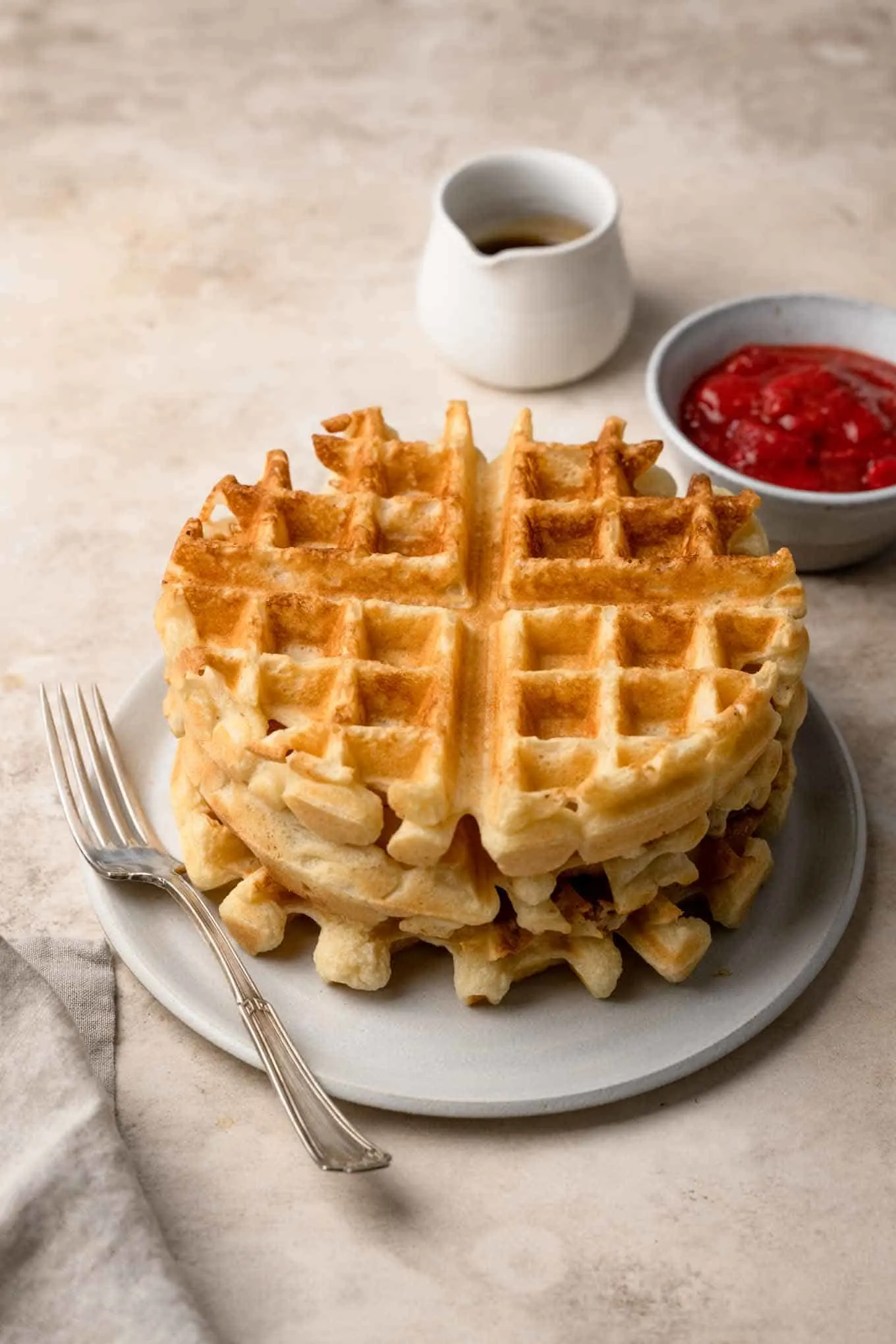 If you try to open the waffle maker too soon, the waffle will separate with the edges sticking to each side of the waffle maker. You have to cook the waffles through for them to hold together and release from the waffle plates.
And be sure to spray with oil before pouring in the batter each time! Though waffle irons are non-stick, they still need our help for an easy release. Use the handle of a wooden spoon or a silicone spatula to release the waffle from the edge and ease it off the waffle maker and onto your plate.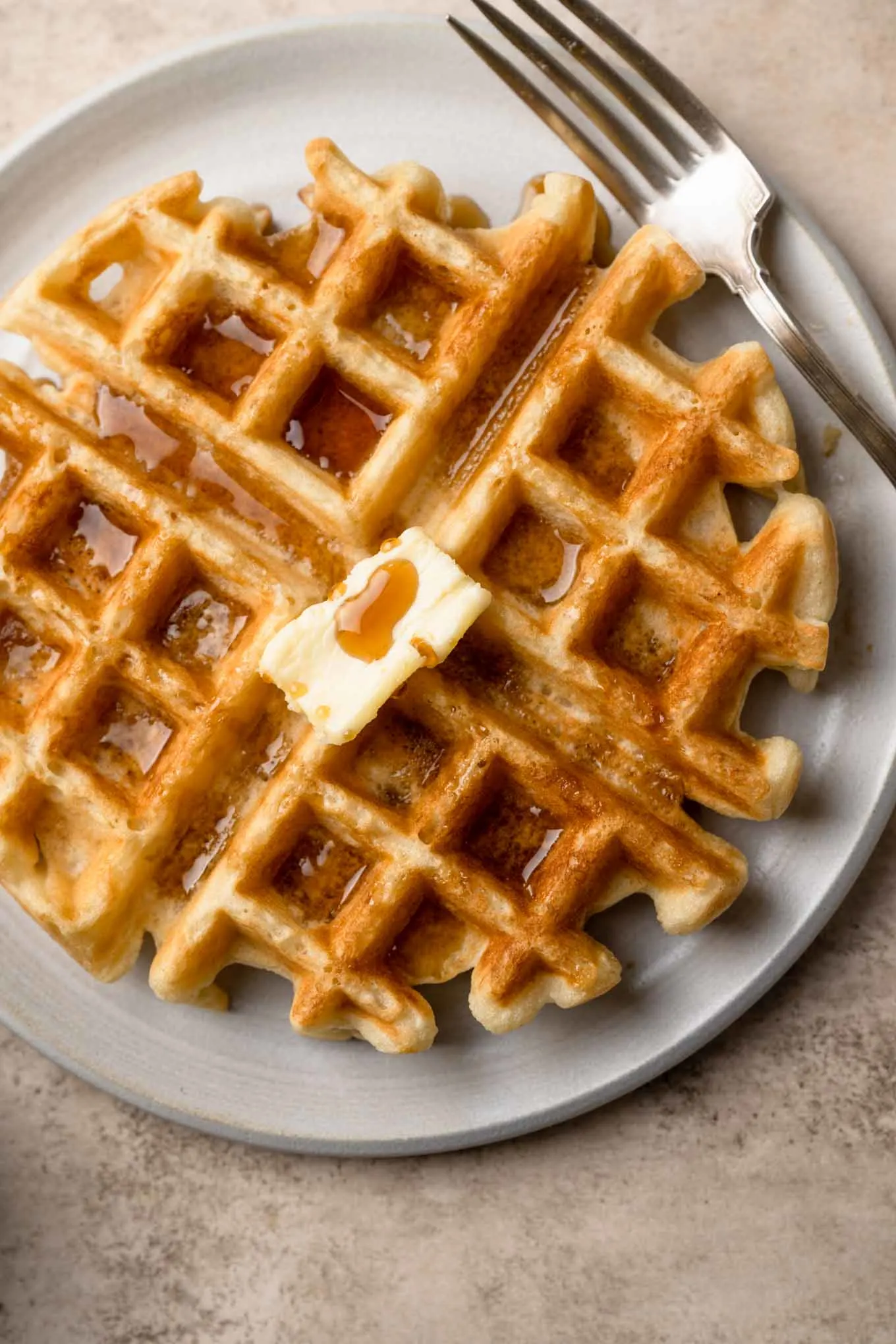 If you make these vegan Belgian waffles, leave a comment below and rate the recipe on the recipe card. And please share your photos with me on Instagram, tag @thecuriouschickpea and #thecuriouschickpea. I love seeing your recreations!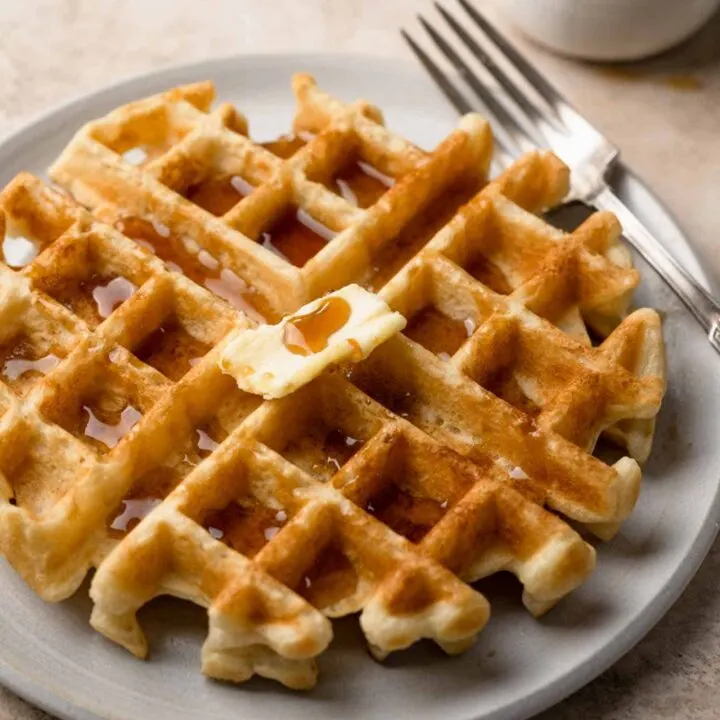 Vegan Belgian Waffles
These vegan Belgian waffles are so moist and fluffy inside and crisp on the outside. They are perfect served with fruit compote, maple syrup, or dusted with powdered sugar! Use a double waffle maker for even faster waffle making!
Ingredients
2 1/4 cups (293g) all purpose flour
2 tbsp (16g) cornstarch
1 tbsp (13g) baking powder
3 tbsp (36g) sugar
1/2 tsp salt
2 1/4 (529 mL) cups soy milk, or other non-dairy milk
1/2 cup (110g) canola oil, or other neutral oil
1 tsp vanilla extract
Spray Oil
Instructions
In a large mixing bowl whisk together the flour, cornstarch, baking powder, sugar, and salt until combined.
Pour in the non-dairy milk, canola oil, and vanilla extract and whisk until smooth (some small lumps okay).
Let the batter rest for 10 minutes and preheat the waffle maker according to manufacturer's instructions.
Cook the waffle according to manufacturer's instructions, spray waffle maker with oil to coat each side and pour recommended amount of batter into the griddle (this is 3/4 cup of batter in my machine). Close and flip (if appropriate) waffle maker and wait for machine to indicate doneness.
Tip: cook the waffles on a higher setting as the batter is wet and takes longer to cook. I use the second highest or highest setting on my waffle maker, which is a 5 or 6. Watch for the steam escaping the waffle maker to decrease to indicate doneness. If the waffle separates when you open the machine, it has not cooked enough and cook the next waffle for longer.
Repeat until all batter has been used. Serve the waffles hot with a side of maple syrup, vegan butter, fresh fruit or fruit compote, and/or powdered sugar.
Recommended Products
As an Amazon Associate and member of other affiliate programs, I earn from qualifying purchases.
Nutrition Information:
Yield:

6
Serving Size:

1
Amount Per Serving:
Calories:

253
Total Fat:

7g
Unsaturated Fat:

7g
Sodium:

224mg
Carbohydrates:

38g
Fiber:

1g
Sugar:

3g
Protein:

7g
Nutrition is calculated automatically and should be used solely as an estimate.