These homemade soft pretzels are easy to make and can be enjoyed as a delicious snack. The pretzels are pillowy soft and extra delicious when dunked into an zippy mustard beer dip.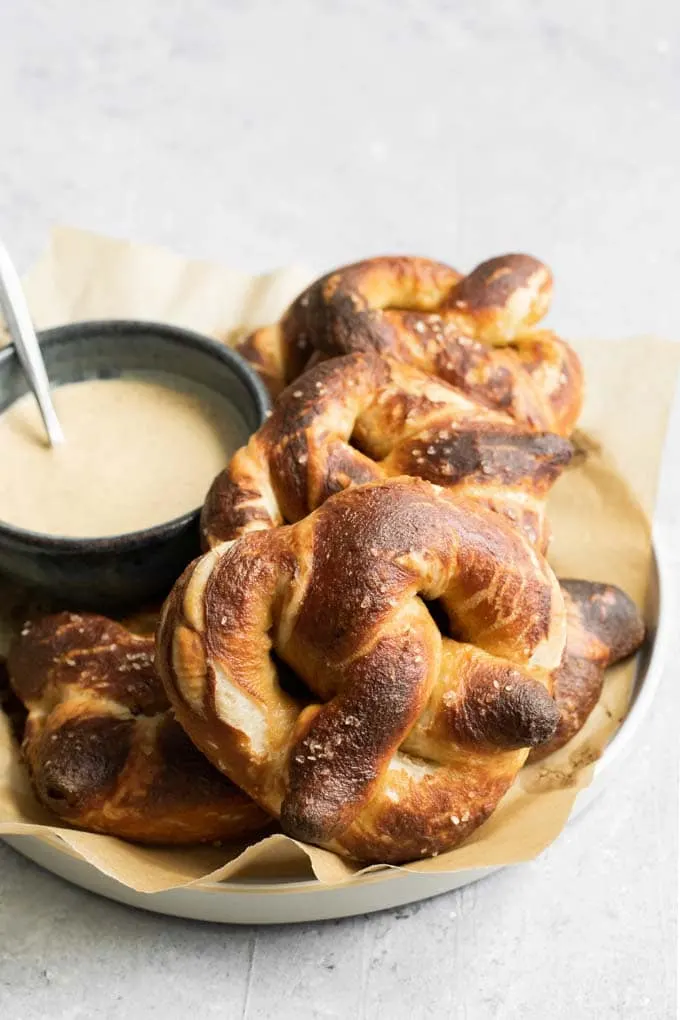 I'm not sure if you knew you needed to learn how to make soft pretzels or not, but, trust me you do. Soft pretzels are awesome–from the grainy salt that hits your tongue in bursts to the smooth texture of the crust. The chewy baking soda infused skin and soft doughy interior.
These pretzels are perfect for tearing and dipping or drive-by snacking on plain. I'm honestly not sure which I prefer. Well, except, I loveeee spicy mustard and therefore always have to make a mustardy dip to go with them!
What goes into making pretzels?
Making pretzels is pretty similar to making other kinds of bread. You need the basic ingredients of flour, yeast, salt, and water. But pretzels are made with enriched dough so we also incorporate some sugar and melted vegan butter (substitute oil or refined coconut oil) into the dough.
Knead these 6 ingredients together to form a smooth dough. Pretzel dough is a bit on the soft and sticky side. Because of this it's easier to make it in a stand mixer than by hand.
If you make it in a stand mixer, you'll want to start the kneading, and if after a minute it's still too wet, add more flour until the dough starts to pull off the sides of the mixing bowl. It will still be a bit sticky and cling to the bottom of the bowl.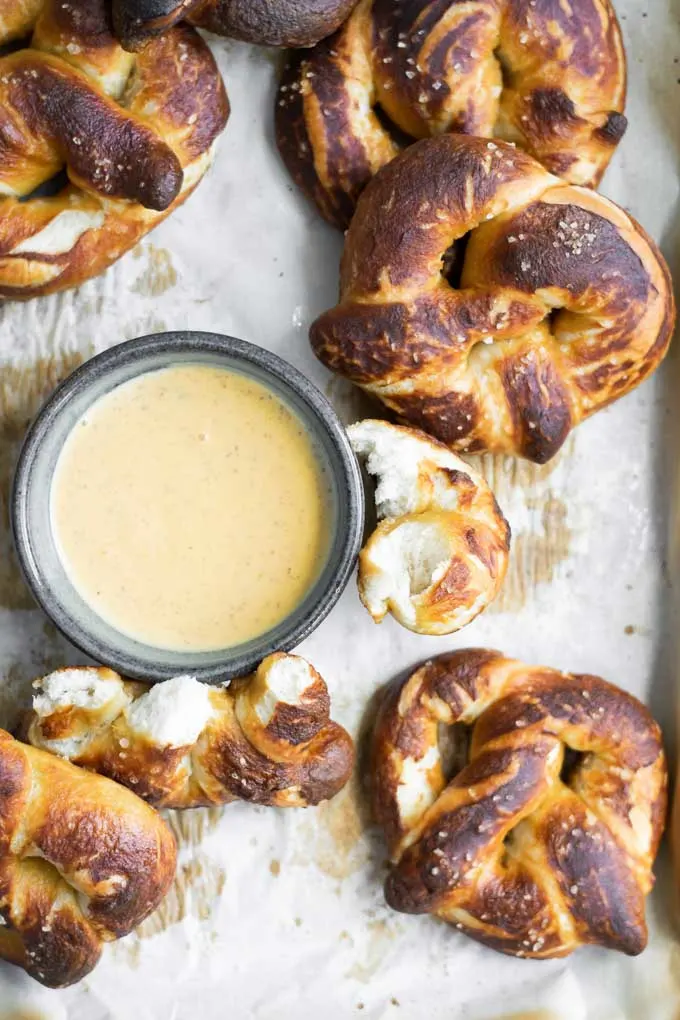 If kneading by hand, you'll just need to add flour as you knead to keep it from sticking to your skin. Dust the counter with flour and your hands as necessary.
Once the dough has been kneaded, lightly oil a bowl and turn the dough in the oil to keep it from sticking. Cover the bowl and let the dough rise. During the rise, the yeast activates, the gluten protein structure relaxes, and the moisture absorbs into the flour. At the end you'll have a beautifully supple and soft dough.
How long rising takes depends on both the ambient temperature, a bit on the humidity, and also on how much flour you added to the dough. You'll want the dough to puff up and swell to double the size, this can take an hour or an hour and a half. If you have a cold and drafty kitchen, find a warmer spot (maybe in the sun) or stick it in a cold oven with the oven light on.
With pretzels, you don't have to worry as much about over proofing the dough, so if you're unsure let it go a bit longer.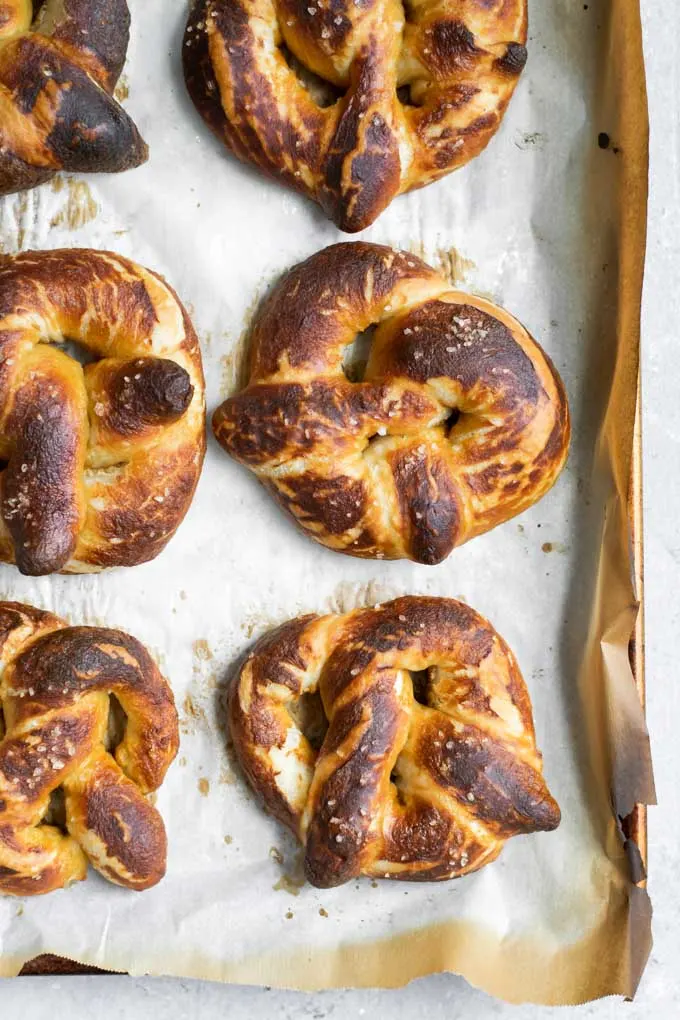 After the rise, it's time to shape the pretzels.
I like my pretzels big. I'm not talking county fair big, but like, I can only fit 6 on my half sheet pan. Is that not an official size designation? Well, whatever!
To get this size I divide the dough into 8 pieces. If you want larger pretzels make 6, if you want smaller make 10 or even 12.
And unless you're in an episode of Great British Bake Off, there's no need to weigh each piece of dough for exactly equal weights. I mean you can, and if you're OCD (I mean, I usually am about bread), please feel free to. But otherwise eyeball it!
Next we roll out the dough. Roll the dough back and forth under your hands while you work your hands outwards to the edges, lifting and bringing your hands back to the center and repeating the outwards rolling motion until you have a long rope.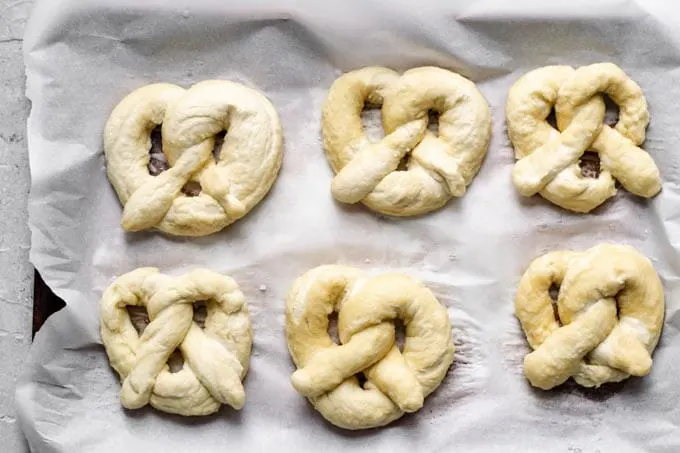 How long the rope is depends on how many pieces of dough you made, how skinny you want your pretzels (and also therefore how large of a shape), and how evenly you divided your dough. For 8 pretzels divided by eyeballed approximations I rolled them between 18-24" long.
Here's the thing, if you start to shape it and you're like eek no I need thinner dough, unfold and roll it out a bit longer.
To make the pretzel shape, arrange your dough in a large U on your counter. Take the ends and cross them at the top, flip the ends to put one twist in the center (this is optional, but I mean, one of the best part of pretzels I think!). Then fold those ends over the bottom of the U and press them into the bottom where the dough connects to seal.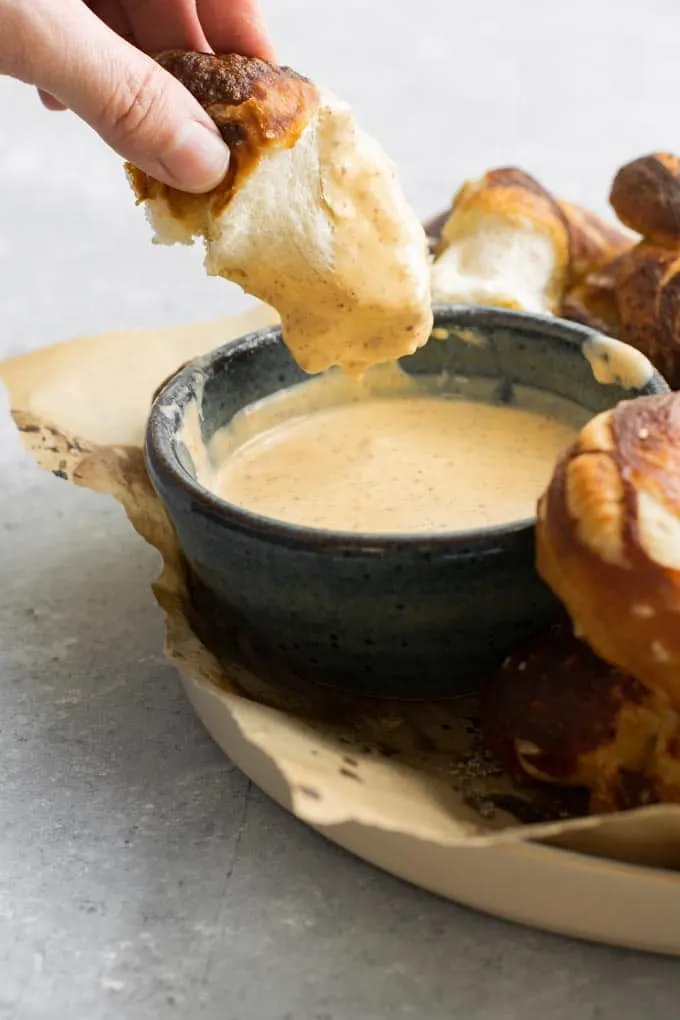 Next the pretzel dough needs a baking soda bath!
So at this point we've managed to make pretzel shaped bread. To actually make homemade soft pretzels the dough needs to get dunked in a basic solution.
Professional kitchen use lye baths, but that's a bit caustic for my tastes and you can still get great pretzels using baking soda. The key is to use a lot of baking soda to really concentrate the basicity.
The shaped pretzels get boiled in this baking soda bath for a quick dunk, then transferred to a parchment lined baking tray (or two). Sprinkle on coarse kosher salt or pretzel salt if you have it over top. I personally don't love my pretzels crazy salty so I don't use a ton, but you can use it to your own liking.
And lastly we bake them!
When it comes to baking bread I'm pretty much always going to recommend hot ovens. Pretzels are no different. Preheat that oven to a solid 450 ºF before popping the pretzels in for a short 15-ish minute bake.
When they're done they will be a beautifully dark golden brown. Pretzels darken more than other breads because of their treatment in the baking soda bath. It's pretty cool.
For an extra special finish, melt a bit of vegan butter and brush it into the pretzels while they're still warm. This step is optional, but it's darn good. Gives it that bakery finish!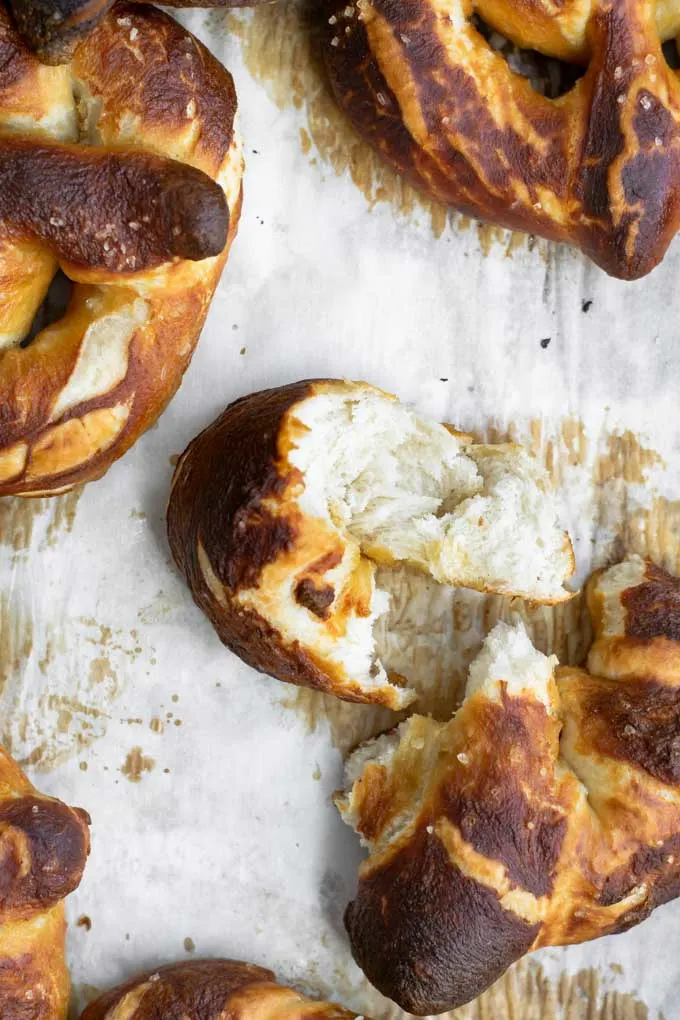 I couldn't share a homemade soft pretzel recipe without also sharing my mustard beer dip!
It has two types of mustard, a splash of beer, a pinch of pepper flakes, and a spoonful or two of vegan mayonnaise to meld the flavors and plump up the dip.
Mustard dip is adaptable, you can make it without the beer, or add a drizzle of maple syrup. As long as you use good quality mustard it's going to be delicious. Like, seriously dippable.
If you're not a mustard lover (say what?!?) these are great dipped into some vegan queso as well.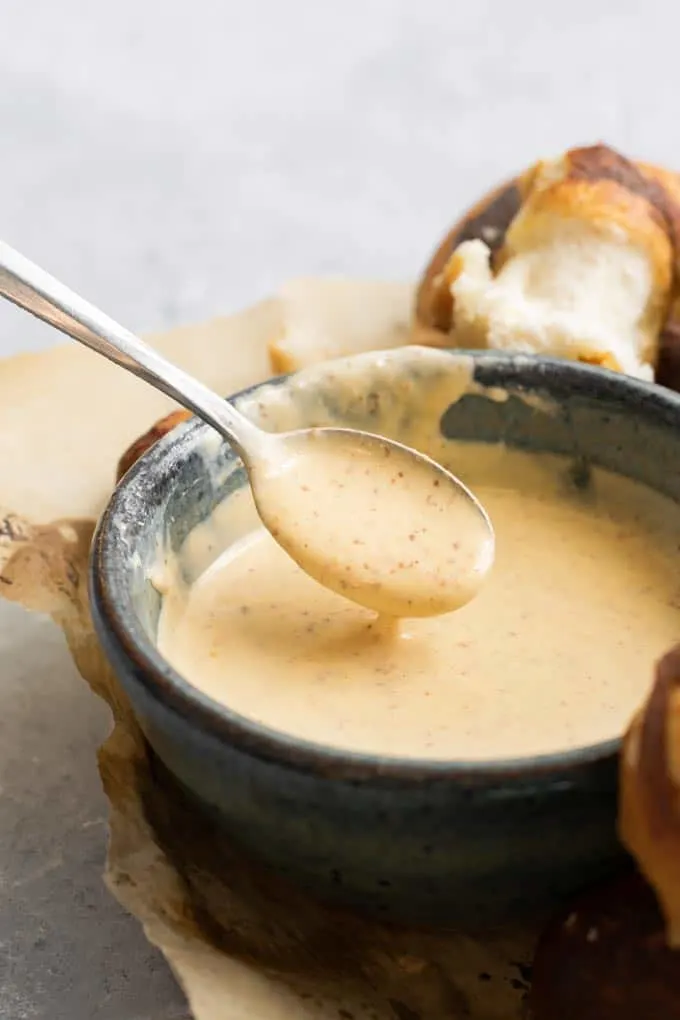 And that's all there is to making homemade soft pretzels!
They're soft, tender, and delicious. It's the perfect way to enjoy bread! They don't take long to make (in terms of bread recipes), only needing a single rise.
If you have a stand mixer to do the kneading for you then it's minimal effort!
I really hope this recipe inspires you to make the best pretzels of your life. Hot from the oven they are hard to beat!
---
If you make these soft pretzels, leave a comment below and rate the recipe on the recipe card. And please share your photos with me on Instagram, tag @thecuriouschickpea and #thecuriouschickpea. I love seeing your recreations!
WANT MORE DELICIOUS VEGAN RECIPES? FOLLOW ME ON INSTAGRAM, FACEBOOK, AND PINTEREST!
---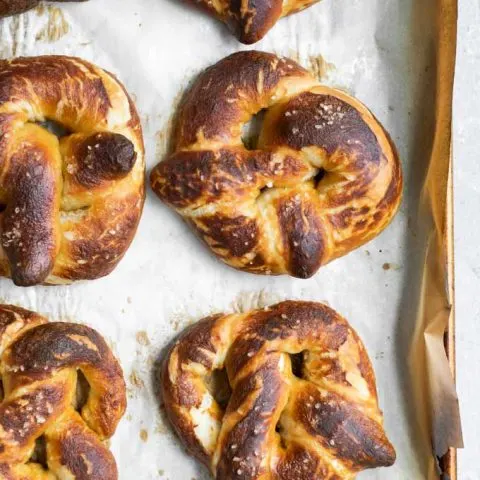 Homemade Soft Pretzels with Mustard Beer Dip
Rising Time:
1 hour
30 minutes
These delicious tender homemade soft pretzels are so easy to make. Perfect for snacking, and great dipped into a spicy mustard!
Ingredients
4 - 4 1/4 (570-600g) cups all purpose flour
1 tbsp (16g) brown sugar
2 1/4 tsp (9g) instant yeast
1 1/2 tsp (6g) salt
1 1/2 cups (340g) warm water
2 tbsp (30g) melted vegan butter or oil, extra melted butter for brushing
Baking soda bath
1/2 cup baking soda
6-8 cups water
Instructions
Mix 4 cups of flour, sugar, instant yeast, and salt to combine, then add the water and melted vegan butter (or oil) and mix with a wooden spoon to form a shaggy dough.
Knead in a stand mixer using a dough hook on low for 5-8 minutes. Add more flour as needed to get a soft and slightly sticky dough.The dough will start to pull away from the mixing bowl. Alternatively, knead by hand on a clean lightly floured surface to get the soft dough.
Form the dough into a dough ball and lightly oil the bowl, turn the dough in the oil, then cover with a damp towel or plastic wrap. Let rise in a warm spot for 60-90 minutes until the dough is at least doubled in size.
Towards the end of mixing, fill a pot with the water and baking soda and bring to a boil. Also preheat the oven to 450ºF and prepare a parchment lined baking tray (you may need a second one depending on the size of your tray).
Gently punch down the dough and turn it out on the clean counter. Divide into 8 equal pieces. Roll each piece of dough out until it's 18-24" long. Form it into a U-shape, then fold the edges towards the center and twist them before sealing on opposite sides of the pretzel Set aside on the prepared baking tray and repeat with remaining dough.
When your pretzels are formed and the water is boiling, gently place the pretzels in the water, boiling one or two at a time depending how much room is in your pot. Boil each one for 30 seconds, then remove and place back on the baking tray. Sprinkle the tops with salt, then repeat with the remaining pretzels.
Bake the pretzels at 450ºF for 12-15 minutes or until the pretzels are dark brown.
Optional: melt 2 tablespoons vegan butter and brush it over the soft pretzels as soon as they are out of the oven. Enjoy warm!
Notes
Mustard beer dip: whisk together 2 tbsp dijon mustard, 2 tbsp grainy spicy brown mustard, 1 tbsp beer, 1-2 tbsp vegan mayo, and a pinch of crushed red pepper.
Recipe adapted from my Vegan Homemade Pretzel Buns.
Recommended Products
As an Amazon Associate and member of other affiliate programs, I earn from qualifying purchases.
Nutrition Information:
Yield:

8
Serving Size:

1
Amount Per Serving:
Calories:

304
Carbohydrates:

52g
Fiber:

2g
Protein:

7g