Marinated zucchini is one of the most delicious ways to enjoy summer squash! This one is Thai inspired, with a Thai basil and mint infused olive oil and a splash of rice vinegar to bring it together. It's the perfect appetizer or side dish, and serve it with some crusty bread to soak up the flavorful oil!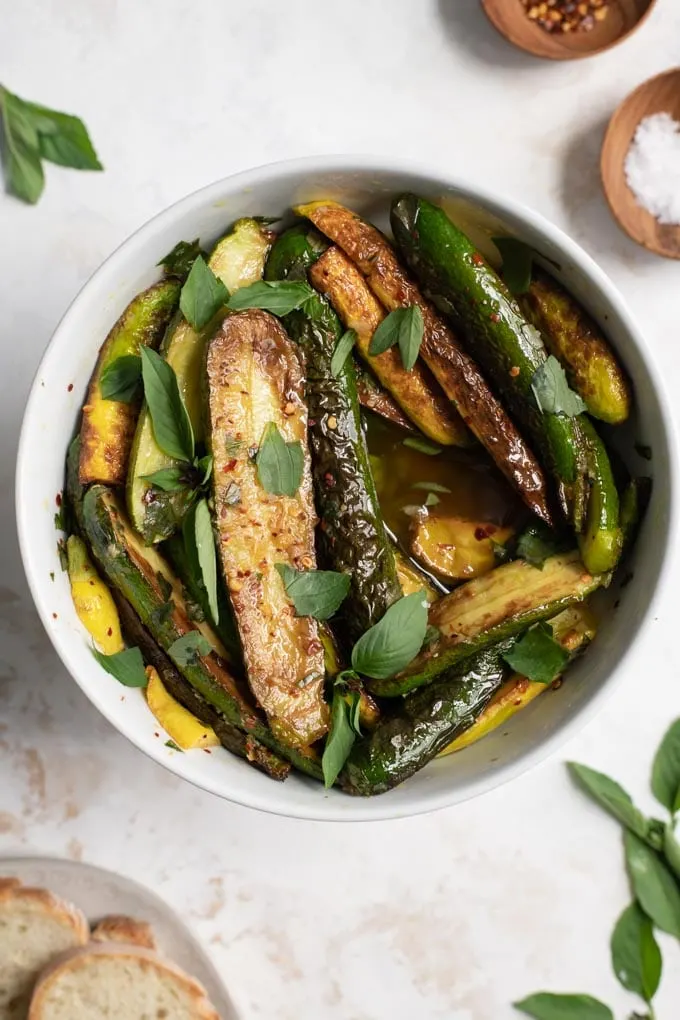 When the first petite, tender summer squash start appearing in markets in the summer, I start buying them up with gusto.
And I did that before I had ever had my first bites of marinated zucchini! Now I want zucchini season to never end.
Actually, this year we planted a zucchini plant as part of our first little backyard container garden, and my fingers are crossed that it produces lots of fruit for us! (Because squash is technically a fruit.) If that's the case, I thought I'd have to come up with a zillion and one summer squash recipes for you, but now I think I'll just stick with this one! ?
You can make this recipe with any summer squash you'd like. Zucchini, yellow squash, or patty pan squash–any of it, or a mix like I did here!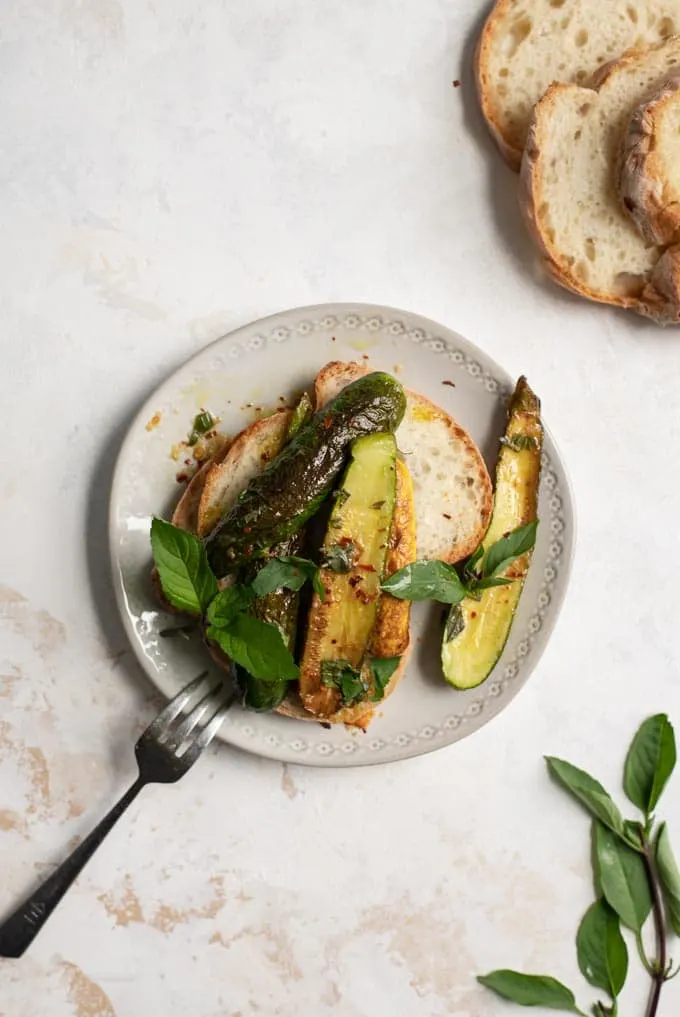 When squash is pan fried then marinated in a garlicky, herbed olive oil it turns extra special. Water cooks out of the squash and lets the flavors infuse while the rich tasting olive oil transforms the texture to something spectacular.
Once you try this method, you'll be hooked too!
It's an added benefit that this recipe is perfect for making ahead and should be served at room temperature or cold. This makes it ideal for get togethers, cookouts, and potlucks!
Thai flavors bring out the best in the summer squash!
This is a traditional Mediterranean dish (I've come across Italian and Israeli versions), but I've put a bit of an Asian twist on it.
I use extra virgin olive oil, because it has such a great rich flavor and since it's not being cooked you'll get all the best qualities from the oil. The Thai twist comes from adding Thai basil and mint, which is such a superb herb pairing!
Thai basil is a bit savory and almost licorice flavored in its sweetness, and mint is sweet and brings a mild cooling sensation in your mouth.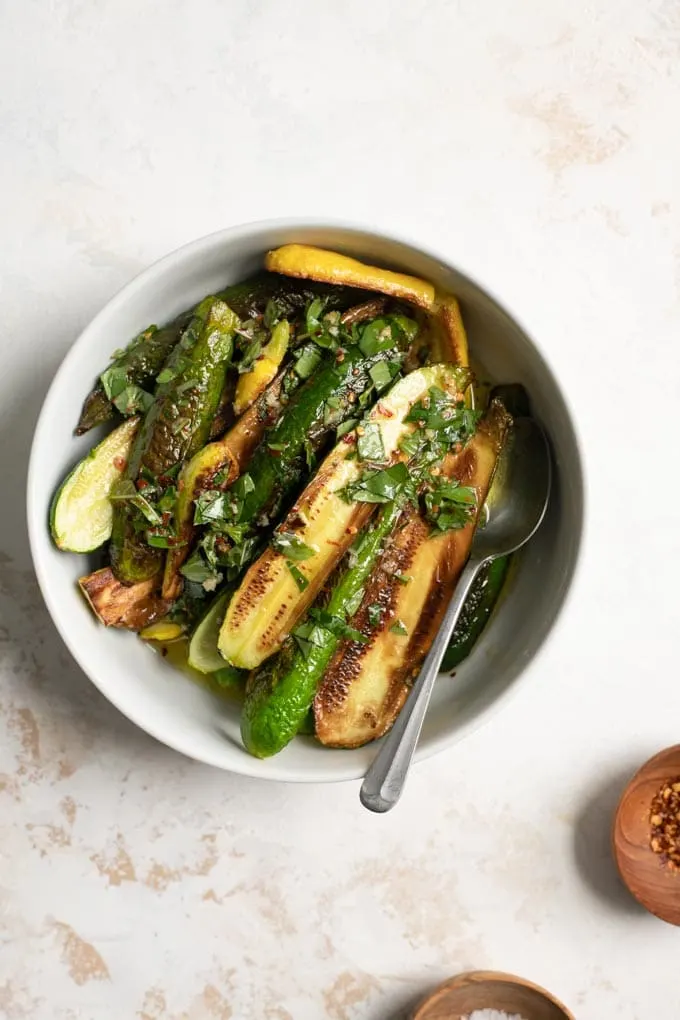 If you don't have access to Thai basil, regular sweet basil or lemon basil would work as well. They obviously have different flavors, but you can't go wrong with any!
To those I've added garlic and red pepper flakes for their two types of spice. Then some unseasoned rice vinegar for a bit of acidity. Last, flaked sea salt to taste.
It really doesn't need much to make the most amazing summer squash!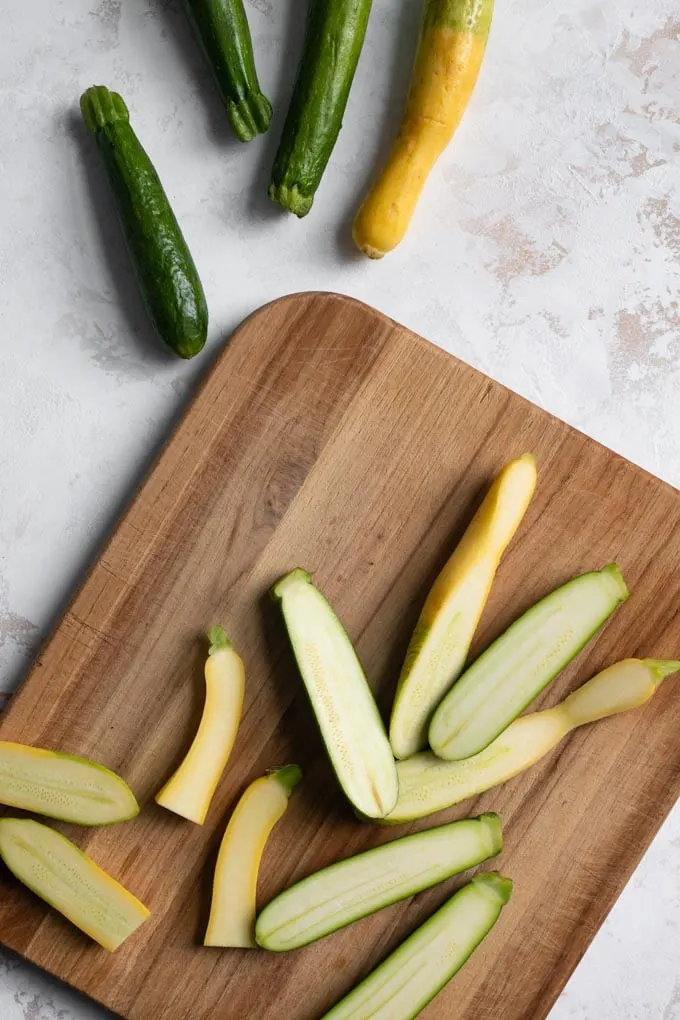 Choose young and smaller sized squash.
Squash/zucchini tastes best when picked small. If you can, pick squash that are about 6″ long, or patty pan smaller than your fist.
Ideally, get your squash from a market where it's been freshly picked, but at least over the summer you know the zucchini at your local grocery store is pretty fresh too.
If the squash is young and tender enough you don't even have to trim the bit of stem that's left on the top. You can see from the photos I skipped that step in this batch. But if the stem is a bit woody then definitely trim that off.
Cut your squash in half lengthwise. If they're very long squash then cut them in half. And if you're using patty pan squash, cut them in half down the center of the stem, and if they're larger cut them into quarters.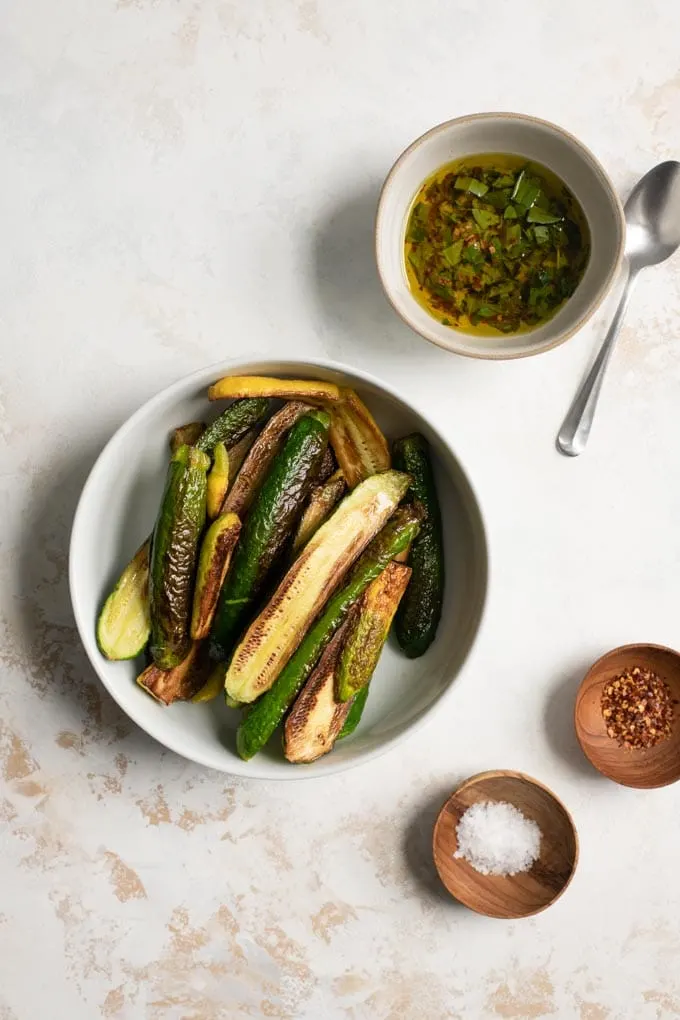 Next, cook the squash:
Fry the squash in a thin layer of oil until each side is golden and the squash is a bit tender. If making an entire batch or more of this squash, you may have to do this in batches.
Be careful as the oil tends to splatter as the squash cooks thanks to its high water content.
Once the squash is cooked, put it in a large bowl and whisk together the marinade. Pour the marinade over the squash toss to coat.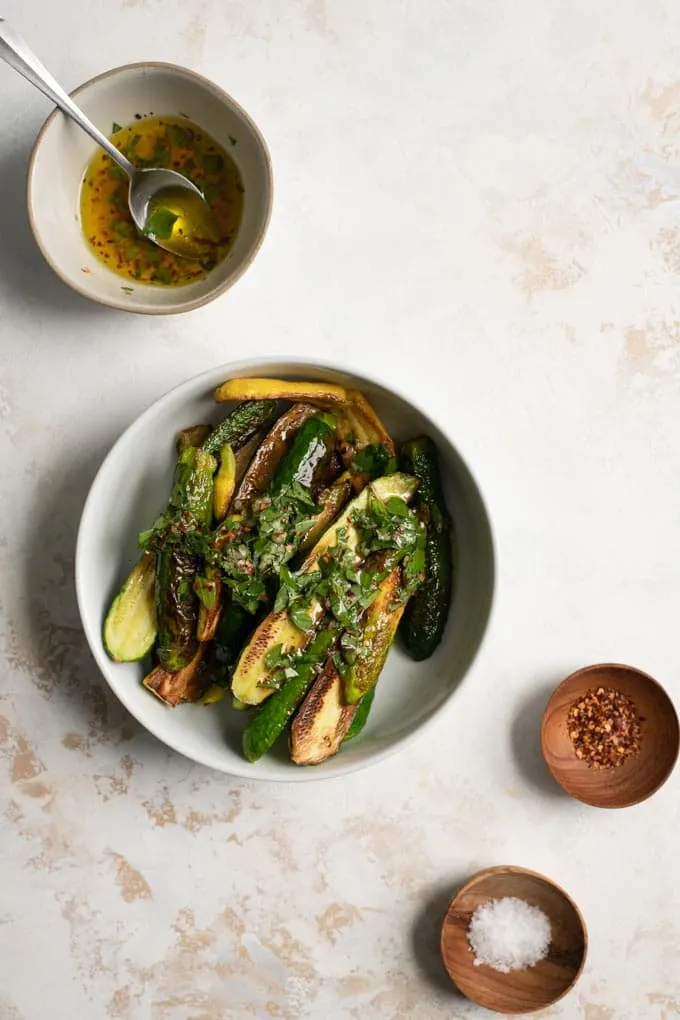 Now, marinate the squash.
Cover the bowl and let the squash sit out at room temperature for an hour, or if you're making it more in advance put it in the fridge. Give the squash the occasional stir here and there to make sure it's getting marinated evenly.
The squash can be enjoyed cold from the fridge or at room temperature!
Enjoy it with some freshly baked bread to soak up the flavorful oil, or toss it into pasta. It makes a great appetizer or side dish, but if I have some hanging out in the fridge you're likely to find me snacking on it as well!
I hope you enjoy!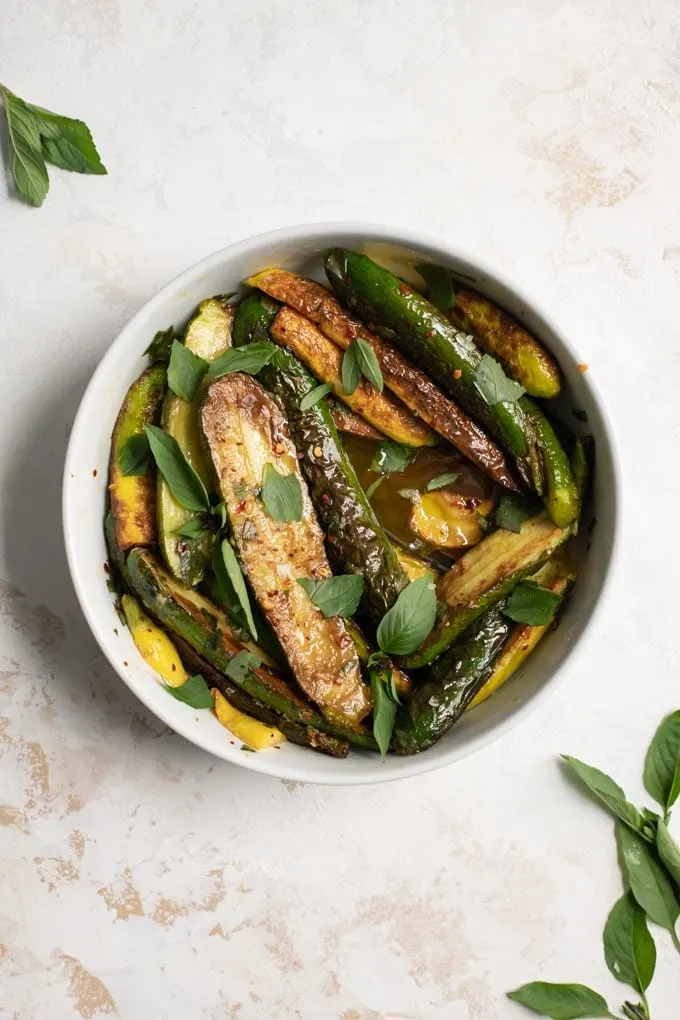 If you make this marinated zucchini with mint and basil, leave a comment below and rate the recipe on the recipe card. And please share your photos with me on Instagram, tag @thecuriouschickpea and #thecuriouschickpea. I love seeing your recreations!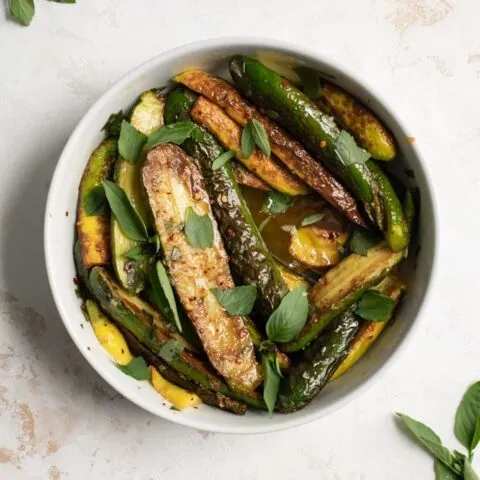 Marinated Zucchini with Mint and Thai Basil
Total Time:
1 hour
25 minutes
Marinated zucchini is one of the most delicious ways to enjoy summer squash! This one is made with a basil and mint infused olive oil. It's the perfect appetizer or side dish, and serve it with some crusty bread to soak up the flavorful oil!
Ingredients
1 lb summer squash (zucchini, yellow squash, pattypan squash)
1/4 cup extra virgin olive oil, extra to cook
2 tbsp rice vinegar, or white/red wine vinegar
1 clove garlic, grated
1 tbsp fresh mint, chopped
1 1/2 tbsp fresh Thai basil (or sweet basil), chopped
1/2 tsp flaked sea salt, or to taste
1/2 tsp red pepper flakes, more to taste
Instructions
Wash the squash and trim off the stems if woody, otherwise feel free to leave them. Cut them in half.
Heat a skillet over medium heat and add enough oil to thinly coat the bottom of the pan. Fry the squash in a single layer (in batches as necessary) cut side down about 4 minutes until golden. Flip and cook another ~3 minutes until the backside is golden. Transfer to a large bowl. Cook additional batches until all the squash has cooked.
In a small bowl whisk together the 1/4 cup extra virgin olive oil, rice vinegar, garlic, mint, basil, salt, and red pepper flakes. Pour over the zucchini and toss to coat.
Cover the zucchini and leave out at room temperature to marinate for 1 hour. Or, place in the fridge to marinate longer.
Serve the marinated zucchini at room temperature or cold.
Notes
Choose small, younger, freshly picked, summer squash for best results. Pick zucchini and yellow squash that's about 6" long (or smaller) and small patty pan squash (should be no larger than your fist).
Use a good quality extra virgin olive oil for best flavor.
If using regular granulated salt, use less at first then add more to taste.
Adapted from Food52, Canal House's Marinated Zucchini.
Recommended Products
As an Amazon Associate and member of other affiliate programs, I earn from qualifying purchases.
Nutrition Information:
Yield:

4
Serving Size:

1
Amount Per Serving:
Calories:

194
Total Fat:

14g
Saturated Fat:

2g
Unsaturated Fat:

12g
Sodium:

294mg
Carbohydrates:

10g
Fiber:

3g
Sugar:

5g
Protein:

2g
Nutrition is calculated automatically so should be used as an estimate.