This Indian chickpea and spinach curry is a healthy and easy weeknight friendly recipe! It's naturally vegan and gluten free, and delicious paired with basmati rice. Leftovers are great, as it tastes even better the next day!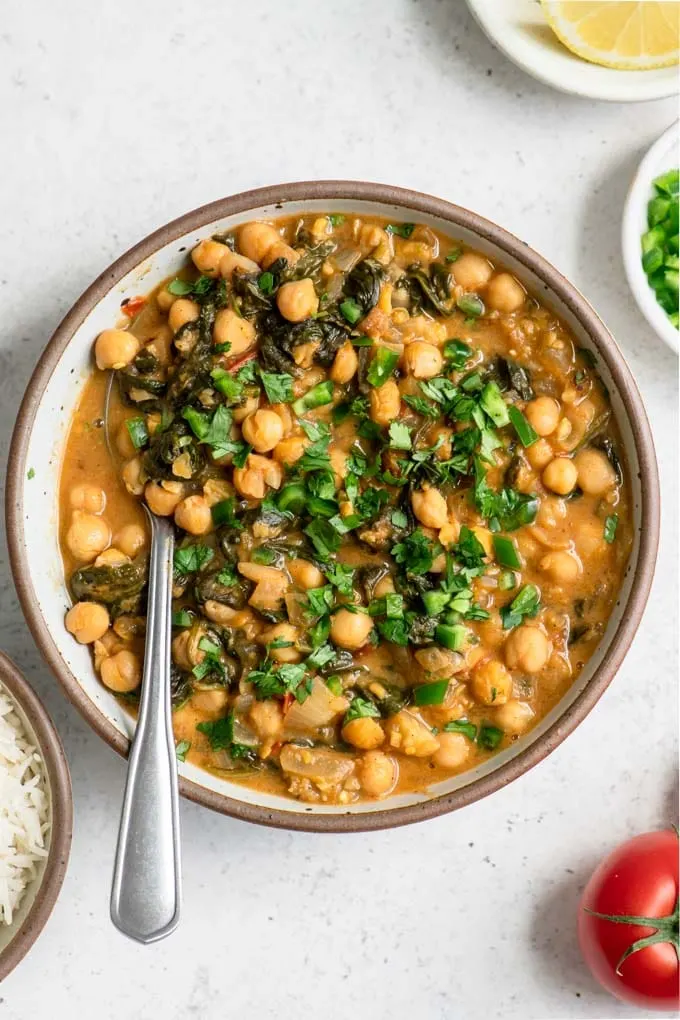 This recipe was sponsored by Pacific Foods.
---
This Indian chickpea and spinach curry would be called chole palak, chole saag, chana palak, or chana saag depending on where you're from.
Saag and palak are the words for leafy greens in Urdu and Hindi, respectively, and in this recipe refer to spinach. Chole and chana both translate to mean chickpeas.
There are hundreds or more ways to put together these ingredients to make what the Western world refers to as "curry," but I really love this simple homestyle preparation. It's easy, pantry friendly, quite quick, and so flavorful!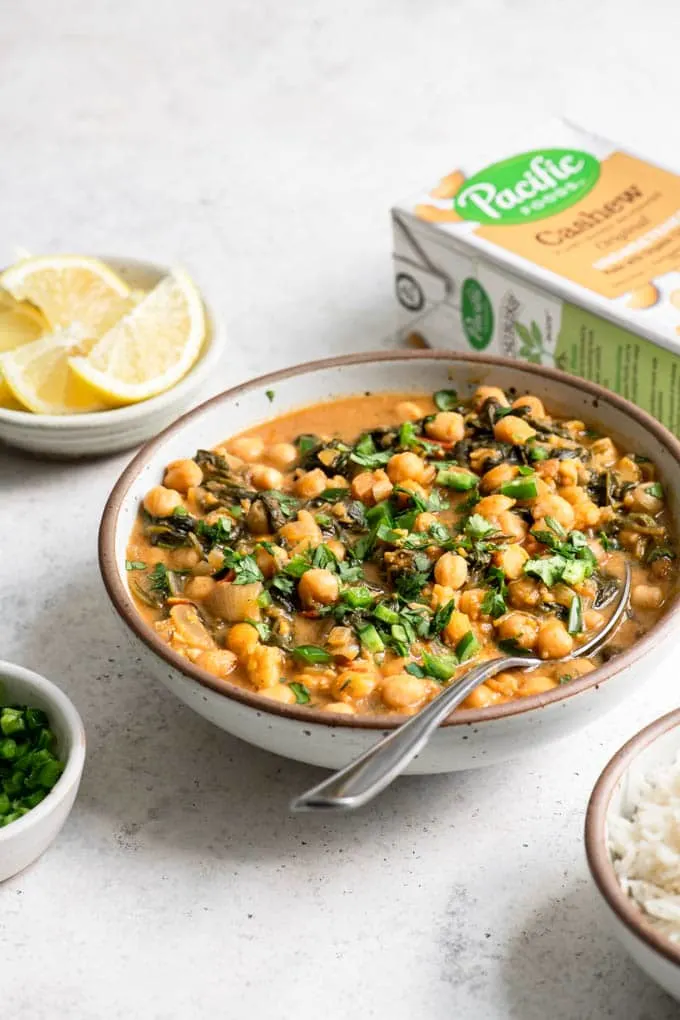 It's a little brothy like a stew, with a light cashew creaminess making it perfect for topping basmati rice. Curry soaked rice has always been one of my favorite parts of the meal!
This recipe is light enough to be perfect on hot summer days, and comforting enough to warm the belly on chilly winter ones. It's got everything you need in one dish, so no need to do any extra cooking (except perhaps rice) to make a meal!
If you did want an Indian feast, well, I totally get it! I've got so many Indian recipes for you, and perhaps I can suggest some aloo matar (potatoes and peas) on the side?
The curry base:
To start our chickpea and spinach curry we cook what I consider the mirepoix of Indian cuisine: onion, garlic, ginger, and chiles.
I use fresh chiles in this recipe, but you can totally use dried instead (just leave them whole)! For fresh you can use whatever you can buy locally, if that's serrano or jalapeño, awesome! Thai chilies are great too!
These aromatics build the base of flavor for our chana and ensure that our dish is going to come out with a bang!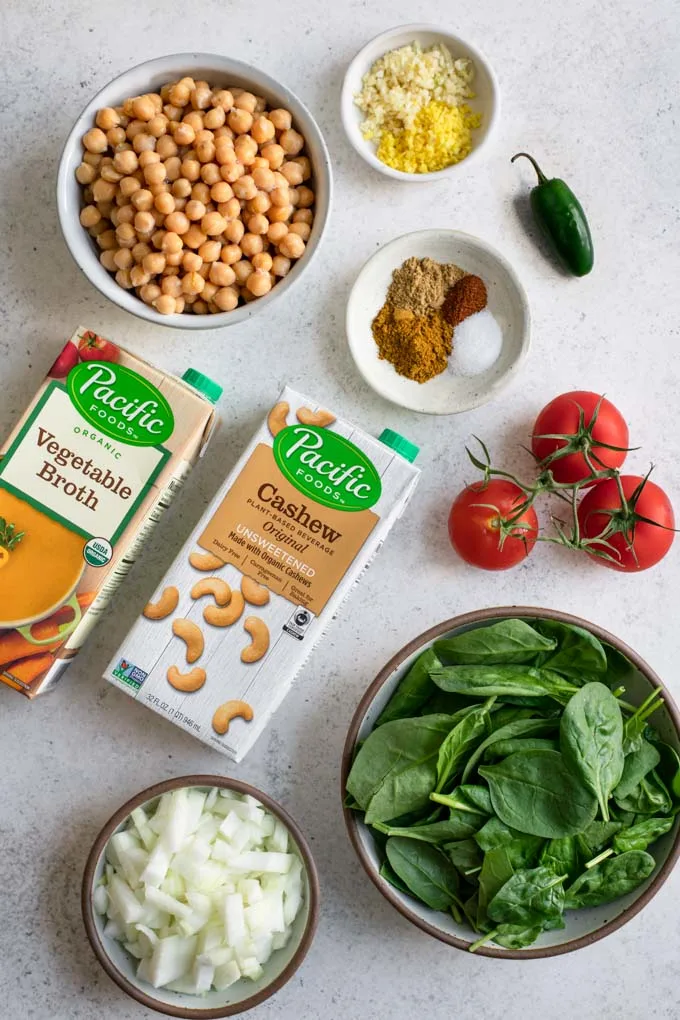 Next up we have the all important spices. This recipe keeps it so simple and takes advantage of curry powder, which is an Indian spice blend. There are so many different kinds of curry powder, and there isn't one correct one to use in this recipe.
Ideally the curry powder you use will have little to no added salt, but beyond that just experiment and see what you like!
I love the fresh taste of coriander seed, so add in some ground coriander to brighten the flavor of the dish.
Lastly I add cayenne pepper because we like it spicy and you can never guarantee spicy with fresh chiles! But ok, if you know you cannot handle the heat, then leave out the cayenne and/or fresh peppers, cut back the amounts, or just do you to keep it mild enough to meet your needs! Only you know your own spice tolerance.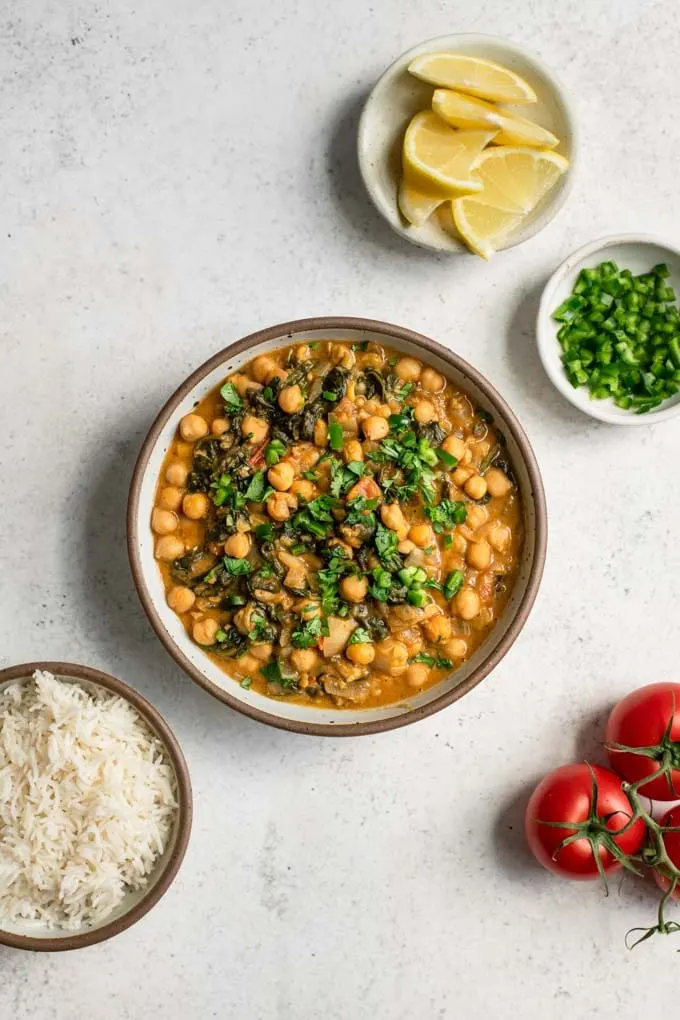 I'm now going to give an honorary mention to salt, because salt is a most wonderful ingredient that really brings out the flavor of other ingredients. If you've ever made an Indian recipe and tasted it and thought it tasted a bit flat–there's a good chance you just needed to add more salt to really make those flavors pop!
Adding in the liquids:
We're almost done with our curry, but have a few more ingredients to add.
First up, tomatoes. This is not a super tomatoey dish, but the acidity and sweetness of tomatoes is such an important aspect of my favorite Indian recipes and it's no different here!
I just chop up a couple of fresh tomatoes and add them in. They cook down and break apart so that they almost just melt away into the sauce. I mean they're there but it's like little bites.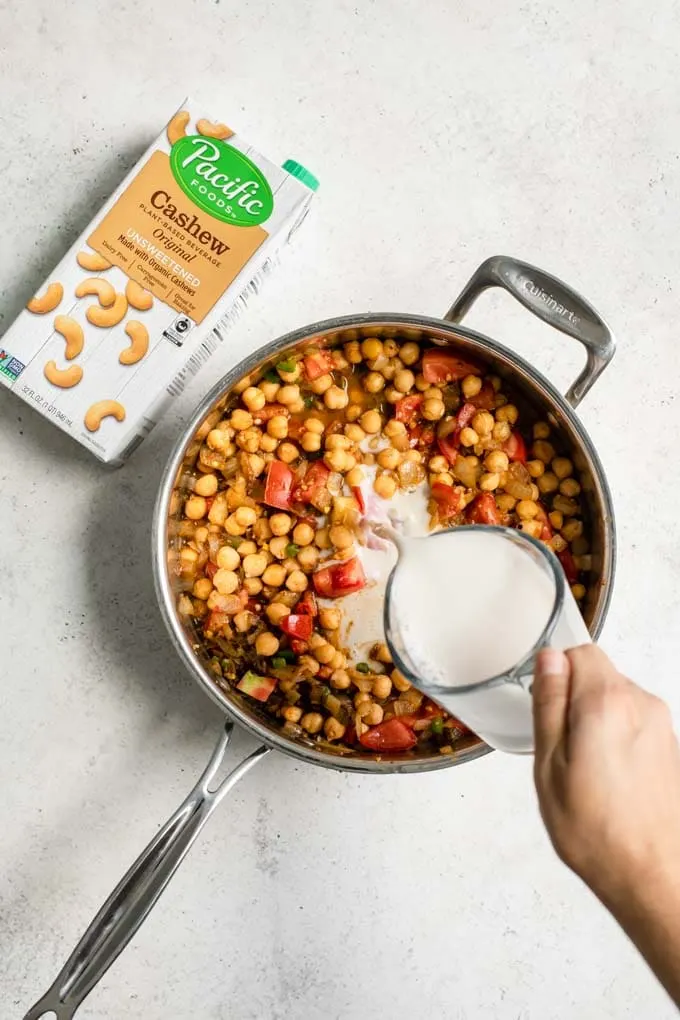 With the tomatoes add Pacific Foods Organic Vegetable Broth and Pacific Foods Unsweetened Original Cashew Plant Based Beverage.
Cashews are such a common ingredient in Indian cooking, and often you simmer some whole nuts into the sauce and then blend it up to make a creamy base. Heck, sometimes you even leave them whole!
Using the creamy cashew beverage skips that blending step and lends a traditional flavor to the dish. Be sure to use the unsweetened version!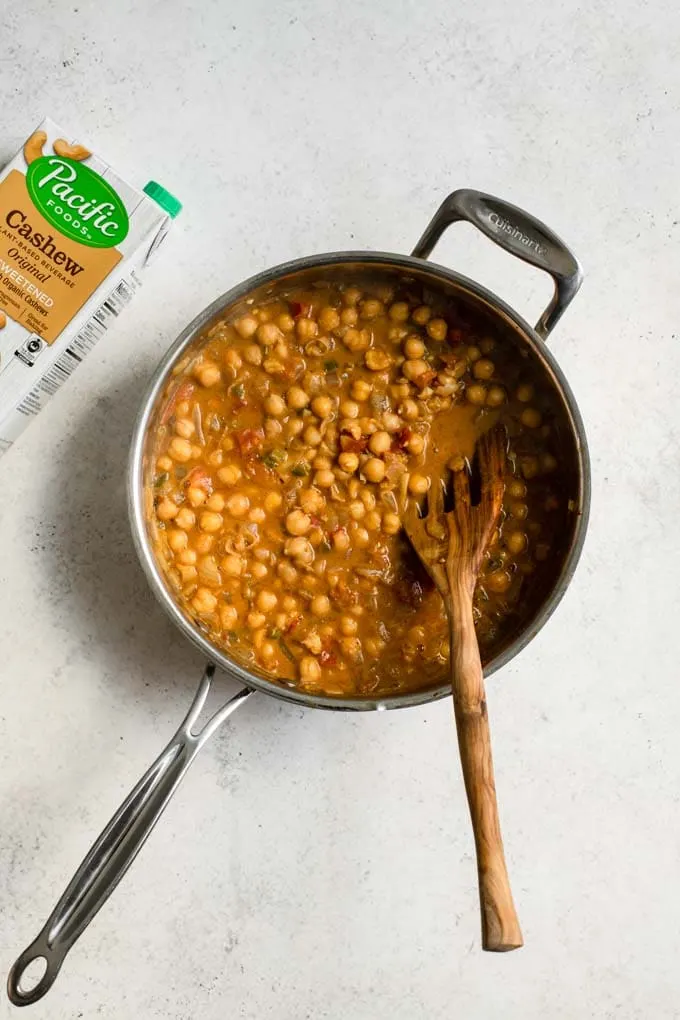 This makes our dish deliciously creamy, without being too heavy. The brothy part of the curry is just drinkable. I mean, like maybe not in a tall glass, but you sure can slurp it right off the spoon!
The chickpeas get added in with the tomatoes and liquids because this gives them enough time to cook until they are so incredibly tender. You want those beans to just melt on your tongue!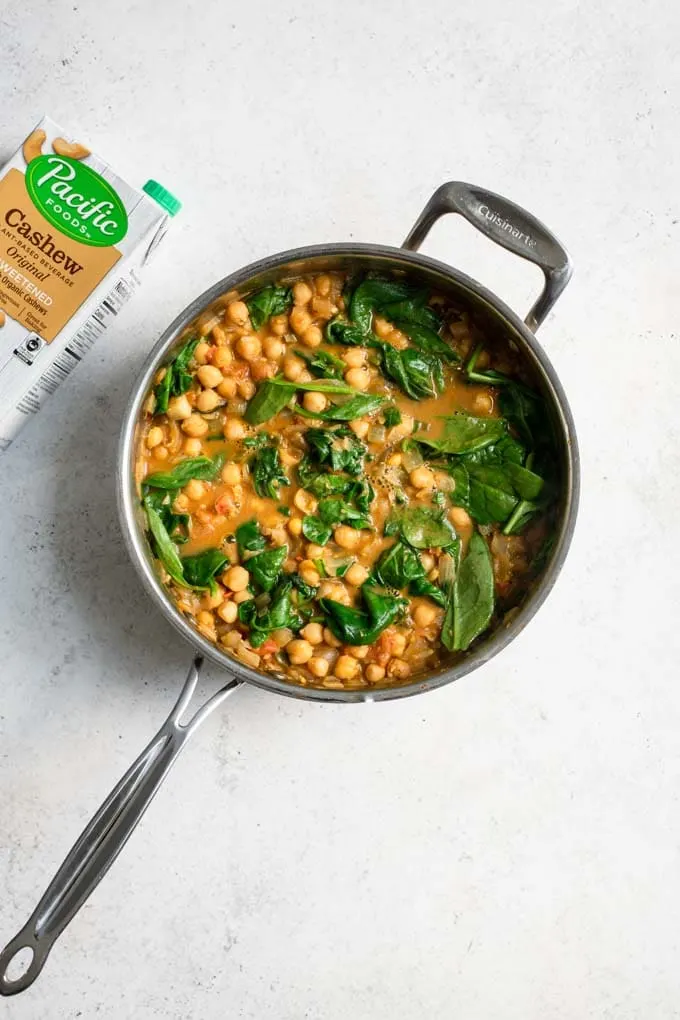 Adding in the spinach and finishing touches:
Finally, when all that's cooked down, we add the spinach.
I use baby spinach because it comes pre-washed and I can just grab it and dump it right in. Call me lazy, call me practical, call me smart… but know that it's great and keeps things so easy.
You could use frozen spinach if you prefer, grab the chopped kind preferably and defrost, then squeeze out extra water before adding.
You could also use the big, adult, full grown spinach, just make sure to wash it well as that stuff can be so sandy! And chop it up before adding.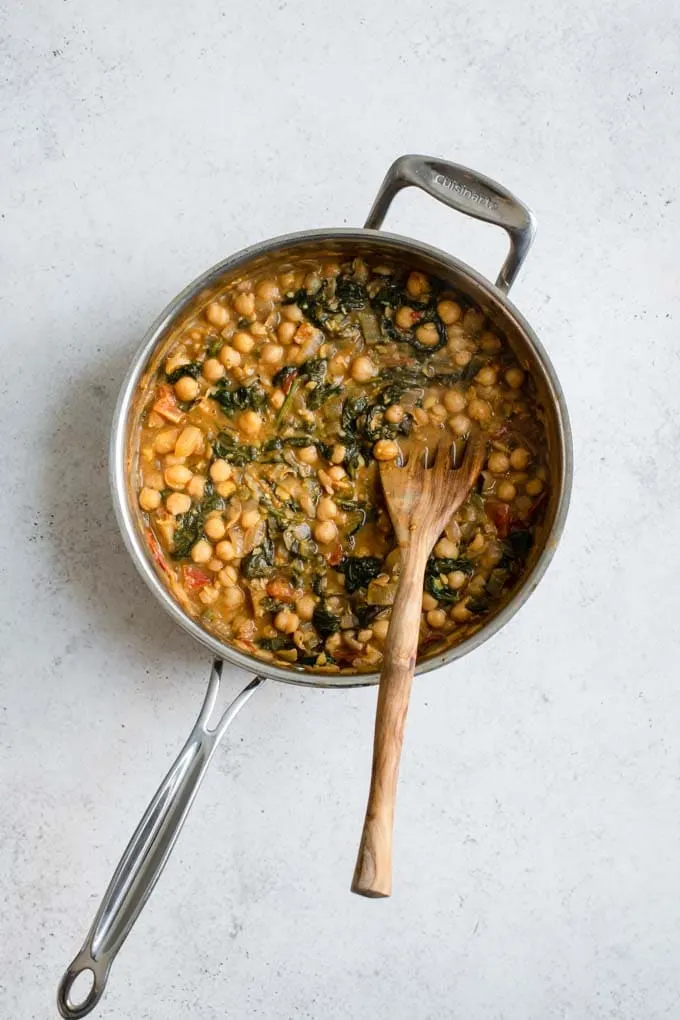 The spinach amount in this recipe is flexible. Feel free to add more if you want! It really cooks down to nothing so it's up to you how much you want.
Once the spinach has cooked til tender, unfortunately losing that vibrant green color I love so much, it's time to add lemon juice.
Citrus brightens the flavors of the dish and makes it taste so much better! Just take a taste before adding and after and you'll see what I mean! I like plenty of lemon, but taste as you add it to get it just right for you.
Once you've settled on the amount of lemon you want, then adjust the salt! Sometimes by adding extra citrus you find you don't need the extra salt.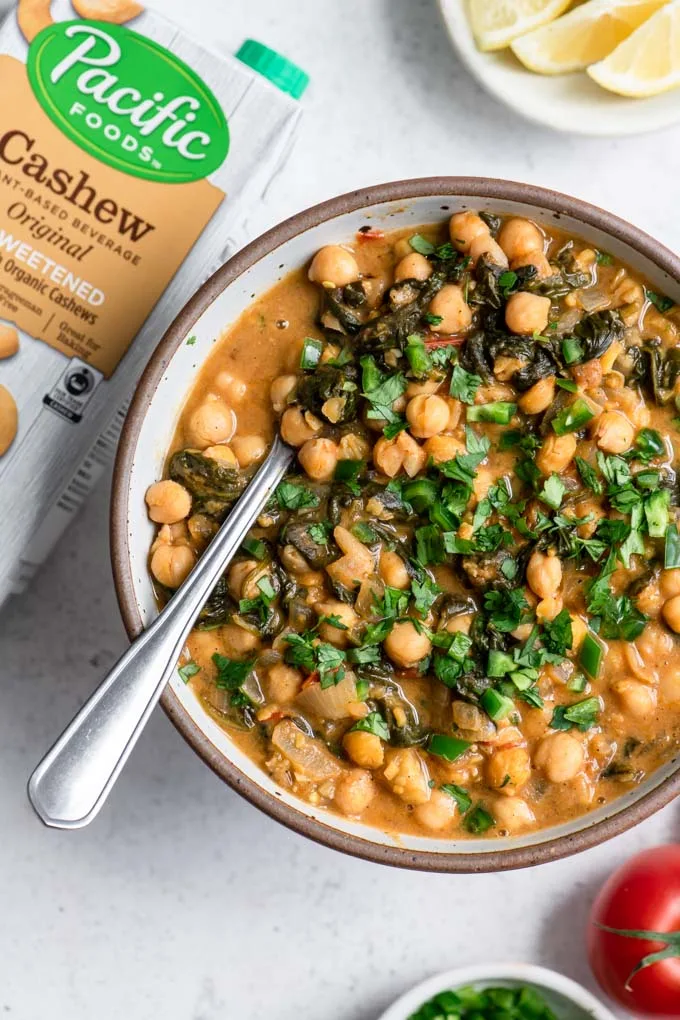 Serve the chickpea and spinach curry with a side of basmati rice.
I also like to add in some lemon wedges so anyone who wants more citrus can squeeze some on! At my house we'd always pass around a plate of lemon wedges so everyone could grab one or three to squeeze over their plate of food.
Garnish your chana saag with minced green chiles (or not if you don't want the spice) and cilantro leaves.
That's all there is to it! Easy peasy! Enjoy!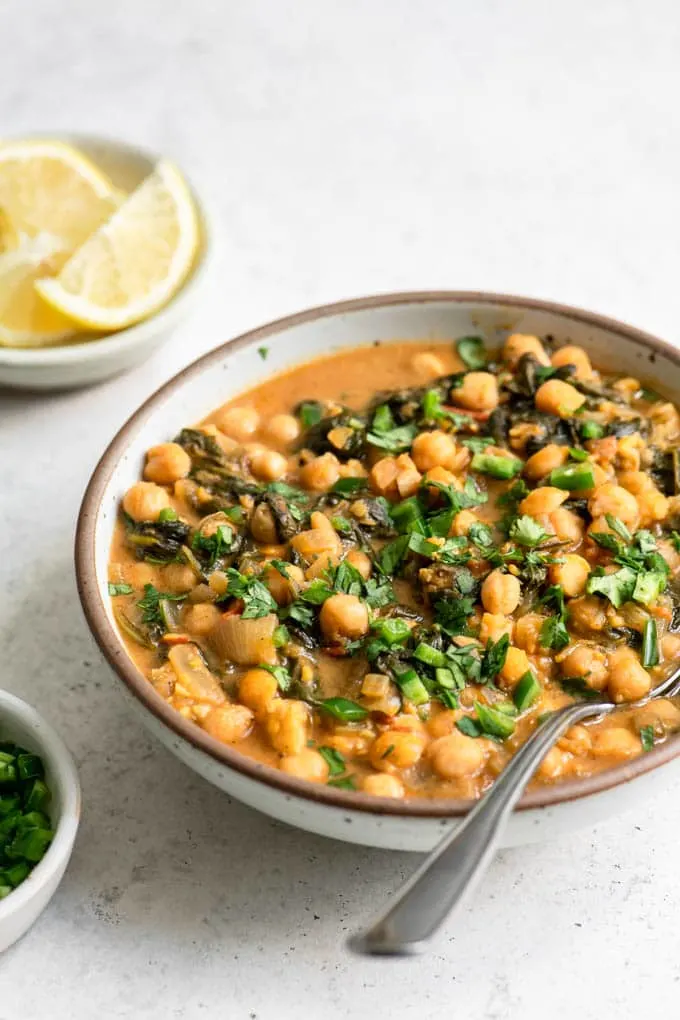 If you make this chana saag, leave a comment below and rate the recipe on the recipe card. And please share your photos with me on Instagram, tag @thecuriouschickpea and #thecuriouschickpea. I love seeing your recreations!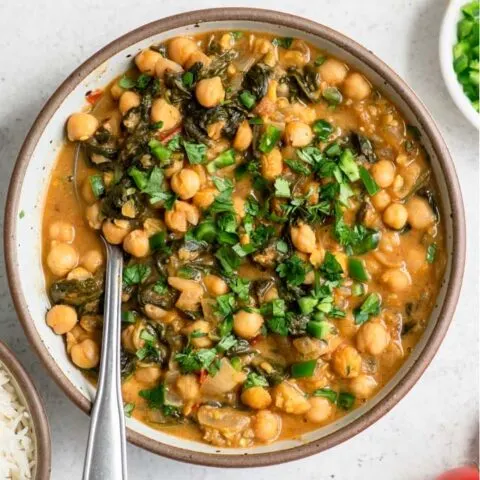 Chickpea and Spinach Curry
This Indian chickpea and spinach curry (chana saag) is so flavorful and incredibly easy to make too! It's naturally gluten free and vegan and tastes even better the next day!
Ingredients
1 tbsp oil
1 large yellow onion, diced
4 cloves garlic, minced
2 tsp minced ginger
1-2 green chiles (e.g. serrano or jalapeño), diced, remove seeds for less heat
2 tsp curry powder
1 tsp ground coriander powder
1/8 tsp cayenne pepper, more to taste
1 tsp salt, or to taste
2 tomatoes, diced
29 oz can chickpeas (3 cups cooked), drained and rinsed
5 oz baby spinach
2-4 tbsp fresh lemon juice (from 1/2-1 lemon), to taste
Instructions
Heat the oil in a large pot over medium heat. Add the onion and a pinch of salt and sauté until soft and translucent, about 5 minutes.
Add the garlic, ginger, and green chilies and cook in for 1 minute, then addd the curry powder, ground coriander, cayenne pepper, and 1 teaspoon of salt. Let cook for 30 seconds.
Add the diced tomatoes, chickpeas, cashew beverage, and vegetable broth and bring to a low boil. Turn the heat to low and simmer uncovered for about 10 minutes, or until the tomatoes are softened and breaking down.
Add the spinach in batches, letting it wilt to fit before adding more. Once all spinach is added let simmer for 5-10 minutes or until spinach is very tender and flavors have melded.
Turn off heat and add in lemon juice. Taste and adjust salt or lemon juice as desired. Serve garnished with minced chili peppers, cilantro, lemon wedges on the side for extra citrus, and basmati rice.
Notes
Substitute regular spinach or frozen chopped spinach for the baby spinach, chop it up and wash thoroughly if using fresh big spinach!
Recommended Products
As an Amazon Associate and member of other affiliate programs, I earn from qualifying purchases.
Nutrition Information:
Yield:

6
Serving Size:

1
Amount Per Serving:
Calories:

199
Total Fat:

5g
Saturated Fat:

0g
Trans Fat:

0g
Unsaturated Fat:

4g
Cholesterol:

0mg
Sodium:

528mg
Carbohydrates:

31g
Fiber:

8g
Sugar:

8g
Protein:

9g
Nutrition is calculated automatically so should be used as an estimate.