These vegan peach cupcakes are soft and squishy and studded with lots of diced fresh peaches! They're frosted with an easy peach buttercream for a perfectly delicious summery treat!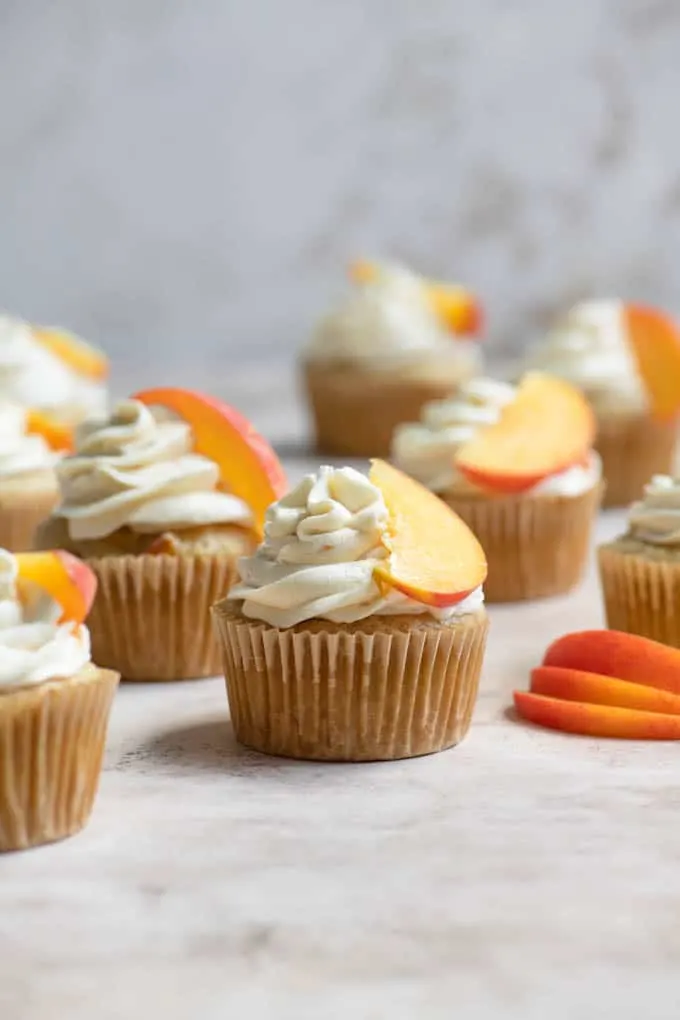 My first time eating a peach cupcake (or any peach cake) was during the recipe development of these cupcakes. And while the first batch might not have been the *it* batch (that was #5), it was still love at first bite!
They are tender and moist, and studded with juicy bites of peach. I topped them two ways: with a light and fluffy vegan whipped cream* and with a peach flavored American buttercream.
*I tried out Silk Dairy-Free Heavy Whipping Cream, but a coconut whipped cream would be great too!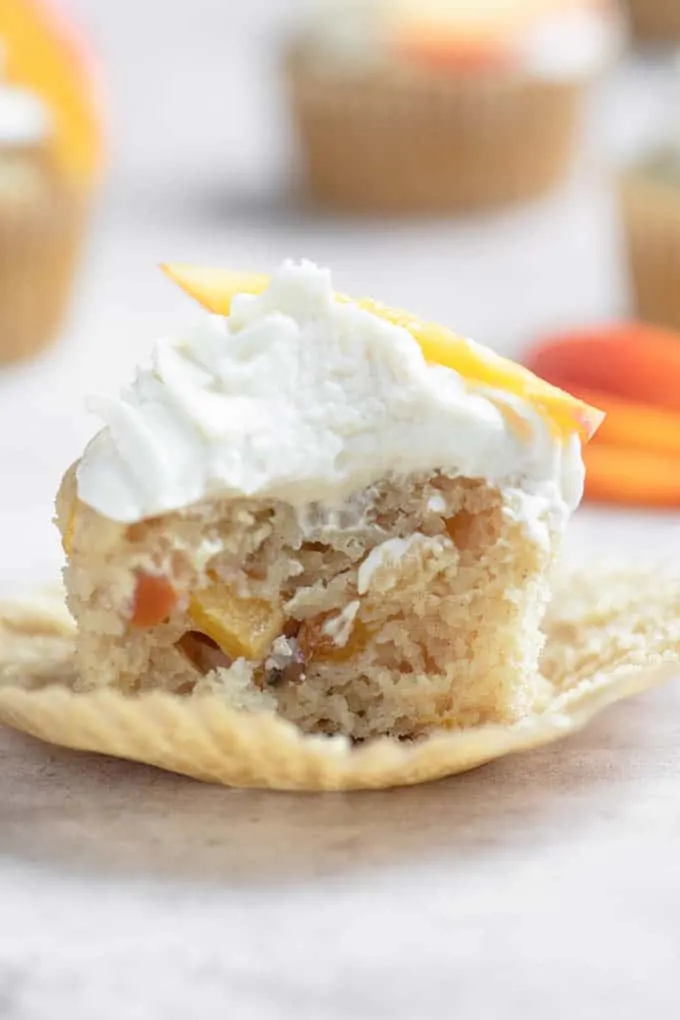 These ones are pictured with the buttercream as it is approximately 100 ºF here currently and American buttercream holds up much better in the heat. However, I love the whipped cream topping as a less sweet option with a peaches and cream vibe. But honestly you can't go wrong with either one!
According to the internet, peach cupcakes are apparently a thing. I was sadly unaware of this, and my cravings for peach cupcakes was born from some serious cake consideration for my 33rd birthday (happy birthday to me!).
It's late summer here, and I get the most beautiful peaches this time of year from my local farmers market. Honestly I feel very lucky to live somewhere that stone fruit thrives, and my late summers are filled with peach pancakes, peach pie, plenty of fresh peaches, and well, now I'll be adding peach cupcakes to that list!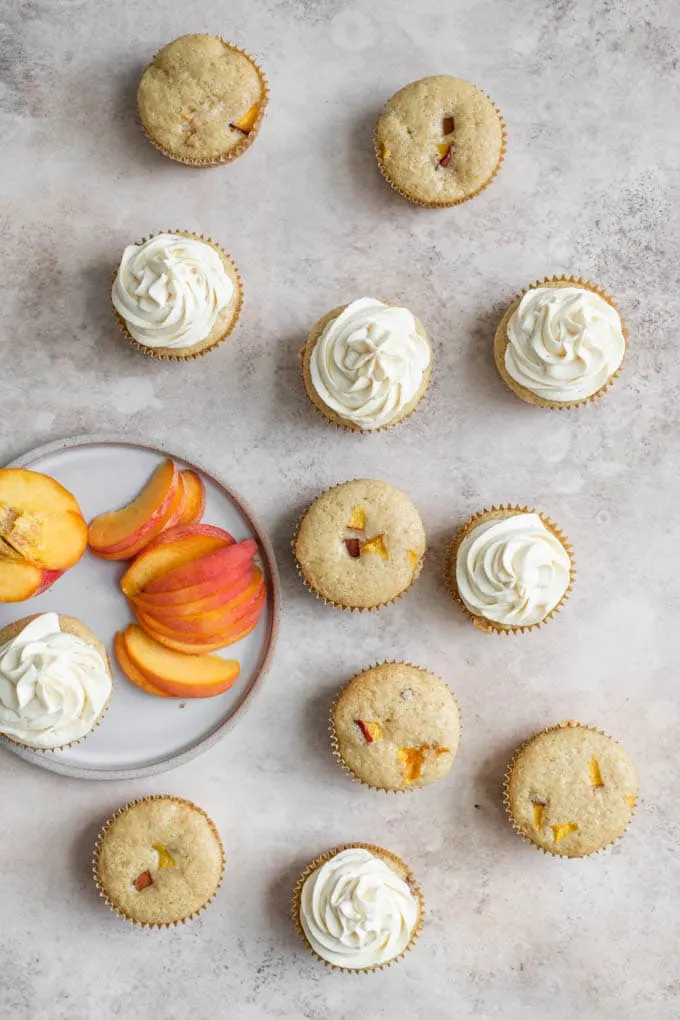 So when considering all the flavors of cake that could exist, my brain jumped around until it landed on peaches. And boy am I glad it did! Though I did strongly consider making cookie dough cupcakes and that will need to happen soon!
But anyway, you're here for peach cupcakes so let's talk cupcake!
The vegan peach cupcake:
So the cake is the most important part of the cupcake, and yes, I am stating the obvious here!
Cupcakes are small and carry high expectations. They need to be perfectly moist, mounded with frosting, and get their flavor across in every bite. No pressure, little ones.
Often to have all of these things happen in one little cake, the insides of a plain vanilla cupcake are carved out and replaced with a compote or filling. And this is good and all, but not what I wanted for these cupcakes. I wanted the fruit to be actually baked into the cake itself!
For my first efforts I tried to add peach purée into the cupcake batter itself. I found these cakes to have subpar texture, remaining gummy no matter how I adjusted the liquid.
Instead, I created a simple vanilla cake enhanced with a sprinkle of ground nutmeg to which I added diced fresh peaches.
In the end, we're left with a vanilla peach cupcake, that's not overpoweringly fruity–it's still a cake first–but has what I think is a great balance of cake and fruit!
The cake batter needed to be thick enough to support the fruit so that the pieces of diced peach didn't all fall to the bottom of the cake. I needed to ensure a bit of peach in every bite!
Having at thicker batter also helped compensate for any liquid released by the fruit as the cupcakes baked.
I adapted this recipe from my popular easy vegan vanilla cake recipe, and explain the purpose of the ingredient choices there so won't repeat myself with this recipe. If you're interested in learning about the science of vegan baking then click over and read that post!
For best results measure your ingredients by weight!
This is worth repeating on every baking recipe.
Weighing guarantees that you have the correct amounts for everything and that your cakes come out the way they are meant to and consistently every time.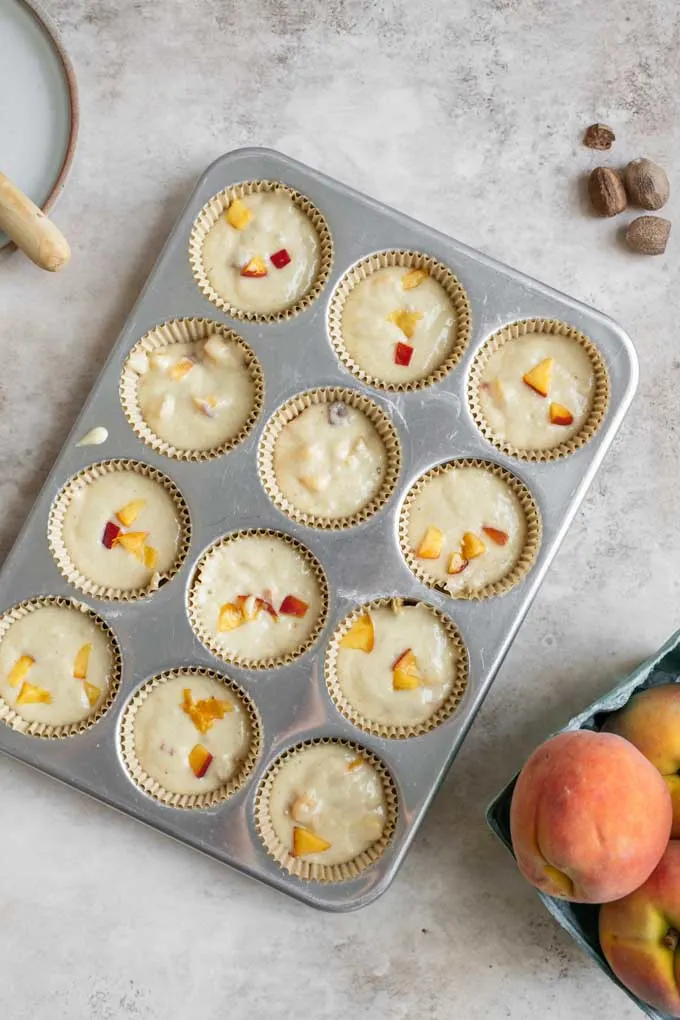 Kitchen scales are inexpensive and small in profile (i.e. they don't take up much room). You also have less cleanup when you use a scale as you can skip washing all those measuring cups!
The issue is particularly over the varying weight of a cup of flour. How much a cup of flour weighs can vary by as much as 25% as the flour settles and becomes more compact.
If you are measuring by volume then do the following: whisk the flour in its container to fluff it up and undo the worst of the settling, then reach in with your measuring implement and scoop the flour. Finally level with the flat backside of a butterknife.
This is how I measure for my recipes when measuring by volume, so this is how you should measure for my recipes. It will not be the case for every recipe developer out there.
The peach buttercream:
If you want to make the lightly peach flavored buttercream, then well, it's an easy matter of making some American buttercream and adding peach puree to it!
American Buttercream is whipped butter with powdered sugar (aka confectioner's sugar) added to it to make it sweet and pipe-able.
It's often made with a combination of butter and vegetable shortening to make it more stable and you add a bit of extract for flavor (vanilla is popular) and/or liquid (usually a splash of milk or cream) for making a lighter frosting.
It's easy to make vegan, just use vegan butter! Because vegan butter is softer at room temperature I will always do half vegan butter and half shortening to make my frostings.
Make sure to use the kind of vegan butter that comes in a stick versus in a tub, as the kind in the tub is usually more watery and spreadable consistency and isn't what we want for buttercream.
If the kind in a tub is all you can find, then I recommend using more vegetable shortening and less vegan butter.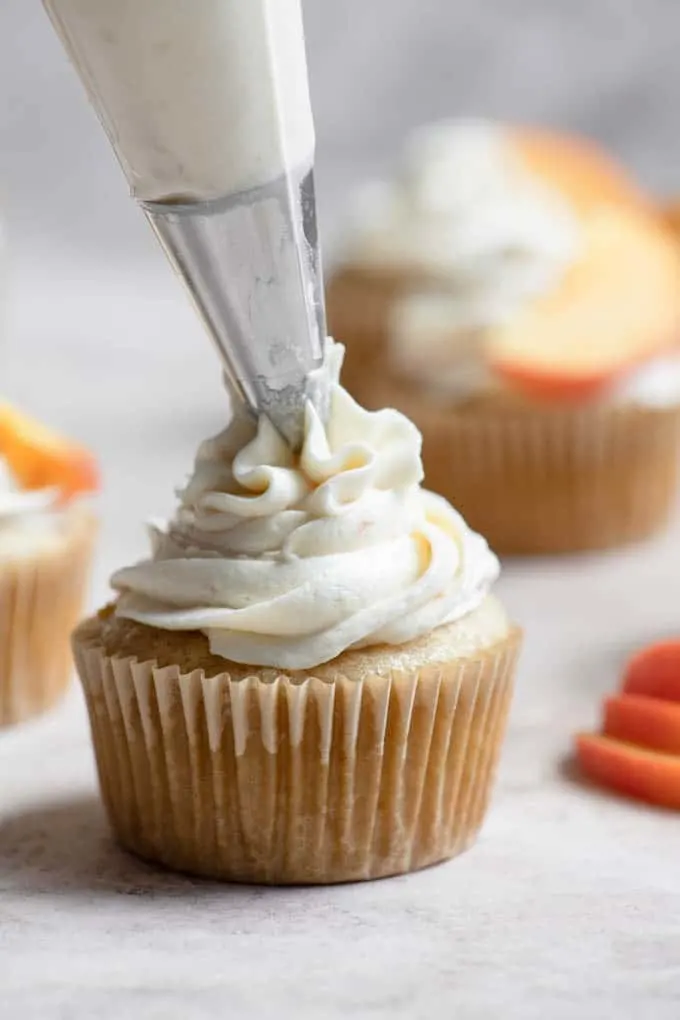 For liquid I swap out adding plant milk for peach puree. When it comes to adding liquid to the buttercream, the more you add the softer your frosting is. I use what I'd consider the max amount of peach puree so that the frosting can still be piped.
In the end you have a lightly peachy frosting, that enhances the peachiness of the cupcakes!
If your frosting is soft after whipping it up, then fill it into a piping bag and chill for 5 minutes (or a bit longer if needed).
I frosted these using 1M tips in a simple swirl, then topped with a slice of fresh peach to be cute.
Choosing your peaches:
For best results use in season, locally grown peaches (because the closer to ripe they're picked the way better they are)! However, I realize not everyone has access to that, or maybe you want your peach cupcakes when they are not in season.
If this is the case I recommend using frozen or canned peaches instead, and save those sub-par peaches for um… nothing. Just don't get them! You know the ones I'm talking about!
Obviously the cupcakes will taste the most like peaches when the peaches you use are very ripe and very good, because these are the peaches with the strongest and most concentrated flavor!
If you want to enhance the flavor of peach, you could swap out the vanilla extract for a tablespoon of peach schnapps. I didn't do this, but think it would be good and will give it a go at some point in the future!
I hope you enjoy your cupcakes as much as we did!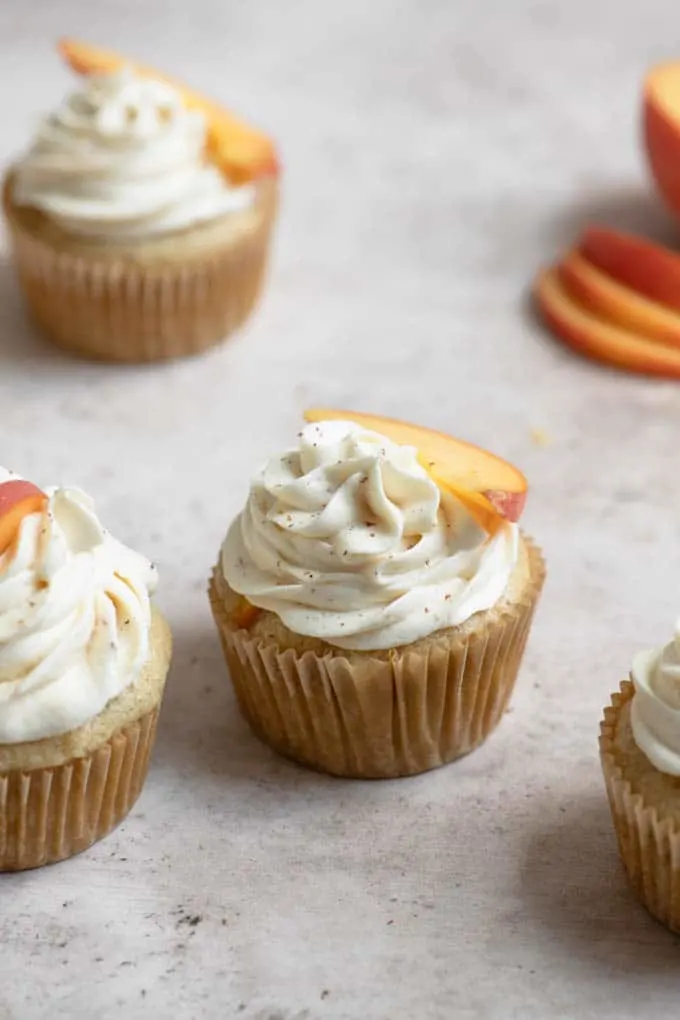 If you make these vegan peach cupcakes, leave a comment below and rate the recipe on the recipe card. And please share your photos with me on Instagram, tag @thecuriouschickpea and #thecuriouschickpea. I love seeing your recreations!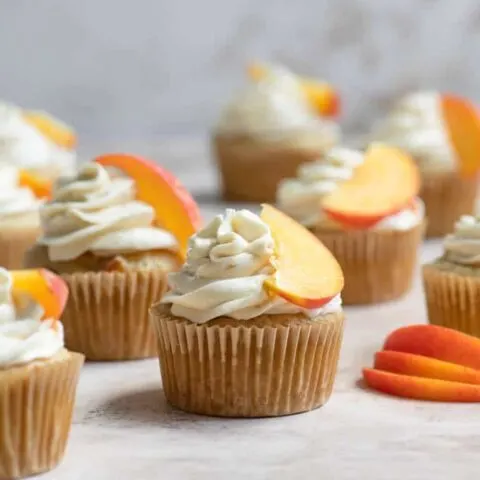 Vegan Peach Cupcakes
Frosting Time:
10 minutes
These delicious vegan cupcakes are made with an easy nutmeg-laced vanilla cake batter filled with diced peaches. Frost them with the easy peach buttercream or top with some vegan whipped coconut cream and enjoy!
Ingredients
Peach Cupcakes
3/4 cup (180g) soy milk or almond milk
2 tsp (10g) apple cider vinegar
1 1/2 cup (200g) all purpose flour
3/4 cup (140g) granulated sugar
1 1/2 tsp baking powder
1/2 tsp baking soda
1/2 tsp salt
1/8 tsp ground nutmeg
2 tbsp canola oil (or other neutral flavored oil)
2 tsp vanilla extract
1/2 cup (96g) finely diced peaches
Peach Buttercream
1/2 cup (113g) vegan butter, in a stick form, softened
1/2 cup (96g) vegetable shortening
4 cups (380g) sifted powdered sugar
1/4 cup (55g) peach purée
Instructions
Make the cupcakes:
Preheat the oven to 350ºF with a rack placed in the center. Line a muffin tin with cupcake liners and set aside.
Measure out the plant milk, then add the apple cider vinegar (no need to stir) and let sit for 5-10 minutes to make a vegan buttermilk.
In a mixing bowl whisk together the flour, sugar, baking powder, baking soda, salt, and nutmeg until combined and fluffy. To measure your flour by volume: whisk it in the container, then scoop and level.
Pour in the vegan buttermilk, then add the oil and vanilla extract and whisk together until smooth. Fold in the diced peaches.
Fill the cupcake liners about 2/3 to 3/4 of the way full and place in the preheated oven. Bake at 350 ºF for 20-22 minutes, or until a tester comes out clean (a couple of moist crumbs are ok). Let cool for 5 minutes in the pan, then remove and cool completely on a cooling rack. Chill cooled cupcakes in a sealed container in the fridge until you are ready to frost.
Make the buttercream:
Add the vegan butter and vegetable shortening to the bowl of a stand mixer or a large mixing bowl. Using handheld beaters or your stand mixer with a balloon attachment beat them together until fluffy.
Add the powdered sugar in half cup increments, beating it to incorporate each time before adding more. Scrape down the sides as needed. Once all of the powdered sugar has been mixed in, add the peach purée. Turn the mixer to high and whisk together until light and fluffy, about 5 minutes.
Pipe or spread frosting onto cupcakes to decorate. Top with a slice of fresh peach, or some diced peaches.



Notes
To make the peach purée, blend together a small amount of peaches until smooth. No need to peel the peaches, the flecks of skin are pretty! If using frozen peaches, defrost before use.
Nutrition Information:
Yield:

12
Serving Size:

1
Amount Per Serving:
Calories:

291
Total Fat:

7g
Sodium:

251mg
Carbohydrates:

55g
Fiber:

1g
Sugar:

41g
Protein:

2g
Nutrition is calculated automatically so should be used as an estimate.