If you love the rich savory flavor of caramelized onions and luscious soups, you're going to need to serve up this delicious vegan french onion soup! It's so incredibly flavorful thanks to a base of thoroughly caramelized onions. It is the perfect side to any French-inspired meal, and one that will satisfy your taste buds.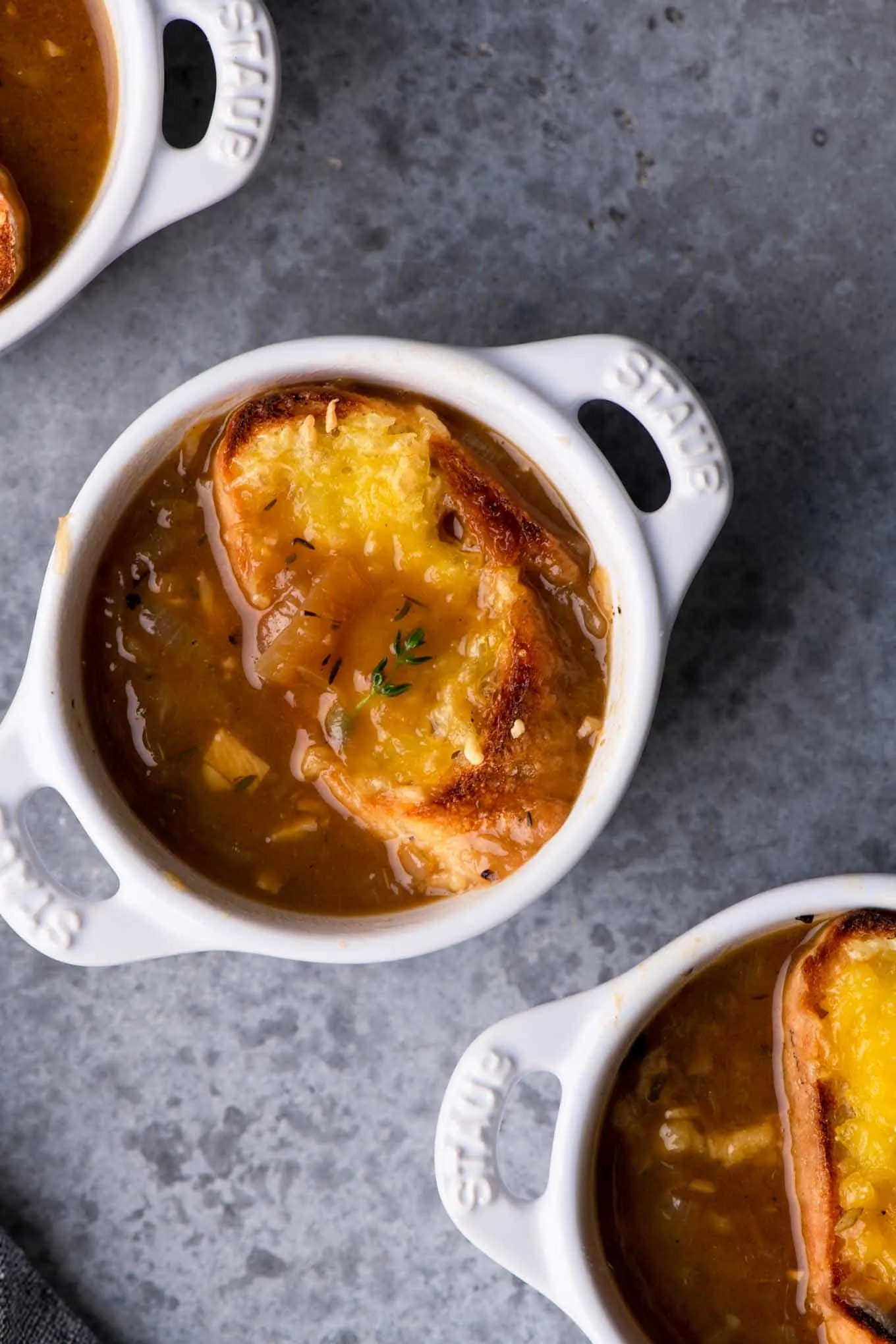 French onion soup has the reputation for being a time consuming and fussy dish to make. And while it does take a good chunk of time to make, it is worth every second for the delicious and comforting results!
The majority of the cooking time in this recipe is the time it takes to caramelize the onions. It's a very simple task, and is pretty hands off for most of that time.
The onions cook down from a volume that almost fills a 4 quart dutch oven to just a layer covering the bottom of the pan. This takes time and patience, there's no rushing proper onion caramelization!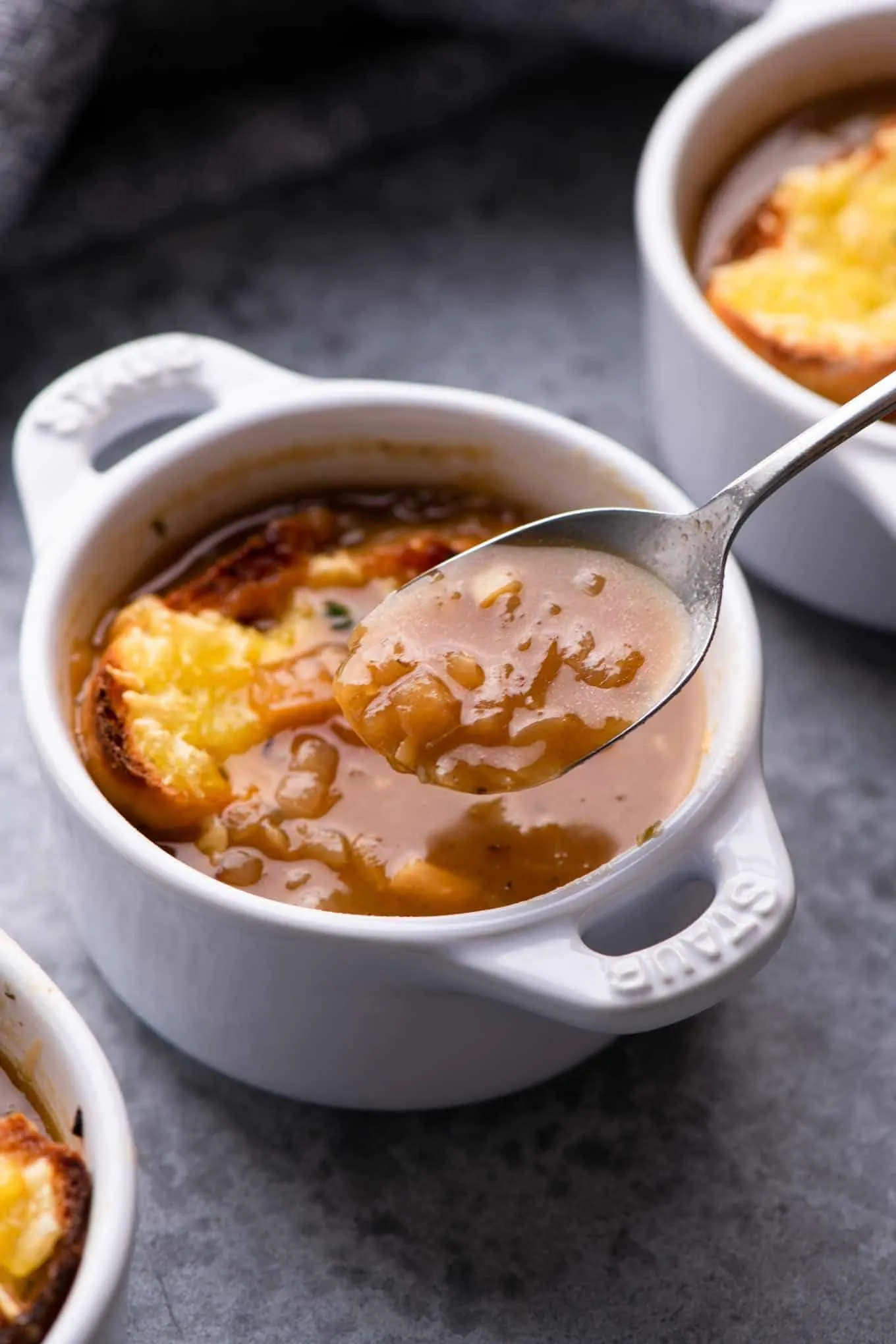 Traditionally, french onion soup uses a base of beef stock and so is not a vegan or vegetarian friendly recipe. Which is a shame, because everything else about this soup is the perfect flavorful veggie-friendly recipe!
Luckily it's easy enough to make some swaps at home for an equally flavorful and satiating soup.
The all important caramelized onions for French Onion Soup:
For the best caramelized onions choose sweet onion varieties like Vidalia or walla walla. The sugars in the onion are what caramelize and so picking onions with higher sugar content is important.
You can caramelize yellow onions (such as Spanish onions) too, but sometimes these need a helping hand of a teaspoon of added sugar.
Cut the onions in half, trim the ends, then slice into half moons. They will cook down super soft so the long pieces of onion will almost melt away.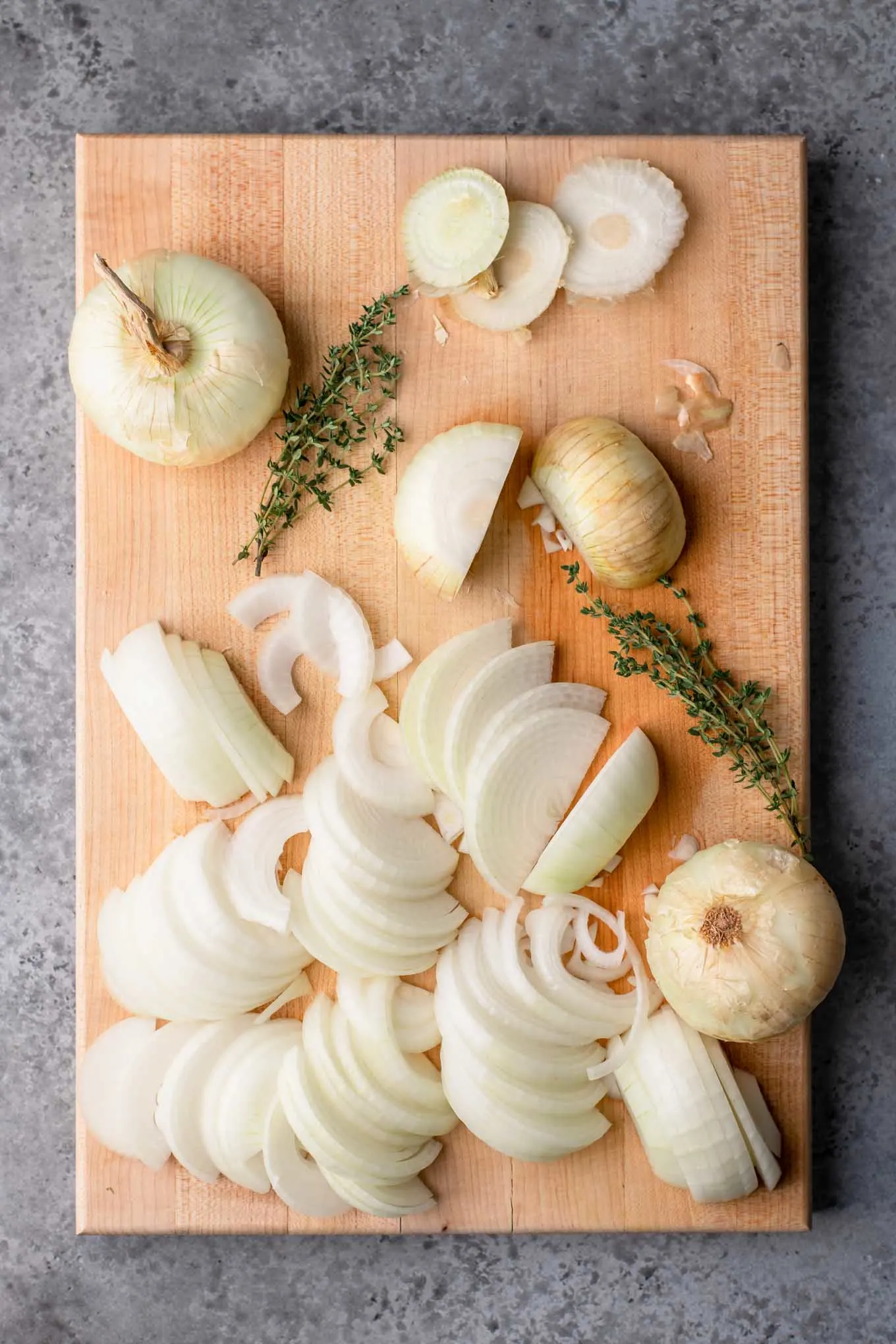 Caramelize in olive oil in a large heavy bottomed pot or dutch oven, starting at a medium-high heat. Let the onions sweat and start to shrink down in volume. Once the onions are in danger of browning from the heat (versus developing an even golden color from caramelization), turn it down to a medium-low heat setting.
As the onions cook down and start to caramelize you'll need to fuss over the pot more, stirring regularly so that the onions (and sugars in the onions) don't start to burn against the bottom of the pan and even turning the heat down further.
Once the onions are a golden color, it's time to add the rest of the ingredients and turn it into soup!
Note: this process will take about an hour. Don't rush it (mainly because you can't, but also you're more likely to burn the onions if you do)!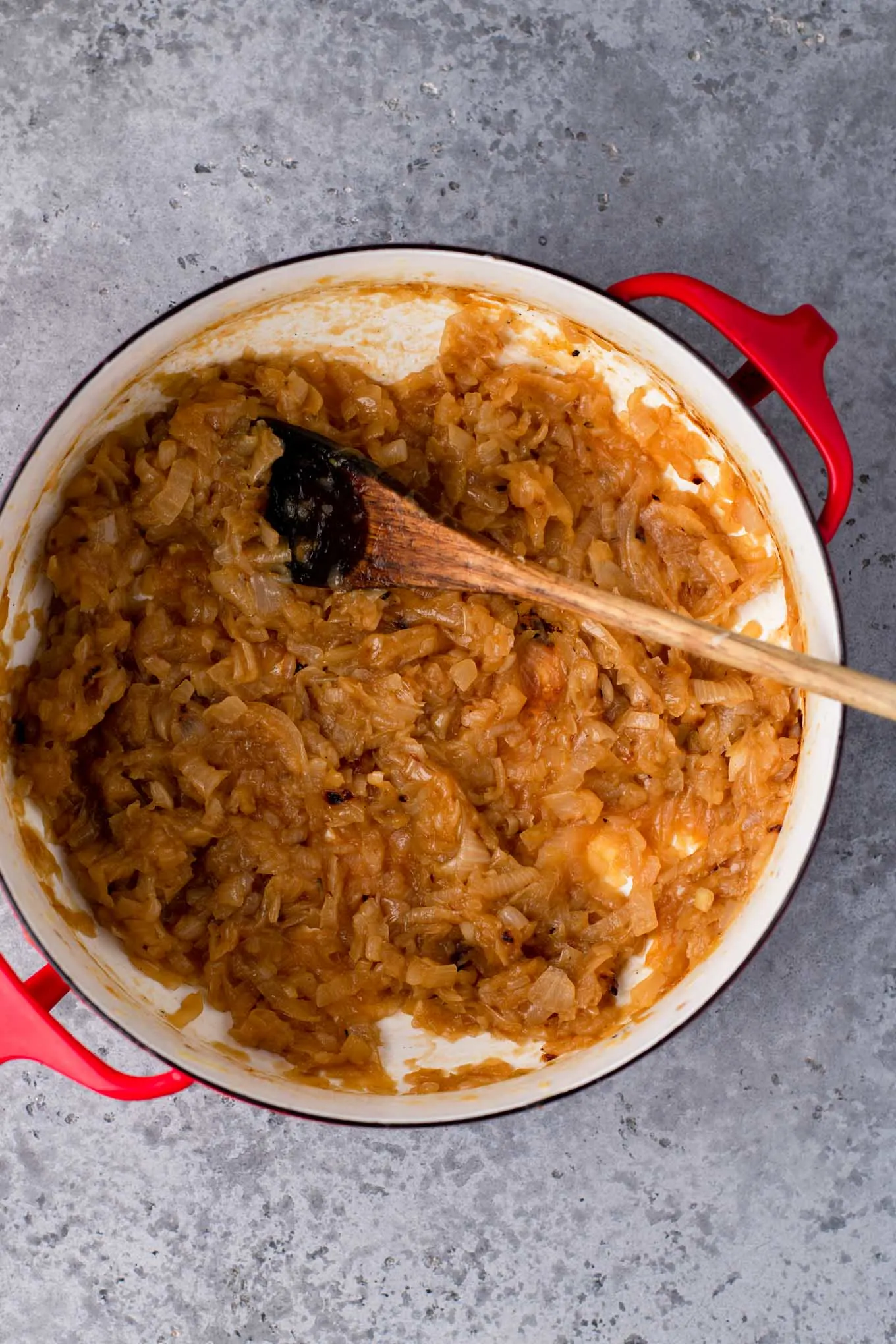 Rescuing a burnt bottom:
Onions burning on the bottom of the pan happens to the best of us. Hopefully you are using a nice thick bottomed pot that is less likely to burn, and keeping a close eye on it in the last 15-20 minutes of caramelizing. But things happen and don't stress if you get distracted for a few minutes and come back to the pot to see the onions are burning!
First, turn off the heat. Then scoop out the onions without scraping the burnt bottom of the pan and put them in a bowl. They are likely totally fine! Maybe one or two spots are a bit scorched and browned but this is not a problem.
Next try to get any flavorful bits stuck to the pan that aren't burnt as we don't want to lose these.
Once you've done that, turn the heat back on to medium and add in water (about a 1/4 cup but no need to actually measure). This will "deglaze" the pan and loosen the burnt bits at the bottom, letting you scrape them off. Dump these burnt bits, repeating the deglazing process as needed til it's mostly gone.
Then add the onions back to the pan, turn on the heat again to medium-low, and continue with the recipe.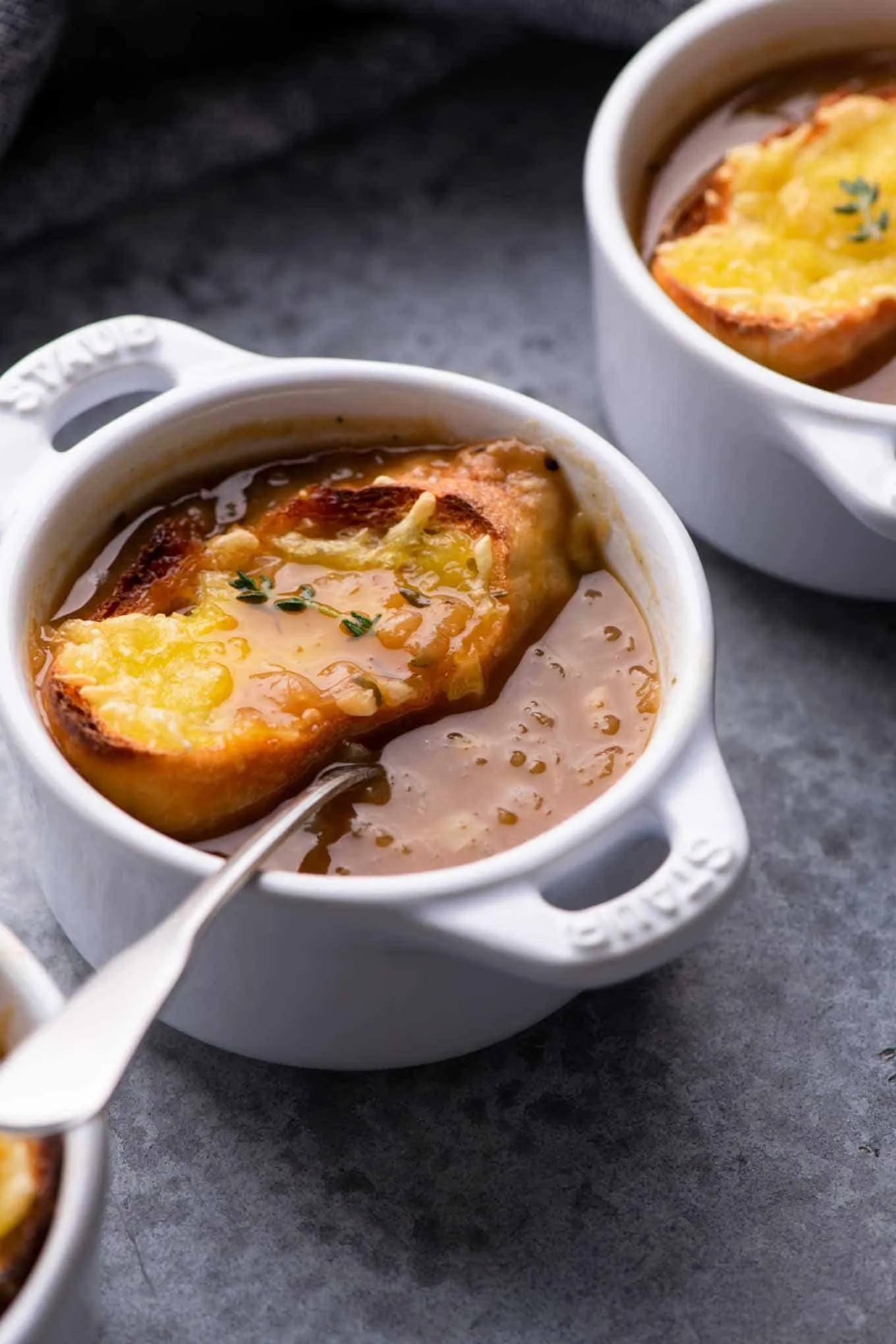 Swapping out the beef broth for vegan French onion soup:
Because this soup is a simple dish at it's heart, how you make it and what ingredients you choose matter. I recommend finding a "beefless" vegetable broth as it will most closely resemble the traditional soup base.
There are several brands for vegan beef broth, and my favorite is Better Than Bouillon brand No Beef Base. This paste mixes with water to make a strongly flavored broth that is deep brown in color. This can be a difficult bouillon to find in stores–use their store locator to see if you can purchase locally, or order it online directly from their website or from sellers on Amazon.
Other brands that make good vegan beef-style broth include Edward and Son's Not-Beef Seasoning Cubes, Orrington Farms Vegan Beef Flavored Broth Base, and Born Simple Vegan Beef Style Broth Concentrate. This is USA specific, if you live outside of the US you may have different brands available to you!
It's also okay to use a regular vegetable broth. If doing so, make sure it's a strongly flavored vegetable broth! You can also make a homemade veggie broth. I recommend adding a couple teaspoons of miso paste (any color) to your soup if not using a "beef style" specific broth. This will help up the umami.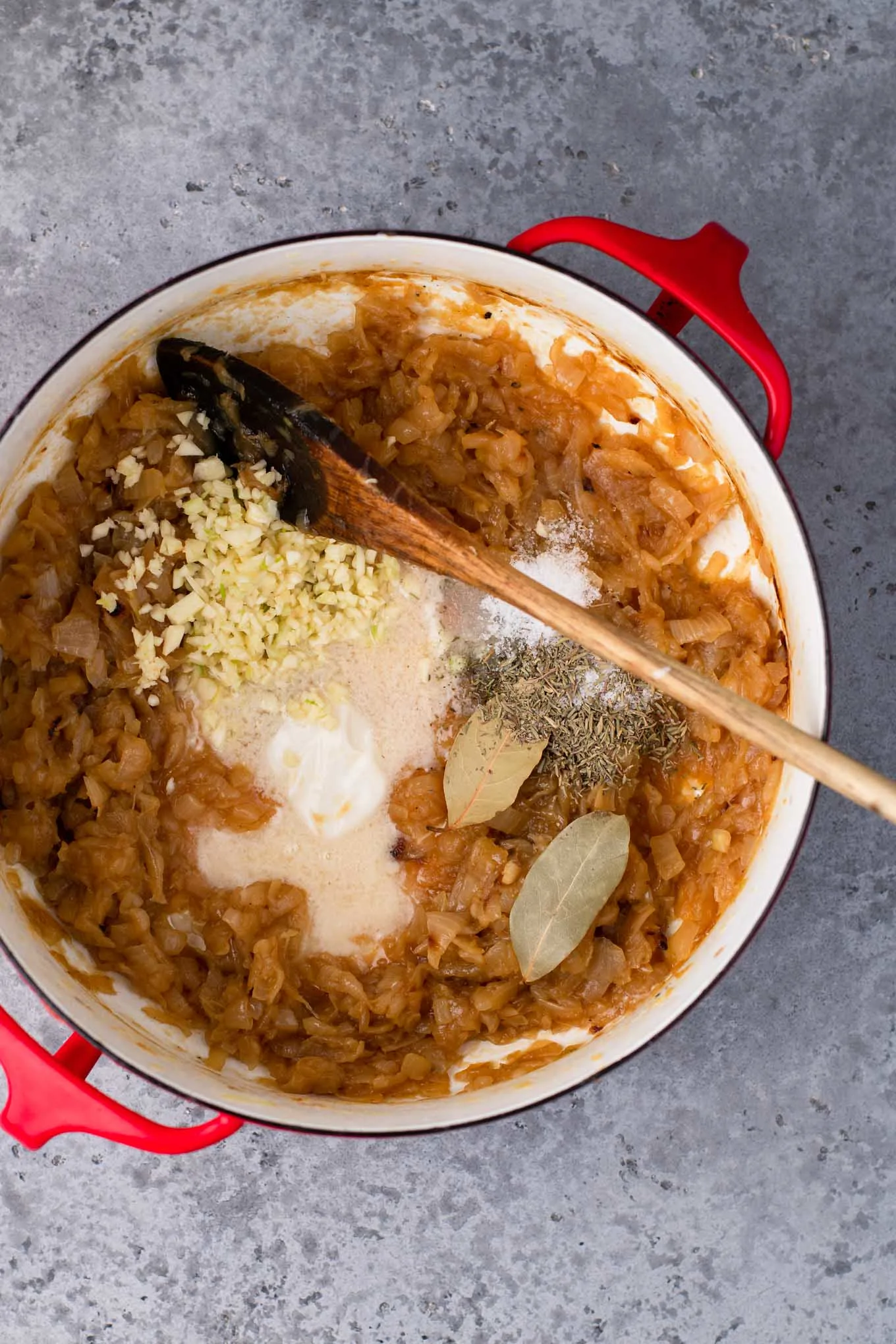 The other flavor-building ingredients:
I would argue that the true base of this soup is three pounds of caramelized onions. But that's the obvious ingredient! I want to go over everything else.
Not all french onion soups have garlic, but I think sautéed garlic adds a lot to the final soup and I use a generous amount in my recipe.
Thyme is a quintessential flavor of French onion soup and I like to use both fresh and dried thyme in my recipe. Dried thyme has a nice concentrated flavor that is drawn out during the long simmering of the soup. Sprigs of fresh thyme simmer alongside it for another layer of herby goodness, and snippets of the fresh herb are added as garnish.
If you want to skip the fresh thyme, add another 1/2 teaspoon of dried thyme and it'll be ok.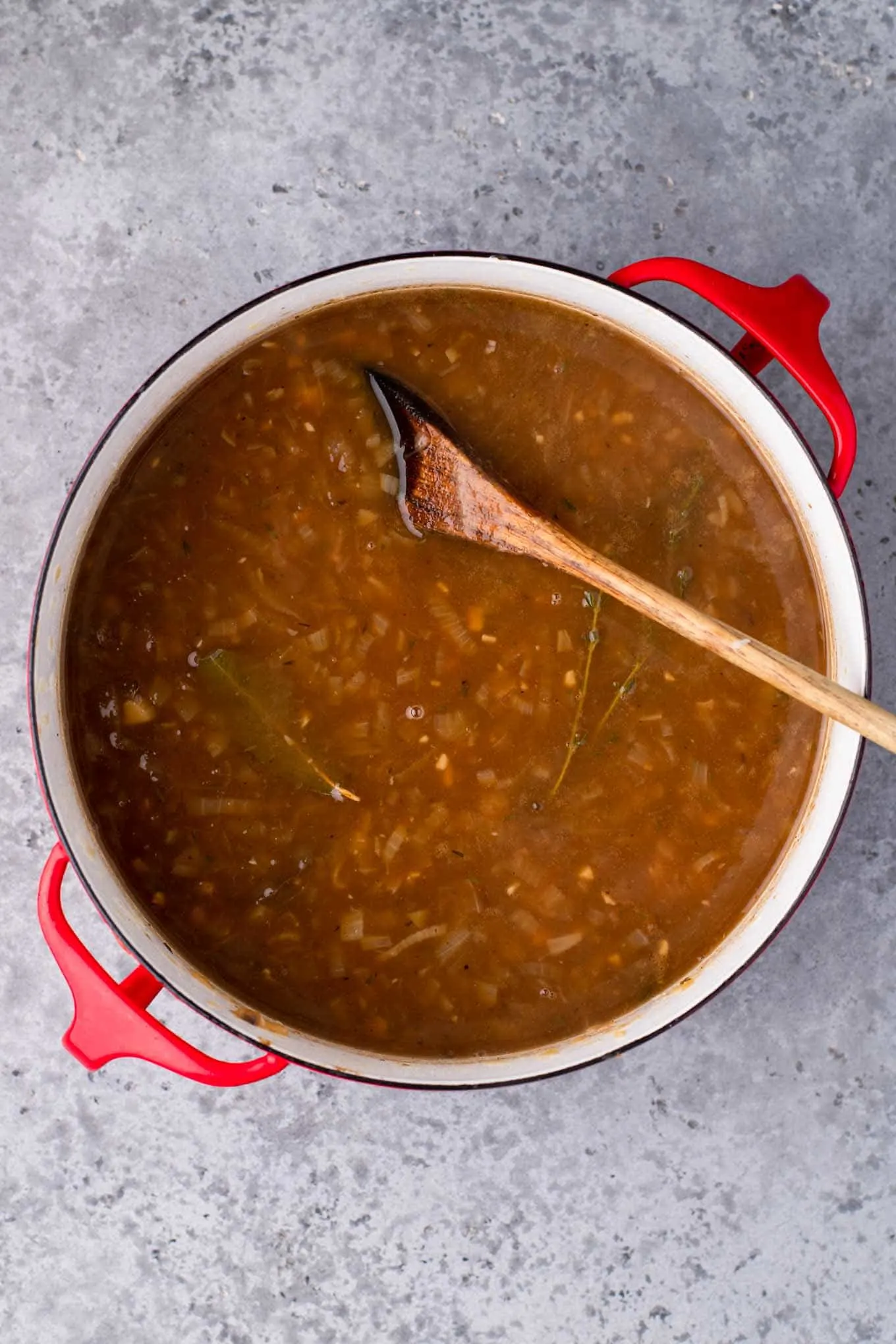 Next up we have bay leaves, that ingredient that adds a je ne sais quoi to soups and stews. You want to use fresher dried bay leaves, as they do lose flavor over time. Replace that dusty jar of bay leaves at the back of your spice shelf!
The garlic and herbs are sautéed into the caramelized onions in a fresh pat of vegan butter. I recommend using an extra delicious vegan butter like Miyoko's brand, but more accessible options like Earth Balance work too.
This recipe also depends on other liquid flavorers to bring out the most in the soup! First up: white wine. Wine adds so much flavor to a recipe. It adds an umami richness, a depth of flavor that is hard to achieve without the alcohol. I think a lot of this has to do with the fermented nature of alcohol, and wine's natural bouquet of flavors.
Then I add vegan Worcestershire sauce. This savory-sweet fermented sauce adds a lot of depth of flavor to your soup. Traditionally Worcestershire sauce contains anchovies so be sure to source a vegan version (I like The Wizard's brand).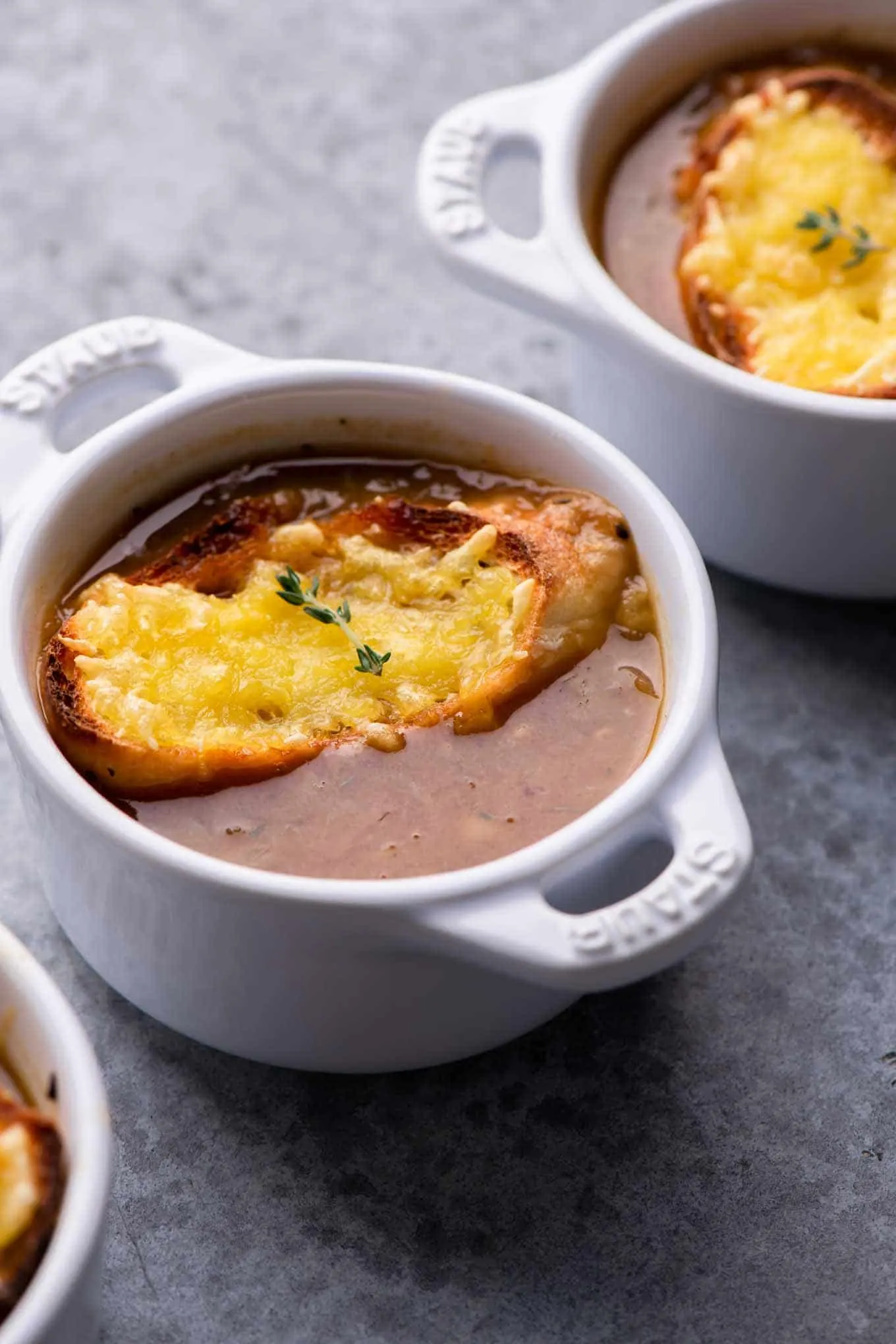 Lastly, I add a splash of sherry vinegar to finish. Adding this at the end brightens up the flavors the french onion soup and cuts through some of the richness.
And of course don't forget the salt and pepper! Add to taste, always.
Substituting the wine:
If you do not cook with or consume alcohol there are options. You could try one of the alcohol free wines that are now sold, or use additional broth. If substituting with broth, you'll want to increase the vinegar and possibly the Worcestershire sauce to compensate. Do this to taste towards the end of cooking.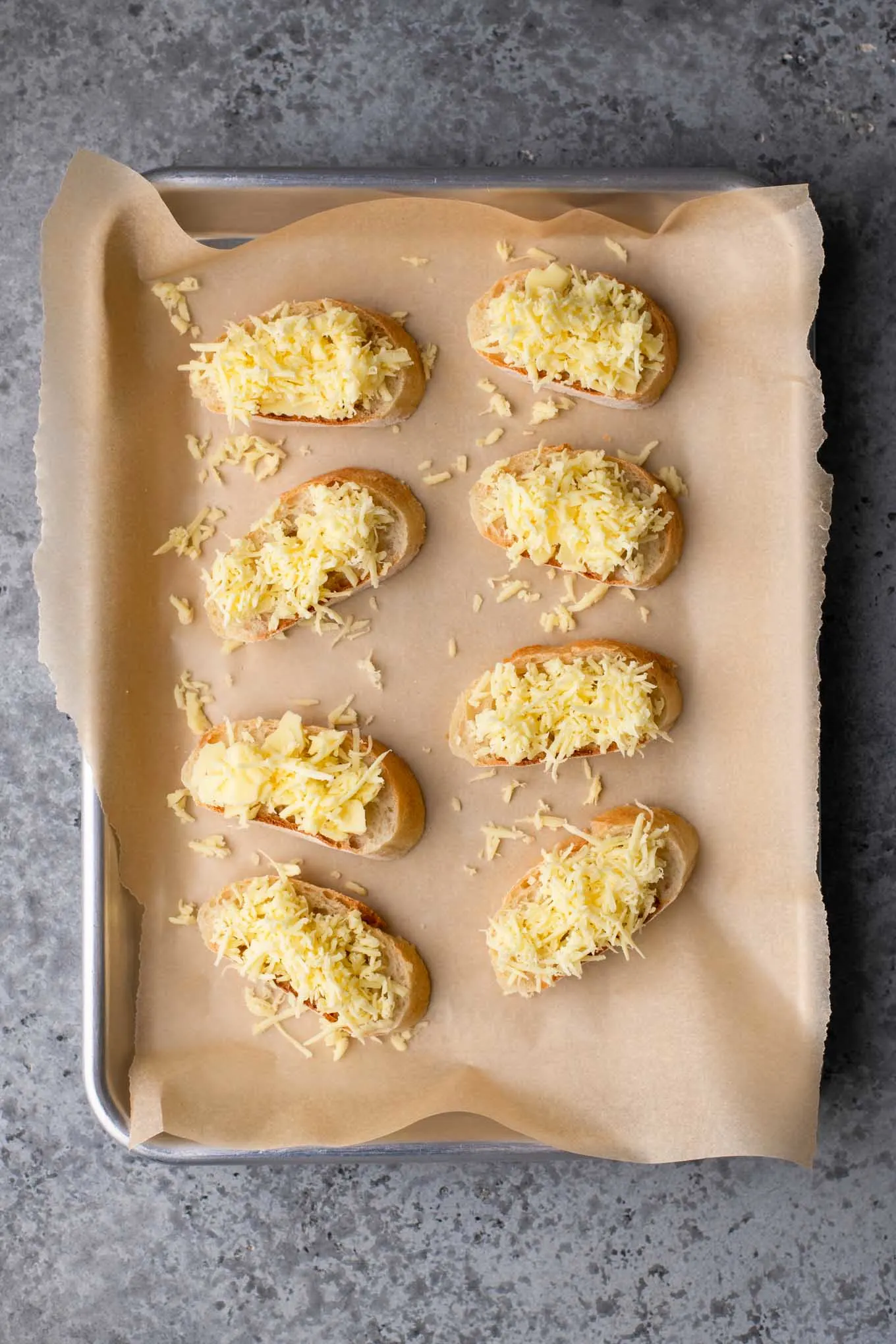 Making the cheesy croutons:
So you've made the soup and now you're ready to enjoy it! Vegan French onion soup is served with cheese topped bread same as the non-vegan version. The difference of course, is to use vegan cheese!
Slice up a baguette and top it with your choice of vegan cheese. I like to use a smoked gouda-style cheese, but vegan cheddar or mozzarella, or whatever you enjoy is totally good to use!
I shredded the vegan smoked gouda to help it melt more easily and evenly, but you can also use sliced cheese.
The croutons can be cooked on the soup itself if the soup is in an oven safe dish that can handle the heat of a broiler. Or my preferred option is to broil the croutons on a baking tray and then add them atop the bowls of soup.
As an added bonus, roasting the croutons on a baking tray keeps them from getting too soggy too fast.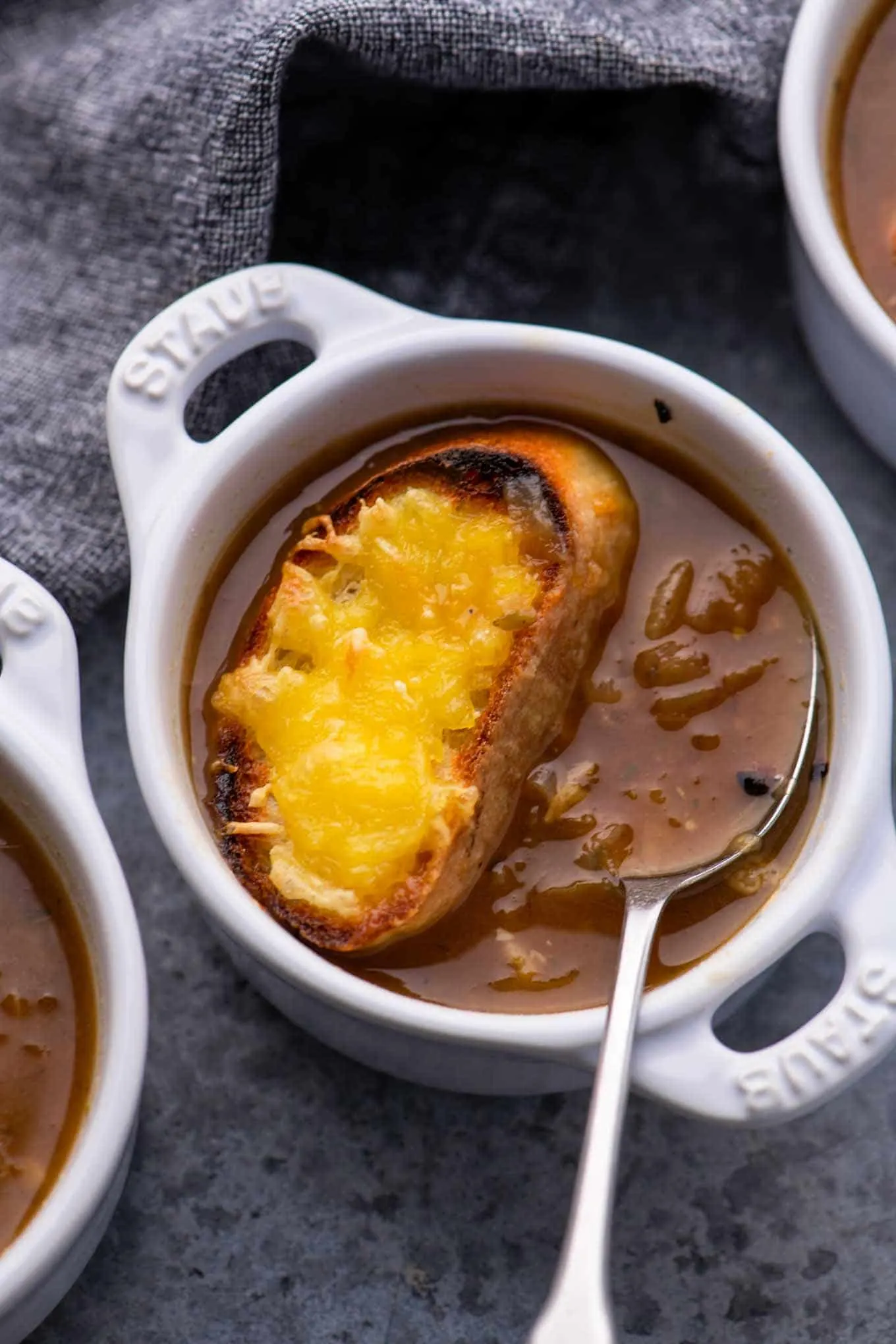 If you make this vegan French onion soup, leave a comment below and rate the recipe on the recipe card. And please share your photos with me on Instagram, tag @thecuriouschickpea and #thecuriouschickpea. I love seeing your recreations!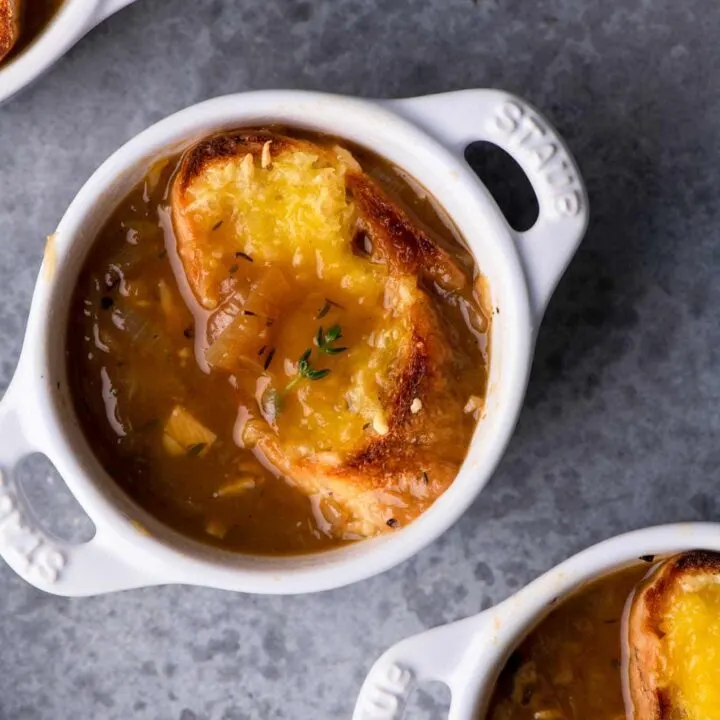 Vegan French Onion Soup
Cook Time:
1 hour
30 minutes
Total Time:
1 hour
40 minutes
This vegan French onion soup is richly flavorful, and makes a great side dish or lighter entree.
Ingredients
3 lbs sweet onions, sliced into half moons
2 tbsp extra virgin olive oil
2 tbsp vegan butter
4-6 cloves garlic, minced
2 bay leaves
1 tsp dried thyme
2 tbsp all purpose flour
1 cup white wine
5 cups vegan "beef-style" broth*
1 tbsp vegan Worcestershire sauce
2-3 sprigs fresh thyme, more for garnish
1/2 tsp salt, more to taste
pepper, to taste
1 tbsp sherry vinegar
1 baguette, sliced
vegan smoked gouda or other vegan cheese
Instructions
Heat a large 4 quart dutch oven or heavy bottomed pot over medium heat. When hot add the olive oil and the onions along with a pinch of salt. Let cook over medium heat until the onions have lost most of their volume, stirring occasionally. Turn the heat down to medium-low and continue to cook the onions until they are caramelized to a deep golden brown. If the onions start to brown at any point from the heat, turn it down. Stir more frequently as the onions get more caramelized to prevent them from sticking and burning to the bottom of the pan. Caramelizing the onions will take about 1 hour.
When the onions are caramelized, add the vegan butter, garlic, bay leaves, dried thyme, and 1/2 teaspoon of salt. Let cook 1-2 minutes, until the garlic loses its raw smell. Add the flour and stir to coat the onion mixture, letting cook for about 1 minute.
Slowly pour in the wine while stirring to deglaze the bottom of the pan. Let it come to a simmer then add the broth, vegan Worcestershire sauce, and fresh thyme. Turn the heat up and bring the soup to a low boil. Lower the heat to maintain a simmer and cover the pot. Let simmer for 20-30 minutes, adding salt and pepper to taste.
At the end of cooking the soup, add in the sherry vinegar and taste for any final adjustments of seasoning.
Make the croutons: top the bread with the vegan cheese and place under the broiler. Let broil until the cheese has melted and the edges of the bread have browned.
Pour the soup into bowls, then top with the croutons and a garnish of fresh thyme. Enjoy!
Notes
*Use vegan beef-style bouillon paste, powder, or concentrate and add it to water to make a vegan beefless broth. If using regular vegetable broth see notes in the blog post on what adjustments to make.
Recommended Products
As an Amazon Associate and member of other affiliate programs, I earn from qualifying purchases.
Nutrition Information:
Yield:

6
Serving Size:

1
Amount Per Serving:
Calories:

412
Total Fat:

13g
Saturated Fat:

4g
Trans Fat:

0g
Unsaturated Fat:

7g
Cholesterol:

0mg
Sodium:

1509mg
Carbohydrates:

57g
Fiber:

4g
Sugar:

21g
Protein:

11g
Nutrition is calculated automatically so should be used as an estimate.