This vegan creamy garlic pasta is served up with sautéed shaved Brussels sprouts for a fancy tasting meal that is easy to make!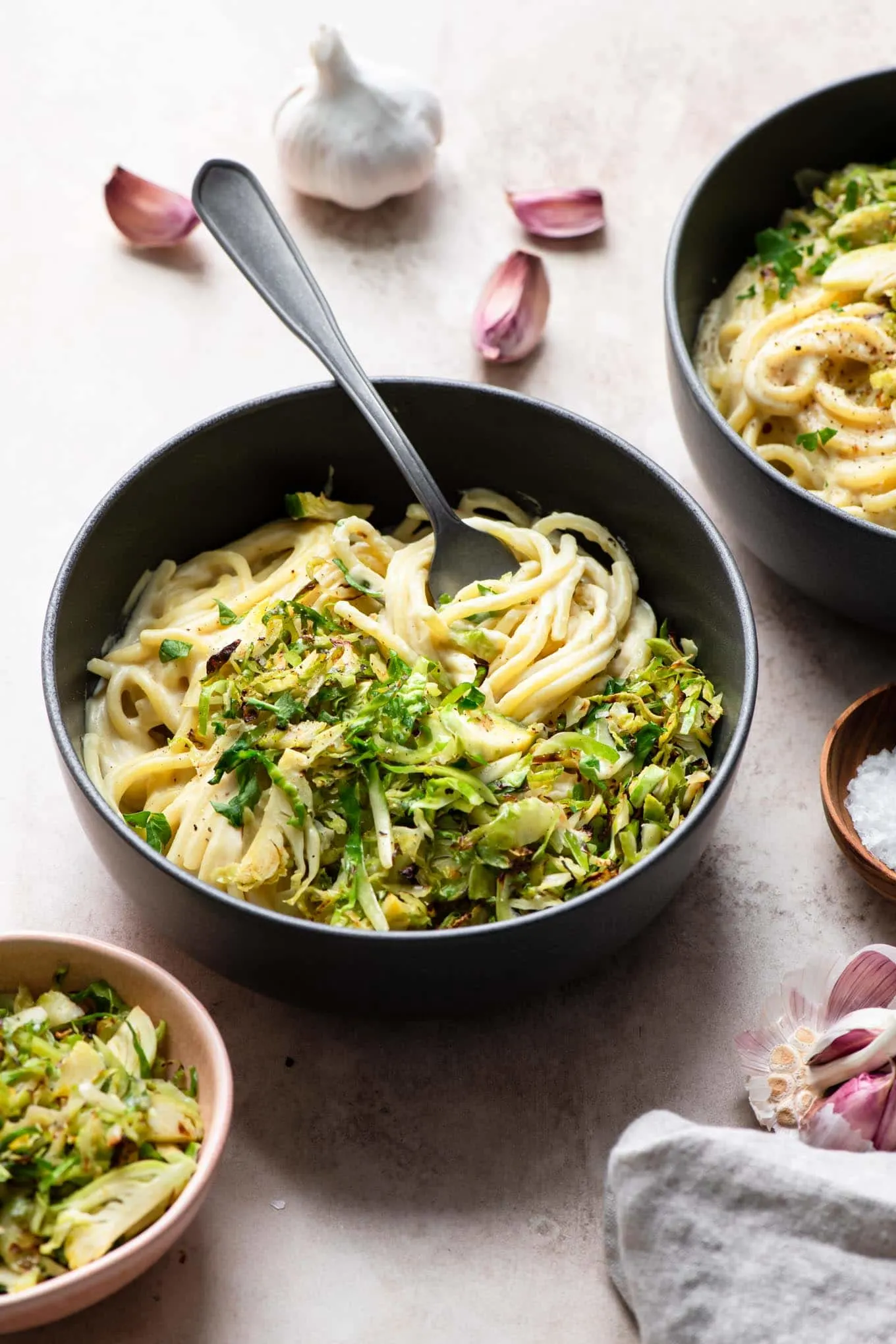 Often when I add veggies to my pasta I do it grudgingly, because I know that one must! eat! veggies! And I need to be a good role model for myself, you know how it goes.
When it comes to this creamy garlic spaghetti and perfectly sautéed shaved Brussels sprouts? Well. It's a match made in heaven and bring on the veggie!
If you had asked me a year ago, I would have told you that shaved Brussels sprouts are best used for raw purposes, like shaved sprout salad and such things. If you're going to cook sprouts the only real way to enjoy them is to roast them.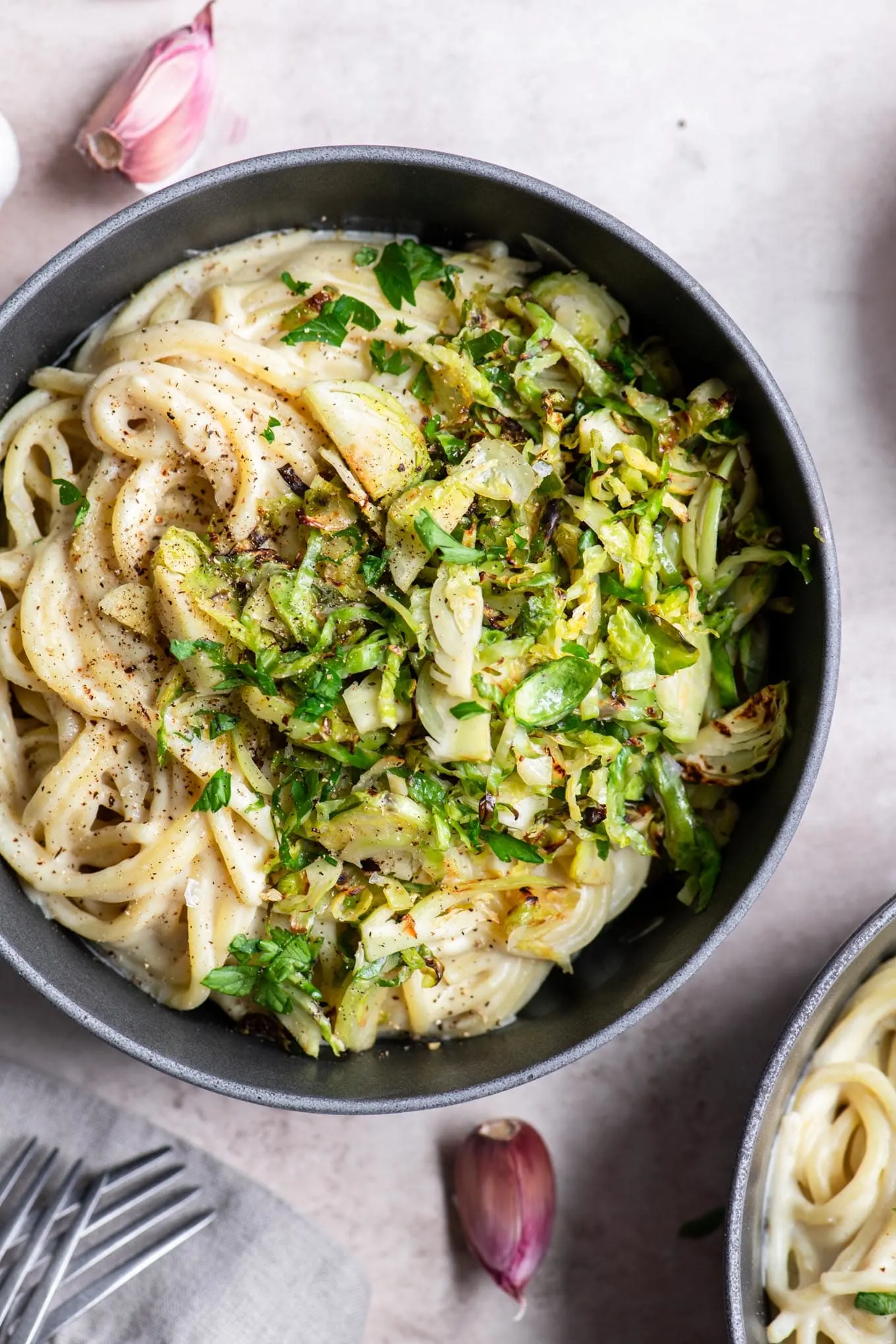 Yes, I know. It's why you should always keep an open mind when its comes to trying food out! As long as it's vegan of course 😊.
This dish serves up like it's at the fanciest of Italian restaurants. First we have that rich-tasting, so creamy you'd think it'd be illegal garlicky sauce. And then there are the sprouts, cooked so their unadorned flavor shines through–deliciously nutty and a bit peppery.
The combination is positively sinful! And yet, a vegan cream sauce and lots of Brussels sprouts? Yes, you're practically doing yourself a favor.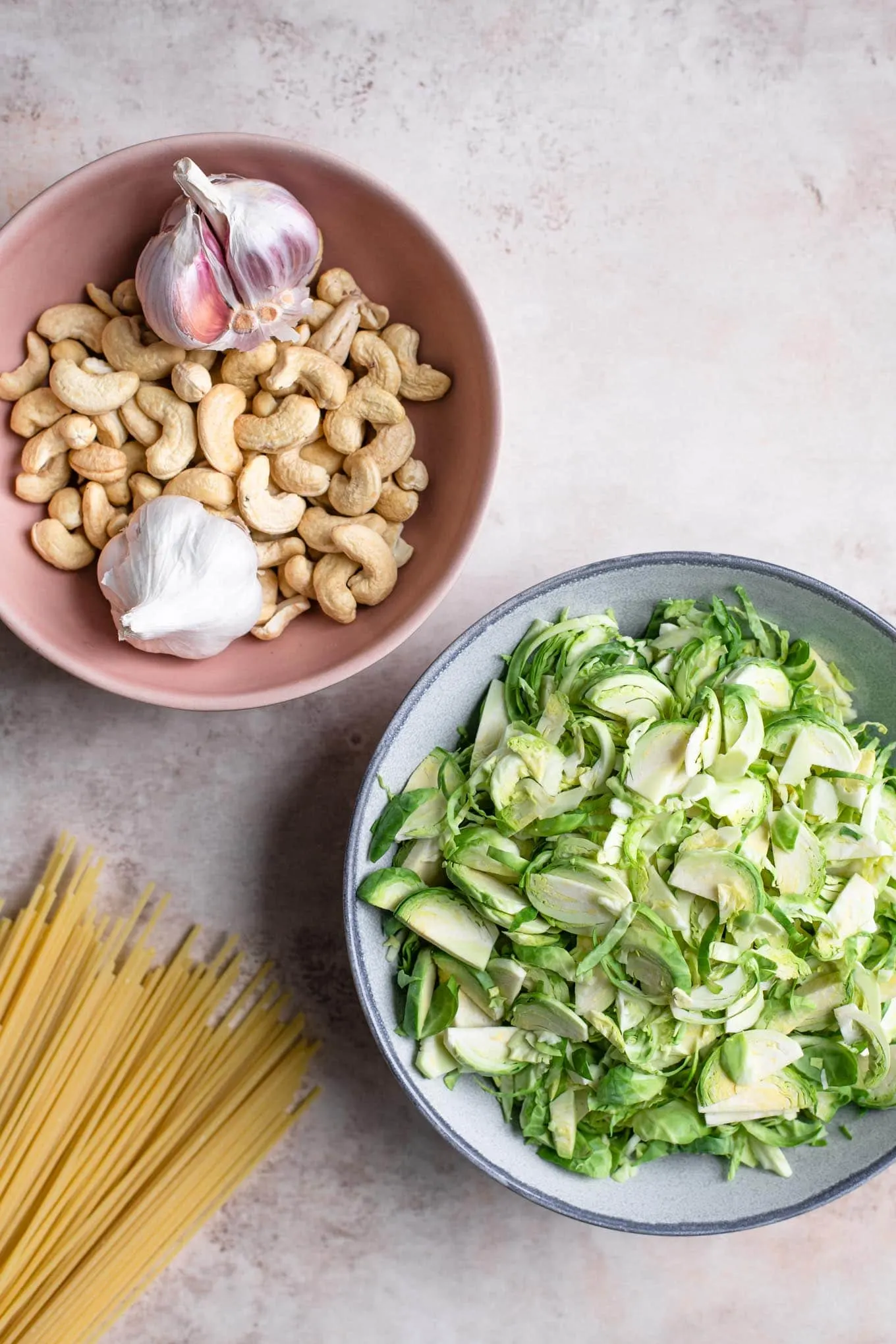 As silly as I'm being, I am dead serious when I say you need to try this vegan creamy garlic pasta with shaved Brussels sprouts! Immediately! Yesterday, if at all possible!
It's an easy vegan dinner that delivers big on flavor and makes a ton. It's so good for leftovers, menu planning, or big gatherings with friends or family!
The garlic sauce:
This recipe is adapted from my popular vegan garlic white sauce. It's as good on pasta as it is a pizza base!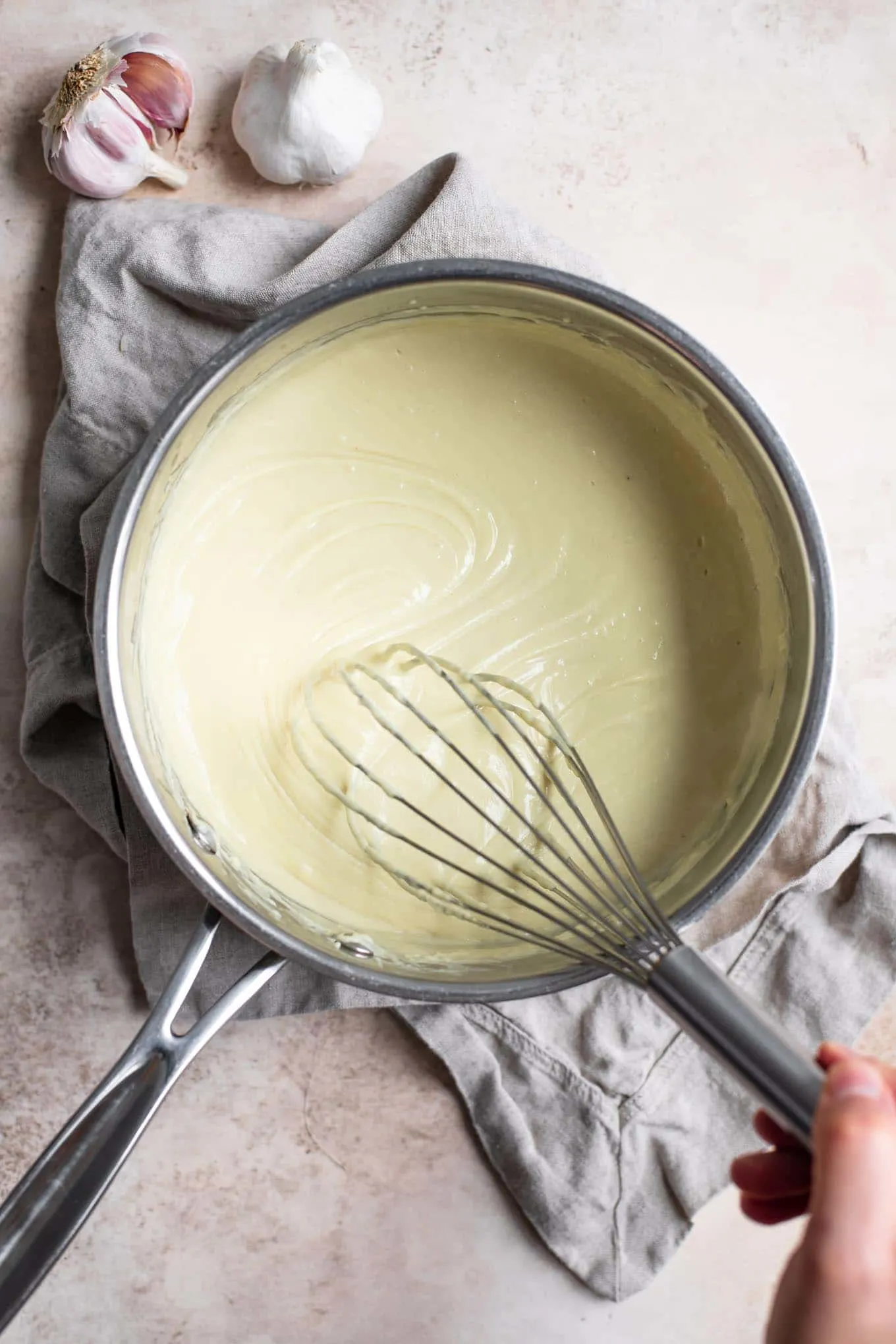 It's a cashew based sauce, which means it's super duper creamy with a luscious mouthfeel that is divine. Cashew makes for a mild tasting creamy base, it's light nutty flavor pairs well with savory sauces and Italian flavors.
Cashews can make a really smooth creamy sauce. However to make it at home you need either a powerful blender (like a Vitamin or Blendtec) or to soak the cashews in water to soften them before blending.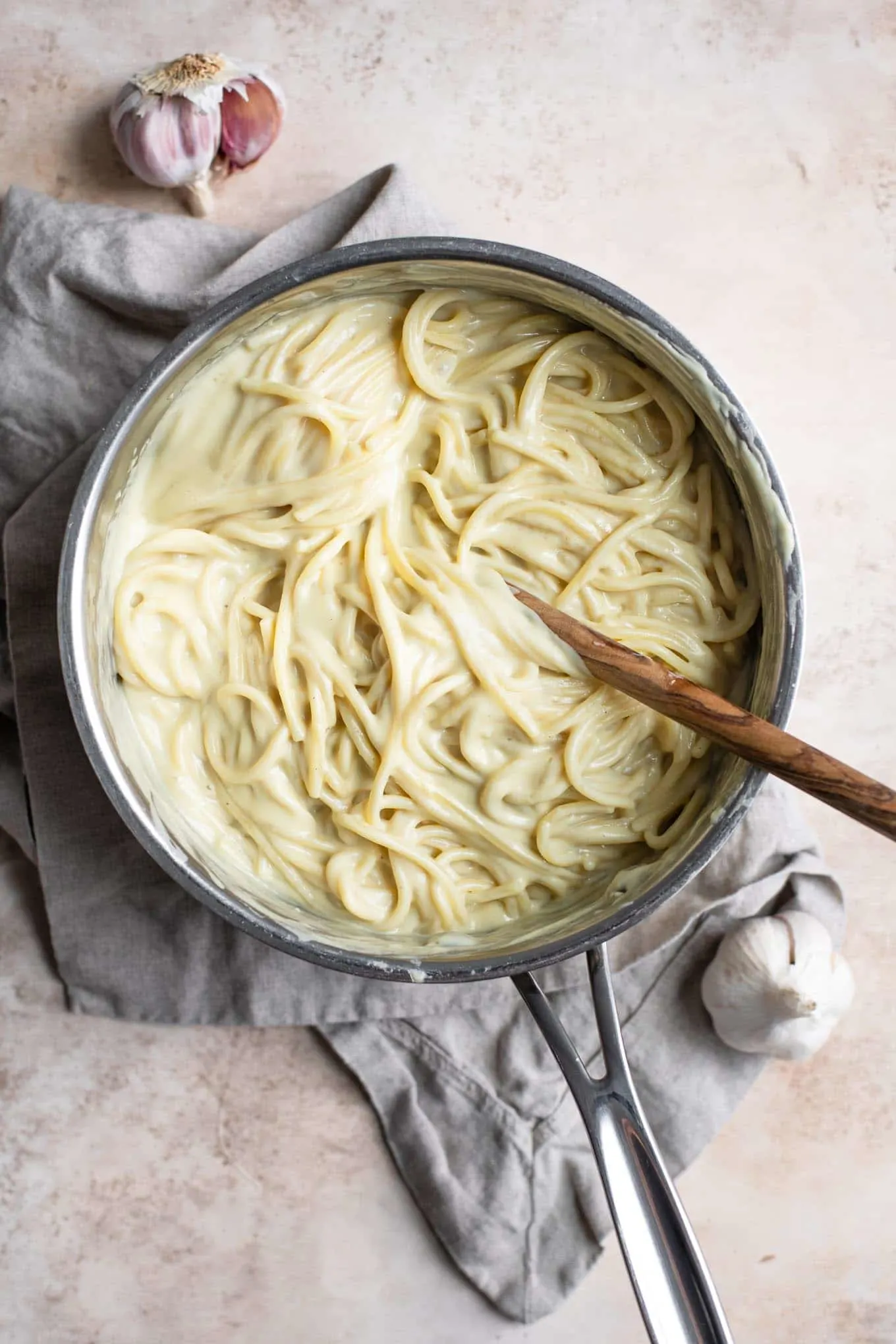 If crunched on time you can do a quick soak in boiling water. Either pour boiling water over the nuts and let sit for 30+ minutes or actually boil cashews in water on a pot on the stove for 10-15 minutes.
If you plan in advance you can soak the cashews for a couple of hours at room temperature (or overnight if refrigerated). Then when you're ready to use your cashews just dump out the old water and give them a quick rinse.
This recipe essentially makes a garlicky cashew milk, which then gets thickened with a buttery roux.
I add nutritional yeast to the sauce for a bit of a nutty, cheesy, umami flavor. If you prefer you can use store bought vegan cheese instead, either parmesan or mozzarella-style are nice.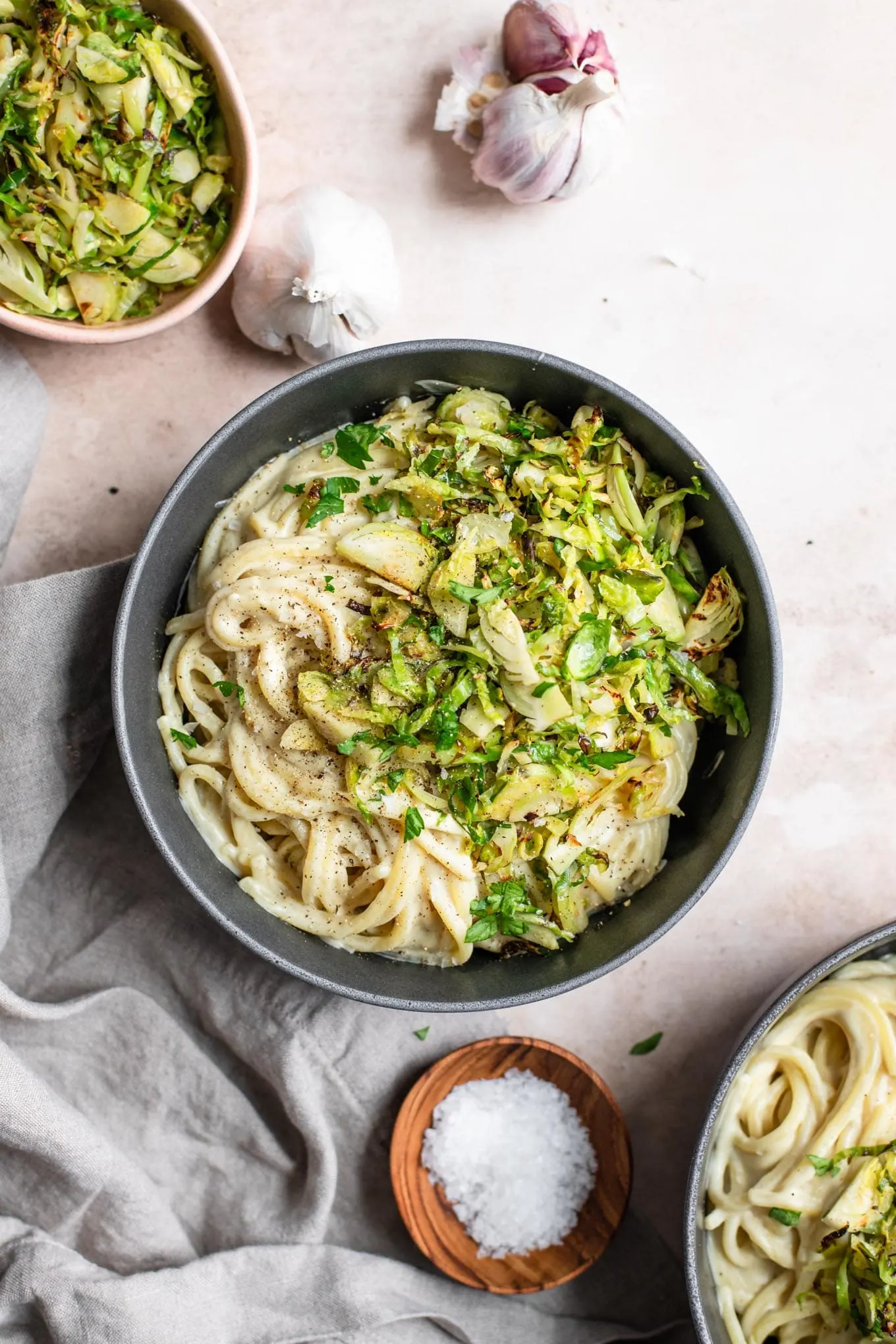 Can I make this without cashews?
Yes you can substitute almonds instead. I recommend using slivered almonds as these are already peeled.
You can also use sunflower kernels (shelled). These will have a more pronounced flavor, but I really love it.
Whether you use sunflower kernels or almonds, you will need to follow the same soaking steps if you do not have a high powered blender.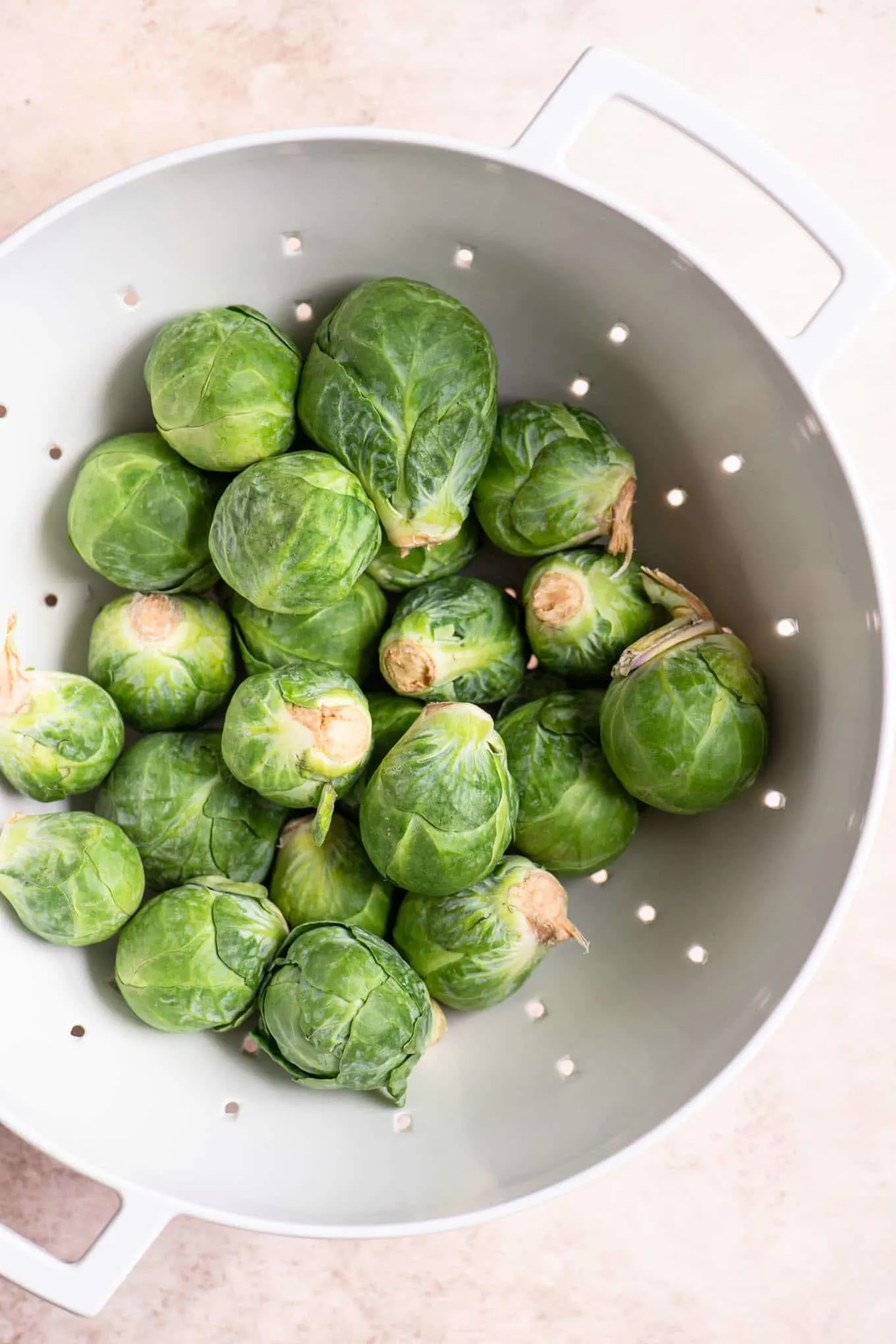 The shaved Brussels sprouts:
Ah yes, the second half of our recipe! It's all about cutting your sprouts here before cooking them to perfection!
Trim off the ends, slice the sprouts in half, then thinly slice. It doesn't have to be perfect cutting. Expect some leaves to fall off and that's ok. Cook those up too!
I really let the flavor of the sprouts shine through with this recipe. A little oil on a hot skillet (pick your biggest skillet, cast iron if you have it), the shaved sprouts, and a very generous pinch of salt.
Let the sprouts cook until they've shrunk, turned beautifully tender, and are charred and browned in spots.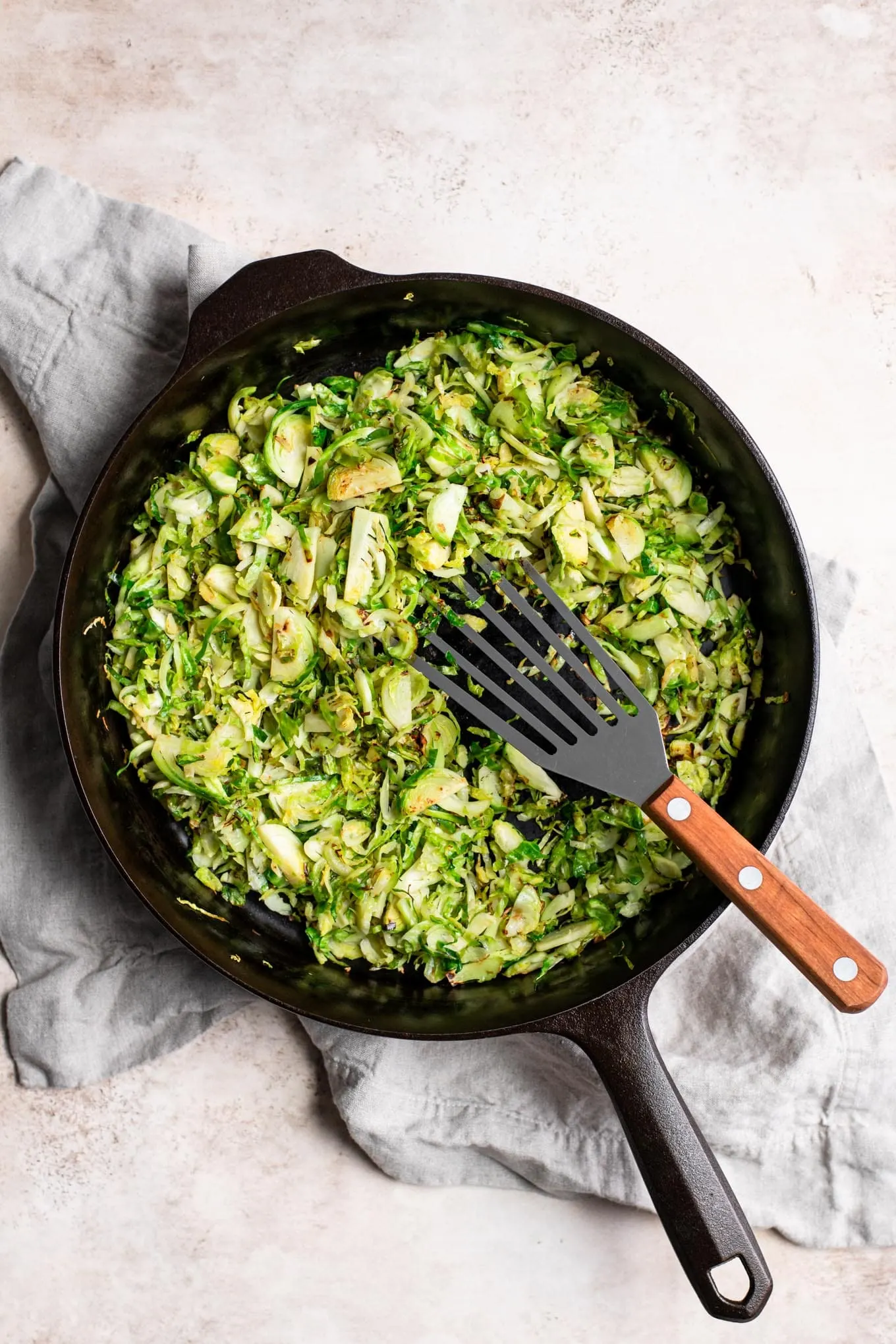 Put it together and you have, drumroll… Vegan creamy garlic pasta with shaved Brussels sprouts!
A mouthful to say, and let's face it, a mouthful to eat because just you try to take a dainty bite of this dish!
I like to toss cooked pasta (spaghetti duh, but you can use another noodle if you prefer) in the garlic sauce, with pasta cooking water to loosen the sauce as needed. Then taste & adjust for salt and serve the pasta up into bowls before topping generously with the sautéed shaved sprouts.
You could mix the sprouts into the pasta, and it does happen on your late and in your mouth, but I think it serves prettier when you keep them separate at first. But, up to you!
Finish with some vegan parmesan if you want, or just add flaked sea salt and freshly ground black pepper.
Dig in and enjoy, friends!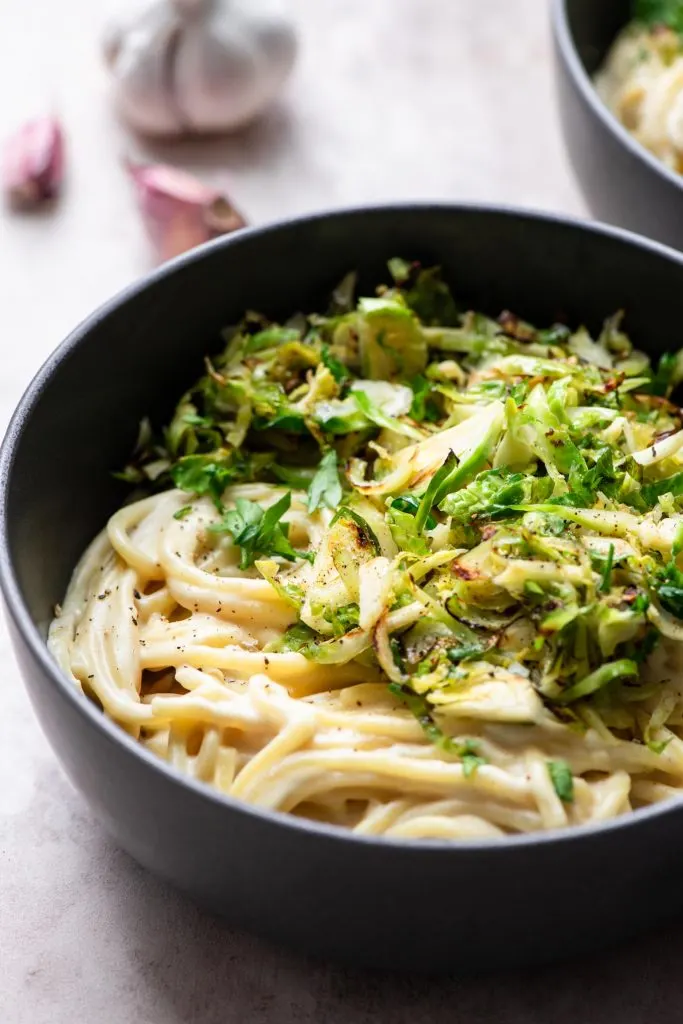 If you make this vegan creamy garlic pasta with shaved Brussels sprouts, leave a comment below and rate the recipe on the recipe card. And please share your photos with me on Instagram, tag @thecuriouschickpea and #thecuriouschickpea. I love seeing your recreations!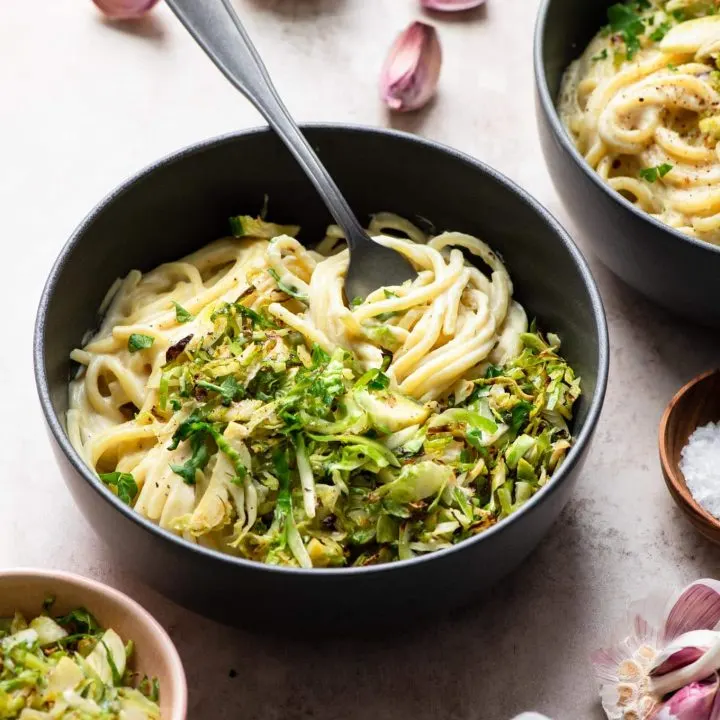 Vegan Creamy Garlic Pasta with Shaved Brussels Sprouts
This delicious vegan pasta tastes deliciously fancy but is so simple to make! It can be made gluten free if you use gluten free pasta and either a gluten free flour or starch (e.g. tapioca starch).
Ingredients
Garlic Sauce
1 cup raw cashews
3-5 cloves garlic, chopped
1/4 cup nutritional yeast or grated vegan parmesan
1/2 tsp salt
3 cups water
2 tbsp vegan butter
3 tbsp all purpose flour
Everything Else
1 lb spaghetti or other pasta shape
1 cup reserved pasta water
1 lb Brussels sprouts
1 tbsp oil
1/4 tsp salt
freshly ground black pepper, to taste
Instructions
Make the Creamy Garlic Pasta
Cook pasta in salted water according to package directions, drain and reserve 1 cup of pasta cooking water.
In a blender combine the cashews, garlic, nutritional yeast (or vegan cheese), salt, and water. Blend until smooth and creamy, pausing to scrape down the sides as needed. See note below if not using a powerful blender.
Melt the vegan buter In a medium pot over medium-low and add the flour. Let the mixture cook until the flour is golden and a couple of shades darker. Slowly pour in the garlic-cashew mixture while whisking to prevent clumps. Turn up the heat to medium and bring the sauce to a simmer and let it simmer until thickened.
Pour the sauce into the pasta and stir to coat. Add some of the reserved pasta water if necessary. Add salt and pepper to taste.
Prepare the Brussels Sprouts
Trim off the ends of the sprouts and remove any damaged leaves. Cut the sprouts in half, then thinly slice.
Heat the oil in a large skillet over medium heat and add the shaved Brussels sprouts with a 1/4 tsp of salt. Cook until the sprouts have wilted and shrunk in size, and are golden and crispy in areas, about 6-7 minutes.
To Serve:
Place the spaghettti in a serving dish or into individual bowls. Top with the cooked sprouts and serve!
Notes
If not using a high speed blender soak the cashews before blending to soften them. Soak in cold water at room temperaure for a couple of hours, or boil the cashews for 10-15 minutes to quick soak. Drain and rinse the cashews then use in the recipe.
Nutrition Information:
Yield:

8
Serving Size:

1
Amount Per Serving:
Calories:

297
Total Fat:

14g
Sodium:

372mg
Carbohydrates:

36g
Fiber:

4g
Sugar:

3g
Protein:

10g
Nutrition is calculated automatically so should be used as an estimate.