This vegan chocolate bourbon pecan pie is a chocolatey, maple scented pie with toasty pecans & notes of bourbon. Enjoy a slice or two with a scoop of non-dairy vanilla ice cream for an extra special treat!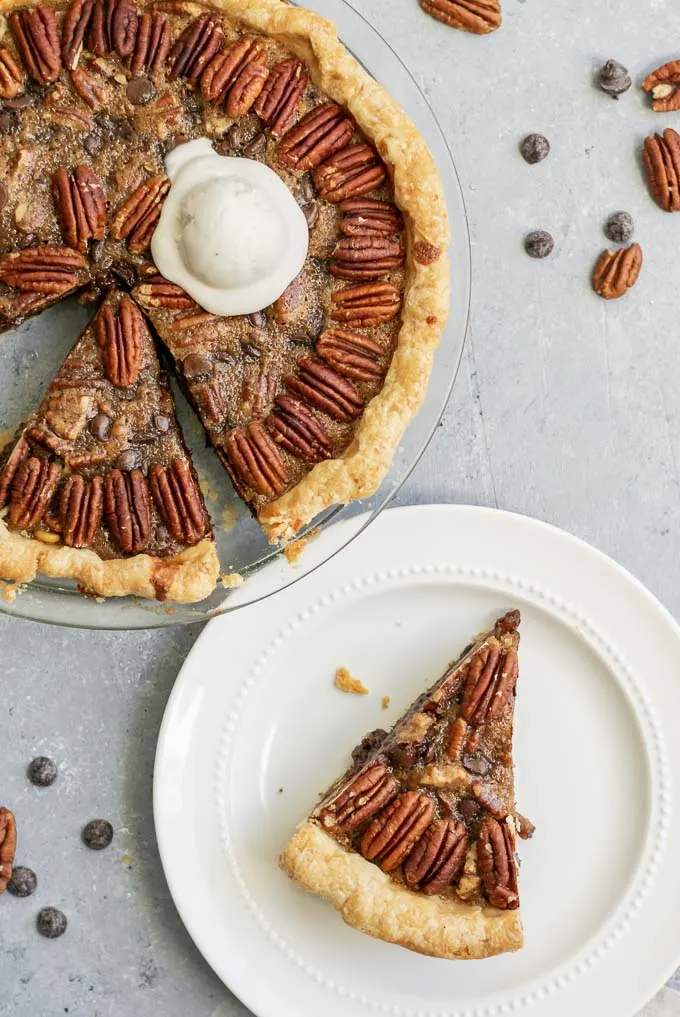 If you've never made a chocolate bourbon pecan pie you should probably stop everything you're doing and make this right now. It might just be the most delicious treat to ever exist! It kind of tastes like a warm and gooey giant cookie encased in a crisp and buttery crust. Sounds pretty perfect, right?
This isn't your average pecan pie. Those are typically goopy, saccharine pies made with corn syrup and eggs. Apparently they don't even contain chocolate! Which goes pretty far in explaining why I didn't think I liked pecan pie for most of my life.
But this pie is perfection. We're talking toasted pecans, bittersweet chocolate, maple-scented, bourbon infused pie. Nothing complicated, just good old fashioned flavor.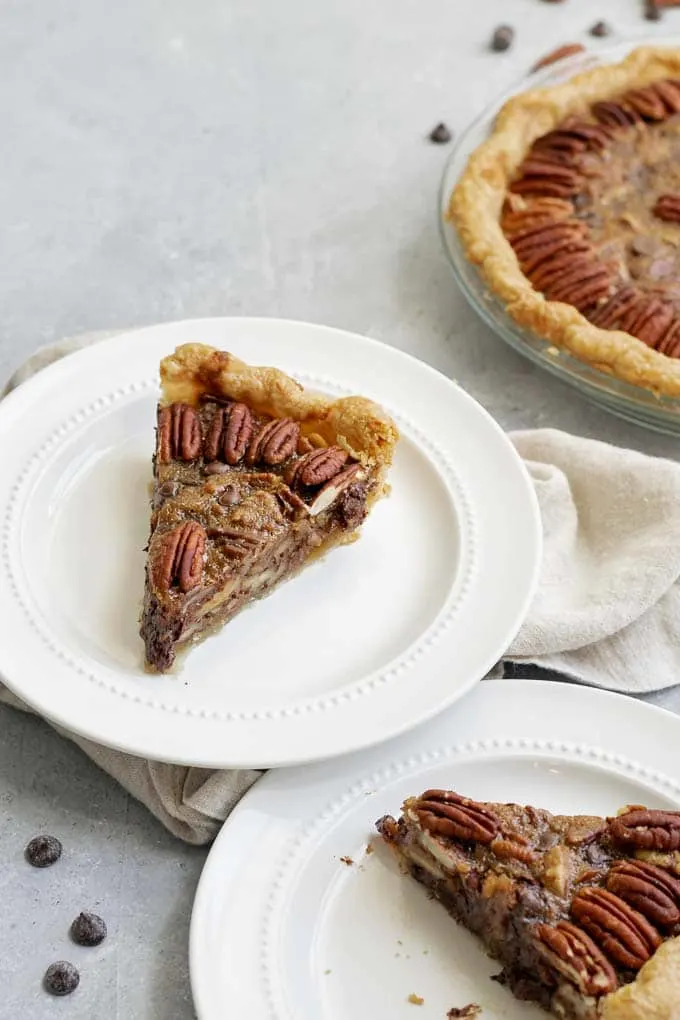 Making this pie is as easy as 1-2-3! First, start with a good pie crust. I'm partial to my easy vegan pie dough, but I suppose we can still be friends if you use store bought 😉 . This pie doesn't spend a ton of time in the oven so first we blind bake the crust so it is partially cooked before the filling is added.
Blind bake the pie dough:
Blind baking pie dough is a technique that's used when a pie is not going to be baked or is not going to be baked for very long. The crust is either parbaked or fully baked depending on the recipe. I recently adapted Stella Parks method of blind baking, where you use sugar for pie weights and bake for a long time at a low temperature.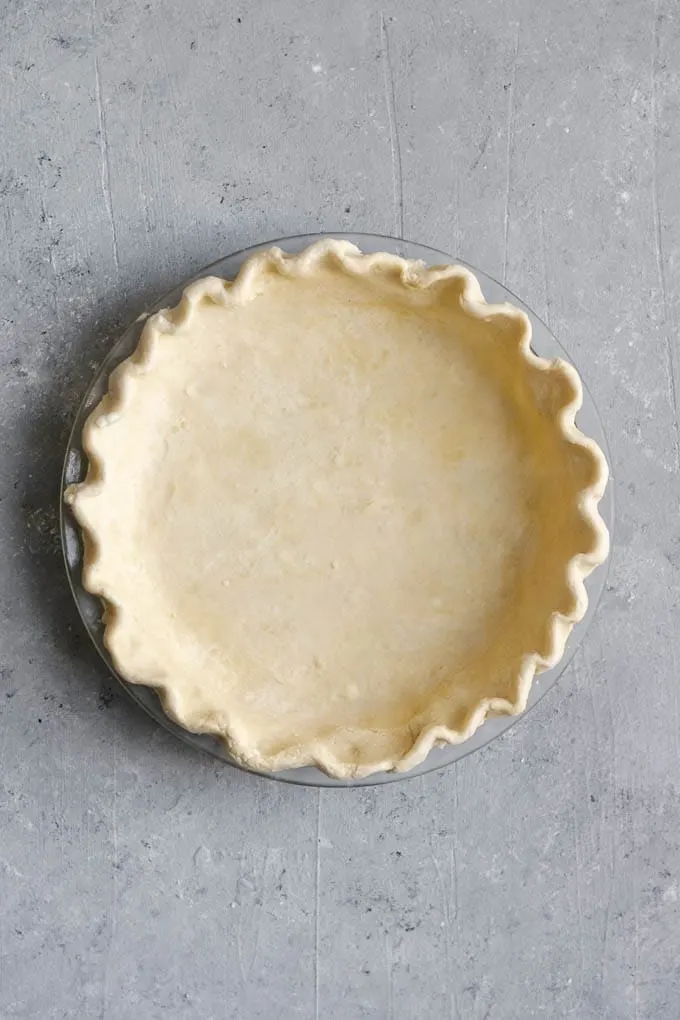 I find this method to work beautifully, though note a thorough chilling of your pie dough before baking is ideal to hold the shape of your crust. You want the gluten in the dough to be fully relaxed before it hits the oven or the heat will cause it to contract and expand and you'll end up with a slouchy pie.
Essentially take a well chilled rolled out and shaped pie dough and line it with aluminum foil. Then pour a bunch of sugar into the foil to fill the pie. Sugar settles in all the nooks and crannies to hold the pie dough in place while it cooks. Then bake the pie at 350 ºF for about 45 minutes until it's just starting to turn golden and is fully set. Take it out and let it cool enough to handle before removing the sugar.
The sugar can be used normally in recipes after this, or used to blind bake more pies. Eventually the sugar will start to caramelize and turn a pale golden at which point you can still use it and it's going to be damn good! I might actually retire those old beans I've been using for pie weights these past few years.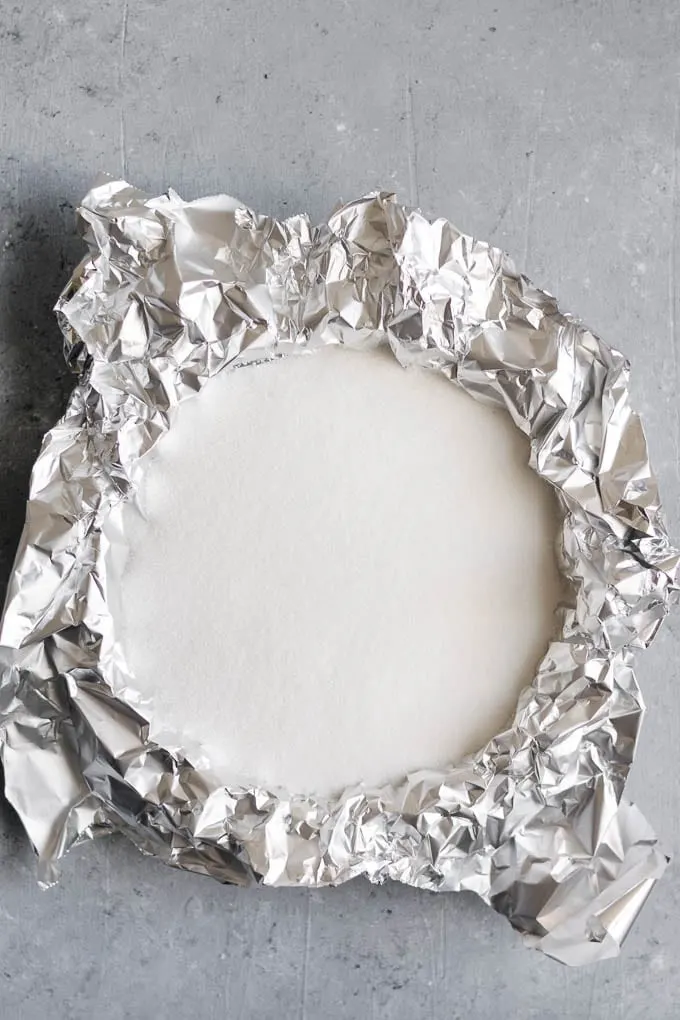 Make your chocolate bourbon pecan pie:
The first step to making this chocolate bourbon pecan pie filling is to toast the pecans. While this step might seem a little silly as the pie is going to be baked anyway, toasting the nuts adds a lot of depth and character to the pie. I just toast the nuts alongside the crust while it blind bakes which makes everything easy peasy.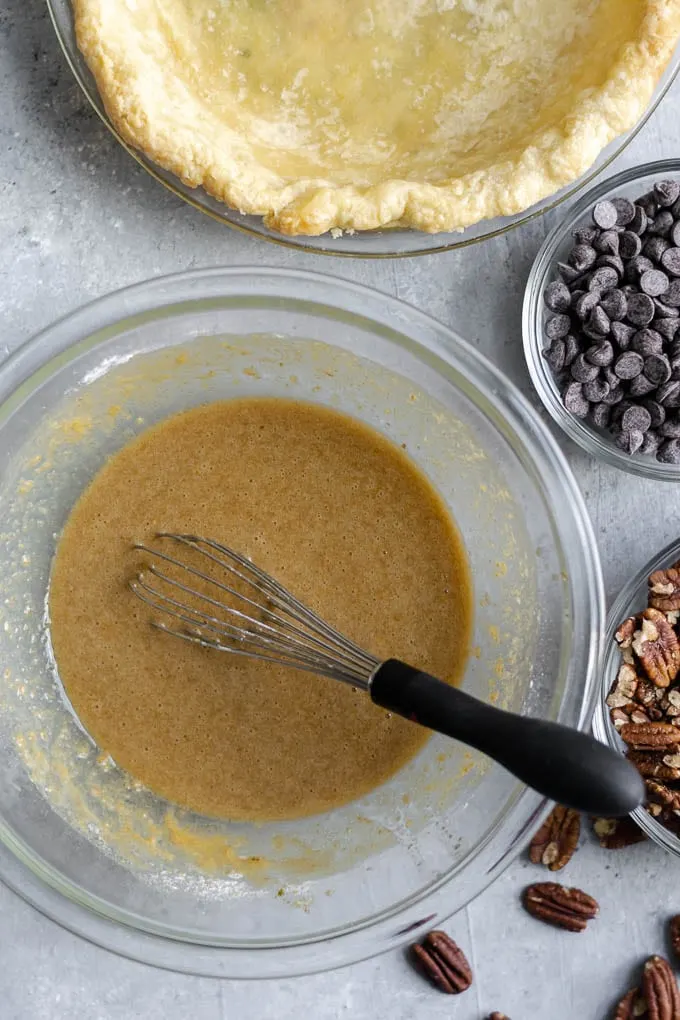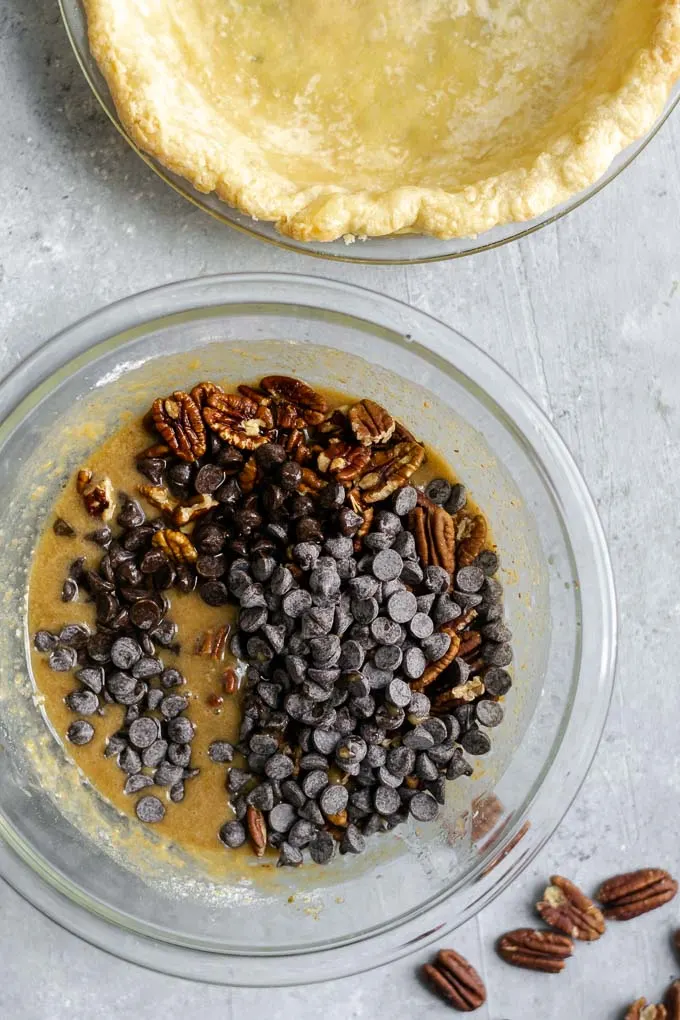 Start the rest of the pie after the crust comes out of the oven. Whisk up the flax and plant milk and let is sit for 10 minutes to activate the flax and create a thick, and yes, gloopy egg-like mixture. Then we stir in some melted vegan butter, brown sugar, maple syrup, and flour to create a sticky batter. To this batter fold in the toasted pecans (reserving some to decorate the top of the pie), chocolate chips, bourbon, and vanilla extract.
Transfer the pie filling to the par-baked crust, and decorate with some toasted pecan halves. Bake the pie for 35-40 minutes or until the center of the pie is set, then let cool before slicing into. This pie stays good for a day or two at a cool room temperature (meaning, it's perfect for making the day before a big feast–like Thanksgiving maybe??), if longer than that I'd stick it in the fridge. You can rewarm the pie to serve if you want that ice cream topping to get melty, about 15 minutes at 325 ºF does the trick!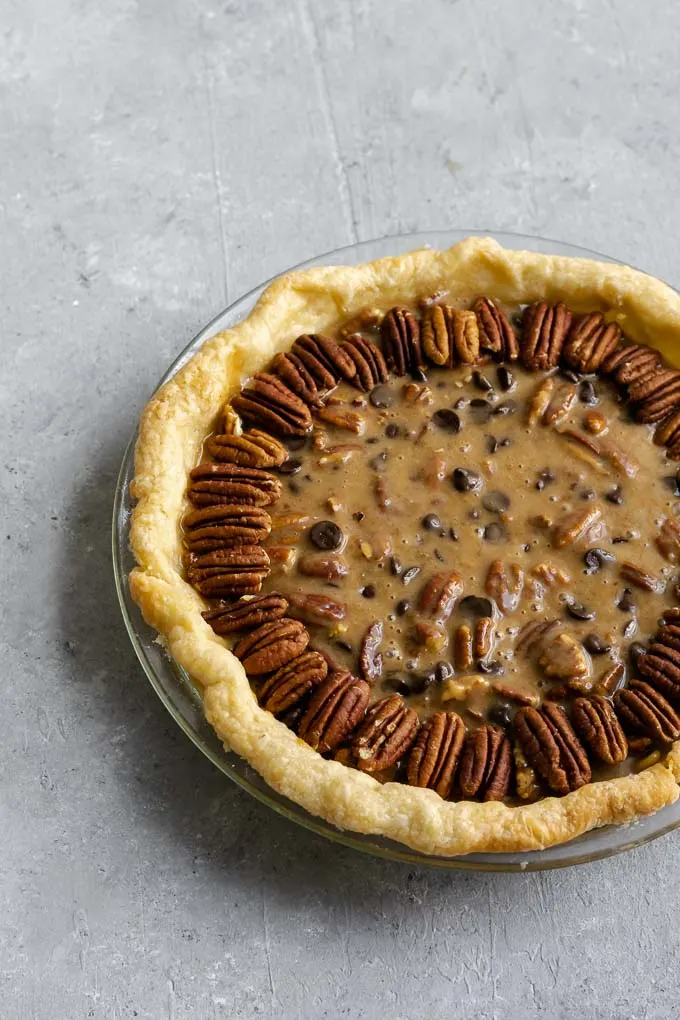 Now enjoy your pie!
This pecan pie might not be the one you grew up with, but personally I see this as a good thing. It's delicious, richly flavored, maple and vanilla-sweet. It pairs so well with a scoop of [vegan] vanilla ice cream or some whipped coconut cream.
Everyone loves this pie, vegan or not! And how could you not? The smell alone was enough to drive me crazy while I was standing over and photographing the pie. It was still faintly warm from the oven and wafting up the most delicious smells. Digging in at the end was one of the most satisfying food eating experiences.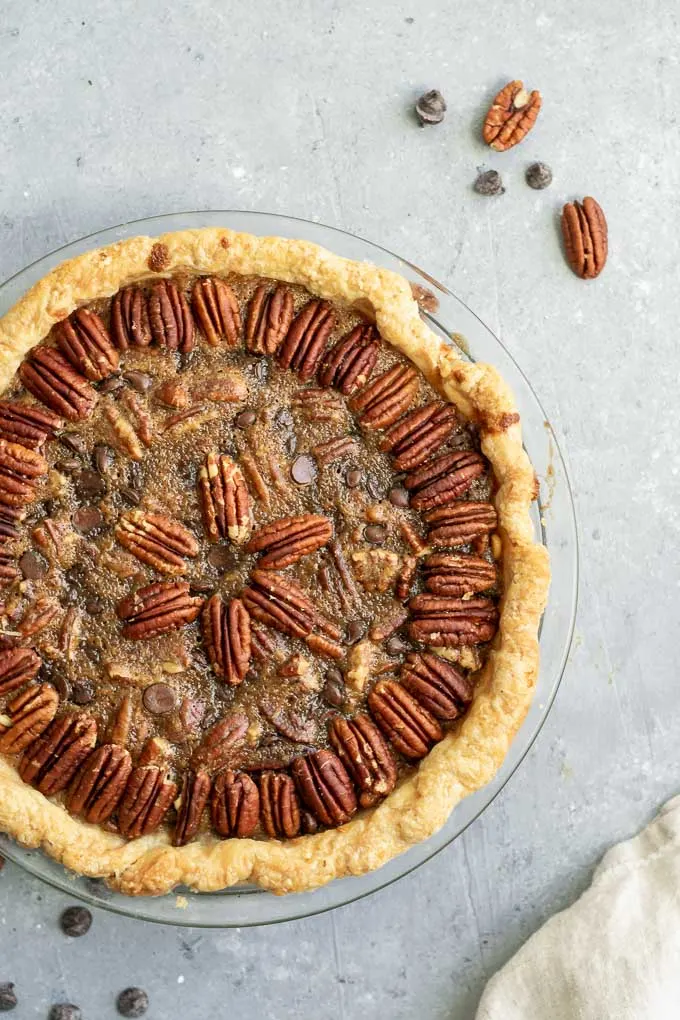 Some people might recognize this pie as being reminiscent of a Derby Pie, and in fact, I first became acquainted with this variation on pecan pie while researching Kentucky Derby foods. While I'm against celebrating the Kentucky Derby due to the mistreatment of the racehorses and the side business of horse slaughter, I was throwing a mini-benefit party with my friends to donate some money to a local Illinois (where I lived at the time) retired race horse rescue organization.
I'm a fan of bourbon so this recipe of course caught my eye and I had to make it! One bite and I was sold. This vegan derby pie (aka chocolate bourbon pecan pie) quickly became a regular in my repertoire, and from there found its way onto my family's regular Thanksgiving menu.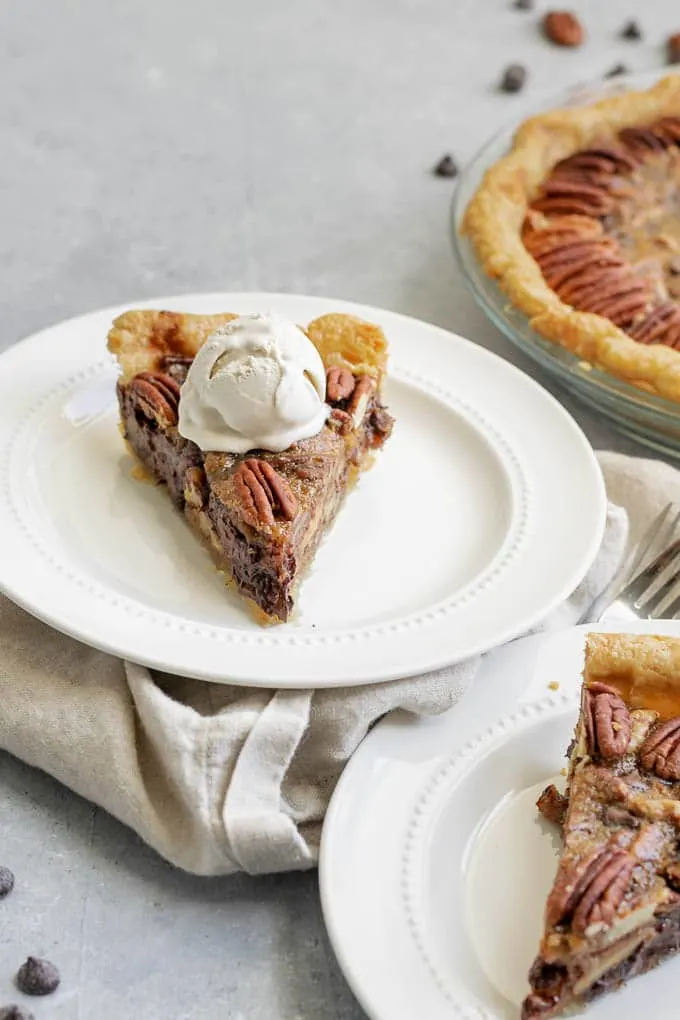 Whether or not you're a fan of traditional plain old pecan pie you need this recipe and chocolatey boozy pie in your life. I suppose if you need you can use less or no bourbon and still have an amazing pie, but the barrel-aged alcohol brings a robust depth of flavor to the pie that's just fantastic.
If I was hard pressed to pick a favorite pie, and I do hate being asked to choose favorites, this one might just be it! I hope you guys love it as much as everyone I've ever served it to does! Now don't be afraid of making pie and get to baking!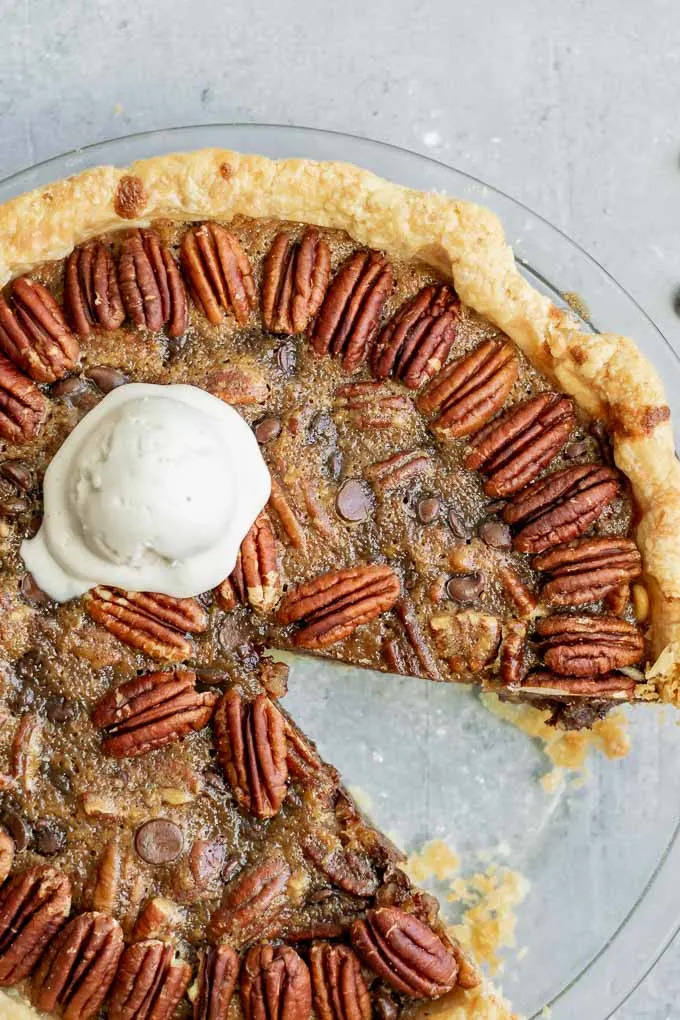 Let me know if you have any questions or leave a rating and comment if you've tried the recipe! Share your creations with me on Instagram, tag @thecuriouschickpea and #thecuriouschickpea, I absolutely love seeing your photos!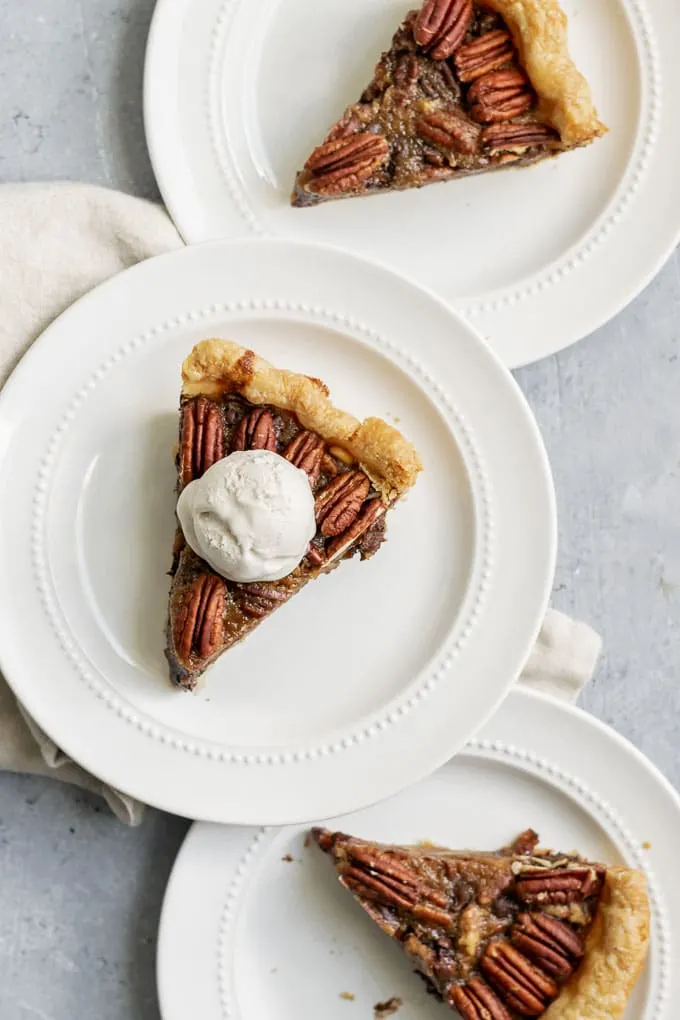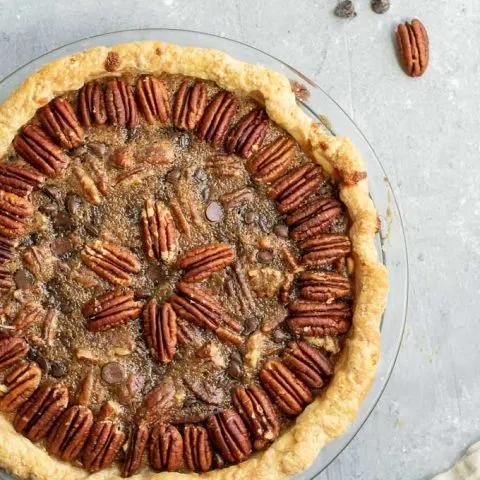 Vegan Chocolate Bourbon Pecan Pie
Prep Time, mostly hands off:
1 hour
Total Time:
1 hour
40 minutes
This vegan chocolate bourbon pecan pie is a chocolatey, maple scented pie with toasty pecans & notes of bourbon. Enjoy with a scoop of vanilla ice cream!
Ingredients
2 cups pecan halves and pieces
2 tbsp ground flax
6 tbsp plant milk
1/4 cup melted vegan butter
1/2 cup loosely packed brown sugar
1/4 cup maple syrup
1/2 cup all purpose flour
1 cup semisweet chocolate chips
3 tbsp bourbon
1 tsp vanilla extract
Instructions
Blind bake the pie crust:
Preheat the oven to 350 ºF.
Roll out the pie dough on a piece of parchment paper. Dust the parchment paper and the dough with flour and gently hit the dough with rolling pin to flatten it out and soften it a little to prevent cracking as you roll. Roll away from you and rotate the pie dough with each roll about 1/6" of a turn so that the dough is rolled out evenly and in a circle. Add more flour as needed as you rotate the dough to prevent sticking or flour your rolling pin if needed. If the edges crack just press them back together with your hands.
Once you've rolled the dough out to fit into the pie dish, fold it in half and then half again to create a triangle. Transfer this to the pie dish so the point sits in the middle of the pan and then unfold to fill the dish. Gently ease and don't stretch the dough to fit into the pan, then trim the excess from the edges, leaving about 1/2". Fold the dough under and crimp between your thumbs or press with a fork onto the edges of the pie dish.
Loosely cover the pie dough with plastic and place it in the freezer for about 30 minutes to thoroughly chill and firm back up. Once the dough is firm to the touch line the dough with aluminum foil and fill with sugar.
Bake the pie dough for 45 minutes, or until the dough is a pale golden color. It will get cooked further so we are only partially par-baking it. Remove from the oven and let cool for a few minutes before removing the sugar, which can be saved and baked with or used to blind bake more pies.
Make the chocolate bourbon pecan pie:
Toast the pecans while the pie dough is blind baking. Line the nuts on a baking tray and bake for 10-15 minutes or until they are a shade darker and small toasty. Let cool.
Whisk together the ground flax and plant milk vigorously for 30 seconds. Let sit 10 minutes to turn thick and gloopy.
Add in the melted butter, brown sugar, maple syrup, and flour and whisk to combine into a sticky batter. Fold in the chocolate chips, bourbon, vanilla extract, and 1 1/2 cups of the pecans, reserving a generous 1/2 cup to decorate the top of the pie.
Pour the batter into the par-baked pie crust and smooth the top. Arrange the remaining 1/2 cup of pecan halves along the rim and a few in the center to make a star shape.
Bake the pie at 350 ºF for 35-40 minutes, or until the filling is just set. Let cool completely before serving.
Notes
You can use either pecan halves or halves and pieces, but note you'll want to save the full halves for decorating the top of the pie.
You can use a store bought pie crust if you prefer, still follow the instructions to blind bake.
Recipe adapted from Food & Wine and Your Vegan Mom.