These are a delicious vegan version of your classic apple cider donuts. Fried, not baked, they're crispy on the outside and soft on the inside and infused with plenty of delicious apple cider flavor.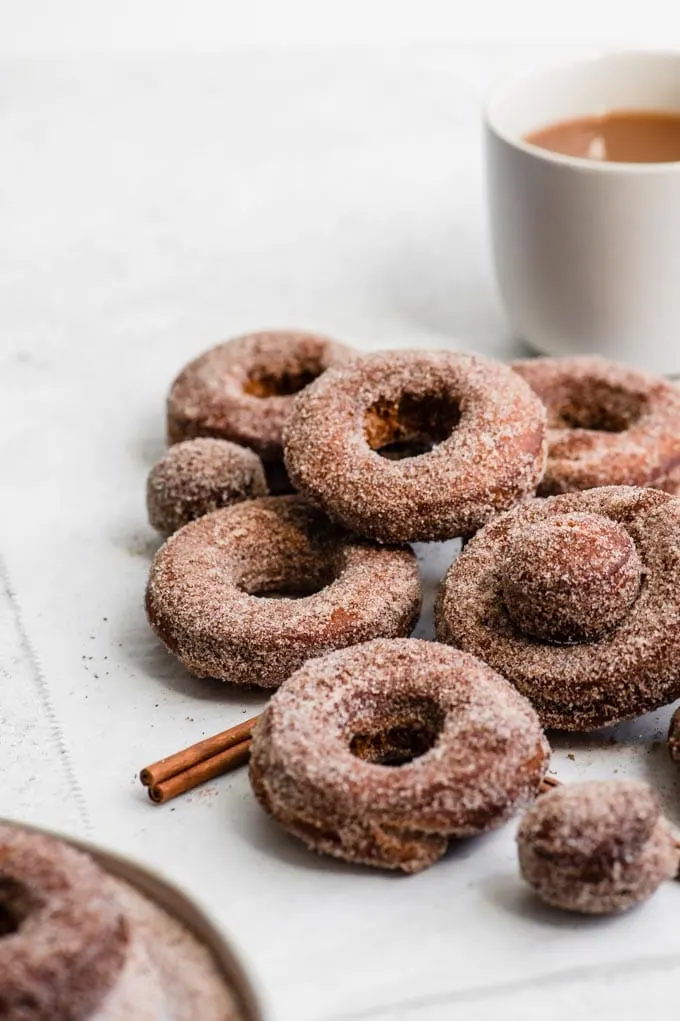 Apple cider donuts are made with apple cider, and no, I'm not talking about the alcoholic cider, but the freshly pressed, unprocessed, cloudy apple juice. The good stuff (no shade to hard cider tho)!
Nothing says fall like apple picking, pumpkin patch visiting, and still-warm apple cider donuts. And while my days of buying cider donuts at my local orchard are over (at least until vegan donuts take over the world), with this recipe I can bring the orchard home and make my own!
They're a soft apple flavored cake donut, with an almost crispy crust–often enhanced with a cinnamon sugar coating.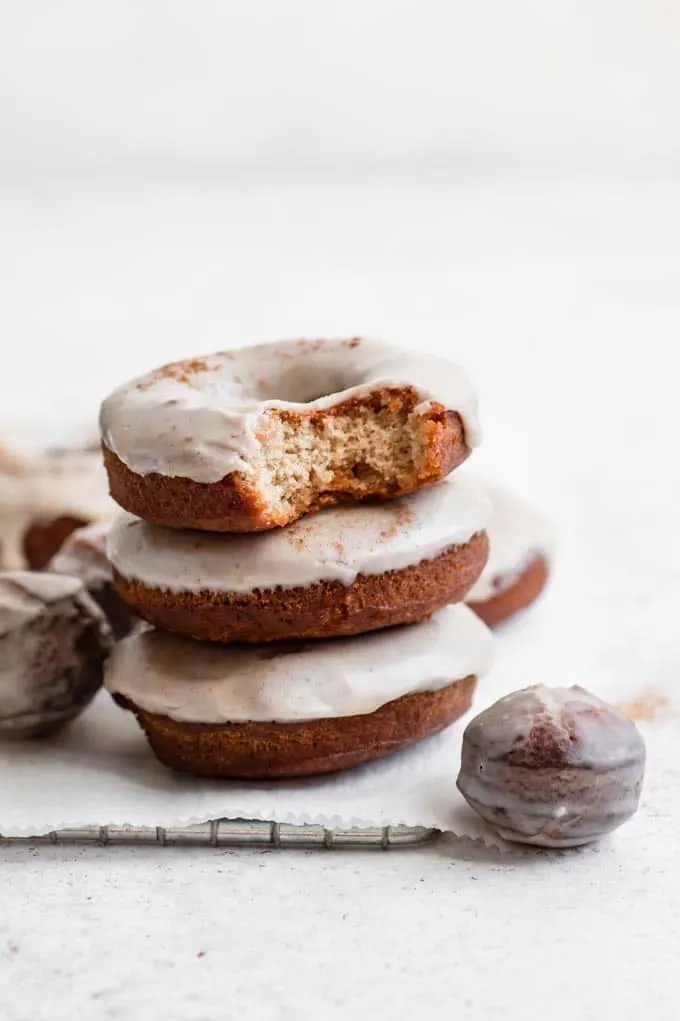 Apple cider donuts without a doubt are the one exception* to yeasted doughnuts being the only doughnut worth making or eating!
*Ok, I also have a soft spot for chocolate cake donuts with vanilla glaze. And maybe for chocolate frosted vanilla cake donuts à la the Entenmann's Rich Frosted Donuts–but that's nostalgia talking!
I'll be honest with you, despite my yeasted doughnut prowess, these cake donuts gave me a run for my money. Trying to veganize existing non-vegan recipes was not the most straight forward process. But I did it! And so now you can do it too!
Infusing the donuts with apple flavor:
So the most important part of an apple cider donut is that it is apple-y tasting. Cider donuts are not overpowering in their apple flavor, like we're not eating apple candies here, but you do get that sweet tart fruity flavor in every bite.
To really get that flavor in there I add apple in two parts: through apple cider and using apple butter.
The apple cider is reduced by half to concentrate the flavor. Some recipes require you to reduce even further, but I like the liquid in these donuts to come from the cider and not from another source like milk.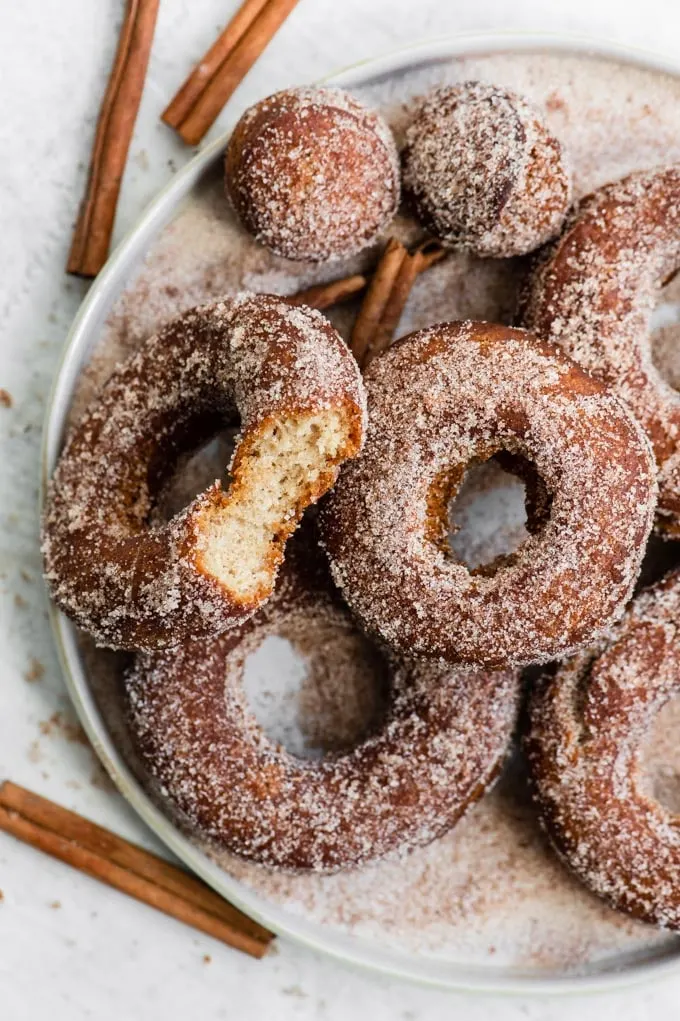 Instead, I add apple butter to these donuts. Apple butter is simply apples cooked down until their sugars caramelize and they make a velvety spread.
I have a homemade apple butter recipe which is always fun to make, but you can also buy this at the store. If you must have a short cut for apple butter, take store bought apple sauce and cook it down by about half.
If you don't want to do that, you can make this recipe with just the reduced apple cider, but you'll get a bit less apple flavor as a result. In this case you'll need to increase the reduced cider to 3/4 cups.
I find that having these two sources of apple flavor makes for the best cider donuts, so even though it does make the recipe a bit more complicated (as you have to source or make apple butter), it's worth it!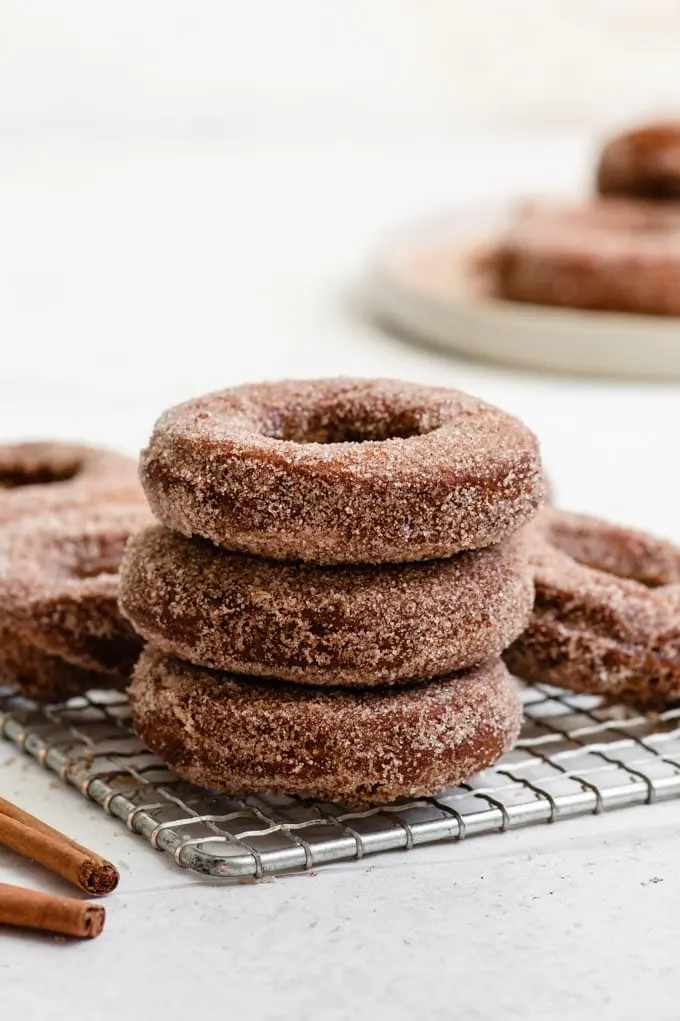 The cake donut base:
Apple cider donuts are cake donuts, not yeasted donuts. As such they have a soft crumb interior that's enriched with sugar and fat.
The base is made of vegan butter, creamed with sugar. The butter helps keep that cakey texture after frying, as it is a solid fat at room temperature. Creaming it with the sugar helps dissolve the sugar and add some air into the batter.
Traditional cake donuts include egg, and my vegan version includes egg replacer. I don't typically develop my recipes around store bought egg replacers, but sometimes they really are the best option.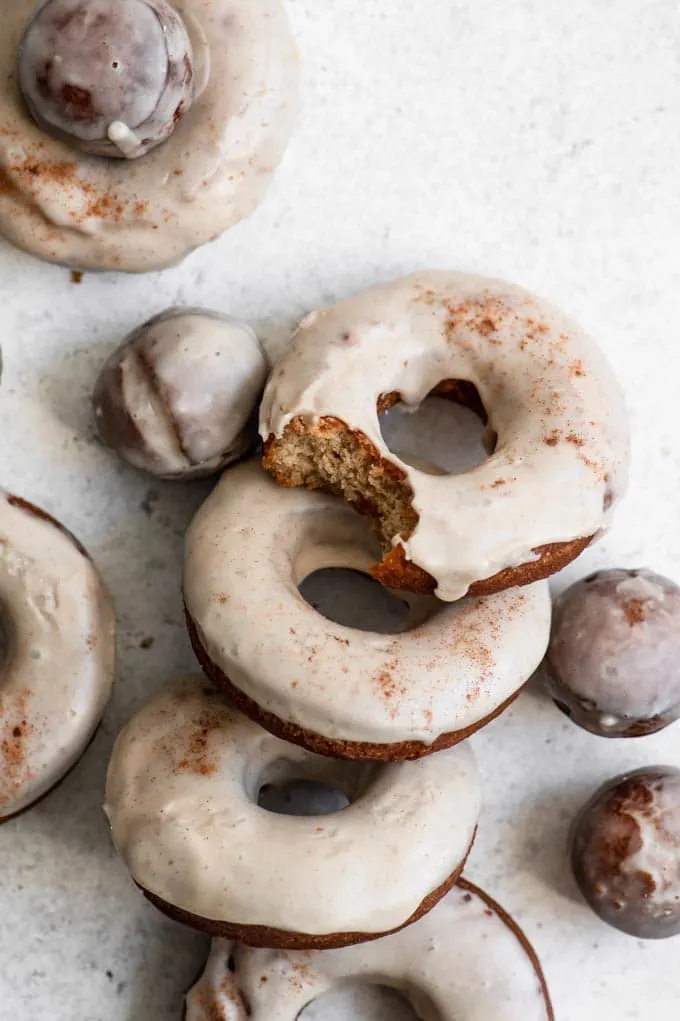 Store bought egg replacers like Bob's Red Mill Egg Replacer and Ener-G Egg Replacer consist of a combination of starches, namely potato starch and tapioca starch. They also contain some leavener as well as thickener, but these are less essential for our donuts.
The starches in the egg replacers help tenderize the dough and act as a binder. They make the dough easier to work with and improve the texture of the final doughnuts.
While I did test flax eggs, I was not happy with the result, so I really recommend you use the starch based egg replacer! If you must, you can replace the egg replacer with starch (such as potato, tapioca, or cornstarch), substituting 1 tbsp starch mixed with 2 tbsp water for each egg replacer egg. It gets convoluted, I know.
The main leavening of these donuts comes from baking powder and baking soda.
To flavor the donuts we add the reduced apple cider, apple butter, salt, the warming spices cinnamon, nutmeg, and allspice as well as vanilla extract.
The process of making the donuts:
Boil the apple cider to reduce it by half.
Mix together the egg replacer eggs and set aside. In a mixing bowl whisk together the flour (starting with the smaller amount of 3 cups), baking powder, baking soda, salt, and spices.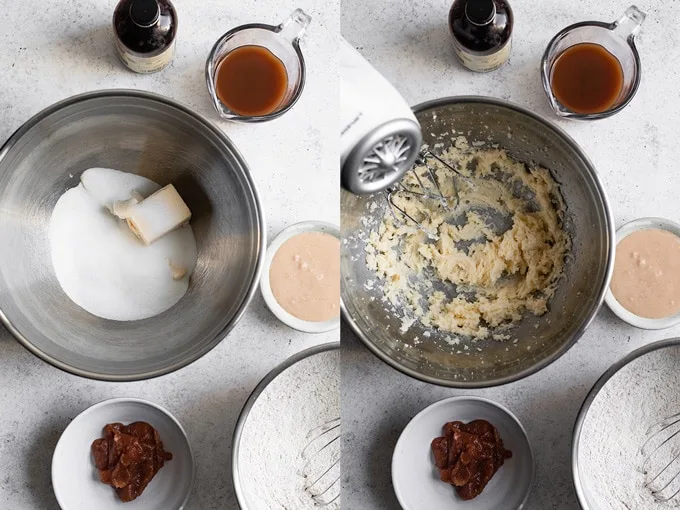 Beat the vegan butter and sugar together until fluffy, add the vegan egg, beating to combine, and then the reduced apple cider, apple butter, and vanilla extract.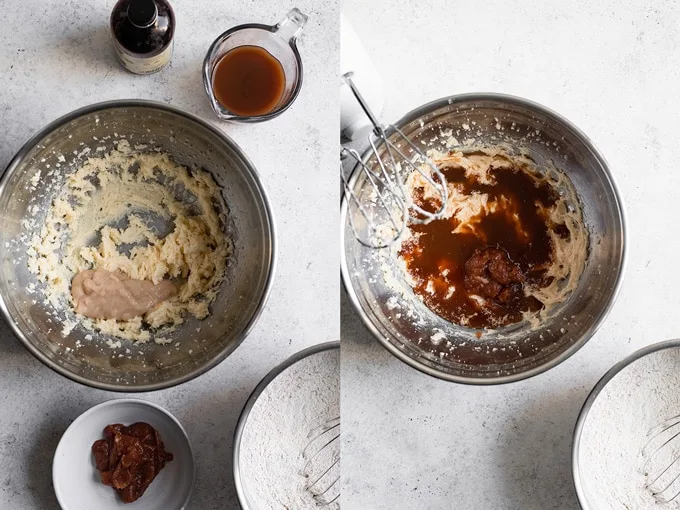 Add the dry to the wet in batches, mixing between each one to combine. Once all the flour has been added, check the dough and likely add some to all of the last 1/2 cup of flour.
You want the dough to be just tacky, but still soft and pliable. I like to knead the last bit of flour into the dough by hand to check the texture. It's not a yeasted dough and we're actively not trying to over develop the gluten in the flour so it won't feel like bread dough.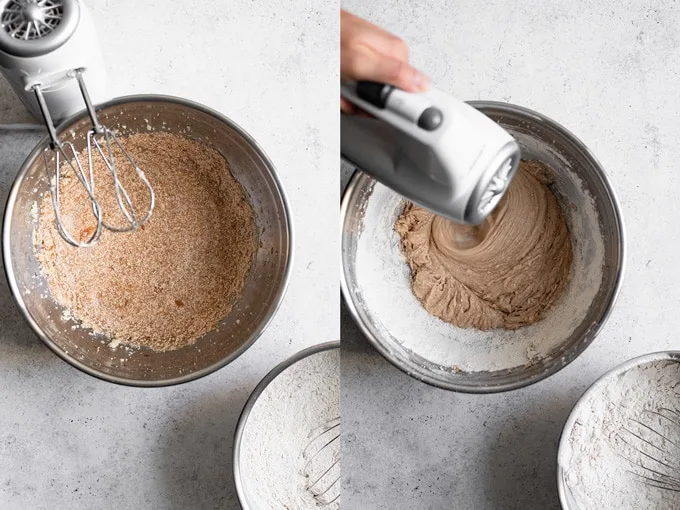 As there is no yeast the dough does not require any rising time, but it does require a rest. Cover the dough and place it in the fridge for about an hour so that the gluten in the dough has a chance to relax after our mixing and the flour has a chance to hydrate. This will make the dough easier to handle for rolling and cutting.
Once the dough has rested in the fridge, roll it out on a floured counter or parchment paper and cut using either a doughnut cutter or a ~3″ round cookie or biscuit cutter and a 1″ one. Collect the scraps and donut holes and reroll and cut until you've used up all the dough. I like to save some doughnut holes at the end for easy snacking!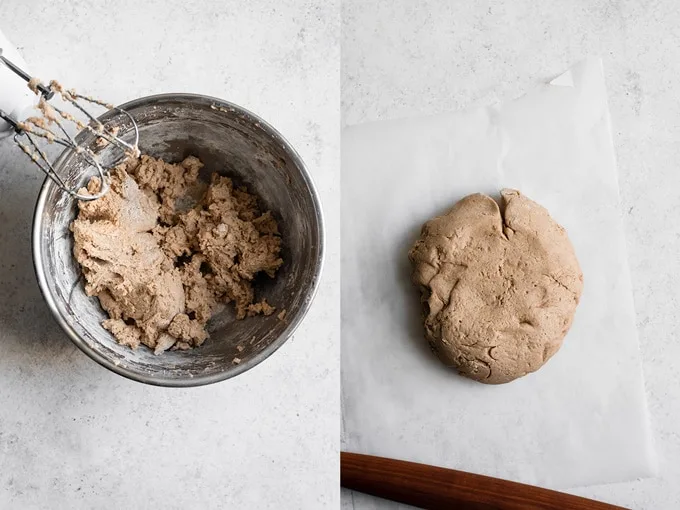 Frying the cider donuts:
These are not baked donuts. And I'm not apologizing for that! If you want a baked vegan cider donut, they seem to be all the rage on the internet, so it'll be easy to look one up! Can you bake this dough? I'm not sure.
Donuts are traditionally fried, and since I'm trying to make a traditional cider donut here, mine are fried as well.
Tips for frying: use a large and deep pot and use plenty of oil. The deep pot keeps oil from splattering all over your stove and minimizes mess. The large size and large amount of oil keeps the temperature more stable so that it doesn't cool down the oil too much as you add the dough. If you have a deep fryer, great, use it!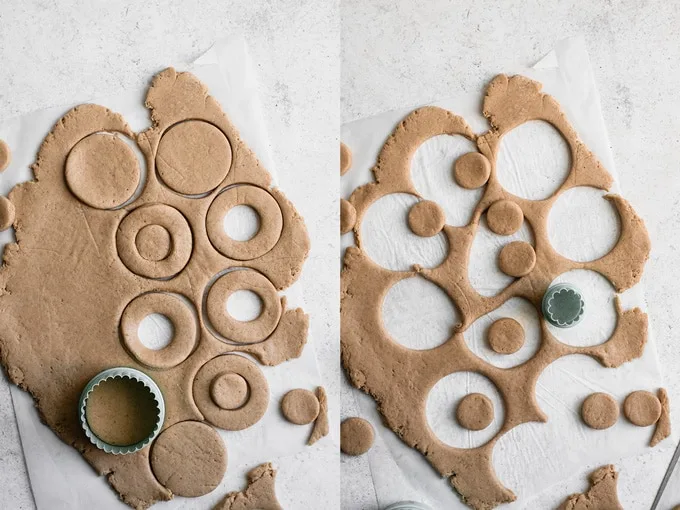 You want to keep the temperature of the oil to a consistent 350 – 365 ºF. Cooler and you end up with a soggy and oily doughnut. Hotter and you'll crisp the outside before the inside cooks.
With that said I recommend you use a instant read thermometer. They make ones just for deep frying! Or you can use a probe thermometer.
For the oil make sure to use one rated for high temperatures. This includes expeller pressed canola oil, safflower oil, or generic 'vegetable oil.' Now, I always use a combination of canola oil and vegetable shortening–about half and half.
My grandmother always used some to all vegetable shortening when deep frying because when it cools it's solid so the food feels and tastes less greasy.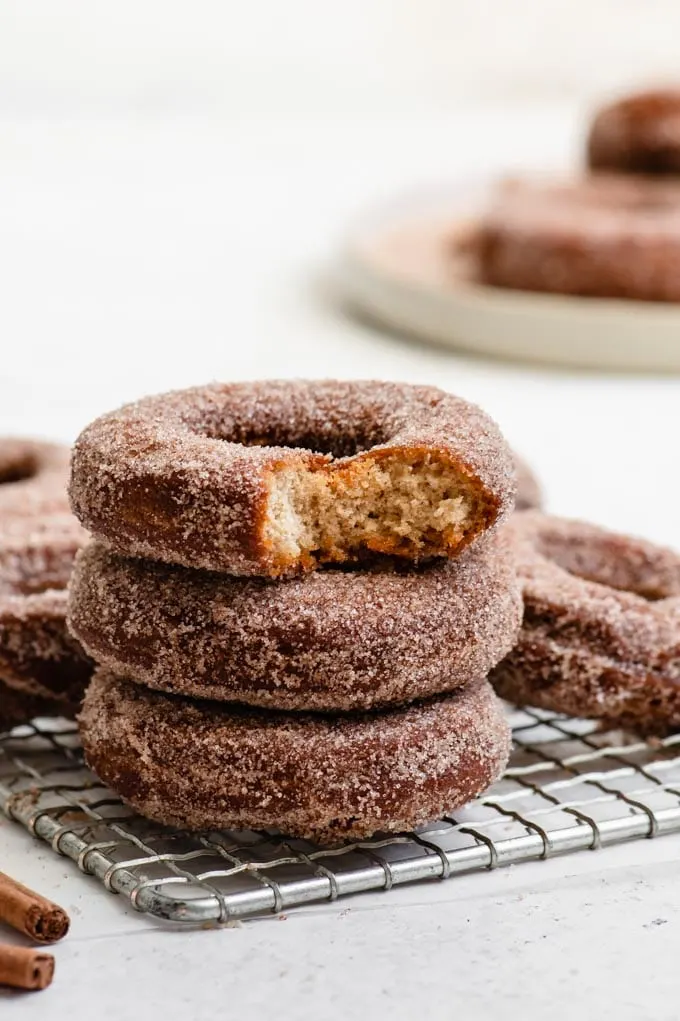 On my gas stove I heat the oil slowly over low to medium-low heat so that once it reaches 350-360ºF it keeps that temperature and doesn't continue to heat up past it.
It's really not hard to deep fry, and hopefully these tips will help you!
Once the oil is heated, carefully place the cut donuts into the oil, 2-4 at a time depending on the size of your pot or fryer. Do not overcrowd the pot as this will cause the temperature to lower and the donuts will not turn out!
Fry for about 1 1/2 minutes on each side, but most importantly monitor the color of the donuts. They should be a dark golden brown. These cake donuts brown darker because of the darker ingredients in the dough–apple cider and apple butter as well as the spices. The sugar in the dough caramelizes in the oil and helps darken them as well.
Once the doughnuts are dark golden on each side, you can insert a probe thermometer into the dough, about halfway in. The temperature should be over 185 ºF. This lets you know the inside got hot enough and cooked!
Strain the donuts from the oil and place on a paper towel lined plate or tray to absorb the excess oil. Repeat with the remaining donuts until you've cooked them all!
Finishing the donuts:
You can serve apple cider donuts as is, or coat them in a cinnamon sugar or a simple glaze. I've included options for both the cinnamon and nutmeg infused sugar and a maple cinnamon glaze.
If coating in sugar, you'll need to dip them into the cinnamon sugar while the donuts are still warm.
If coating in the glaze, you'll need the donuts to cool down first, then dip them in and give the glaze a chance to set.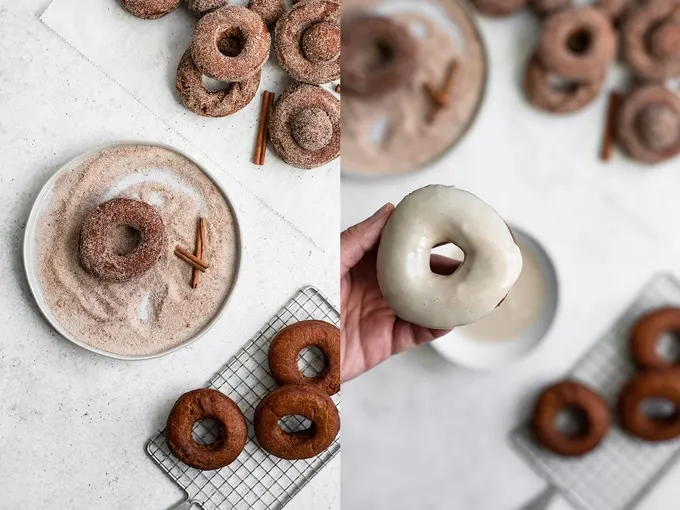 I hope you enjoy these vegan cider donuts! They're such a special treat, and give the best fall vibes. Plus they make your home smell AMAZING! They're best eaten the same day they're fried, but you can always 'freshen' day old or two day old donuts with a quick zap in the microwave.
You can freeze extra, then defrost at room temperature and toast in the toaster oven or oven to recrisp a bit.
If you make these vegan classic apple cider donuts, leave a comment below and rate the recipe on the recipe card. And please share your photos with me on Instagram, tag @thecuriouschickpea and #thecuriouschickpea. I love seeing your recreations!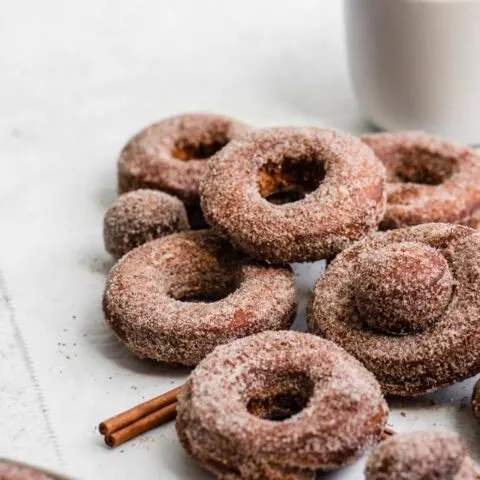 Vegan Classic Apple Cider Donuts
Yield:
16 donuts plus some donut holes
Total Time:
1 hour
30 minutes
Delicious homemade orchard style apple cider donuts. A perfect fall treat!
Ingredients
1 cup apple cider, boiled down to 1/2 cup (140g)*
3 - 3 1/2 cups (420 - 490g) all purpose flour
1 tbsp (12g) baking powder
1/2 tsp (2g) baking soda
1 tsp (5g) salt
1 tsp ground cinnamon
1/2 tsp ground nutmeg
1/3 tsp ground allspice
6 tbsp (84g) vegan butter (sticks not tub)
1/2 cup (110g) granulated sugar
2 prepared vegan egg replacer eggs, such as Bob's Red Mill or Ener-G*
1/4 cup apple butter, store bought or homemade
1 tsp vanilla extract
oil for frying, such as expeller pressed canola oil, safflower oil, or a mixture of oil and vegetable shortening
Cinnamon Sugar
1/2 cup sugar
1 1/2 tsp ground cinnamon
pinch of ground nutmeg
Maple Glaze
1 1/2 cups powdered sugar, sifted
1/4 cup maple syrup
1/4-1/2 tsp maple extract (optional)
pinch of salt
2 tbsp plant milk, or less, added as needed
Instructions
Whisk 3 cups (420g) flour, baking powder, baking soda, salt, cinnamon, nutmeg, and allspice together. Set aside.
In a large mixing bowl or a stand mixer beat together the vegan butter and sugar until light and fluffy. Add the prepared vegan egg replacer (equivalent to two eggs) and beat to mix together. Add the boiled apple cider, apple butter, and vanilla extract and beat to combine. It may look a bit split at this point but that's ok.
Add the dry mixture to the creamed butter in 3 parts, beating to mix between each addition. Once it's all been added and mixed together, check the consistency. If the dough is very sticky add more flour, up to 1/2 cup (70g) extra until it's soft and lightly tacky but not wet feeling.
Cover the dough and refrigerate for 45 minutes to 1 hour.
Prepare to deep fry. In a large pot add 2" of oil suitable for deep frying. Turn the heat on low and warm the oil to 350 ºF.
Roll the donut dough out on a lightly floured counter or a lightly floured large piece of parchment paper to 1/4" thick. Cut the dough into donut shapes with a donut cutter or two round cutters, one about 3" and the other about 1". Collect the scraps and the holes and gently knead to recombine. Roll these out and cut, repeating until you've made as many donuts as you can, plus a few donut holes.
Fry the donuts in the oil until they are a dark golden, about 2 1/2 - 3 minutes, flipping halfway through. You can check for doneness by inserting a probe thermometer into the donuts and they should read at or over 185 ºF.
Transfer the donuts to a paper towel lined plate to drain.
If coating with cinnamon sugar: whisk together the sugar and spices in a bowl, and dip the donuts in while they are still warm.
If coating in maple glaze: Whisk together the glaze ingredients in a bowl starting with no added milk. Add the plant milk in increments of 1 or 2 teaspoons until you have a thick and spreadable glaze. Dip one side of the donuts into the glaze once the donuts have cooled. Set on a plate or tray to catch any drips and let the glaze dry to the touch.
Notes
*Reduce the apple cider to make a concentrated cider. Bring the cider to a boil in a pot and let boil until reduced by half. Weigh or measure 1/2 cup after reducing.
*For best results use a store bought vegan egg replacer such as Bob's Red Mill Egg Replacer or Ener-G Egg Replacer. Typically you mix 1 tbsp egg replacer with 2 tbsp water to make 1 vegan egg. As the main ingredients in these are starches, if you cannot find the egg replacers try making these donuts with 2 tbsp cornstarch, potato starch, or tapioca starch mixed in 1/4 cup water.
Recommended Products
As an Amazon Associate and member of other affiliate programs, I earn from qualifying purchases.