These vegan peach pancakes are ultra fluffy and soft, and cooked with a pretty pattern of sliced peaches on one side. The peaches caramelize and turn buttery and make your pancake breakfast extra special!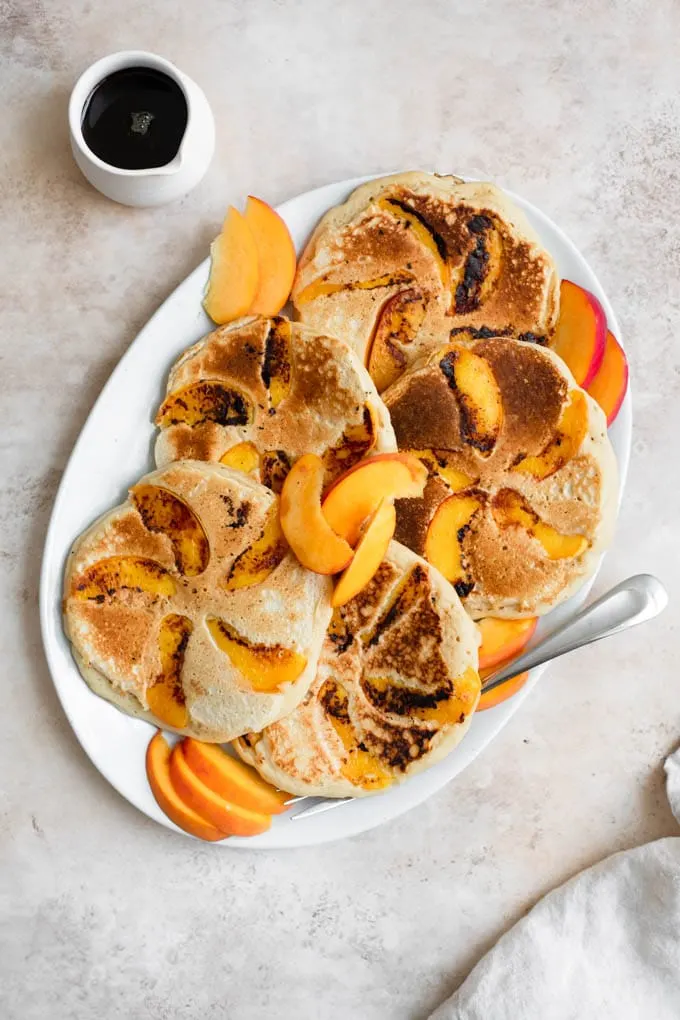 As a self-proclaimed pancake lover, I'm here to tell you that peach pancakes are actually the best pancakes!
These pancakes are everything you want from an American-style pancake: fat and fluffy, buttery tasting, and with a beautifully tender crumb.
But then you add ripe peaches to the mix, adding them to the batter in a way that lets them caramelize their sugars directly on the pan, and… chef's kisses.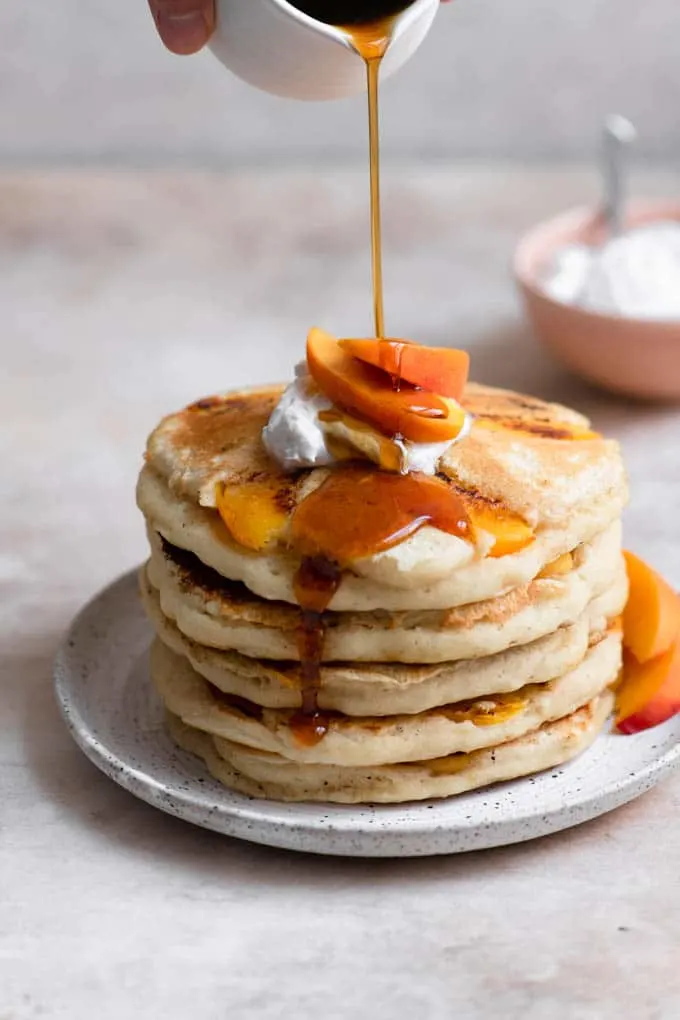 Dollop on some whipped coconut cream, pour on plenty of real maple syrup, and sit down and enjoy yourself the most perfect peach pancake breakfast! Sunday brunch, here we come!
These pancakes are as easy as:
Make your pancake batter.
Let it rest for 10 minutes (ESSENTIAL).
Heat up your skillet or griddle and lightly oil it.
Plop on the pancake batter, and lay some peach slices over top.
Cook on both sides.
Enjoy warm with maple syrup, and if you're extra some vegan whipped cream!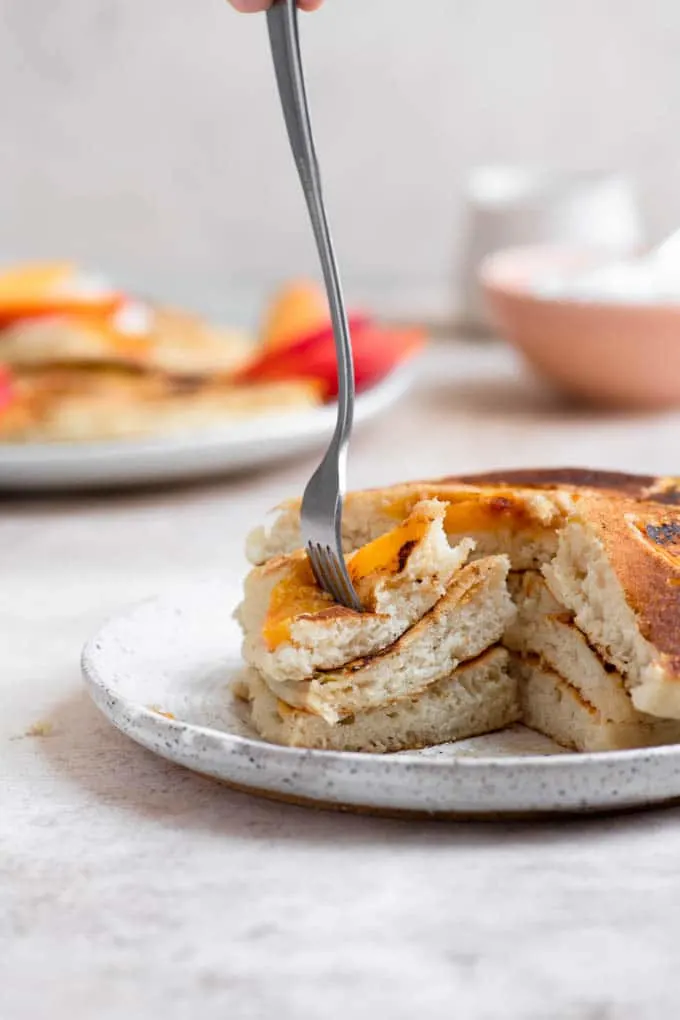 About that vegan peach pancake batter:
My fluffy white, bisquick-style pancake batter is a game changer. You don't need eggs or cow's milk to make out of this world pancakes!
I use the same base in my vegan chocolate chip pancakes, and it is just so perfect in these pancakes as well.
I love this recipe because it's so simple. There are no fancy ingredients or techniques required!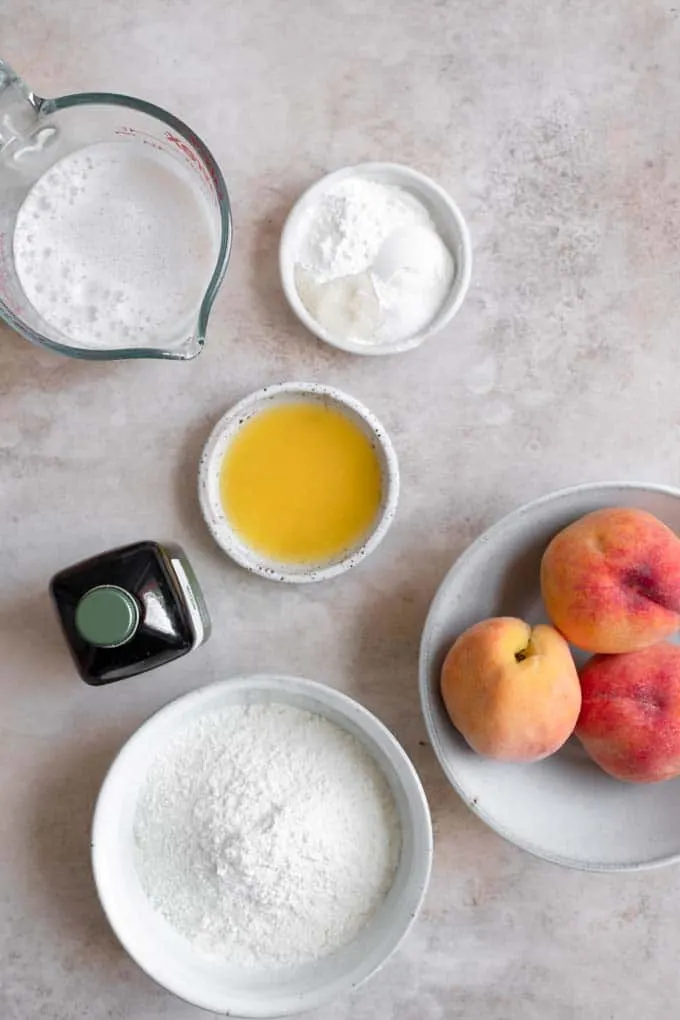 All you need is some dry ingredients:
Flour
Sugar–this is an optional ingredient but if you want diner/restaurant-style pancakes don't skip it. Sugar does change the texture of the pancakes to be even more tender and moist!
Cornstarch (you can substitute another starch), which also helps give them that tender texture.
Baking powder, for that fluffy rise.
Salt, because it brings out the sweetness and is a texture improver.
Cinnamon! I love cinnamon with peaches, so add a bit of cinnamon to your pancakes. I always add cinnamon, but somehow left it out for these photos! So they are still delicious pancakes without cinnamon, but I do recommend including it!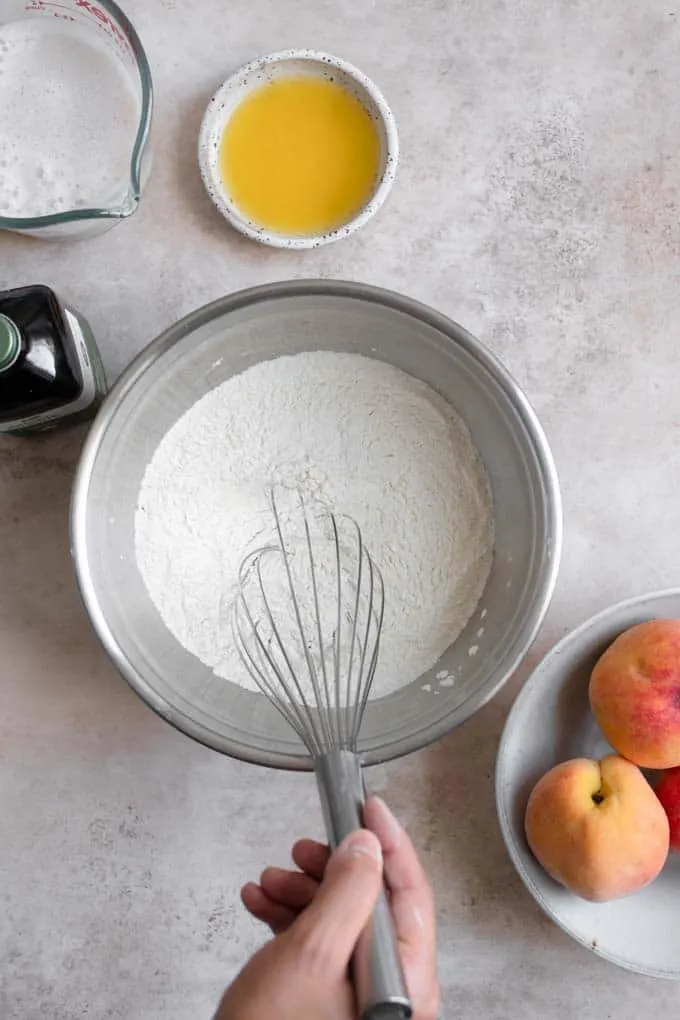 And some wet ingredients:
Plant milk! I like soy milk or oat milk, but you can use your personal favorite. Original, plain, unsweetened, or vanilla options are all ok in this recipe.
Melted vegan butter (substitute oil), because we love that buttery flavor! This is another ingredient that adds a lot to the texture and taste of the final pancake, but can be reduced or eliminated if that's your thing.
Vanilla extract–it makes everything better!
And don't forget the peaches of course!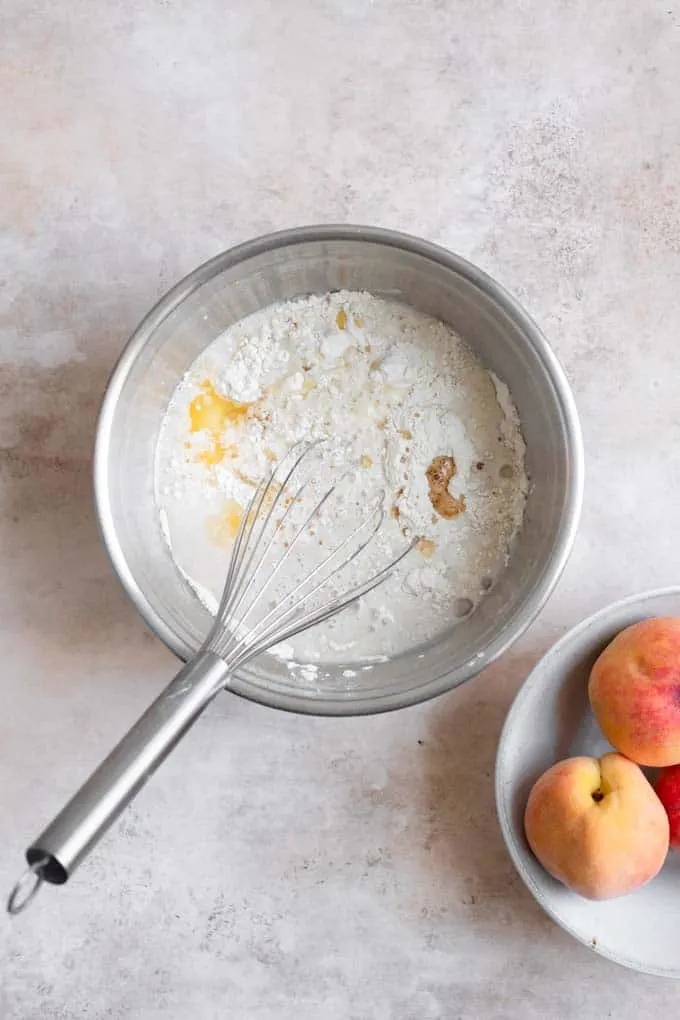 Whisk together the dry ingredients, add in the wet and then whisk that in until the batter is fairly smooth.
Then the most important part!
Let your pancake batter rest for 10 minutes before using! This is essential for good pancakes!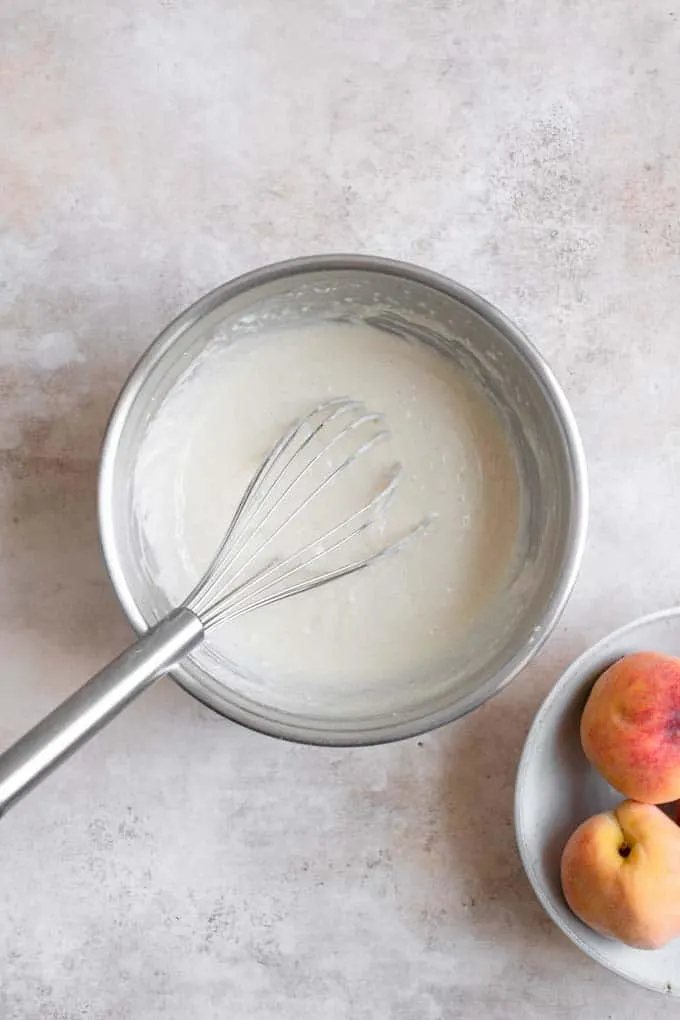 Cooking your pancakes:
The biggest challenge people seem to have with pancakes is the cooking part. You know that adage about how you throw out the first pancake?
It's not true! I don't know who came up with that, but seriously… as long as you let your pancake batter rest, your first pancake should be as good as your last!
Letting the batter rest allows for the gluten that you activated when whisking the batter together to relax. Letting the gluten relax will give you that tender pancake.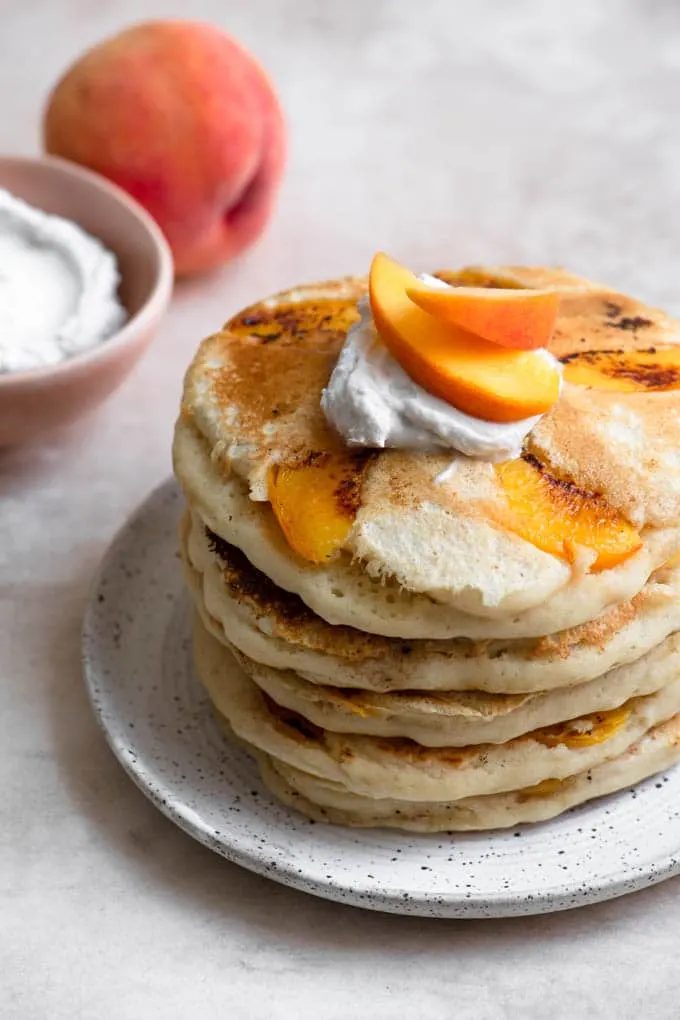 The batter also thickens during the rest, so you get that extra tall fluffy pancake number!
So hopefully I've convinced you to let your batter rest, and we can move on to my second biggest tip!
Cook your pancakes on a medium-low heat! On my stove that's about a number 3 to 4.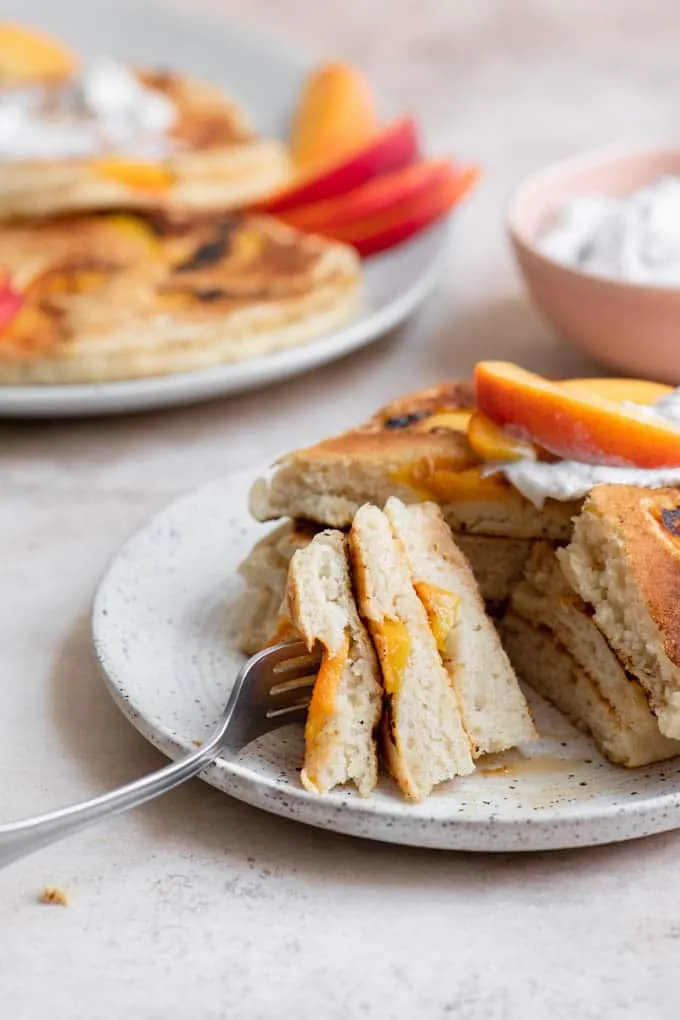 And make sure your pan is fully preheated when you start your first pancake! If it's not it will take longer to cook and might not be as perfect. But don't throw it away!
The reason we cook the pancakes at a lower heat is because they are thick and fluffy, we need the insides to be able to cook before the outside gets too crispy or even a shade of burnt. Each side should take a couple of minutes to cook!
Because of this I love cooking on a griddle, where I can cook 3 pancakes at a time. If you're doing the math this cuts the cooking time down by a lot.
Last tip is a bit of personal preference, but you want to add only a very thin layer of oil to the pan. We aren't trying to fry the pancakes exactly, and don't want the exterior to get too crispy.
So add a thin layer of fat. A spray can of oil is perfect for the job, or spread over a small amount of vegan butter if you prefer that taste. Sometimes I even add a bit of oil to the pan or griddle then take a piece of paper towel to spread it around so it absorbs any excess.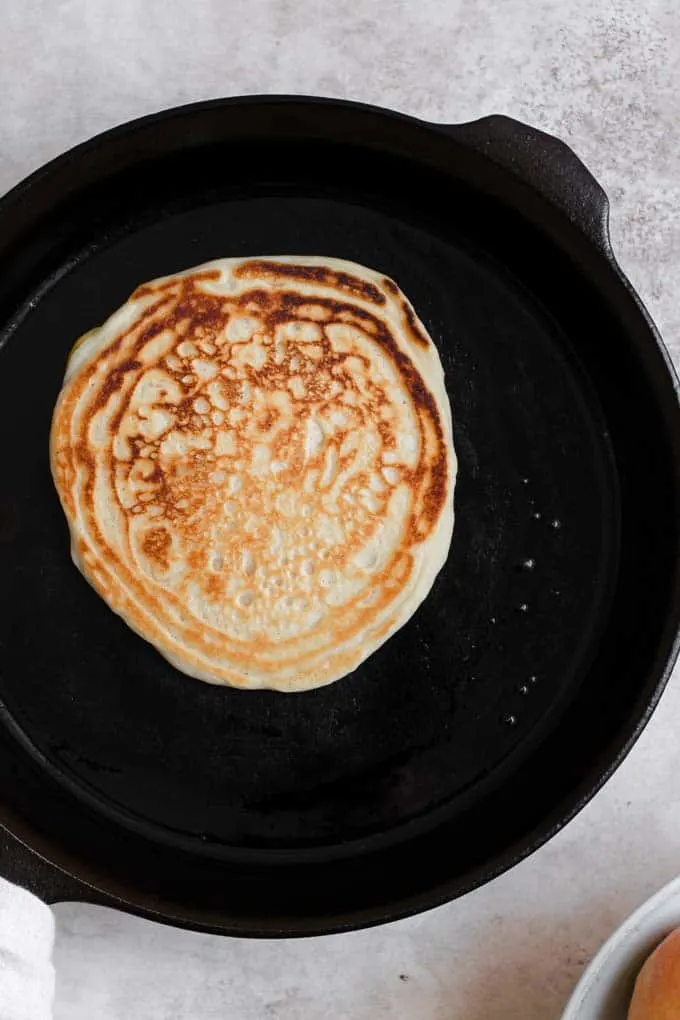 The peaches:
So I already covered this in my peach cupcake recipe, but I'm a huge fan of summer time peaches right from my local farmers market stand.
To me, peach pancakes are a late summer dish, when peaches are at peak ripeness.
Choose ripe peaches, they should feel heavy and you should smell deliciously of peach. If you can't get much of a scent off the peaches, they're probably not quite ripe yet. Leave them at room temperature, and in a paper bag if possible, until they're ripe! This can happen so quickly though, so make sure to keep an eye on them.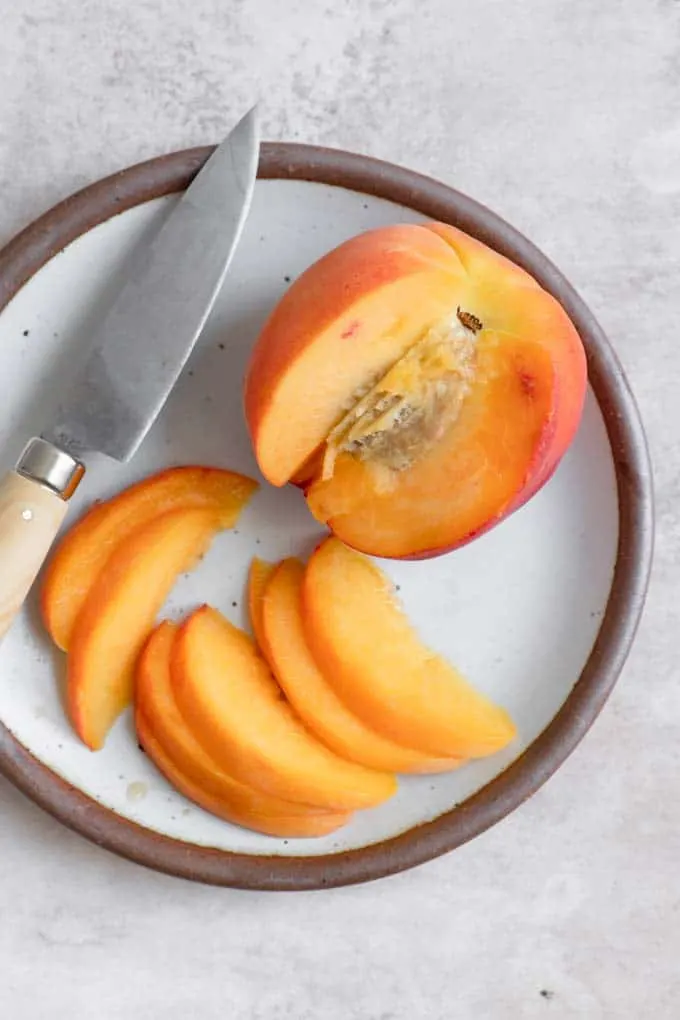 So thinly slice those peaches off of the pit and to add them to the pancakes by arranging on top of the batter as soon as it's been poured onto the hot pan.
I like to arrange my peaches in a star pattern, but if I make smaller pancakes or my peaches are massive, I'll just line them up–3 or 4–depending on the size of the pancake.
When you flip the pancake the peaches will be right on that hot stove, where they'll get a chance to cook and caramelize.
A cooked peach turns a hot buttery smooth texture, and is such a great contrast with the tall fluffy pancake!
Ok I hope I've sold you on these so you go and make them! They've been my go to summer pancake for the past decade!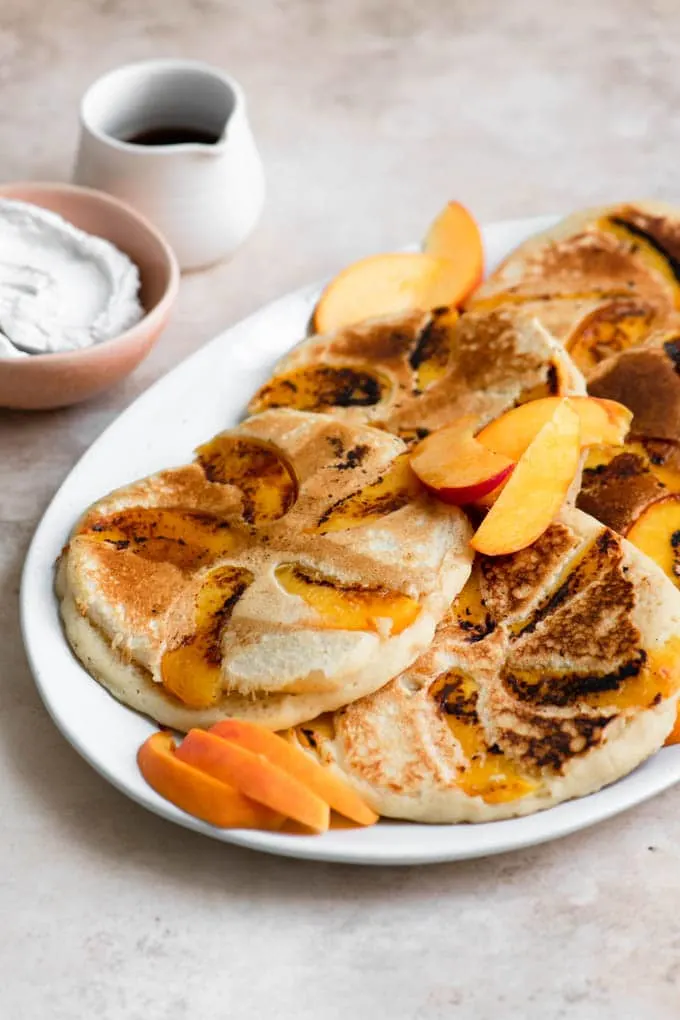 If you make these vegan peach pancakes, leave a comment below and rate the recipe on the recipe card. And please share your photos with me on Instagram, tag @thecuriouschickpea and #thecuriouschickpea. I love seeing your recreations!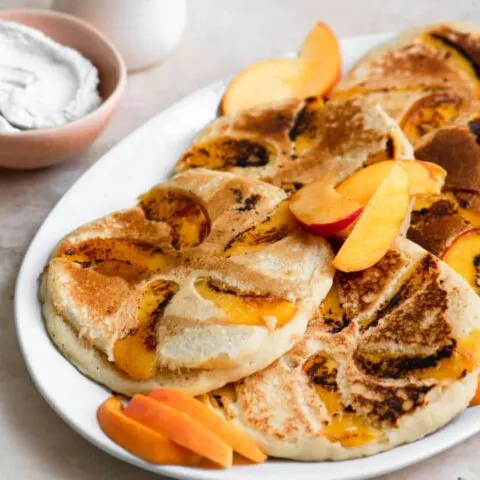 Vegan Peach Pancakes
These fluffy vegan pancakes are made with ripe peaches for a delicious summery breakfast or brunch!
Ingredients
1 1/3 cups (205g) all purpose flour
2 tbsp (26g) sugar
2 tbsp (21g) cornstarch
1 tbsp (11g) baking powder
1/2 tsp (3g) salt
1/2 tsp ground cinnamon (optional)
1 1/3 cups (308g) plant milk
2 tbsp (32g) melted vegan butter or canola oil
1 tsp (5g) vanilla extract
2 peaches, cut into thin slices
vegan butter or spray oil to cook
maple syrup, to serve
Instructions
Mix the flour, sugar, cornstarch, baking powder, salt, and cinnamon (if using) together in a mixing bowl. Pour in the plant milk, melted vegan butter (or oil), and vanilla extract and mix until combined. Some lumps are ok, don't over mix! Let the batter rest for 10 minutes for the gluten to relax.
Heat a griddle or fry pan over medium low heat. When warm, melt a thin layer of vegan butter over the pan or griddle, or spray with a thin layer of oil.
Pour a generous 1/3 cup of batter for each pancake into the pan and arrange peach slices on top of pancake batter.
Let cook until the batter has risen a bit, looks drier (partially cooked) around the edges and the bottom side is golden. Slide a thin spatula under the pancake and flip. Cook the second side until it is golden and the batter in the middle cooks through. It should take 2-3 minutes for them to cook on each side. If they cook too quickly, the inside will not cook all the way through, so lower the heat.
Repeat with remaining pancakes, lightly buttering or oiling the pan or griddle between pancakes.
Serve warm with maple syrup and some vegan whipped cream (optional).
Notes
A griddle makes the pancake cooking process a lot faster as you can make a few at a time, or try using 2 pans to speed things up.
Recipe makes 6-inch pancakes.
Nutrition Information:
Yield:

6
Serving Size:

1
Amount Per Serving:
Calories:

250
Total Fat:

12g
Sodium:

75mg
Carbohydrates:

31g
Fiber:

2g
Sugar:

6g
Protein:

5g
Nutrition is calculated automatically so should be used as an estimate.