Enjoy these delicious Afghan aushak (leek dumplings) with a vegan tomato meat sauce and garlic yogurt sauce. They're traditionally served as an entree, but make a great appetizer as well!
Aushak (also commonly transliterated as ashak) are Afghan dumplings filled with an oniony mixture. They're kind of like ravioli, if your ravioli was filled with onion greens instead of cheese or meat.
Serve aushak with a thick garlicky yogurt and a spiced tomato sauce–which can be either vegetarian or made with meat. The meat version of the sauce is called keema, which means minced meat.
As I'm vegan, I made a vegan version of the tomato sauce using store bought vegan ground meat. I love how easy this makes the recipe and the richness it adds to the sauce.
Typically, veggie versions of the sauce are made with chana dal (split brown chickpeas). I give an option how to substitute that if you prefer!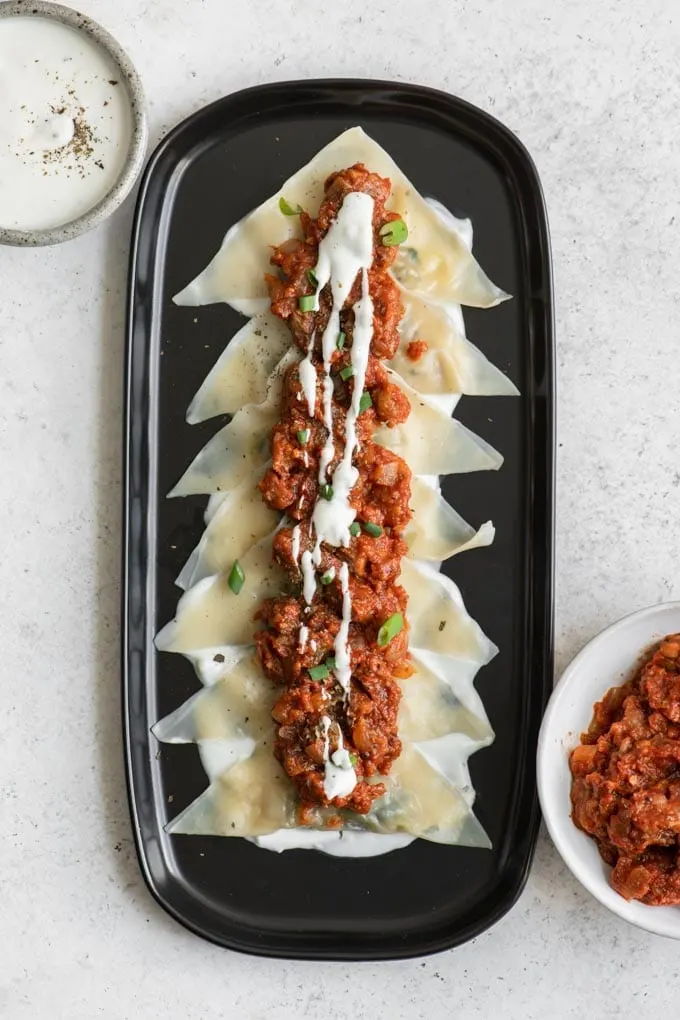 Due to the more time consuming nature of making dumplings from scratch, Aushak are typically served at holidays and special occasions.
That being said, the shaped dumplings freeze beautifully and can be made in advance and frozen for lazy weeknight meals! As far as dumplings go, they're also quite easy to make. And they are way too delicious to only enjoy on the occasional holiday!
For same day eating it's fun to get some helpers (family or friends), and enjoy each others company while shaping the dumplings. You'll be done before you know it!
This easy dumpling shape also makes it a fun activity to get kids involved with, if that's your jam.
The aushak:
These Afghani dumplings are traditionally stuffed with gandana, which is a type of leek that grows in Afghanistan. It resembles a large chive or even a green onion (scallion).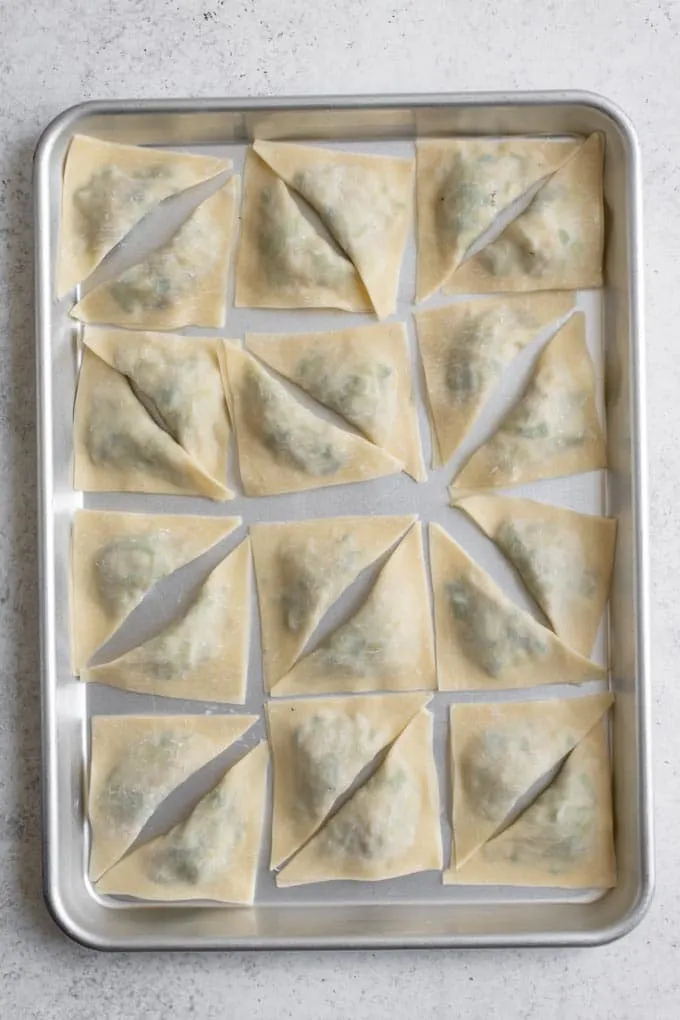 Gandana is not readily available outside of Afghanistan, and here in the US it's popular to fill them with leeks, chives, scallions, or a mixture of these oniony greens.
As a huge shortcut I used store bought wonton wrappers instead of making the dumpling dough from scratch. I used square wrappers, but circles work just as well!
While homemade dumpling wrappers are sublime, it does add to the time and effort of the recipe. By using store bought wrappers, you're more likely to actually make the recipe (a win!) and the results are still incredible.
If you want to make your own wrappers, then follow the recipe for the dough in my Tibetan momo recipe. You can cut the dough into circles or squares for aushak, it's your preference.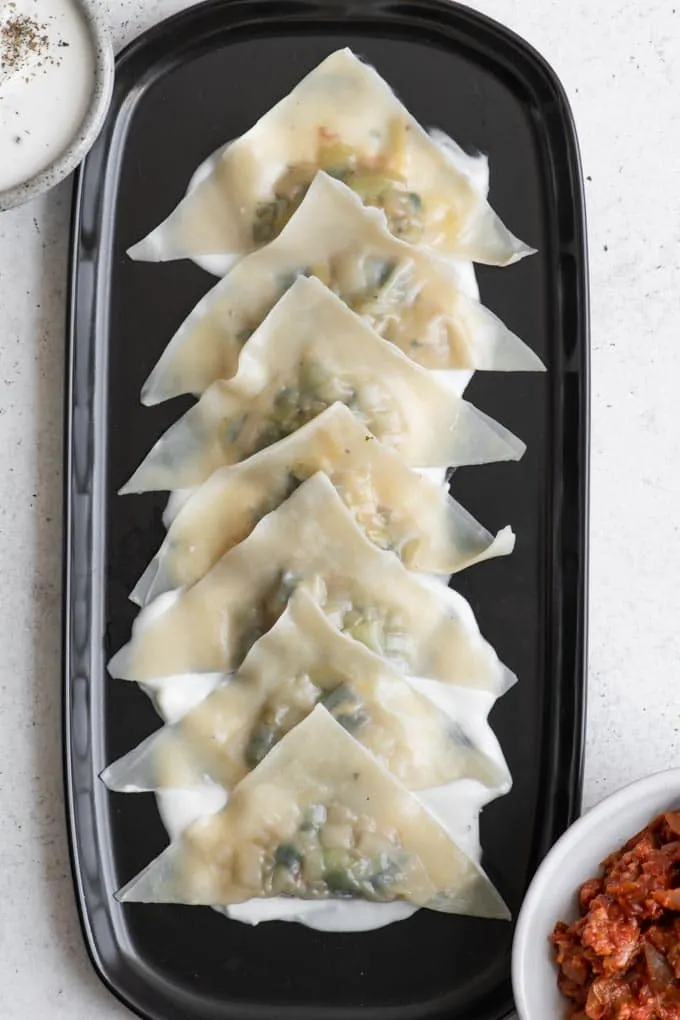 The aushak filling:
I used a mixture of leeks and scallions to fill my dumplings. Sautéing them mellows the flavor and softens the alliums so they are more tender to eat.
It couldn't be easier to prepare the filling: heat up a skillet, drizzle on some oil and add the leeks, scallions, garlic, salt, and pepper. Cook until the greens are wilted and tender.
Optionally (I'm a fan) add in some cilantro right at the end!
You can make the filling in advance and store it in the fridge until you're ready to shape your dumplings, or use right away–just let it cool off enough to handle first.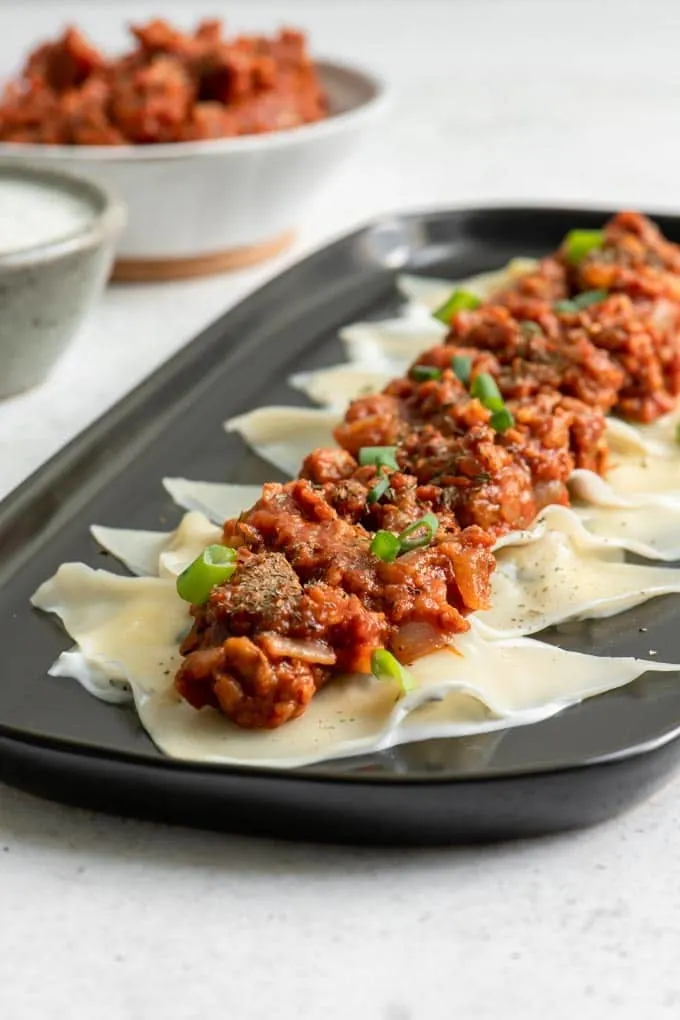 The vegan keema (tomato meat sauce):
Essentially an Afghan ragu, it's an easy to make vegan by swapping out the animal meat for a plant based version.
It's starts similarly enough to an Italian ragu, with sautéd onion and garlic as the base. But the spices make it stand out, with paprika, coriander, cardamom, and lots of black pepper.
I use canned tomatoes because 1) it's easy and 2) canned tomatoes are consistently high quality, which is especially important if you're not in late summer tomato season.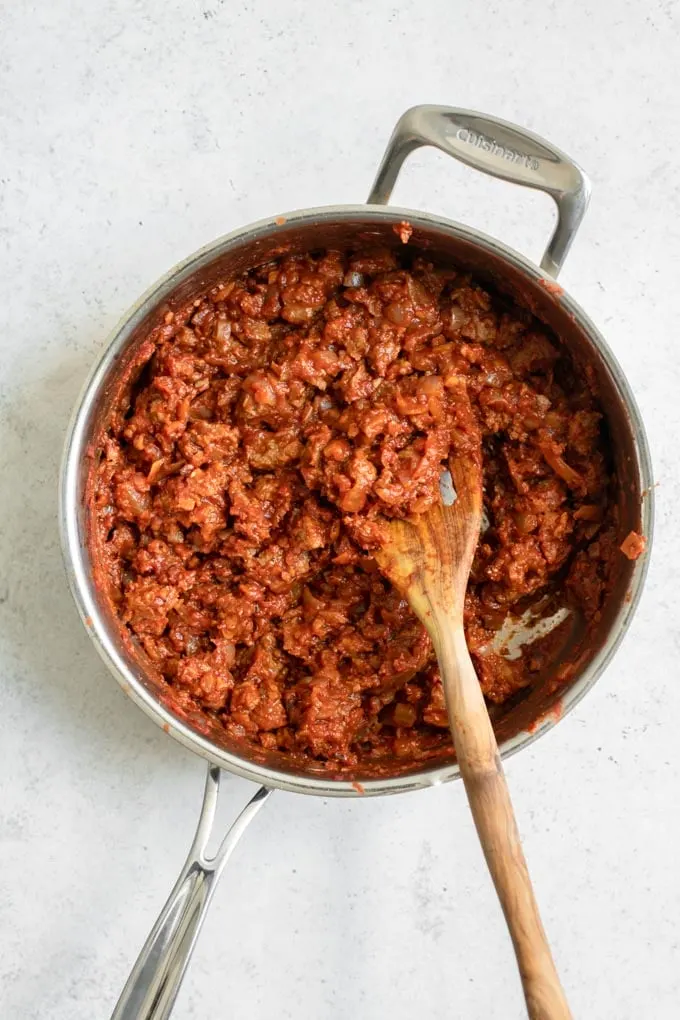 You can use crushed tomatoes, tomato puree (not to be confused with what we American's call tomato paste), strained tomatoes, or even a tomato sauce.
If you want to use whole canned tomatoes then take the extra step of pulsing them in a blender or mashing them well with your hands before adding them to the pot.
This sauce can be more or less tomatoey, thicker or thinner, so feel free to adjust it to your own preferences. If using fewer tomatoes, or if you want a thinner sauce, then add some vegetable broth to the recipe to round it out.
Substitutes for the vegan ground meat:
I used a store bought vegan ground meat for this recipe, but you could substitute:
hydrated TVP (texturized vegetable protein)
finely chopped seitan
chana dal
Brown or black lentils
Chana dal is the traditional vegetarian option. If you substitute it or another lentil cook them separately until tender then add them in. You also would skip the step of browning the lentils before adding liquids.
Use 2 to 3 cups of cooked lentils to substitute. If using TVP, start with 1 cup dried TVP then rehydrate in water before adding. For seitan, use 10-16 oz.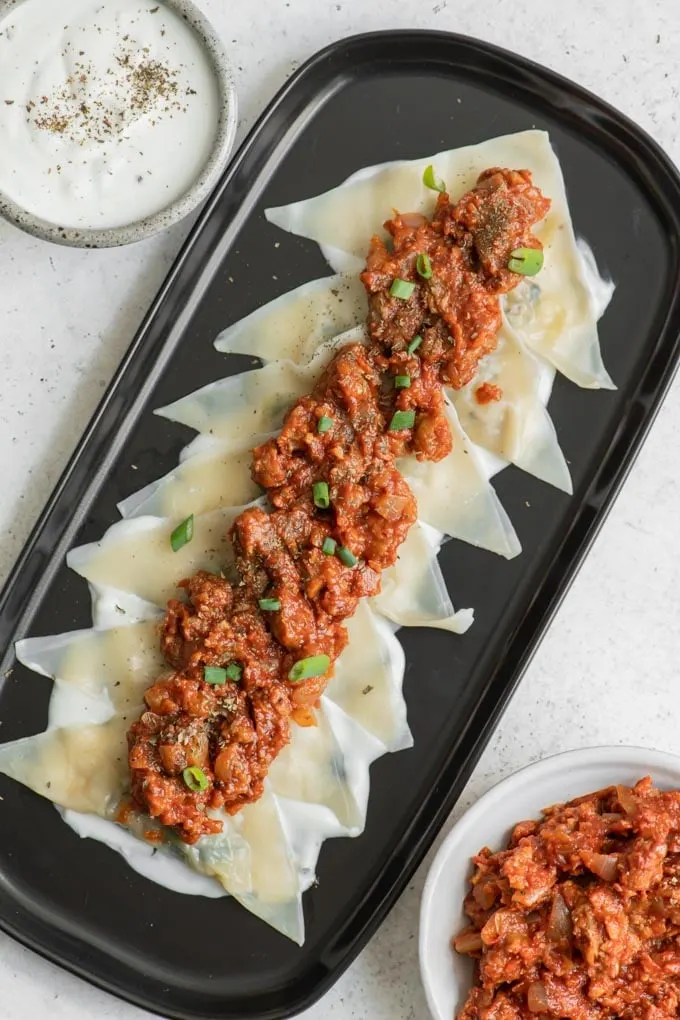 The garlic chaka (yogurt) sauce:
Aushak are served alongside a thick, strained yogurt infused with garlic and mint. This strained yogurt is called chaka, and is similar to labneh or greek yogurt.
Choose a thicker plant based yogurt, such as coconut yogurt, or a greek style vegan yogurt if possible. That being said, if your favorite option is on the thinner side, just use that!
Make sure to only use a plain unsweetened yogurt, as this is a savory sauce.
Mix the yogurt with minced garlic, salt, and dried mint and let it sit until ready to use. You can enjoy it right away, or make it in advance and let those flavors meld and develop in the fridge.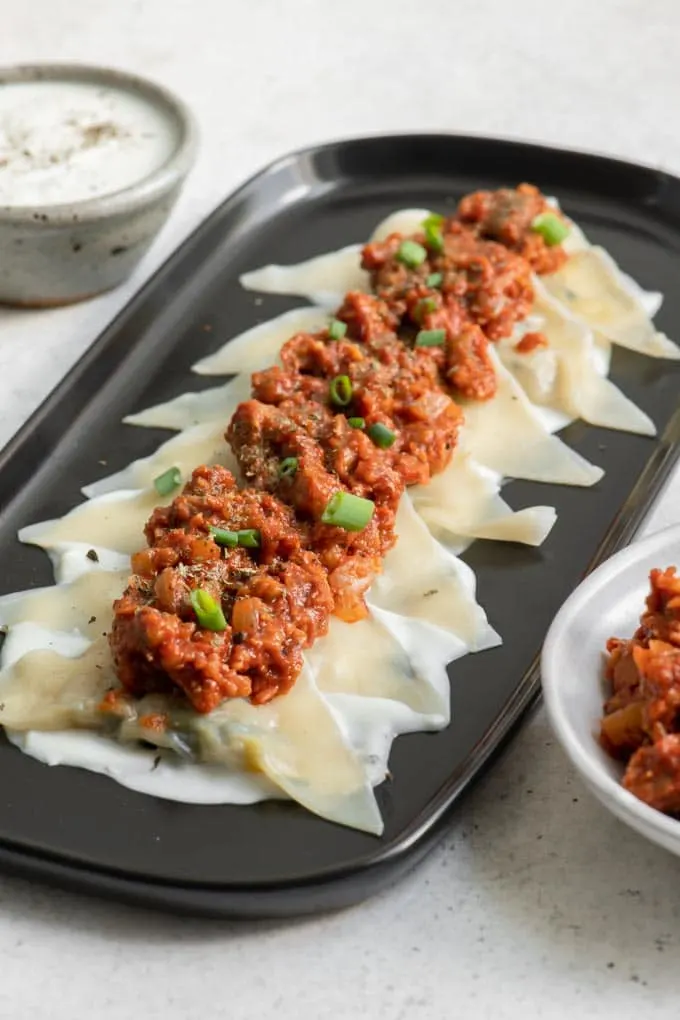 I love seeking out and learning about Afghan cuisine, as some of my ancestors were of the Durani tribe. You'll definitely want to check out some of my other vegan Afghan recipes, such as my lubya and leek bolani, as well!
If you make these vegan Afghan Aushak, leave a comment below and rate the recipe on the recipe card. And please share your photos with me on Instagram, tag @thecuriouschickpea and #thecuriouschickpea. I love seeing your recreations!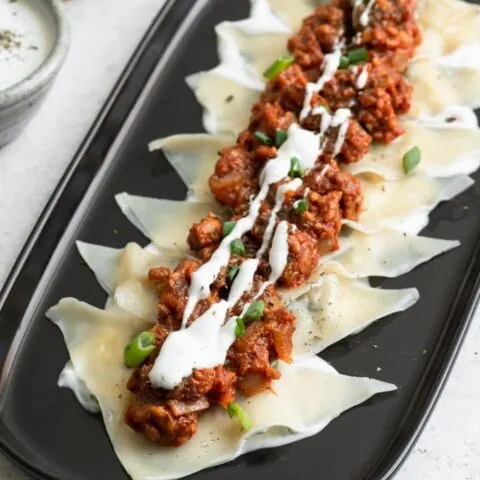 Afghan Aushak
Total Time:
1 hour
15 minutes
Aushak are delicious Afghan leek stuffed dumplings that are traditionally served with a garlic yogurt sauce and a seasoned tomato meat sauce. This vegan version is one everyone can enjoy!
Ingredients
Aushak
2 tsp oil
3 medium leeks
1 bunch scallions, thinly sliced
1 cloves garlic, minced
3/4 tsp salt
1 tsp black pepper
1/4 cup cilantro, tender stems and leaves chopped (optional)
1 12oz package wonton wrappers (~48)
Tomato Sauce
2 tsp oil
1 yellow onion, finely diced
2-4 garlic cloves, minced
14oz vegan ground meat (substitute 2 cups cooked chana dal)
1 1/2 tsp paprika
1 tsp ground coriander
1/4 tsp ground cardamom
1/2 tsp salt
1 tsp pepper
15 oz can crushed tomatoes
1/4-1/2 cup water to thin, as needed
Yogurt Sauce
1 cup plain unsweetened vegan yogurt
1 clove garlic, minced
1/4-1/2 tsp salt
1/2 tsp dried mint
Instructions
Make the filling:
Trim the ends and dark green leaves off the leeks and slice the white and light green stems in half lengthwise. Thoroughly wash the leeks, getting between the layers to clean out the dirt. Then, thinly slice the washed leeks into half moons.
Heat a large skillet over medium, and add the oil, leeks, scallions, garlic, salt, and pepper. Sauté until the leeks are tender, about 6-10 minutes. Turn off the heat and stir in the cilantro if using. Remove from skillet and set aside.
Make the tomato sauce:
In a large pot or the same skillet, heat the two teaspoons of oil over medium heat. Add the onion and a pinch of salt and sauté until the onion is translucent, ~4-5 minutes.
Add the garlic and stir in, then add the vegan mince (or cooked chana dal). Sauté about 2 minutes until lightly browned (skip if using chana dal). Stir in the paprika, coriander, cardamom, salt, and pepper.
Add the canned tomatoes and cook about 5 minutes to meld flavors. Add water if needed to thin or deglaze pan. Taste and adjust seasonings if needed. Cover to keep warm and set aside.
Make the yogurt sauce:
Mix together all ingredients starting with 1/4 teaspoon of salt. Taste and adjust salt as needed. Keep refrigerated until ready to use.
Prepare and cook aushak:
Set out a few dumpling wrappers at a time, and add a small amount of filling to the middle of the wrappers (about 2 tsp). Keep extra dumpling wrappers covered with a damp towel so they do not dry out.
Taking one filled wrapper at a time (either in your palm or on the counter, whichever is easier for you), dab two edges of the wrapper with water, then fold in half and seal, squeezing out air as you do so. Set aside and repeat until all dumplings are formed.
Bring a large pot of salted water to a boil. Cook the dumplings in batches, 4-5 minutes each batch (how many depends on size of pot and how much water is boiling). Remove dumplings with a slotted spoon and serve immediately.
To serve
Spread some of the yogurt sauce on a plate. Top with cooked dumplings, then spoon the tomato sauce overtop. Crumble extra dried mint on top for garnish. Serve with additional yogurt sauce on the side or drizzled on top.
Freezing aushak:
You can freeze the dumplings to cook in the future. Lie them flat on a baking tray and place in freezer for 2 hours or until frozen solid. Then transfer them to a freezer safe bag or storage container and freeze for up to several months.
To cook from frozen: add 1-2 minutes to the cooking time. The dumplings will float, then let them cook an additional minute before removing.
Notes
You can use any vegan ground meat (aka vegan mince) for this recipe, such as vegan ground round, finely chopped seitan, or hydrated TVP. Or if you prefer, you can use cooked chana dal to replace it–use around 2 cups cooked.
Your canned tomatoes can be crushed tomatoes, strained tomatoes, tomato puree, or use whole canned tomatoes, just mash by hand or pulse in the blender to crush before using.
For best results use a thick yogurt, coconut yogurts are a great choice, or choose a greek style yogurt. However, any vegan yogurt will do as long as it is plain and unsweetened!
Nutrition Information:
Yield:

8
Serving Size:

1
Amount Per Serving:
Calories:

270
Total Fat:

4g
Sodium:

798mg
Carbohydrates:

40g
Fiber:

3g
Sugar:

6g
Protein:

20g
Nutrition is calculated automatically so should be used as an estimate.