These vegan German chocolate cupcakes are made with a rich chocolatey cupcake and an indulgent coconut pecan caramel custard frosting. Drizzle some chocolate over for a beautiful finish!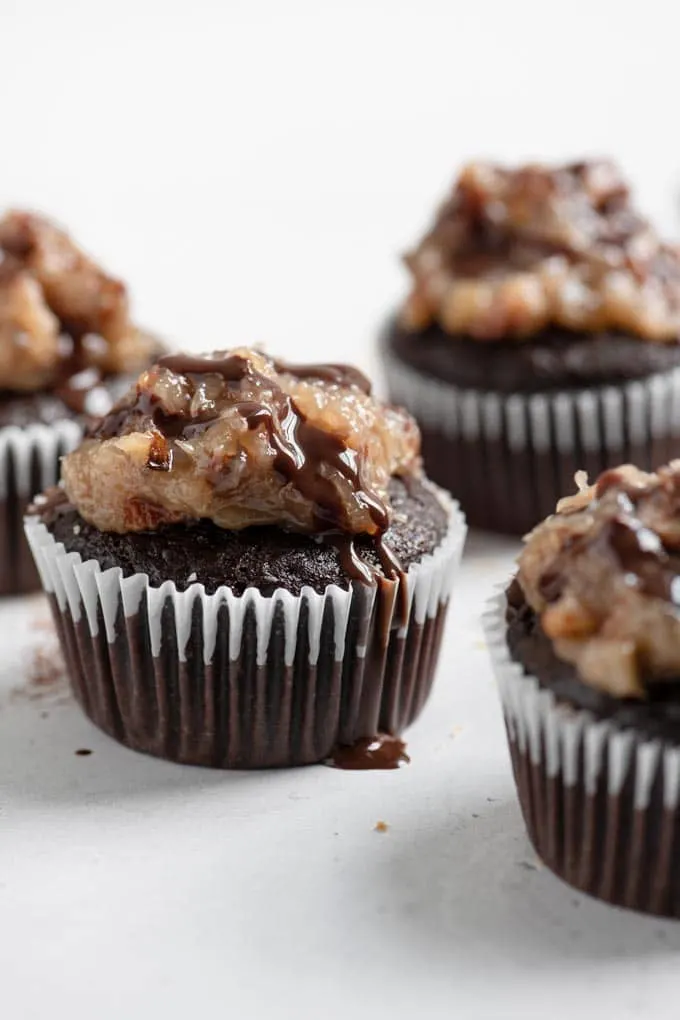 Imagine everything you want from a German chocolate cake, but in cupcake form. All the yum, with a fraction of the effort! And you're welcome, I've done it! Vegan German chocolate cupcakes for your eating pleasure.
Now I love layer cakes, but know that sometimes people find them intimidating. Plus I just adore cupcakes and their cute size and how they are perfectly proportioned servings!
Cupcakes are equally great for parties and for treating yourself. I mean, I can't be the only person who enjoys making themselves cupcakes, right?!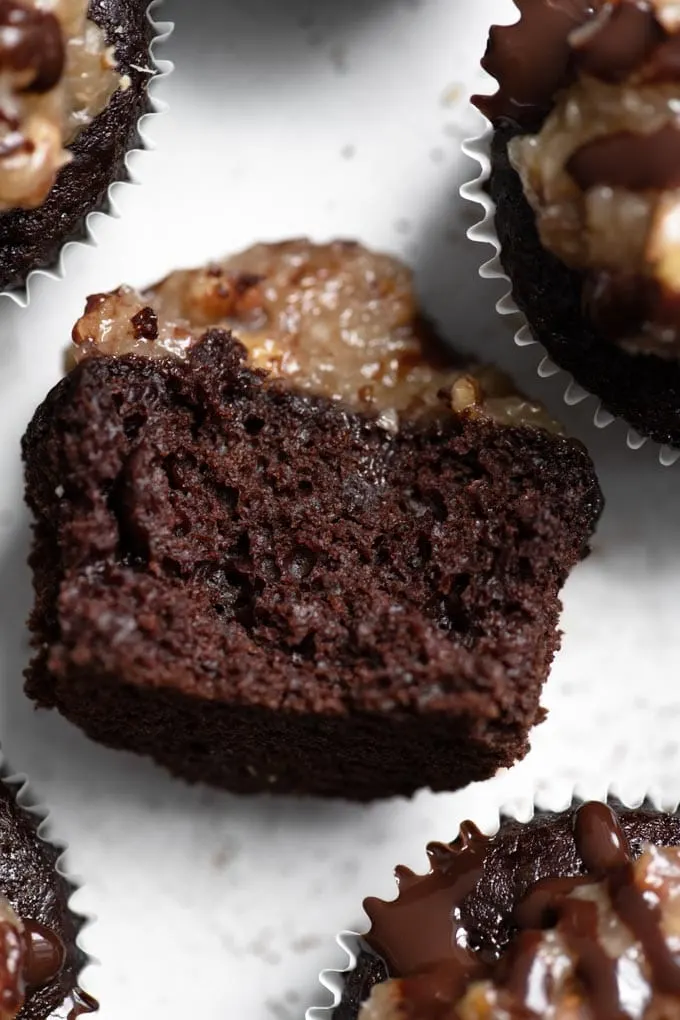 About German Chocolate Cake:
Despite the name, German chocolate cake does not have roots in Germany but actually in the United States. It's named after its recipe developer, Samuel German.
It's a chocolate cake that was originally made with baking chocolate for an actually less intensely chocolatey cake.
The most iconic part of the cake, in my opinion, is the frosting. The cake is frosted with a caramely custard studded with shredded coconut and pecans.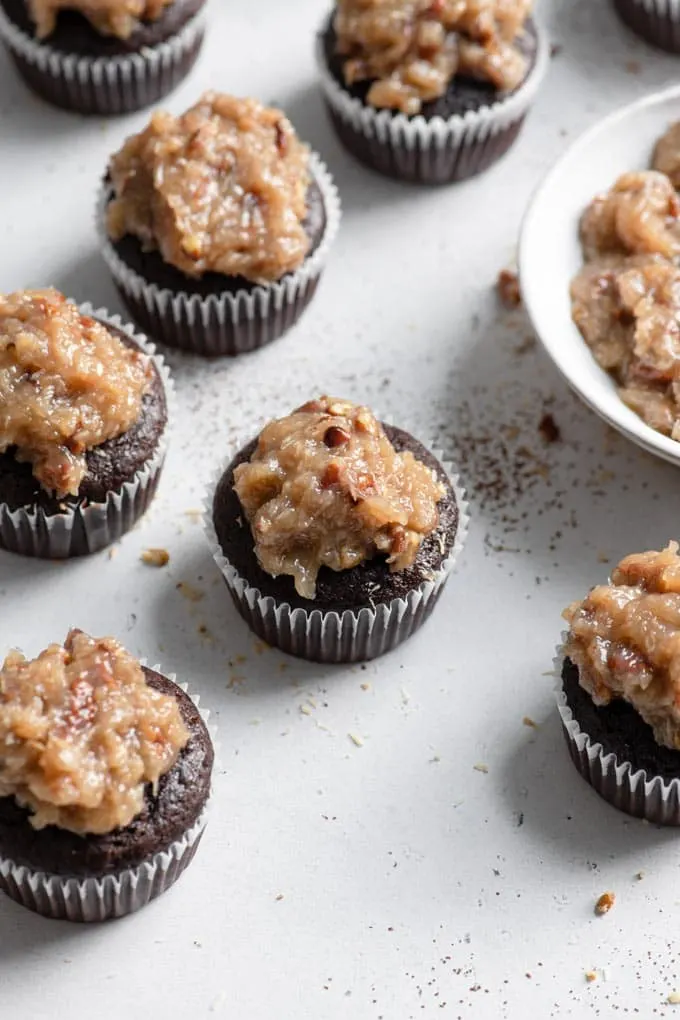 Occasionally a chocolate buttercream is added to frost the sides or hold in the coconut pecan frosting.
As you can imagine, the original version of German chocolate cake was not vegan friendly. It is full of eggs, butter, and cream. But that's why I'm here, to give you all the indulgence of a good cake, but completely free of animal products!
The chocolate cake:
The original German chocolate cake was a lighter chocolate cake and made with baking chocolate instead of cocoa powder.
My personal taste preference go towards richer tasting chocolate cakes, and so that's what I've used here.
I used my easy vegan chocolate cake recipe because it is my favorite, and turned it into cupcakes. It's a soft and fluffy cake, with a super tender and moist crumb.
It's my perfect chocolate cake! A real crowd pleaser too.
I do like to add chocolate extract to my chocolate cakes to enhance that chocolatey flavor even more. It is optional however, and the recipe is great without the extract!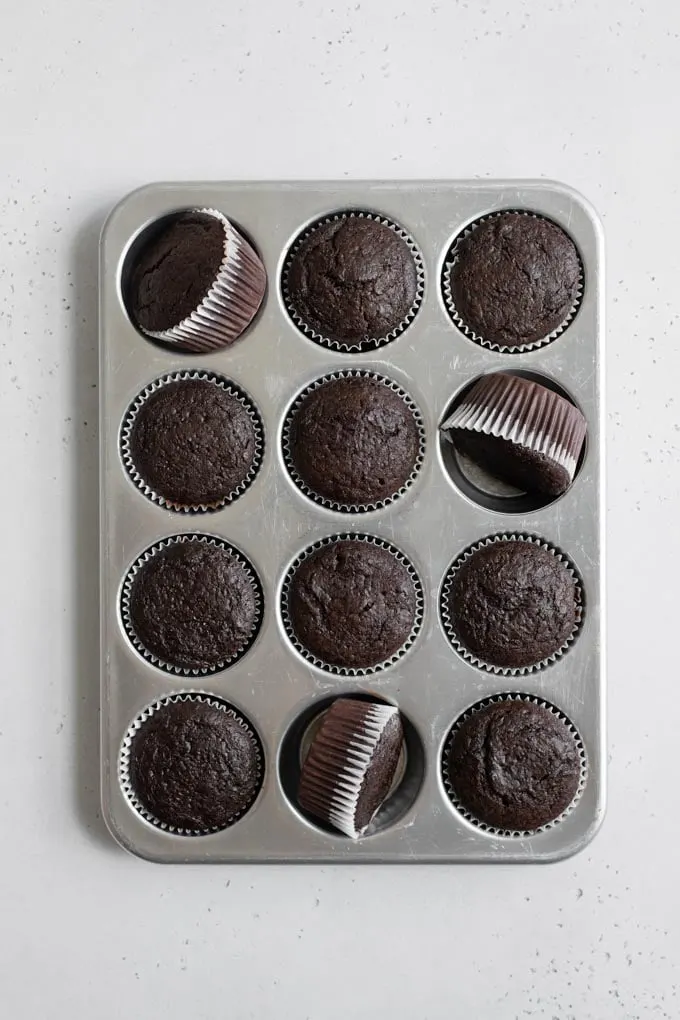 The coconut pecan frosting:
I'm going to admit here that it took me years before I'd give German chocolate cake a chance due to the odd sticky look of the frosting. So it might not be the most beautiful of frostings, but who cares! It tastes good!
Leaving out the eggs and dairy in this recipe turns out to be quite easy.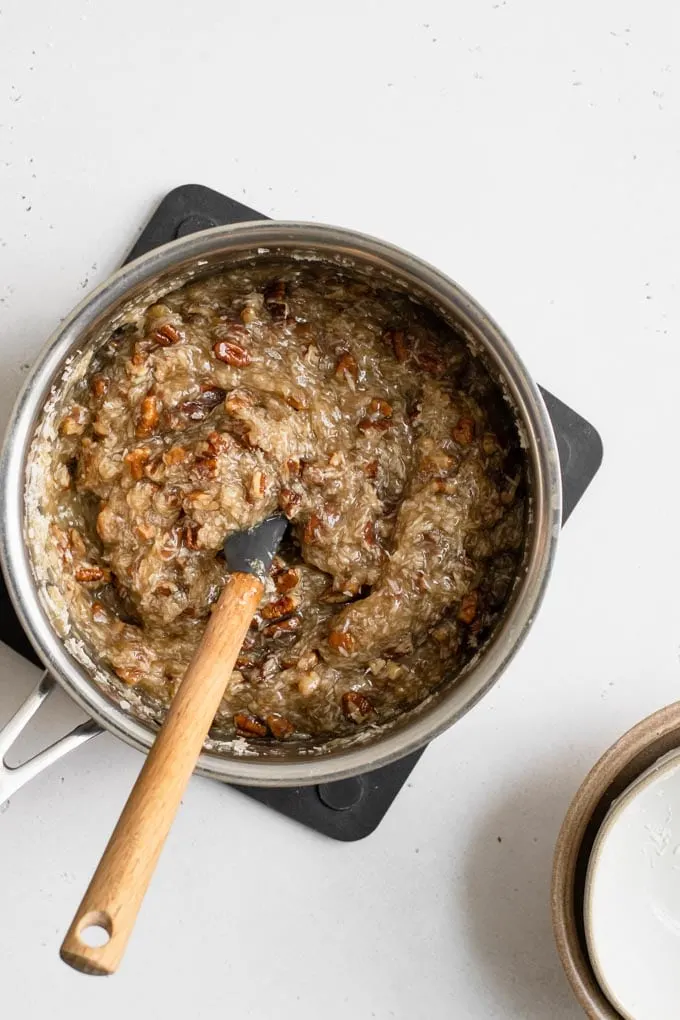 Instead of heavy cream we use coconut milk–the full fat kind that comes in a can! Don't even think about using the kind that comes in a carton and is meant to be served as a beverage.
Because it's a coconut frosting, coconut milk makes even more sense in this recipe than dairy!
The eggs are used to thicken and set the custard so that it can be spread and remain in place as the filling and frosting.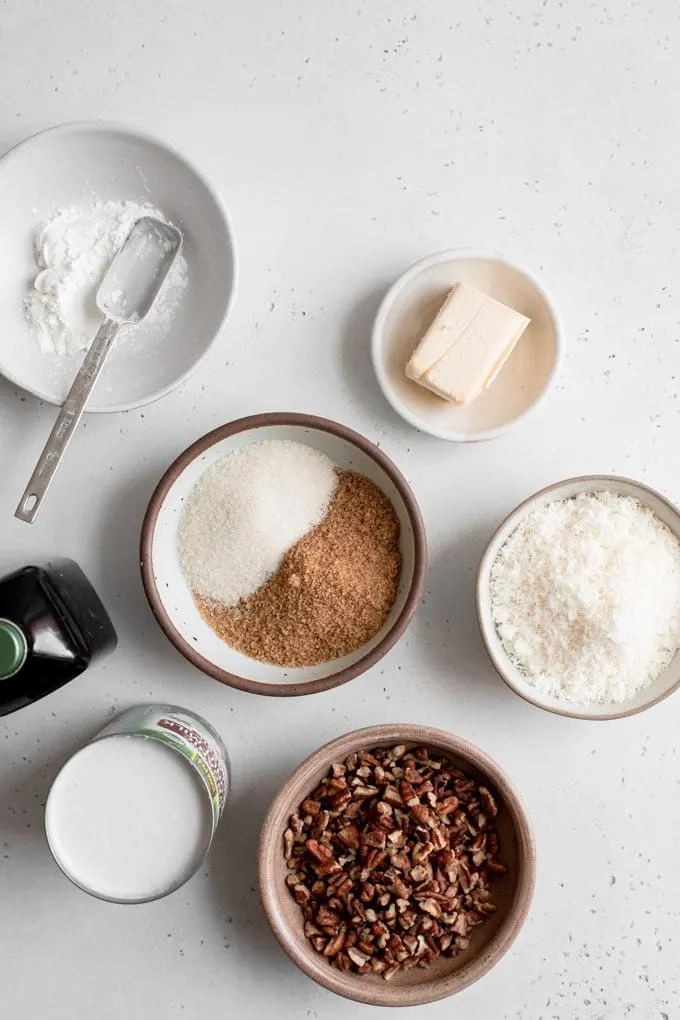 While this sounds tricky to substitute, it couldn't be easier. Cornstarch is the perfect substitute for thickening our custard! You can substitute another starch if you'd prefer, arrowroot or tapioca starch would work as well.
Making the frosting:
This coconut pecan frosting is easier to make than your standard buttercream. Combine sugar (I use a combination of brown sugar and white sugar for a richer flavor), coconut milk, vegan butter, and a cornstarch slurry* in a small pot.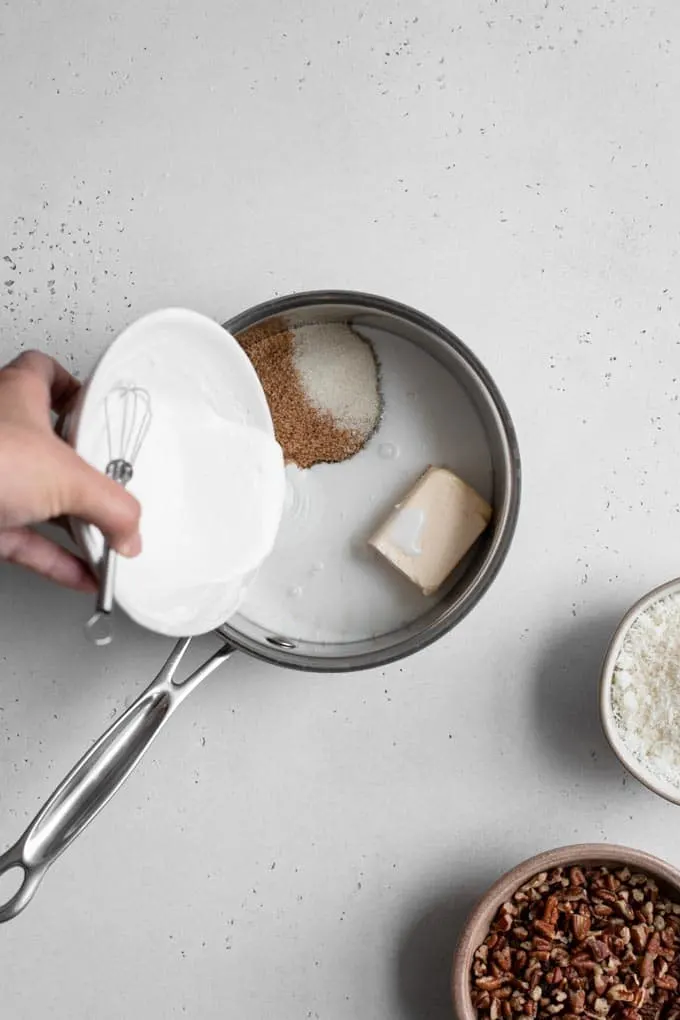 *You have to mix the cornstarch in a small amount of liquid before adding it to the whole mixture or it will clump up and not dissolve evenly. I measure out the coconut milk, then pour a couple of tablespoons (no need to measure) of it over the cornstarch and whisk until smooth, then add that slurry to the the rest of the liquids.
Bring it to a simmer, whisking regularly, and let cook until the texture and color changes. It will get thicker and turn a rich brown color, like caramel. In the end it will resemble a thick syrup, and when you run a spoon or spatula through the pot it will reveal the bottom of the pot briefly before filling back in.
Once it reaches this stage, you turn off the heat, add in the vanilla extract, the chopped pecans, and the shredded coconut.
I like unsweetened shredded coconut personally and usually have that on hand, but sweetened shredded coconut works as well. It will obviously be a bit sweeter.
There is enough of the frosting to double the cupcakes if you want 2 dozen, or you can frost more generously than I did. It also makes for a great oatmeal topper if you have leftovers!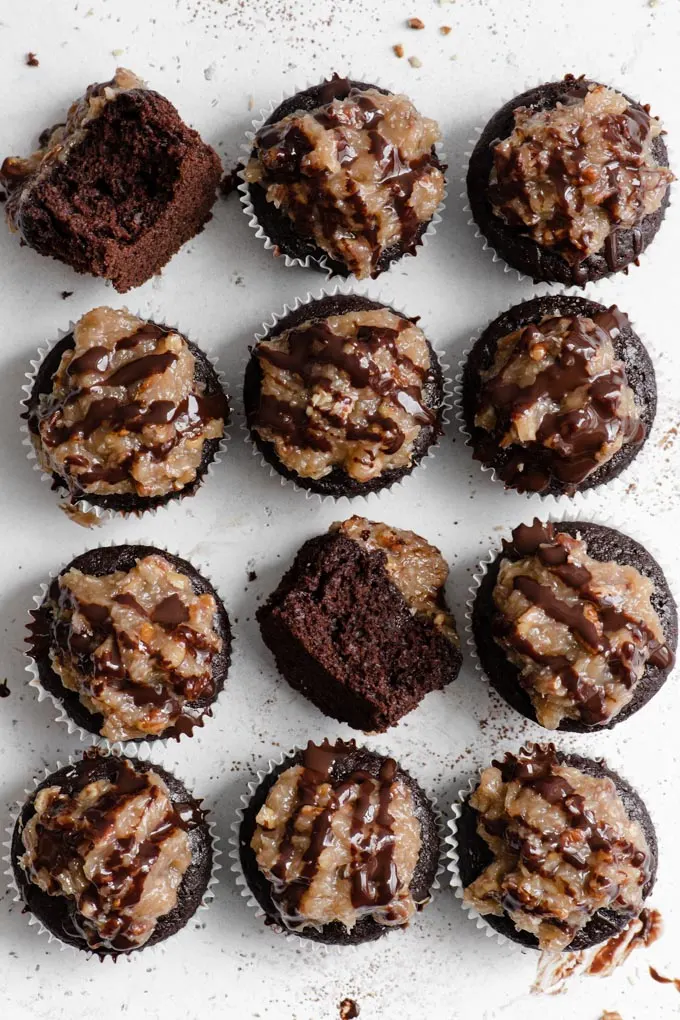 Optional: add a chocolate drizzle.
The cupcakes are perfect as is, just cake and coconut pecan frosting. But if you want to go that extra mile for a pretty presentation, then finish them off with a chocolate drizzle!
German chocolate cake is often doubly frosted, with both the coconut pecan frosting and a chocolate buttercream. Personally I think having both frostings on a cupcake is a bit overwhelming and not needed, plus it's extra work to make both! I do feel differently about having it on a layer cake where I love the contrast of the two frostings.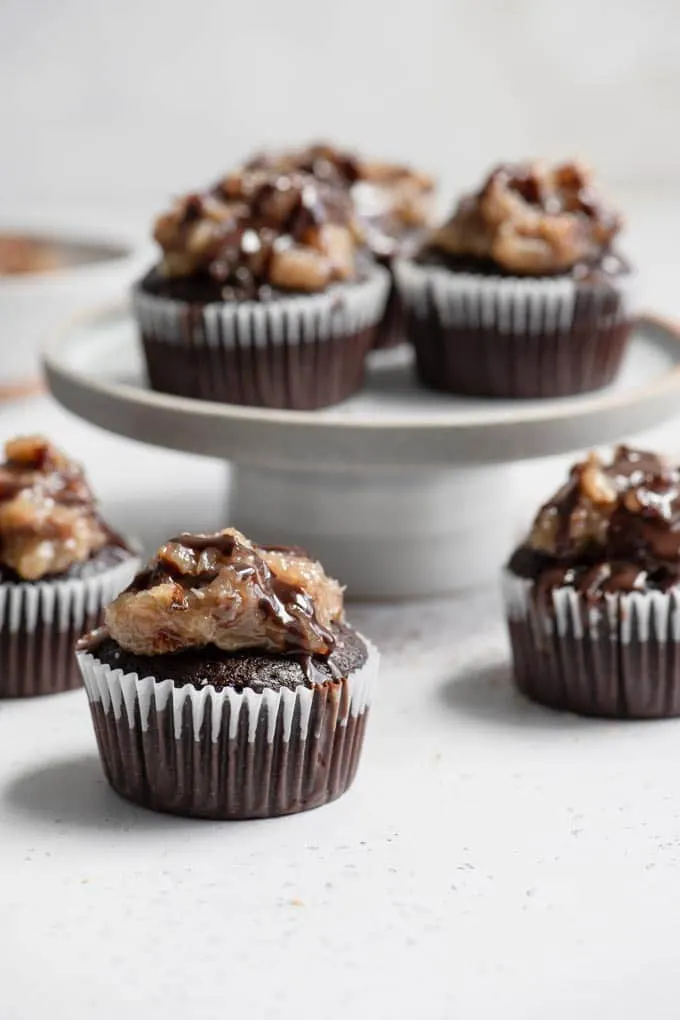 Instead, making an easy chocolate ganache to drizzle overtop gives it that beautiful finish and is a lot simpler.
Chop up some chocolate, warm a bit of coconut milk (you've already got a can opened from the frosting) and whisk them together until smooth. Add a pinch of salt (optional but good), then let it cool until its thick enough to drizzle over. 10-15 minutes in the fridge usually does it!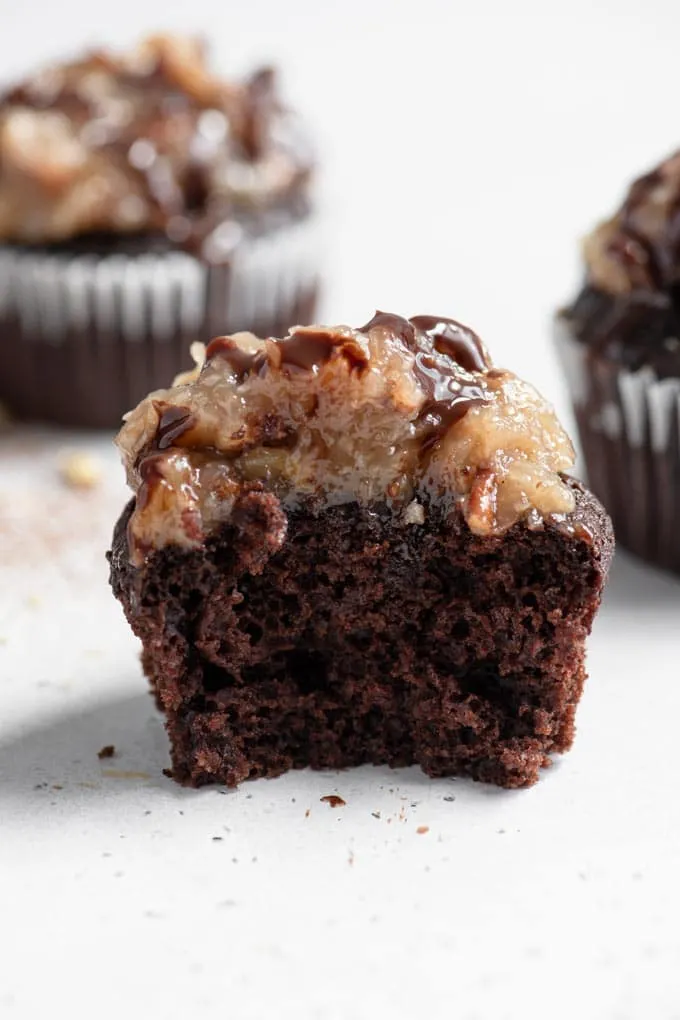 If you make these vegan German chocolate cupcakes, leave a comment below and rate the recipe on the recipe card. And please share your photos with me on Instagram, tag @thecuriouschickpea and #thecuriouschickpea. I love seeing your recreations!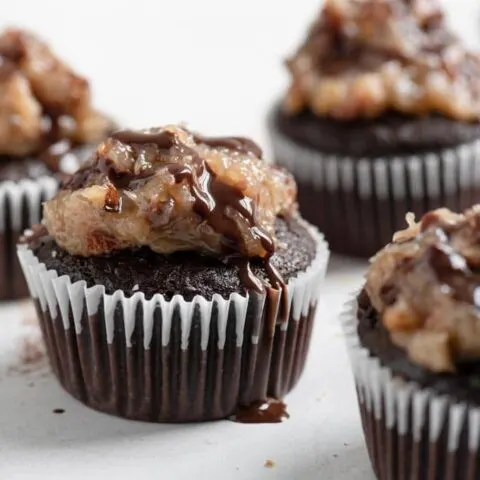 Vegan German Chocolate Cupcakes
These vegan German chocolate cupcakes have a rich chocolatey cake and coconut pecan custard frosting and are finished with a chocolate drizzle. There is enough of the frosting to 1.5x or double the cupcakes, or frost them more generously than pictured.
Ingredients
Chocolate Cupcakes
1 1/4 cup (148g) all purpose flour
1/2 cup (100g) granulated sugar
1/3 cup (30g) dutch-processed cocoa powder
1 tsp (4g) baking powder
1/2 tsp (2g) baking soda
1/2 tsp (2g) sea salt
1 cup (235mL) plant milk
1/4 cup (48g) neutral flavored oil
2 tbsp (36g) maple syrup
1 tsp (5mL) apple cider vinegar
1 1/2 tsp (5mL) vanilla extract
1/2 tsp (2.5mL) chocolate extract, optional
Coconut Pecan Frosting
3/4 cup (175mL) canned full-fat coconut milk
2 tbsp (17g) cornstarch
1/3 cup (75g) vegan butter
1/2 cup (80g) brown sugar
1/4 cup (48g) white sugar
1 tsp (5mL) vanilla extract
1 cup (112g) chopped pecans
1 cup (72g) shredded unsweetened coconut
Chocolate Drizzle
2 oz (57g) dark chocolate
1/4 cup (60mL) canned coconut milk
pinch of salt
Instructions
Chocolate Cupcakes
Preheat the oven to 350 ºF with a rack positioned in the center and line a muffin tin with 12 cupcake liners.
In a large mixing bowl add the flour, sugar, cocoa powder, baking powder, baking soda, and sea salt. Use a whisk to combine and fluff the dry ingredients.
In a second mixing bowl add the plant milk, oil, maple syrup, apple cider vinegar, vanilla extract, and chocolate extract (if using). Whisk to combine.
Add the wet ingredients to the dry and using a whisk combine until smooth and lump free. Divide the batter into the cupcake liners, filling each one about 3/4 of the way full. Tap the pan on the counter once full 2-3 times to release some air bubbles.
Place the muffin tin in the center of the oven and bake for 18-20 minutes. When done, a tester will come out clean or with a couple of crumbs.
Remove from oven and let cool for 5 minutes, then remove cupcakes from tin and let cool fully on a wire rack. Once cooled to room temperature you can frost them or refrigerate the cupcakes in sealed container until ready to frost.
Coconut Pecan Frosting
Measure out coconut milk, then pour a couple tablespoons into a small bowl. Add the cornstarch and whisk together to make a slurry. In a small pot add the coconut milk, cornstarch slurry, vegan butter, brown sugar, and granulated sugar together.
Bring to a simmer over medium-low heat. Cook on a low simmer for 5-10 minutes until it's thick and syrupy, whisking frequently. When done, a spatula should be able to run through the caramel and reveal the pot underneath momentarily before filling back in.
Turn off heat and mix in the vanilla, pecans, and coconut. Let cool to room temp before frosting.
Chocolate Drizzle
Chop the chocolate and place in a heat proof bowl. Warm the coconut milk until just before a simmer, then pour over the chocolate. Whisk together until smooth, then add a pinch of salt (optional).
Place in the fridge for 10-15 minutes or until its cooled and thickened enough to drizzle over the cupcakes.
Decorate the cupcakes
Frost chilled or room temperature cupcakes with the coconut pecan frosting. It's easiest to do this when the frosting is at room temperature or slightly warmer as it thickens when cold.
Add the chocolate drizzle and serve! Cupcakes can be stored at room temperature for a day or two, or place in sealed container in fridge for a week. Enjoy cupcakes at room temperature.
Notes
Chilling the cupcakes in the fridge before serving helps them release from the liners cleanly.
Cupcakes are best enjoyed at room temperature, so if refrigerated take them out about 20 minutes before eating.
Recommended Products
As an Amazon Associate and member of other affiliate programs, I earn from qualifying purchases.
Nutrition Information:
Yield:

12
Serving Size:

1
Amount Per Serving:
Calories:

287
Total Fat:

16g
Sodium:

227mg
Carbohydrates:

33g
Fiber:

2g
Sugar:

18g
Protein:

4g
Nutrition is calculated automatically so should be used as an estimate.