These vegan mocha cinnamon bars are an easy to bake, delicious treat! Tender coffee-scented bars with a cinnamon kick, topped with chocolate and walnuts.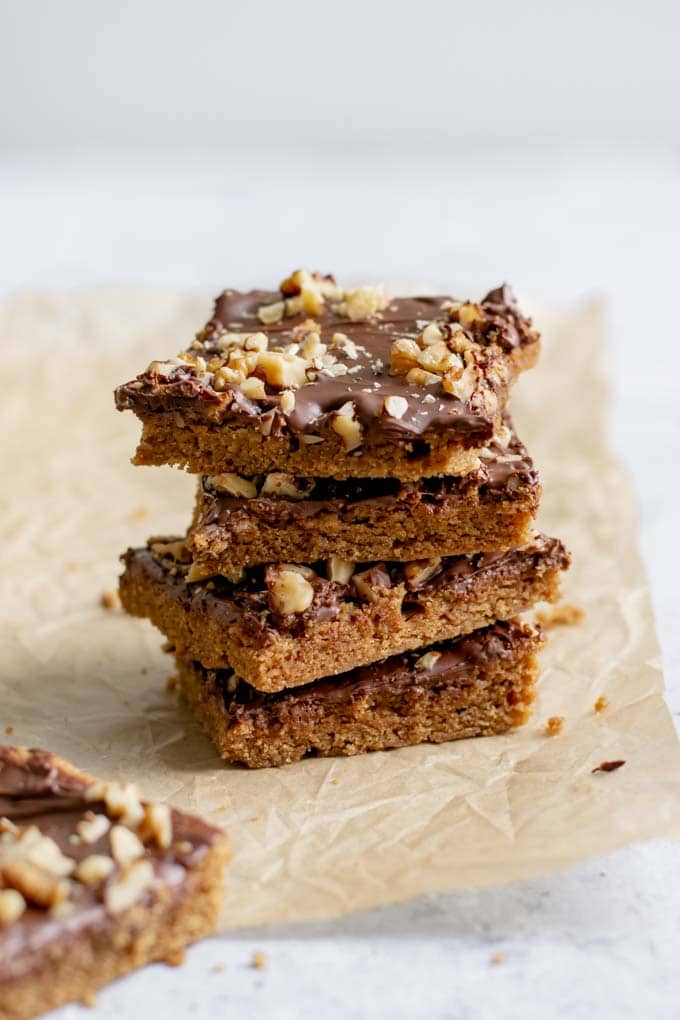 If I'm being 100% honest, I don't completely see the appeal of mocha. It's a coffee-chocolate flavor and while I love chocolate, I'm just not a coffee person. And yet despite that, I found myself nibbling away on these delicious bars because they're just that good!
They're a soft and tender and just a little bit chewy, for an almost blondie-like texture. Mildly coffee flavored bars with a big cinnamon-kick, topped with a generous coating of sweet and rich chocolate, and sprinkled with nutty and slightly bitter walnuts.
These flavors pair together harmoniously for the ideal winter-warming treat. And this is coming from a non-coffee lover!
So why did I work so hard and make batch after batch of mocha bars if I don't even like coffee? Well, there comes a time in everyone's life where they find themselves laboring over an ingredient they don't like because their loved ones do. And these mocha cinnamon bars bring back all the nostalgia and memories of my childhood Christmases.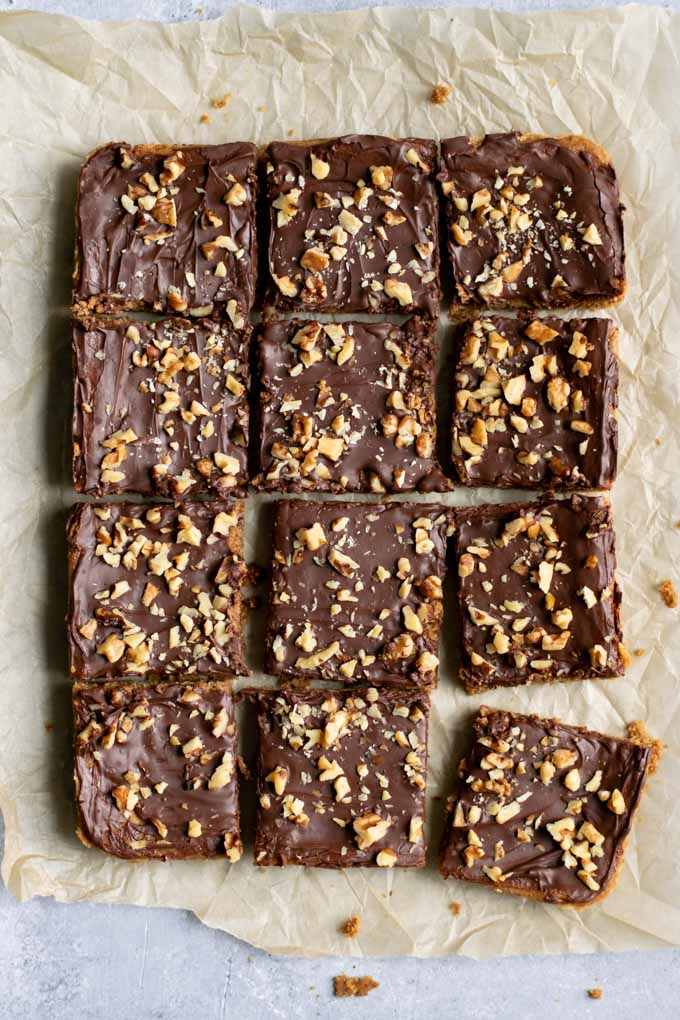 I mentioned last year my family's tradition of cooking out of a 1985 edition of Better Homes and Gardens Christmas Cookies recipe book every holiday season. Each of us girls would get to choose a cookie to make, and without fail my cousin would always choose the mocha cinnamon fingers. I might never have eaten them (because coffee!) but I can't think of the holidays without thinking about these bars.
Luckily for me, and maybe especially for you, my husband Omar is a fan of coffee, so making these vegan mocha cinnamon bars was an easy decision this winter!
Recipe testing for turning these traditional cookies vegan was not the most straight forward process, but several batches later I got something worthy of obsessing over. I can't say if they're 100% like the cookie bars of our childhood, but they're damn good and exactly what I want to eat, even with the coffee notes!
The coffee in this recipe isn't overpowering, but instead is more coffee-scented, offering some bitter and smooth undernotes to the flavor. That being said, if like me you are not a coffee fan, you could totally make these bars without the instant coffee for a cinnamon blondie. Your coffee loving friends, family, and coworkers will probably still love you. Probably.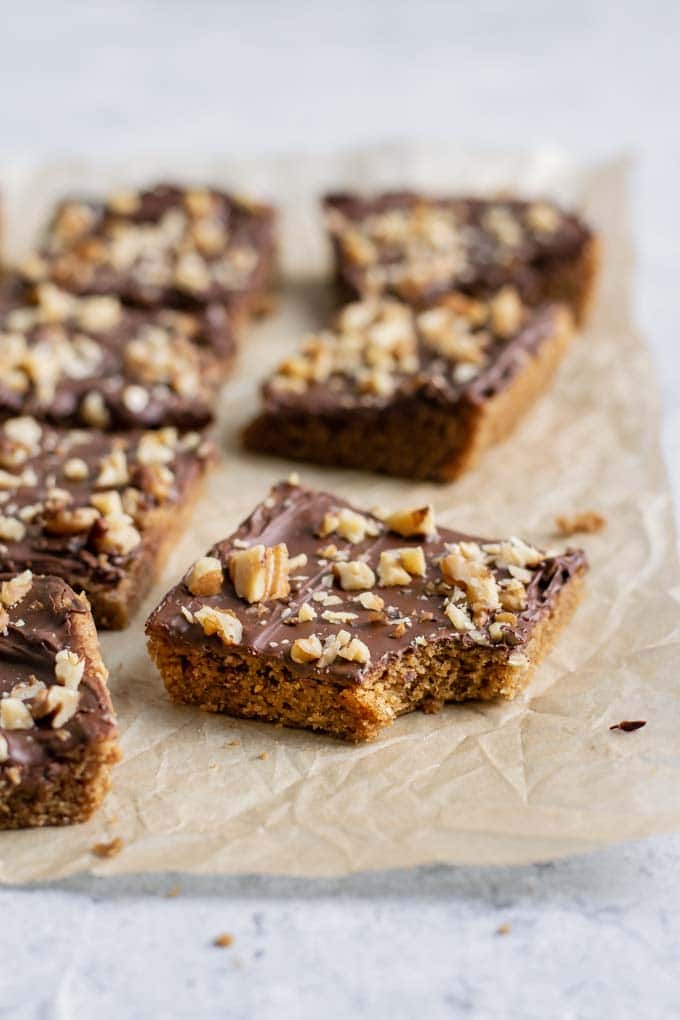 Veganizing the mocha cinnamon bars:
There were two non-vegan ingredients in the original recipe of these bars: butter and egg yolk. Switching out the butter for vegan butter is super easy. You just want to use vegan butter sticks as the tub variety will contain too much water.
The egg yolk acts as both a binder and a mild leavener. Replacing that required more than one ingredient. First for binding and a bit of a custardy effect I added silken tofu to the dough.
Just a small amount of silken tofu is all you need and no one would ever know there was tofu in there. If for some reason you need to avoid soy, a nondairy yogurt would serve a similar purpose.
Tofu on it's own doesn't add any leavening to the dough and the resulting bars are gooey like cookie dough. But adding a bit of baking soda and baking powder into the dough does the trick! The batter turns into a moist cookie-cake bar that's addictively good. One bite in and I had found mocha cinnamon bar nirvana (which is not something I thought I'd ever say)!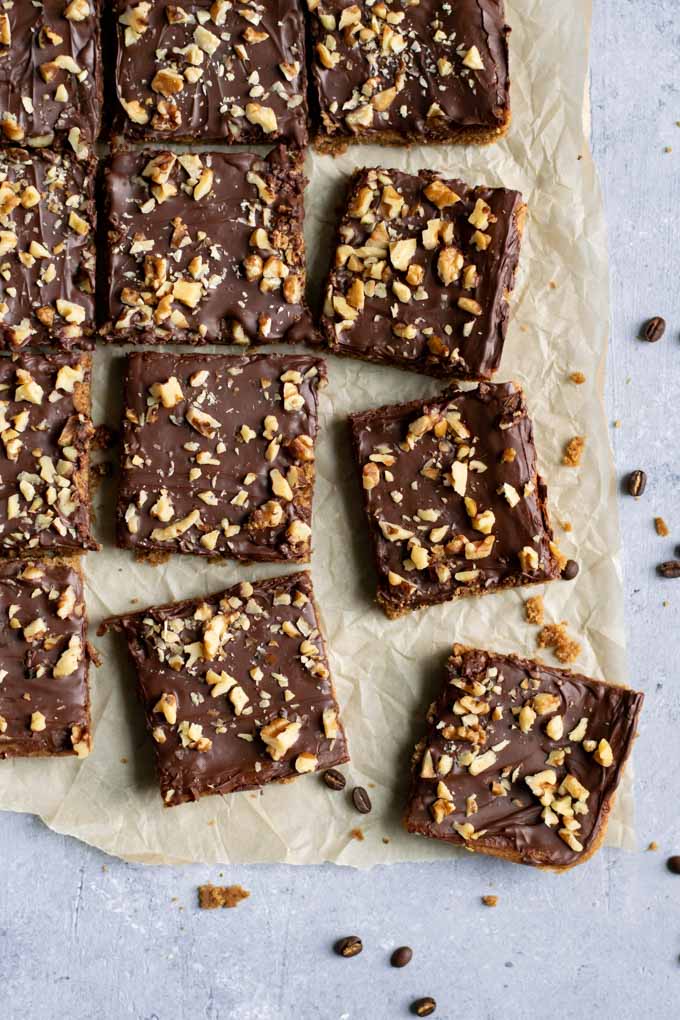 Making the mocha cinnamon bars:
I think my favorite part about making these bars is how easy they are. Making the batter is similar to making cookie dough, but it's softer like a brownie batter.
The process is pretty straight forward: using an electric mixer or a stand mixer (with the paddle attachment), beat the vegan butter until it's soft, then cream together the whipped butter and sugars until they're soft, spreadable and fluffy. Beat in the silken tofu, which might cause the mixture to look split at first, but keep mixing and it'll turn pretty fluffy again.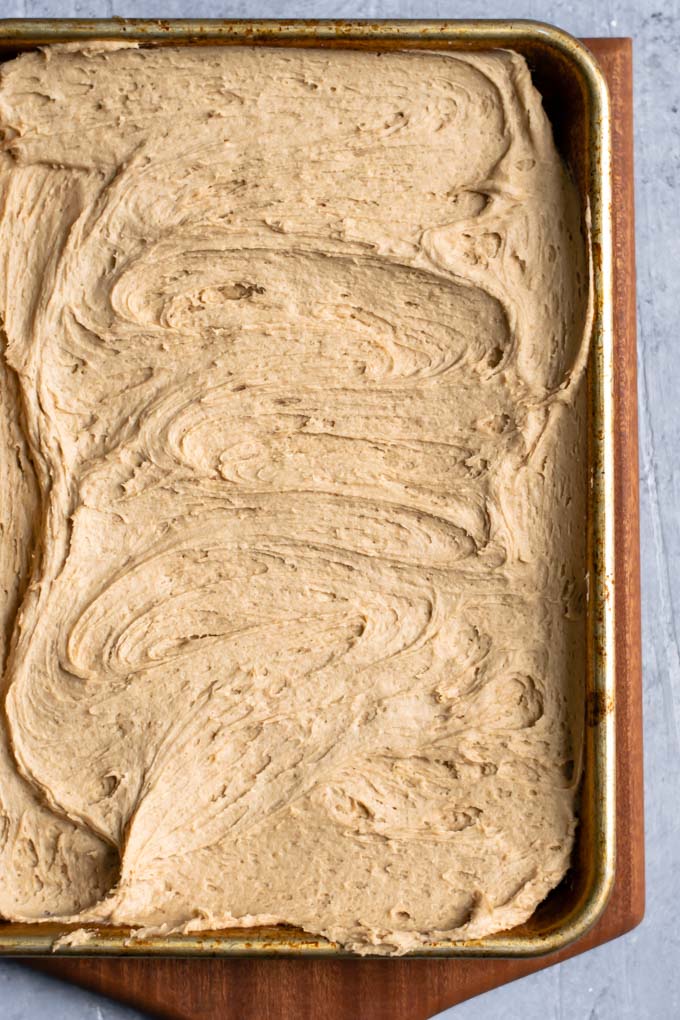 Then quickly mix in the instant coffee, first dissolved in plant milk and some vanilla extract. In a separate bowl whisk together the dry ingredients: flour, cinnamon, baking powder, baking soda, and salt.
Next we add the dry ingredients to the creamed wet ingredients. Add the flour mixture in batches, about 1/3 at a time, mixing with the paddle attachment or hand mixer until it's combined before adding the next third of flour. Once all the flour is added and you've combined it to make a creamy, milky colored thick batter, spread it over an un-greased quarter-sheet baking pan.
Bake it until it's solid but soft throughout (it shouldn't have any wiggly spots if gently shaken). Like cookies, the bars will continue to bake and firm up as they cool. The sides will start to just pull away from the pan as well.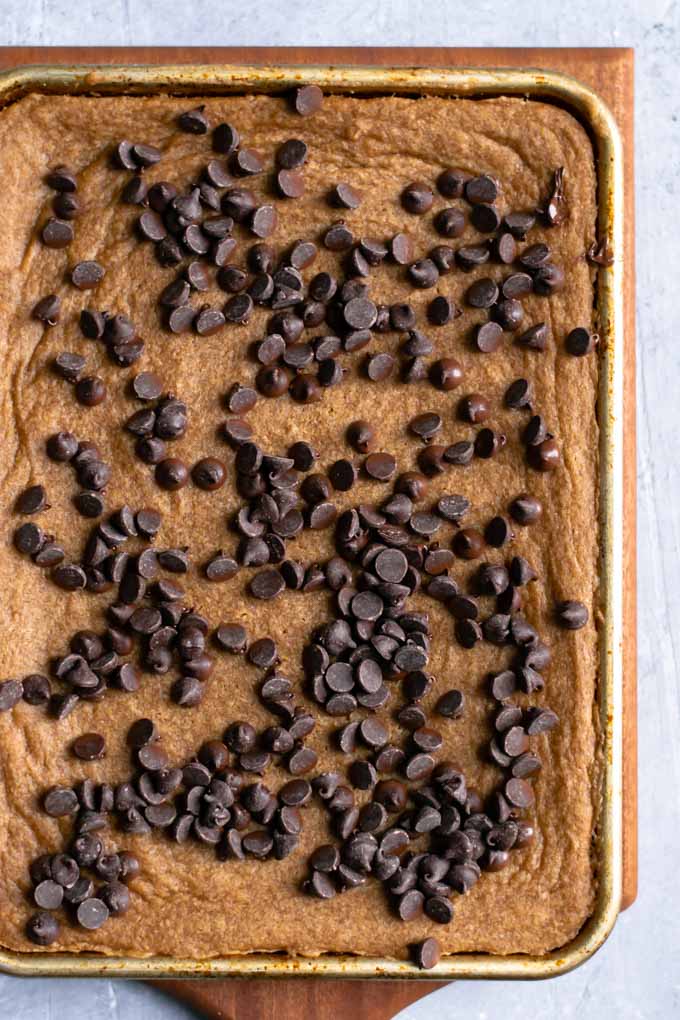 Immediately when the bars come out of the oven, sprinkle chocolate chips over the top and let them sit a few minutes until they get all melty. Once melty spread them to coat the bars, then sprinkle chopped walnuts overtop. Let cool for another 20 minutes or so, but before they cool fully cut them into bars. Leave the cut bars in the pan to cool fully. Once the chocolate has hardened they're ready to be scooped out of the pan and devoured!
And that's it! I hope you guys love these bars! They're a perfect holiday baking project, but equally tasty anytime of the year. Cinnamony, chocolatey, nutty, with a bit of coffee flavor–they're as good as they sound! So get to baking already!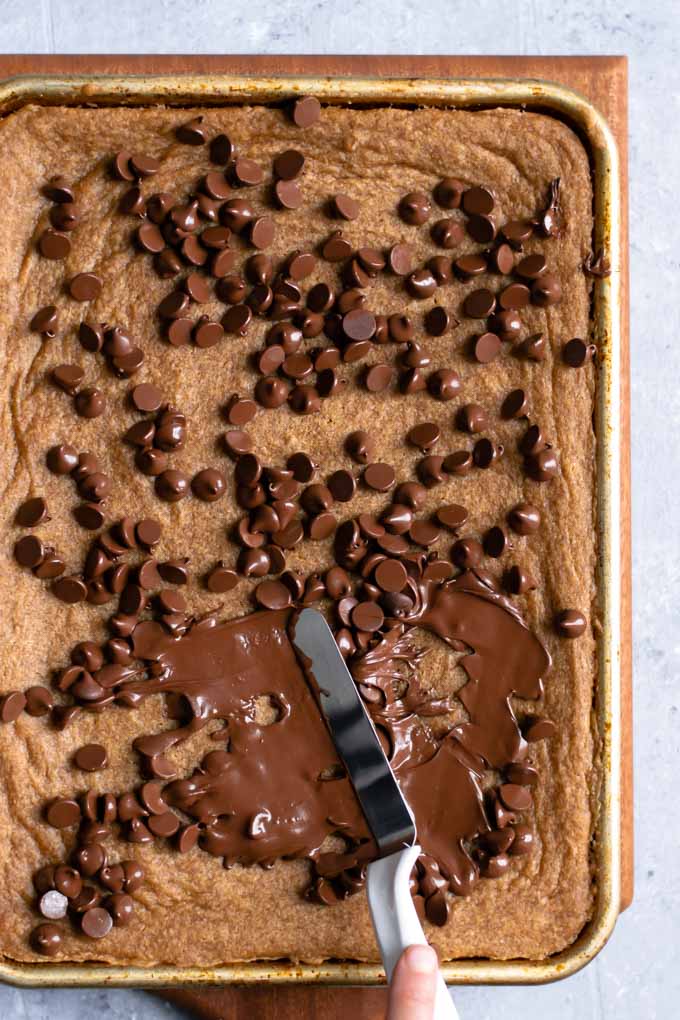 Go ahead and leave a comment below and rate the recipe on the recipe card if you make these vegan mocha cinnamon bars! And share your photos with me on Instagram, tag @thecuriouschickpea and #thecuriouschickpea, I love seeing your recreations!

Notes:
I used Earth Balance vegan buttery sticks in this recipe.
I imagine they could be made gluten free with an all purpose gluten free blend but I haven't tested that yet myself. Please report back if you try them gluten free!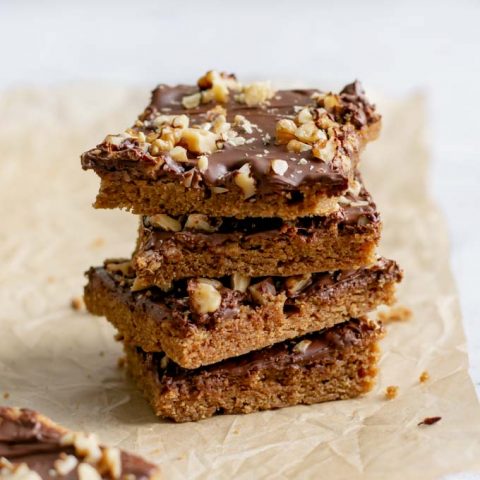 Vegan Mocha Cinnamon Bars
These vegan mocha cinnamon bars are an easy to bake delicious treat! Tender coffee-scented bars with a cinnamon kick, topped with chocolate and walnuts.
Ingredients
2 tsp (2g) instant coffee
2 tbsp (30g) plant milk
1/2 tsp (2g) vanilla extract
2 cups (256g) flour*
1 tsp (2g) ground cinnamon
1 tsp (4g) baking powder
1/2 tsp (2g) baking soda
1/2 tsp (3g) salt
1 cup (22g) vegan butter sticks
1/2 cup (96g) granulated sugar
1/2 cup (89g) brown sugar, lightly packed
1/4 cup (56g) silken tofu, water packed or vacuum packed
1 cup (165g) semisweet chocolate chips*
3/4 cups (80g) chopped walnuts
Instructions
Preheat the oven to 350 ºF and set aside an ungreased quarter sheet baking pan (9 x 13").
In a small bowl whisk together the instant coffee, nondairy milk, and vanilla extract until the coffee is dissolved.
In a mixing bowl whisk together the dry ingredients to combine: flour, cinnamon, baking powder, baking soda, and salt.
In a stand mixer using a paddle attachment or using handheld electric beaters, beat the vegan butter until it is softened and creamy. Add the granulated and brown sugars and beat until the mixture is fluffy and well creamed, scraping down the sides periodically. This can take a few minutes.
Add the silken tofu and beat until smooth. The mixture might break at first but will come back together to form a smooth fluffy mixture. Add the coffee-milk mixture and beat to combine.
Add the dry ingredients in batches, about 1/3 of it at a time, mixing to incorporate each time. After adding the last batch of the flour mixture, beat to just form a smooth and fluffy dough, then turn the mixer off.
Spread the batter to cover the un-greased quarter sheet pan, and bake for 20-22 minutes, or until the cookie bars are done. They will be soft but solid throughout (not jiggly in the center) and starting to pull away from the side of the pan in places.
Sprinkle over the chocolate chips immediately and let sit until the chocolate is softened and melty, about 3-5 minutes. Spread the chocolate to cover the bars, then sprinkle the walnuts over top.
Let the bars cool for at least 15-20 minutes before slicing into them while they are still warm. Then, let them cool completely before removing from the pan and serving. Store the mocha cinnamon bars in a sealed container.
Notes
*To measure your flour by volume: whisk the flour to undo any settling, then scoop with the measuring cup and level with the back of a knife.
*not all chocolate chips are vegan, some contain milk ingredients so ingredients check to be sure.
Recommended Products
As an Amazon Associate and member of other affiliate programs, I earn from qualifying purchases.