This savory hearty vegan Irish stew is full of homemade seitan, potatoes, and carrots with a rich Guinness broth. It's easy to make and delicious served with a side of soda bread!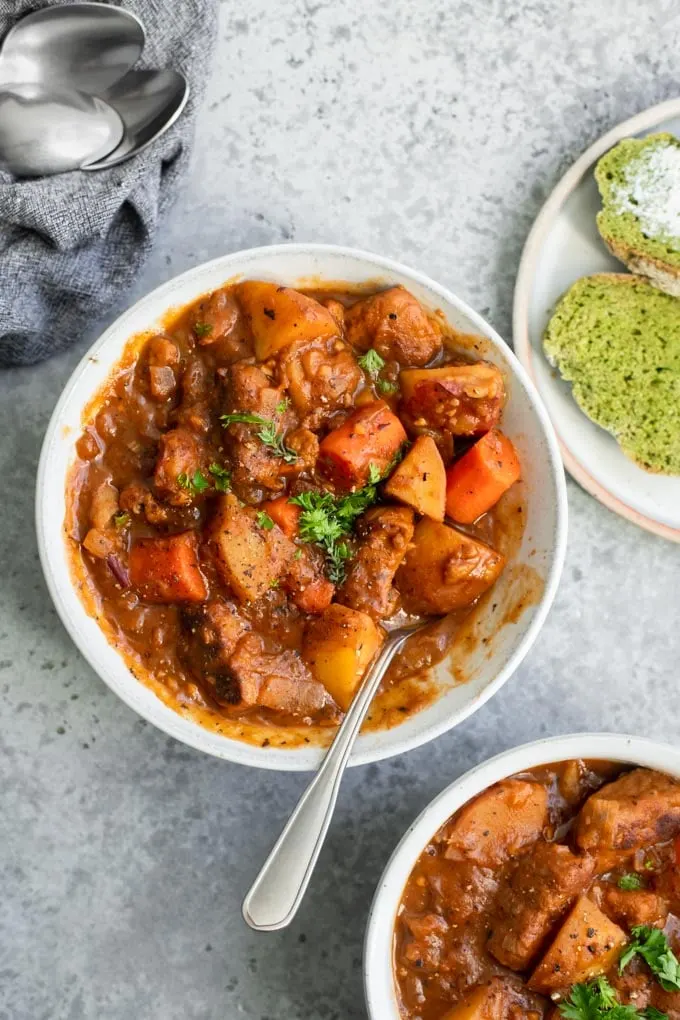 You can have your Irish stew and vegan too, because this vegan Irish stew is belly filling, stick to your ribs, ultra savory comfort food.
Us veg-heads might have had to wait for many years for Guinness to finally stop using isinglass in their refining process, but they have. And now we can make all the Irish Guinness stew we want!
*Note, this is subject to change and doesn't seem to apply to all types of beer that Guinness makes. It is true of the Original, Extra Stout, as well as many others. You can check Barnivore before buying!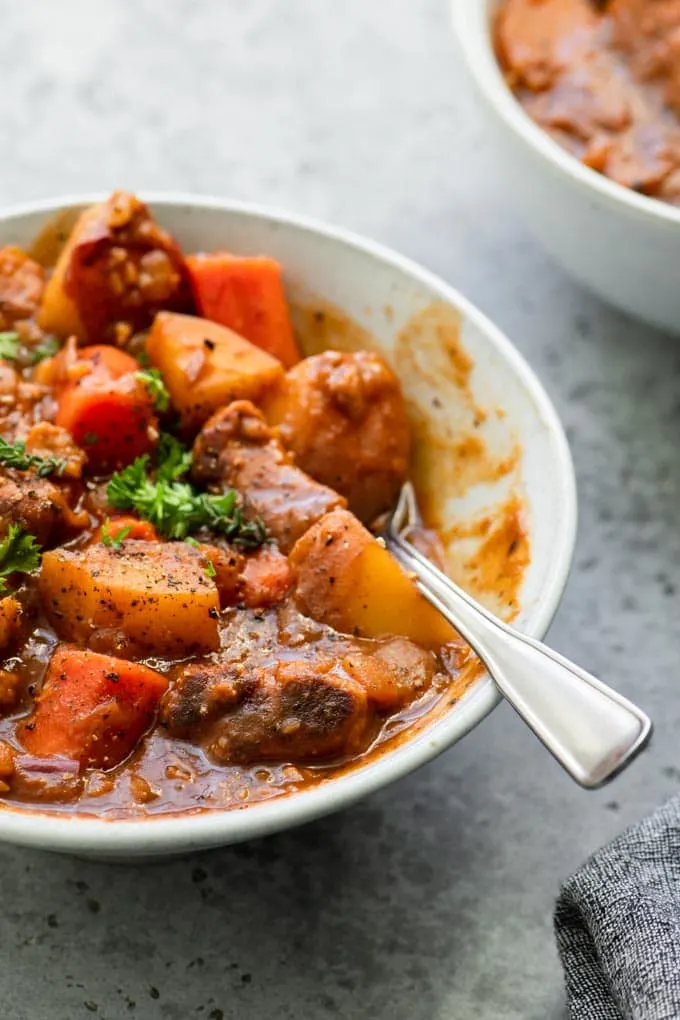 And even if you, like me, don't actually like drinking dark stout, it makes for amazing stews! It adds deep savory notes and hints of bitter that contrast the buttery potatoes and sweetness of the carrots.
This is the type of simple, comfort food I'm here for these days. It might not be glorious to look at, but hey, what brown stew is!
What goes into an Irish stew?
Well it can't be Irish without potatoes for one. My trip there last summer had me eating so many potatoes and man I was happy about it!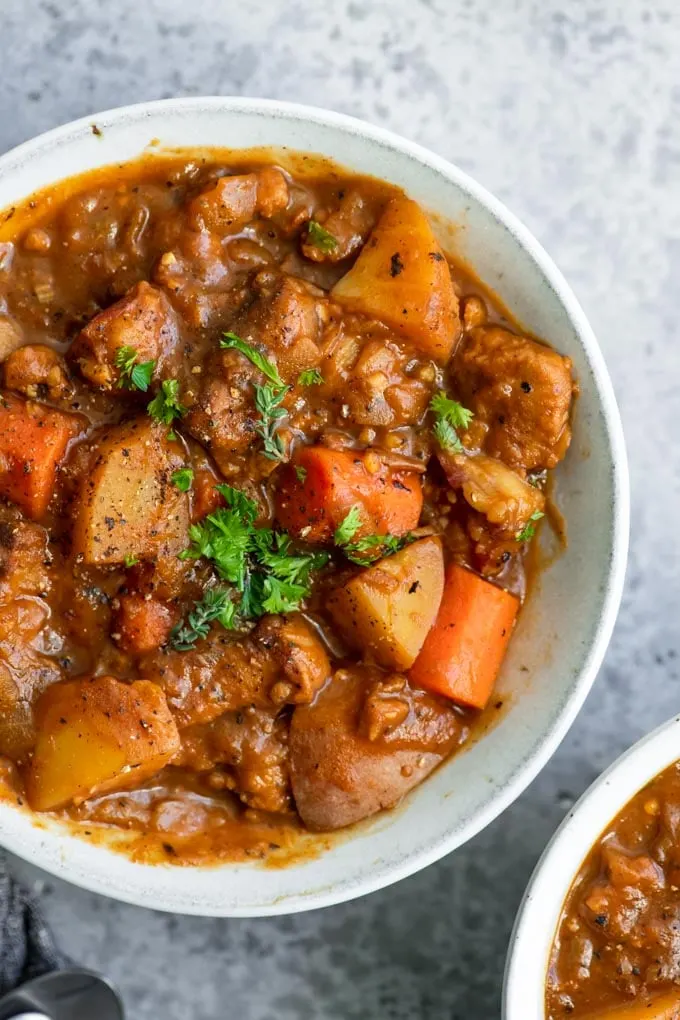 It's common to include other root vegetables as well, and I like carrots for much needed earthy sweetness they bring to the stew.
Onion and garlic make up the aromatic base of the stew, with bay leaves and thyme as the spices.
Flour is used to thicken the brown and create that thick glossy broth to cling to the main ingredients.
For the broth, use vegetable broth or if you can, use a beef-style vegetable broth. Almost half of the liquid comes from stout. Guinness is the most popular stout, and a great choice for this stew!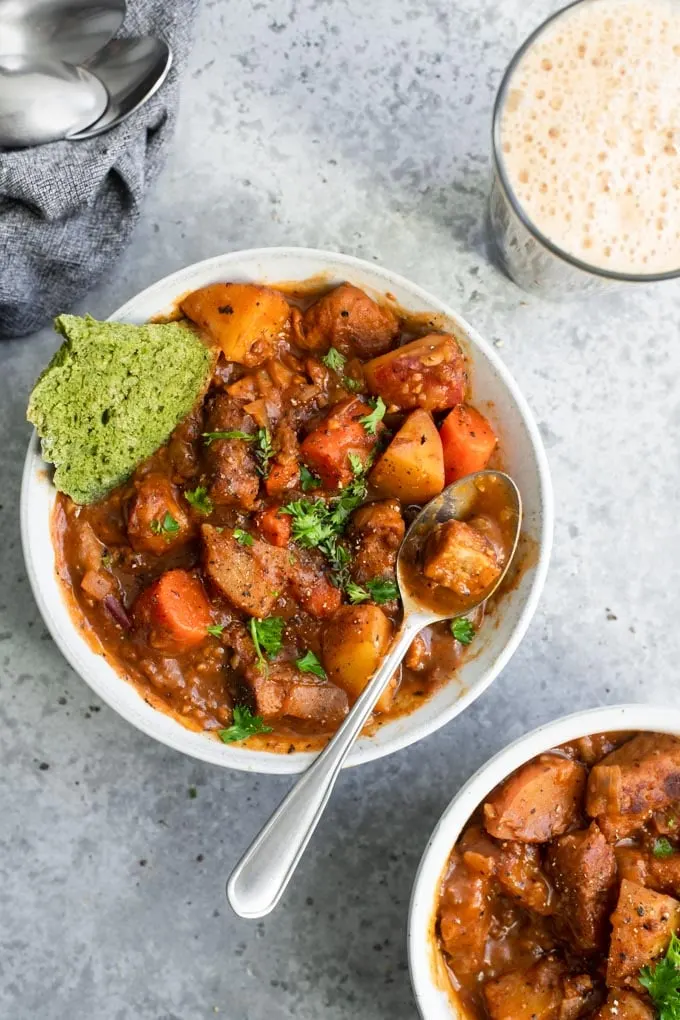 Too add extra savory notes and balance the stew out with some sweetness, I add tomato paste and Worcestershire sauce. Most Worcestershire sauces contain anchovies, so make sure to pick up a vegan one!
Irish stews usually contain some kind of meat, typically beef or lamb. Instead I made seitan for its meaty texture and high protein.
You could also buy vegan "beef" style pieces at the store and use that in the recipe!
The homemade seitan:
One of the things I love about making my own seitan for this stew is that it cooks in the stew itself!
Seitan is a delicious vegan protein that is made from gluten, which is the protein in wheat. It's chewy, super full of protein, and depending on how it's made, low in fat.
It's been around for centuries, so if you haven't given it a try, well it's about time you do! Unless you don't eat gluten, and then you can always try substituting a non wheat-based vegan protein.
Seitan can be simmered, baked, or fried to cook, and here it is simmered right as the rest of our stew cooks.
Making the seitan is easy: mix together the dry ingredients, add the wet, then mix it together, and knead it a few times to bring it into a cohesive ball. Let it rest for 15 minutes to relax the gluten, then remove it from the bowl and shape it into a round shape.
Dice up the gluten, and separate out the chunks because they will "heal" themselves if left together. Instead put the chunks in a bowl once they are cut and then toss them with oil and a bit of salt and pepper. The oil will keep the pieces separated.
The gluten chunks are then pan fried. This helps them hold their shape for a denser and chewier final texture and gives an extra chewy (for lack of a better word) outside.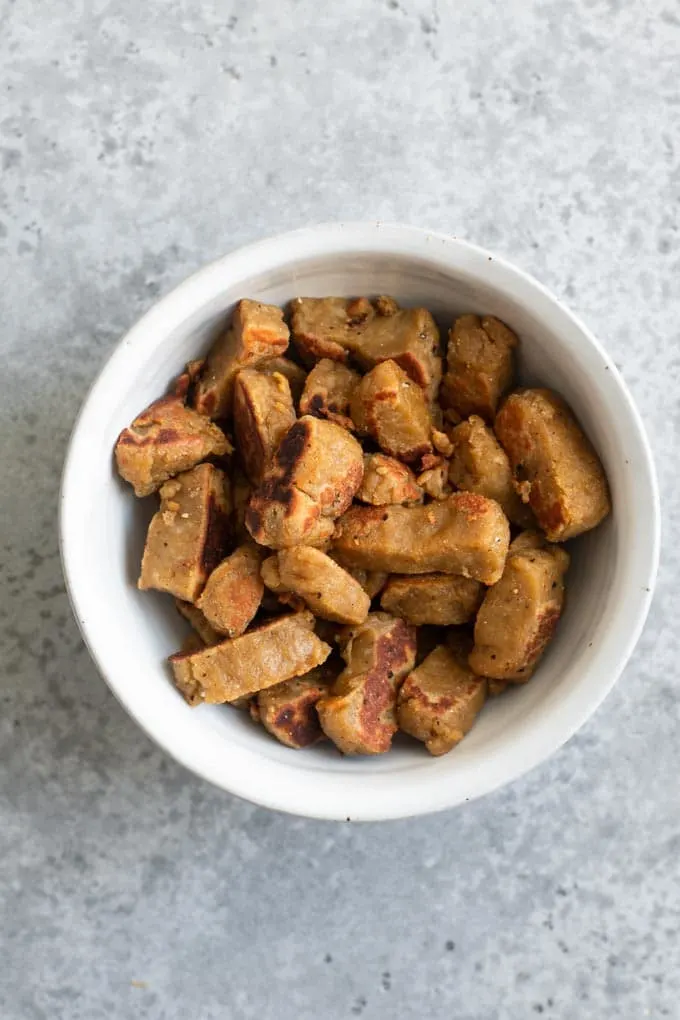 When the seitan is cooked in the stew its important to not let it come to a rolling boil but just let it keep at a low and steady simmer. If the seitan cooks at a boil (particularly in the first 15 minutes of it cooking) it might come out a bit spongey and that is not the texture you should get from this recipe!
How to serve:
Serve the stew warm (duh!) and garnish with a bit of fresh parsley and plenty of salt and pepper. I served up my bowls of stew with a side of homemade kale soda bread. The green color is fun, plus it's extra nutrition!
If you reheat leftovers you'll likely need to add some extra broth to thin. And you can definitely add broth as you like to get to your desired consistency. But it does absorb liquid as it sits and so a splash or two of broth to reheat is ideal!
Like most stews this does magically somehow manage to get even better as it sits, so leftovers are key! Even though this is 6 servings, and the bowls are quite filling, it's not overly heavy and if you have a big appetite it might serve more like 4.
You can always double the recipe for extra leftovers, or to feed a crowd! Leftovers will also freeze quite nicely!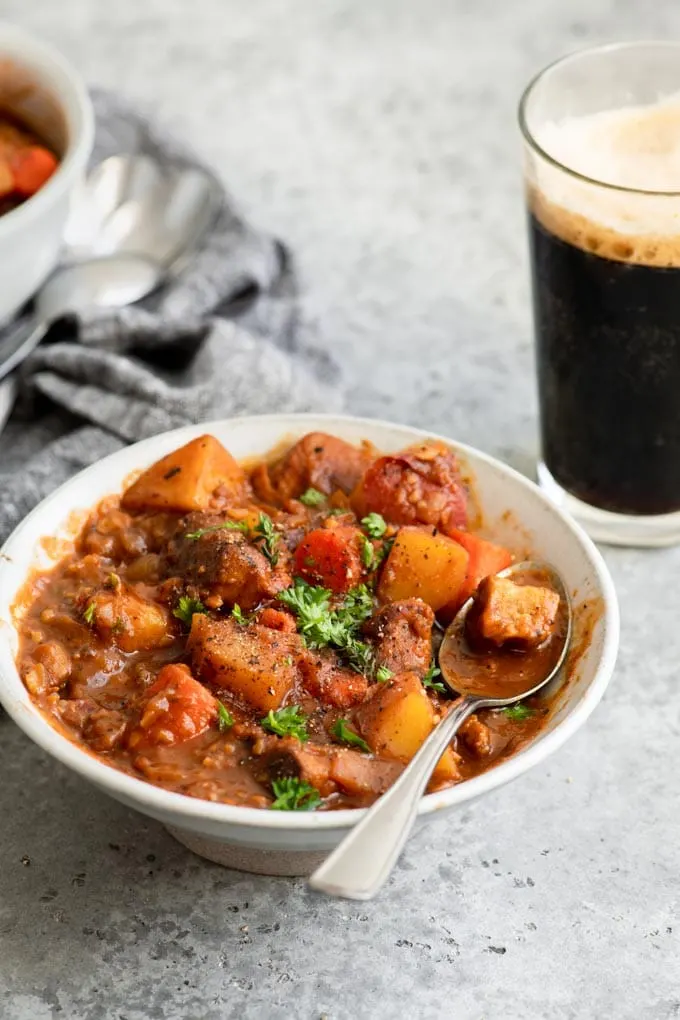 If you make this vegan Irish stew, leave a comment below and rate the recipe on the recipe card. And please share your photos with me on Instagram, tag @thecuriouschickpea and #thecuriouschickpea. I love seeing your recreations!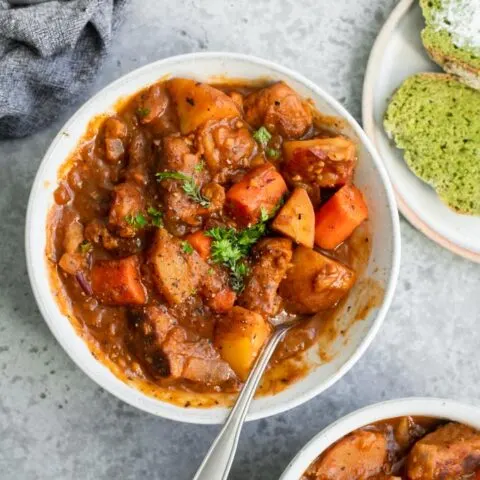 Vegan Irish Stew
Cook Time:
1 hour
15 minutes
Total Time:
1 hour
25 minutes
This savory hearty vegan Irish stew is full of homemade seitan, potatoes, and carrots with a rich Guinness broth. It's easy to make and delicious served with a side of soda bread
Ingredients
Seitan
1 cup (136g) vital wheat gluten
1/4 cup (27g) chickpea flour
1 tbsp (5g) nutritional yeast
1/2 cup (120g) vegetable broth
1 tbsp (15g) soy sauce
1 tbsp (14g) olive oil
scant 1/8 tsp liquid smoke (optional)
Everything Else
1 tbsp + 1 tsp olive oil, divided
1 large yellow onion, chopped
4 cloves garlic, minced
2 bay leaves
2 tbsp flour
2 cups vegetable broth (ideally beef-less broth)
11oz bottle Guinness Stout
4 sprigs fresh thyme (or 1 tsp dried)
4 large carrots, 1-inch dice
4-6 red or yellow waxy potatoes, 1-inch dice
1/4 cup tomato paste
1 tbsp vegan worcestershire sauce
salt and pepper to taste
Instructions
Mix together the dry ingredients for the seitan, then mix in the wet. Knead until well combined, then cover and let rest for 15 minutes. Shape into a disc and cut into ~ 3/4-inch chunks. Toss the pieces in 1 tablespoon of oil and a sprinkling of salt and pepper.
Heat a large cast iron or nonstick skillet over medium and add the seitan chunks when hot (no need to add any extra oil). Fry for about 5 minutes, or until the chunks are lightly browned. Remove from pan and set aside.
Heat a large heavy bottomed stock pot or Dutch oven over medium heat and add another teaspoon of oil to the pan. Add the onions and a pinch of salt and sauté until the onions until lightly caramelized, about 10-15 minutes.
Add the garlic and bay leaves, and let cook for about 60 seconds. Add the flour and stir to coat, then add the browned seitan, carrots, potatoes, broth, guiness, tomato paste, thyme, and worcestershire sauce. Bring to a low boil, then turn the heat down and let simmer, covered, for 45-60 minutes until the vegetables are tender and seitan is cooked. Stir occasionally.
Remove the bay leaves and thyme sprigs, add salt and pepper to taste and serve!
Notes
Substitute homemade seitan for vegan beef chunks, often available in the frozen section. Sauté separately and continue with recipe.
Enjoy this stew with a side of kale soda bread!
Recommended Products
As an Amazon Associate and member of other affiliate programs, I earn from qualifying purchases.
Nutrition Information:
Yield:

6
Serving Size:

1
Amount Per Serving:
Calories:

383
Total Fat:

7g
Cholesterol:

0mg
Sodium:

893mg
Carbohydrates:

45g
Fiber:

5g
Sugar:

6g
Protein:

35g
Nutrition is calculated automatically so should be used as an estimate.