This blackberry lavender chocolate cake is a show stopping dessert in both flavor and looks. It's so easy to put together, and a cake that you and your guests will enjoy! You would never guess that it's vegan!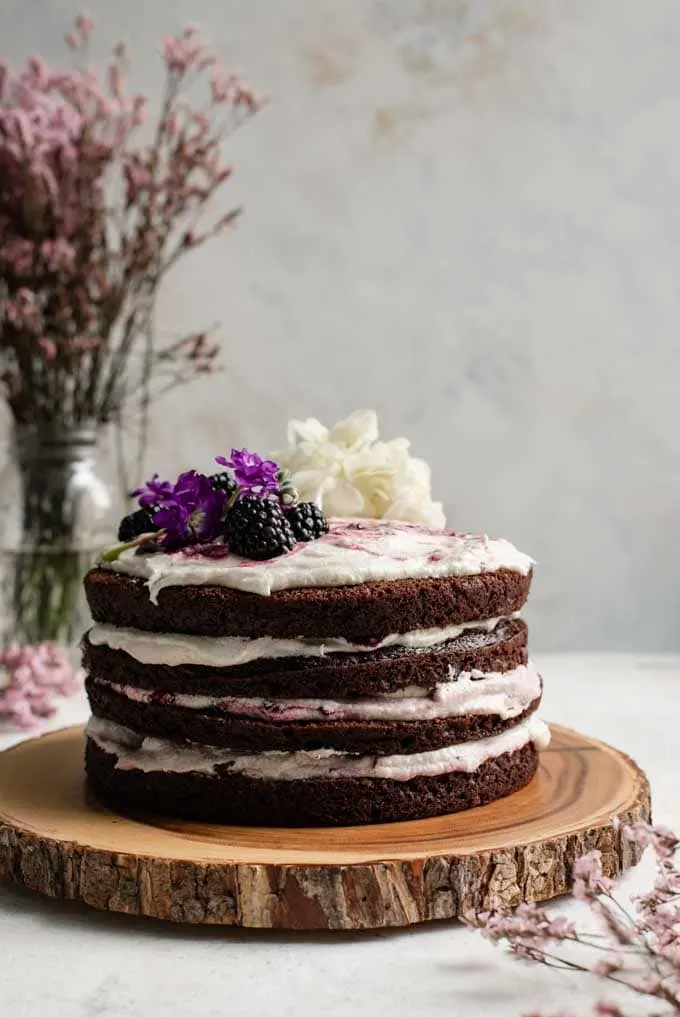 I haven't been able to resist the allure of plump blackberries lately. Not that I try very hard as you know, fruit is good for you and all that. And each little carton of early season blackberries has paid off with the sweetest, most juicy berries!
So don't mind me while I devour all the blackberries I can get my hands on while the season lasts. And no judgment if I enjoy some of those berries via the most delicious chocolate cake!
If I could put this cake on repeat, I would. Anyone have a birthday coming up they want to invite me to? I'll bring the cake! ?
The truth is, you don't need great fresh blackberries to make this cake. Most of the blackberry flavor comes via an easy homemade lavender blackberry jam which is as tasty (and often more economical) when made out of frozen berries as fresh.
A few fresh blackberries to top and if you want some extra berries nestled between the layers for decor and extra bursts of flavor are all you need.
To frost this cake I chose my vegan ermine frosting, an old fashioned flour-based buttercream. It's fluffy and light, not overly sweet, and super creamy. You'll def want to give this frosting a try!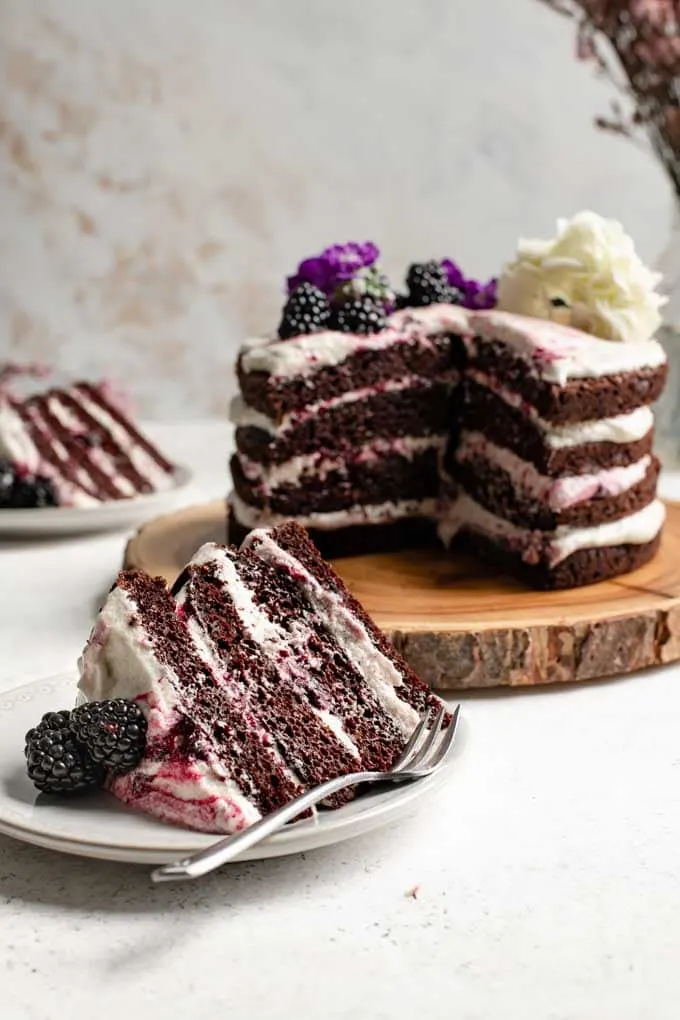 So, let's build this cake!
Start with the chocolate cakes!
I baked up 2 of my ultimate vegan chocolate cakes. Each cake bakes up nice and tall, and I chose to cut them in half (called torting) to make a total of 4 layers to my cake.
I prefer to bake my cakes at least the night before I want to assemble, as this gives them ample time to chill in the fridge. This is essential for getting clean cuts through the cake to make nice layers as well as minimizes crumbs when frosting the cake.
Once baked, let the cakes cool on a rack until they reach room temperature, then transfer them to a cardboard cake board and wrap in plastic and place in the fridge to chill. The cake boards help protect your cake and keep them nice and level as well as make for easy storage.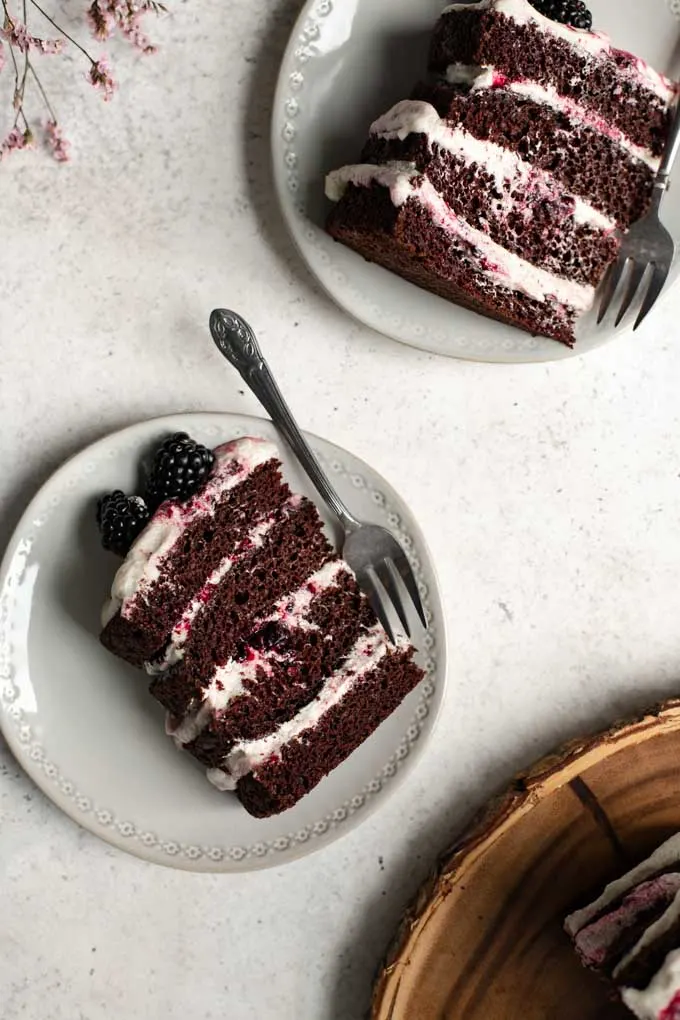 Next, prepare the blackberry lavender jam.
Homemade blackberry jam is super simple. Combine the blackberries, sugar, lavender, and some lemon juice and simmer until the juices start to thicken.
There's a lot of cool chemistry when it comes to making jam. Essentially it thickens thanks to pectin, which is naturally occurring compound in blackberries (and other fruits). Cooking the berries with sugar draws out the pectin, and this process is aided by adding an acid–in this case lemon juice.
There's no need to get overly fussy with this blackberry lavender jam, as we aren't trying to make the most perfect jam ever, but just trying to make a delicious preserve for swirling between our cake layers.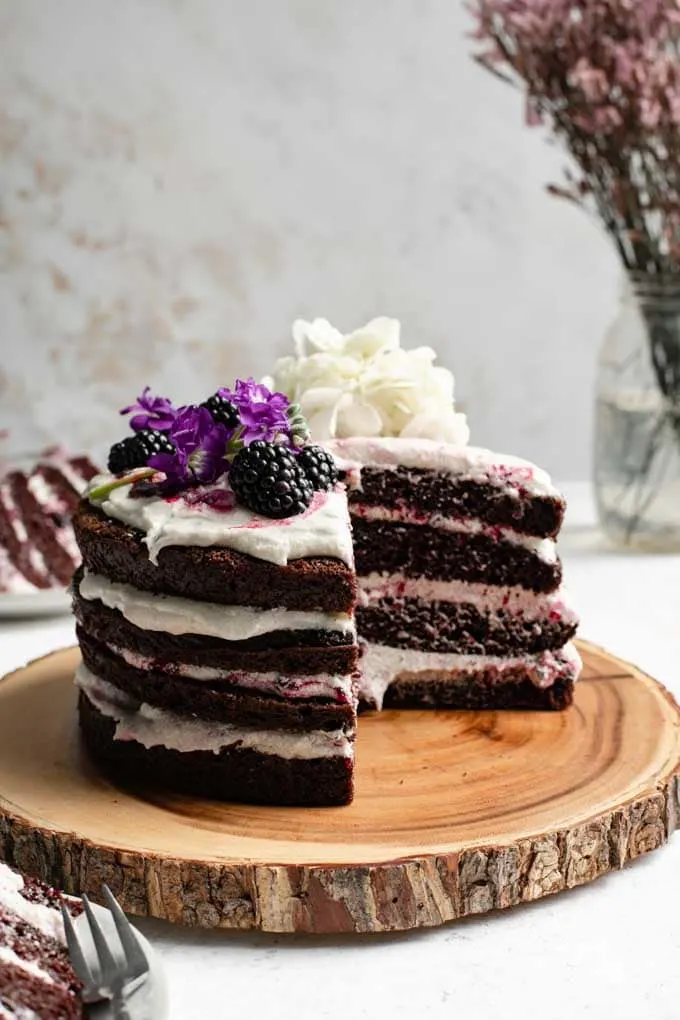 Be careful not to cook the blackberries for too long as this can cause the mixture to get too thick, the sugars start to caramelize, and before you know it your jam will cool to be solid (definitely don't know that because of experience ?). Because we're just adding this to cake, if anything it's better to cook less than it is too long.
As the berries simmer they'll cook off excess water and the juices will start to thicken. How long this takes depends on how much you're making and the size and shape of your pot, as well as you particular stove.
When you're able to draw a spoon or silicon spatula through the jam and it takes a second to fill in behind the spoon, your jam is ready. If it holds the gap for too long, you're starting to overcook the sugar in the jam.
The jam will thicken as it cools. Make it in advance and store in the fridge, or just make sure it's completely cooled before decorating the cake.
If interested, you can read more about jam making in this article!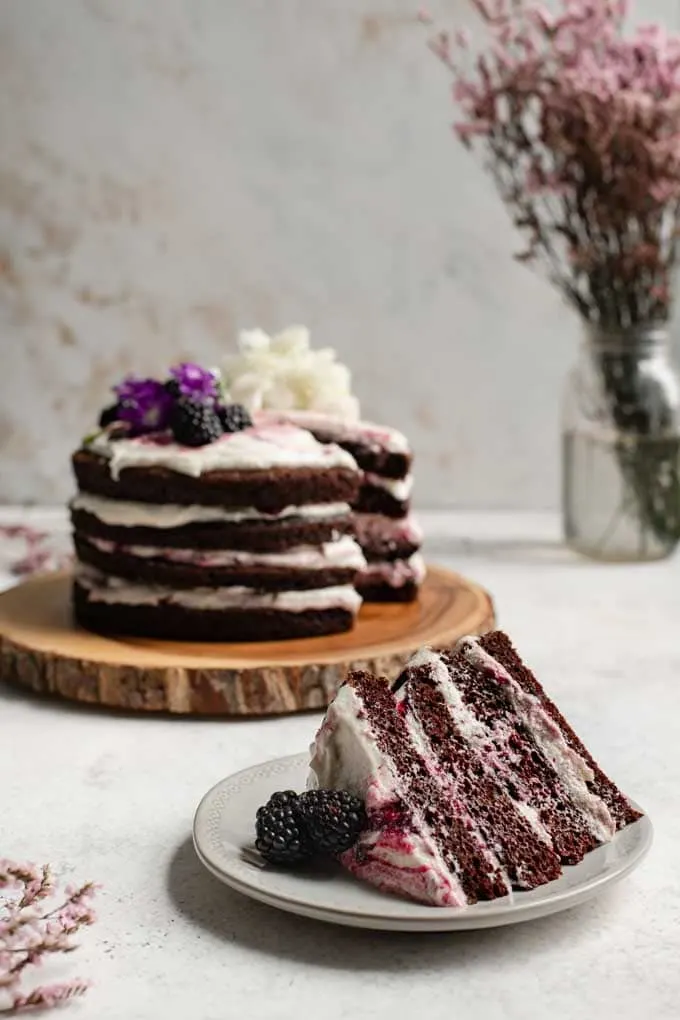 Now it's time to make the flour frosting!
The idea of flour frosting might not make your mouth start to water, but, you guys. This frosting is so delicious! It's ultra creamy and smooth. Soft, light, and fluffy.
It's made with just 5 simple ingredients. Flour, plant milk, granulated sugar (that's right! no powdered sugar here!), vegan butter, and vanilla extract.
If you're one of those people who doesn't love the way that powdered sugar frosting taste (super sweet typically), doesn't care to fuss with meringue buttercream, or just likes to experiment with new recipes, then this is the frosting for you!
First we make a simple pudding with the flour and milk (any vegan milk should work just fine in this recipe–I tested it with oat milk and soy milk). Whisk them together and heat on the stove, whisking while it warms to keep any large clumps from forming.
Once it thickens, turn off the heat and let it cool to room temperature. Whisk occasionally as it cools to keep it from turning lumpy or developing a skin on top.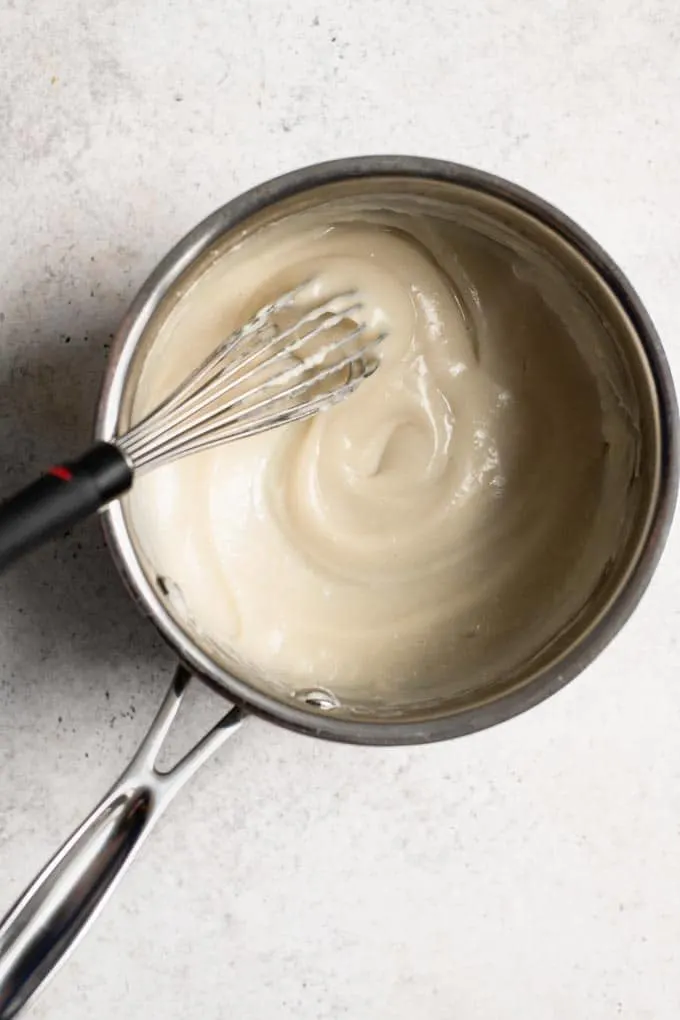 Next, blitz your sugar in a blender to make a homemade caster or superfine sugar. You can skip this step, but it helps ensure that all the sugar dissolves into the vegan butter easily and you won't end up with a stray grain of sugar here and there.
Whip the sugar with the vegan butter (take it out of the fridge 15-30 minutes before you want to whip it) until fluffy and lighter in color. Then add the pudding in batches and whip it in to incorporate and turn the frosting even fluffier and creamier.
Buttercream lightens when air is incorporated into the frosting, so you can watch for the color turning to a pale cream as a visual cue that it's ready. Add the vanilla extract at the end. Taste it, but try not to eat it by the spoonful!
If you make the frosting in advance, keep it in the fridge or freezer, but make sure to let it come back up to room temperature before rewhipping.
I've learned the hard way that if you skip this step the buttercream will break/split/curdle. If you look really closely at these photos, you'll notice that I was not as patient with this as I should have been. Don't make my mistake, do it correctly and your cake will be even better than the one in these photos!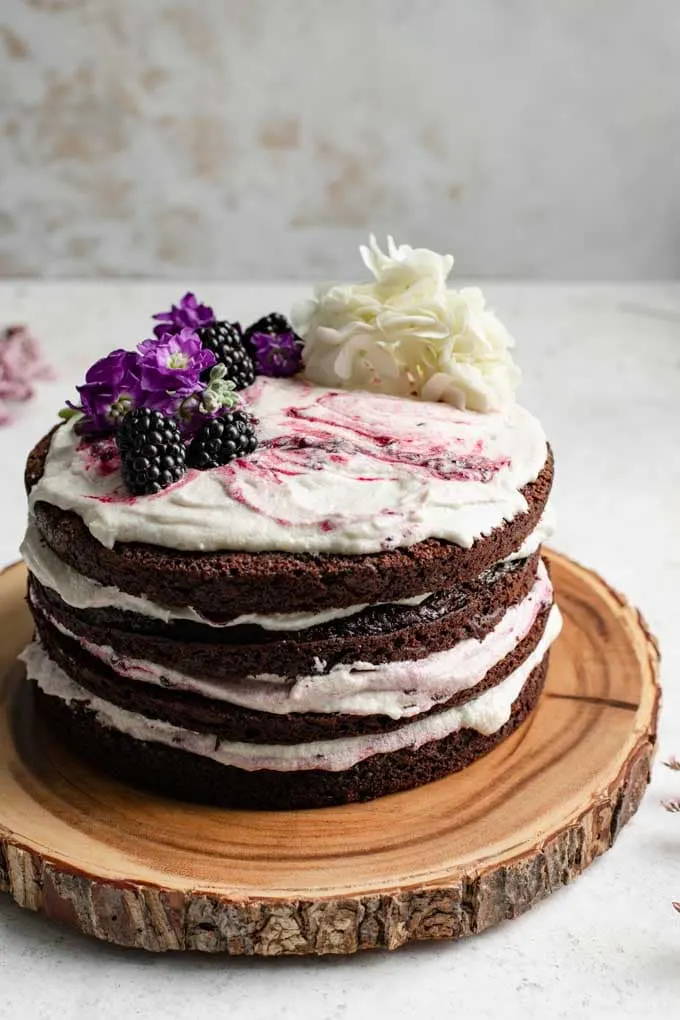 Finally, let's build and decorate the cake!
First, turn the two cakes into 4 cake layers by cutting each cake in half. This process, called torting, is easily done using a cake leveler, but you can also cut cakes in half using a bread knife (a very long serrated knife). Check out this tutorial by Wilton for tips on how to do this, but make sure your cake is thoroughly chilled before slicing to minimize crumbs!
You can also skip this if you prefer and just have a simple 2 layer cake! use the same instructions to level the cakes as you would to torte it for a flat topped cake.
Now we build the cakes:
Place a dab of frosting on a flat plate, cake stand, or turntable then place the bottom layer of cake down.
Add ~1/4 of the frosting to the cake, then spoon on some of the blackberry lavender jam and use the back of a spoon to swirl it into the frosting. Use more or less to your own tastes, you can even spread it to fully cover between each cake layer! Add some fresh blackberries if you wish.
Place the top half of the first cake top side down. Repeat with adding frosting, jam, and blackberries if using.
Place the top half of the second cake on top of the second layer, again putting it top side down. Repeat with the frosting, jam, and blackberries.
Place the bottom half of the second cake on top as the last layer, placing it bottom side up to give yourself an even and flat top to the cake. Cover it with the last of the frosting, swirl in some blackberry jam for a pretty marbled look.
Decorate the cake with some fresh blackberries, and some edible flowers. If using non-edible flowers, make sure to practice food safety best practices and use your own judgement. I've found this tutorial to be helpful.
And that's it! Now you have a beautiful, rustic cake that's a showstopper in both looks and flavor! I hope you guys enjoy it!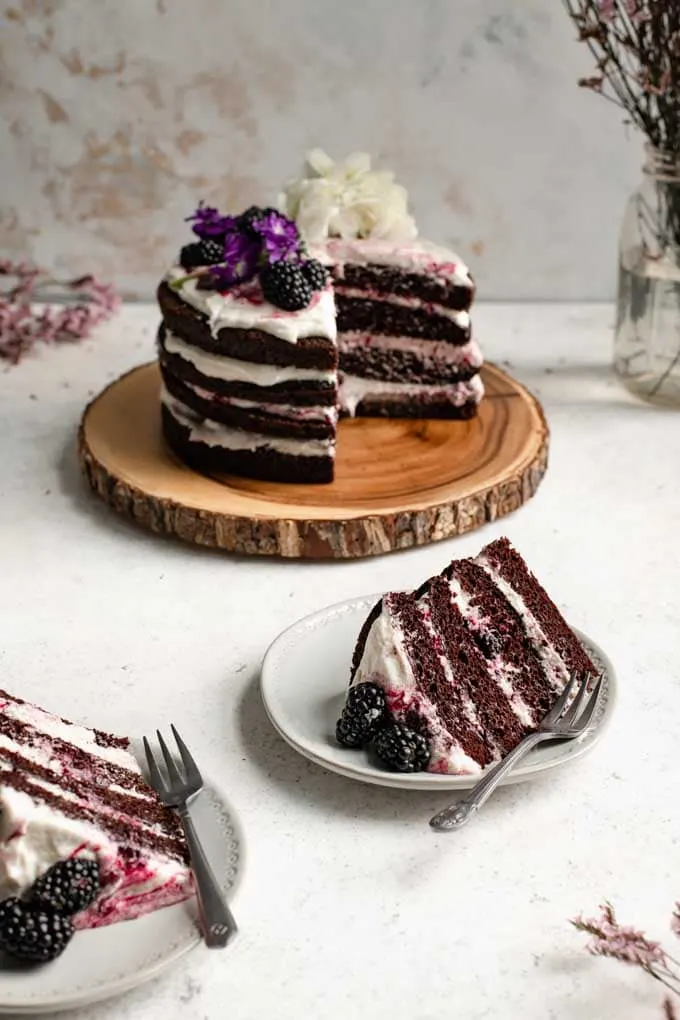 If you make this gorgeous vegan blackberry lavender chocolate cake, leave a comment below and rate the recipe on the recipe card. And please share your photos with me on Instagram, tag @thecuriouschickpea and #thecuriouschickpea. I love seeing your recreations!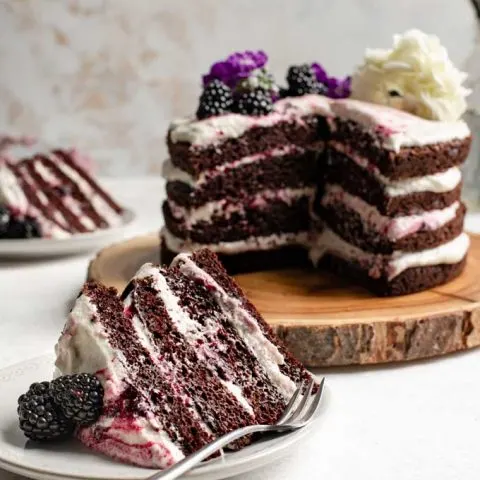 Blackberry Lavender Chocolate Cake
Cake Time (doesn't include chilling):
45 minutes
Frosting Time:
35 minutes
Total Time:
1 hour
35 minutes
This beautiful and rustic vegan chocolate cake is layered with a simple but out of this world creamy flour frosting and homemade blackberry lavender jam.
Ingredients
Chocolate Cakes
2 1/2 cup (296g) all purpose flour
1 cup (200g) granulated sugar
2/3 cup (60g) dutch-processed cocoa powder
2 tsp (8g) baking powder
1 tsp (4g) baking soda
1 tsp (4g) sea salt
1/2 cup (96g) neutral flavored oil
1/4 cup (72g) maple syrup, dark amber
2 cup (460g) plant milk
2 tsp (10g) apple cider vinegar
1 tbsp (12g) vanilla extract
1 tsp (4g) chocolate extract, optional
Lavender Blackberry Jam
2 cups blackberries (frozen or fresh)
1 cup sugar
3 tbsp fresh lemon juice
1 tbsp dried lavender
Flour Frosting
1/4 cup all purpose flour
1 cup plant milk
1 tsp vanilla extract
1 cup sugar
1 cup vegan butter, softened to a cool room temperature
To decorate
fresh blackberries
flowers (optional, use edible flowers or follow best practices for food safety)
Instructions
Chocolate Cakes:
Preheat the oven to 350 ºF with a rack positioned in the center. Prepare two 8" round pans: spray the pans with oil, then place round parchment paper on the bottom.
In a large mixing bowl add the flour, sugar, cocoa powder, baking powder, baking soda, and sea salt. Whisk together until combined and fluffy.
In a second mixing bowl add the oil, maple syrup, plant milk, vanilla extract, chocolate extract (if using), and apple cider vinegar. Whisk together. Add the wet ingredients to the dry whisk until smooth and lump free.
Divide the batter into the prepared baking pans then tap the pans on the counter 2-3 times to release some of the air bubbles. Place the pans in the center of the oven and bake for 32-34 minutes. When done, a tester will come out clean or with a couple of crumbs and the edges of the cake will have pulled away from the edge of the pan.
Place the pan on a wire rack and let cool for 5 minutes, then transfer to a wire cooling rack to fully cool. Remove the parchment paper from the bottom of the cake when transferring.
When cool, move the cake onto a cardboard round and wrap tightly in plastic wrap. Store this in the fridge until chilled.
Blackberry Lavender Jam:
Combine the blackberries, sugar, lemon juice, and dried lavender in a pot. Bring to a boil over medium heat, mashing the berries to break them up. Then turn down and let simmer for about 15 minutes (may take less time if using fresh berries), or until a spoon can run through the pot and the jam takes a second before filling in behind it. Let cool completely, or make in advance and refrigerate until ready to use.
Flour Frosting:
Whisk together the flour and plant milk in a small pot until smooth. Turn the heat on to medium and bring the mixture to a simmer. Keep whisking continuously until the pudding thickens. Turn off the heat and let cool to room temperature. Whisk occasionally as it cools to keep it smooth.
Blitz the sugar in a blender for a few seconds to make a superfine sugar.
In a large mixing bowl with electric beaters or using a stand mixer with paddle attachment, whip the vegan butter and sugar until fluffy.
Add the pudding in batches, whipping after each one to incorporate. Once all of it has been added, whip the frosting until light and fluffy. Add the vanilla extract and beat it in.
If making frosting in advance, store in fridge or freezer, and let come completely to room temperature before re-whipping.
Decorate the cake:
Cut each cake layer in half using a cake leveler or a long serrated bread knife (see post for tips).
Layer the cakes. Place a cake layer down, spread about 1/4 of the frosting over it. Spoon some blackberry lavender jam on top and use the back of a spoon to swirl it into the frosting. Add fresh black berries (cut in half or use smaller berries) if you'd like. Repeat with the remaining layers.
After adding the last layer, frost the top with the remaining buttercream and swirl in some blackberry lavender jam to marble the top. Decorate with fresh berries and flowers if you'd like.
Refrigerate the cake to store (cover or wrap in plastic once chilled--frosting will firm when cold), but serve at room temperature!
Notes
Depending on how much jam you use between layers you may or may not have some leftover. I personally don't like a lot of jam in my cakes so only used about half of it.
Recommended Products
As an Amazon Associate and member of other affiliate programs, I earn from qualifying purchases.